Instead of using canned ingredients, try this healthier skillet green bean casserole with fresh green beans and onions, a homemade cream of mushroom sauce, and a crunchy breadcrumb topping.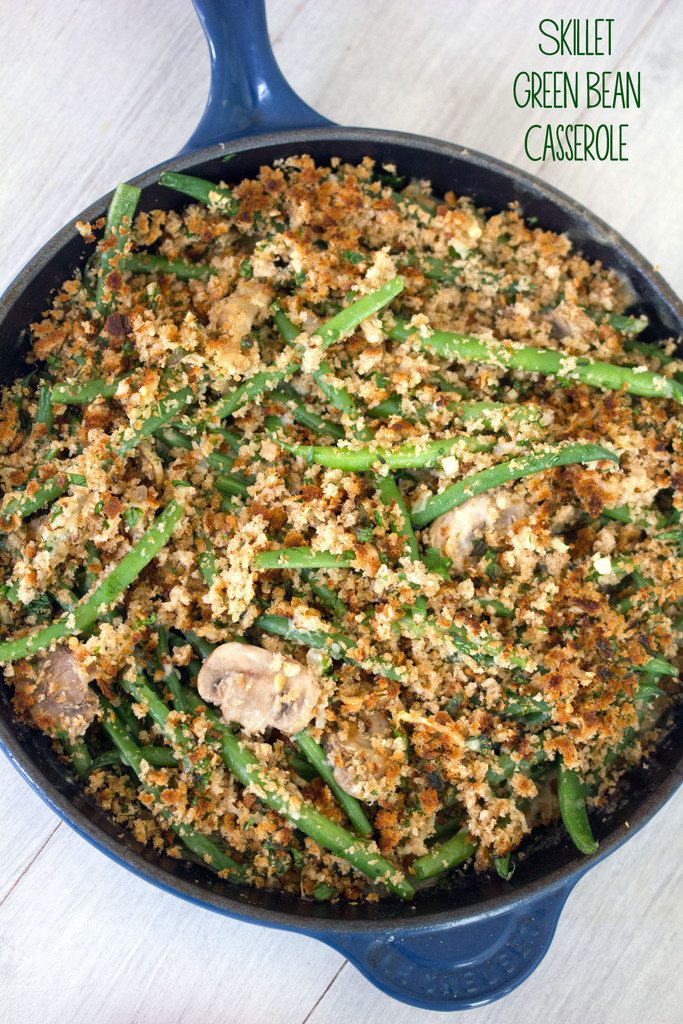 I'm going to be so cliché and say that I cannot even believe that Thanksgiving is next week. But then I'm going to take it a step further and say that it is like really, really freaking me out.
A few years ago, I read an article about how the older we get, the faster time goes. We kind of already knew that, right? But the really scary part? Allegedly, by the time you're seven, half of your "perceived life" is over. OVER.
And considering I'm much, much older than seven, I feel like I've basically got one foot in the grave over here. And I can't even imagine how quickly the seasons will go by in just a few years from now.
Or how much shorter my days will get. Will I wake up, get dressed, and then immediately have to go back to bed? Hellooo, don't the heavens above understand that the older I get, the more time I need? Stop taking it away from me!
All of that to say, I didn't get the chance to make a fraction of the Thanksgiving dishes I wanted to make this year. And at the rate time is moving, I may as well just get started on making Thanksgiving dishes for next year. That's really only a half joke.
However, I did have time to whip up the glorious-looking revamped green bean casserole I spotted in this year's Thanksgiving issue from Cooking Light. And if I could only make one new dish this year, I'm glad this was it.
Skillet Green Bean Casserole Recipe
You know, I don't think I've ever had a traditional green bean casserole. At the risk of sounding food snobby, I just can't get behind canned onions and cream of mushroom soup mixing with fresh and crispy green beans.
The solution? Make your own cream of mushroom sauce, sauté some fresh onions, and toast up a crunchy breadcrumb topping.
I promise it's not that much more time-intensive than opening cans. And so, so worth it. I mean, when you're eating green bean casserole, don't you actually want to taste the green beans? And how fresh and delicious they are?
And don't you want to still get a little bit of a crunch instead of just a soggy mess? I thought so.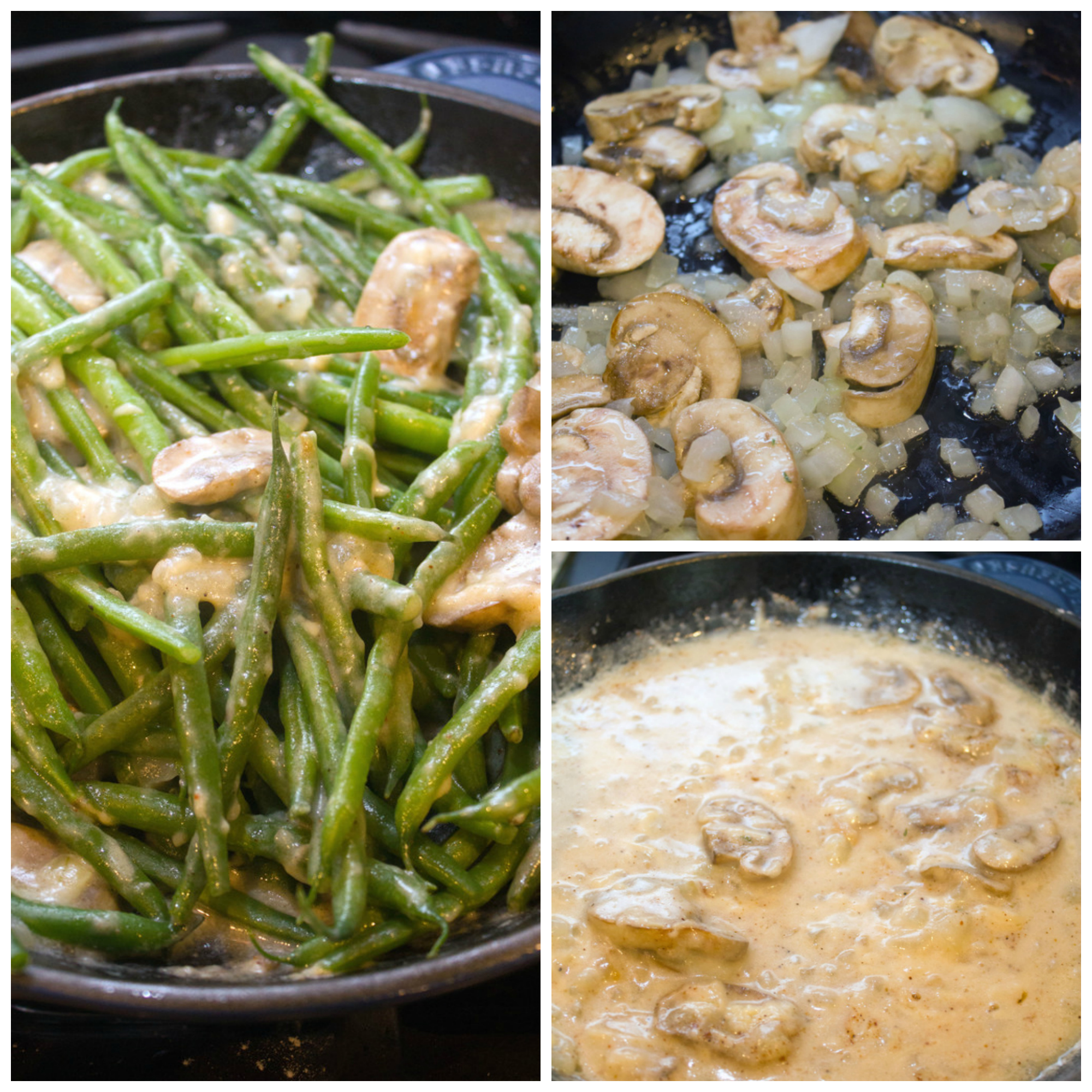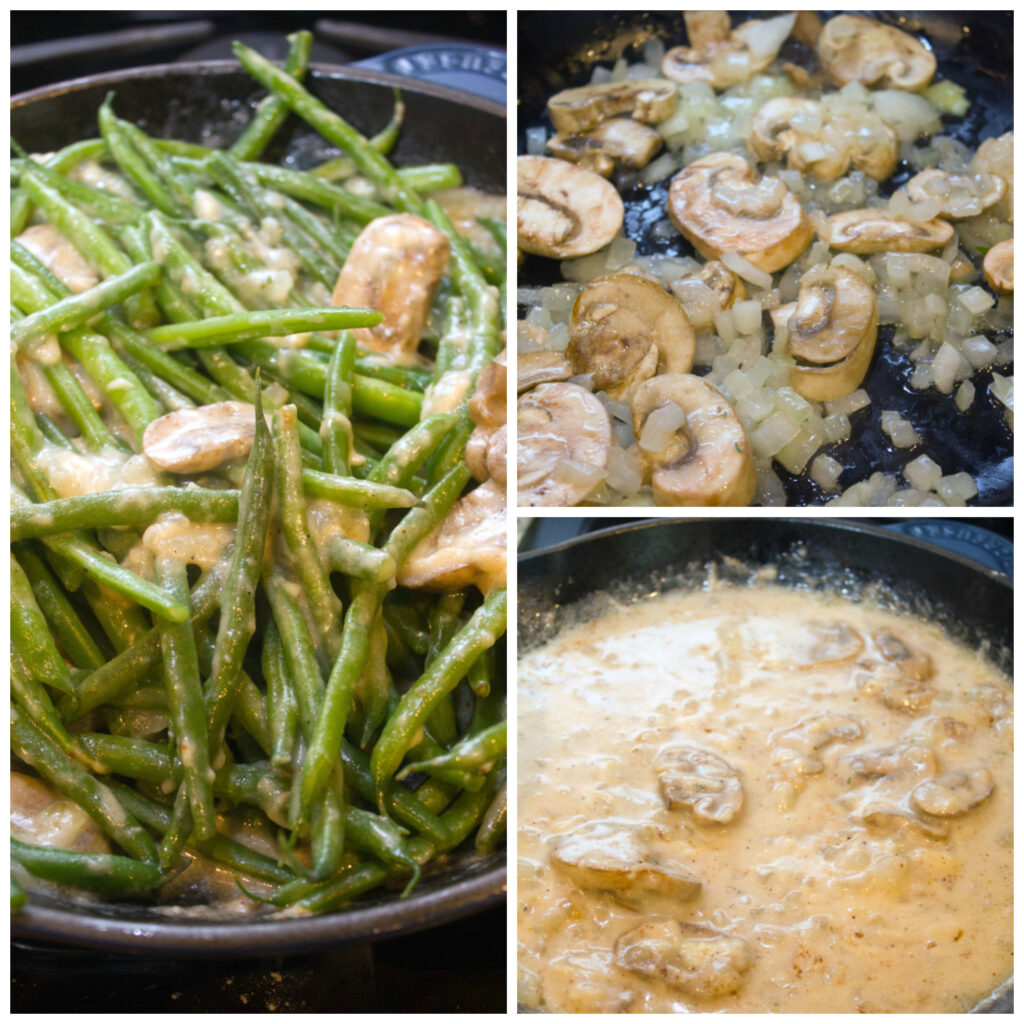 Also, look at that topping mixture. My idea of heaven.
It's just breadcrumbs (from fresh whole wheat bread), parsley, olive oil, garlic, and parmesan cheese.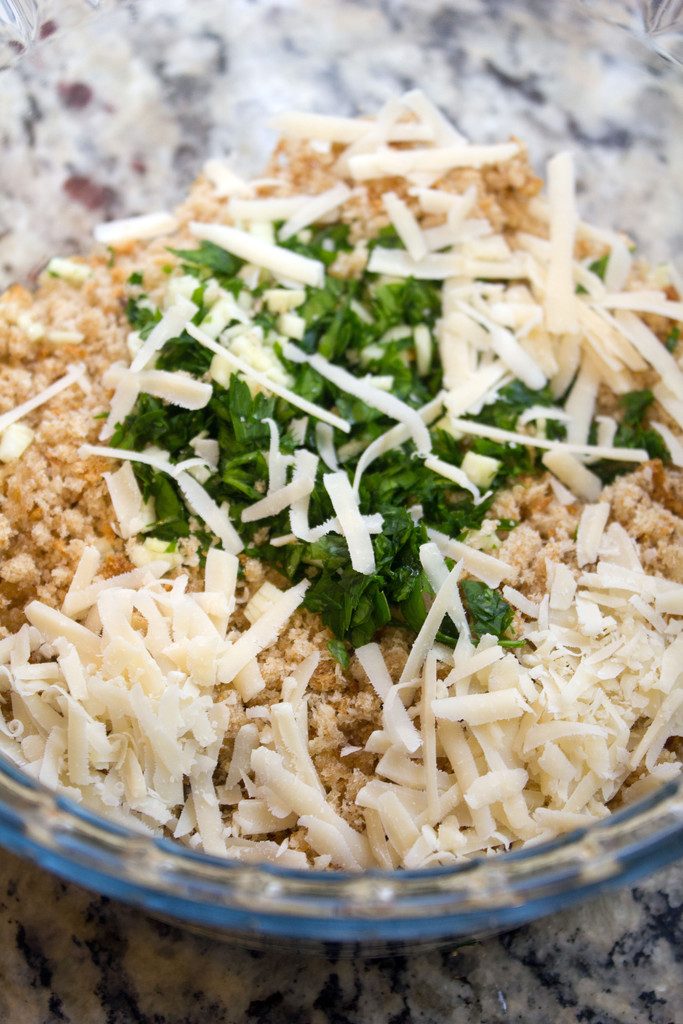 The green beans are boiled for a few minutes and then the "casserole" is broiled in a skillet for just a couple minutes, so the beens retain their beautiful color and crunch. A fact for which I am completely thankful.
Also, they don't need to be in the oven for long, so it's easy to broil these after your turkey is out and resting.
Though if you want to be really specific, this isn't actually a green bean casserole. It's a haricot vert casserole made in a skillet.
But you can totally use regular green beans with no problem; you might just want to boil them for a little bit longer. Unless you're like me and you love a super al dente green bean!
To be clear, I totally understand if you would prefer to serve the traditional green bean casserole at your Thanksgiving dinner. I am all about Thanksgiving traditions and it's pretty rare for us to introduce a new dish to our dinner table on the big day.
Instead, I use this time of year to discover new dishes that I can enjoy around the holidays and this skillet green bean casserole is a recipe I'd make for any dinner during the cold weather months.
And probably in the summer, too.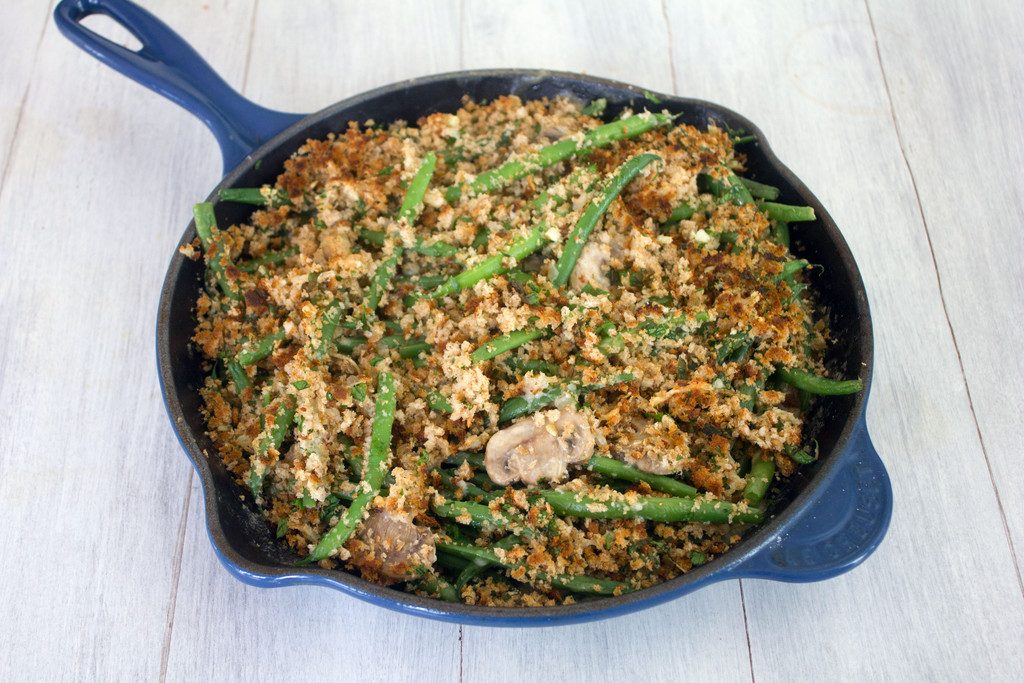 Oh wait, I haven't even mentioned that it's healthier than your average green bean casserole! Way healthier. And I think way tastier, too. I'm so excited that healthier green bean casserole is possible!
And because this recipe makes a fairly decent amount of green beans (especially if you're not serving it for a crowd and just have one other person in your household), you'll have leftovers for day.
While you may not think green bean casserole is a very appropriate breakfast food, I'm here to tell you it is. Especially when you put a poached egg (or sunny-side up) egg on top.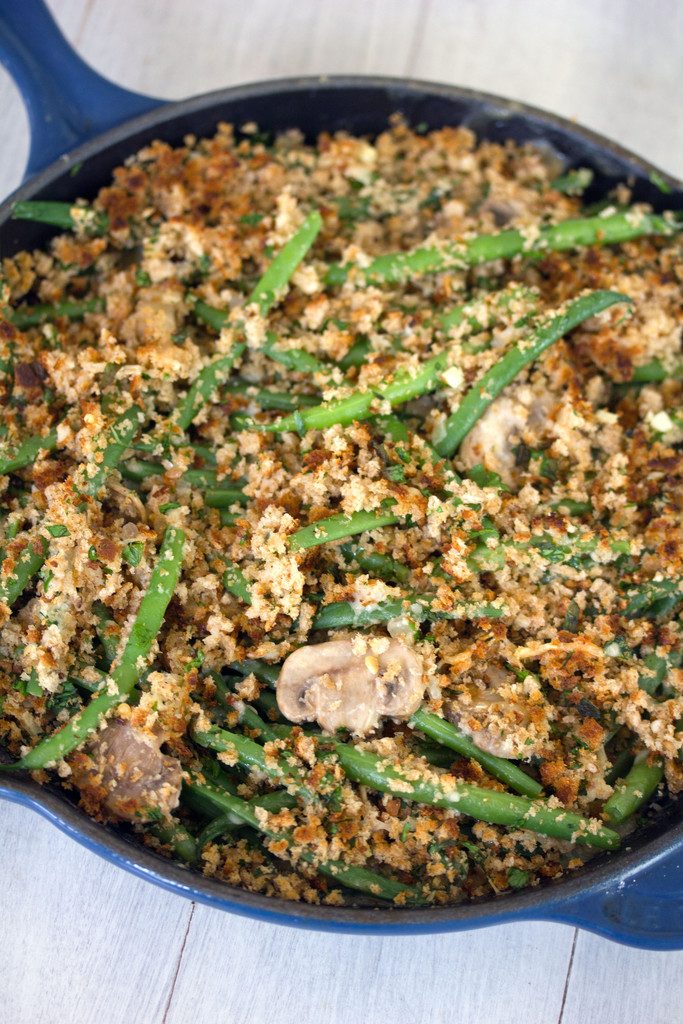 That's enough to make me want to cancel all my Thanksgiving plans and just make a skillet green bean casserole for myself to enjoy for a couple days.
OK, I wouldn't actually do that. Because what would I do without stuffing??
But I will most certainly be making this again before the season is over. And probably putting 6 poached eggs on top and eating it right out of the skillet.
Possibly while wearing my pajamas. And alternating it with bites of leftover stuffing. And really bad Christmas movies.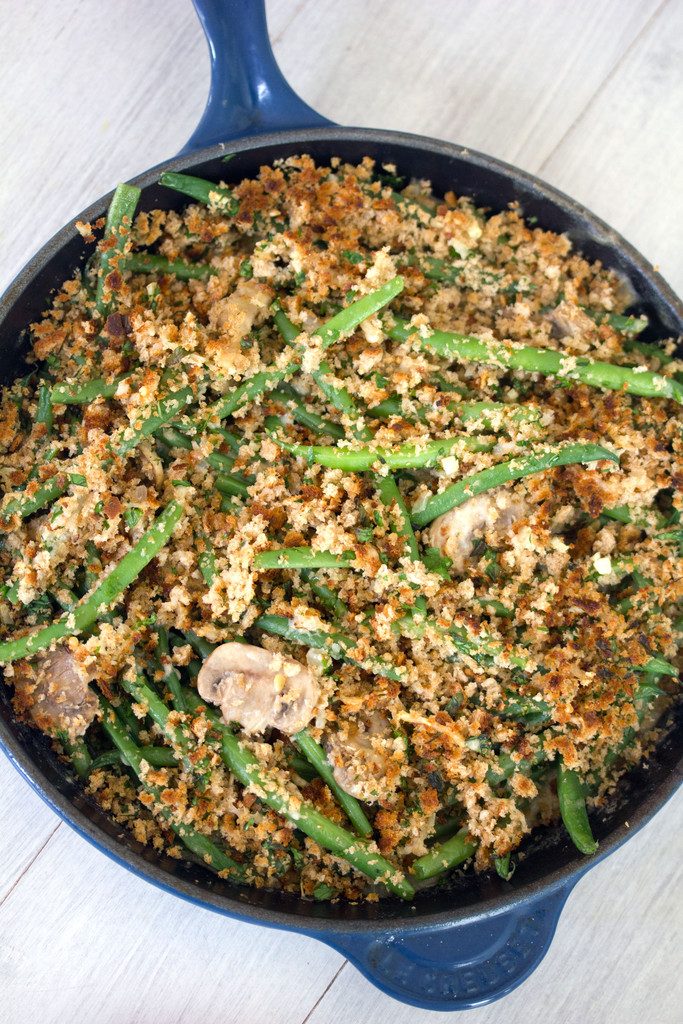 Time really needs to slow down so I can spend more of it enjoying dishes like this healthier green bean casserole. And stop being sad that I didn't discover this in the first seven years of my life. Boo.
Are you a Thanksgiving traditionalist or do you serve new dishes at your table each year?
More Thanksgiving Side Dishes
If you're looking for more delicious holiday side dishes, I have a few favorites!
And if you're cooking a turkey this year, check out my guide on How to Cook a Butterball Turkey!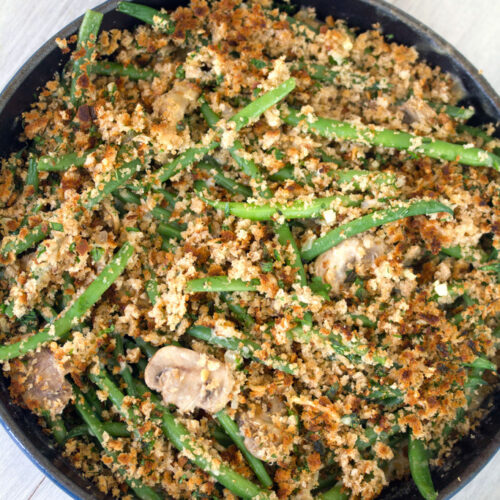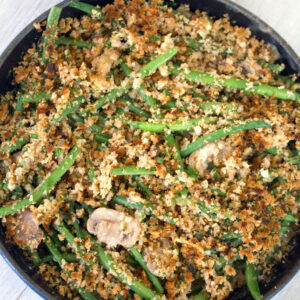 Skillet Green Bean Casserole
Instead of using canned ingredients, try this healthier skillet green bean casserole with fresh green beans and onions, a homemade cream of mushroom sauce, and a crunchy breadcrumb topping.
Print
Pin
Rate
Ingredients
1

lb.

haricots verts

(or regular green beans)

2

slices

whole-wheat bread

¼

cup

chopped parsley

3

Tbsp

olive oil,

divided

½

tsp

minced garlic

1 ½

oz. (about 6 Tbsp)

grated parmesan cheese,

divided

½

cup

chopped yellow onion

4

oz.

white mushrooms,

sliced

1 ½

Tbsp

all-purpose flour

½

cup

sodium-free or low-sodium chicken stock

½

cup

2% milk

2

Tbsp

dry sherry

½

tsp

salt

¼

tsp

black pepper

⅛

tsp

ground nutmeg
Instructions
Bring a large saucepan filled with water to a boil. Cook beans for about 3 minutes (a minute or two longer if not using haricot verts) or until crisp-tender. Plunge beans into ice water to stop cooking and drain well.

Put bread in food processor and pulse until coarse crumbs form. Remove to a bowl and mix in parsley, 1 Tbsp olive oil, minced garlic, and 2 Tbsp grated parmesan cheese.

Pre-heat broiler to high.

Heat remaining 2 Tbsp olive oil in a 10-inch cast-iron skillet over medium heat. Add onion and mushrooms and sauté for about 8 minutes. Stir in flour and cook for 1 minute.

Stir stock, milk, and sherry into the skillet and bring to a simmer. Cook for about 3 minutes.

Remove skillet from heat and stir in remaining 4 Tbsp parmesan, salt, pepper, and nutmeg. Add beans to pan and toss to coat in mushroom/onion mixture.

Sprinkle skillet with breadcrumb mixture and place under broiler for 2 minutes.
Share a Photo of Your Finished Recipe!
Mention @wearenotmartha and share a photo if you've made the recipe!