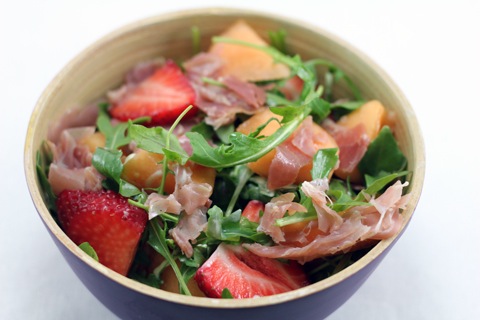 I hope you'll excuse me if my next couple weeks (OK, maybe 1.5 months) of recipes are a bit simpler than usual. It seems that we've entered that crazy busy time in wedding planning when it's total crunch time and pretty much every minute of my life is packed with something or the other. Free time in the kitchen? Is at a minimum. So, dinners for me will be fairly simple for the next several weeks. And they'll also likely provide me without enough leftovers for lunches the next day or so. A girl's still gotta eat, so I'll still be cooking, but it will likely mostly be salads and simple light fare for this hot weather and to make sure I stay in ultimate wedding shape until June 9 (which is laughable, considering I have done next to nothing to get in wedding shape up to now… Oops. It's never too late to start?).
It really hit me this weekend when I realized we only have 7 weekends left before the wedding. And since this weekend is my wedding shower (!!!) and the next is my bachelorette party (!!!), that leaves us with 5. Five weekends to tackle a crazy large to-do list that's giving me a minor anxiety attack every time I look at it. Really though, we are trucking along through everything and we know it's going to be perfect no matter what (to us at least!), so we're trying our best to keep stress at a minimum. And easy, delicious meals are certainly helping!
This one, Cantaloupe Arugula Salad with Prosciutto and Mint Yogurt Dressing is one of them. You can throw it together in a snap and it has basically every flavor you could desire. I have a feeling it will become a summer staple in my house. Also, please tell me to shut up if you're sick of all my wedding talk. But for the next 1.5 months, it's definitely front-of-mind for me!
Cantaloupe Arugula Salad with Prosciutto and Mint Yogurt Dressing (serves 8-10):
Print this recipe!
1 medium cantaloupe
1 C sliced strawberries
3 C arugula
1/4 lb. prosciutto
1 C Greek yogurt
10 mint leaves
1 T lime juice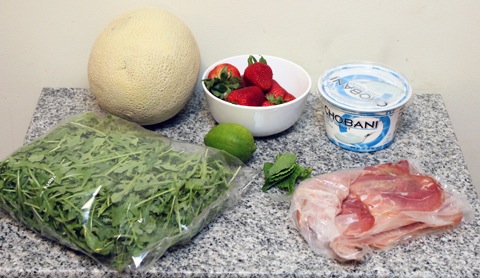 Believe it or not, this was my first time cutting up a cantaloupe. I never buy cantaloupe or honeydew for some reason and really only eat it when I go to my parents' house (my mom always has some cut up in the fridge in the summer!). It was easy and I don't know why I don't keep it around more often.
I started by cutting off one end and then cutting the peel all around it until I was left with one big melon ball.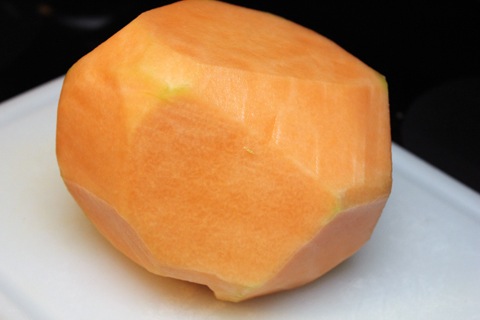 Then I cut it in half and scooped all the seeds out. And chopped it into little cubes. Super easy and my knives aren't even all that great.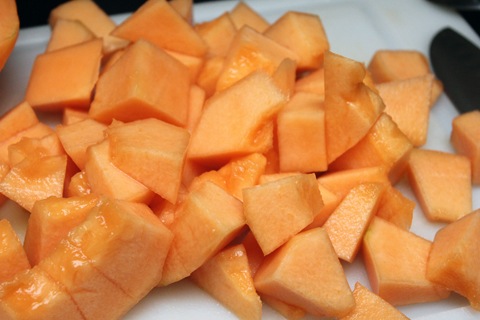 I tossed the cantaloupe in a bowl with some sliced strawberries.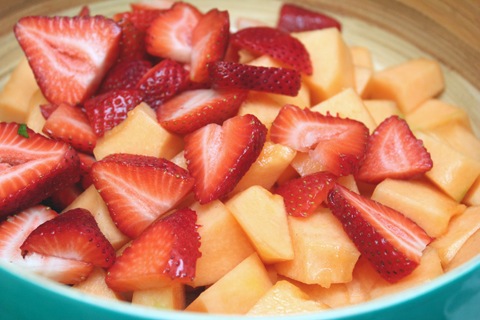 And chopped up my prosciutto. Lots and lots of prosciutto. You don't have to use this much if you don't want to… But I wanted an extra salty kick to my sweet salad.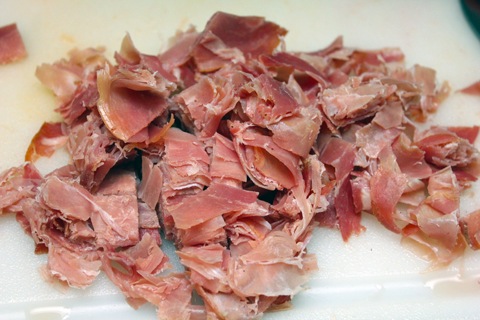 And then I tossed everything together with my arugula. When I make salads, you'll rarely ever find me using iceberg lettuce or even romaine. I like "real" greens and am obsessed with the spicy kick arugula brings. It paired perfectly with the sweet fruit.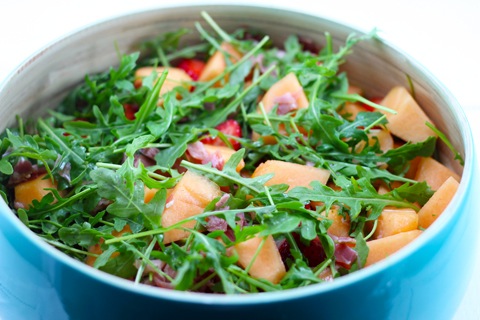 For the dressing, I put about a cup of Chobani Greek yogurt, 10 fresh mint leaves, and 1T freshly squeezed lime juice in a blender (or my Vitamix to be exact) and blended together until smooth.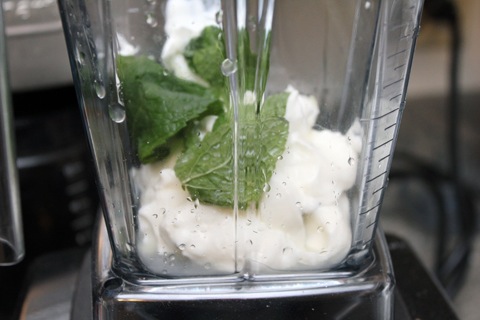 It turned out to be a nice summery minty color. Mint green does seem to be the color of the season, after all.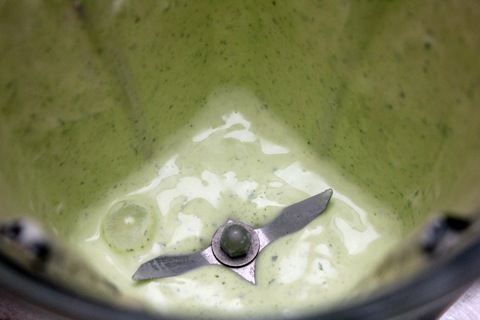 I didn't want to dress my salad until I served it, so I put some salad in a bowl and drizzled the yogurt dressing over the top.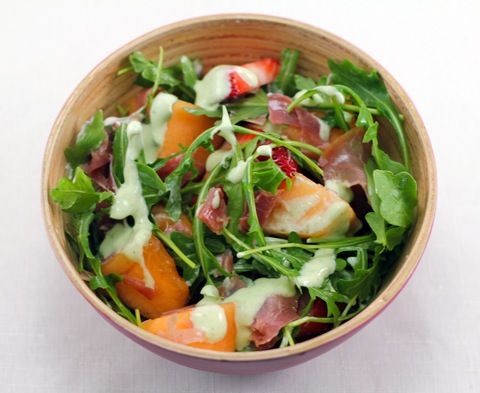 And the perfect summer salad was born. Seriously though, this salad has everything you could want: the sweet, the salty, and the spicy.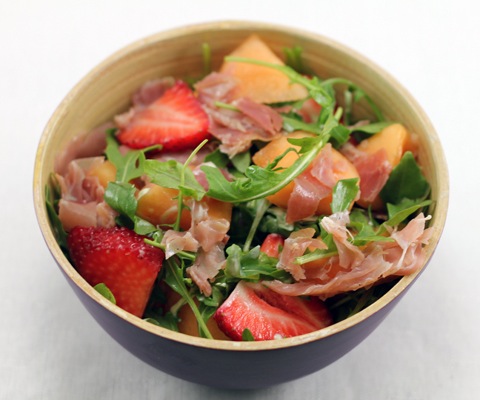 Plus, a light minty dressing that I basically want to put on everything in life now.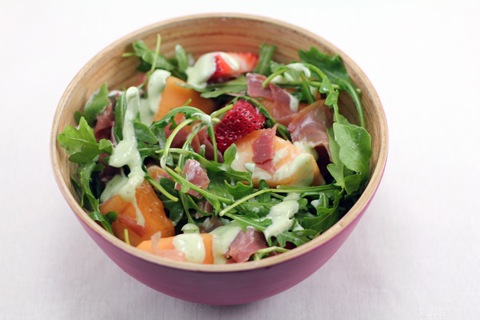 And these are the kinds of meals that will be my life for the next several weeks. But really, I'm perfectly OK with that because it's 80-something degrees in Boston and who wants to slave over a hot stove anyway? I officially got my first sunburn of the season yesterday when I sat outside for 6 hours watching the Boston Marathon. Ugh, I didn't realize how much sun I was getting until a marathon runner speeding by us at mile 24 yelled out, "You're turning red! You need sunblock!" And he was correct. Happy Summer weather y'all. I will definitely remember from now on.
Are you especially busy right now or are you enjoying the lull the beginning of summer sometimes brings?
[Sues]