If you love BLT sandwiches, you'll love this Salmon BLT Salad with Chipotle Buttermilk Dressing. It takes the classic sandwich and flips it into a healthier, antioxidant-packed meal.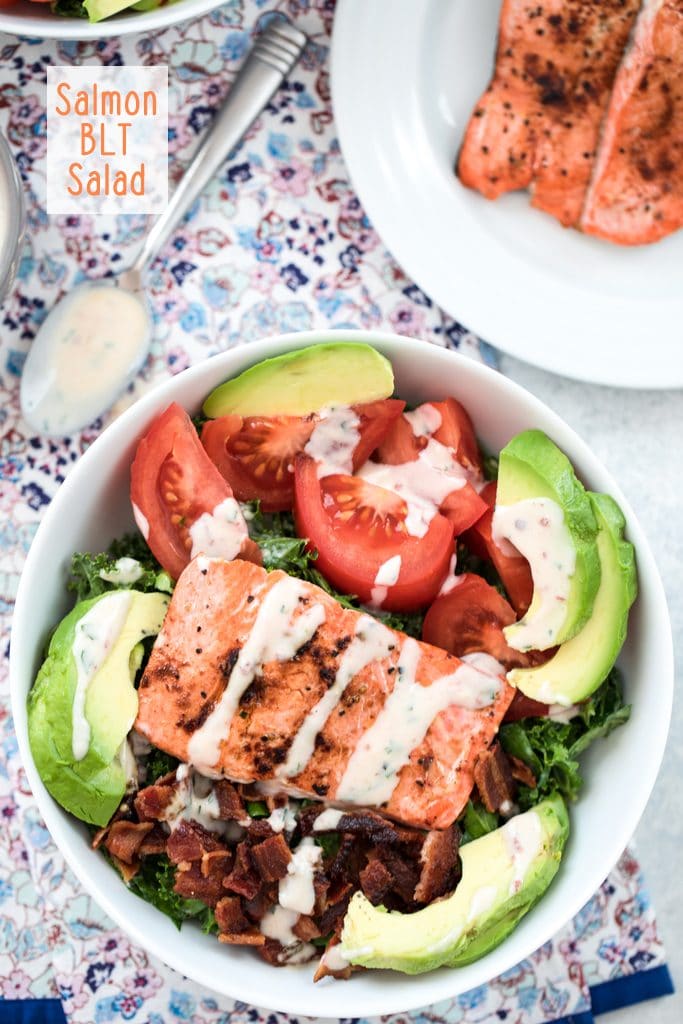 Are you a to-do list maker, bullet journal-er, or "I'll keep it all in my head and get it done when I get it done" type person? I am a to-do list maker to the max and love nothing more than starting the day with a huge list and then working my way through checking everything off one by one and ending the day with a clear list. Except LOL, I don't think I've ever ended the day completing everything on my to-do list. EVER. I definitely get a little crazy and overambitious with my lists and basically make them impossible to complete. It's like an evil game I play with myself. But sometimes I end up just staring at my list and feeling legit paralyzed by everything on it. And I often have a tough time working on larger projects because I can either work said project for 4 hours and check one thing off my list or work on 10 smaller projects for 4 hours and check 10 things off. Easy decision, right?
I don't really know what the solution is (hit me up if you have it!), but I do know that one thing on my list almost every single day that always gets a check mark is "make dinner." It's kind of one of those gratuitous freebie to-dos because I know I'm always going to do it, but it makes me happy to have feel an extra little sense of accomplishment each day. Meal planning is usually on my list, too, since I'm always working to plan either new recipes for the blog or just dinners for the week. The best thing is when those two tasks come together and dinners for the week are also new recipes for the blog. That was exactly the case with this Salmon BLT Salad.
I absolutely love salmon and try to get it into my meal plans once a week for those omega-3 fatty acids and antioxidants. Of course, I also love bacon and also probably eat it once a week, as well. For the... deliciousness. I'll almost always choose a BLT if it's on the menu, but if I see a salmon BLT? I am 100% down. So, a salmon BLT salad was kind of an obvious dish for me to make.
I pan seared this salmon, but feel free to cook it however you like best. The prep is nothing fancy since I really feel like salmon is best when it's most basic and without anything crazy... Especially considering all the other flavors of the salad.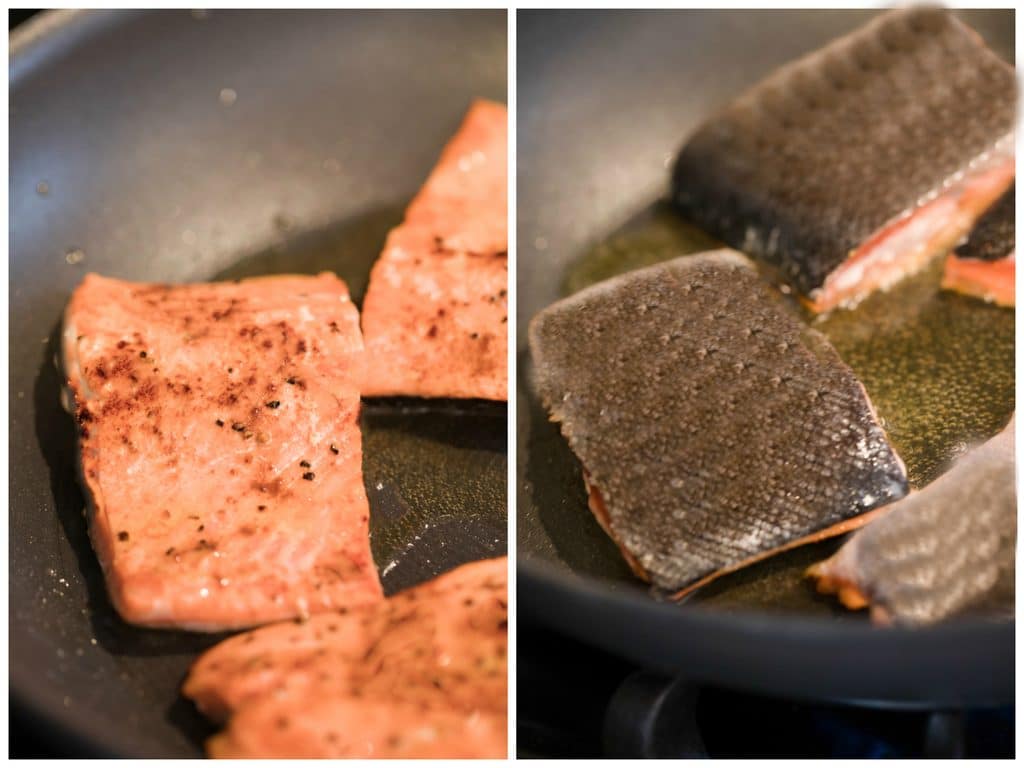 I also mixed together a super quick chipotle buttermilk dressing. I pretty much always make my own salad dressings as opposed to buying since it's so easy to do, tastes much better, and is almost always healthier. This buttermilk dressing is deliciously creamy without involving too much fat. The chipotle peppers add a nice kick without making it overly spicy. Basically, it's the perfect salad dressing!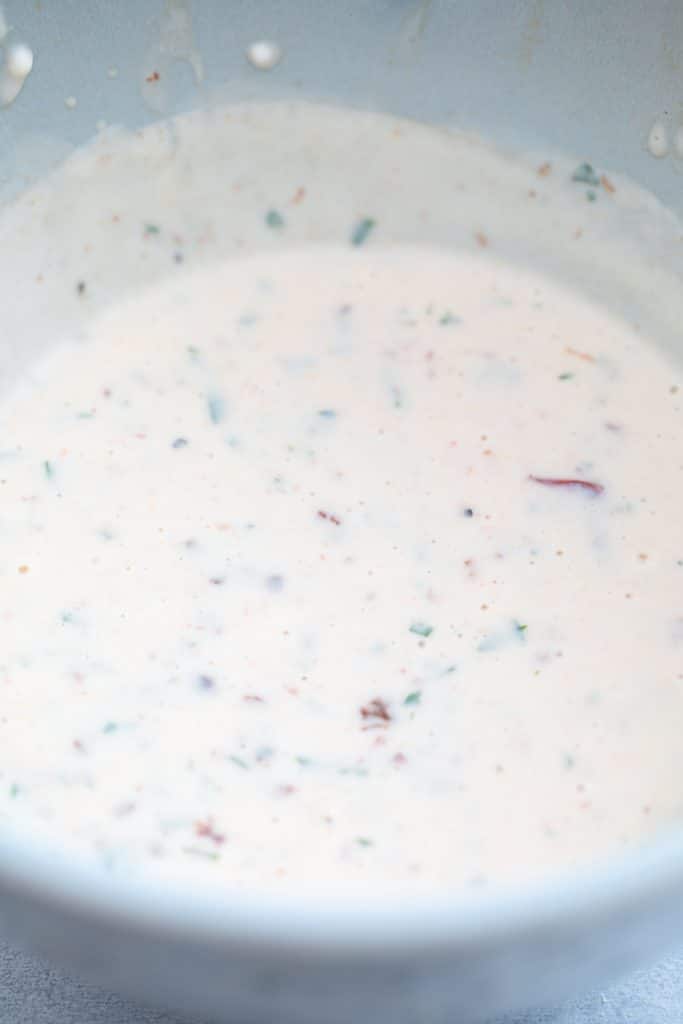 For my greens, I used a kale and spinach mix because I wanted to pack as much nutrition into the salad as possible. I rarely make salads with iceberg or romaine because I love the flavor of both kale and spinach (and the vitamins and antioxidants!), but feel free to use any greens you like best. If you're using kale, you'll want to take a little time to massage the dressing into it to soften it a bit.
I guess it's not really fair to call this a BLT salad if I'm using kale instead of lettuce... But BKT doesn't have quite the same ring to it.
Once the dressing is massaged into the greens, divide the greens into bowls and top with salmon, tomato wedges, sliced avocado, and crumbled bacon. I drizzled on some more of that buttermilk dressing, too.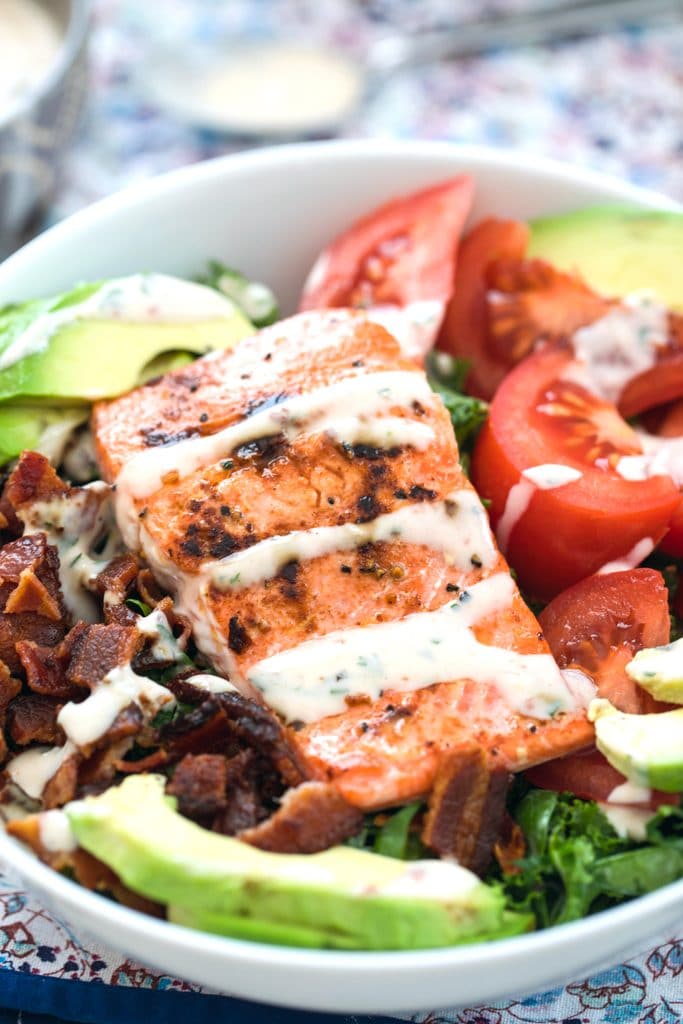 This salad basically involves all of my favorite things. Besides donuts. But I can always save the donuts for when I'm done eating the salad. And I won't feel so bad about eating them considering all the nutrition packed in this salad. Between the salmon and the avocado, look at all those healthy fats!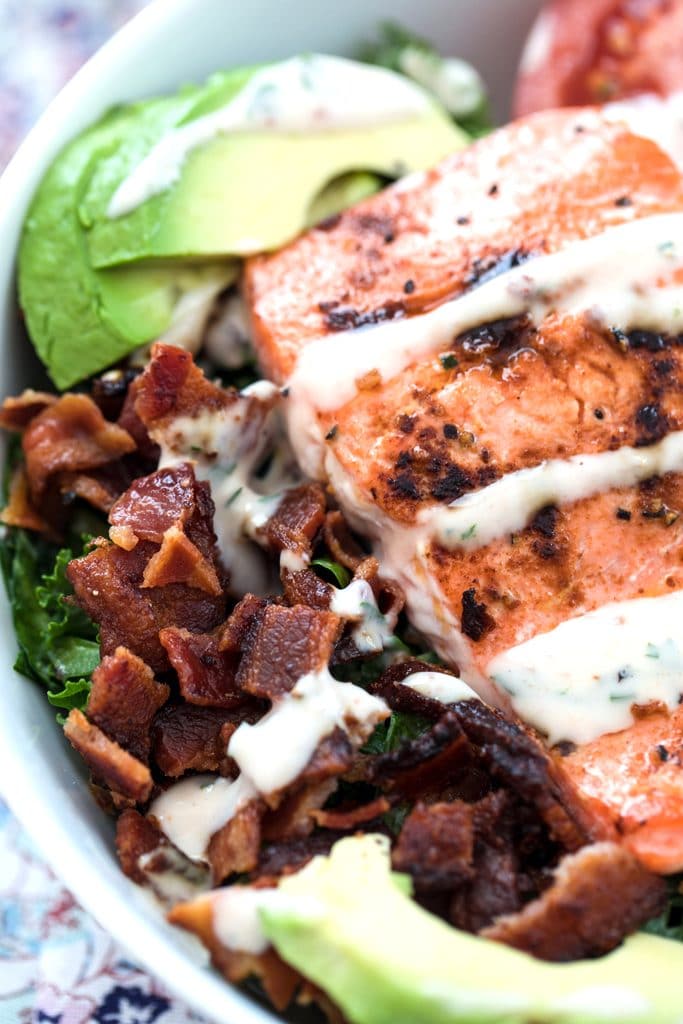 We can just ignore the type of fat that's in the bacon. Or instead of ignoring it, just appreciate how delicious it is and how it adds the perfect salty crunch to the salad.
I almost never make salads that don't involve cheese or croutons of some kind, so the fact that I would choose this over almost any other salad is a very big deal. An even bigger deal? I might go so far as to say I'd choose this salmon BLT salad over an actual BLT sandwich. Wahhh?! I know. It's that good.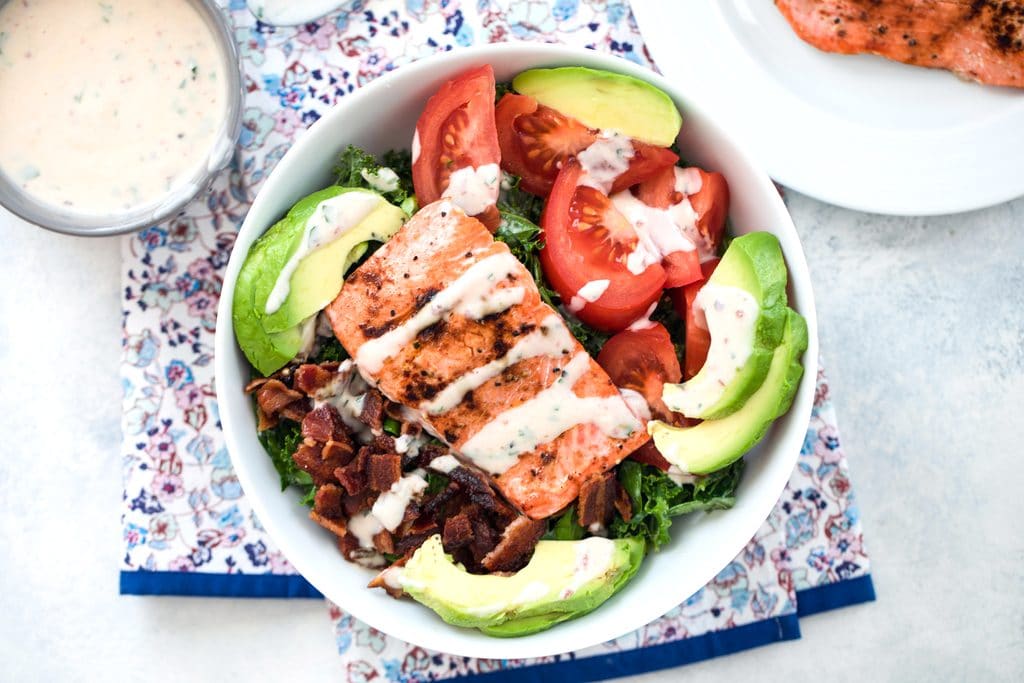 I always know I've had a salmon/salad success when Chris licks his bowl clean as these are two dinners that aren't his favorites. What a joy I am that I force him to eat salmon once a week, right?? I mean, I'm doing it for his own good and I think he would agree that lately I've been killing it with delicious salmon recipes that even he can't deny enjoying. If you have any great salmon recipes in your arsenal, send them my way because I'm always looking for more!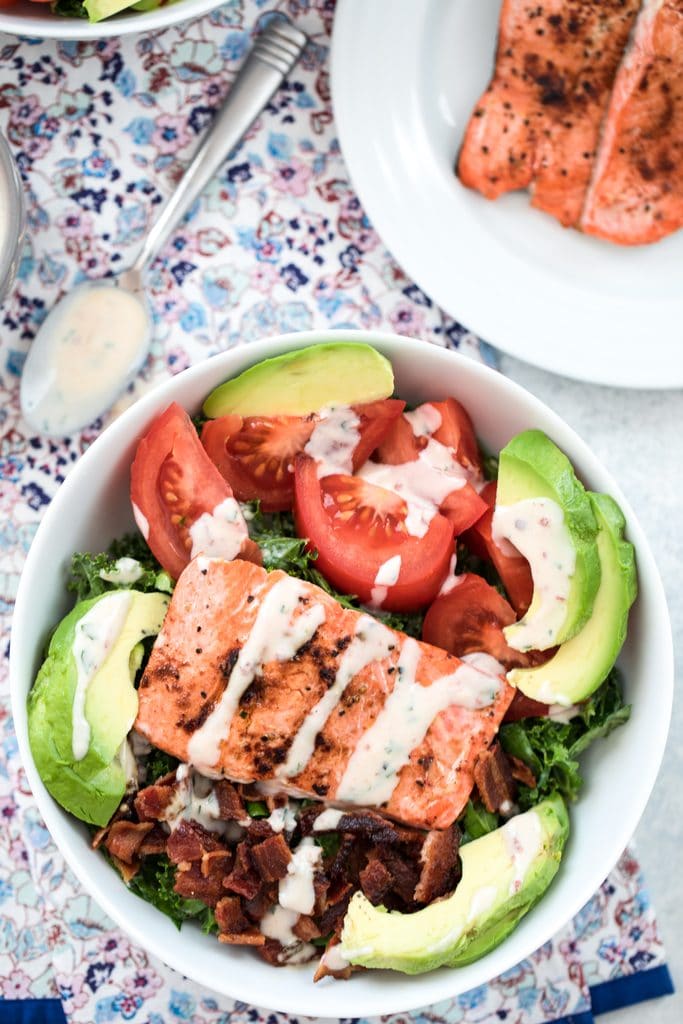 This salmon BLT salad is one meal that will be a regular dinner rotation in my life. Which means my meal planning just got a little bit easier. Which means I have one more thing I can easily check off my to-do list. Woo hoo!
Would your favorite sandwich also make an awesome salad?
If you love BLTs as much as I do, be sure to also check out my French Toast BLTs (omg so good!).
📖 Recipe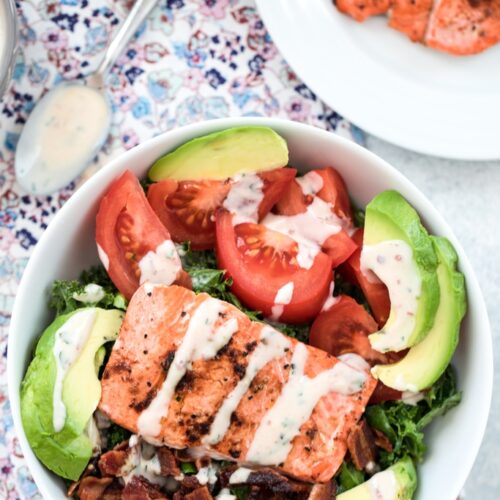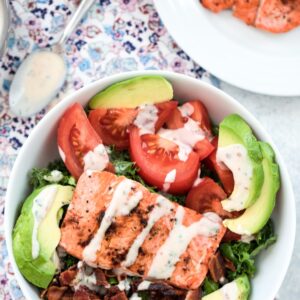 BLT Salmon Salad
If you love BLT sandwiches, you'll love this Salmon BLT Salad with Chipotle Buttermilk Dressing. It takes the classic sandwich and flips it into a healthier, antioxidant-packed meal.
Print
Pin
Rate
Ingredients
1 ¼

lbs

salmon, cut into 4 filets

¼

tsp

chipotle powder

½

tsp

salt

¼

tsp

pepper

1

Tbsp

olive oil (or other cooking oil)

8

cups

kale/spinach mixture (or greens of your choice)

2

large tomatoes, sliced into wedges

1 ½

avocados; peeled, pitted, and sliced

8

strips

cooked bacon, crispy
Chipotle Buttermilk Dressing
1

cup

buttermilk

¼

cup

mayonnaise

1

chopped chipotle pepper, plus 1 tsp adobo sauce from chipotles

1

Tbsp

lemon juice

2

garlic cloves, minced

1

Tbsp

chopped parsley

Salt and pepper
Instructions
Sprinkle salmon filets evenly with chipotle powder, salt, and pepper.

Heat oil in a nonstick skillet over medium heat. Once hot, place salmon in pan skin-side down. Let cook for about 3-4 minutes, until skin is crispy. Flip filets and let cook until salmon is firm to the touch, about 2-3 more minutes.

Put kale/spinach mixture in a large bowl and add ¼ cup of chipotle buttermilk dressing. Using your hands, massage the greens with the dressing for about 2 minutes. Add more dressing if desired.

Divide greens into bowls and top evenly with salmon filets, tomatoes, avocado slices, and crumbled bacon. Drizzle additional dressing over salads.
Chipotle Buttermilk Dressing
In a large bowl, whisk together all ingredients.

Taste and add salt and pepper as necessary.
Share a Photo of Your Finished Recipe!
Mention @wearenotmartha and share a photo if you've made the recipe!