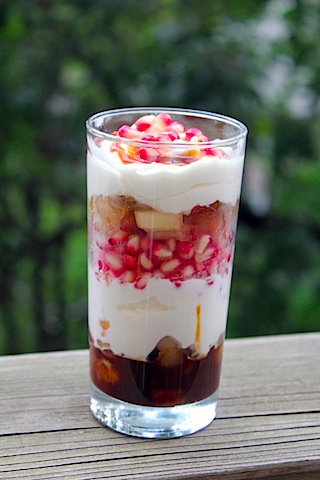 When we first started We are not Martha, I didn't have much in the way of kitchen appliances. In fact, if a recipe told me to use a stand mixer or food processor, I totally laughed and put it in the "I'll never make that" category. Of course, the more and longer I've been cooking, the more my kitchen has been building up with all kinds of fun appliances and gadgets. But sometimes it's good to get back to your roots and realize you don't need to plug things in to have amazing results. Nor do you need to lift weights and have top-notch arm strength to get whip up delicious food.
When I opted in to a recent Foodbuzz Tastemaker program for the new OXO Egg Beater, I was pleasantly surprised when they sent me a whole array of OXO goods. I've always been a big OXO fan, mainly because their kitchen tools look good and are comfortable to use. But my task from Foodbuzz was to utilize the egg beater however I wanted. Easy enough, right?
I knew I was going to love the new egg beater right when I took it out of the box. It has the Good Grip handle… And removable stainless steel whisk beaters, which make them easy to clean. Woot!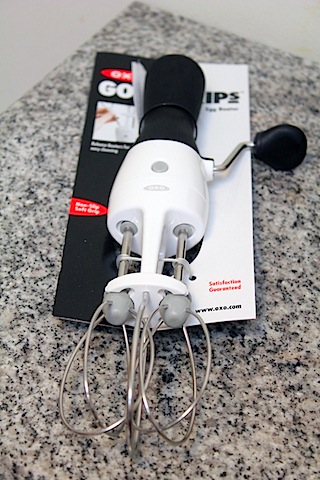 Sure, I could have made a recipe that required beaten eggs. But I remembered back in the day when I didn't own a hand mixer or a stand mixer and wanted to whip cream. See, I HATE whipped cream from a can. Absolutely cannot eat it. So, when I'm making a recipe with whipped cream, it has to be fresh. And I always feel bad when I'm writing recipes here and say "Use your hand mixer… Or you can use a whisk and a whole lot of elbow grease." Because yes, you'd need a WHOLE lot of elbow grease. But with OXO's egg beater (which retails for just $19.99, by the way), you can have whipped cream in no time; no electricity or sore muscles needed.
I decided to make a parfait using some of my favorite fall fruits, homemade caramel, and lots of fresh whipped cream!
Caramel Apple Pomegranate Parfait (serves 2):
Print this recipe!
1 C granulated sugar, plus ⅛ C, plus 1 t
6 T butter, plus 1 T
1 t vanilla extract, plus 1 t
½ C heavy/whipping cream, plus 1 C
2 macintosh apples, chopped into small cubes
⅛ C brown sugar
Arils from 1 pomegranate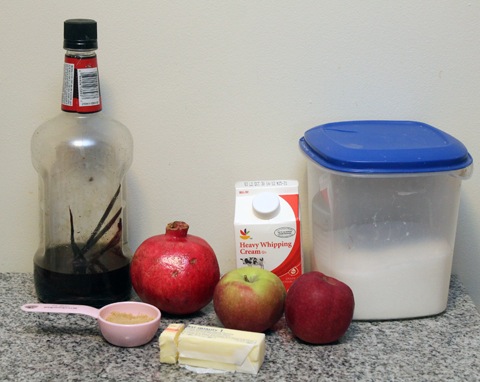 Start by making the caramel sauce. Heat 1 C sugar over medium-high heat in a large saucepan. As it begins melting, stir it briskly and non-stop with a wooden spoon or whisk. Make sure you keep stirring or your sugar will burn!
Your sugar will soon come to a boil. Stop stirring and only gently swirl the pan. Once all the sugar granules are melted and the mixture appears amber in color, add butter to the pan and whisk until it melts. Be careful not to let your caramel burn and make sure you remove the pan from the heat right when the butter is incorporated.
Take the pan off the heat and after waiting a few seconds, whisk in the cream and continue whisking until the caramel is nice and smooth.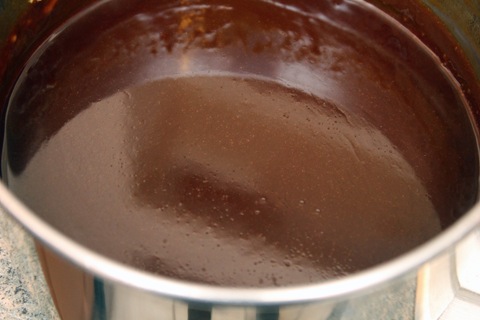 Let cool a bit. Pout into a airtight container and put it in the fridge until you're ready to heat it up and use it.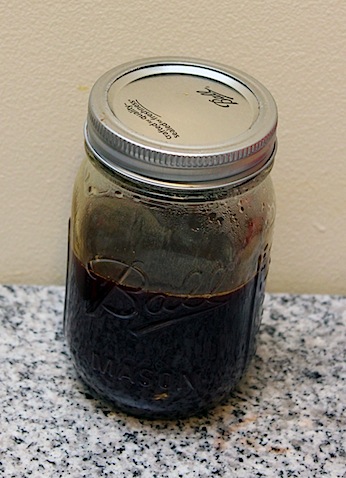 Next step: the apples! In a large skillet, melt 1 T of butter and add the apples in. Cook over medium heat for about 3 minutes, until apples are slightly browning.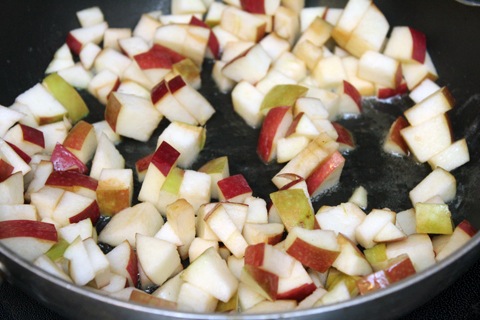 Add the ⅛ C of granulated sugar and ⅛ C of brown sugar and cook for another 5 minutes until the apples begin caramelizing. Remove from pan.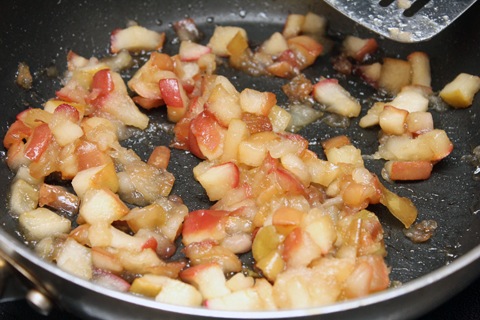 Make sure your pomegranate arils are all ready to go!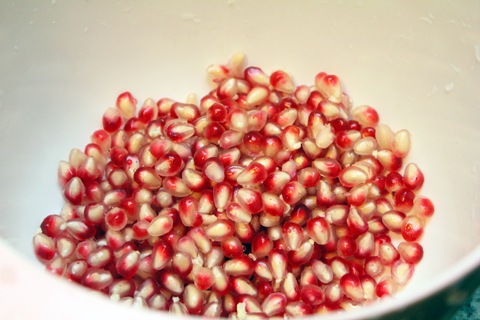 Then you can get your whipped cream on! All you do is put your cream in a bowl and turn the handle on the beater. Beat until stiff peaks form. You only need 1 C worth of cream for this recipe, but I used 2 and had a lot leftover.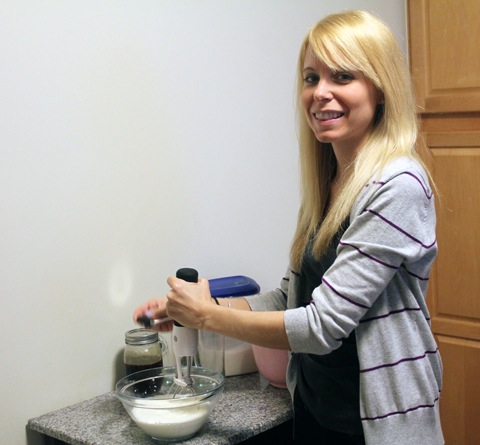 Turning the handle is MUCH easier than trying to make whipped cream using just a whisk. Everything is steady and much less cream splashes around the kitchen.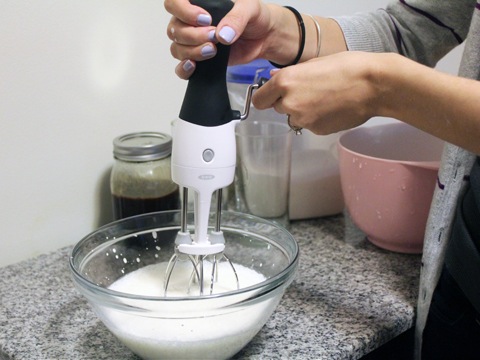 Also, your arm will hurt a lot less. Trust me. Once the cream was almost done, I added in 1 t of sugar and 1 t vanilla.
It only took me about 2-3 minutes of whisking to get these nice peaks.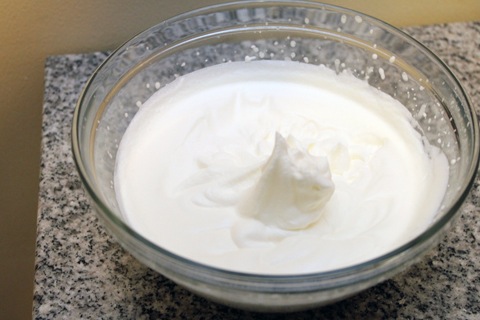 And then it was time to build the parfait! I started with a layer of caramel on the bottom and a layer of apples over that. Then a nice, hefty portion of whipped cream and pomegranate arils over it. On one of my parfaits, I poured caramel over the pomegranate, but then realized it was prettier if I just put apples over the poms. Then another layer of whipped cream and a caramel drizzle with more pomegranates on top.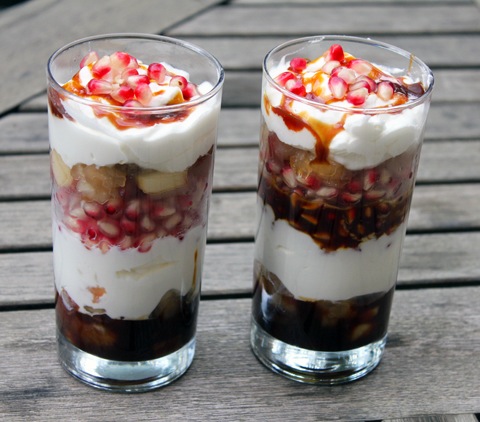 Perfection!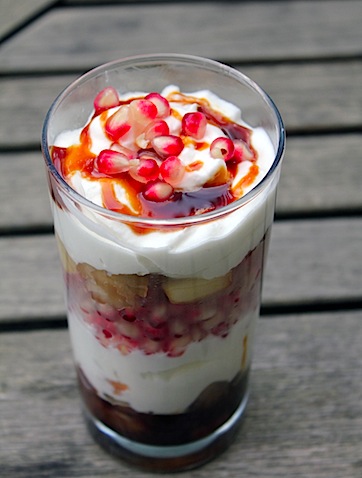 First of all, I seriously missed my beloved pomegranates this summer. I'm SO happy they're back. Pomegranates are one of those fruits I could absolutely live off.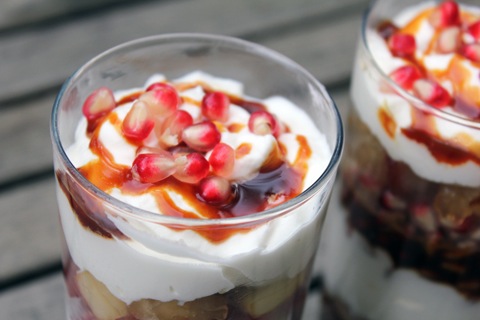 While every component of this parfait was pretty fabulous, it was definitely the light and fluffy homemade whipped cream that made it. Seriously, after you try making whipped cream like this, you will gag when you think of the canned stuff too (seriously. I cannot). This is SO much lighter and real-like… You know, like food should be.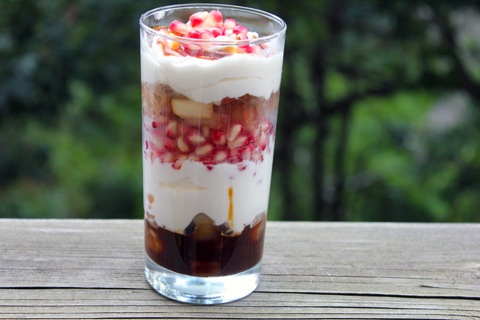 These flavors all worked really well together and made me thrilled to finally be immersed in fall.
Do you make your own whipped cream? What's your technique?
Chels and I are off for another year of Butterball fun tomorrow morning! We're SO excited to hang out with all the Butterball ladies and get a cook some turkeys. Of course, we'll be reporting back to you with all that we learn! In case you're curious, here's what we did last year and the year before!
[Sues]