Looking for the perfect way to start a cool fall morning? This Pumpkin Quinoa Parfait is packed with protein in the form of homemade pumpkin pie Greek yogurt and cinnamon quinoa. It's easy, healthy, and ridiculously satisfying!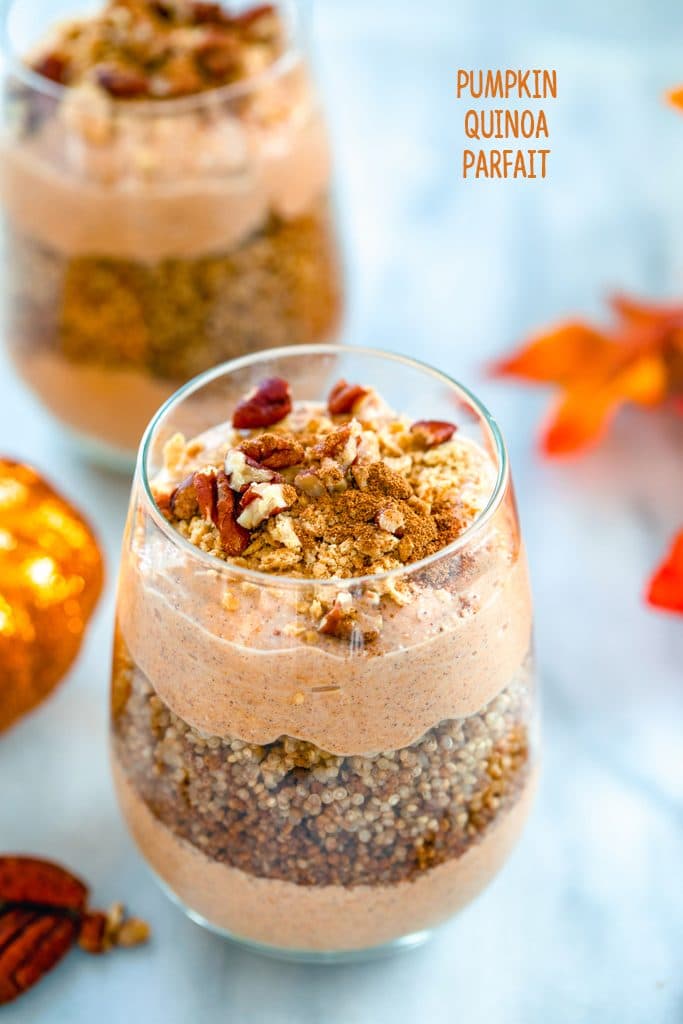 (This recipe for Pumpkin Quinoa Parfaits was originally published in October 2010, but was updated with new photos in 2018).
I realize I won't make many friends in the blog world saying this, but I am not a yogurt person. OK, I actually have a love/hate relationship with yogurt. I love the idea of it and I want SO badly to like it, but it bores me to no end. Don't get me wrong, I always have yogurt in the fridge, but it often goes bad before I get in the mood to eat it (yes, I do need to be in a yogurt mood to eat it). The coming of Greek yogurt helped a bit and I do enjoy a good pomegranate or pineapple Greek yogurt more than I've ever enjoyed yogurt before. But it's still yogurt. And yogurt just doesn't excite me.
However, so many bloggers have been posting photos of the yogurt parfaits they've been eating and they always look so delicious to me. And they actually make me wish I would crave yogurt every morning instead of something like, you know, eggs benedict. But I think I'm just an eggs benedict kinda gal, and that's a fact I'm just going to have to live with. Trust me, I've come to terms with it.
Then I saw Pumpkin Quinoa Parfaits on the blog of How Sweet It Is (if you love sweets, this is your blog!) And I could not get them out of my head for days. Me! With yogurt stuck in my head! It was totally unheard of. So much so, that I knew I had to make some version of the parfaits. At the very least, it would get visions of yogurt out of my dreams, right?
PUMPKIN QUINOA PARFAIT RECIPE
One of the best thing about yogurt parfaits is that they're generally pretty easy. And healthy! This pumpkin quinoa parfait is no different, though it does require a couple different components. Everything can be done ahead if you want to keep everything in the fridge overnight and assemble it in the morning. Or you can even assemble it the night before and just grab and go in the morning.
Start by cooking the quinoa, mixing it with a little cinnamon, and letting it cool. Then mix up some pumpkin pie yogurt. Yum! It's really just Greek yogurt, pumpkin puree, pumpkin pie spice, and cinnamon. You can add a little bit of honey or agave if you want to sweeten it up a little. Without it, this yogurt parfait is certainly not a "sweet treat" (aside from the graham cracker base), but that is totally fine with me. When I gave one to Chris, he wanted something a bit sweeter. For the graham crackers, you can simply put them in a plastic bag and crush them instead of getting out the food processor. Easy is key here!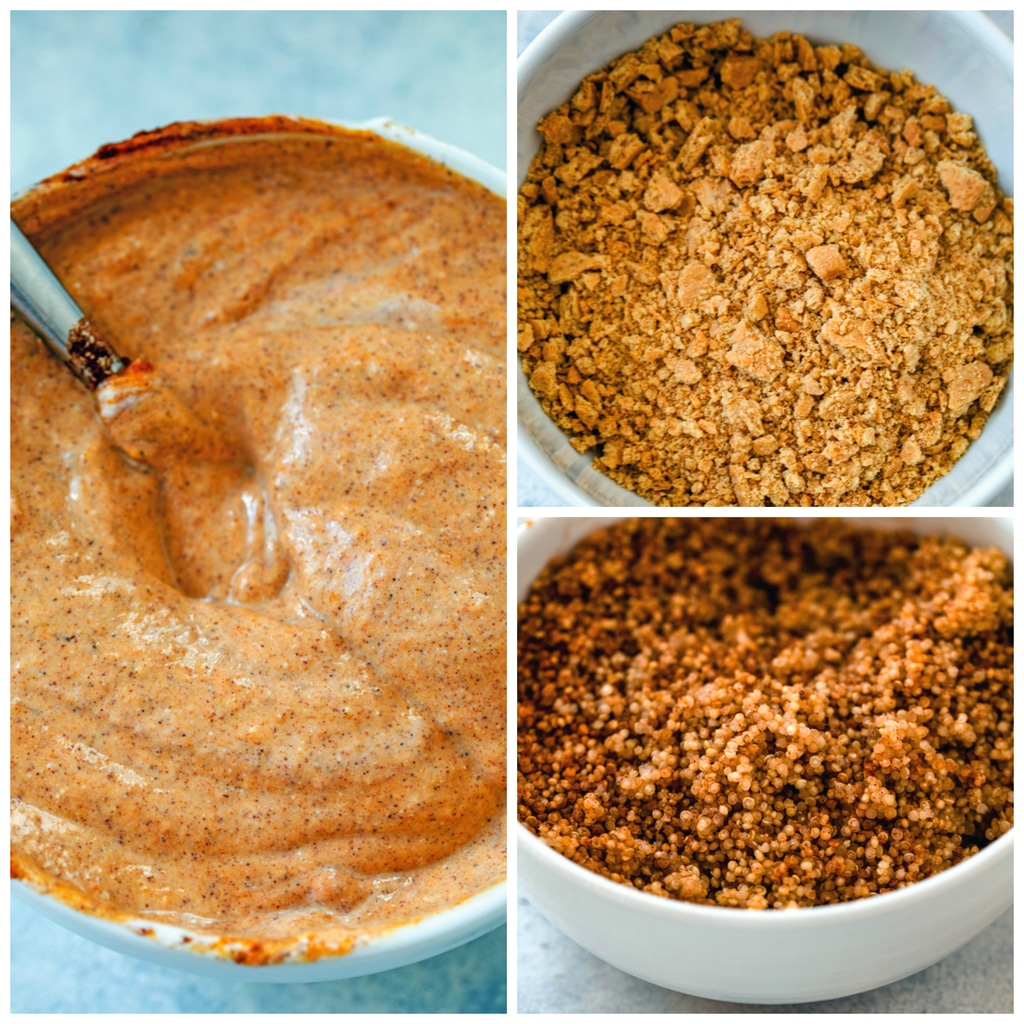 Then it's time to layer all the ingredients to make the most perfect pumpkin quinoa parfait. Start by dividing the graham cracker crumbs between the two glasses. Then spoon ¼ of the pumpkin pie yogurt over the graham crackers, followed by ½ the quinoa. Finish each parfait off with another scoop of yogurt and top with crushed pecans if desired. I also sprinkled on a little bit more cinnamon and some more crushed graham crackers, too.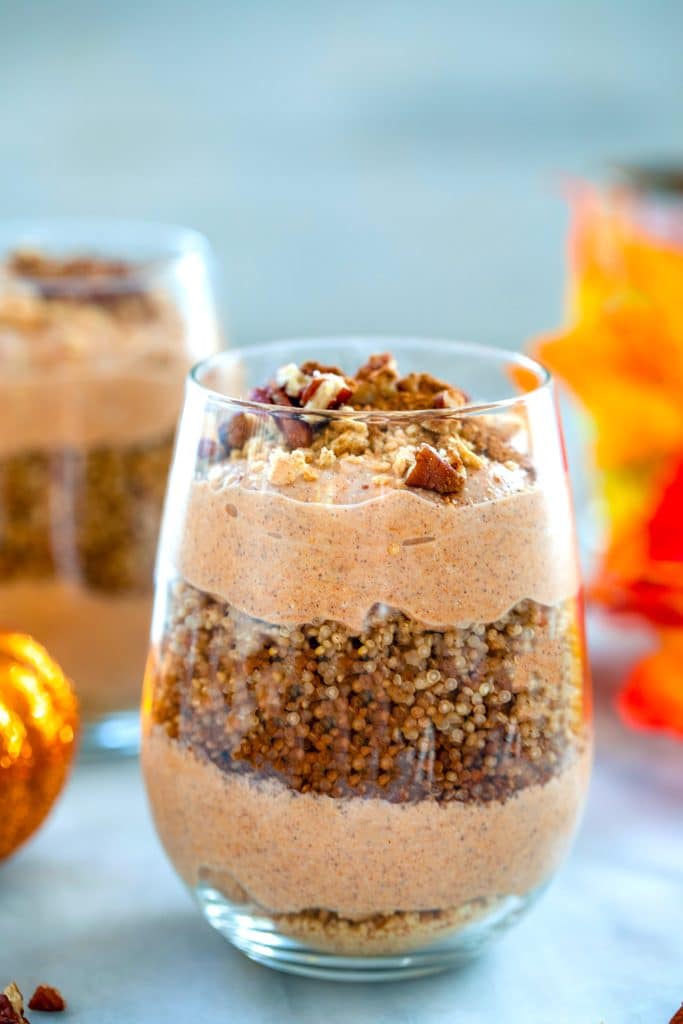 Isn't it pretty? There's something about starting the day with such a pretty breakfast that makes you feel like you can conquer anything. Of course, ease and taste are more important than looks and luckily this breakfast is both super simple and incredibly delicious. You don't even have to use exact measurements for the recipe if you're in a hurry and can simply throw all the components into a bowl.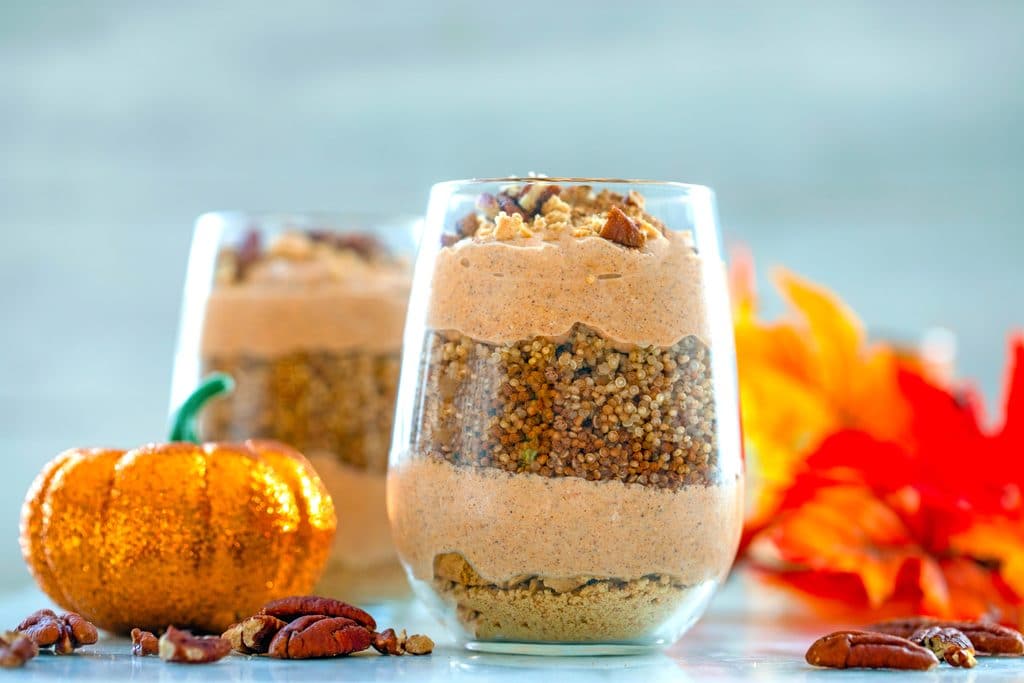 These pumpkin quinoa parfaits are also incredibly healthy and are packed with protein, which will likely keep you full and satisfied all morning long. They also offer a very generous serving, so you can certainly split this into two if you want. It will be just as delicious the next day!
If I ever open up a little brunch spot (which is totally one of my dreams), I'll most definitely be serving this in the fall months. It's SO simple, but amazingly beautiful and seasonally tasty. Plus, it's nice and filling.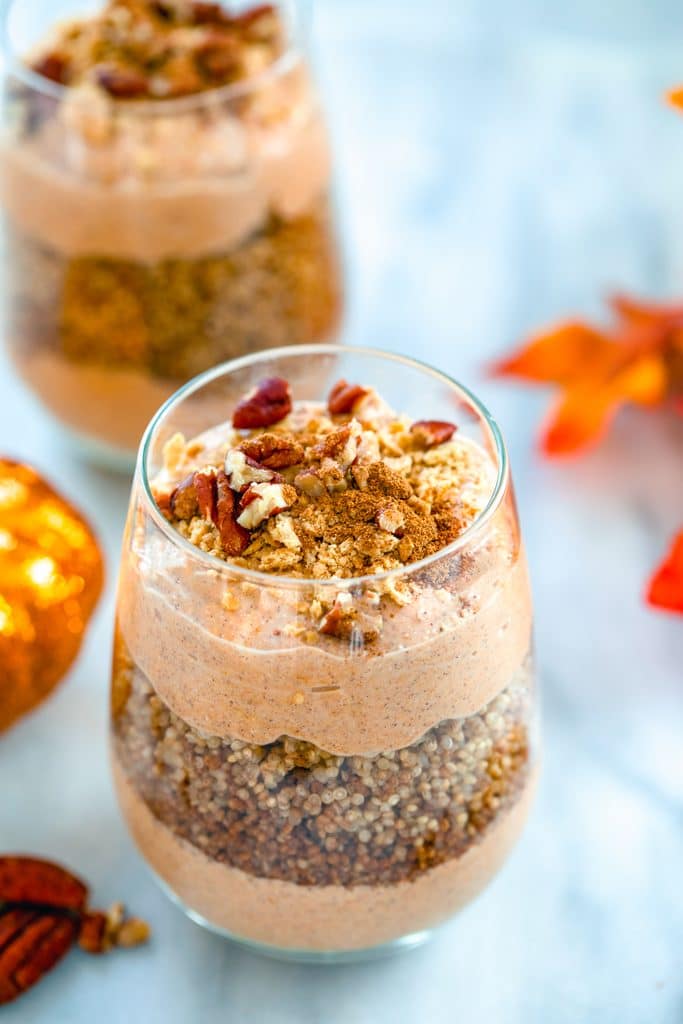 And I actually feel quite inspired to try other yogurt parfait creations. Making this yogurt parfait did not, in fact, get yogurt out of my head. It actually made my head practically explode with yogurt parfait ideas. Candy cane. I need to do a candy cane parfait.
Are you a "yogurt person"? What's your favorite kind?
If you're looking for more delicious and healthy fall breakfasts, check out my Bircher Muesli and my Chai Tea Pumpkin Breakfast Quinoa. I also love these Blueberry Quinoa Pancakes from Muy Delicious!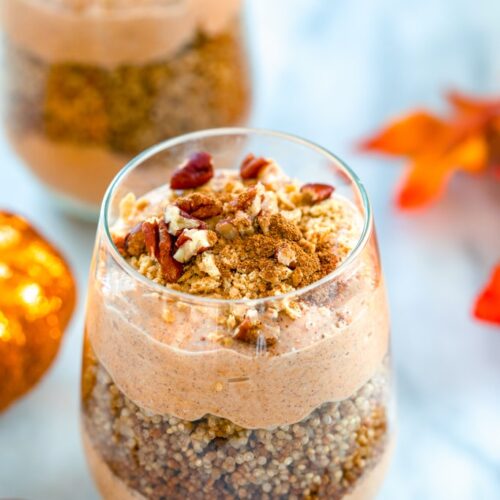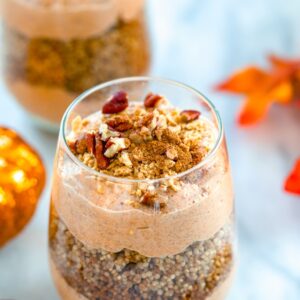 Pumpkin Quinoa Parfait
Looking for the perfect way to start a cool fall morning? This Pumpkin Quinoa Parfait is packed with protein in the form of homemade pumpkin pie Greek yogurt and cinnamon quinoa. It's easy, healthy, and ridiculously satisfying!
Print
Pin
Rate
Ingredients
½

cup

dry quinoa

2

tsp

cinnamon,

divided

2

cups

plain Greek yogurt

1

cup

pumpkin puree

2

tsp

pumpkin pie spice

1

Tbsp

honey or agave,

optional

⅓

cup

graham cracker crumbs

¼

cup

chopped pecans,

optional
Instructions
Place 1 cup water and dry quinoa in a medium saucepan. Bring to a boil. Lower heat to a simmer, covered saucepan, and let cook for about 10 minutes, until water is completely absorbed. Transfer to separate bowl, stir in 1 tsp cinnamon, and place in fridge to cool.

In a separate medium bowl, stir together Greek yogurt, pumpkin puree, pumpkin pie spice, and remaining 1 tsp cinnamon. Also stir in honey or agave if you want to sweeten the yogurt a bit.

Add graham cracker crumbs to the bottom of a glass or bowl. Add ¼ of the pumpkin pie yogurt mixture (about ¾ cup) over the graham cracker crumbs. Add ½ the quinoa. Top quinoa with another ¼ of the yogurt.

Top with chopped pecans. You can also sprinkle additional cinnamon and/or graham cracker crumbs over the top, if desired. Repeat layering with second glass or bowl.
Share a Photo of Your Finished Recipe!
Mention @wearenotmartha and share a photo if you've made the recipe!