These 5-ingredient Coconut Chia Dragon Fruit Smoothie Jars will brighten up your morning with their pretty pink hue and keep you full and satisfied for hours!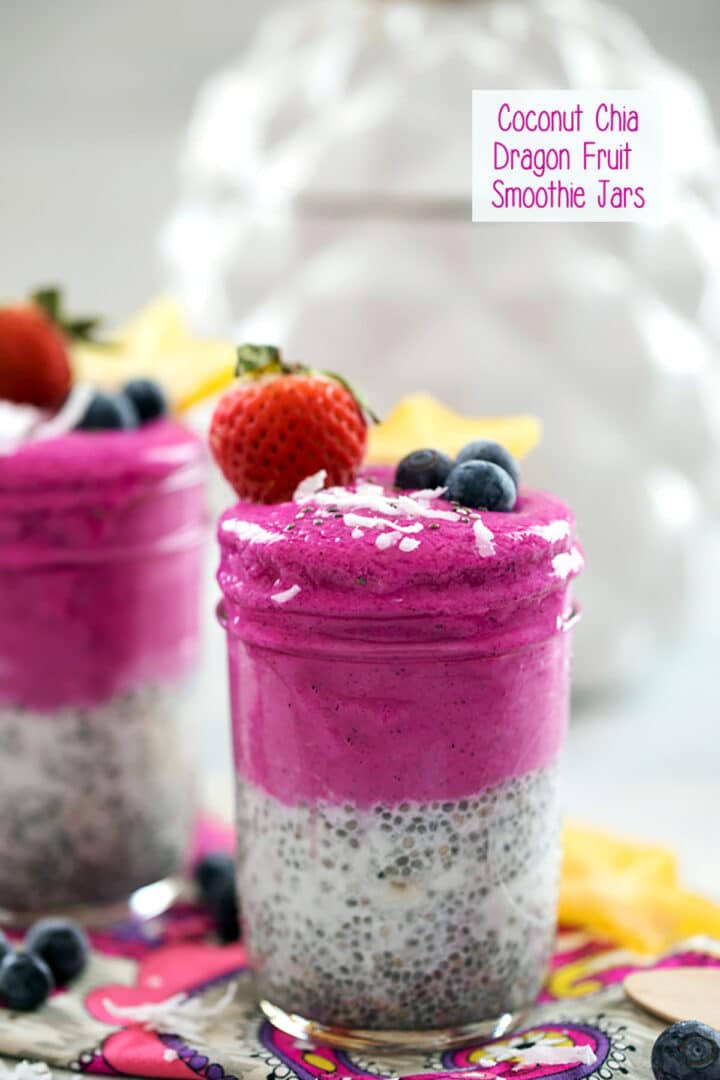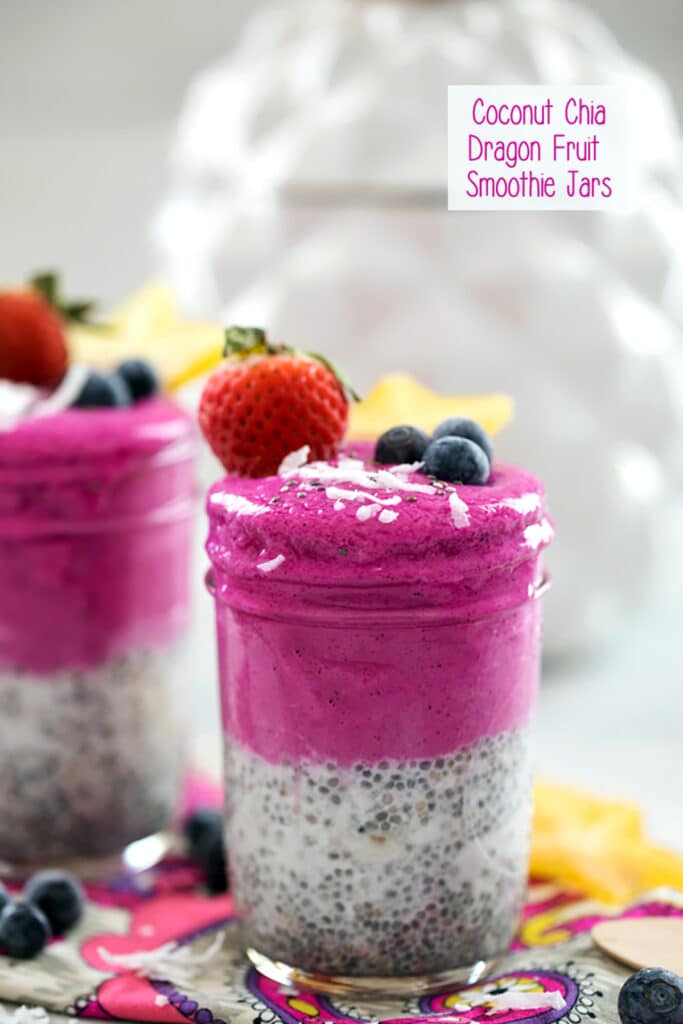 When they tell you to eat the rainbow, I'm pretty sure they're not talking about Skittles. I'm also pretty sure that pink isn't actually a color in the rainbow. Furthermore, I'm now officially traumatized that I read this article stating that the color pink doesn't actually exist. Excuse me??
My brain has been lying to me all these years?? OK, now that I've fallen down the Google rabbit hole and have cried tears of sorrow for my dear friend pink, we can talk about dragon fruit.
What is Dragon Fruit?
Dragon fruit, also known as pitaya, is pink (more specifically magenta) and gorgeous and natural, requiring no artificial dyes or colorings.
The only problem with dragon fruit? It's not always pink on the inside... Sometimes, in fact most times, it's white. But you don't really know that until you get home and cut it open. Which sounds kind of exciting in theory, but isn't really when you want some gorgeous pink dragon fruit and can't seem to get your hands on it.
I'm generally fine with the white fleshed dragonfruit, but when I decided to make these coconut chia dragon fruit smoothie jars, I knew I wanted a magenta hue involved in the parfait. Which is why I picked up this beautiful dragon fruit powder at Amazon.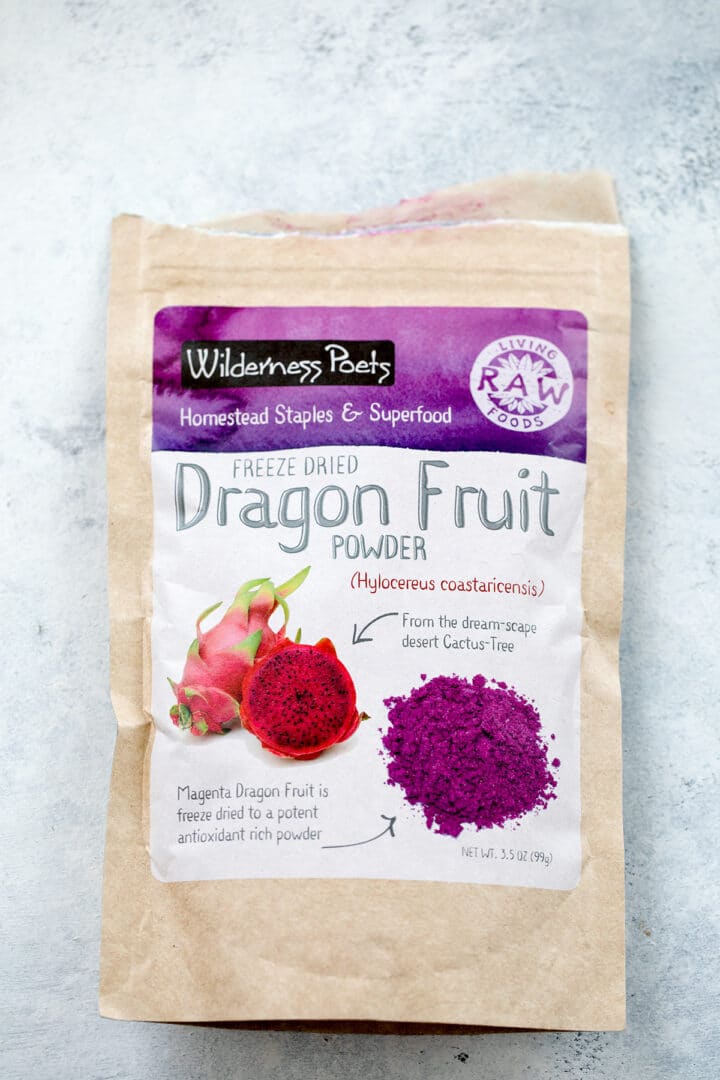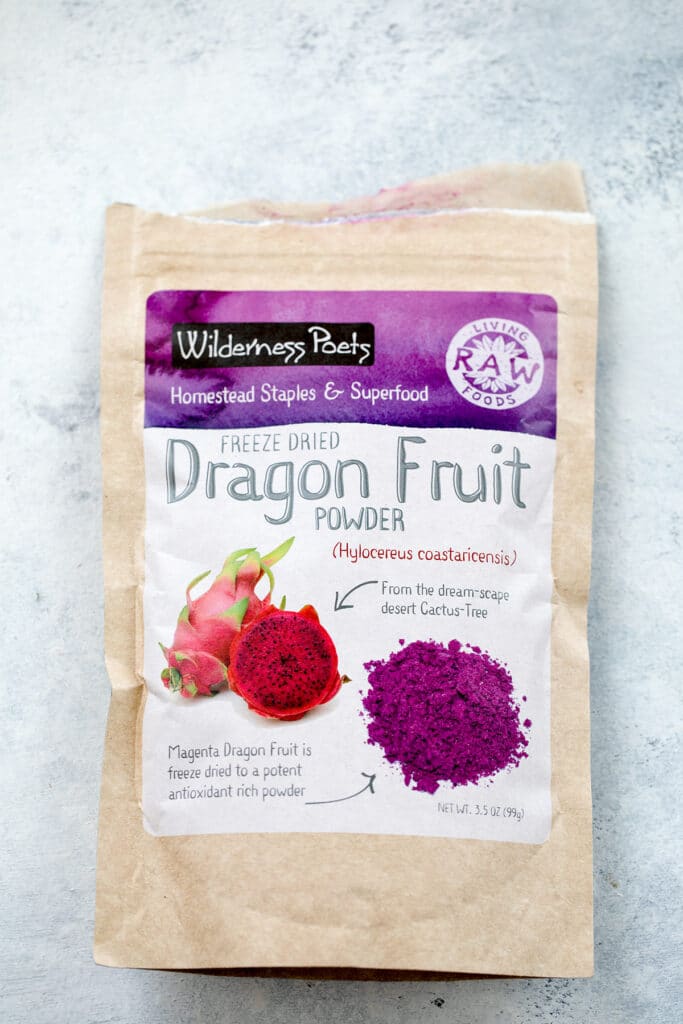 The powder I used is made from simply freeze-dried dragon fruit, so it's real as could possibly be without me getting my hands on the actual fruit.
If you love dragon fruit, but can't find it... Or can't find pink dragon fruit and love the vibrant color, definitely get a bag of dragon fruit powder- there are so many recipes you can make with it!
How to Make Coconut Chia Dragon Fruit Smoothie Jars
For the base of my dragon fruit smoothie parfaits, I made a coconut chia pudding. If you haven't tried chia pudding yet and are looking for an easy and satisfying breakfast, make this immediately.
It takes 3 minutes for you to mix up the night before and turns into a thick and delicious pudding by morning.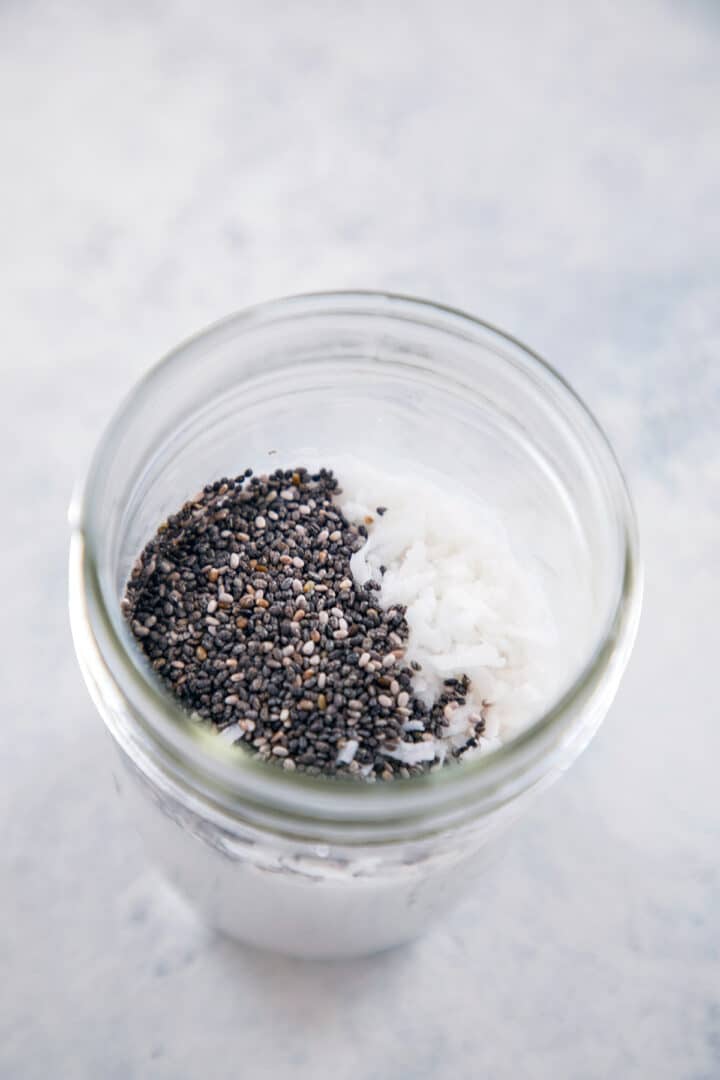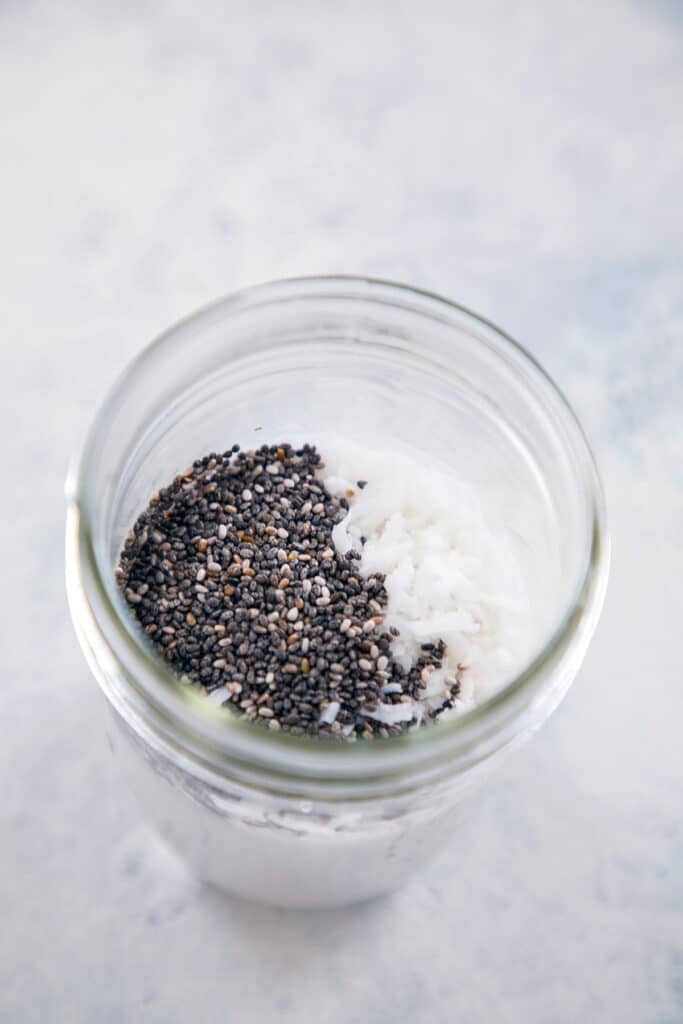 I could probably talk to you about chia seeds for hours, but I'll spare you except for telling you that in one ounce of chia seeds, there are:
4.4 grams protein
8.6 grams fat (5 of which are omega-3s)
10.6 grams fiber
0.6 milligram manganese (30% DV)
265 milligrams phosphorus (27% DV)
177 milligrams calcium (18% DV)
1 milligram zinc (7% DV)
0.1 milligram copper (3% DV)
44.8 milligrams potassium (1% DV)
(via Draxe.com)
They're also packed with antioxidants and basically, they're incredible. And there are only 137 calories and 12.3 grams of carbohydrates (most of which are from fiber anyway). I eat chia seeds almost every day and add them into every single smoothie I make.
I buy them in bulk and they last a long time (warning: be very careful if you're pouring them into another container... spilled chia seeds are NOT fun and I speak from experience!)
I made this chia pudding with coconut milk (the kind from a carton) and some shredded coconut for a little extra tropical sweetness. And then topped it with a banana and dragon fruit powder blend.
It's that simple. If you prefer soy milk or almond milk or "real" milk, go for it. You can use any dairy or dairy alternative that you want... Though I think coconut milk is really the most fun.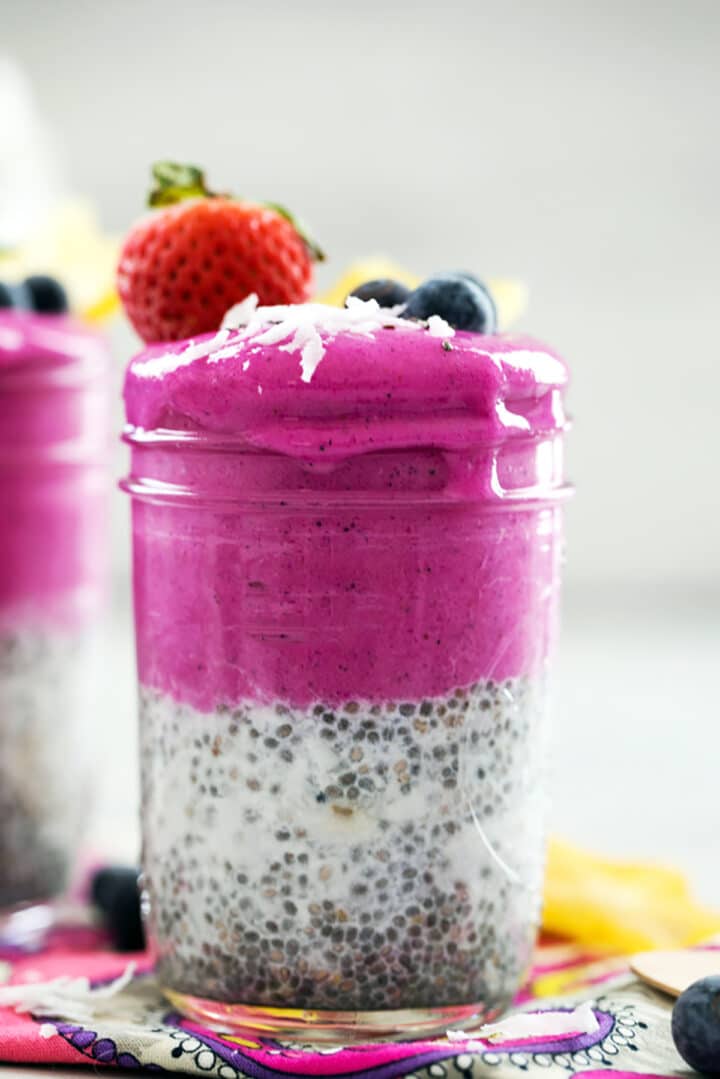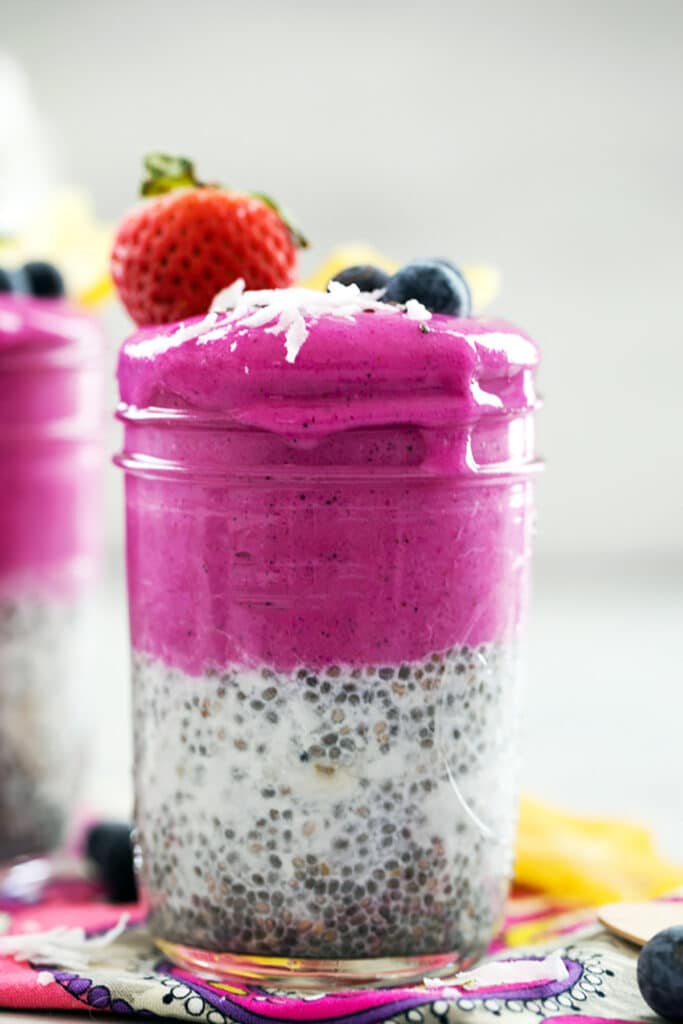 How can you not feel at least a little bit happy when you wake up to a breakfast like this? And you basically can wake up to it since you'll prep the coconut chia pudding the night before.
In the morning, all you have to do is blend the frozen bananas and dragon fruit powder together and pour it over the chia pudding. Then grab a spoon and dig in to your dragon fruit smoothie jar!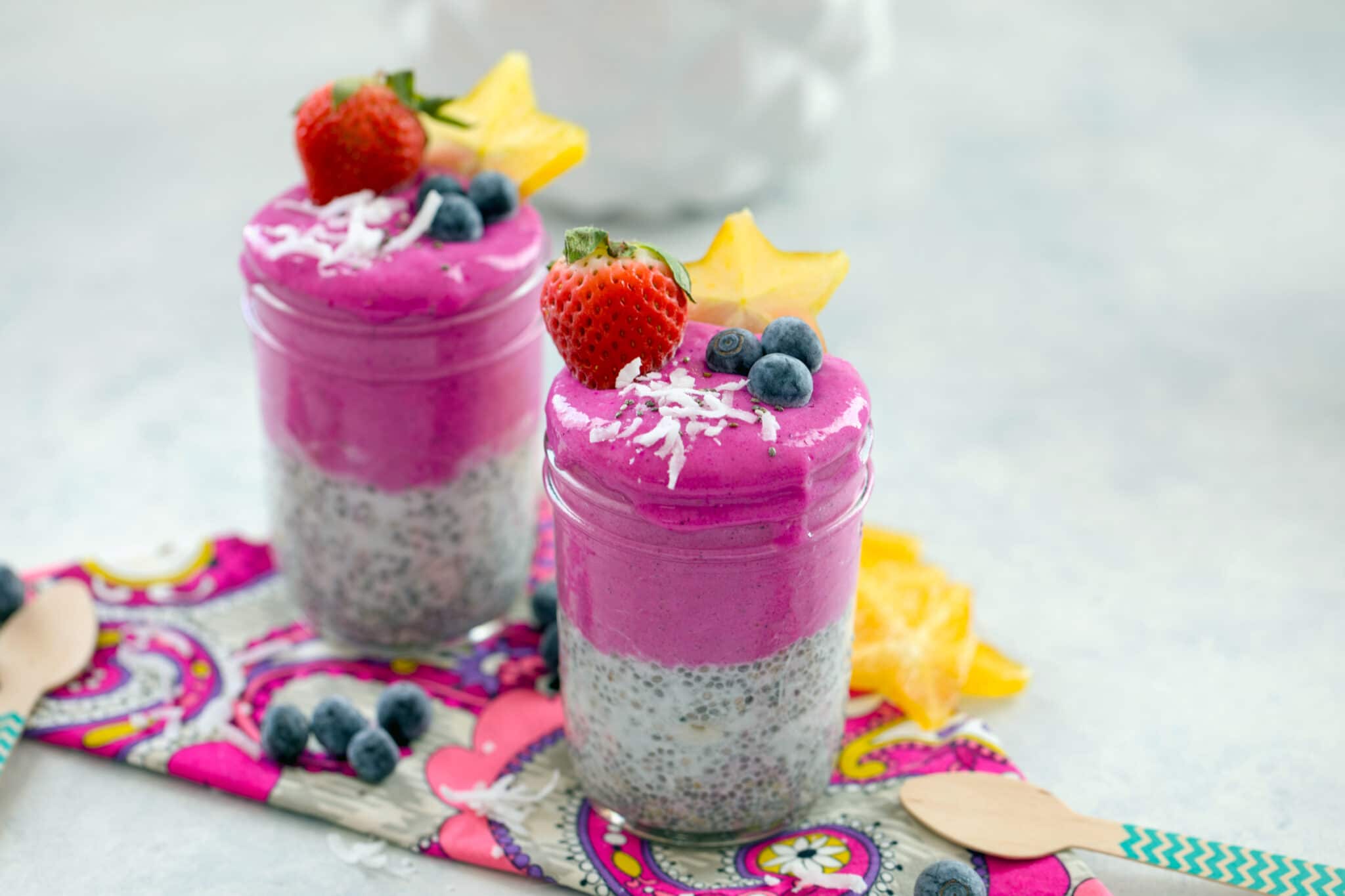 I topped my coconut chia dragon fruit smoothie jars with a little extra coconut and some fresh fruit. Starfruit is another one of those fun tropical fruits that you don't see all the time. My regular old grocery store does usually carry it, lucky for me.
They also usually have dragon fruit, but it's the white flesh variety and also very $$. The dragon fruit powder isn't cheap, but it should last you a lot longer than a few dragon fruits will.
If you're wondering, dragon fruit doesn't have a super strong flavor. It's a little sweet and a little tart, but kind of like a starfruit in that it's not flavor-packed.
It's sometimes described as "Strawberry Pear" or compared to kiwi, which are two comparisons that make sense. It's tropical, but at the same time, nice and light, making these dragon fruit smoothie jars the perfect breakfast option.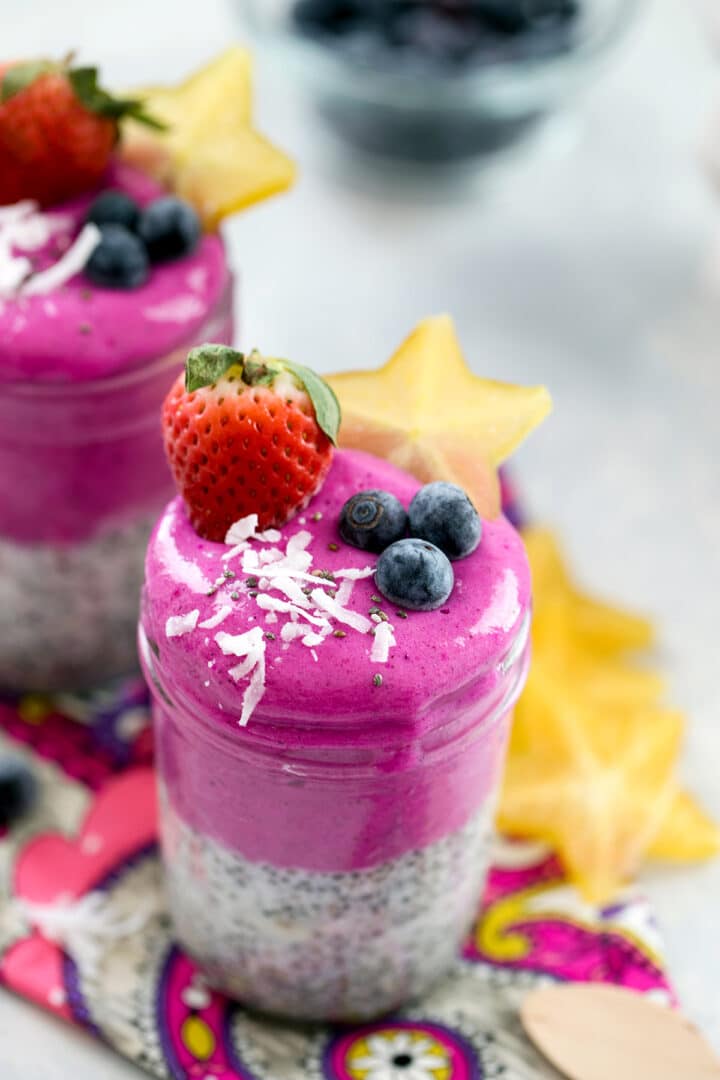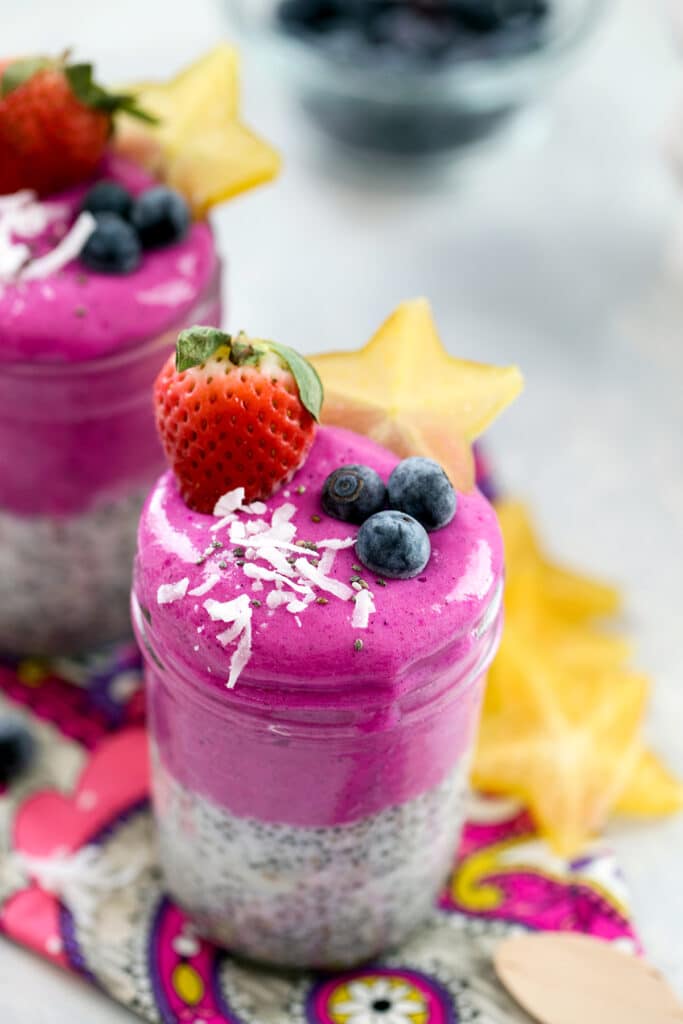 Plus, because chia seeds are packed with so much fiber and protein, they do an excellent job at keeping you full and satisfied all morning long. And I have to admit that there's something really fun about eating "pudding" in the morning.
Even if you know it's not actually pudding and is simply milk or a dairy alternative mixed with chia seeds.
I guess I'm fooling my mind into thinking it's pudding, just like I've spent the last 30-something years fooling my brain into thinking pink actually exists. Sigh.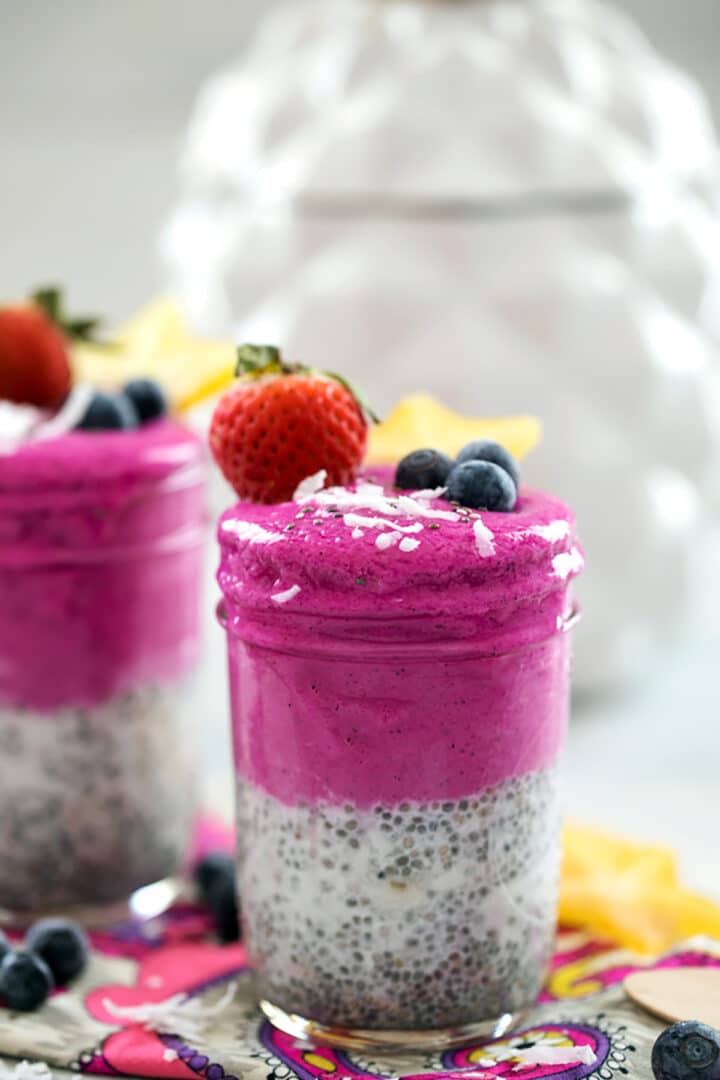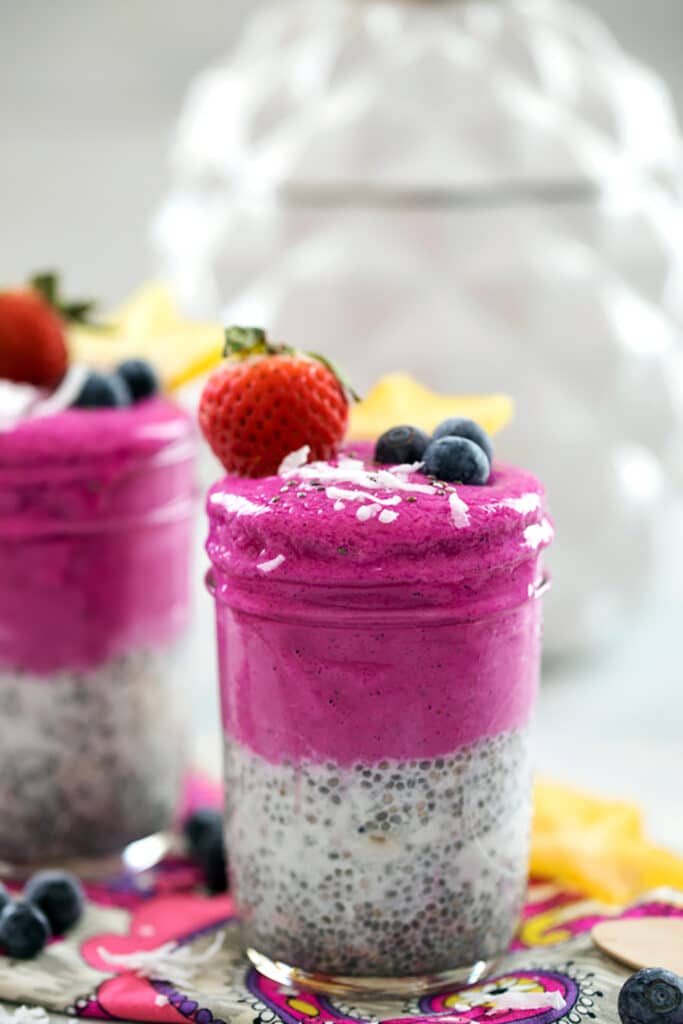 I have a feeling this won't be the last pink dragon fruit recipe you see around here now that I have this dragon fruit powder.
Though I will certainly continue my search for the elusive pink flesh dragon fruit... Perhaps I'll have to take a little trip to Costa Rica or Thailand to get my hands on some?
More healthy Breakfast Ideas
I'm planning to have more dragon fruit powder recipes for you soon, but in the meantime, I have lots of other healthy and delicious breakfast recipes. Here are some of my favorites:
Have you had dragonfruit before? How about chia pudding?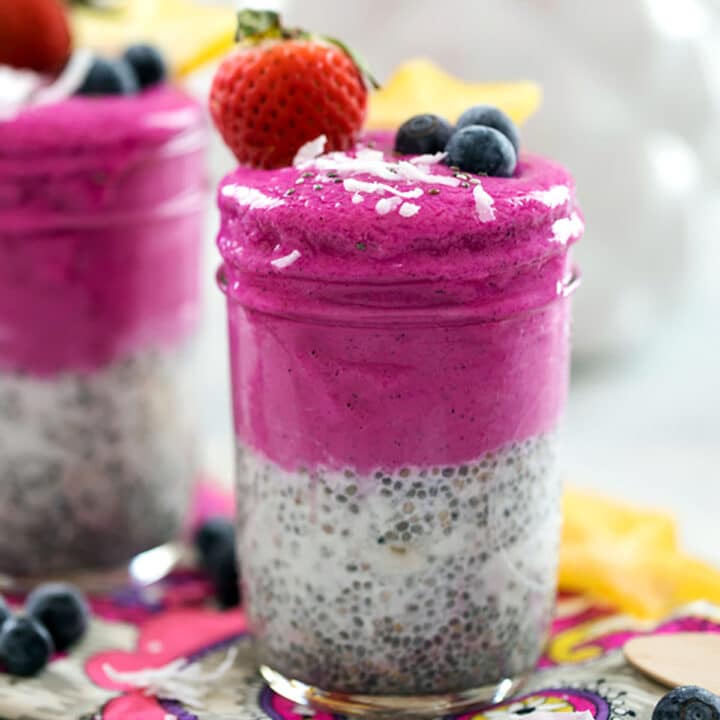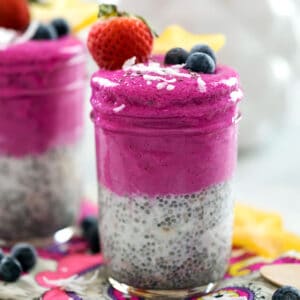 Coconut Chia Dragon Fruit Smoothie Jars
These 5-ingredient Coconut Chia Dragon Fruit Smoothie Jars will brighten up your morning with their pretty pink hue and keep you full and satisfied for hours!
Print
Pin
Rate
Ingredients
1

cup

coconut milk

(or dairy or dairy alternative of your choice)

3

Tbsp

chia seeds

2

Tbsp

shredded coconut

2

small frozen bananas

2

Tbsp

dragonfruit (pitaya) powder

Fruit and shredded coconut for topping,

optional
Instructions
Divide coconut milk, chia seeds, and coconut equally between two 8 oz. jars, cover, and stir or shake well. Place covered jars in fridge overnight to allow chia seed pudding to thicken.

When ready to eat, place bananas in blender and blend until smooth. Add dragonfruit powder and process until it's blended into banana puree.

Pour banana/dragonfruit puree on top of chia seed pudding in jars.

Top with fruit and shredded coconut for garnish, if desired.
Notes
Coconut Chia Dragon Fruit Smoothie Jars are quick and easy to make, but be sure you leave time for the chia pudding to chill in the fridge.
Share a Photo of Your Finished Recipe!
Mention @wearenotmartha and share a photo if you've made the recipe!
View Web Story for this recipe.