You may think fajitas are just a fancy Mexican restaurant meal (that sizzle!). But this recipe for Chicken Fajitas is an incredibly easy dinner anyone can make. Substitute chicken with steak or shrimp if you desire.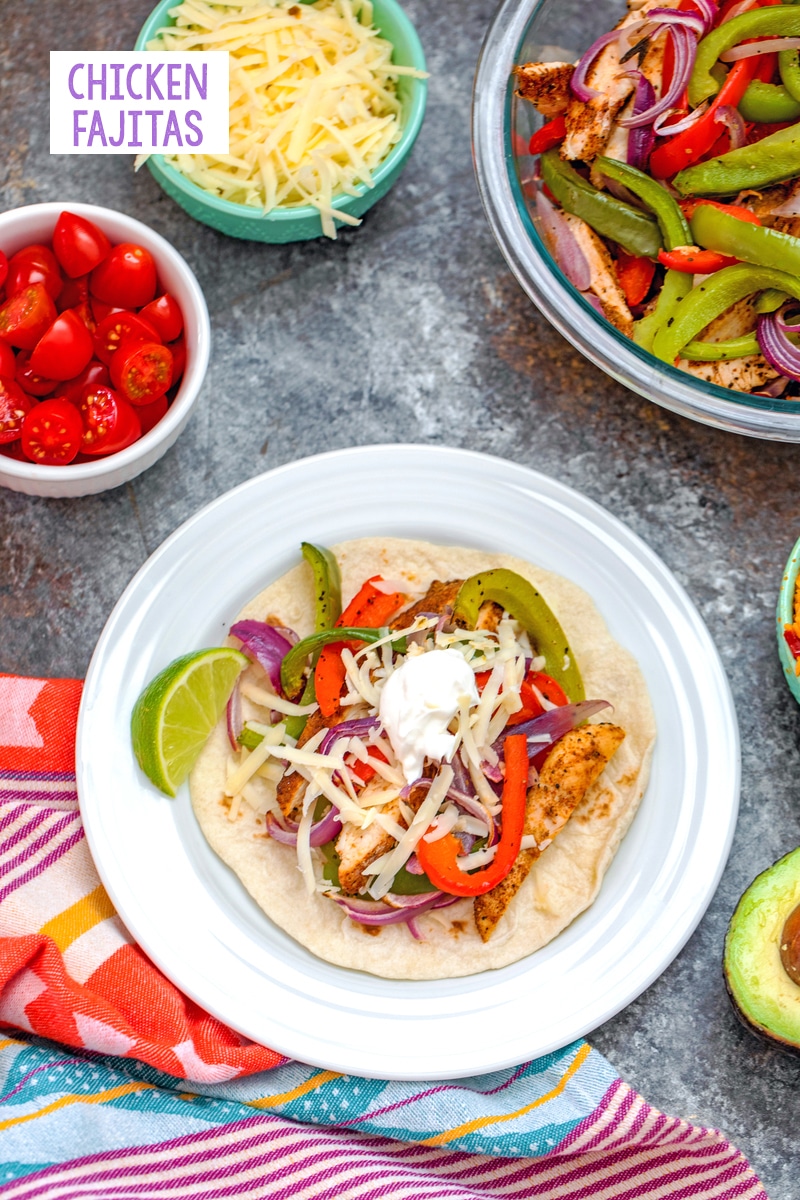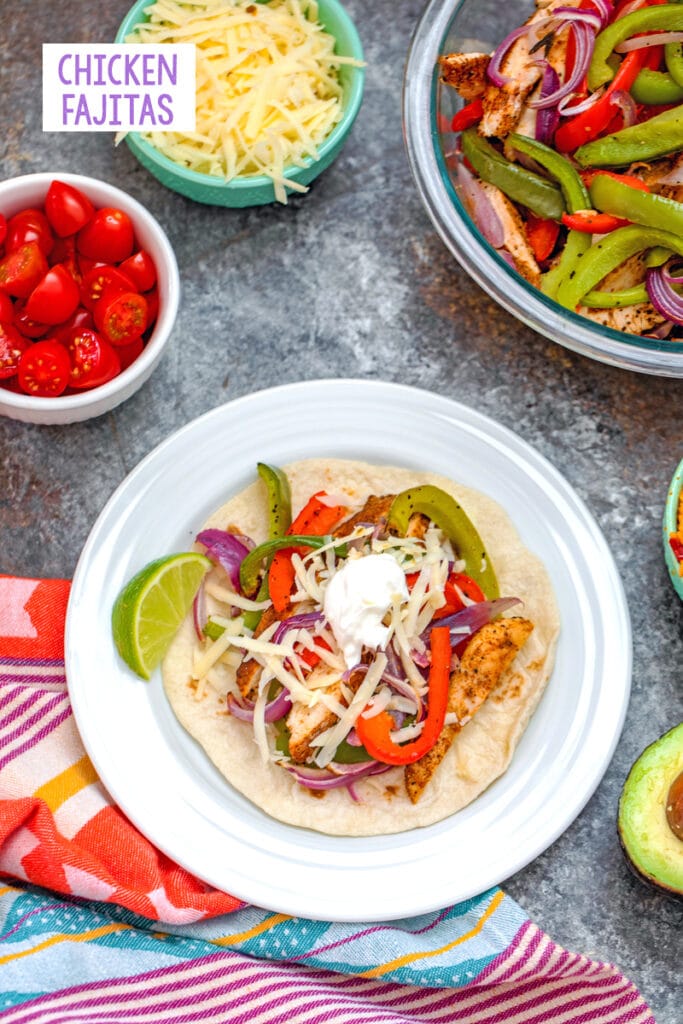 (This recipe for Chicken Fajitas was originally published in June 2010, but was updated with new photos and content in 2020).
It's a sound everyone knows. That sizzle sizzle at a Mexican restaurant as as the waiter or waitress walks by your table with a platter of fajitas. Fajitas are often one of the pricier and "fancier" meals at Mexican restaurants. But that doesn't mean they're hard to make!
These chicken fajitas may not have that signature sizzle. But that's OK because they make for the perfect easy weeknight dinner that the whole family will enjoy. Plus, they can easily be customized to your family's liking.
Ingredients for Chicken Fajitas
Fajitas are generally a simple dish and don't require many ingredients. Here's what you'll need:
Red Onion
Bell Peppers (any color, but I like a mixture of red and green)
Chicken (see below for protein substitutes)
Spices (I used a mixture of chili powder, cumin, garlic powder, salt, and pepper)
Flour tortillas
Toppings (here's where you can have fun! I like using shredded cheese, sour cream, tomatoes, avocado/guacamole, and lime. You can also add rice and beans if you want)
Protein Substitutes
If your family isn't a fan of chicken or you want to work with what you have available, you can swap the chicken out for any protein you want. Below are some protein options... You can even do a mixture of two or three!
Steak (skirt steak or flank steak are the best options)
Shrimp
Tofu
Quinoa
You can toss the protein (or cooked quinoa) in the spices and cook as you normally would before mixing with the onions and peppers.
How to Make Chicken Fajitas
These chicken fajitas are an incredibly easy recipe and can be made in just 30 minutes. Of course, there are a hundred different ways to make fajitas, but I like my way best because I can have the veggies and chicken cooking at the same time to my liking and have everything ready very quickly.
You may not get that traditional fajita sizzle with this recipe, but dinner on the table in 30 minutes? I'd say that's worth the trade-off!
For this recipe, I broil the peppers, onions, and garlic in the oven on a baking sheet.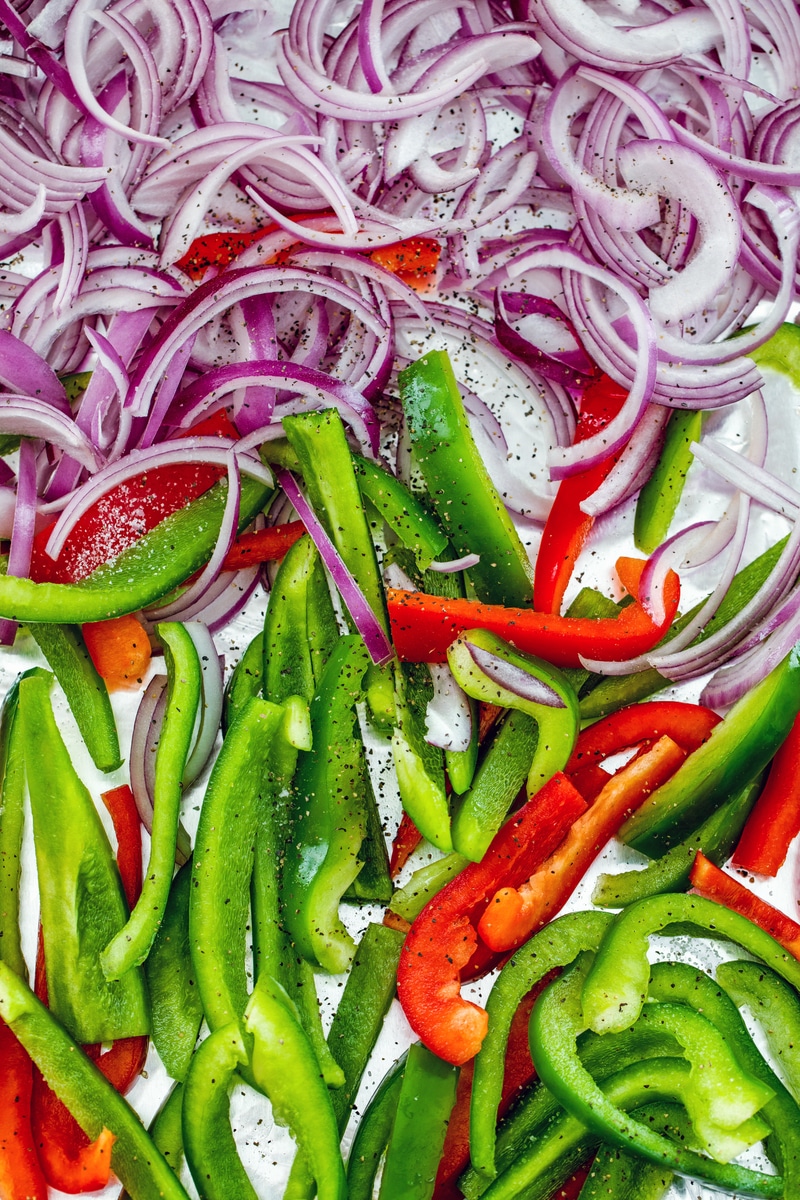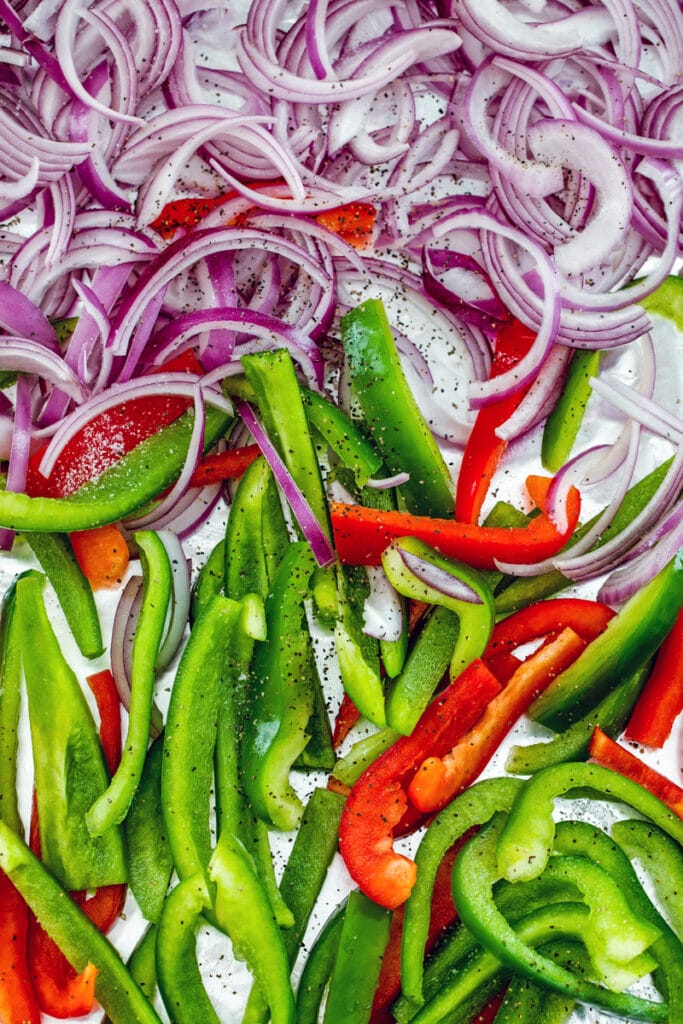 And I cook my chicken in a skillet on the stovetop with a nice little spice mixture. You can, of course, cook the chicken on the baking pan with the vegetables, but I don't love chicken when it's broiled and prefer to have more control with cooking it on the stovetop.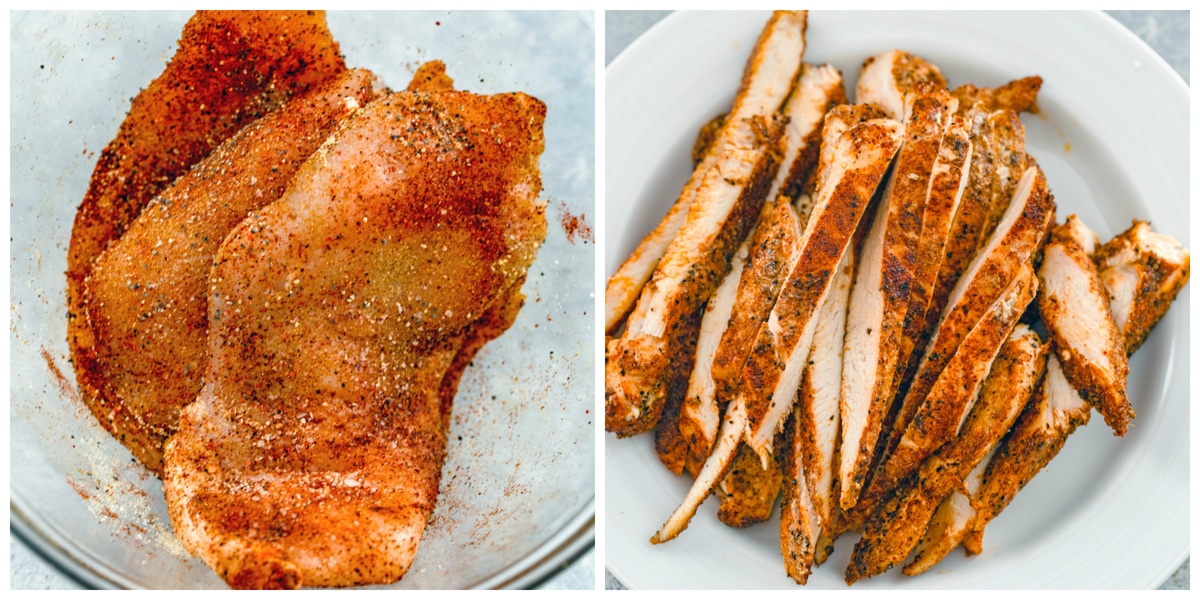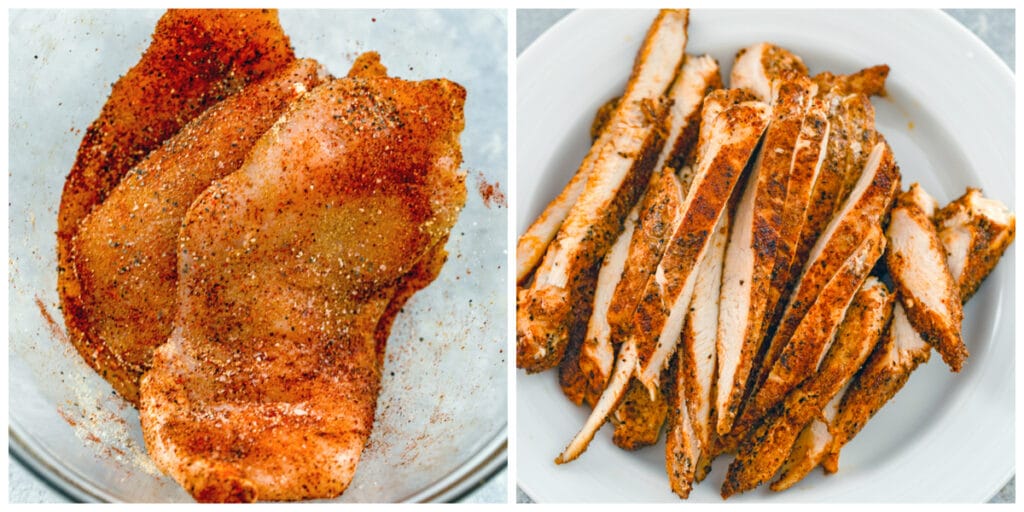 Once both the chicken and vegetables are done cooking (in about 10 minutes!), mix them all together in a bowl.
Your chicken fajitas are basically done at this point.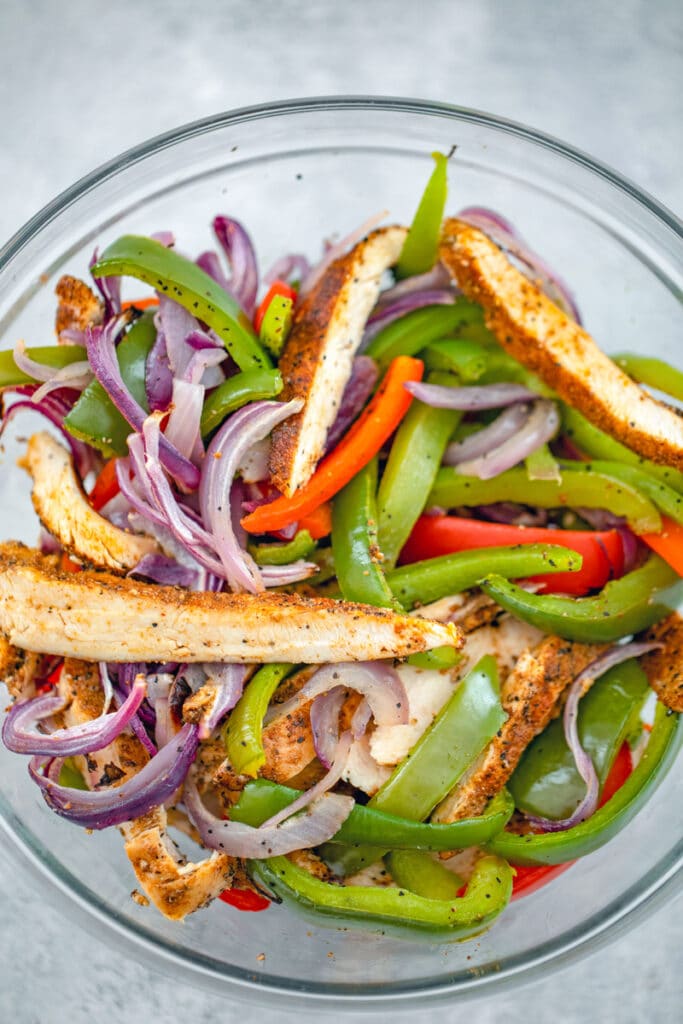 Warm the flour tortillas in the microwave wrapped in damp paper towels for about 30 seconds-1 minute.
And the fajitas are ready to be assembled! I recommend putting the serving bowl of chicken and vegetables on the table, along with little bowls with all the toppings and letting people assemble their own fajitas.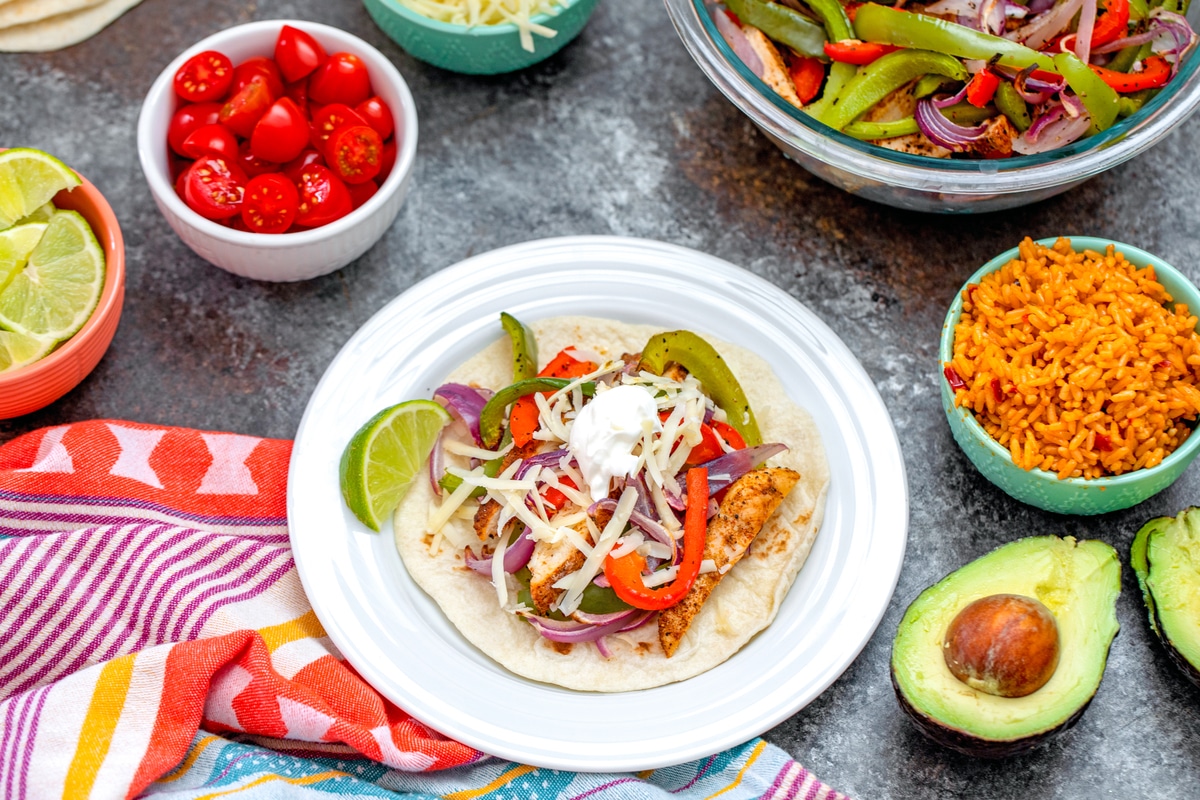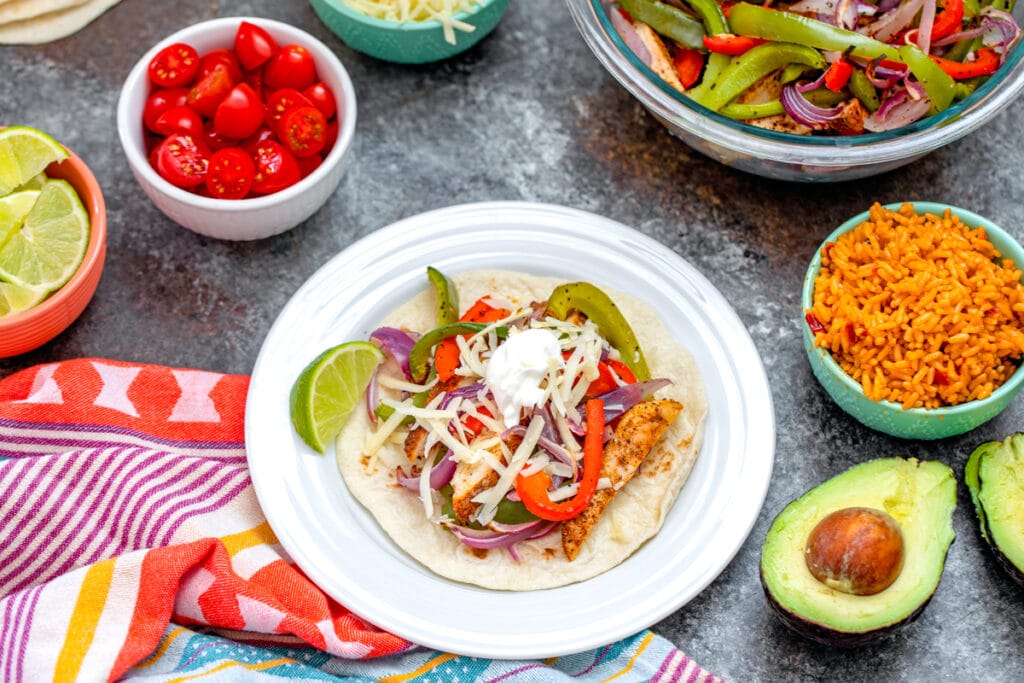 Toppings for Fajitas
You can use any toppings you want and as many or as few as you want, but here are some of my favorite fajita toppings:
Shredded cheese
Sour cream
Chopped tomatoes
Sliced avocado
Spanish rice
Salsa
Lime wedges
I mean, is there anything this meal doesn't have??
The flavors in this dish are amazing and for being such a simple dinner, it's immensely satisfying. Besides the chopping of the veggies, this dinner takes no time at all.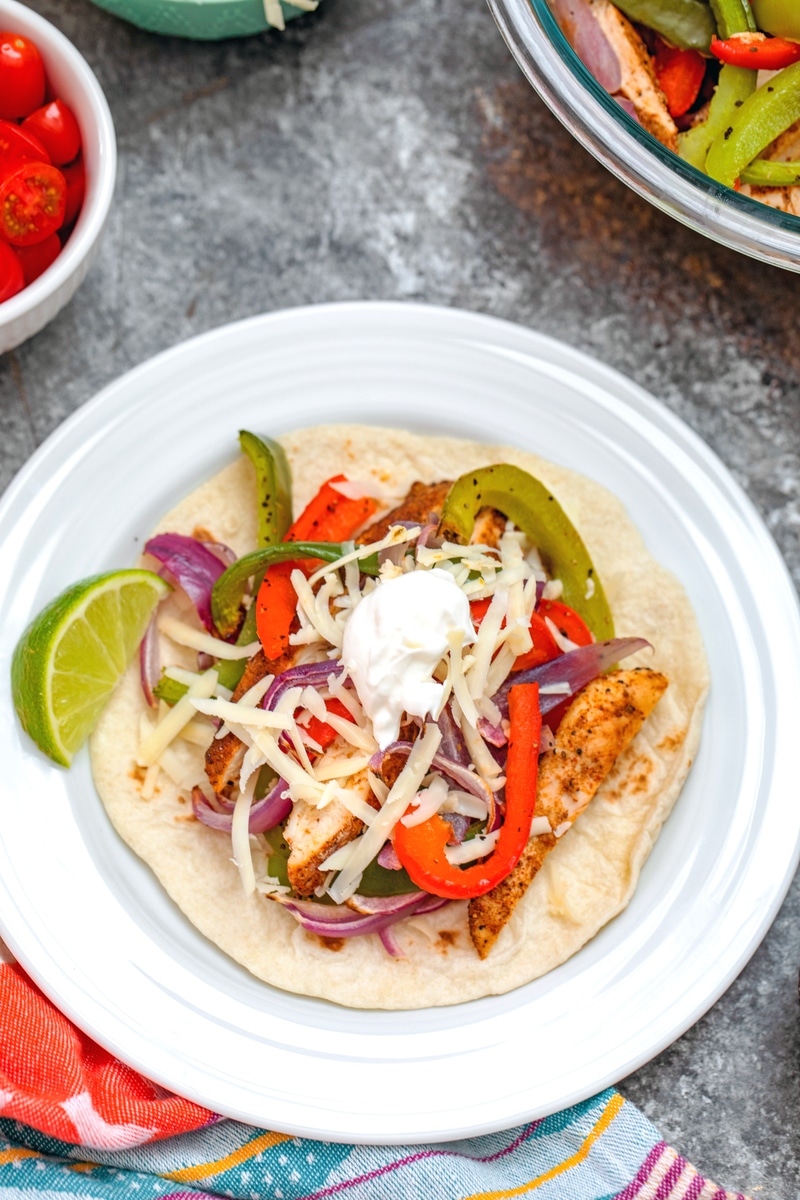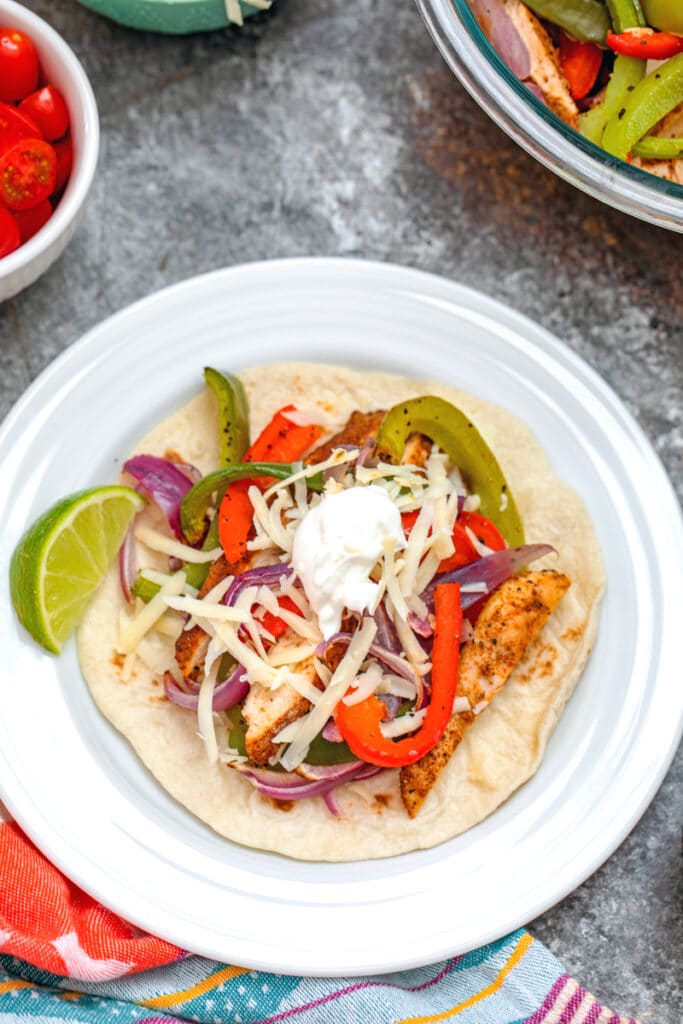 And I think it's a fabulous dish to serve guests, too. Especially if you add a beef option and some more veggies. It's one of those meals that feels special, but takes just minutes to prepare.
The only thing I wish I thought of ahead of time? Sangria. Now, that would have made the perfect Sunday night.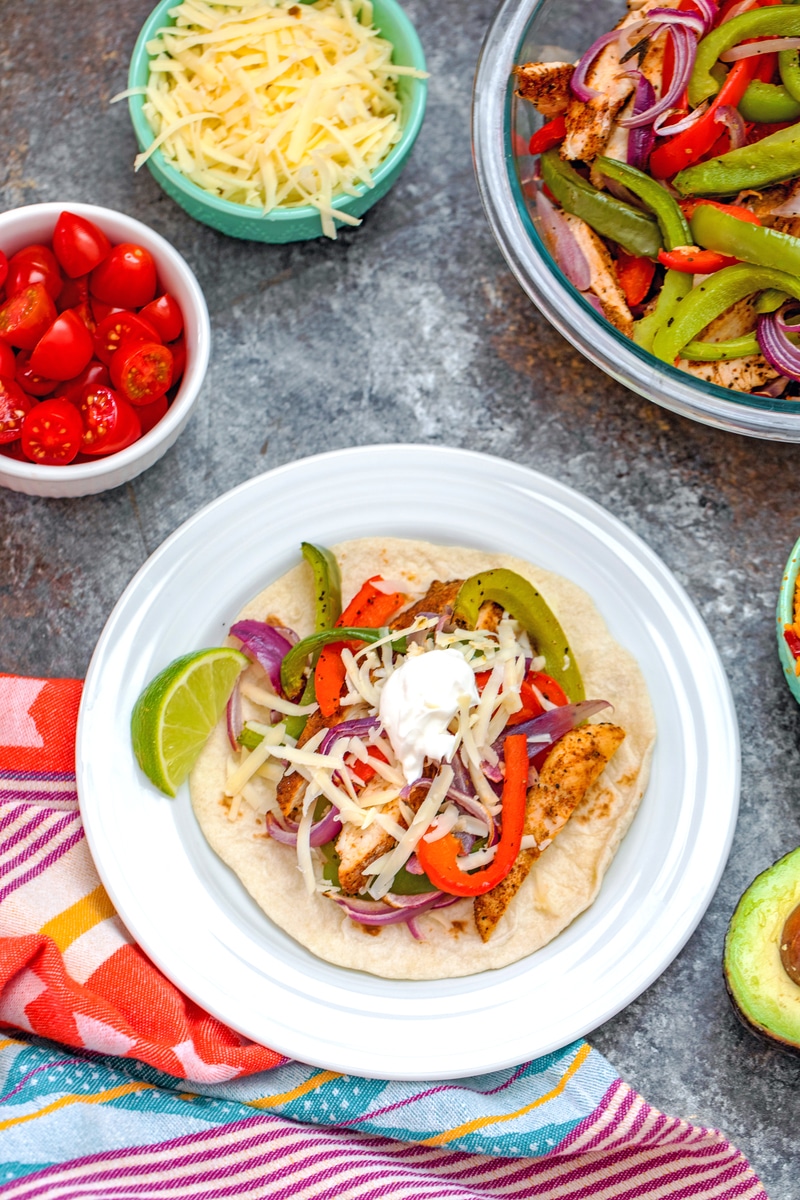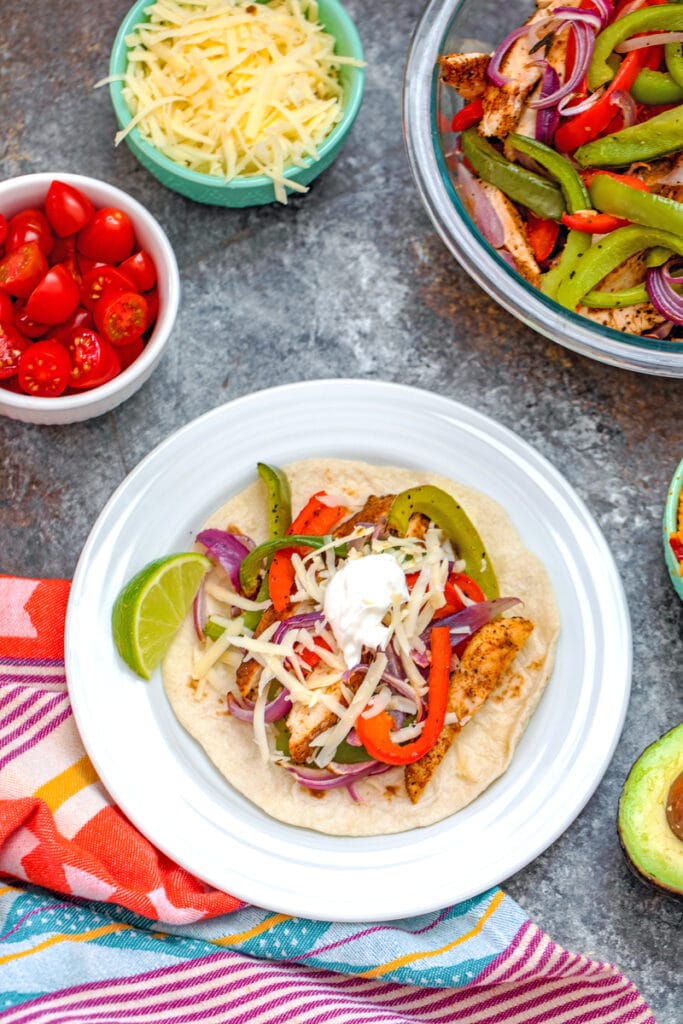 These chicken fajitas are the perfect Sunday night meal to get me all amped up for a busy work week. AND we had tons of leftovers, so guess what I'll be eating for lunch the next couple days?
Next time, there shall be a big pitcher of sangria!
Speaking of, does anyone have any really fabulous sangria recipes? There are so many out there and I want to try the best!
If you love these easy fajitas, check out my Creamy Fajita Skillet and my Baked Chicken Chimichangas. I also want to try these Sheet Pan Salmon Fajitas from Meal Prep on Fleek!
📖 Recipe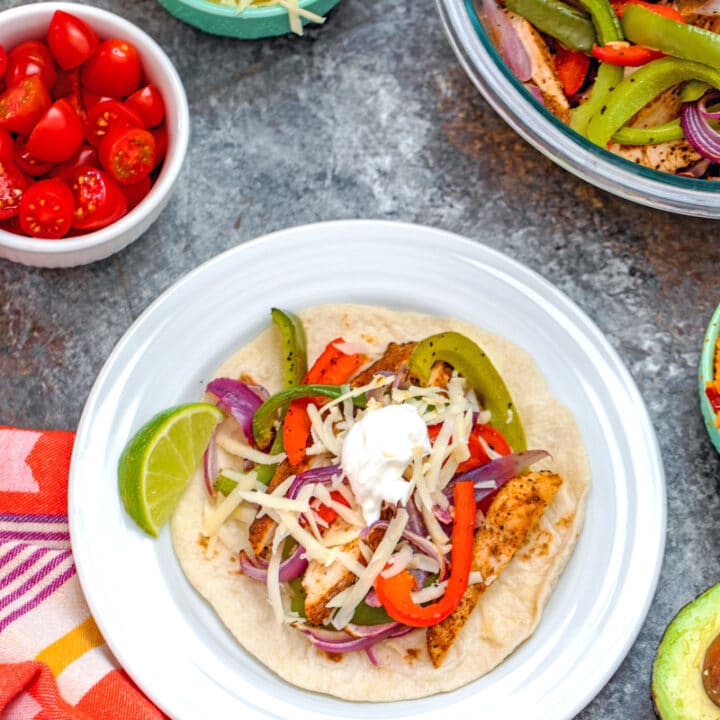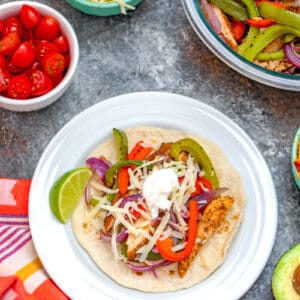 Chicken Fajitas
You may think fajitas are just a fancy Mexican restaurant meal (that sizzle!). But this recipe for Chicken Fajitas is an incredibly easy dinner anyone can make. You can substitute the chicken with steak, shrimp, or any other protein.
Print
Pin
Rate
Ingredients
1

medium red onion,

thinly sliced

3

bell peppers (color of your choice),

thinly sliced

2

cloves

garlic,

finely chopped

2

Tbsp

olive oil,

divided

¾

tsp

salt,

divided

¾

tsp

pepper,

divided

1

lb.

chicken breasts

1

tsp

chili powder

1

tsp

cumin

½

tsp

garlic powder

8

6-inch

flour tortillas

For Serving: shredded cheese, chopped cilantro, sour cream, rice, avocado, lime wedges, etc.

(optional)
Instructions
Pre-heat oven to broil and line a baking sheet with foil.

Toss onions, peppers, and garlic together with 1 Tbsp olive oil, ½ tsp salt, and ½ tsp pepper and lay in a single layer on lined baking sheet. Broil for 6-10 minutes until vegetables are crisp-tender.

While veggies are in the oven, in a medium bowl mix together chili powder, cumin, garlic powder, ¼ tsp salt, and ¼ tsp pepper. Add the chicken breasts to the bowl and toss to coat with spice mixture.

Heat 1 tablespoon olive oil in a large skillet over medium-high heat. Add the chicken and cook, turning, until golden and cooked through, 3-4 minutes per side. Remove from pan to a cutting board and let cool slightly before slicing.

In a large bowl, toss veggies and sliced chicken together.

Wrap tortillas in a damp paper towel and heat in the microwave for about 30 seconds-1 minute. Top tortillas with chicken and vegetable mixture and add any other toppings desired.
Share a Photo of Your Finished Recipe!
Mention @wearenotmartha and share a photo if you've made the recipe!