I grew up absolutely loving fajitas, so I can't believe I haven't actually made them myself. I had a pretty low-key weekend and decided they would be the perfect end to a nice, relaxing couple of days. So after a trip to the grocery store on Sunday (grocery store on Sunday=NOT relaxing), I got set to cook these up. They ended up being super easy and took no time at all! I guess I should have expected that since I based my recipe off Martha Stewart's "Fast" Chicken Fajitas. These are definitely going to be a dinner staple in my life from now on!
The only thing I wish I thought of ahead of time? Sangria. Now, that would have made the perfect Sunday night.
Chicken Fajitas:
1 lb. chicken
Fajita marinade (if you want)
2 T olive oil
1 t chili powder
Coarse salt and ground pepper
3 bell peppers, thinly sliced
1 medium red onion
4 garlic cloves, halved and thinly sliced
6 flour tortillas (6-inch)
Fresh cilantro, for serving
Lime wedges
Sour cream, salsa, cheese (whatever you want for serving!)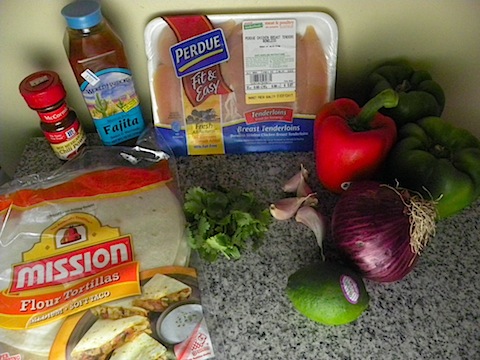 First, I set my oven to the broil setting.
Then I chopped my peppers and onions and put them on a baking pan lined with foil. I tossed them with some olive oil and salt and pepper. I popped them in the oven for about 6-8 minutes. They were "crisp-tender" and slightly charred. Yummm.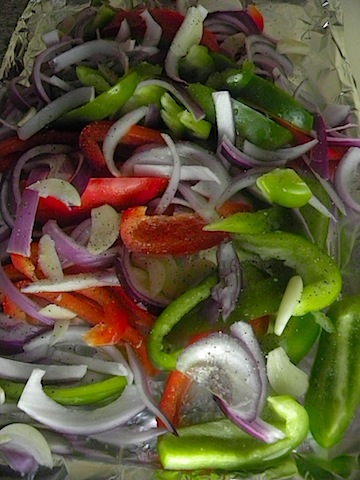 Martha had her chicken going in the oven too, but I decided to cook mine on the stovetop since I wanted to marinate it a little. I used some World Harbors Fajita marinade because my mom used to use it and it reminds me of home. You could make your own too. I ended up just cooking the chicken in a bit of the sauce. I also sprinkled some chili powder on top.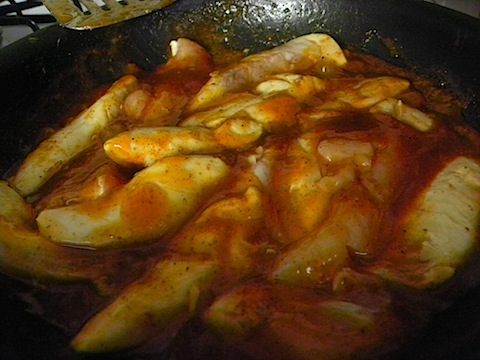 While everything is cooking, get out any "toppings" you want to use. One of my favorite things about chicken fajitas is that they're actually pretty healthy as far as Mexican food goes, so I didn't want to add a ton of "extras." But when it comes to Mexican food, I cannot live without Newman's Own Salsa. It's the only salsa I buy and I think it's the best ever (though it could be a bit spicier- the hot isn't all that hot).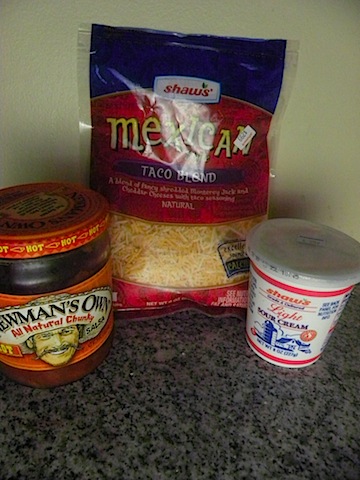 When your chicken and veggies are done, mix them all together in a bowl.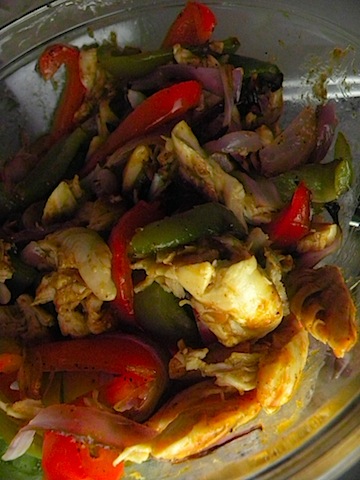 Warm your tortillas in the microwave wrapped in damp paper towels for about 1 minute.
And then let people put together their own fajitas!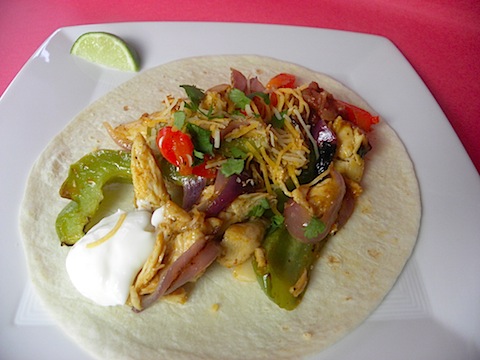 The flavors in this dish were amazing and even just one of these was super filling. I can't get over how easy they were– besides the chopping of the veggies, this takes no time at all.
And I think it's a fabulous dish to serve guests, too. You could even have a beef option and some more veggies. Let everyone choose what they want in their fajita and build their own.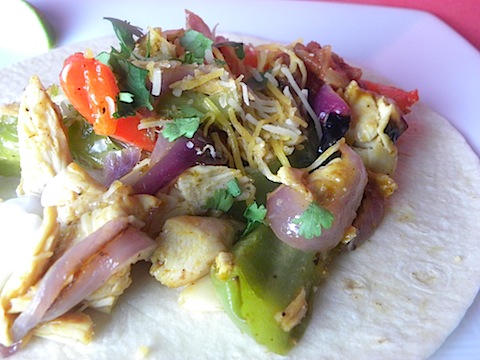 Of course, since these veggies are cooked in the oven, you can't bring them to your guests on a sizzling platter like they do in restaurants. A little disappointing, but that's OK.
You'll probably need a fork too, because even when you wrap it up like a fajita, it gets a bit messy.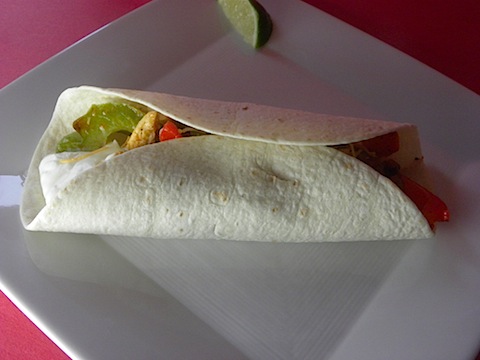 The perfect Sunday night meal to get me all amped up for a busy work week. And to eat while watching the Celtics win another game. AND we had tons of leftovers, so guess what I'll be eating for lunch the next couple days?
Next time, there shall be a big pitcher of sangria!
Speaking of, does anyone have any really fabulous sangria recipes? There are so many out there and I want to try the best!
Bertolli Beef Braising Kit Winner
Congratulations to Anne Marie at Together Cooking!! You won last week's giveaway 🙂 We'll be contacting you, so Bertolli can send you your amazing beef braising kit… Enjoy it!!
[Sues]