Making Thai food at home is super simple with this easy Chicken Pad Thai recipe. Ready in just 30 minutes, you'll start craving Thai food every night of the week!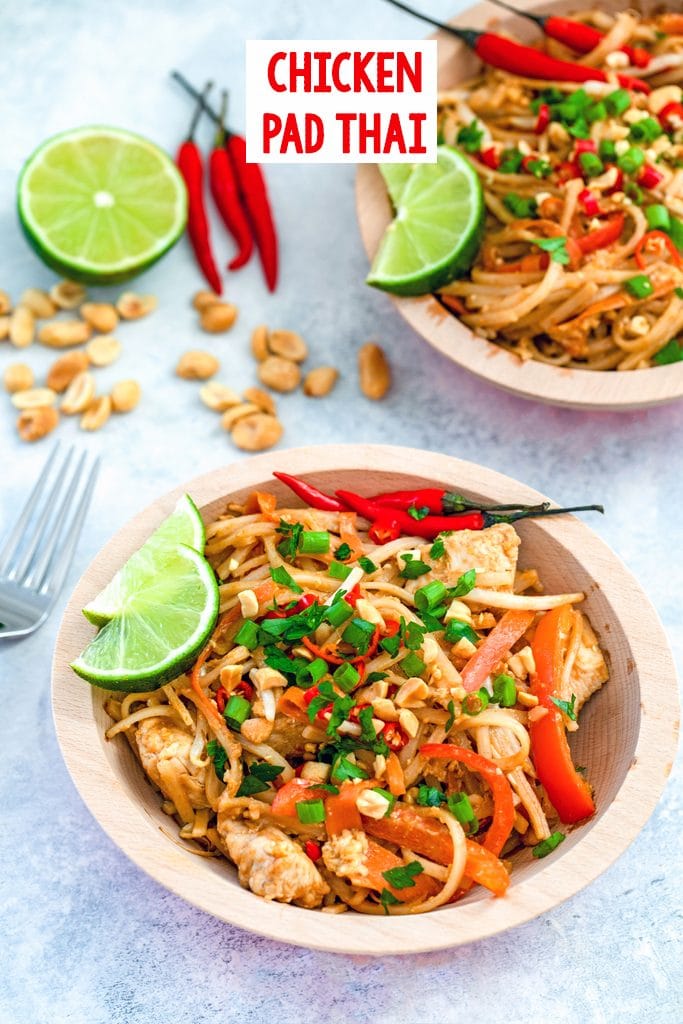 (This post has been updated from its original publication in April 2009, including new content, photos, and updates to the recipe (if you loved the old recipe, see notes section in the recipe card for what's been changed... But I promise this version is better!)
Any time Chris asks me if I want to go out to dinner or get takeout, he knows that about 75% of the time I will say, "yes! Thai food, please!" I can't help it; I just love it so much.
When I lived in Boston, I was so lucky that there was incredible Thai food everywhere I looked... But now that I'm in the suburbs, it's a bit tougher to find. Well, Thai food isn't hard to find, but really good Thai food is! We actually have one great restaurant near us, but they don't serve alcohol. And I'm sorry, but if I'm going to go out to dinner, I'm going to at least want a glass of wine!
I'm still holding out hope that they'll get their liquor license, but for now, we mainly do takeout from there instead of eating in. Of course, they also don't deliver, so that means we still have to get in the car and pick the food up.
Solution? I've been trying to cook more Thai food at home. One of the recipes I make most often is my Thai Beef Basil with Coconut Rice (this is probably in my top 3 most-made meals at home), but I also love a good Chicken Pad Thai.
The toughest thing about making Thai food at home is finding all of the right ingredients. Luckily, many major grocery stores have a great Asian section these days. There's also a beautiful thing called the internet where you can find almost anything you need and have it sent directly to your door!
Chances are you also have an Asian grocery store somewhere near you, especially if you live near a city. We actually have a couple near us, but clearly we need more because they are always so ridiculously crowded.
I usually have to go in with a very specific list about what I need and where to find it, but I absolutely love just browsing Asian grocery stores because there is SO much there that you can't find anywhere else (and SO SO much Pocky!!).
Why Make Thai Food at Home?
There are several reasons this chicken Pad Thai recipe is awesome and will convince you that you should be making Thai food at home more often.
1) it's super easy to make, 2) it tastes just like what you'd get in a restaurant, 3) you'll feel better about eating it, knowing exactly what's going into it, and 4) there's a high chance you'll be left with lots of leftovers!
I think making homemade Thai food intimidates a lot of people, but there's really no reason to worry because a lot of it can be super simple. I hope this post inspires you to try making Thai food at home... Maybe even on a weeknight! I swear, it's that easy!
Where to Find Pad Thai Ingredients
Like I mentioned above, it's pretty easy to find ingredients for homemade Thai food these days, but I thought it would be helpful to lay out some of the lesser known ingredients specifically used in this Chicken Pad Thai:
Dried Flat Rice Noodles: These are the noodles traditionally used for Pad Thai. If you absolutely can't find them, you can substitute with a different kind of noodle... If you see something called "rice stick," that works perfectly.

Linguine or fettuccine could even be substituted in a pinch. But the good news is, I can find rice noodles at most regular grocery stores these days (sometimes they're literally called Pad Thai Noodles). You can also get Pad Thai noodles from Amazon (affiliate link).

Fish Sauce: For me, fish sauce is an essential ingredient to always have in my kitchen. It should be easy to find at your regular grocery store. But if not, you can get fish sauce online, too (affiliate link). I love the flavor it adds to dishes, but don't love the smell of it plain.

Tamarind Concentrate: This is one ingredient you might have a hard time finding if you're not near an Asian grocery store. But, of course, if can be found online! I got my tamarind concentrate from Amazon (affiliate link).

I do recommend using tamarind in your Pad Thai because it adds that flavor that Pad Thai is known for. It's a little bit tart, a little bit sweet, and a little bit fruity. If you really don't want to buy it, I recommend adding in some extra lime juice and some brown sugar to recreate the taste at least a little bit.

Red Thai Chiles: My regular grocery store is totally hit or miss when it comes to Thai chili peppers. I never know if they'll have them or not, but I can almost always find them at Whole Foods or Wegman's. You could always buy dried red chilies (affiliate link) that are rehydrated, but since dried peppers are usually much spicier than fresh, I'd use sparingly!
See? That wasn't so bad at all, was it?? Everything else should be super easy to find at your regular grocery store and you're ready to get cooking! I recommend cooking this Pad Thai in a wok, but if you don't have one, a large skillet will do.
If you want to invest in a good wok (I use mine all the time!), I highly recommend this All-Clad Wok (affiliate link). It's a bit pricey, but will last forever! It's also apparently dishwasher safe, which I just learned by viewing that link. Good to know!
How to Make Chicken Pad Thai at Home
Start by soaking the noodles in a bowl of super hot water. Then cook the chicken, whisk together the sauce, cook the vegetables, mix in the eggs, and toss together with the noodles and sauce.
I know I just super simplified that for you, but seriously, this Chicken Pad Thai is that easy!
Which means you can have Thai food at home any time you want!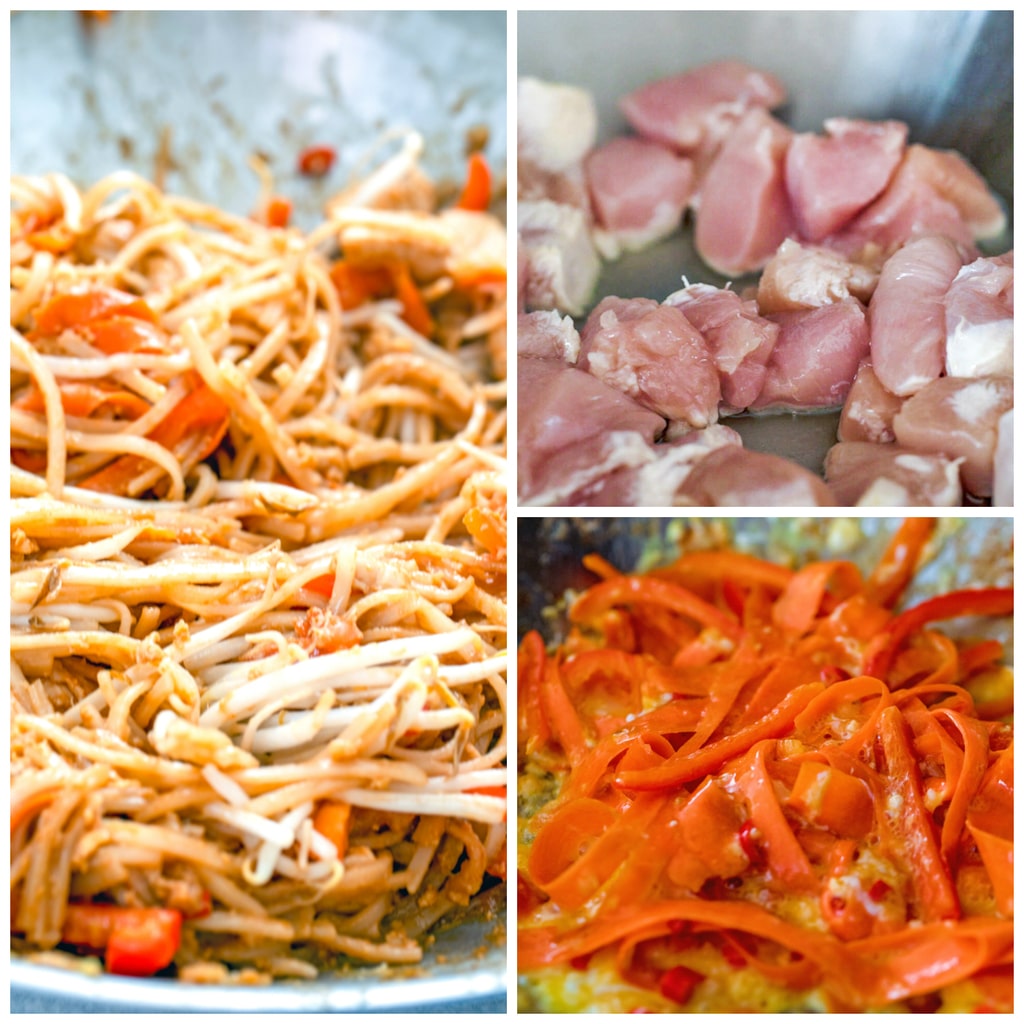 One of the most important parts of Pad Thai is the garnishes! You absolutely need to add crushed peanut on top! But you should also add more Thai chilies, scallions, cilantro, and lime wedges.
I like my Pad Thai to be a bit on the spicy side, but if you're not a fan of spicy, you can cut cut down on the Thai chilies a bit. You could actually leave them out altogether, but a little kick is always nice.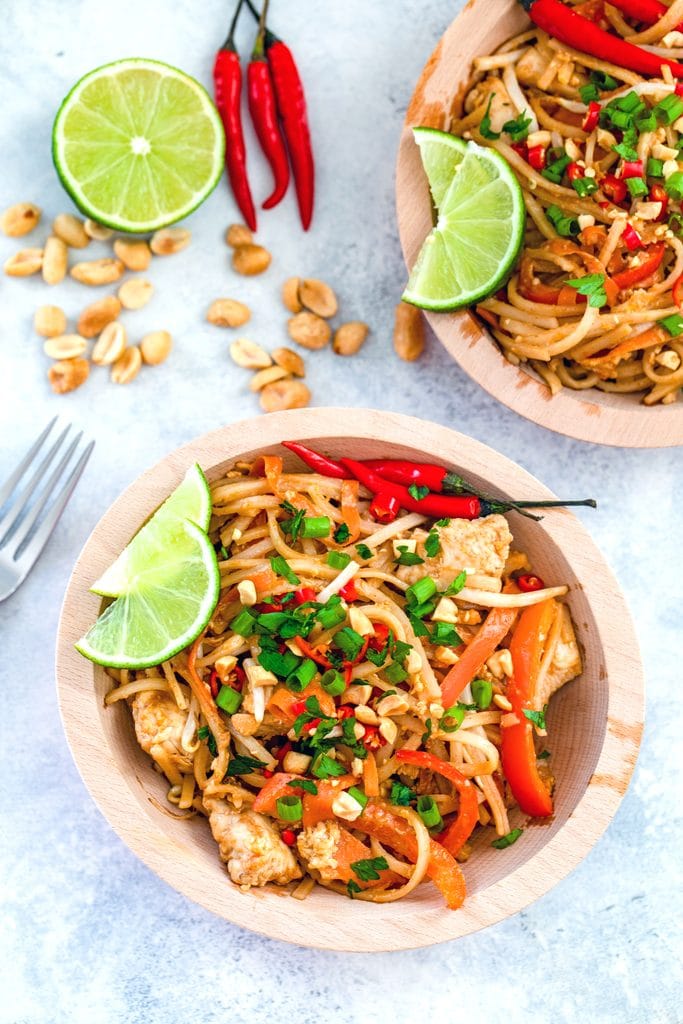 And with that, you just made Thai food at home! OK, actually I did. But something tells me that you will be doing it very soon, too.
And then once you have things like fish sauce and tamarind in your pantry, you'll start researching other Thai food to cook and you won't be able to get enough of it. I swear, there's something about it that's so addicting.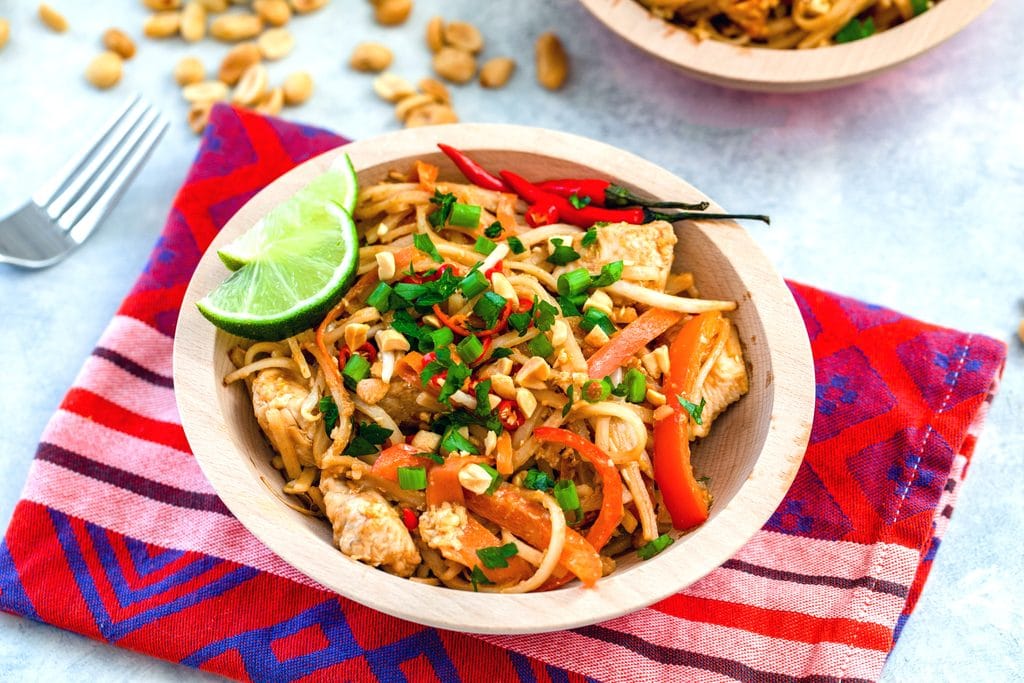 This homemade Chicken Pad Thai is so delicious that I never order Pad Thai when I'm out anymore. Now I know how easy it is to make at home and how much it tastes just like what you'd order in a restaurant!
If you're wondering what I usually order, it's generally some kind of curry (Massaman is one of my favorites) or Pad Kee Mao (which I should probably also try making at home). There are so many different types of Thai dishes that I really think there's something for everyone! Not all Thai food is crazy spicy and when you make it at home, you can control the spicy level exactly how you want it.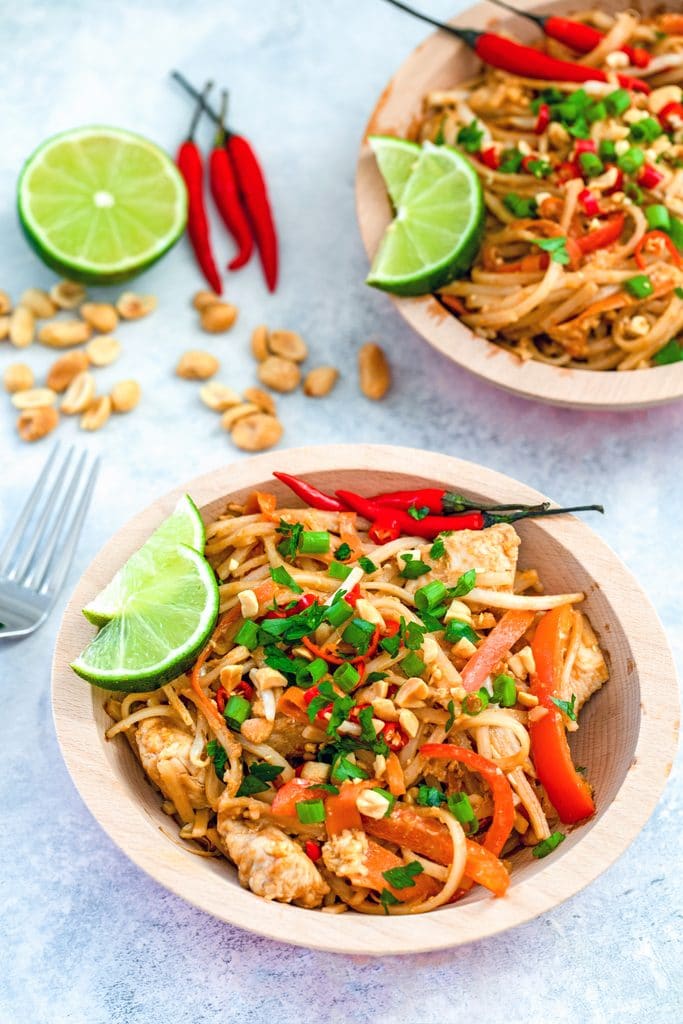 Annnd now I feel like I'm going to be having Thai food for dinner tonight because just looking at these photos has me craving it again!
What's your favorite Thai dish?
If you're looking for more Thai-inspired dishes you can cook at home, check out my Thai Beef Basil with Coconut Rice and my Thai Scrambled Egg Tacos. And I really want to try this Massaman Curry from Spice Cravings!
📖 Recipe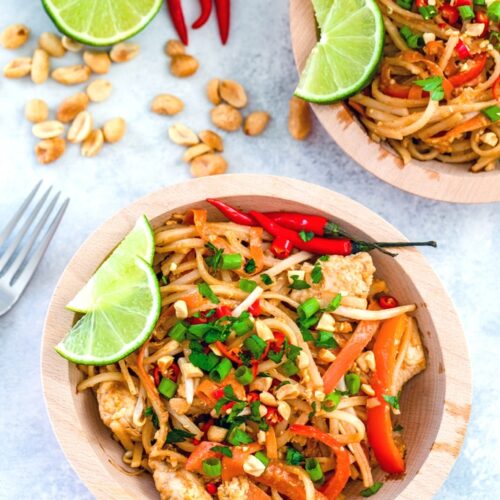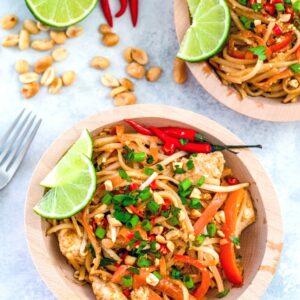 Chicken Pad Thai
Making Thai food at home is super simple with this easy Chicken Pad Thai recipe. Ready in just 30 minutes, you'll start craving Thai food every night of the week!
Print
Pin
Rate
Ingredients
12

oz.

dried flat rice noodles

2

Tbsp

vegetable oil,

divided

1 ½

lbs.

chicken breast,

cut into 1-inch cubes

¼

cup

freshly squeezed lime juice

2

Tbsp

fish sauce

2

Tbsp

soy sauce

2

Tbsp

creamy peanut butter

1 ½

Tbsp

sriracha

2

tsp

tamarind concentrate

1

tsp

granulated sugar

1

Tbsp

red Thai chiles,

finely chopped, plus more for garnish (if you don't like spicy, you can use less or cut out altogether)

1

red bell pepper,

thinly sliced

1

cup

shredded carrots

2

large garlic cloves,

minced

3

large eggs,

lightly beaten

1

cup

bean sprouts

¼

cup

chopped scallions,

for garnish

¼

cup

crushed peanuts,

for garnish

Chopped cilantro,

for garnish

Lime wedges,

for garnish
Instructions
Place rice noodles in a large bowl and pour boiling water over them. Let soak for about 8-10 minutes, stirring occasionally. You want the noodles to soften, but still be firm.

Heat a wok or large skillet over medium-high heat and add 1 Tbsp vegetable oil. Add chicken to pan and let cook for about 5-7 minutes, until cooked through. When done cooking, move chicken to a plate.

While chicken is cooking, mix together lime juice, fish sauce, soy sauce, peanut butter, sriracha, tamarind concentrate, and sugar in a small bowl.

Add remaining Tbsp vegetable oil to the skillet and cook red Thai chili peppers and red bell peppers over medium-high heat for 2 minutes. Add shredded carrots and garlic and cook for another minute.

Reduce heat to medium, move veggies to the side of the pan, and pour the eggs into the pan. Cook, stirring the eggs until they're just getting scrambled.

Add the noodles, cooked chicken, and bean sprouts to the pan; pour in the sauce; and mix everything together. Cook for about a minute, until everything is heated through.

Serve Chicken Pad Thai in bowls with additional Thai peppers, scallions, peanuts, and cilantro for garnish.
Notes
See body of post to learn where to purchase many of the ingredients in this recipe.
If you came here looking for the recipe I originally published in 2009, you'll notice that several updates have been made to it. This version is much tastier, but as to what I changed:

I added red Thai chili peppers, red bell peppers, and carrots. My original recipe had no veggies or color.
I cut down on the amount of bean sprouts (from 3 cups to 1 cup)
I adjusted the sauce a bit and refrained from using chicken stock in it as I did in the original recipe.
Share a Photo of Your Finished Recipe!
Mention @wearenotmartha and share a photo if you've made the recipe!