I'm always commenting on the plethora of Thai food in my neighborhood. There are so many really fabulous Thai restaurants (Khao Sarn, Rod Dee, Zenna Noodle Bar, etc.), that I could basically eat at a different Thai restaurant every night of the week. But still, I've been wanting to try cooking my own Thai food for a while now. And I decided to start with Pad Thai, seeing that it's a classic that's hard not to love. There are tons of various Pad Thai recipes, but I finally found one that sounded good to me and claimed to be nice and spicy.
Lucky for me, Sara is a Chinatown expert and was happy to take me to all the Asian grocery stores so I could get the ingredients I needed. I could have gotten them at a grocery store with an international section, but Chinatown is more authentic and cheaper. Yes, the recipe calls for a lot of ingredients, but don't let them overwhelm you. The directions mostly involve mixing them together and it's not complicated at all. And if there's anything you can't find, chances are you don't really need it and you can just add more of one of the other ingredients. Also, I used chicken, but feel free to use shrimp, tofu, or beef!
1 (8 oz) package dried flat rice noodles (I think even Trader Joe's sells these)
3 T fish sauce
1/4 C fresh lime juice
1 T white sugar
2 T oyster sauce
1 1/2 T Asian chile pepper sauce
1/4 C chicken stock
1/4 C vegetable oil
1 T chopped garlic
12 oz. skinless, boneless chicken breast halves – cut into 1 inch cubes
2 eggs, beaten
1 T tamarind paste or juice
3 C bean sprouts
6 green onions, chopped into 1 inch pieces
2 T peanuts
If you want to know what Asian chile pepper sauce, also known as sriracha, looks like: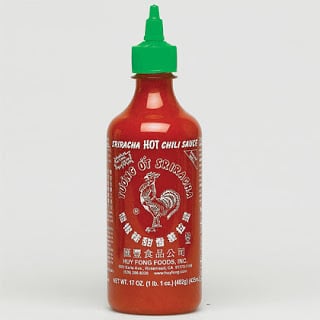 Yup, the stuff you see on the tables at Asian restaurants all the time.
These are the dried flat rice noodles I used: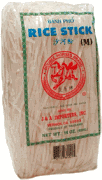 Also, while the original recipe didn't call for tamarind, lots of people commented on it saying you can't make Pad Thai without either tamarind paste or tamarind juice. I had a bit of trouble finding this in the Asian market because I was looking for it where all the other bottled and canned pastes are. When I finally found it, it looked like this: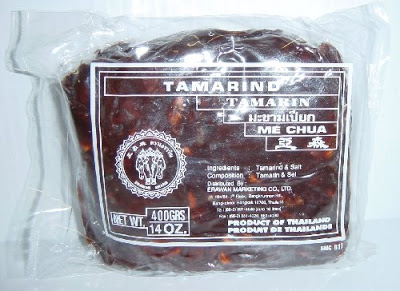 I only used a tablespoon and have a lot of leftover, so now I'm on a search for other recipes using tamarind paste.

Anyway, on with the recipe! First I put my noodles in some water warm water and soaked them for about 20 mins, so they were nice and soft but not overly so. Then I heated my wok and added in some oil and garlic. I cooked it for about 10 seconds before adding in the chicken.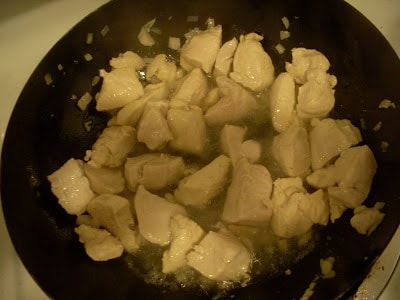 While the chicken was cooking, I made my sauce. I did this by mixing together the fish sauce, lime juice, sugar, oyster sauce, chile sauce, and chicken stock. You can taste the sauce and add more of whatever you think it needs. I added more chile sauce to mine because it wasn't quite spicy enough. Then I set the sauce aside. I cooked the chicken until it was cooked all the way through and moved it to the sides of the wok to add in the eggs I had beaten.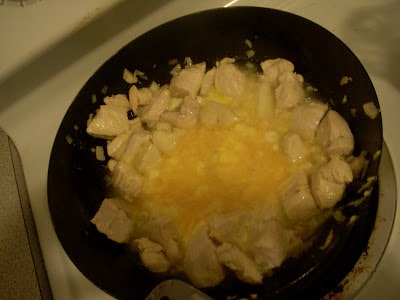 Once the eggs were firm (a few minutes), I added the noodles to the wok. And…promptly realized I didn't have a big enough Wok and transferred everything over to a frying pan.
I poured my sauce into the pan and cooked until the noodles were a bit more tender. It was at this point I added in my tamarind paste too. If I had the juice, I probably would have included it in the sauce, but the paste cooked well just thrown into the pan. Then I added my bean sprouts and green onions and stirred everything all together.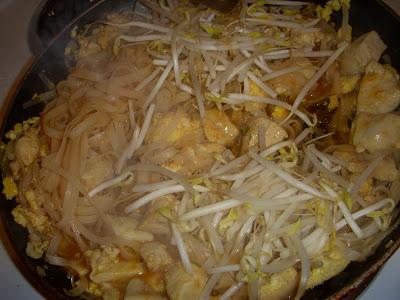 I served the Pad Thai and topped it with some chopped up peanuts and lime slices. You can also top with cilantro if you like.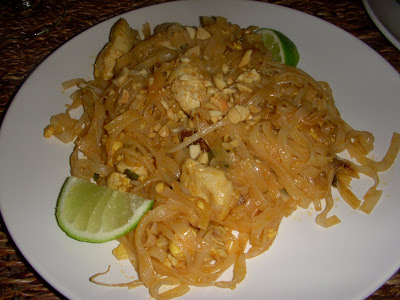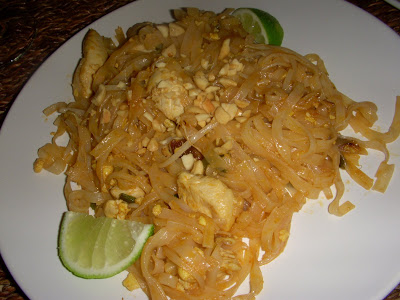 I was actually surprised by how authentic the Pad Thai tasted, especially considering how easy it was to make. Now I'm all kinds of excited to cook other Thai recipes or Asian-inspired dishes! Definitely give this a try if you're into Thai food. I think it's a really good starting point…and once you're done, you'll have a nice little stock of some Asian ingredient necessities!

[Sues]