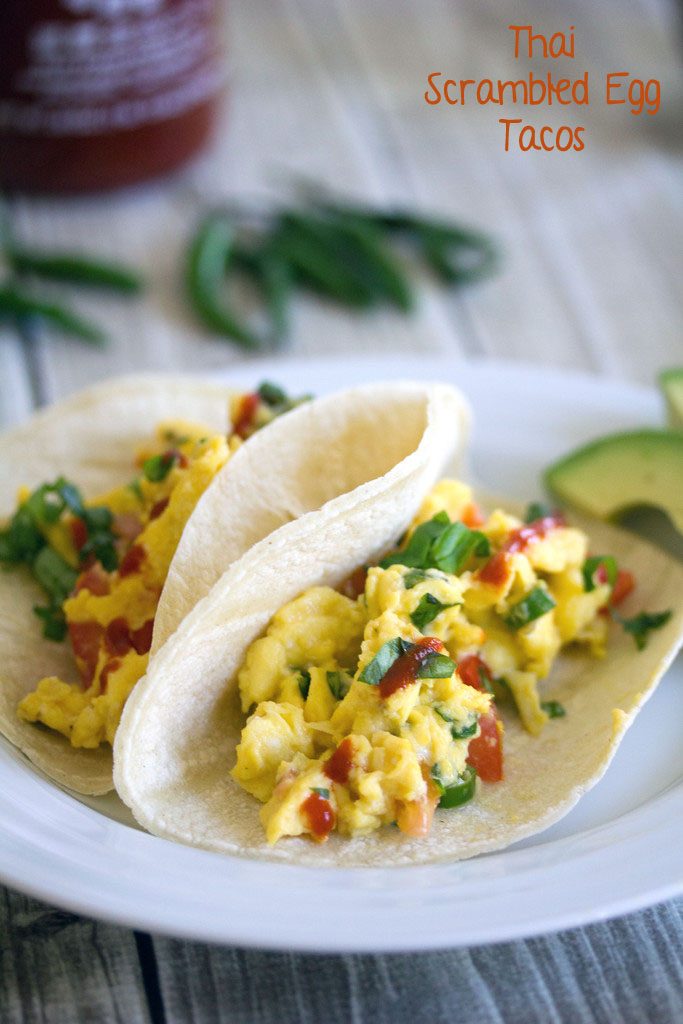 Three things you should know about me:
I am ALWAYS in the mood for Thai food.
Scrambled is probably my least preferred way of eating eggs. But considering how much I love eggs, "least favorite" is not saying much.
I wish it were socially acceptable to eat salad-fulls of basil. I also wish it were socially acceptable to use the word salad-full. I'm doing it anyway.
It's kind of self-explanatory as to why I'm always in the mood for Thai food. Because it's the best food ever. Super flavorful, often spicy, and generally involving a lot of basil. Also, Sriracha. Lots and lots of Sriracha. Why don't I love scrambled eggs? Because they are so easy to mess up and make mediocre. And usually when you order them out or get them at a buffet, they are basically disgusting. Eggs are one of my favorite foods in the world, so eating flavorless icky-consistency eggs makes me almost as sad as I am when my dog sleeps under the bed instead of cuddling with me. But really, if you know how to make scrambled eggs well and you do it right, they actually can be quite fabulous.
Scrambled eggs done right with Thai flavors and lots of basil… OH and in TACO form? Now we're talking. I made these Thai Scrambled Egg Tacos a few weekends ago and learned two lessons: 1) scrambled eggs can be awesome and 2) Thai food is totally acceptable for breakfast.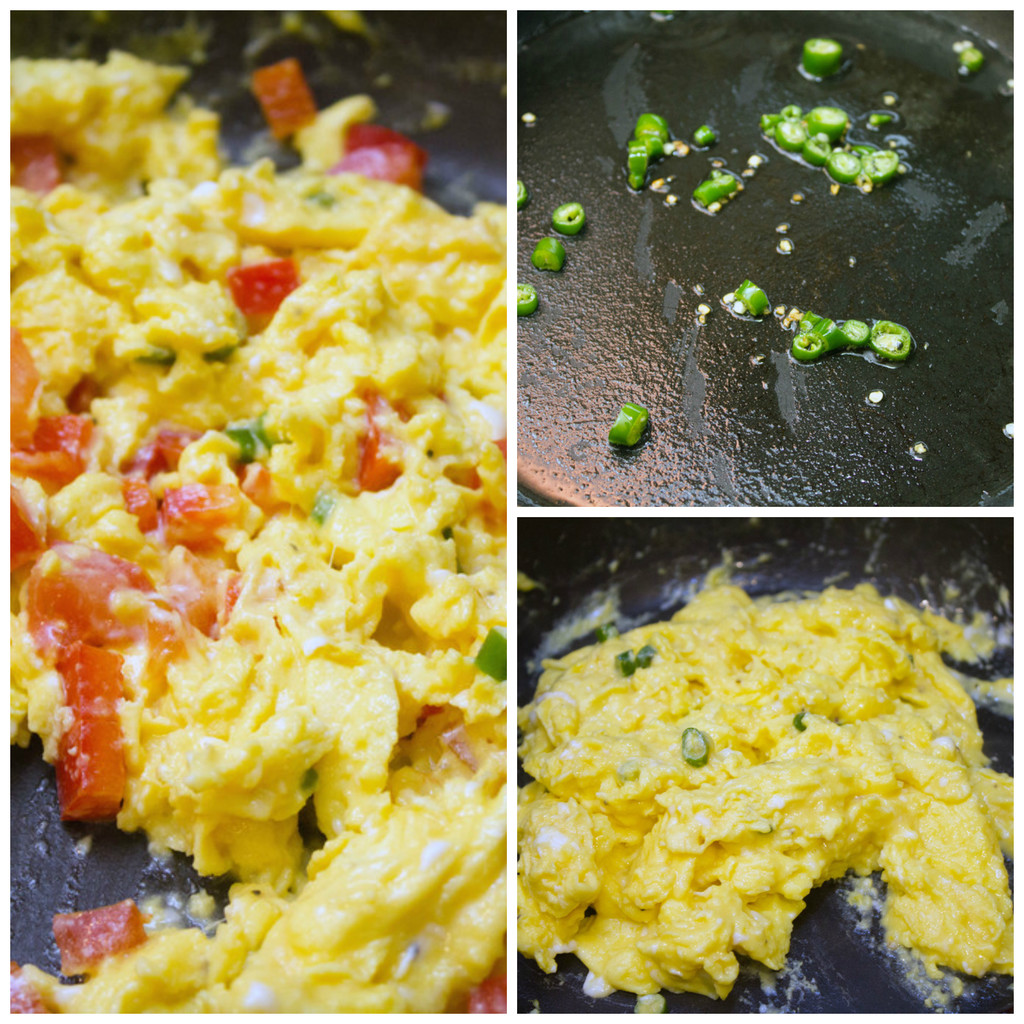 Light and fluffy scrambled eggs are heaven! Something tells me it had a little something to do with the coconut milk involved. If scrambled eggs were always like this, they'd definitely move up on my list of egg preparation preferences. Though I'm not sure you'll ever be able to beat a nice and runny sunny-side up egg. Or a perfectly poached egg (especially if it's on an English muffin covered in hollandaise sauce).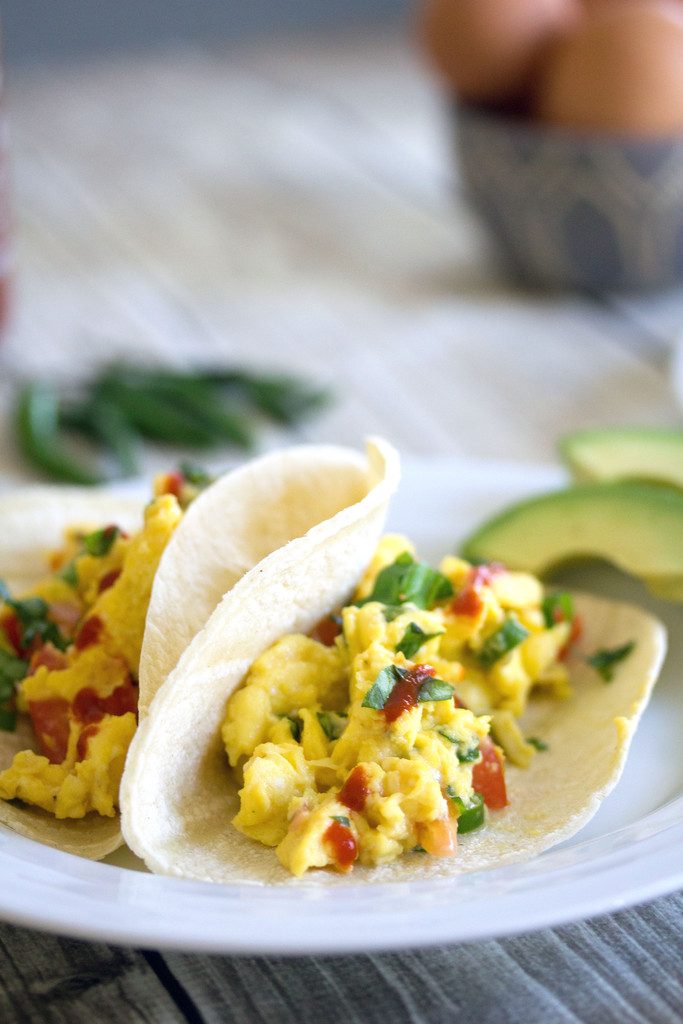 I'm not sure what it is I love about basil so much, but I'm not kidding when I say I could eat it by the bushel. I especially love it in Thai dishes with heat because it offers a nice refreshing touch. Probably why I love pesto so much.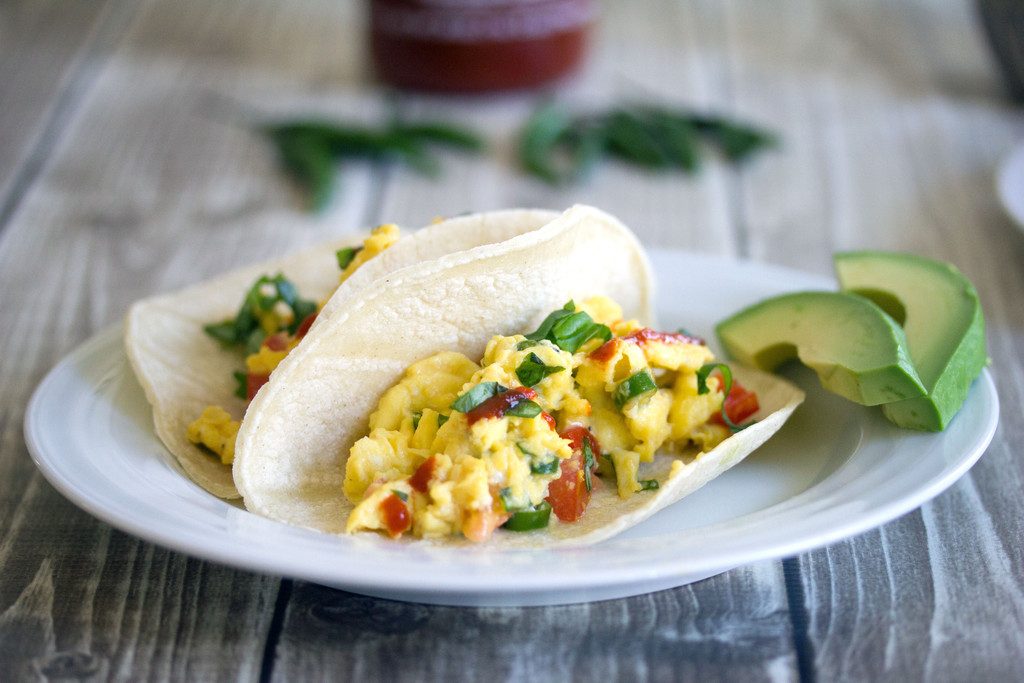 And this dish definitely involved some spice. But you can, of course, control it to your liking. Let's be honest, not everyone wants to have their mouth on fire before they even get out of their pajamas for the day. You can use fewer Thai peppers in the eggs and obviously lighten up on the Sriracha.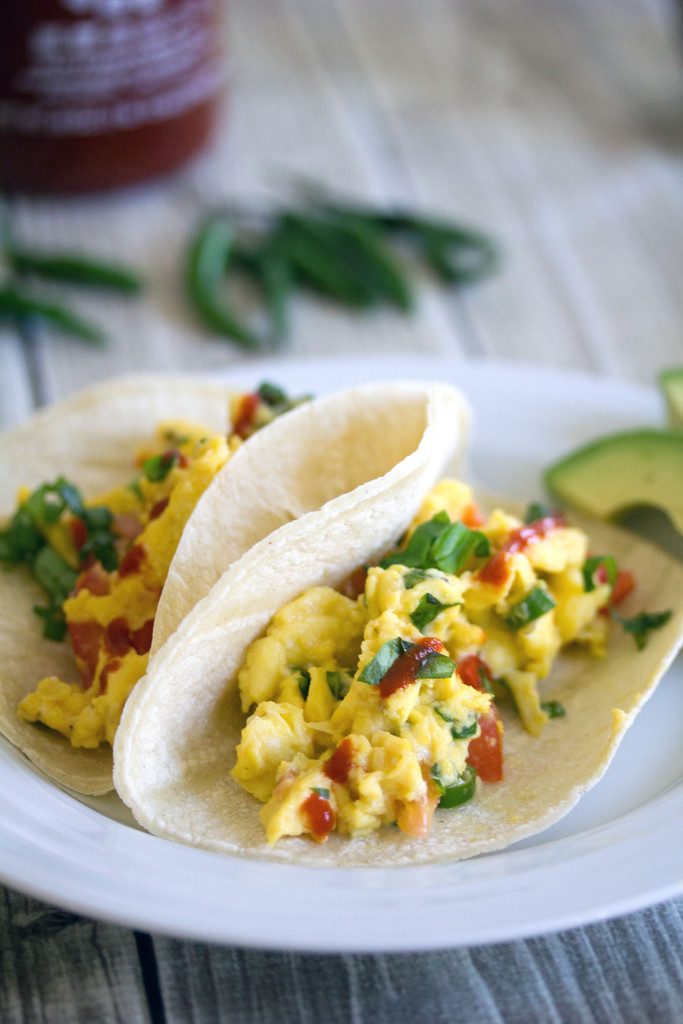 Or just load up on the basil in the scrambled egg tacos and let it cool you down. I'm not so sure that hot coffee would be the perfect accompaniment to this dish… But I have been wanting to try to make Thai iced coffee and I have a feeling that would be the perfect match.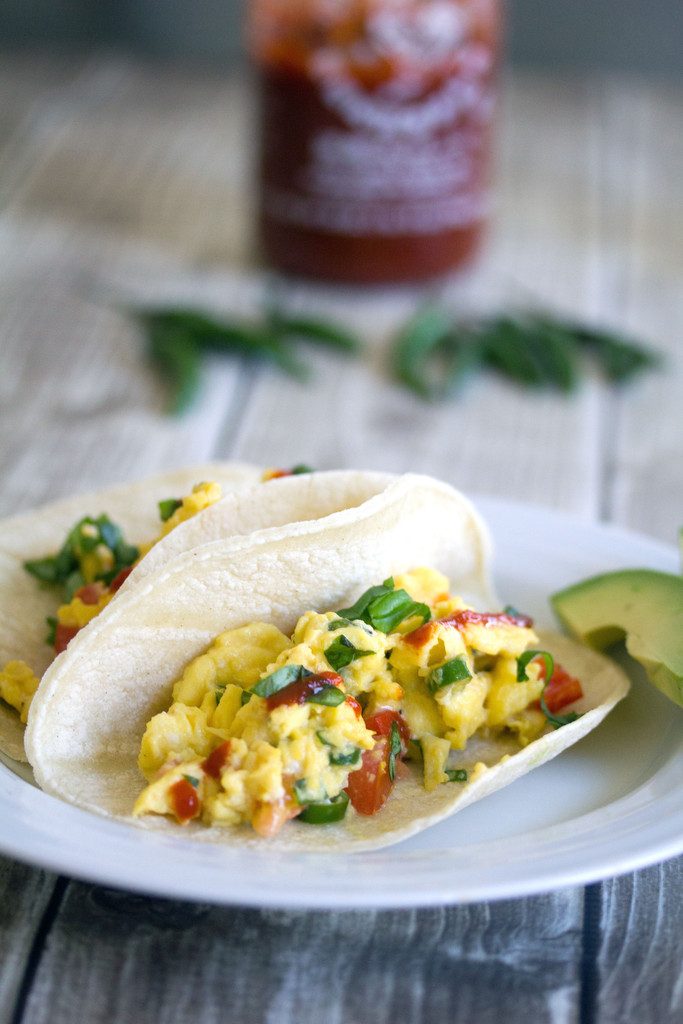 Of course, breakfast for dinner is a thing, too. And some sort of gin and basil concoction would make a dreamy pairing. Oh, I almost forgot the avocado. Don't do that. Remember the avocado. You could put it right in the tacos or keep it on the side. In any event, avocado works for any meal of the day.
Would you eat Thai food in your pajamas first thing in the day?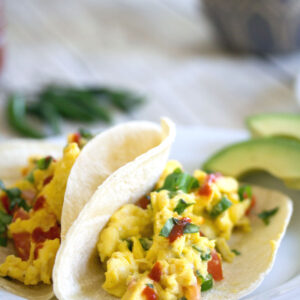 Thai Scrambled Egg Tacos
Creamy scrambled eggs packed with spicy Thai flavors and served on tortillas make for a breakfast you'll dream about!
Ingredients
6

large eggs

1

Tbsp

coconut milk

in carton

Salt and pepper

2

tsp

coconut oil

3

Thai chili peppers

diced

1/4

cup

chopped tomato

1/4

cup

diced red pepper

12

basil leaves

roughly chopped

6

small tortillas

warmed

Sriracha sauce if desired

Avocados

peeled, pitted, and sliced; for serving
Instructions
In a medium-sized bowl, lightly beat eggs with coconut milk and salt and pepper.

Heat coconut oil in a medium-sized non-stick skillet over medium-low heat.

Add Thai chili peppers to pan and cook for about 2 minutes.

Pour eggs into skillet and using a spatula, stir the eggs. As eggs begin to cook, pull the cooked portion toward center, so uncooked eggs will flood edges of pan.

Continue doing this until eggs are cooked, breaking up pieces with spatula if necessary.

Stir in chopped tomatoes, red pepper, and basil.

Spoon scrambled eggs onto warmed tortillas and top with Sriracha sauce and additional basil.

Serve with avocado on side or on top of tacos.