This Thai Beef Basil with Coconut Rice is an incredibly flavorful, easy-to-make dinner that can be customized for all types of spicy food level preferences. It's on regular rotation in our weekly meal plans!
(This recipe for Thai Beef Basil was originally posted in Februrary 2011, but was updated with new photos and content in 2018).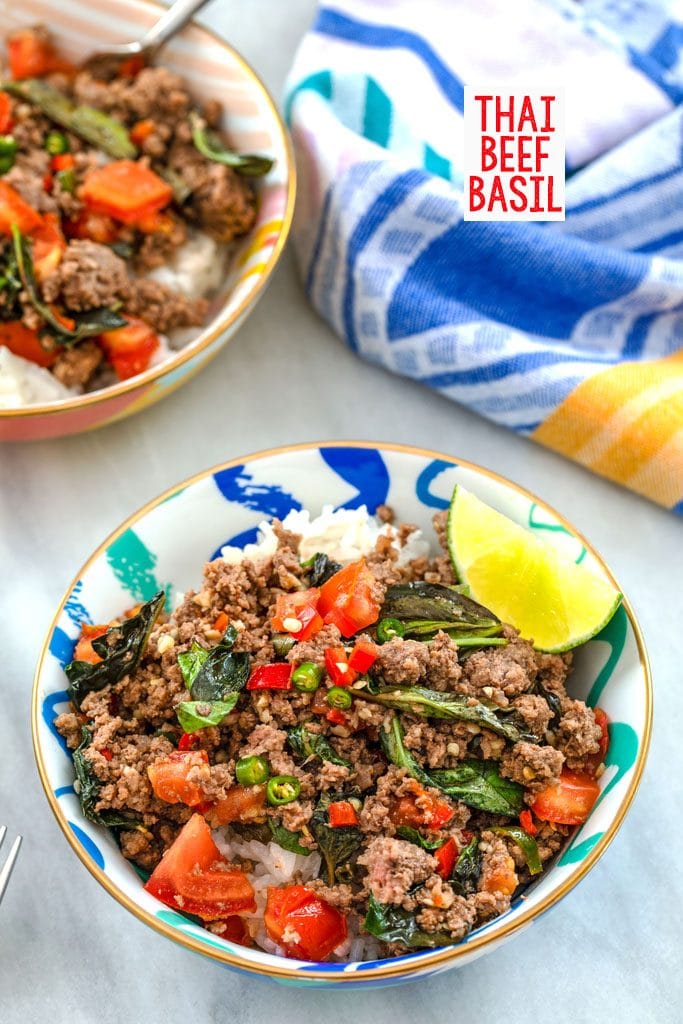 One of my favorite things in life is going out for Thai or Indian food with Chris. It's basically like free entertainment when I watch him order food to his ideal level of spiciness. BTW, his ideal level of spiciness is "AS HOT AS YOU CAN POSSIBLY MAKE IT." He has all kinds of strategies to get the waiter or waitress to understand how spicy he wants his food including telling them, "make it Thai hot, please" and "I want 10 stars!" and "make it as spicy as you can; I promise I will eat it!" But my favorite is when he says, "make me cry!" For the record, in the almost ten years I've been with Chris, there have only been two occasions where he's found the food he's ordered ridiculously spicy... Almost to the point of tears. It's generally not even close to being hot enough, no matter how he orders it.
I love spicy food, too, but definitely not to the level he does. Call me crazy, but I don't quite see the joy in crying while I'm eating. I cook a lot of spicy food at home and love that it's easy to vary spicy levels serving to serving, whether it's by adding some additional peppers into one person's serving, sprinkling on some crushed red pepper, or drizzling on lots of Sriracha (also of note, Chris recently tried to argue with me that Sriracha isn't meant to be spicy. Hello??). I discovered a Thai beef and coconut rice recipe from Martha Stewart about 8 years ago and have slowly adapted it to our specific tastes over the years. It's one of the meals we have in our regular rotation now and one we both get super excited about.
It's delicious year-round, but especially during the summer considering many of us likely have absolutely out of control basil plants growing on our decks.
THAI BEEF BASIL WITH COCONUT RICE RECIPE
One awesome thing about this Thai beef basil recipe is that it's so versatile and can cater to many different tastes for spice. It's easy to get the flavor of peppers without too much heat by simply removing the seeds of the peppers. But you can leave them in if you love heat. You can also use fewer peppers for those who are spicy-averse and you can add additional peppers as garnish for anyone who loves it. And when push comes to shove, you can always add garnishes like lime wedges to cut the heat or crushed red pepper and Sriracha sauce to add more.
I should also mention that the coconut rice is an excellent complement to the Thai beef because it's nice and mild and helps take away a little bit of the heat in each bite.
WHAT KIND OF PEPPERS SHOULD I USE?
The good news is that you can really use any type of spicy pepper for this dish. I love using Thai chili peppers, but they can sometimes be tough to find, so I often substitute with habanero peppers or long hot chili peppers. If you want a little less heat, but still lots of flavor, use jalapeño peppers. And like I mentioned above, keep in or remove the seeds depending on your preferences.
CAN I SUBSTITUTE QUINOA OR BROWN RICE?
Yes! I actually make this dish all the time with quinoa and occasionally use brown rice, too. But it's definitely at it's most indulgent and best with jasmine rice. The jasmine rice is so light and fluffy with an awesome touch of sweetness from the coconut milk. Quinoa and brown rice have more of a nutty flavor and the coconut milk isn't quite as prevalent in it. But since I like to make a big batch of this and eat it for leftovers throughout the week, I often try to make it a bit healthier with quinoa. You can use whatever type of grain you prefer!
CAN I SUBSTITUTE GROUND CHICKEN, GROUND PORK, OR STEAK?
Yes to all! Obviously you may not be able to call this "beef basil" depending on what meat you use, but you can certainly use any type of ground beef or even steak in this dish. I told you it was versatile!
You'll want to get your rice started first and then get going on the rest of the recipe. It's a quick and easy one, which means you'll have dinner on the table in no time. Though my husband doesn't do too much to help out in the kitchen, he always offers to chop my chili peppers and garlic for this recipe, which is pretty much the toughest part. If you're chopping the peppers, I recommend wearing gloves... Especially if you wear contacts. If you've never felt the pain of touching your eye after chopping a hot pepper, count yourself very lucky!
After sautéing half the hot peppers and all the garlic, you'll add the beef, then mix in a soy sauce/fish sauce/sugar solution and then add in chopped tomatoes, basil, and remaining peppers and briefly cook.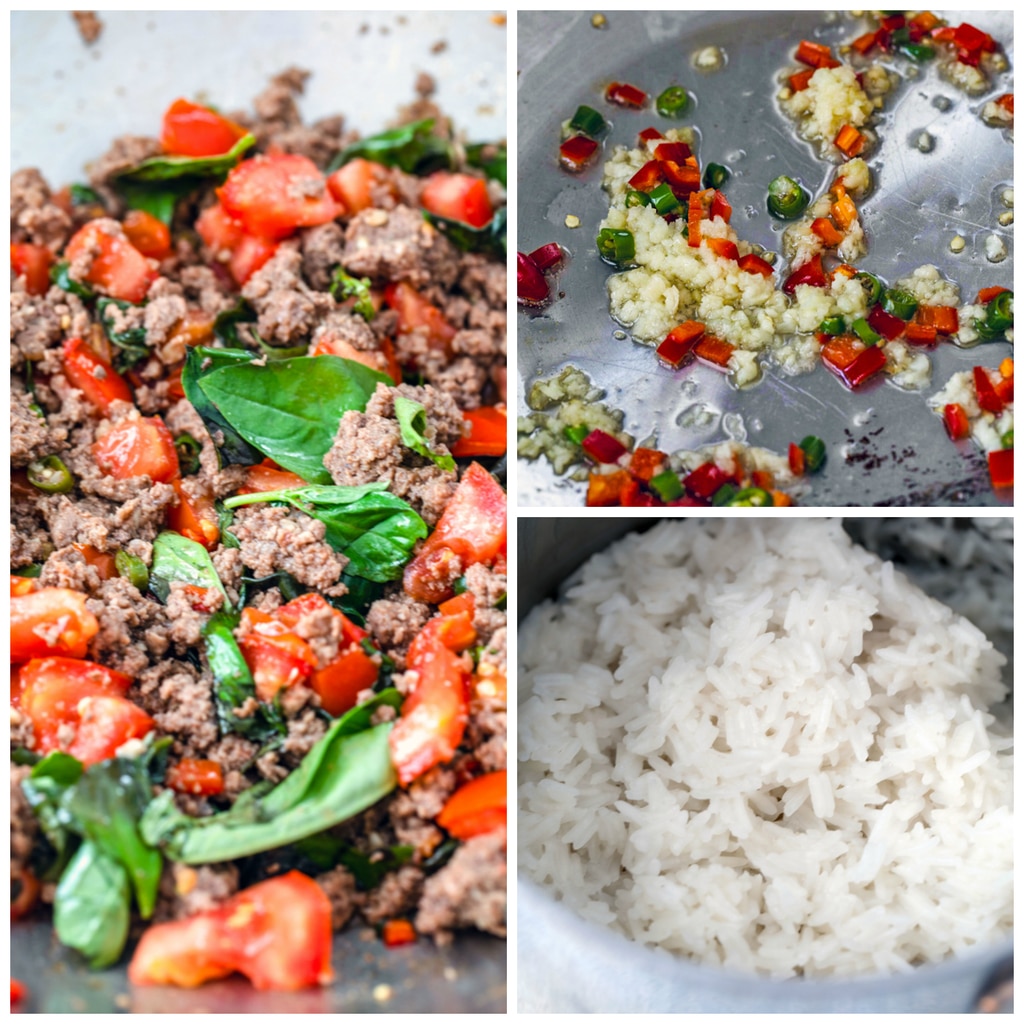 Serve the fluffy coconut rice in a bowl with the beef basil served over the top. If you love the spice, sprinkle on additional chopped peppers, a little crushed pepper, and a Sriracha drizzle. And top off with lime wedges. Even if you're not trying to cut the heat, there's something so delicious about a little bit of fresh lime juice squeezed on the top of this dish.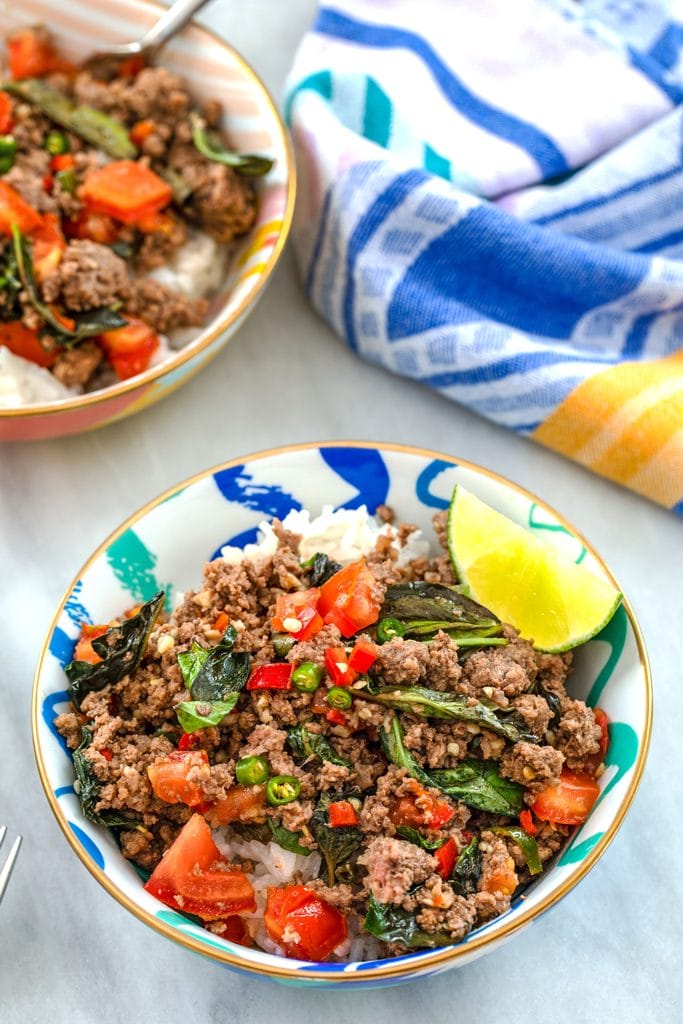 Thai beef basil is actually the dish Chris most often orders when we're at a Thai restaurant, so it makes me extra happy that he loves my version so much. I haven't actually made him cry... But I've gotten his serving to the spicy level that he's talking about when he says "make me cry."
I know this isn't really traditional Thai food and is definitely Americanized (especially if you're using jalapeño peppers or quinoa!), but it's an eclectic fusion dinner that is sure to satisfy most Thai food cravings... Which I get all the time!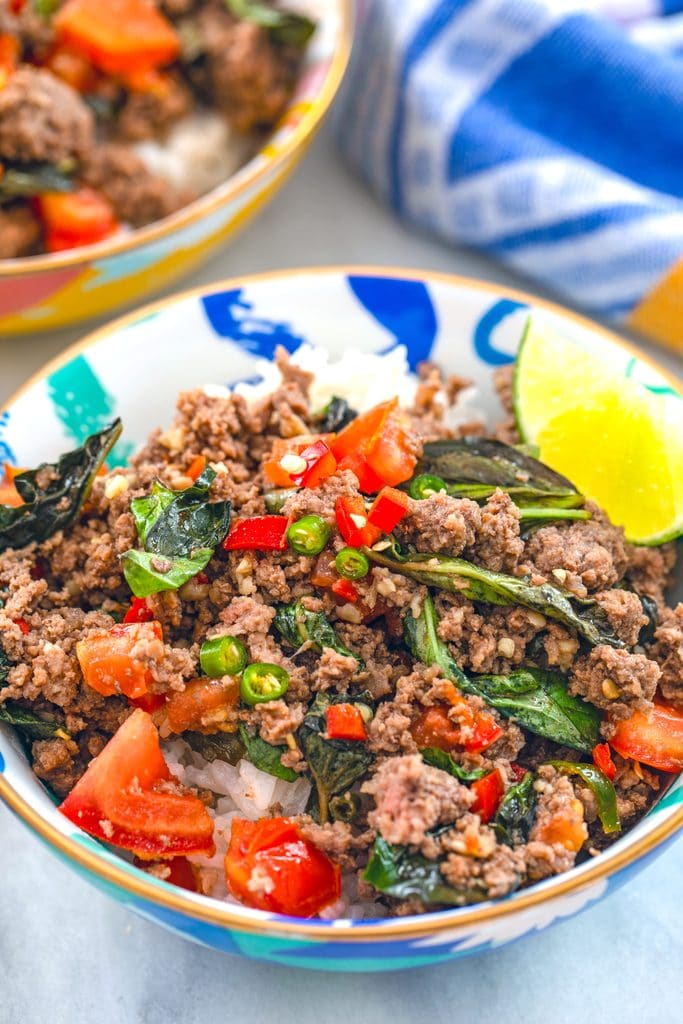 Honestly, I think my favorite part of this dish is all that fresh basil. I want a piece of basil in every bite! It's funny because Chris often leaves his basil behind and makes sure to eat every single pepper.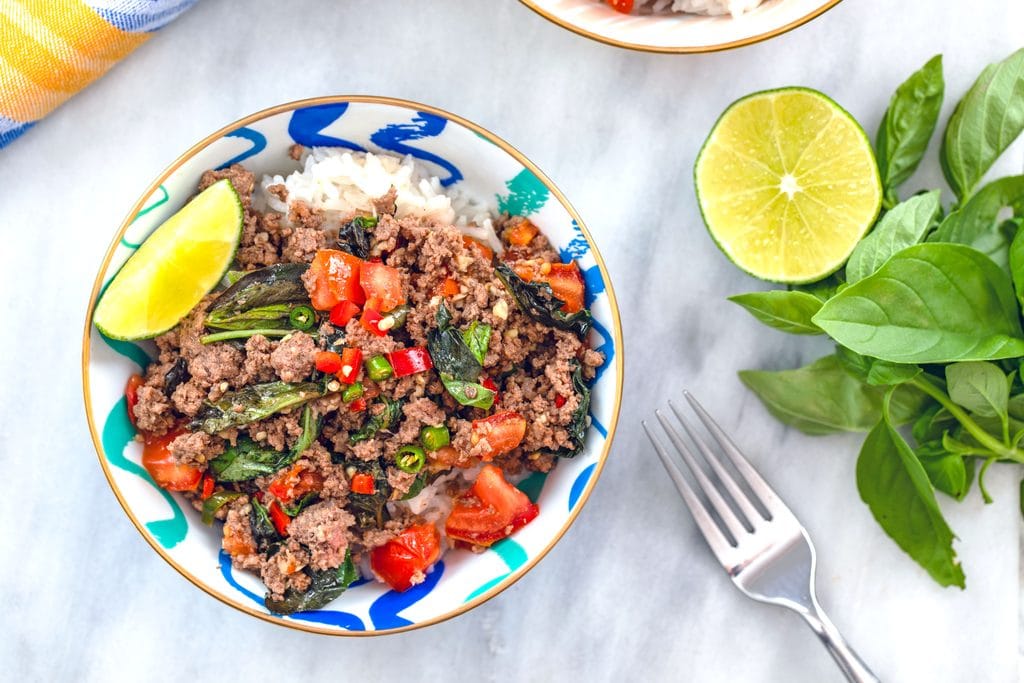 Believe it or not, it's actually quite rare that I make recipes twice. I just love trying new things too much and unless a recipe is off-the-walls amazing, I probably won't make it again for quite a while. This Thai beef basil qualifies as off-the-walls amazing. Plus, it's so quick and simple, that it's one of those meals I can add to my weekly meal plan and know that I won't have to spend all night in the kitchen. It's right up there with tacos as one of our "eat all the time" meals.
I should note that I actually have managed to make Chris cry with spicy food just once in our 10 years together. It was with a ridiculously spicy ghost chili pepper sauce that we used ONE drop of in mac and cheese. He claims his hearing was affected and refused to go near it again. I opted out of trying it. Do you blame me??
How spicy do you like your food?
If you're looking for other recipes with a kick, check out my Spicy Clam Chowder with Corn or my Spicy Lime Linguine with Clams and Sausage.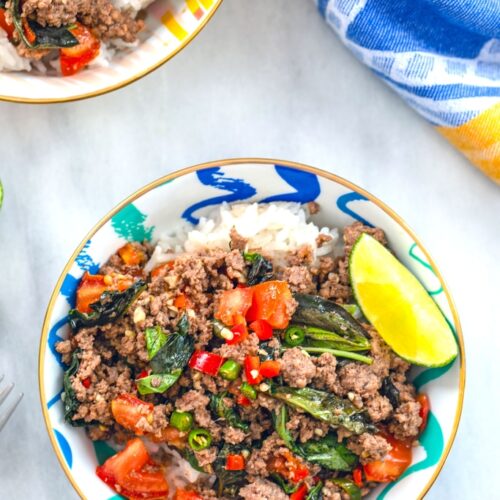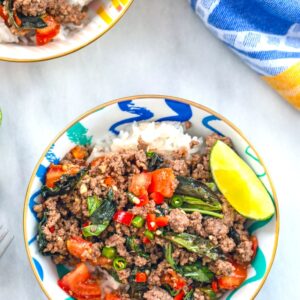 Thai Beef Basil
This Thai Beef Basil with Coconut Rice is an incredibly flavorful, easy-to-make dinner that can be customized for all types of spicy food level preferences.
Print
Pin
Rate
Ingredients
1 ½

cups

jasmine rice

(can also use brown rice or quinoa)

1

can

light coconut milk

1 ¼

cups

water

1

tsp

salt

1

Tbsp

vegetable oil

2

Tbsp

chopped Thai chili peppers (can also use habanero, long hot chili peppers, or jalapeño peppers),

seeds removed to tone down heat if desired + additional peppers for topping if extra heat is desired

4

garlic cloves,

minced

1

lb.

lean ground sirloin

3

Tbsp

fish sauce

3

Tbsp

low-sodium soy sauce

1

tsp

granulated sugar

1 ½

cups

loosely packed fresh basil

2

small tomatoes,

chopped

Lime wedges,

for garnish

crushed red pepper,

for topping

Sriracha,

for serving
Instructions
In a medium saucepan, combine rice, coconut milk, water, and salt. Let mixture come to a boil and then reduce to a simmer and cover. Let simmer until all the water has been absorbed and the rice is nice and fluffy, about 20 minutes.

While the rice is cooking, heat a cast-iron skillet or wok over high, add the oil, and toss in half the hot peppers and garlic. Cook for about 15 seconds. Turn the heat down to medium-high and add the beef and cook, breaking up with a wooden spoon, for about 5 minutes, until just cooked through.

In a small bowl, stir together fish sauce, soy sauce, and sugar. Stir this mixture into the beef and cook for another 30 seconds.

Add basil, tomatoes, and remaining peppers and stir to combine. When basil is starting to wilt, remove pan from heat, about 30 seconds.

Serve coconut rice in bowls and top with beef basil mixture. Garnish with lime wedges, crushed red pepper, and Sriracha sauce, if desired. For extra heat, add additional chopped peppers.
Share a Photo of Your Finished Recipe!
Mention @wearenotmartha and share a photo if you've made the recipe!