One of my favorite things about Chris is going out to dinner with him. More specifically, going out for Thai food with him. Or Indian. Why? He always tells the waiter or waitress "make me cry!!" You see, he used to say "make it extra hot, please," or "Thai-hot, please," or "make it as hot as you possibly can, please." But that never seemed to work. So, now he just tells them to make him cry. It still doesn't always work, but it's generally close enough.
I also like super spicy foods, though not to the point that I'm crying. And I absolutely love Thai food. A couple years ago I made my own Pad Thai, which was delicious (but not spicy). And now, I decided to tackle Beef Basil, which is Chris's favorite. I was planning to go into it with the "make me cry" philosophy, but then I decided I wanted to enjoy it too… sans crying.
I used this Martha Stewart recipe as a basis, but made lots of changes. Especially since reviewers said it wasn't very spicy. Cue the habaneros. What's Thai beef basil if it doesn't have a little kick, right?
Thai Beef Basil with Coconut Rice (serves 4):
• 1 1/4 C jasmine rice
• 1 can light coconut milk (13.5 oz.)
• 2 long chili peppers, chopped
• 3 habanero peppers, chopped
• 4 garlic cloves, chopped
• 2 T + 1 t fish sauce
• 2 T + 1 t soy sauce
• 1 t sugar
• 1 T vegetable oil
• 1 lb. lean ground sirloin
• 1.5 C loosely packed torn fresh basil leaves
• 2 small tomatoes, chopped
• 1 t crushed red pepper
• Lime wedges, for garnish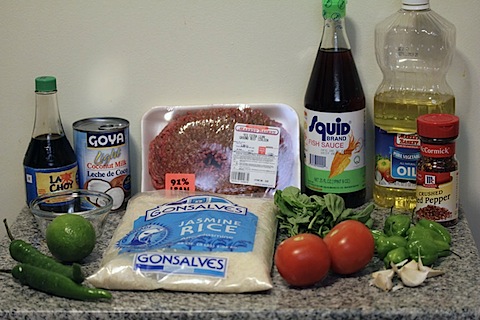 In a medium saucepan, combine the rice, coconut milk, 3/4 C water, and 1/2 t salt. Let the rice come to a boil and then reduce to a simmer and cover. Let simmer until the water has been absorbed and the rice is nice and fluffy, about 25 minutes. And I still kind of want a rice cooker.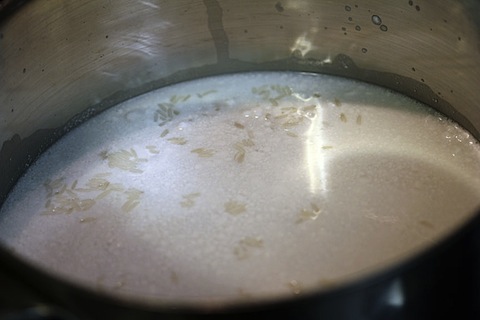 While your rice is cooking, chop your peppers and garlic. Now, you can use whatever kind of peppers you want here. Martha Stewart calls for long hot peppers or red jalapeno chilies. But she also takes all the seeds out of hers. The seeds are where the spice is! Therefore, I say keep them in. Or at least most of them.
I opted for 2 long chili peppers and 2 habanero peppers, seeds left in! Habaneros are very hot. The amount of peppers I used was perfect (for me). Not "make me cry" hot, but plenty spicy.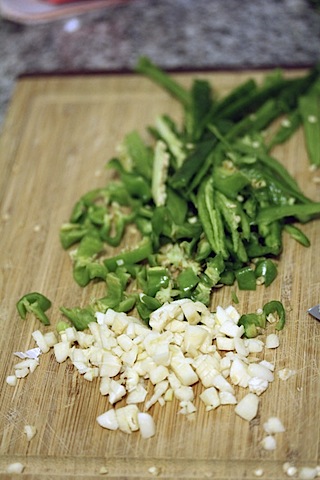 Next, combine the fish sauce, soy sauce, and sugar in a small bowl and set it aside. You should be able to find fish sauce at most grocery stores in the Asian section. It's not the best smelling sauce ever, but it does add good flavor to the dish. If you can't find it, I would simply use more soy sauce.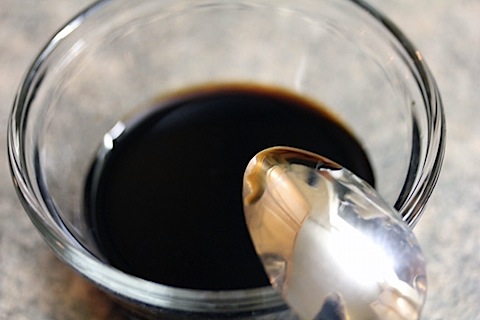 Now, heat a cast-iron skillet or wok over high, add the oil, and toss in the garlic and half the hot peppers. I love any excuse to use my wok! I don't use it nearly enough and now I'm totally lusting after an XL wok!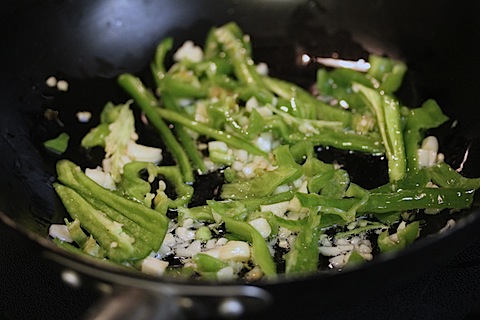 Cook the garlic and peppers for about 15 seconds. Turn the heat down to medium-high and add the beef and cook, breaking up with a wooden spoon, for about 5 minutes.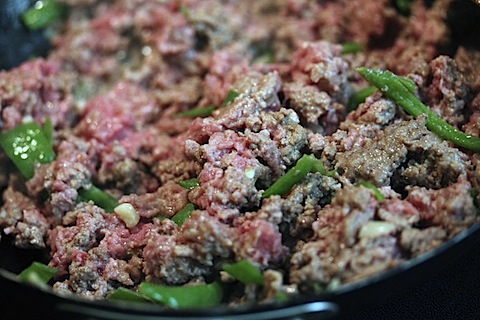 Add soy mixture and cook for about 30 more seconds. Then add the basil and tomatoes and stir to combine. Add the rest of the peppers here too (saving a few for garnish if you want). I also sprinkled the crushed red pepper over the top for a little added heat. It should just take about 20-30 seconds for the basil to wilt a bit and the tomatoes to warm.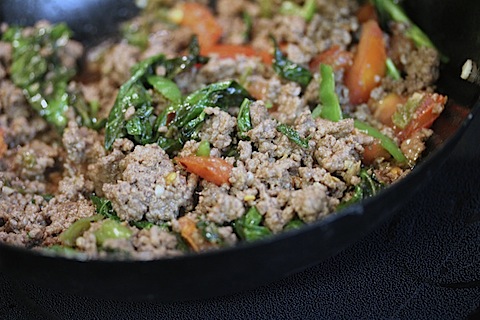 Look! The rice is done just in time (hehe).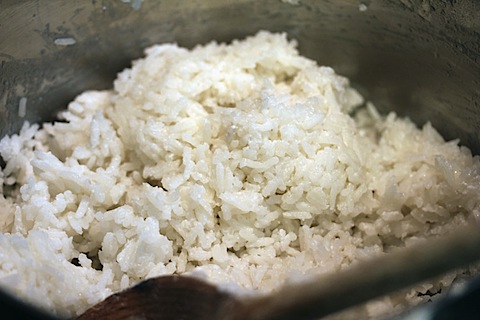 Now serve the beef over the coconut rice with some chilies on top and lime wedges for garnish.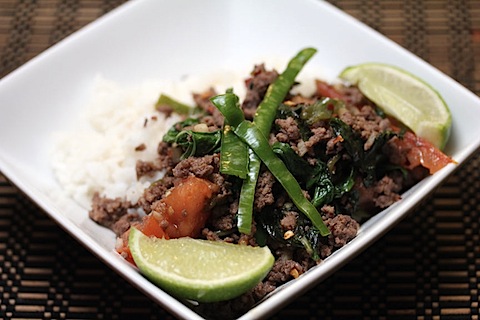 This was honestly one of the best dinners I've made in a long time! It was super-packed with flavor and totally satisfying. Chris said it tasted just like in a Thai restaurant… But better! It definitely wasn't as greasy and because the sirloin was lean, it had a lighter taste to it.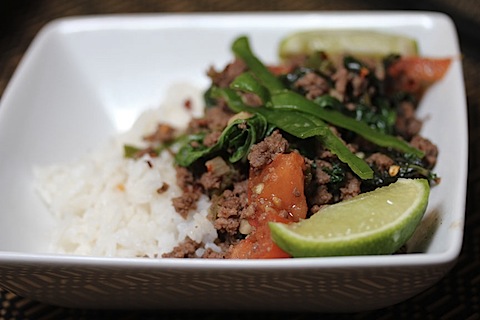 The coconut jasmine rice was really good. But next time I might try it with brown rice just to healthify it a bit.
Yes, it was spicy! As in, I said "whoa!" the first bite I had. But it wasn't so spicy that I cringed every time I took a bite. And no, Chris didn't cry. But he actually claimed to really enjoy the spiciness level.
I LOVED the flavor of the fresh basil. I really think that's the key to cooling the dish down a bit, too.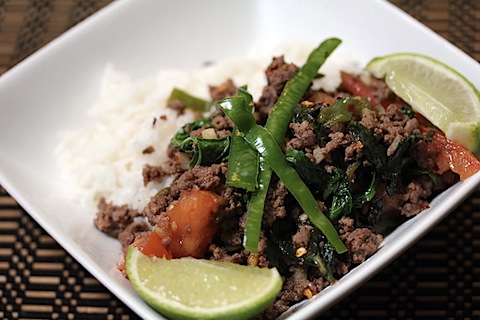 To be honest, it's rare that I make recipes twice. I just love trying new things too much and unless a recipe is off-the-walls amazing, I probably won't make it again for quite a while. This qualifies as off-the-walls amazing. Plus, it was quick and simple, so I won't feel like I'm spending tons of time and money on something I've already done before. This is joining my sweet potato chili on my meal rotation.
And maybe next time, I'll add a little bit of this in: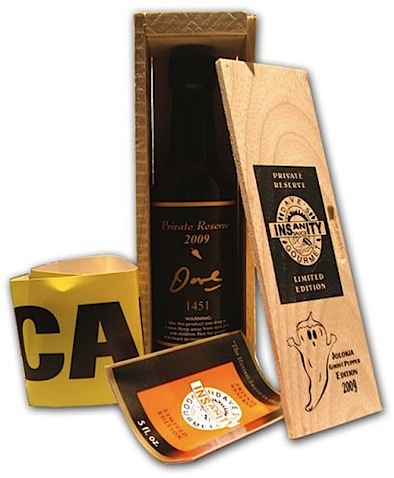 It's Dave's Insanity Ghost Pepper Sauce. And allegedly, it's "face melting hot." Which is way worse than "make me cry" hot I think. I bought a bottle of it for Chris for his birthday (yes, it comes in a coffin-like box with caution tape) and yes, it is the hottest sauce I've ever had in my life. Chris had a bowl of pasta with 6 drops in it and started to complain that his hearing was going weird. No, I don't know what the point is; but there you have it. Don't say I didn't warn you.
Chels and I actually attended the 2nd annual Chili Cup at Ned Devine's tonight and had lots of wonderfully spicy awesome chili!
What kind of hot do you like? Are you a fan of "make me cry" hot? Or does just a little spice make you cry?
[Sues]