Happy Monday, everyone! How was your weekend? Mine was pretty fabulous and involved a family dinner with my cousin John from Buffalo visiting. And then Sunday was our childhood friend Erin's wedding shower. Oh, and some amazing Mix Bakery cupcakes were thrown in there, too. And now we're in for another long work week. But I'm hoping to get some cooking/baking time in at some point. in between everything I have to do. And Chris and I are hoping to start finalizing some wedding plans within the next couple weeks, which is actually a lot more work than I thought it would be! Venue hunting is tough. I will be SO relieved when that part is over and we know where and when the big event is going to be.
I'm still pretty obsessed with baking bread, but sometimes I want some bready goodness a little bit more quickly. You know, without all that rising time. That's why this Chile-Cheddar Bread was so appealing to me. Quick? Easy? No rising? JALAPENOS? You don't have to ask me twice. You know how sometimes you know what meal you want to make and then decide you want to make a bread to go with it? Well, I found this bread and knew I needed to find a meal to go with it. I'll post about the meal later… But for now, the bread.
I followed the original recipe pretty closely, except I substituted 1 cup of all-purpose flour for 1 cup of whole wheat flour. And I think it worked out pretty fabulously. I might try all whole wheat the next time!
Chile-Cheddar Bread:
• 1 C all-purpose flour
• 1 C whole wheat flour
• 1 T baking powder
• 1 t freshly ground black pepper
• 1 t salt
• 4 oz. (1 C) sharp cheddar cheese, shredded
• 1 C milk
• 1/3 C canola oil
• 1 egg
• 1 4-ounce can chopped green chiles
• 1.5 jalapenos, finely chopped
• 1/2 C red bell pepper, finely chopped
(Pre-heat oven to 375 degrees)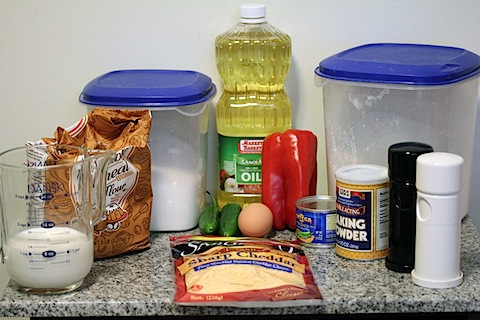 Sift together the flour, salt, pepper, sugar, and baking powder in a medium bowl.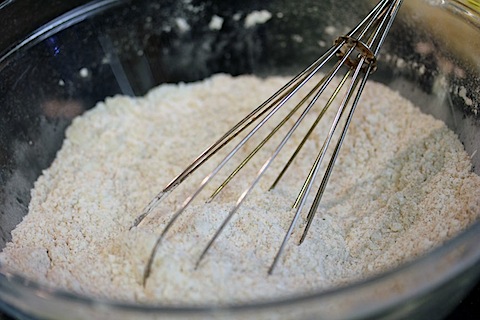 Then add the cheese and stir until it's evenly distributed.
And chop your jalapenos. Like I always say, if you want your bread spicier, leave the seeds in. If not, scrape them out. As usual, I left all the seeds in, but the bread honestly wasn't overly spicy. I think because there's lots of other delicious ingredients involved!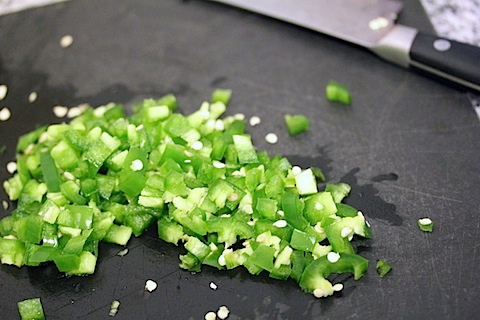 Now, mix together the milk, oil, egg, green chiles, jalapeno, and bell pepper in a separate bowl.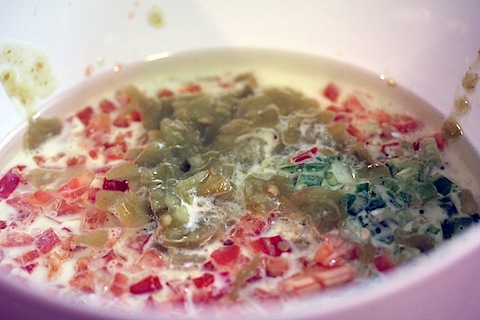 Whisk it all to combine.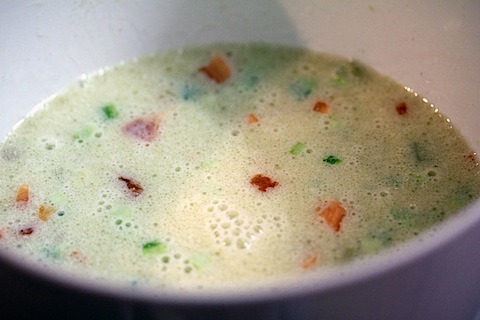 Make a well in the center of the flour/cheese mixture and pour the milk mixture into the center. Briefly blend with a spatula, just combining dry ingredients into the wet ingredients.
Pour batter into a greased 8×3 or 9×5 loaf pan (I only had a 9×5 pan, so as you can see my batter didn't fill it all the way).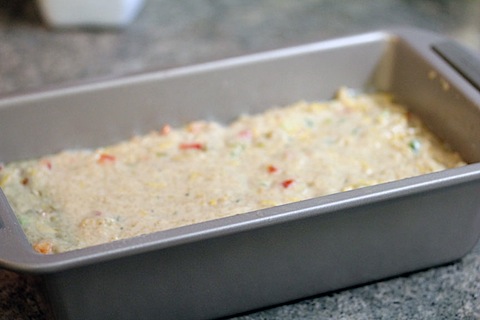 Now, pop into the oven and bake at 375 degrees for about 45-50 minutes, until the top is golden brown. Let cool for about 10 minutes.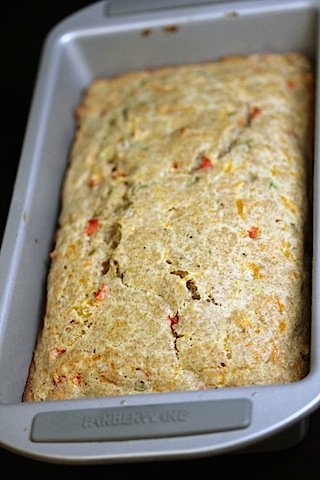 Pop the bread out of the pan.
And slice it up. Of course, you could serve this bread slathered in butter. But you know what? You honestly don't need any! It was moist and super flavorful, really not needing any spread. But I do think it would make the most fabulous sandwich.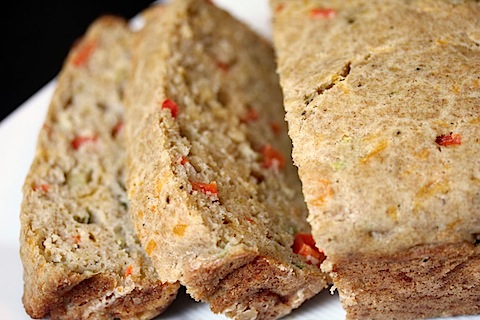 I made a delicious soup (coming soon!) with the bread and obviously enjoyed dipping the bread into the soup. Um, and the soup has jalapenos involved in it, as well. I've been a little bit obsessed with them lately; I hope you don't mind (between that and my alcohol in desserts obsession, I really think I need to switch things up).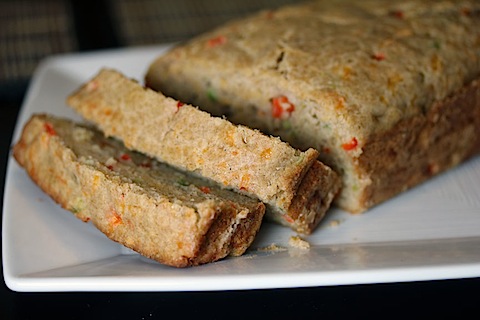 This loaf will give you bread and happiness for a good week. My next task will probably be to make a grilled cheese with this bread. I haven't made a good grilled cheese in ages!
What are you looking forward to this week?
Me? I'm looking forward to Friday. Trust me, I NEVER wish away the weeks, but I have zero plans next weekend and absolutely cannot wait to sit on my couch reading Martha Stewart Weddings and catching up on life. I need it!
[Sues]