Chris and I have this joke. Only it's not reallyyy a joke because I'm kind of serious about it. Basically, he calls everything bread. If he's eating a cupcake, he'll ask "what kind of bread is this?" If he's eating a muffin/doughnut/croissant/etc., same thing. If it has flour in it, he calls it bread. I find myself constantly saying, "it's not bread, it's cake!" or what have you. But he finally got me this weekend when I decided to make homemade bread. I wanted to make a nice hearty, crusty bread. But I also wanted it to have chocolate chips and cinnamon in it. Every time I searched for a recipe, I landed upon chocolate chip breads that were more like cakes. You know, like banana bread? I complained to Chris that I wanted a sandwich bread, but with chocolate in it. Not like banana bread, which is really cake. His response? "Oh, you mean the cake of banana bread is called bread? That's what I thought." Touche.
I did a 'lil Google search and it appears David Lebovitz has had the same cake vs. bread confusion. Now I don't feel so bad. Why is it called banana bread when really, come on, we all know it's cake?
So, yes I guess I'd have to call this a sandwich bread. But I don't recommend making a sandwich out of it, unless that sandwich is peanut butter, fluff, butter, jelly, or Nutella. Turkey and mayo wouldn't be so hot. Though, perhaps you'd beg to differ.
Cinnamon Chocolate Chip Bread (makes 2 loaves):
Print this recipe!
• 5 ½ - 6 ½ C all-purpose flour (you could use half whole wheat if you want)
• 1 ½ T yeast
• 2 T sugar
• 1 T cinnamon
• 2 eggs (lightly beaten), plus 1 egg for egg wash
• 2 C warm water
• 1 ½ T vegetable or canola oil, plus 2 t
• 2 t salt
• 1 ½ C chocolate chips
(Pre-heat oven to 350 degrees)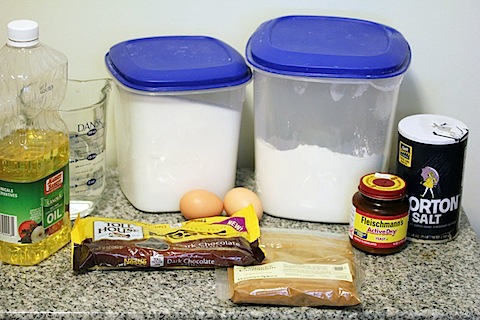 I decided to use the Nestle dark chocolate chips we got in our swag bags at BlogHer Food. Because what's the only thing better than chocolate? Dark chocolate.
And of course my very favorite cinnamon IN THE WORLD from Penzeys. You really can taste the difference.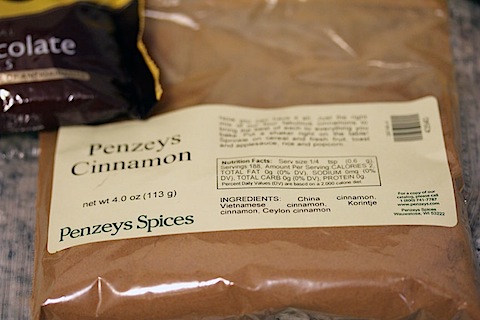 Combine two cups of the flour, yeast, sugar, and cinnamon in a medium bowl (I did this all in the bowl of my stand mixer).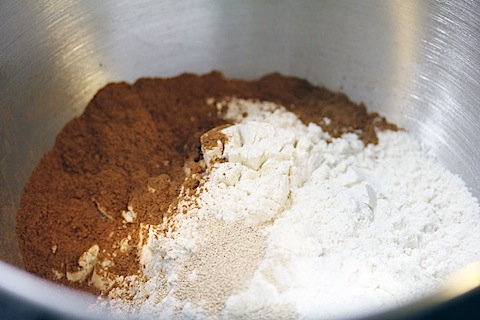 And whisk together.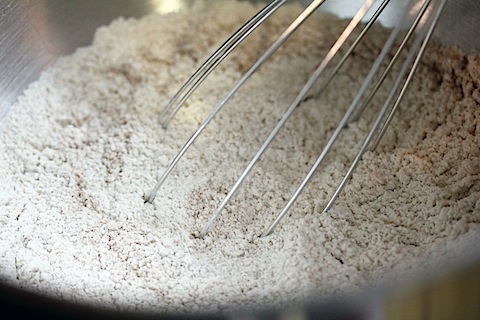 Add the eggs, water, and 1.5 T oil, and beat well. Let sit for a few minutes, so the yeast can activate (unless your yeast is instant).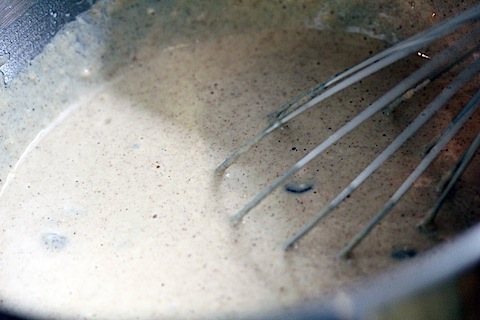 Now add in the salt and remaining flour. I started by adding 5 ½ C of flour. As I kneaded it, I determined that I needed more (it was super sticky), so kept adding more in. I used almost 6 ½ C total.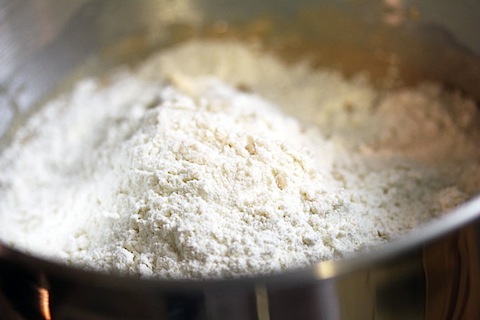 Using the dough hook on your mixer, knead the dough for about 7-10 minutes. If you don't have a mixer, lightly flour a surface and use your hands to knead. While the dough is kneading, add in the chocolate chips.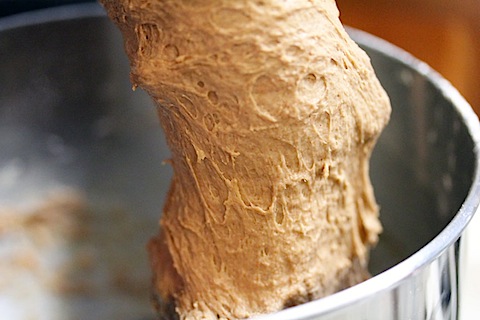 Now, place your dough in a lightly oiled bowl. Cover with a dishcloth and put in a warm location for about an hour, or until doubled in size.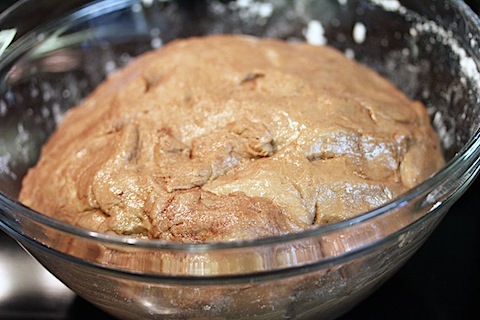 Ooh lala. There's nothing like the site of dough rising. It seriously NEVER gets old for me.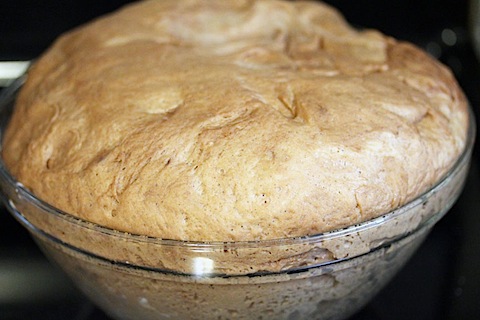 I realized that whenever I'm waiting for dough to rise, I think about this book: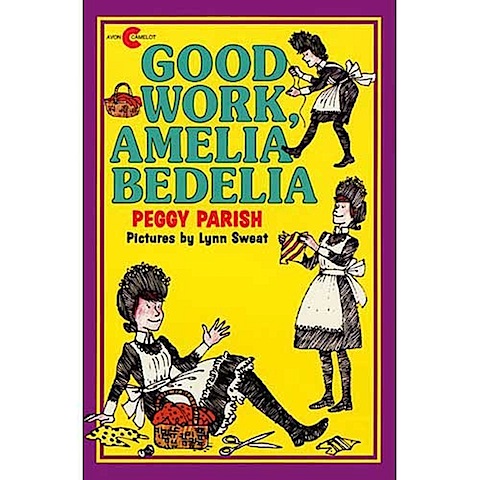 I mentioned it on Twitter today and only one person responded to me. Leading me to believe not everyone read the Amelia Bedelia books?? Or else, I'm the only one who was so obsessed with them that I practically have them memorized. But you see, Amelia Bedelia took everything literally. So when she got instructions to let the dough rise, she tied it to the light with string and rose it to the ceiling. What? When you're six, that's awesomely funny. Still kind of is.
Anyway, put a teaspoon of remaining oil in each of your loaf pans. And divide the dough into two portions and fit into the pans.
I made one loaf in my Farberware baking pan and another in my Le Creuset stoneware loaf pan that Chels got me for my birthday. Love it!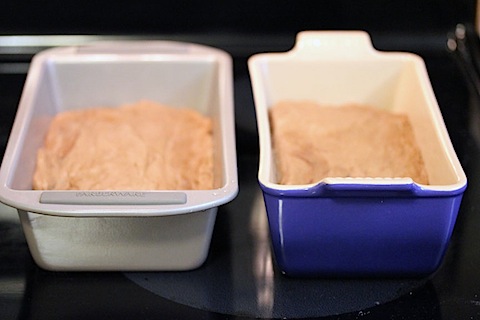 Cut a few slits across the top of the dough with a sharp knife and cover again. Let rise for another hour and your dough should double in size again.
Woo hoo!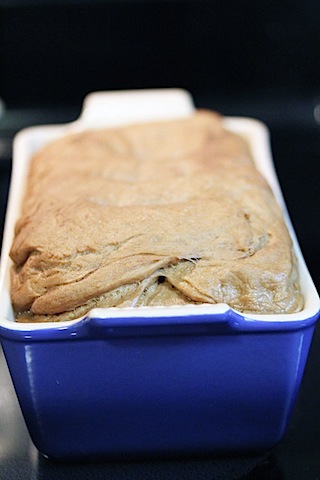 Now, brush the tops with an egg wash (1 egg lightly beaten).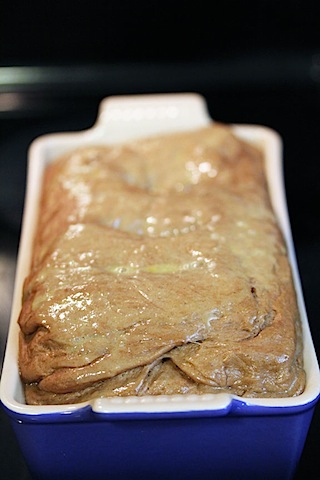 And pop in the oven to bake at 350 degrees for about 30 minutes.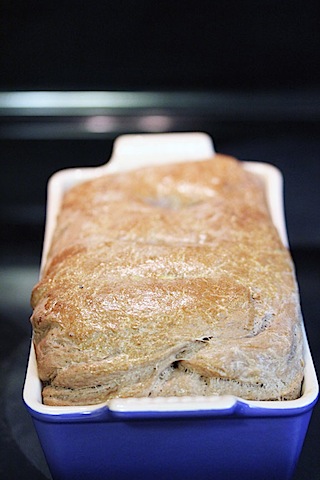 Your house will smell like cinnamon and you'll realize once again that homemade bread is so much more rewarding than storebought.
Thank goodness I'm smarter than Amelia Bedelia and figured out how to make bread rise 🙂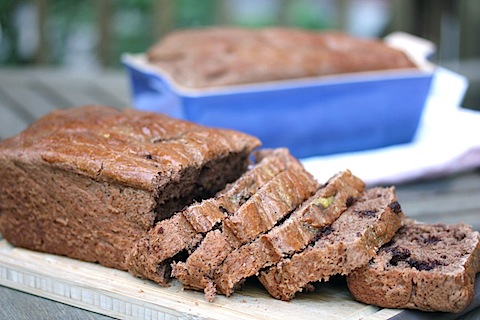 The bread ended up being nice and crusty just like I wanted. And I've done enough experimentation now to know that it goes perfectly well with both peanut butter and butter smeared across the top. Trust me, LOTS of experimentation was involved.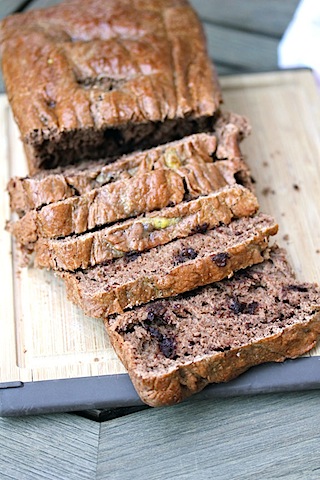 Technically, you don't need to put anything on this bread. It has the slight hint of cinnamon with the delightfully sharp bite of dark chocolate scattered throughout. When you toast the bread, the chocolate chips melt a bit, making it absolutely decadent.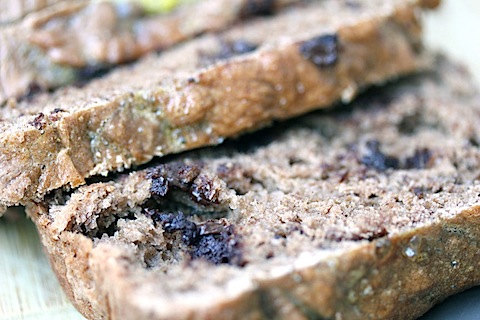 But it's still bread. Not cake. Really.
Of course, the great thing about making two loaves is that you can freeze one and chow down on the other right away.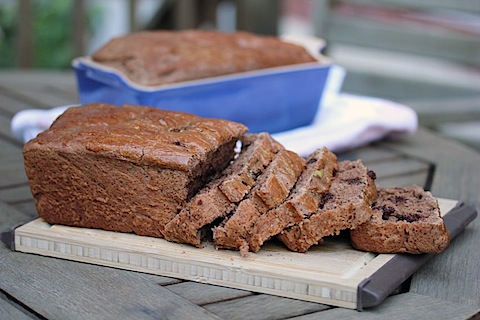 Don't get me wrong, I love the cinnamon raisin combination. But chocolate and raisin? Way better.
Scarlet Threads Giveaway Winner!
The winner of our Scarlet Threads apron giveaway is Susan from Savoring Thyme in the Kitchen. Congrats, Susan, and I'll contact you ASAP, so Lexi can send your apron right out 🙂
What would you call chocolate chip bread that's actual bread and not cake? I want all your insight!
[Sues]