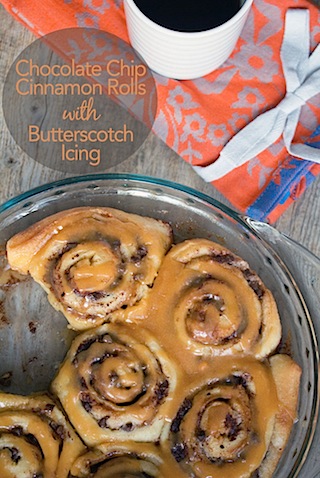 I crave cinnamon rolls 99% of my life. In my dream world (you know, the one where I'm a mac and cheese eater), every morning when I awaken, a just slightly warm cinnamon roll will be waiting for me on my bedside table. I won't need an alarm clock because the sweet fragrance of the cinnamon rolls gently wafting toward my pillow will be all I need to rouse.
I will wake up happy every single morning for the rest of my life.
A cup of coffee will also be waiting for me, but luckily for me, that generally happens anyway since I have the best husband on Earth. Though if he learned how to make a daily batch of cinnamon rolls, he might be able to score even more points. Ahem.
One fab thing about cinnamon rolls is that there are about a hundred and fifty fun varieties you can make. Probably more, even. This time I decided to try out Chocolate Chip Cinnamon Rolls with Butterscotch Icing. Hoping that when I open my eyes in the morning, one of these luscious rolls will be waiting for me. Talk about having sweet dreams.
Chocolate Chip Cinnamon Rolls with Butterscotch Icing (makes 2 batches- about 14-18 rolls):
Print this recipe!
Dough:
2 C whole milk
1/2 C vegetable oil
1/2 C sugar
2 1/4 active dry yeast
4 1/2 C flour
1 t baking powder
1/2 t baking soda
1/2 T salt
Filling:
1 C melted butter
1/8 C ground cinnamon for sprinkling
3/4 C sugar
1/2 C mini chocolate chips
Butterscotch Icing (see below)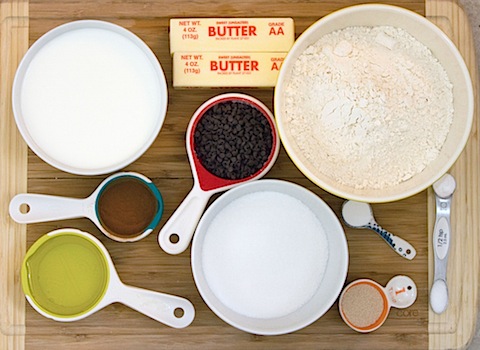 Heat the milk, vegetable oil, and sugar in a medium saucepan over medium heat, until hot but not boiling. Set aside and cool to lukewarm.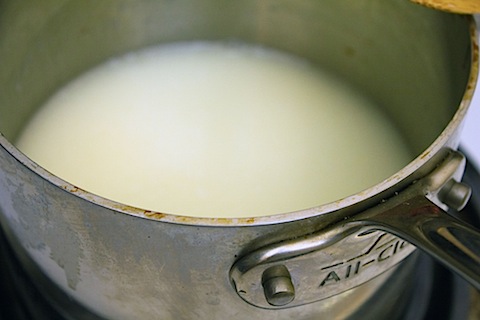 Sprinkle the yeast on top of the milk and let it sit for one minute.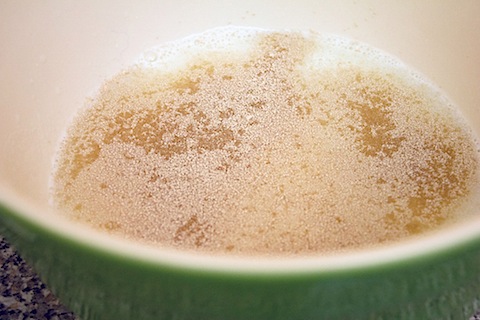 Stir the flour into the yeast mixture until just combined, without kneading. Cover with a clean kitchen towel and set aside in a relatively warm place for an hour to rise.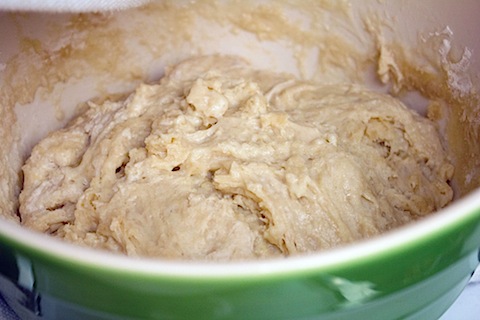 Remove the towel and add baking powder, baking soda, and salt and mix together to combine.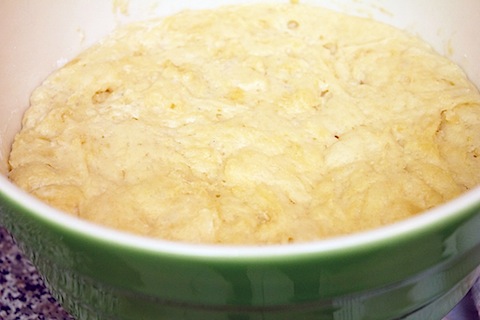 If you want, you can put your dough in the fridge now for a couple days (just cover in plastic wrap, pushing plastic down so it's touching the top of the dough). This is great because it lets you do a lot of the prep beforehand and then finish when you're just about ready for the cinnamon rolls.
Or you can just keep pushing through because you can't wait anymore.
Now, place the dough on a floured surface and roll into a large rectangle, about 30×10 inches.
You can also check out my super messy kitchen counter if you're so inclined. I'm just thankful I have a big enough counter to roll out dough like this in my little old apartment.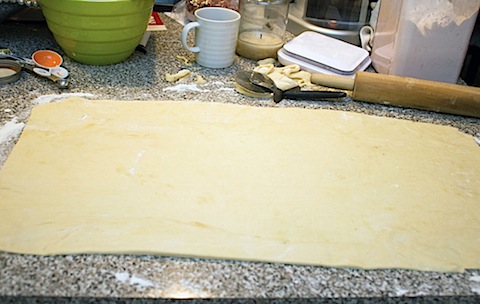 Using a pastry brush, brush about 3/4 C of the melted butter on the dough. Then sprinkle sugar, cinnamon, and mini chocolate chips over the top.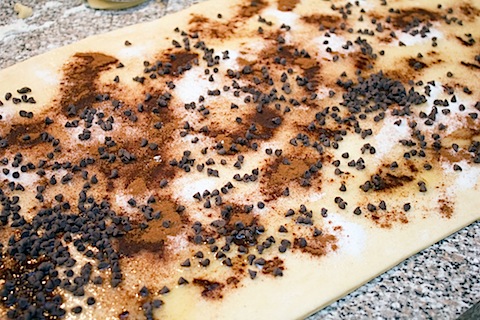 Beginning at the end farthest from you, begin to roll the dough tightly toward you. Be careful and go slowly. Pinch the seams together once you're done.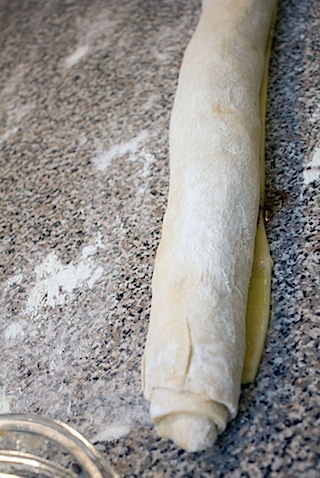 And slice the roll into slices that are about 1 1/2-inches. You'll likely get between 14-18 rolls out of this.
Brush the remaining 1/4 C butter into the bottom of two pie plates. And place cinnamon rolls around the dish, being careful not to overcrowd.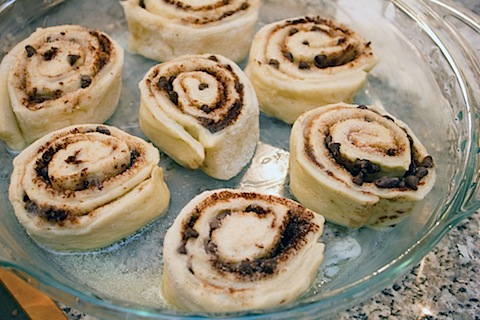 You may have a few extra, in which case I recommend starting a third mini pan.
Cover the rolls with a kitchen towel for about 20 minutes, so they can rise (yes again!) and pre-heat oven to 350 degrees. When you remove the towel, you'll be able to see that they're a little bit bigger.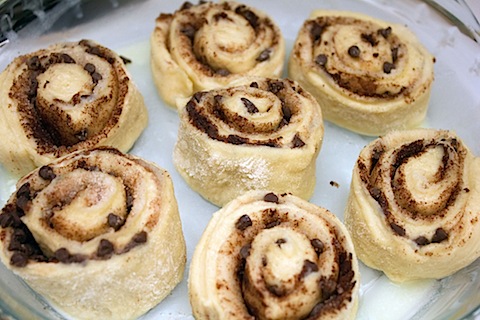 Then you can put them in the oven at 375 degrees for about 13-17 minutes.
Butterscotch Icing:
Print this recipe!
2 T butter
1/3 C brown sugar
1/4 C milk or cream
1/3 C butterscotch chips
1 C powdered sugar
1/2 t salt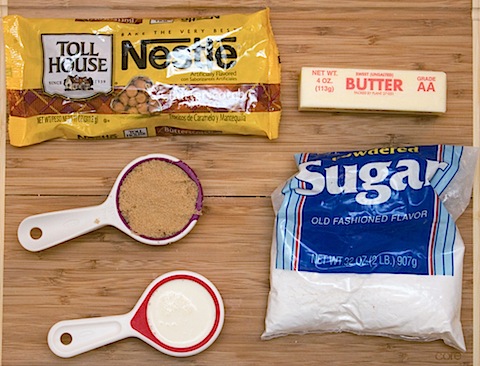 I have tons of butterscotch chips for some reason, but I wanted a more powerful icing than simple melter butterscotch chips. So, I kinda did a combo butterscotch sauce slash melted chips.
It was easy to do! In a medium saucepan over medium-low heat, add the butter and brown sugar and stir constantly with a wooden spoon, for about 2 to 3 minutes.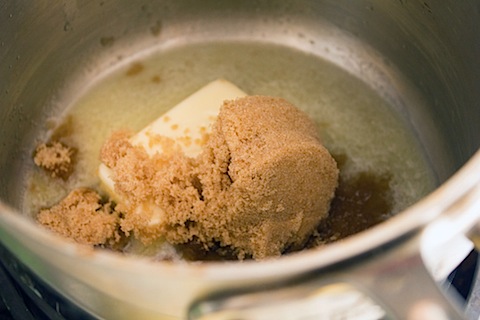 Once the mixture begins bubbling, stir the butterscotch chips in and stir until melted.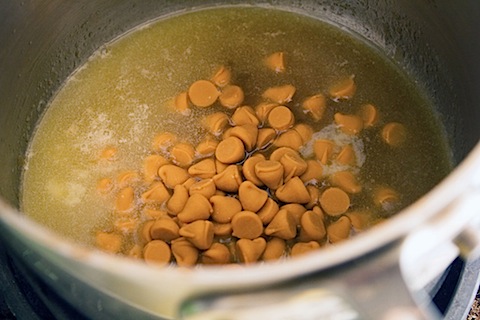 Then pour the cream into the saucepan, while continuing to stir constantly. Stir for a couple more minutes, until mixture thickens and looks glossy.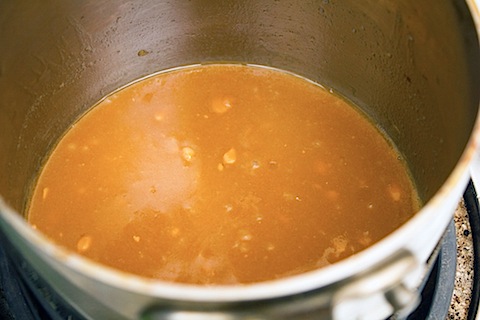 Remove the pan from the heat and let rest about about 2-3 minutes. Then mix in the powdered sugar and salt.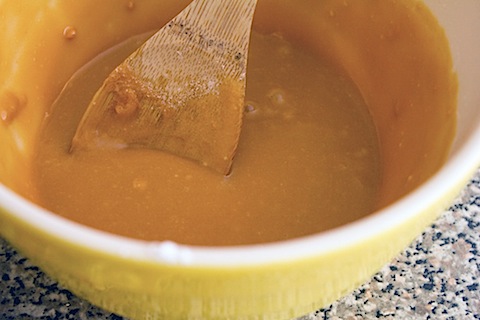 You know what to do now, right? Obviously pour the butterscotch icing over the piping hot pan of cinnamon rolls. Obviously.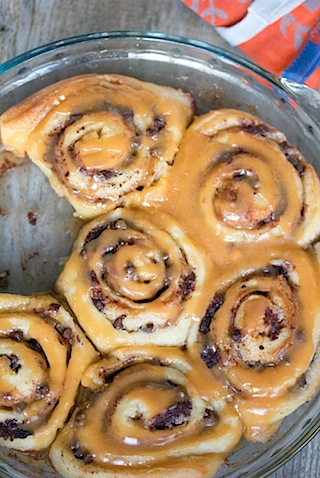 But if you're having a brunch party or something, I'd highly recommend serving the rest of the butterscotch icing nearby… with easy access to a spoon. And an understanding with your guests that nobody judges anybody.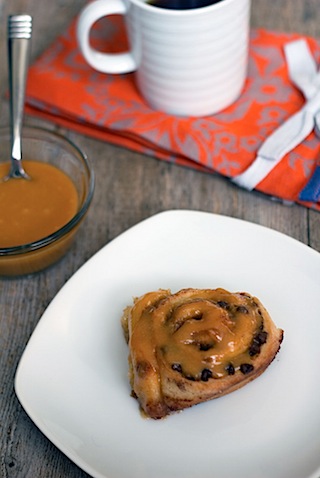 Friends don't judge friends who over-ice their cinnamon rolls.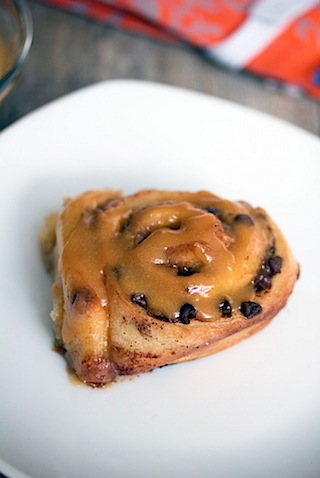 And I certainly hope that friends don't judge friends who do things like put chocolate chips in their cinnamon rolls. That wouldn't be very nice.
Not only did I totally love the touch of the chocolate chips in these cinnamon buns, but I thought the chocolate and butterscotch combo was perfection. The rolls were ooey, gooey, and everything you really want cinnamon rolls to be.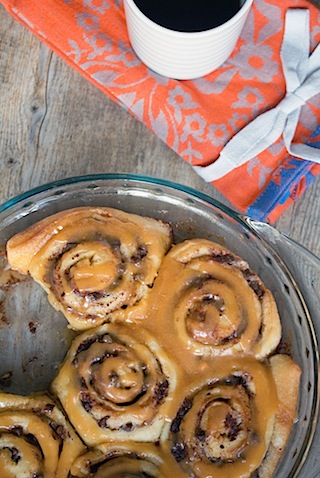 The thing of this is… I could literally have a cinnamon roll waiting for me every morning. I'd just need to keep a few batches of these in the freezer at all times. Bake when needed and then re-heat a roll each morning. In fact I have the second pan waiting for me in the freezer as we speak…
This could be my reality. That was easy. Sadly, I still haven't figured out how to pull off that mac and cheese career. Stay tuned.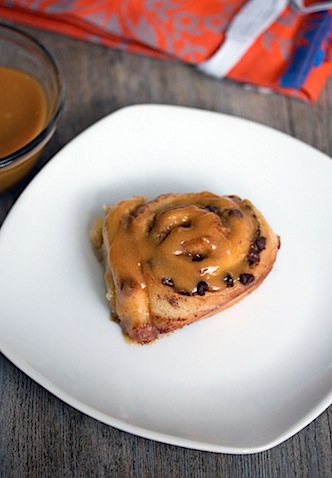 I can be pretty resourceful when needed.
What breakfast item would you like waiting for you every morning?
[Sues]