Gingerbread Rolls with Eggnog Glaze take the classic cinnamon roll and give it a holiday spin. With the zing of ginger and sweet eggnog flavor, these rolls make the perfect Christmas breakfast.
(This recipe for Gingerbread Rolls with Eggnog Glaze was originally posted in December 2011, but has been updated with new photos and content.)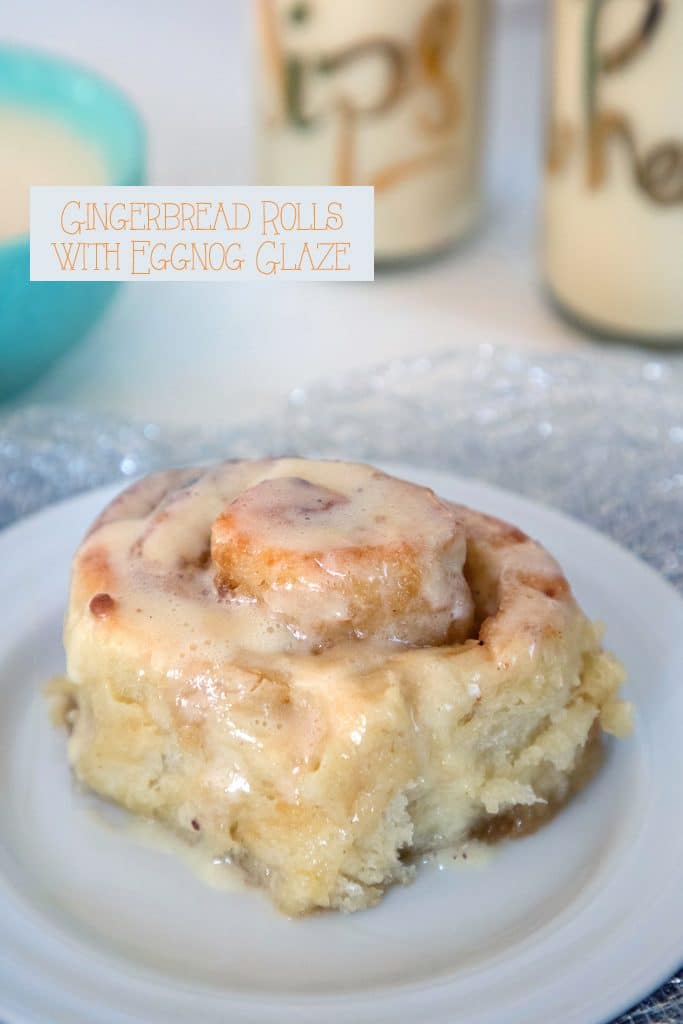 OK, the other day we talked about holiday music and now I feel like we need to talk about holiday movies. Not the classics (everyone knows Miracle on 34th Street is the best, right?? And that Elf is a modern classic that must be watched at least once per season), but the Hallmark and Lifetime Channel Christmas movies. Chris and I cut cable this year and I actually haven't missed a thing EXCEPT for the fact that we no longer have a way to access the Hallmark channel. Which wasn't an issue that even crossed my mind until December 1. And then I was all "omg where's the Hallmark Channel?? I need the Hallmark Channel!! I cannot live without it! We need to get cable back ASAP. The Hallmark Channel is worth $150/month."  But then I took a deep breath and turned to the Lifetime Channel and told myself it would be enough. And so far, it has been. But I can't help wondering what I'm missing on Hallmark. Sigh.
The movies are so bad. SO bad. But it wouldn't be Christmas without them and there's something so comforting and cozy about them. In trying to tell my mom what they're about (she's a fan of the crazy crime/drama/murder Lifetime movies, but can't really get behind the cheesy Christmas ones), I realized they're all about the exact same thing. Single girl in her late 20s/early 30s set to spend another Christmas alone. Enter parent/child/niece nephew/etc. who wishes to Santa/an angel/upon a star that said female would find a man. Enter man. Female and male fall in love. Drama occurs, female learns she was set up. Eventually gets over it and they spend Christmas together/happy ending occurs. They're all the same and they're all amazing.
The best thing about them is how ridiculously low budget they are. I told Chris (who, by the way, loves these movies just as much as me!) that in my next career, I'd love to be a "reality-checker" for these movies, letting producers know where all the inconsistencies are and how they can be fixed. Also, that I just can't get behind an ice skating rink that people are WALKING on because it's clearly not real ice. Come on. I could most definitely talk about these movies all day, but I know that's not why you're here. You're here for the gingerbread rolls. I think. Or maybe you want to come over and watch cheesy television Christmas movies with me and then have a Paideia Seminar about them (please tell me I'm not the only one who had Paideia Seminars in elementary school!). In that case, I'll serve you these gingerbread rolls while we watch.
I think cinnamon rolls have a reputation for being really difficult and complicated. A lot of baked goods made with yeast do. But they're actually quite easy. You just need to account for some rising time and have a little bit of space to roll out the dough. If you don't have enough counter space, you can it into two portions and roll it out in two separate batches.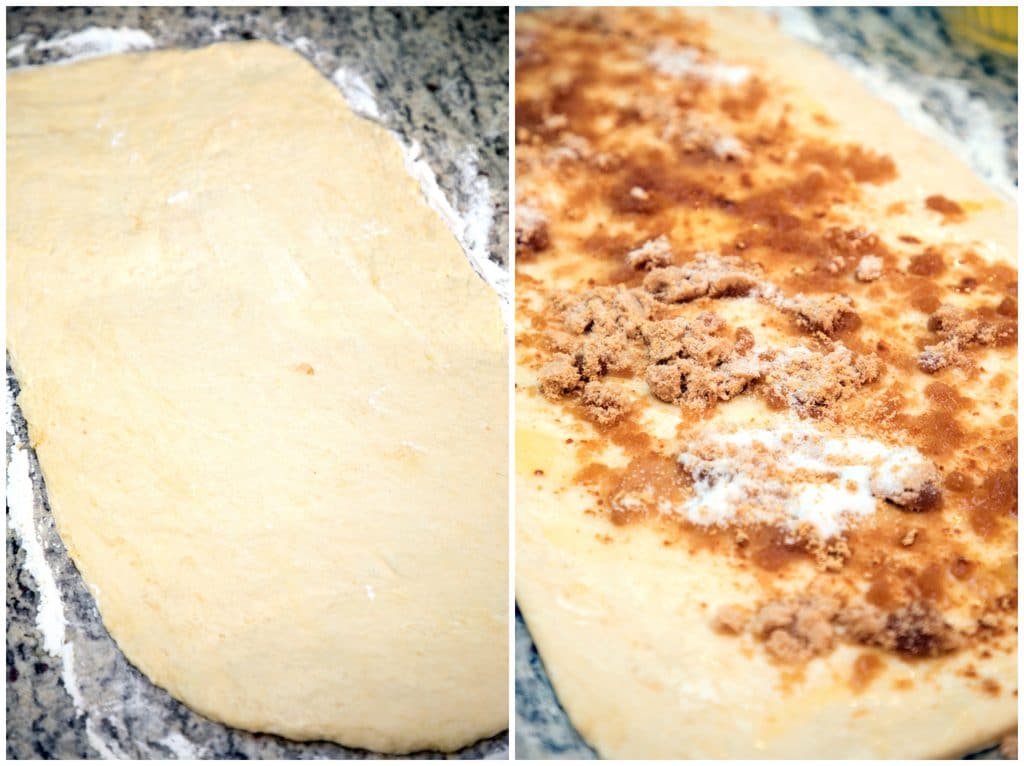 To be fair, these aren't actually cinnamon rolls… there's no cinnamon involved! I stuck to ginger and sugar for a more festive flavor with these gingerbread rolls. They're not really true gingerbread without the molasses, but they're packed with sweetness and ginger flavor and perfect for a Christmas breakfast.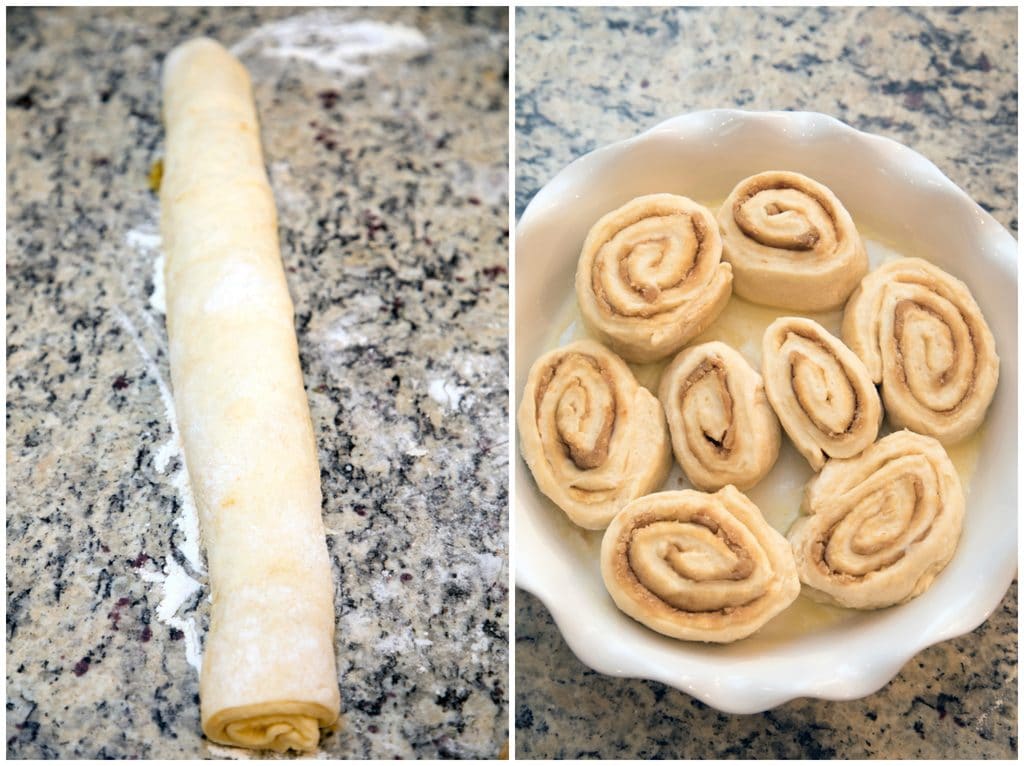 They'll certainly get your family and/or friends out of bed if you strategically put them in the oven first thing in the morning. Probably if you have small children, you don't have any problems getting them out of bed first thing on Christmas morning, so maybe you can use these as a ploy to keep them tucked away longer, telling them, "don't get out of bed until you smell the gingerbread rolls!"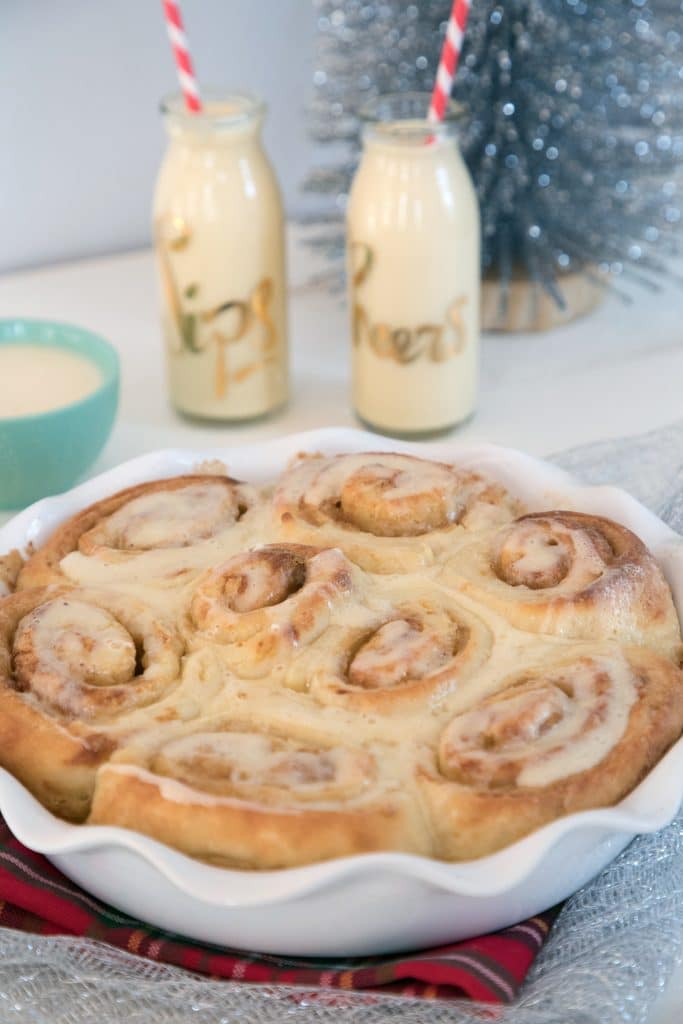 And then you can force them to sit at the table and eat these rolls before they can open their gifts from Santa. Muhaha. Just kidding, that's mean. We were always allowed to open presents before breakfast, until I was in high school. And then I actually liked eating breakfast first because I loved the anticipation of the day to come. And also, eggs Benedict. But I was always a weird kid and actually stayed in bed until my sister came to get me. My favorite part of Christmas was the excitement of what was to come and I didn't want to rush it.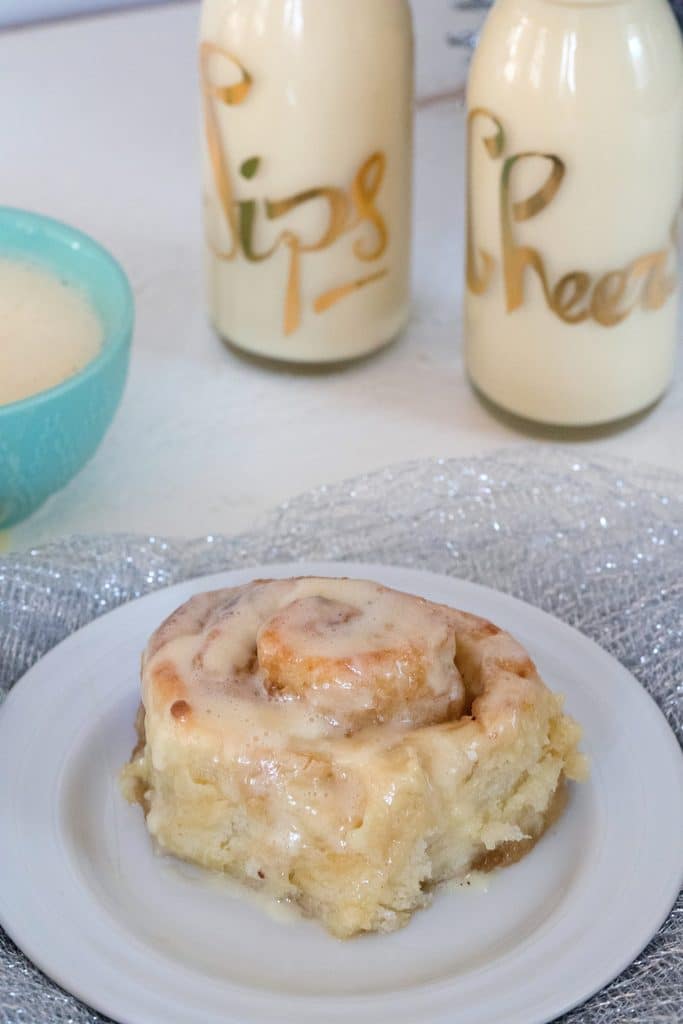 This recipe makes two pans of gingerbread rolls, so you don't have to worry about rushing through them. In fact, I recommend freezing a pan before baking and bringing them out in the new year when you really need them. The ginger obviously gives them a holiday kick, but ginger is a year-round spice, too, and can certainly be enjoyed after the holidays. A vanilla glaze would be just perfect.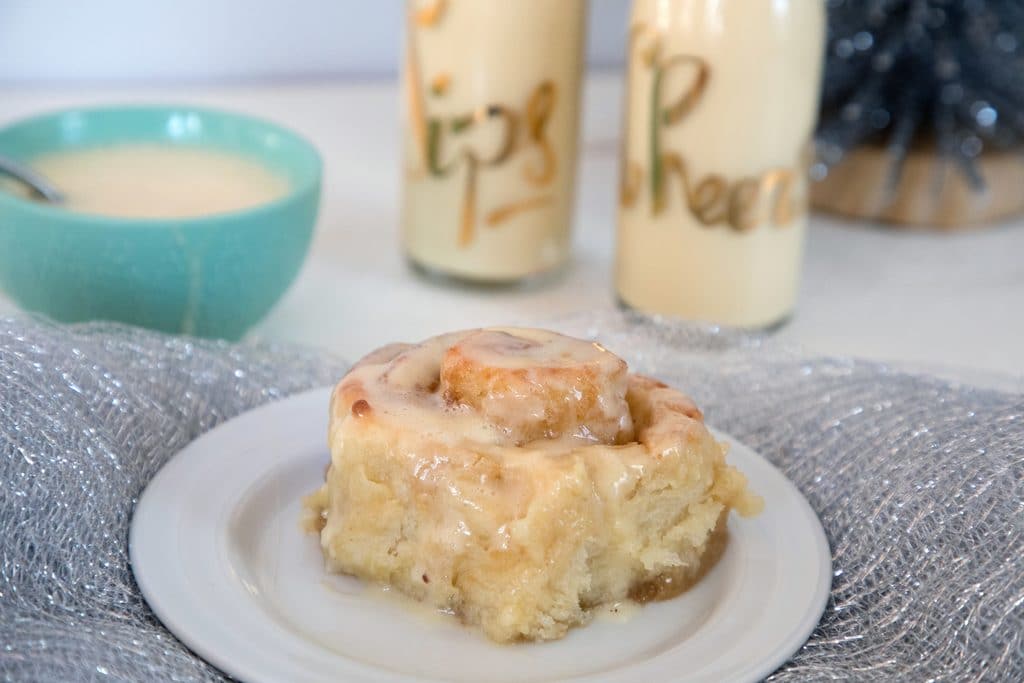 But if you're enjoying them during the holidays, they go most perfectly with a tall glass of cold eggnog. I swear I love eggnog more and more every year. I think the best part is that it has such a short season that I never get sick of it. I usually buy 2 gallons of it each December (Chris is OBSESSED with it) and probably have 2 cups total. Plus, some in recipes. OK fine, plus some in my coffee. I always drink coffee black, except if I'm enjoying an evening cup with eggnog. 'Tis the season.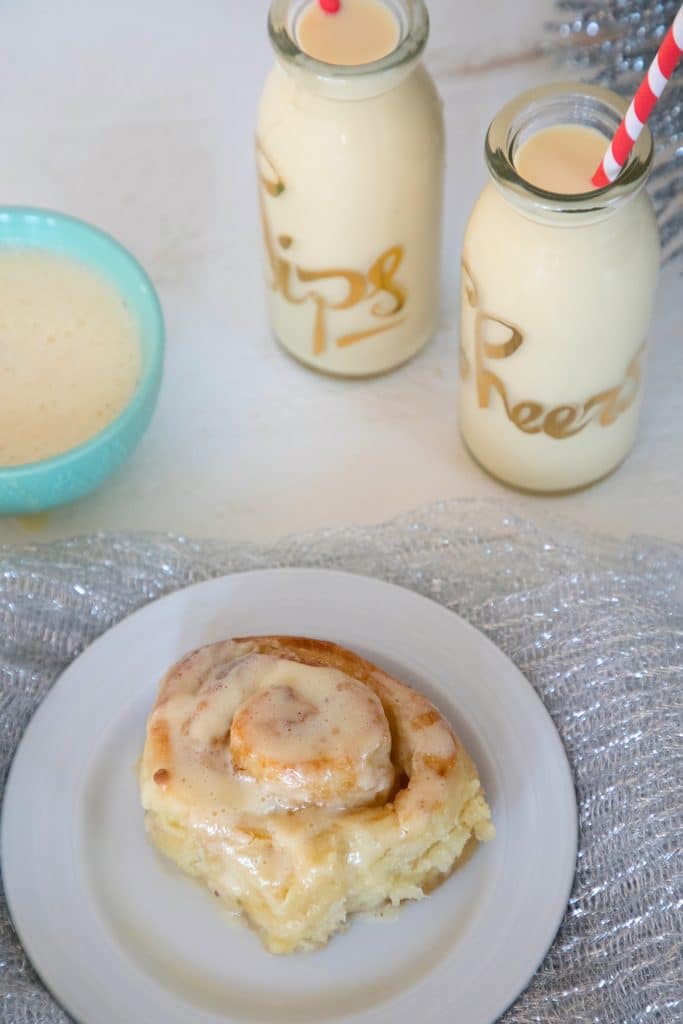 Of course, gingerbread rolls make for the perfect movie-watching snack, as well. And obviously they pair best with cheesy holiday movies.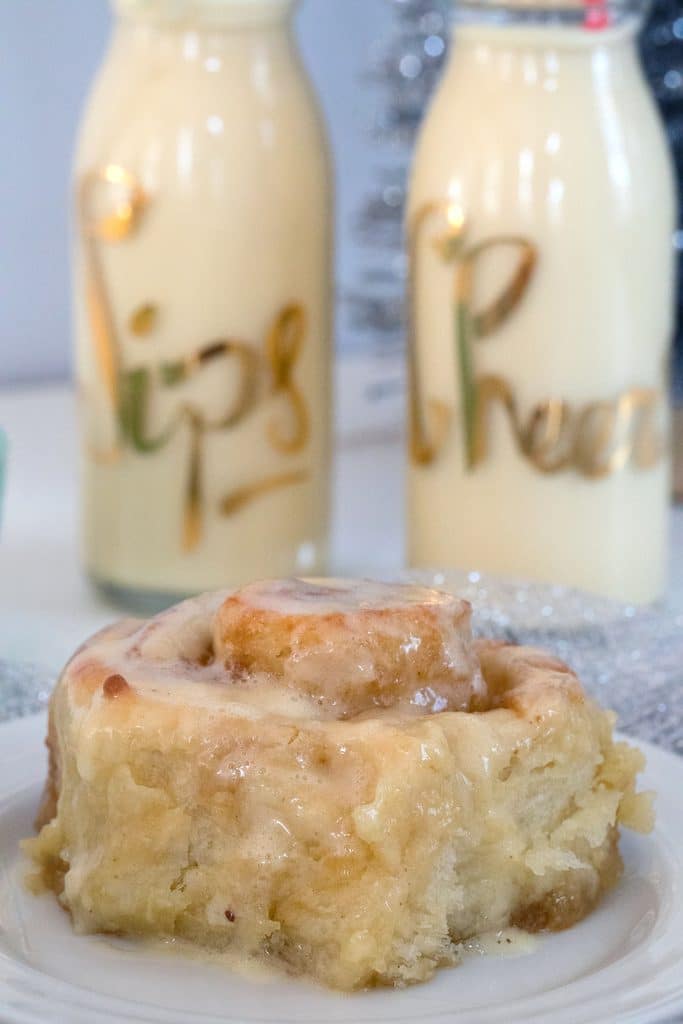 Also, if you have extra eggnog glaze, try your best not to eat it right from the bowl. But I won't tell on you if you do (pro tip: you can drizzle it over pancakes or waffles for a semi-more acceptable way of indulging).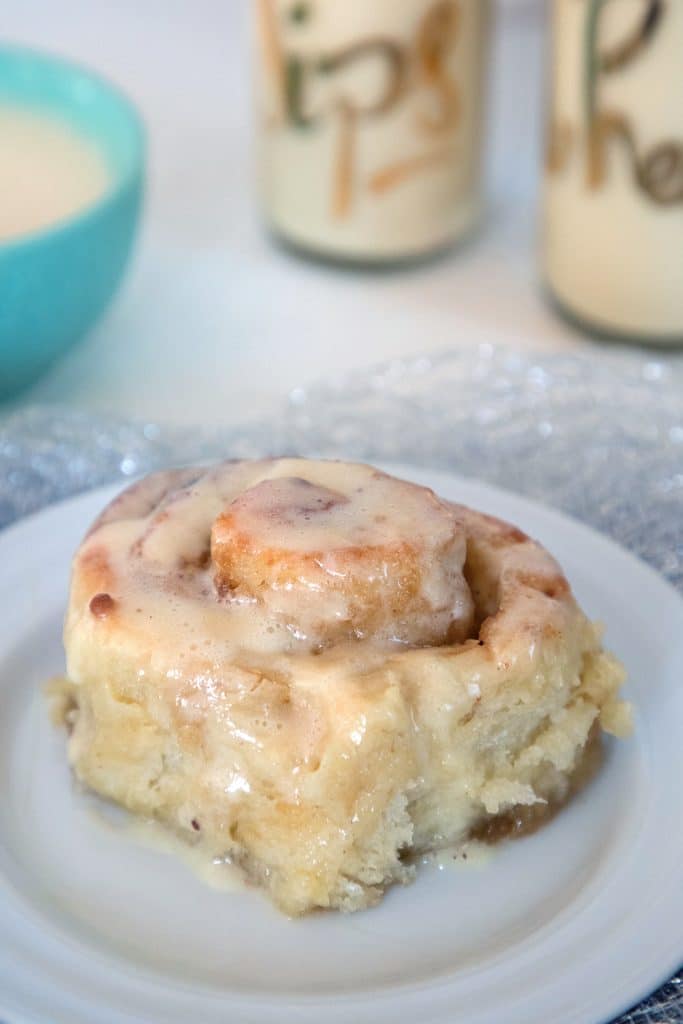 What are your favorite movies to watch during the holiday season? Are you a cheesy made-for-television holiday movie lover like me? Do you have the Hallmark Channel? If so, can you please record all of the new movies for me and send me a DVD? Haha… I'm only semi kidding!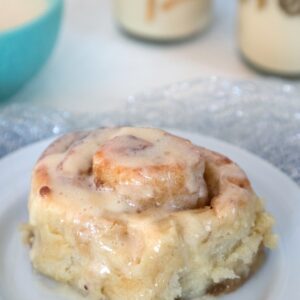 Gingerbread Rolls with Eggnog Glaze
Gingerbread Rolls with Eggnog Glaze -- These rolls take the classic cinnamon roll and give it a holiday spin. With the zing of ginger and sweet eggnog flavor, they make the perfect Christmas breakfast!
Ingredients
2

cups

whole milk

1/2

cup

canola oil

3/4

cup

granulated sugar, divded

2 1/4

tsp

active yeast

(1 packet)

4 1/2

cups

all-purpose flour, divided

1/2

Tbsp

salt

1 1/2

Tbsp, plus 2 tsp

ground ginger

1/2

tsp

baking powder

1/2

tsp

baking soda

1 1/2

sticks

unsalted butter

1

cup

light brown sugar
Eggnog Glaze
1 1/4

cup

confectioners' sugar

1/2

cup

eggnog

1/8

tsp

ground nutmeg
Instructions
Heat milk, canola oil, and 1/2 cup sugar in a medium saucepan over medium heat until it's just about to come to a boil. Take the saucepan off the heat and let it cool for about 10 minutes.

Pour mixture into a large bowl and sprinkle the yeast over it. Let sit for one minute.

Add 4 cups of flour and mix together until just combined. Cover with a dishtowel, sit in a warm spot, and let rise for about an hour.

Remove towel and add salt, 2 tsp ginger, baking powder, baking soda, and remaining 1/2 cup of flour to the bowl and stir to combine.

On a lightly floured surface, roll the dough into a large rectangle, about 24×12 inches (if you don't have enough space, you can cut the dough into two halves and do this in two batches).

Melt butter and pour almost all of it over the dough (saving about 1/4 C). Generously sprinkle brown sugar, remaining 1/4 cup granulated sugar, and remaining 1 1/2 Tbsp ginger over the butter.

Starting at the end farthest from you, roll the dough tightly toward you. Pinch end seams together. Cut the dough into 1-inch slices with a sharp knife.


Pour remaining butter into 2 9-inch pie dishes or tins. Place 7 or 8 rolls into each dish, being careful not to overcrowd. The rolls expand as they rise more. Cover the dishes with a dish towel, place in a warm place, and let them rise for about 20 minutes.

While the rolls are rising, pre-heat oven to 375 degrees.

Bake for 17-21 minutes, until the rolls are turning golden at edges.

Immediately drizzle eggnog glaze over the top of rolls and serve warm.
Eggnog Glaze
In a medium bow, whisk confectioners' sugar, eggnog, and nutmeg together.
Recipe Notes
If you don't want to make these all in one day, you can put dough in the fridge after it rises and you mix in the spices and additional flour. You can also place rolls in fridge overnight or in the freezer for longer after arranging them in the pan and covering tightly with plastic wrap. Simply bring to room temperature and bake when ready.