Is there anything better than a plate full of cinnamon rolls? How about a plate full of Blueberry Funfetti Cinnamon Rolls? These will make your kitchen smell amazing and are the perfect addition to weekend brunch!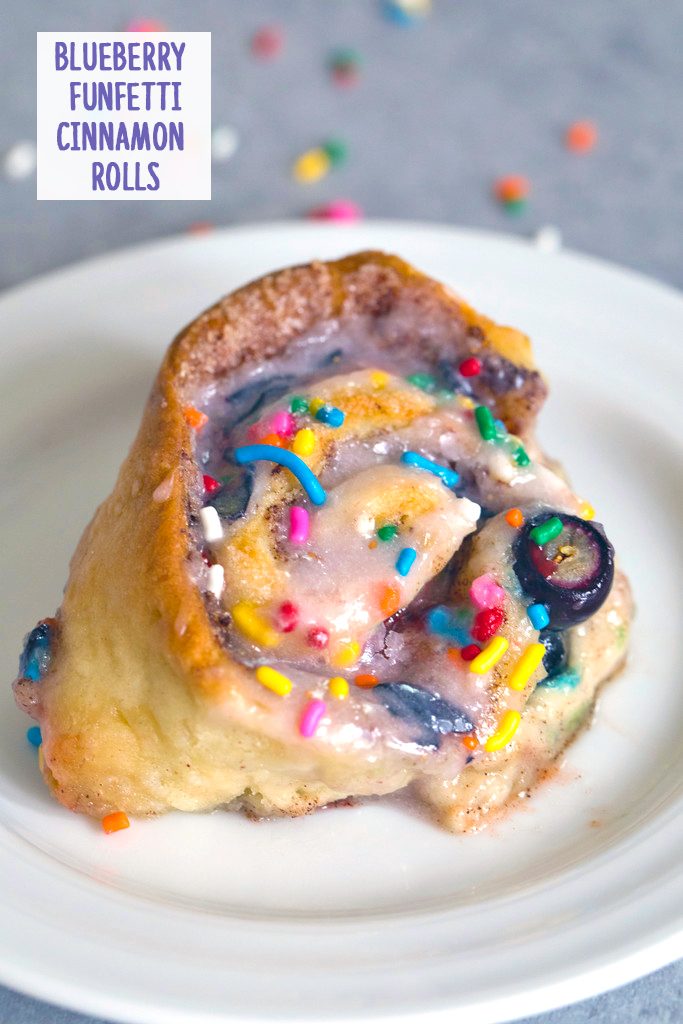 Wait, is it really Monday again?? How does that keep happening?? I can't complain, though because I just returned from a fabulous long weekend in Salt Lake City for the Everything Food Conference, where I hung out with some awesome food bloggers, chatted with a couple brands, ate a TON of food, and learned all about blogging from the best.
It's been way too long since I've been to a food blogging conference (back in the early days, Chels and I went to a ton) and I forgot how fun and motivating they are. I had also never been to Utah before and loved Downtown Salt Lake City, though I certainly didn't have enough time to explore as much as I would have liked... I will share what I did do in Friday's "I'm in Love" post!
There's not much I love more than walking around and exploring new cities and towns.... Unless it's staying at home on my couch with a plate full of cinnamon rolls. The first time I made cinnamon rolls, I thought they were sooooo time-consuming and arduous, but now I'm all "pshh these ain't no thang" and I'll whip them up on a Friday afternoon after work to enjoy for the weekend. Yes, that is DANGEROUS.
Blueberry Funfetti Cinnamon Rolls Recipe
Want to know something else that's dangerous? The fact that this recipe makes two batches of cinnamon rolls, which means you can throw one dish into the freezer to bake when you're having a sudden craving that needs to be fulfilled immediately with no time to wait for the dough to rise.
Also dangerous is that once you know how to make them, you can play around with flavors and other fun stuff like fruits and sprinkles. I have been planning funfetti cinnamon rolls for a while, but was also craving blueberries, so I combined the two for these Blueberry Funfetti Cinnamon Rolls.
I learned to make cinnamon rolls with a Pioneer Woman recipe and have adapted it throughout the years, depending on my add-ins and how many I want to make. These were my best-yet cinnamon rolls, which means I won't be stopping any time soon.
The blueberry cinnamon rolls do require a bit of time for dough rising, but other than that, it's all about rolling out the dough into a giant rectangle, filling it with your goodies, rolling it up, and slicing it.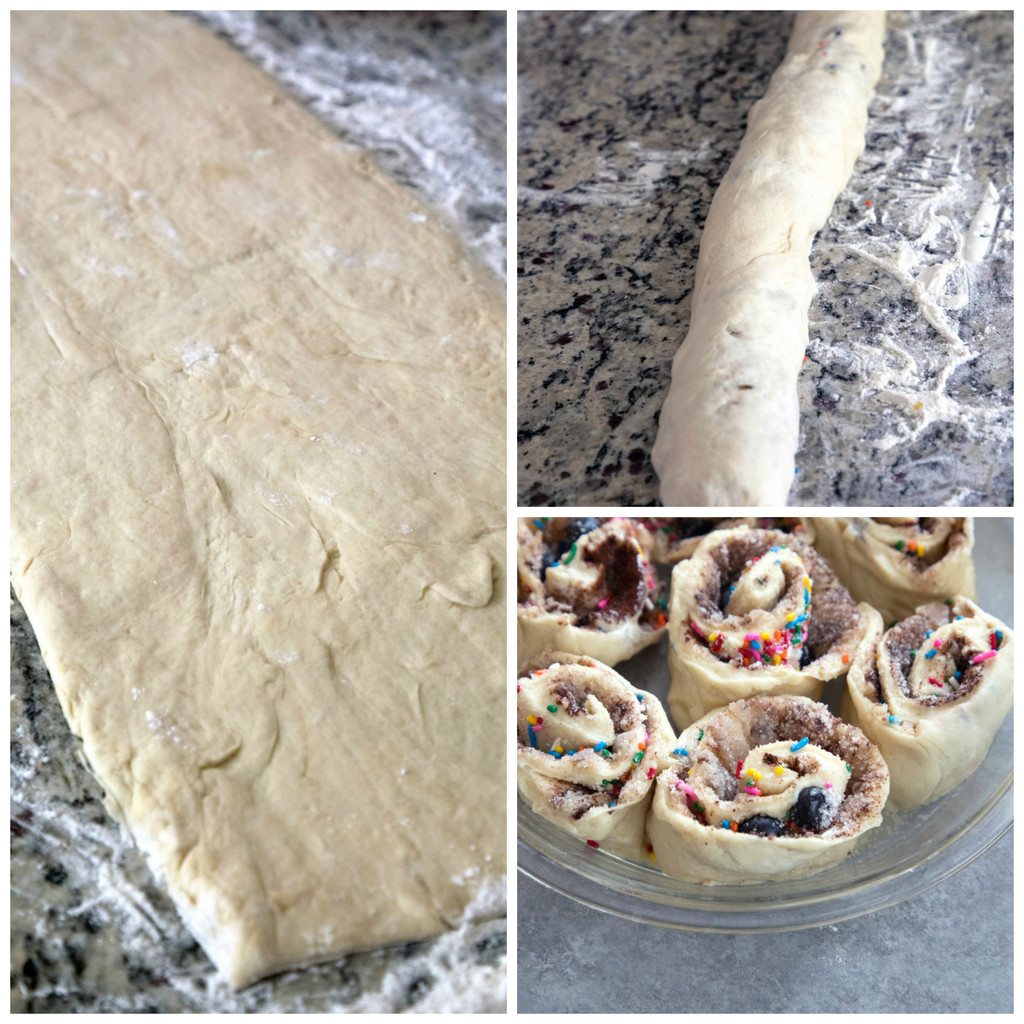 As you can see, I used the typical cinnamon and sugar for these blueberry funfetti cinnamon rolls... But obviously added in a healthy amount of blueberries and sprinkles, too!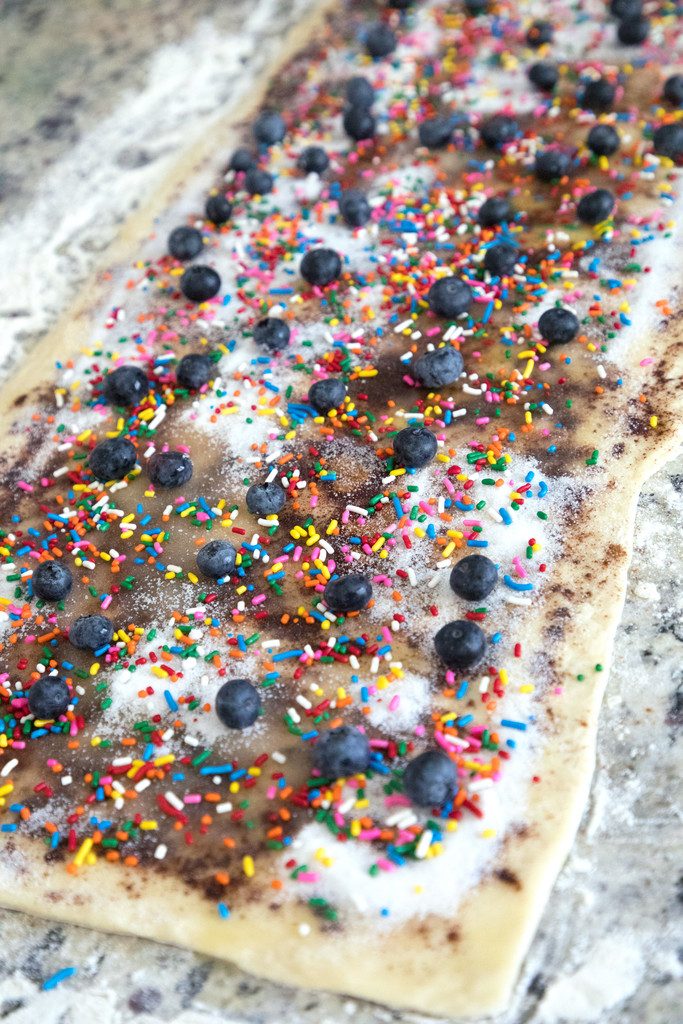 I also made a simple blueberry icing to top the funfetti cinnamon rolls with. You really can't have a cinnamon roll without icing. Well, you can; but that's just silly.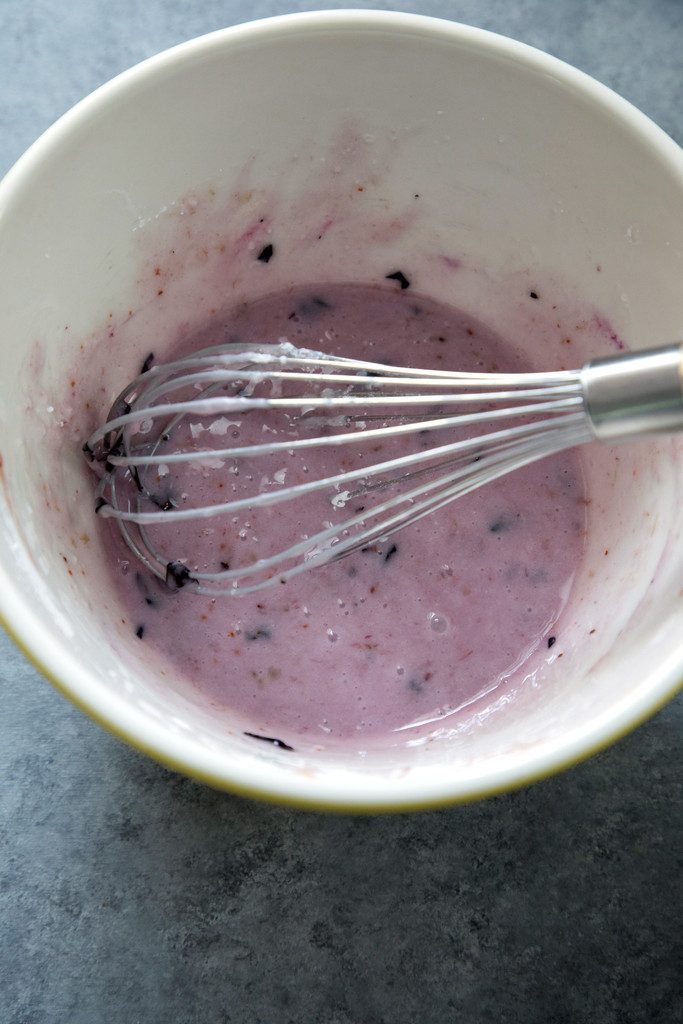 Hooray, hooray, hooray!! Is all I could think when I took this beautiful dish out of my oven. Seriously, if you happen to be having people over on a Saturday morning or afternoon, pop these in the oven and your house is going to be swoon-worthy.
Then when they come to the door, you can be all, "oh really? It smells good in here? I hadn't noticed."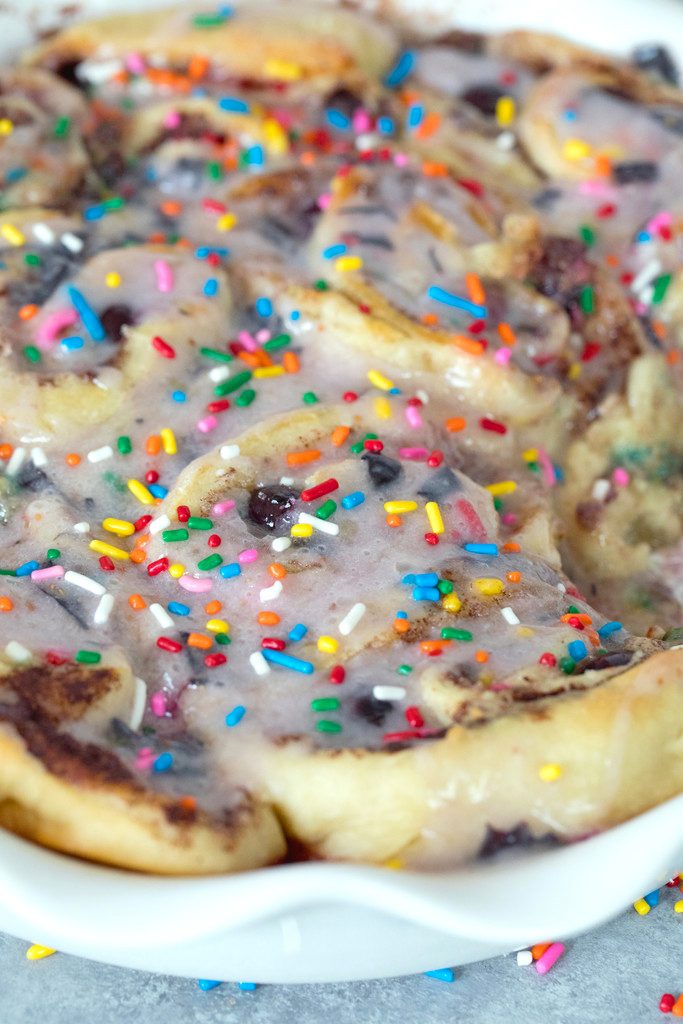 Dangerous, I tell you. I love my neighbors, but I actually wish I had some close friends that lived next door, so I could just have them stop by at times like these.
Or I could pop treats like this in their mailbox. Close friends who weren't on diets ever. Otherwise they would just be annoying. And they'd just make me feel bad. And I'd probably majorly annoy them, too.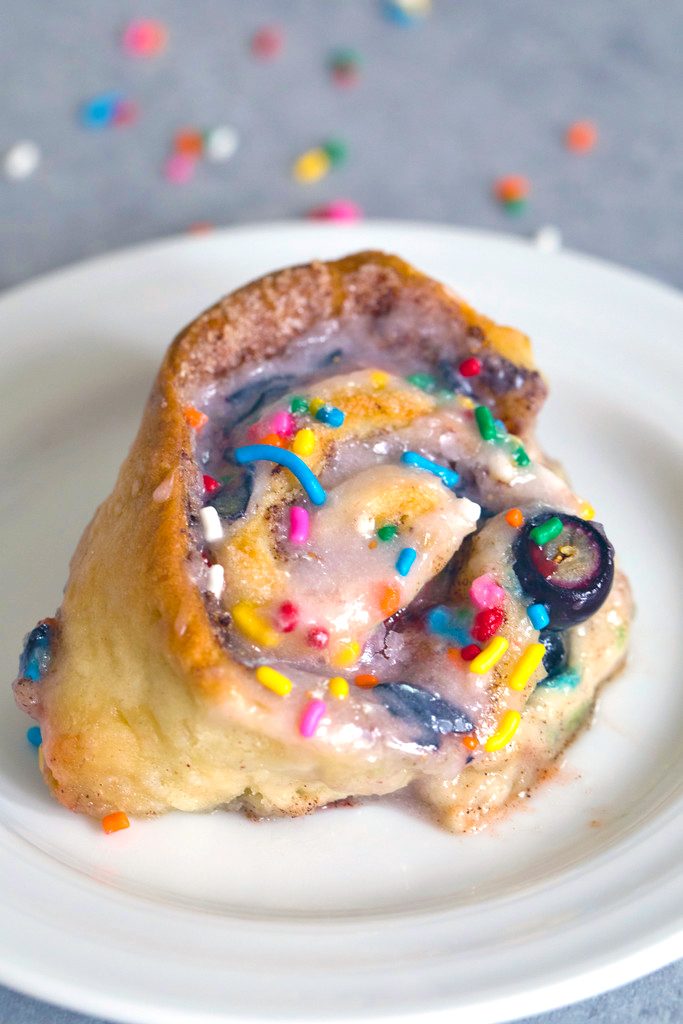 I sat at my kitchen table and ate one of these Blueberry Funfetti Cinnamon Rolls with a fork. And basically just closed my eyes and was transformed to another place. A place that involved no stress or worries and was pretty much just an endless weekend. The way life should be.
I didn't go too crazy on adding blueberries when I made these because I didn't want them to end up an ooey gooey mess (yes, they are still ooey gooey, but in a controlled manner). I feel like the blueberry to bun ratio is perfect here and the sprinkles just make them look like more of a party. Which is never a bad thing.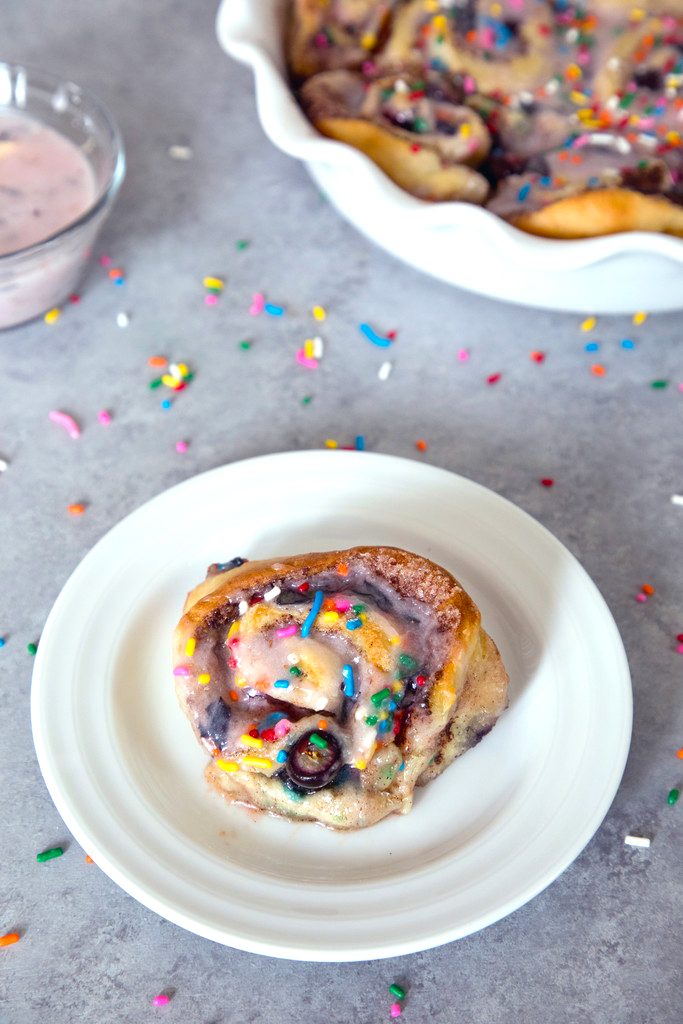 So, I made these blueberry cinnamon rolls last week, but I'm pretty sure the dish that I put in my freezer is going to come out and go in the oven tonight. I'm expecting no guests and have no real reason to celebrate anything... But maybe we can just celebrate the fact that we made it through another Monday? I'm all about the small things in life.
Making it through Mondays, successfully getting your grocery shopping done, doing a work presentation, or even just checking a few things off your to-do list (yes, even if one of those things was "take a shower"), I think you deserve these.
And if you can't think of one thing you've accomplished today, I think you need these blueberry funfetti cinnamon rolls as a little pick-me-up.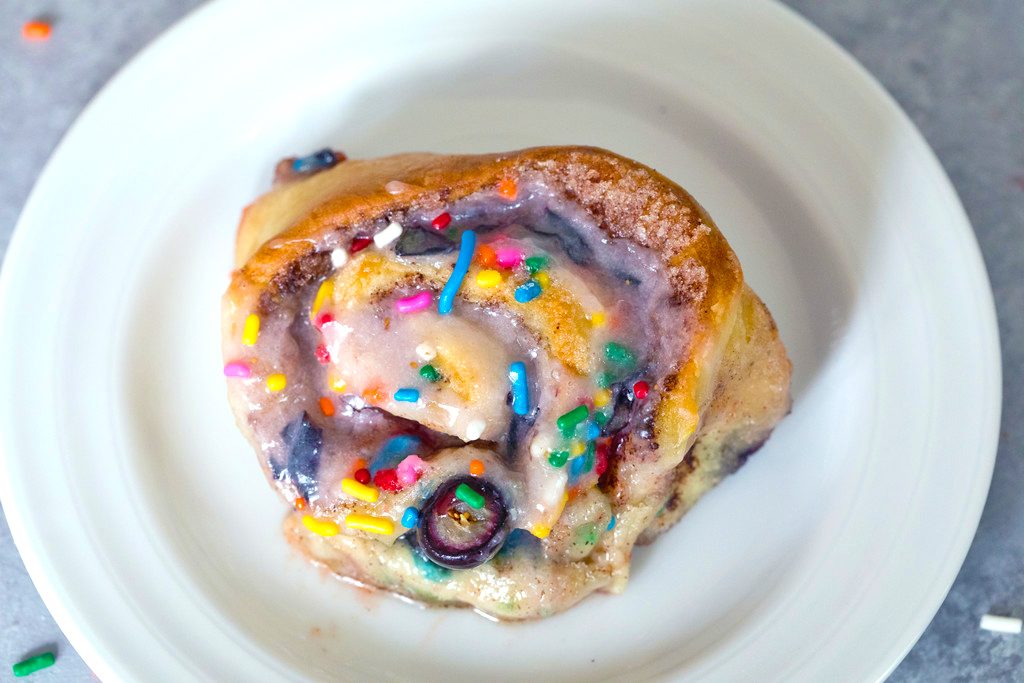 See? I'm really good at justifying stuff like this. Especially if it involves sprinkles.
But really, stop making me justify these funfetti cinnamon rolls to you... Just know that you deserve them!
What's the best cinnamon roll you've ever had?
If you love these blueberry funfetti cinnamon rolls, be sure to check out my Chocolate Chip Cinnamon Rolls with Butterscotch Icing and my Gingerbread Cinnamon Rolls!I also can't wait to try these Chocolate Cinnamon Rolls from Table for Seven!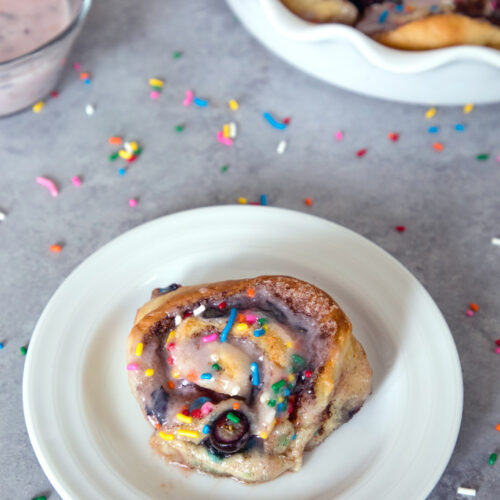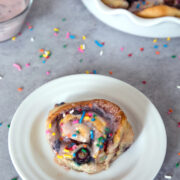 Print Recipe
Blueberry Funfetti Cinnamon Rolls
Is there anything better than a plate full of cinnamon rolls? How about a plate full of Blueberry Funfetti Cinnamon Rolls? These will make your kitchen smell amazing and are the perfect addition to weekend brunch!
Servings:
20
-25 rolls (two pans)
Ingredients
2

cups

whole milk

½

cup

vegetable oil

1 ¼

cups

granulated sugar,

divided

2 ¼

tsp

active dry yeast

(or 1 packet)

4 ½

cups

all-purpose flour

½

tsp

baking powder

½

tsp

baking soda

½

Tbsp

salt

¾

cup (1 ½ sticks)

unsalted butter

⅛

cup

ground cinnamon

4

oz.

fresh blueberries

⅓

cup

rainbow sprinkles

1

batch

Blueberry Icing

(recipe below)
Blueberry Icing:
¼

cup

fresh blueberries

2

cups

powdered sugar

3

Tbsp

whole milk
Instructions
Heat milk, vegetable oil, and ½ cup sugar in a medium saucepan over medium heat. Let it get really hot, but remove from heat right before it comes to a boil. Set aside and let cool to luke warm.

Pour milk mixture into a large bowl.

Sprinkle yeast over milk mixture and let sit for about 1 minute.

Add 4 cups of the flour to the bowl and stir until just combined.

Cover with a clean kitchen towel and set aside in a relatively warm place to rise for an hour.

Remove towel and add baking powder, baking soda, salt and remaining ½ cup of flour and stir thoroughly to combine.

Place dough on a lightly floured surface and roll it into a large rectangle, about 30×10 inches.

Melt butter in a small saucepan over medium heat.

Pour 1 Tbsp of the melted butter each into two round baking dishes or pie plates (you can also use disposable foil cake pans).

Pour remaining melted butter over the surface of the dough and use fingers or a pastry brush to spread the butter evenly.

Generously sprinkle ground cinnamon and ¾ cup sugar over the butter and top with blueberries and rainbow sprinkles.

Starting at the long end farthest from you, roll the dough tightly toward you. Use both hands to roll evenly and work slowly. Pinch the seams together at ends.

Transfer dough to a cutting board and using a sharp knife, cut dough into 1-inch slices.

Place rolls into the pans, but be sure not to overcrowd them.

Cover the rolls with a kitchen towel for about 20 minutes, so they can rise again. While they're rising, pre-heat oven to 375 degrees.

Place them in the oven at 375 degrees for 16-20 minutes, until they're turning golden around the edges.

Remove cinnamon rolls from oven and immediately pour icing over them.
Blueberry Icing:
Place blueberries in a medium bowl and use a fork or masher to mash together.

Add powdered sugar and whole milk and whisk together until smooth.
Notes:
To make cinnamon rolls ahead of time, you can cover bowl tightly with plastic wrap and place in fridge for up to three days after performing step 6 and finish rolling dough and forming rolls when ready. You can also place rolls in fridge overnight or in the freezer for longer after arranging them in the pan (step 14) and covering tightly with plastic wrap. Simply bring to room temperature and bake when ready.