Whether you need a quick and easy dessert or you're just craving raw cookie dough and chocolate (who isn't??), these Chocolate Chip Cookie Dough Cups are the perfect treat!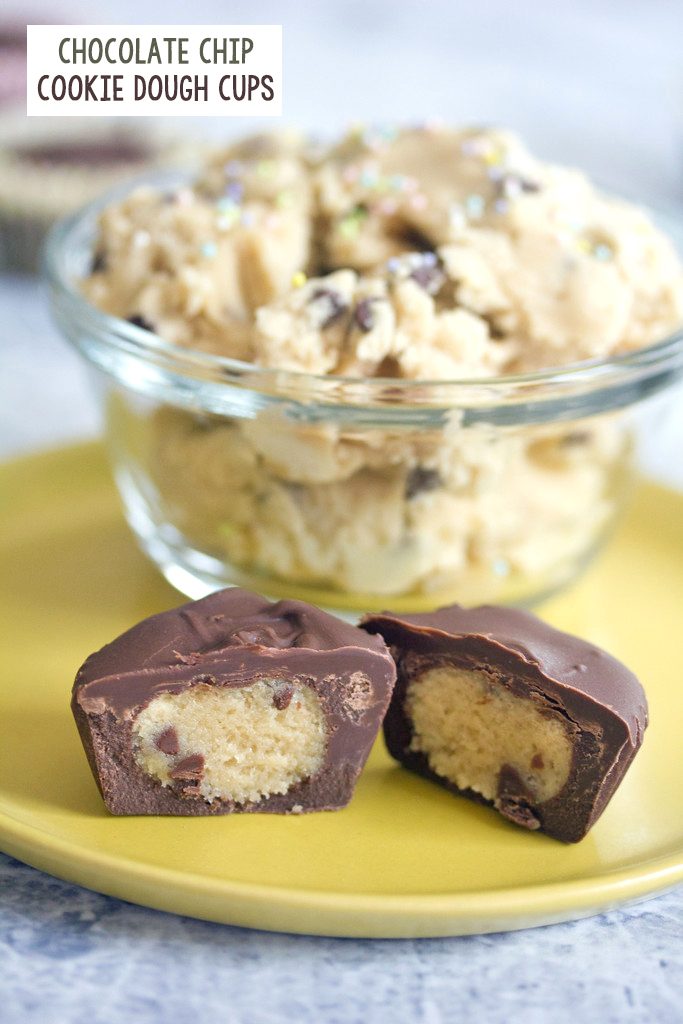 No time.... There's never any time! Those are the famous words of Jessie Spano of Saved By The Bell. In the most famous episode of all-time where her caffeine pill addiction is revealed and a freak-out ensues. Everyone always calls out the part of the episode where she sings," I'm so excited! I'm so excited! I'm so... scared!" (because it's awesome). But the most memorable part of the episode, to me, is when she realizes she needs to wash her hair and study and go sing in her girl band and breaks down when Zack tells her there's no time. She wails, "No time... There's never any time!" And I commiserate with her on a level I've never commiserated before with a made-up television character. To the point where I find myself saying this exact phrase all the time. At work when I add another project to my list. Every Sunday night when I realize I didn't get enough done over the weekend. When friends want to hang out. When I see how badly I need to clean the bathroom sinks. There's just never any time.
OK, so maybe it's a little dramatic. I'm not at the point where I'm going to become addicted to caffeine pills any time soon (I'll take my caffeine in the form of coffee, thank you!) and unlike Jessie, I'm not in a girl band and trying to get into Stanford at the same time (I'd be having a much bigger freakout if anyone expected me to be getting into Stanford or to sing in public)... but there is a lot going on. And I pretty much always feel like I have zero time. Thank goodness most of the stuff in my life is good stuff, but why has nobody invented a way to add more hours into the day yet??
I'm pretty sure you probably feel the same way I do (and if not, you must know magic). But before you start popping caffeine pills and freaking out, try a little chocolate treat. With totally edible cookie dough. This recipe for Chocolate Chip Cookie Dough Cups is super easy to make, so it won't take a lot of that valuable little thing called time and it pays off with a big reward.
CHOCOLATE CHIP COOKIE DOUGH CUPS RECIPE
One of the reasons they say it's not good to eat raw cookie dough is because of the eggs. The other, lesser known reason, is because of the raw flour. Leave the eggs out of cookie dough and bake your flour before mixing and you're totally good to go.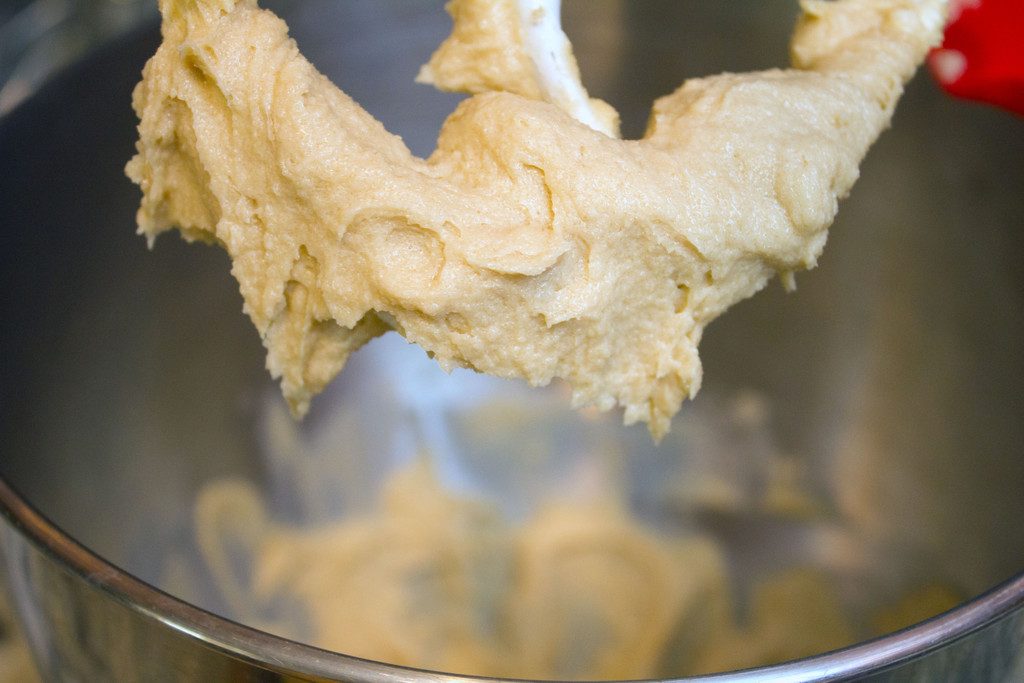 Yes, these truffles are really just chocolate chip cookie dough balls covered in more chocolate. I was going to make peanut butter cups but then cookie dough just felt like a better idea. Not that you could really go wrong either way.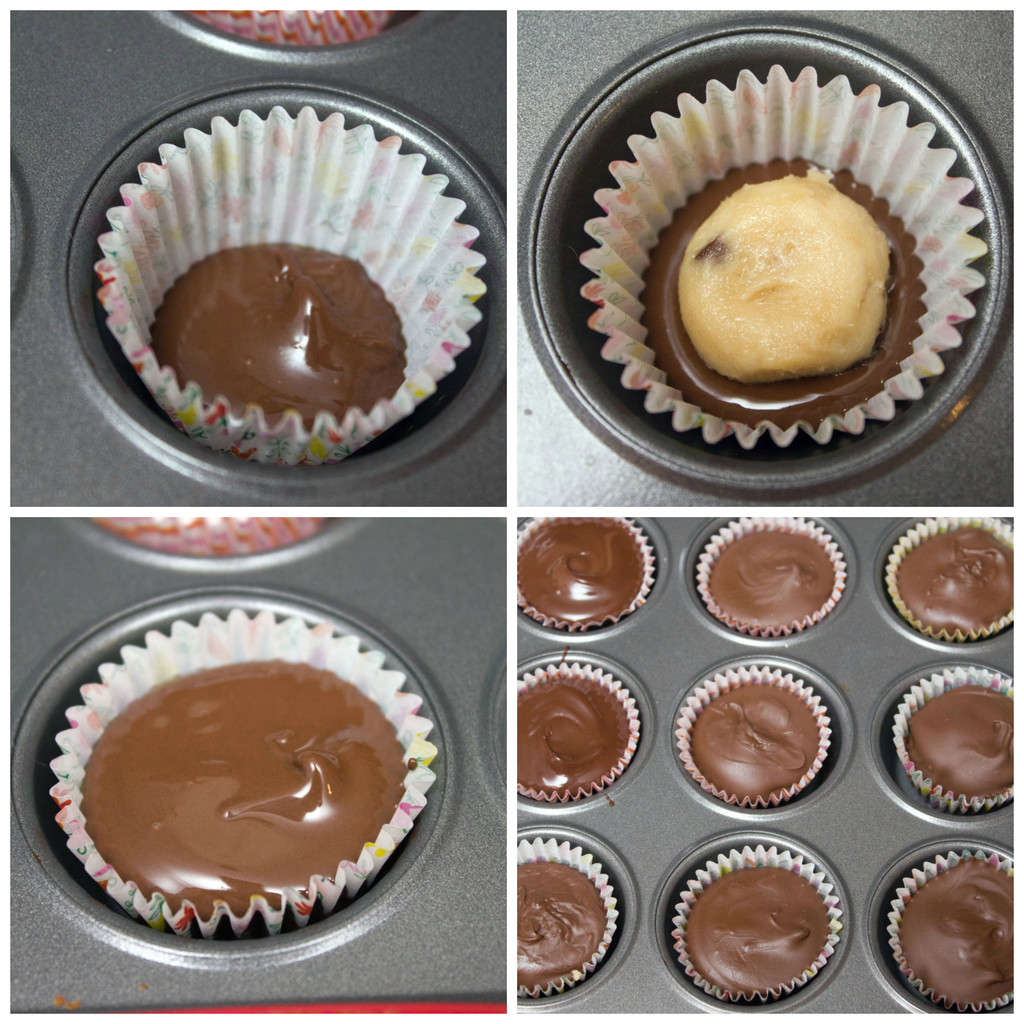 The hardest part it not just giving in and eating the cookie dough with a spoon. But you can do a little bit of that, too. What's the point of making edible cookie dough if you're not going to just eat some of it out of the bowl? You can mix sprinkles into the cookie dough if you want. I didn't mix any in for my truffles, but added some to the leftover cookie dough I had.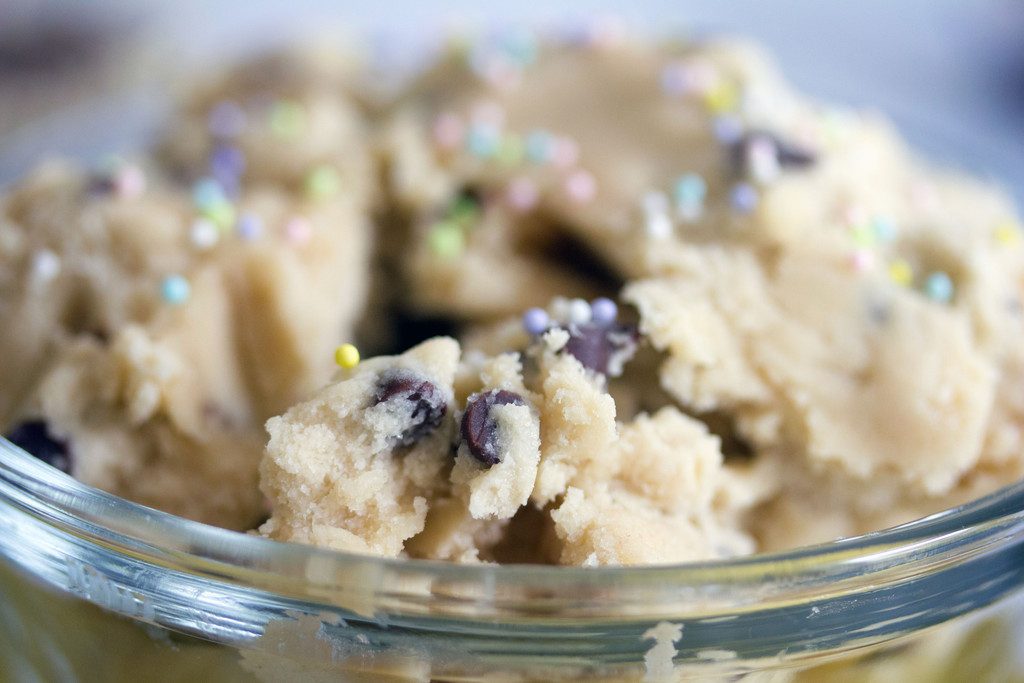 Pretty little baking cups make these even more fun and potentially festive. I love these little flowered baking cups!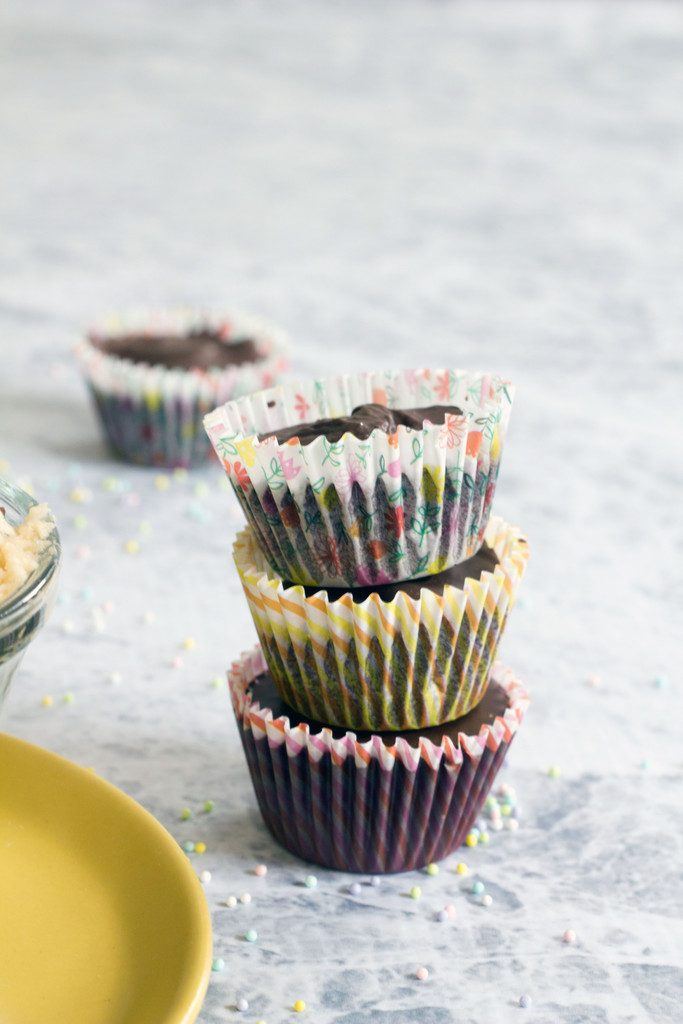 For real, there is not much better than a cookie dough you have full permission to eat... And covered in chocolate, at that.
With the holidays coming up, I can pretty much guarantee your friends and family would love to get a little chocolate chip cookie dough cup gift package. They make for a really great food gift! Or if you're attending any holiday parties, these make the perfect bring-along treat.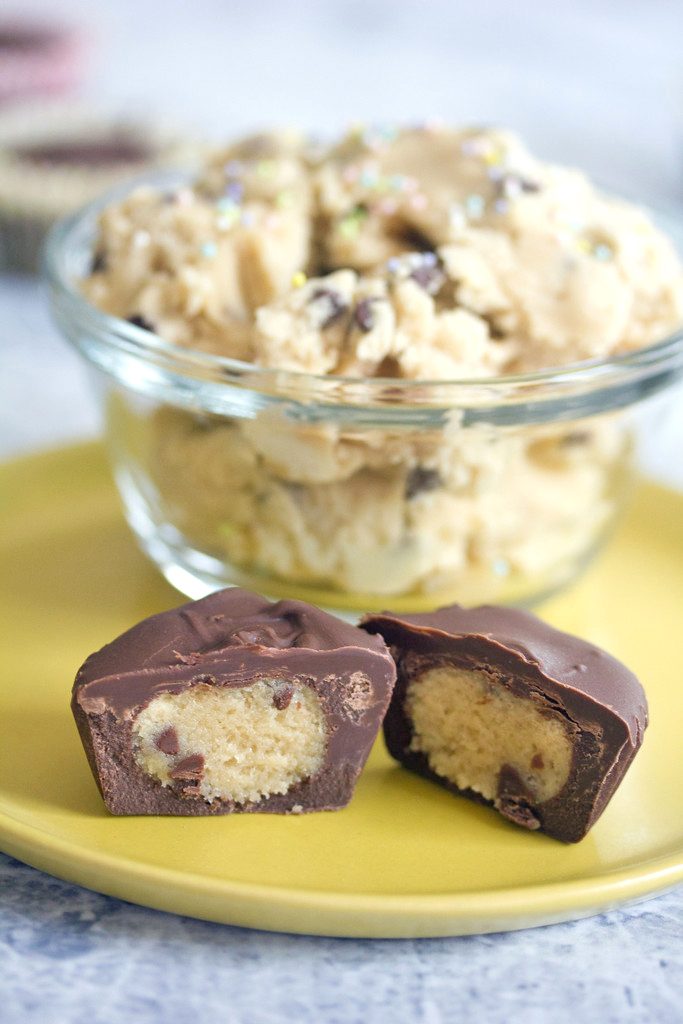 And since they take barely any time to make, you'll have more time to go shopping, sing Christmas carols, wrap gifts, or you know... Sleep. Or I guess work. Or even get into Princeton and sing in your girl band. If you're into that sort of thing. I think I'll choose sleep.
Just don't let the stress get to you so much that you eat an entire pan of these. But I mean, if you do, it's probably better than developing a caffeine pill addiction? At least chocolate makes you happy and does have some proven health benefits. And cookie dough is just the perfect comfort food. I can't promise your weight won't go up at all, though...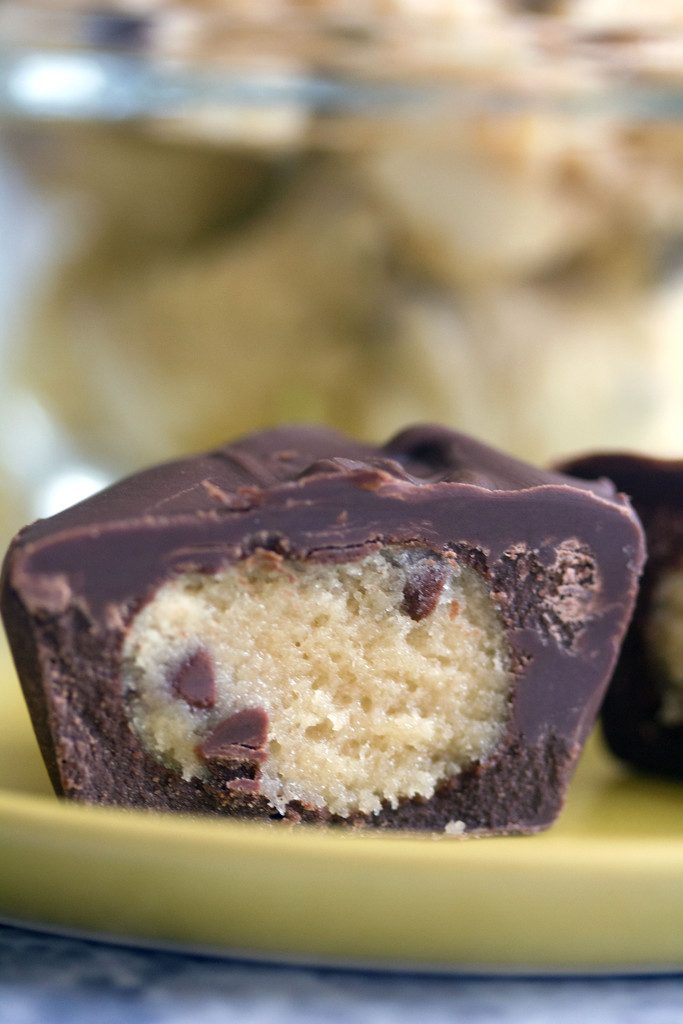 Thank you, Jessie Spano, for making me not feel so alone. And thank you Chocolate Chip Cookie Dough Cups for completing me. Who needs time anyway??
Do you feel like Jessie Spano in that you're always running out of time?
If you love these cookie dough cups, check out my recipes for Lemon Cookie Dough Bars and Red Velvet Ice Cream with Cookie Dough. I also love these Chocolate Peanut Butter Banana Cups from The Sweetest Teaspoon.
📖 Recipe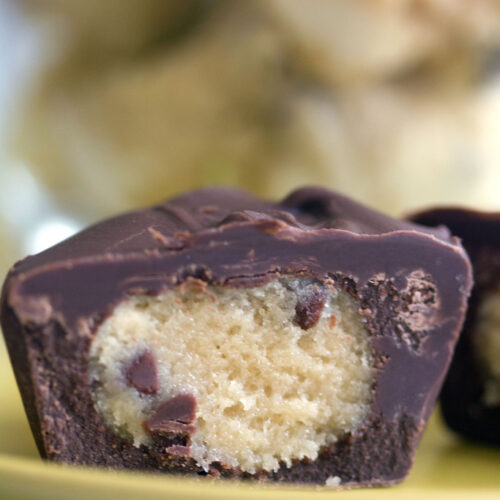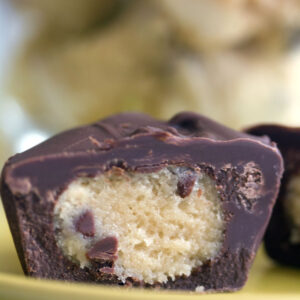 Chocolate Chip Cookie Dough Cups
Whether you need a quick and easy dessert or you're just craving raw cookie dough and chocolate (who isn't??), these Chocolate Chip Cookie Dough Cups are a perfect treat!
Print
Pin
Rate
Makes:
12
Chocolate Chip Cookie Dough Cups
Ingredients
½

cup (1 stick)

unsalted butter,

room temperature

¾

cup

packed light brown sugar

¾

Tbsp

vanilla extract

¼

tsp

salt

¾

cup

all-purpose flour

(see notes for baking recommendation)

2

Tbp

whole milk

¼

cup

mini chocolate chips

12

oz.

dark chocolate,

roughly chopped
Instructions
In the bowl of a stand mixer or a large bowl with a hand mixer, cream butter and brown sugar together until light and fluffy.

Mix in vanilla and salt.

Slowly beat in flour, until combined. Stir in milk.

Fold in mini chocolate chips.

Refrigerate cookie dough for at least one hour.

Line a mini muffin tin with mini cupcake liners.

Form 12 small balls with cookie dough (you'll likely have some left over).

Heat dark chocolate in a saucepan set over another saucepan of simmering water (or use a double boiler). Stir until chocolate is melted.

Spoon enough chocolate into the each cupcake liner to cover the bottom of it.

Set cookie dough ball into center of each liner.

Pour chocolate over cookie dough balls to completely cover.

Place in refrigerator until chocolate sets, about 30 minutes.
Notes
Because raw flour does have the potential for carrying foodborne illness, it's recommend that you toast it before adding it to cookie dough. Just spread flour on a baking sheet and bake at 350 degrees for about 5 minutes
Share a Photo of Your Finished Recipe!
Mention @wearenotmartha and share a photo if you've made the recipe!