Cookie dough ice cream is nice, but red velvet ice cream with red velvet cookie dough is a whole lot more fun. This buttermilk-based ice cream is packed with cookie dough and is pretty on the eyes.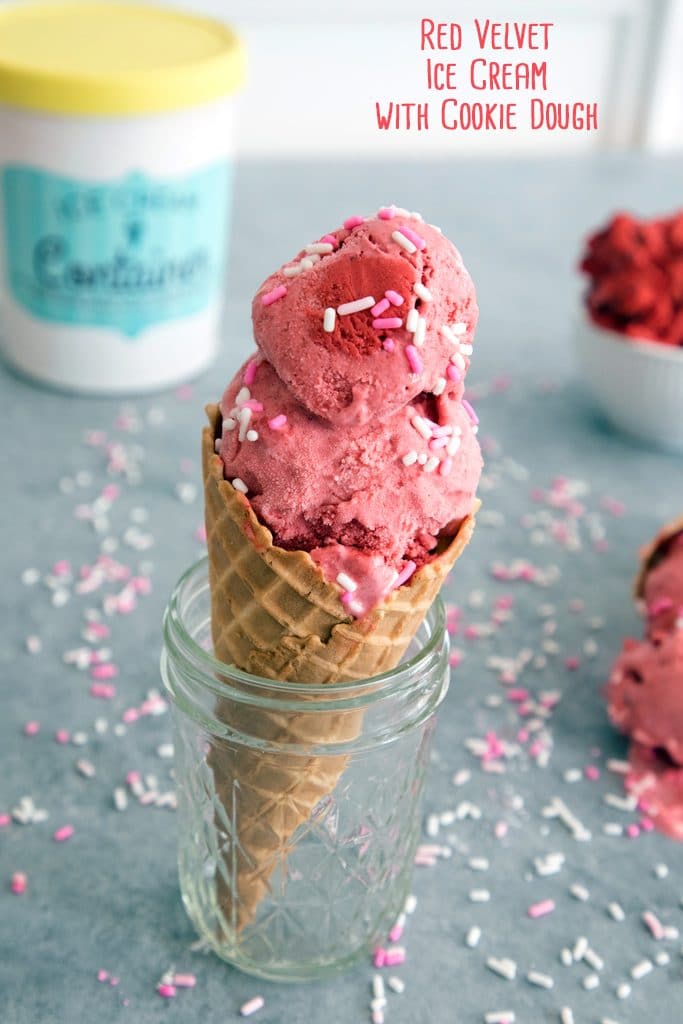 I know reality TV is so 2002, but it's still pretty much my favorite variety of television. All I can really handle in my life right now is mindless, easy television that I can watch while I'm doing one of a million other things, including working, writing blog posts, recipe planning, playing with my dog, and/or accidentally passing out on the couch. I just love that I can half watch shows like The Bachelor and still, for the most part, understand what's going on. Also, it's oftentimes ridiculous and indulgent, which I absolutely love. I think most of us could use a little bit more ridiculousness and indulgence in our lives and I feel no shame in getting that from my television-watching.
And from my ice cream, too. I mean, I think red velvet in general is kind of ridiculous and indulgent, but in the most fun way possible. Turn it into ice cream and add in red velvet cookie dough (double the red velvet!) and I'm just ridiculously happy. That's what I did here and I ended up with one of the most fun ice creams I've ever made.
I tried to keep it pretty true to red velvet, so I made the ice cream with buttermilk instead of milk and mixed in a little cocoa powder, too. I was going to do a cream cheese swirl, but started craving cookie dough and thought a little red velvet cookie dough would be even more delicious (sue me, but I'm not a huge lover of cream cheese in desserts). I ended up putting some of the red velvet cookie dough in the ice cream and then snacking on way too much of the remaining.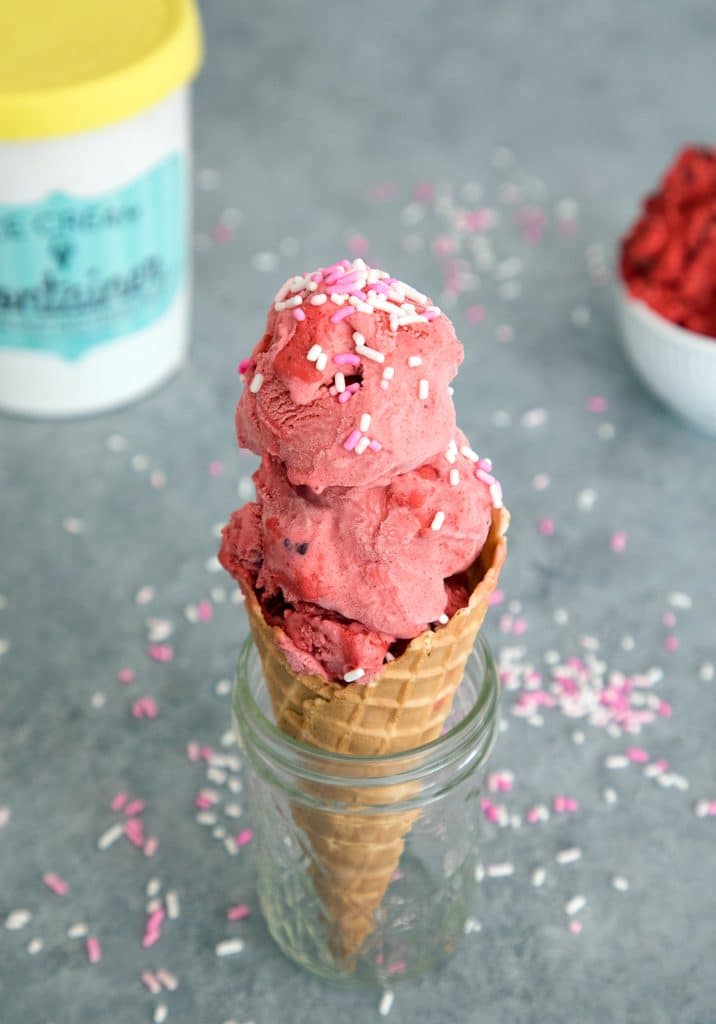 If you thought reality TV was indulgent, you should try eating red velvet ice cream with cookie dough on the couch while watching reality TV. But come on, you work hard and you deserve it. I haven't watched Big Brother since college, but I got a little sucked in this season. It's so bad that it's good. That really is a thing.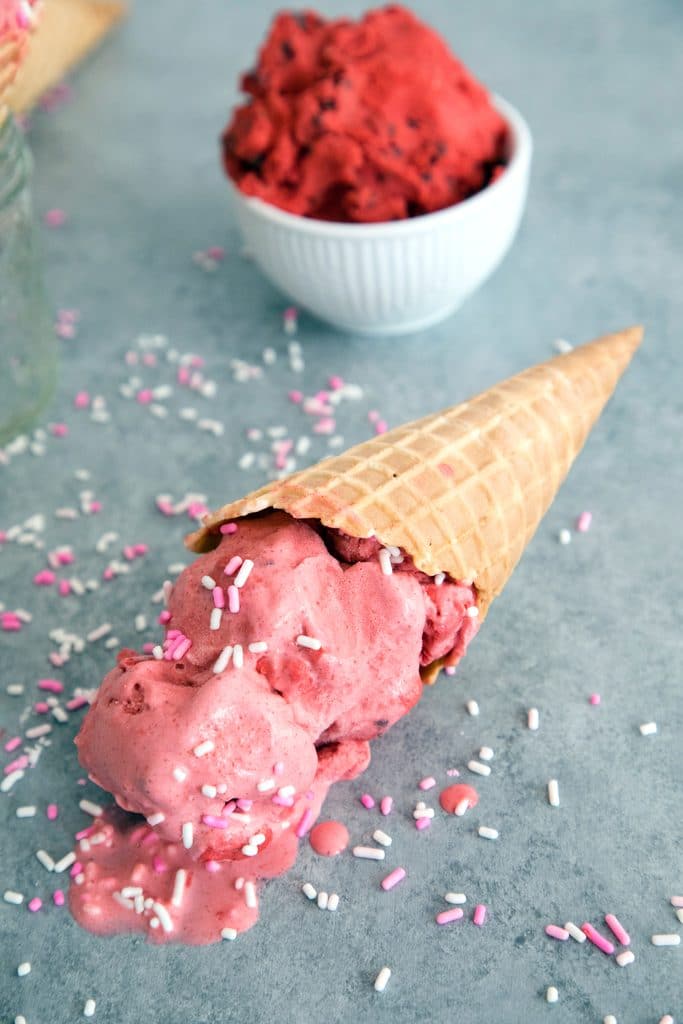 The funny thing is that I would absolutely never be on a reality show. Chris basically died laughing when I asked him if he could see me on Big Brother. He said I'd be the worst player in history because I'd feel so bad about making anyone else feel bad or having to lie to anyone. True. Also, I'd pretty much just want to sit in my bed reading a book and would basically avoid getting involved in drama or talking to anyone. Producers would love me.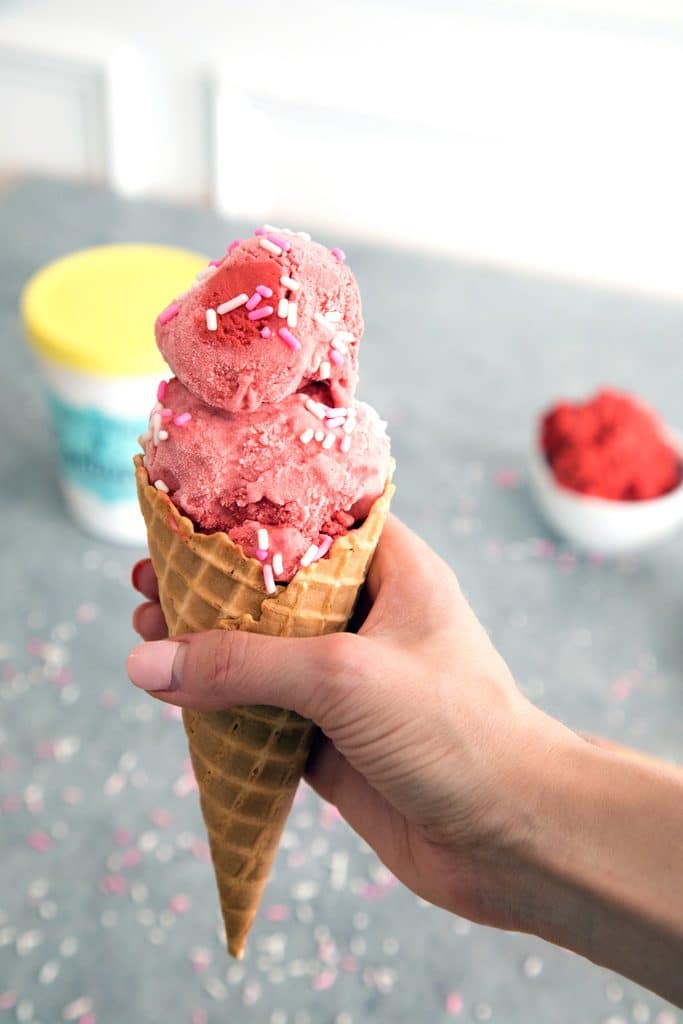 However, I might actually make a lot of friends because when I wasn't hiding in a corner with a book, I'd be in the kitchen whipping up treats like this. If they let me? I am still not totally clear what they eat on Big Brother when they're allowed to eat. Do you think they'd have an ice cream maker stocked in the kitchen? Would they purchase buttermilk upon request? Could I bring my own? I have so many questions.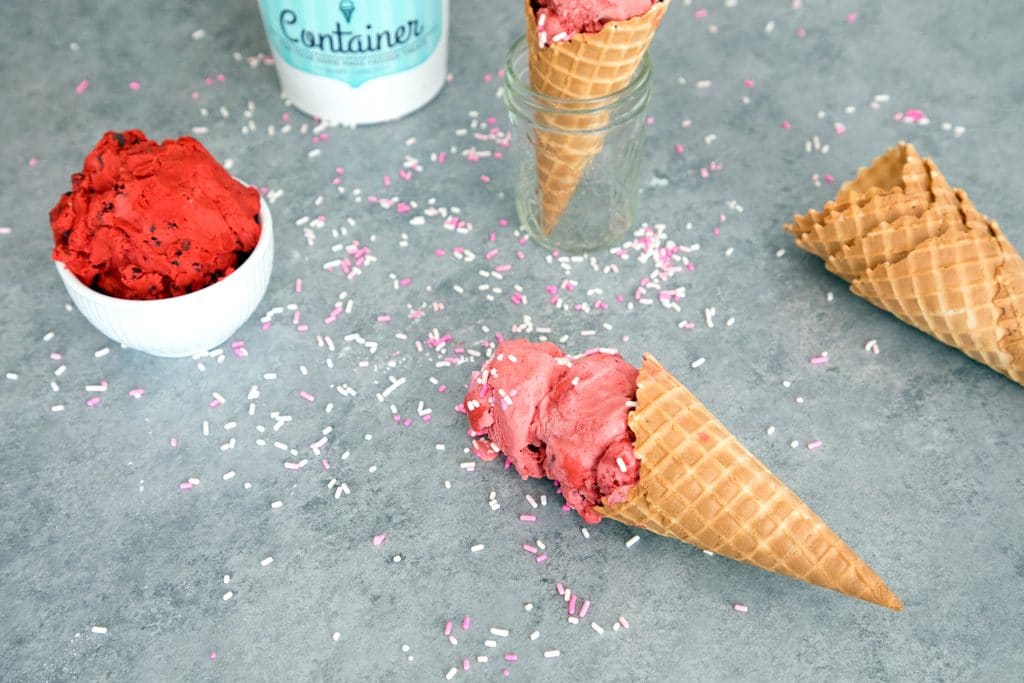 But I don't have any questions on my love for this red velvet ice cream. It's different from other ice creams in that it has a distinct tartness (not quite as intense as yogurt) from the buttermilk and a little bit of richness from the cocoa. It's fun to get bites of cookie dough and obviously looks pretty in a cone. All very important things when it comes to ice cream, in my opinion!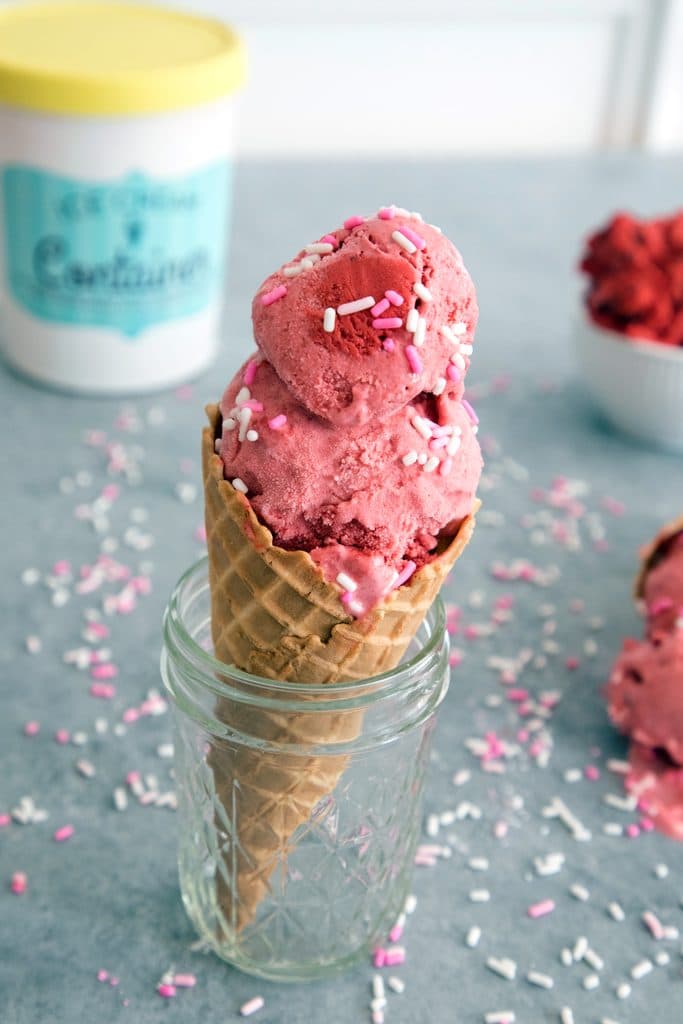 I'm sure this won't be the last ice cream you'll see around this blog this summer. Let me know if there are any flavors you've been dreaming of that you'd like to see my whip up! For now, I really want to make my cookie dough cups with red velvet cookie dough!
Are you a reality TV fan, too? Or am I all alone in my television watching shame?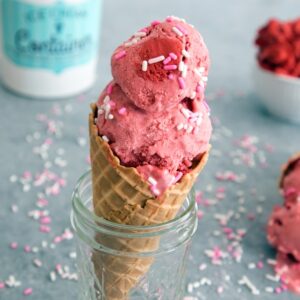 Red Velvet Ice Cream with Cookie Dough
Cookie dough ice cream is nice, but red velvet ice cream with red velvet cookie dough is a whole lot more fun. This buttermilk-based ice cream is packed with cookie dough and is pretty on the eyes.
Servings
:
1
1/2 quarts ice cream
Ingredients
1

cup

heavy cream

1 1/2

cups

buttermilk

3/4

cup

granulated sugar

1/4

tsp

salt

4

large egg yolks

1 1/2

Tbsp

cocoa powder

1 1/2

tsp

vanilla extract

8-10

drops red food coloring

1/3

cup

Red Velvet Cookie Dough

broken into pieces (recipe below)
Red Velvet Cookie Dough:
1/2

stick (4 Tbsp)

unsalted butter,

room temperature

1/4

cup

plus 2 Tbsp packed light brown sugar

1

tsp

vanilla extract

1/8

tsp

salt

1/2

cup

all-purpose flour

1

tsp

cocoa powder

1

Tbsp

buttermilk

3-4

drops red food coloring

2

Tbsp

mini chocolate chips
Instructions
Heat heavy cream, buttermilk, sugar, and salt in a medium-sized saucepan over medium heat.

Stir constantly, until the mixture just reaches the point of simmer. Remove from heat.

While cream/buttermilk is heating, lightly whisk egg yolks with cocoa powder in a separate medium-sized bowl.

Pour half of the warm cream/buttermilk into the bowl with the egg yolks, whisking while you do so.

Then pour the egg mixture back into the pan with the rest of the cream/buttermilk.

Continue to cook over low heat, while stirring with a wooden spoon. Stir for about 3-5 minutes, until the mixture thickens enough to coat the back of the spoon. Remove the saucepan from heat.

Strain egg/milk mixture into a separate large bowl.

Mix in vanilla extract and red food coloring.

Cover bowl with plastic wrap, making sure plastic wrap is touching top of the liquid so skin does not form, and refrigerate for at least 4 hours.

Once mixture is chilled, freeze in an ice cream maker according to the manufacturer's instructions, mixing in pieces of red velvet cookie dough when ice cream is almost done processing.

Place ice cream in airtight containers and put in freezer for at least 4 hours to continue to harden.
Red Velvet Cookie Dough:
In the bowl of a stand mixer or a large bowl with a hand mixer, cream butter and brown sugar together until light and fluffy.

Mix in vanilla and salt.

Slowly beat in flour and cocoa powder until combined. Stir in buttermilk.

Add red food coloring and mix until combined.

Fold in mini chocolate chips.

Refrigerate cookie dough for at least one hour.