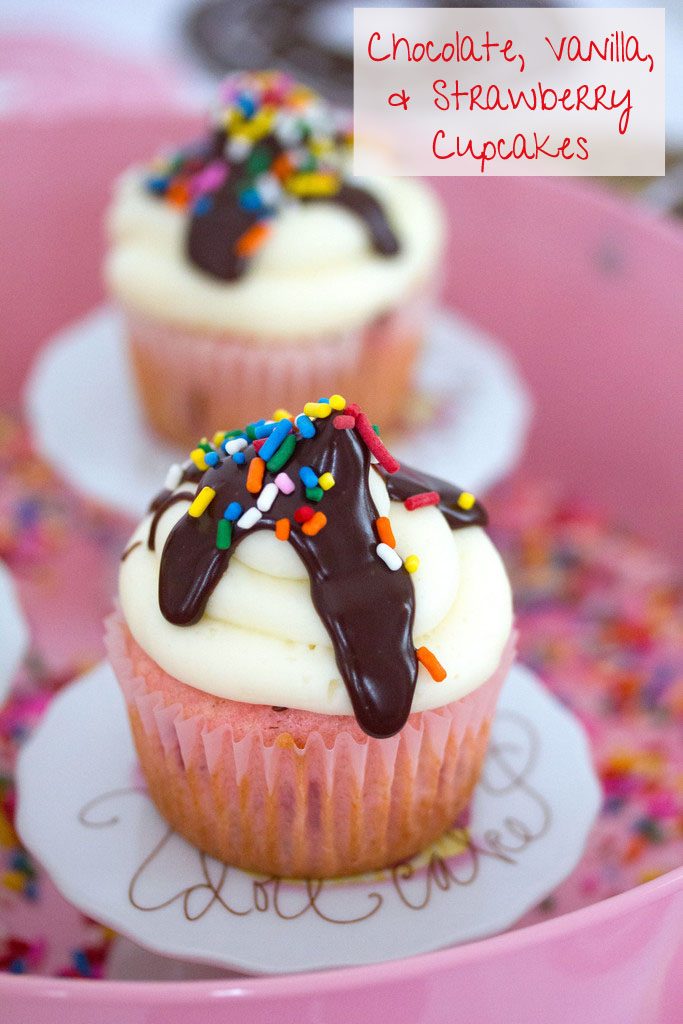 I try to keep my work life and my blog life pretty separate. It's true that sometimes I want to talk about 84034 work things on this blog, whether it be management stuff or client stuff or project stuff. But I totally refrain because drawing lines is important and I don't really feel like it's appropriate for me to be blabbing on about work here on this public forum. But since it's a huge part of my life and I'm at the office 50+ hours a week, sometimes I feel like I have absolutely nothing else to talk about besides work. Plus, I actually have some pretty cool clients who are doing awesome things. Also, my job is so closely related to the world of blogging (part of what I do is influencer relations) and there's so much crossover that gets me all giddy. But I still keep things separate. However, occasionally the lines of my two lives cross… Like when I bring to work desserts that I've made for the blog. Orr when my boss tells my clients I have a blog and they casually mention bringing cupcakes to our next client meetings more than once. And that's how I ended up making cupcakes for a work client meeting and am now blogging about them here. Worlds colliding.
It was a tough decision on what kind to make, so I went with a chocolate, vanilla, and strawberry cupcake. Strawberry cake with chocolate ganache filling and topping and vanilla buttercream. The flavors reminded me of the perfect ice cream sundae, so I decided on an ice cream sundae style cupcake with lots of sprinkles, of course. The cake involved fresh strawberries and my favorite method of whipping egg whites into the batter.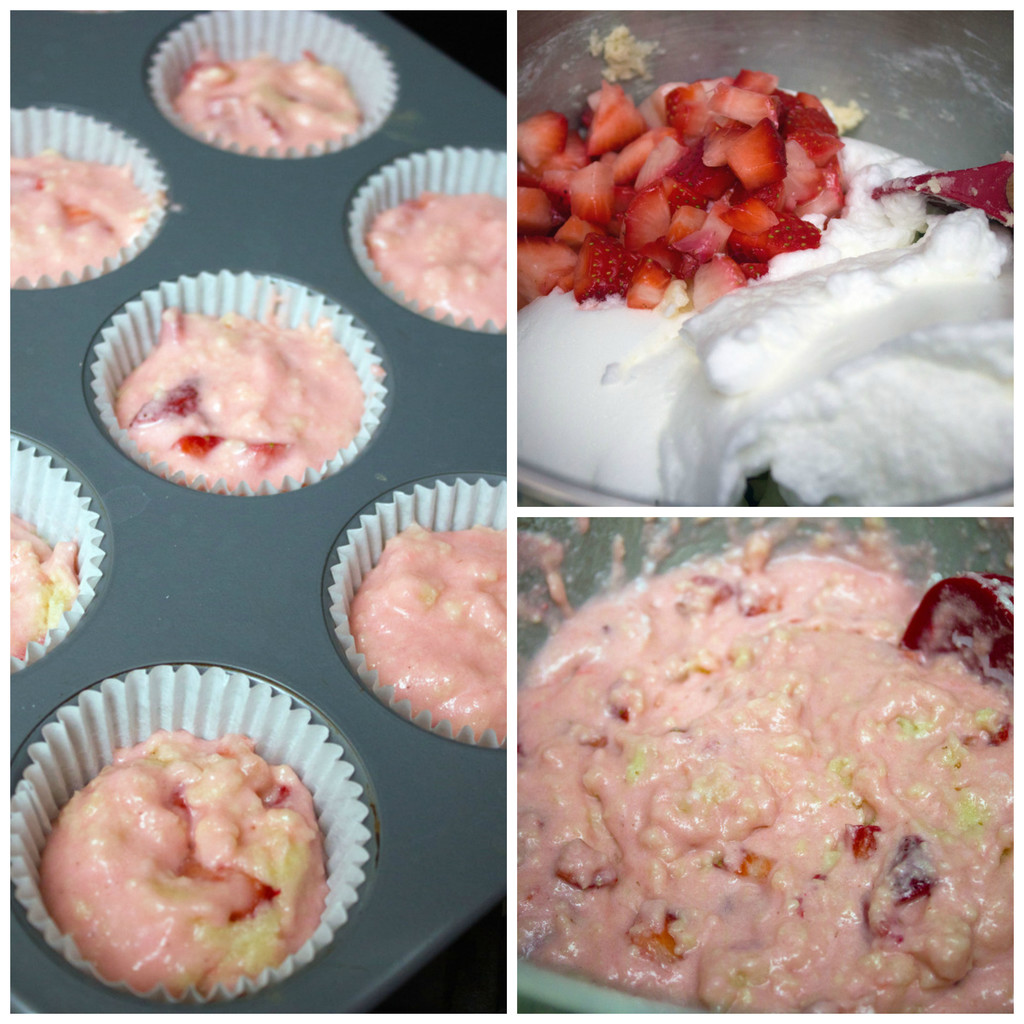 Chocolate ganache always seems to impress people, but it's so, so easy… Just hot cream and chocolate blended together.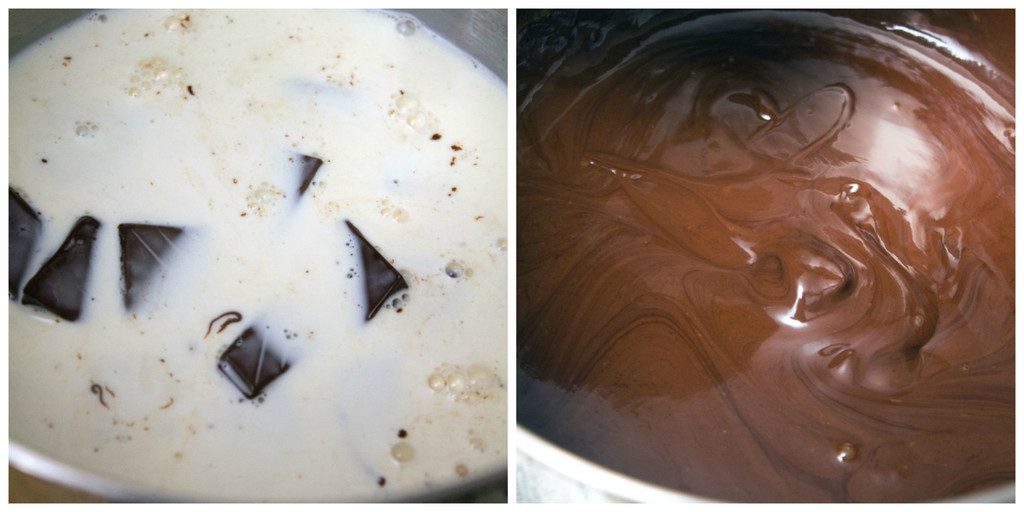 You'll use a some of the chocolate to fill the cupcakes. A little surprise that makes these SO much more delicious.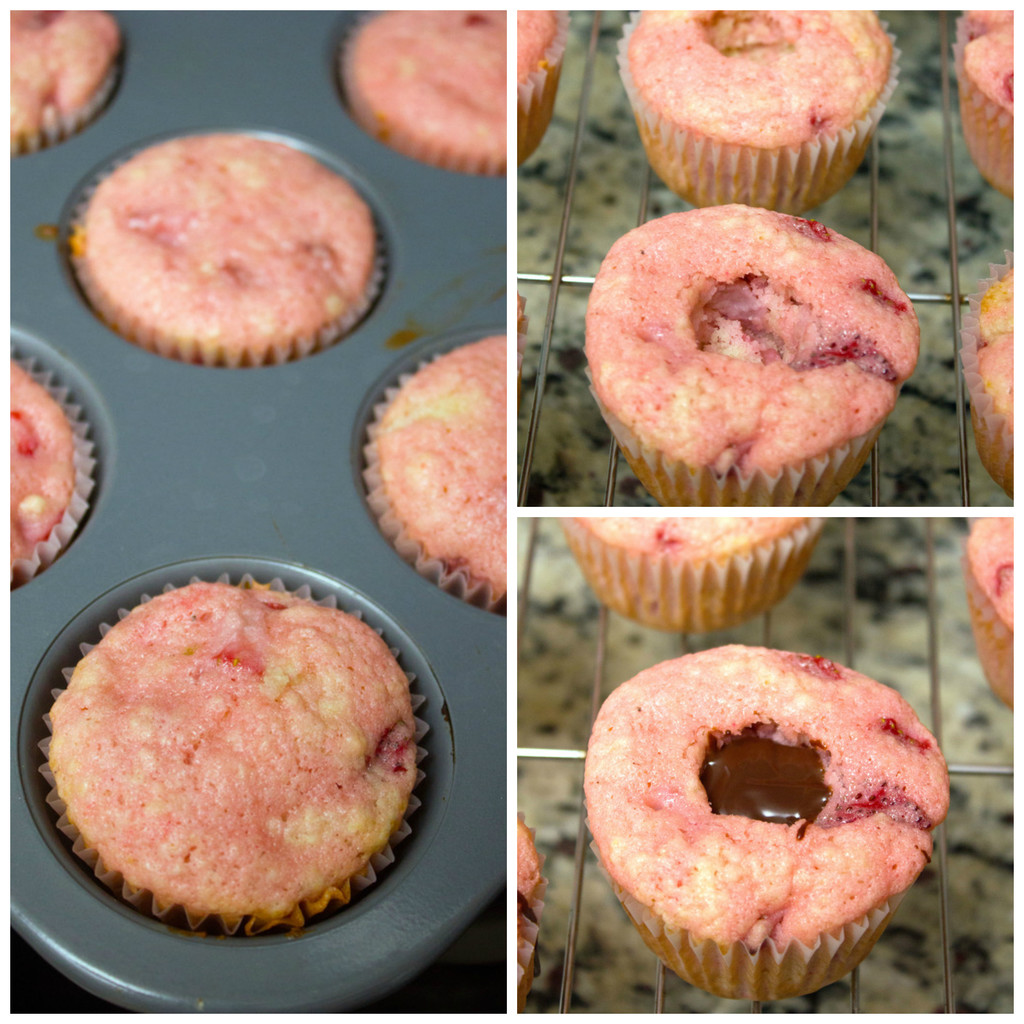 Along with a vanilla buttercream. You can use vanilla extract for the frosting, but I went with the Vanilla Custard flavoring from Wilton's Treatology pack. Of course, it was necessary to drizzle more chocolate ganache over the top for an ice cream sundae feel. And lots of sprinkles!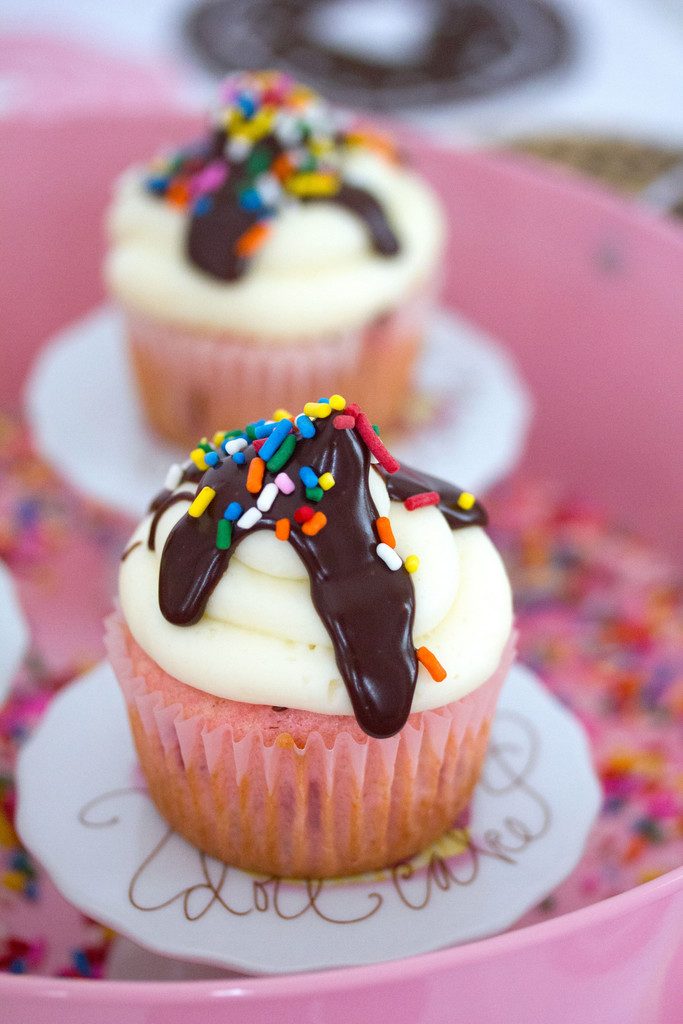 Believe it or not, I really think these were some of the best cupcakes I've ever made. But you should just believe it. I wouldn't lie about that. I think it was partly just because they included the best of all the worlds.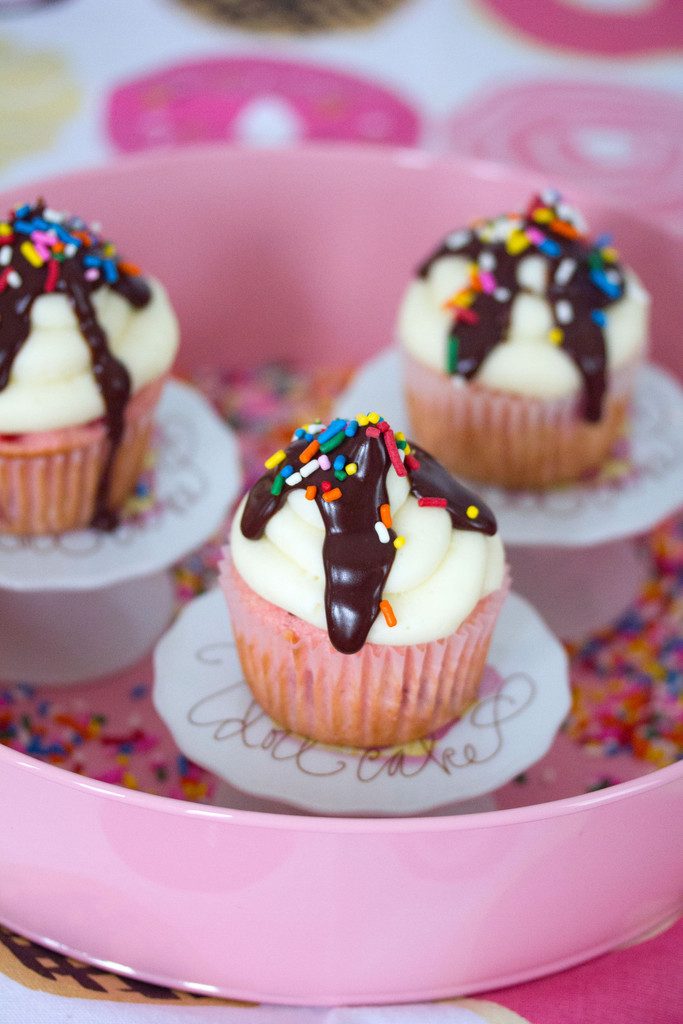 And that chocolate ganache filling makes a world of difference! It's always a very pleasant surprise when you bite into an innocent-looking cupcake and come into contact with a little chocolate.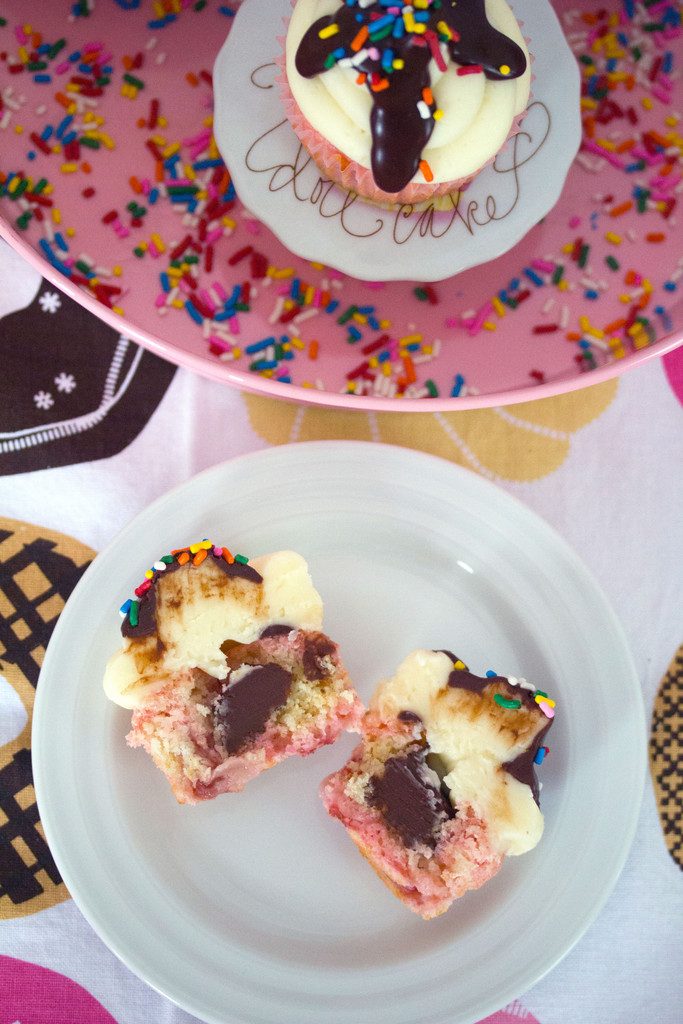 I don't care what anyone says; sprinkles really do make every single thing in the world better. Maybe I subconsciously thought the sprinkles would help make the client like us even more. Hopefully it worked.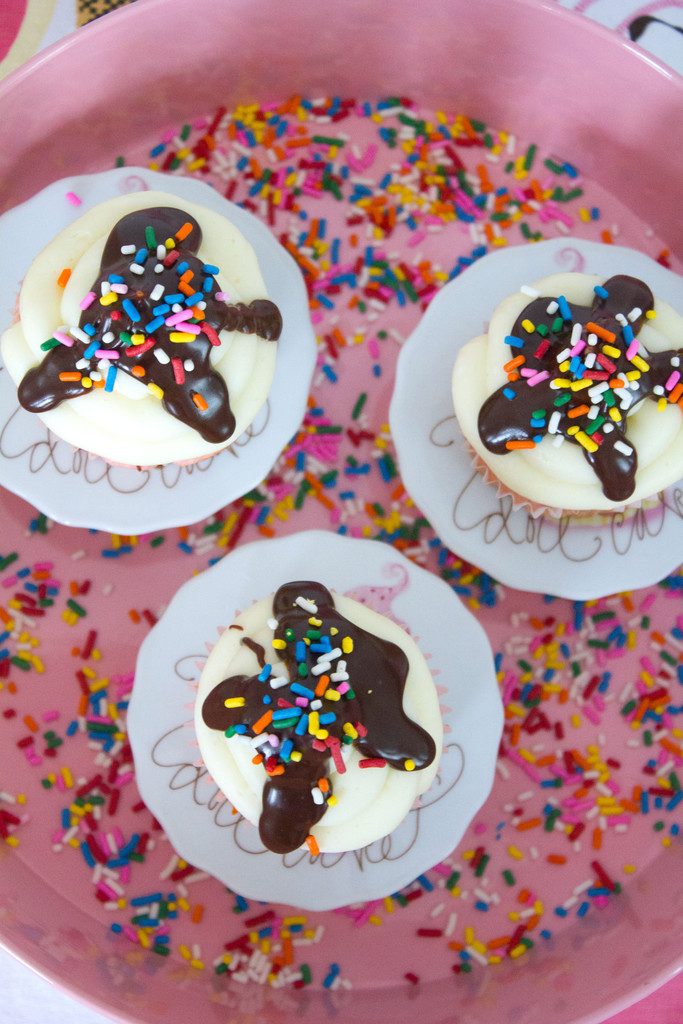 In case you were curious, I decided to decorate these cupcakes like little ice cream sundaes because the flavors are classic ice cream flavors and I couldn't imagine a better look.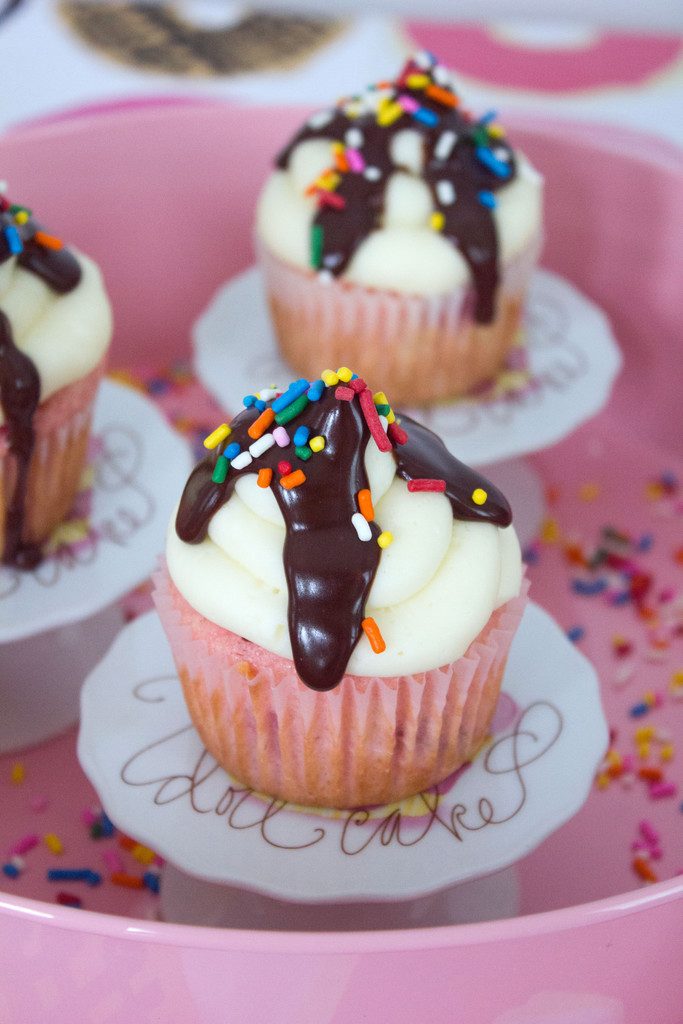 There are lots of cupcakes in this world that are actually made of ice cream. But almost all of the time, I'd rather have cake than ice cream. Or just eat ice cream out of a bowl. I don't really need anything fancy when it comes to dessert.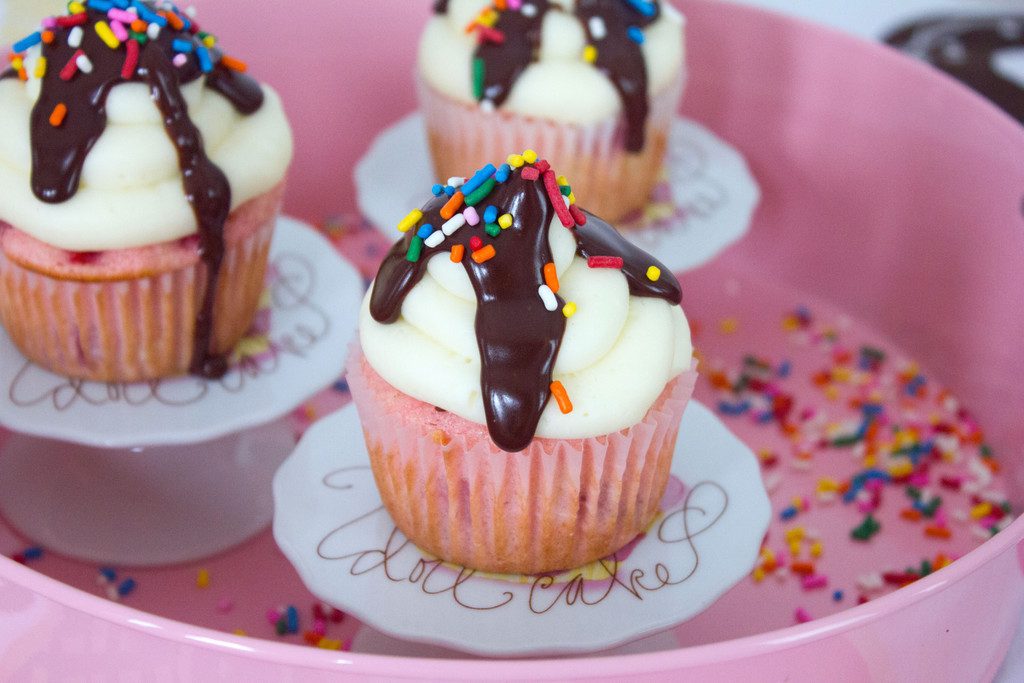 Really, these cupcakes are all the fancy I need in life. Just give me a little bit of this fancy everyday and I'll be good.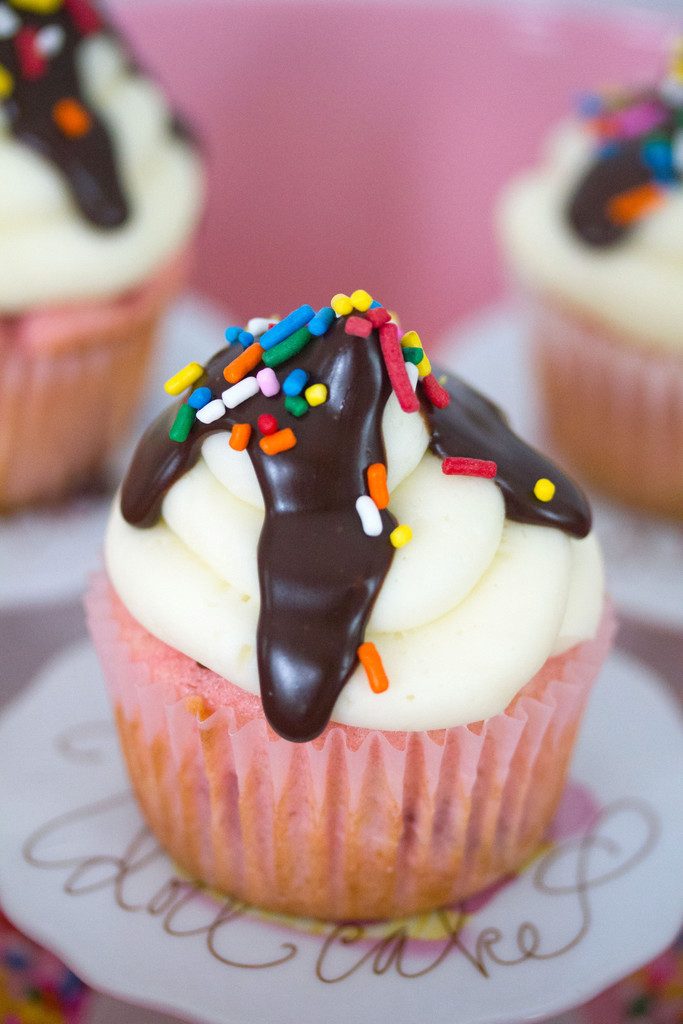 Do your work lives and personal lives collide often? And do either involve cupcakes?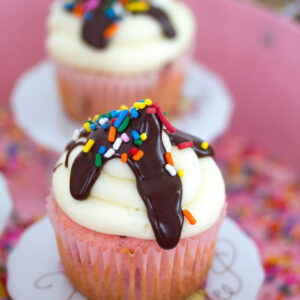 Chocolate, Vanilla, and Strawberry Cupcakes
The classic flavors of ice cream turned into ice cream sundae cupcakes with strawberry cake, chocolate ganache filling, and vanilla buttercream. Topped with sprinkles, of course. For when you just can't decide what flavor you're in the mood for!
Ingredients
Strawberry Cupcakes:
6

Tbsp

butter

room temperature

3/4

cup

sugar

1 1/3

cup

all-purpose flour

1 1/2

tsp

baking powder

1/2

tsp

salt

1/2

cup

whole milk

1/2

Tbsp

vanilla extract

3

egg whites

1

cup

chopped fresh strawberries

2

drops red food coloring

if desired

Chocolate Ganache

for filling and topping (recipe below)

Vanilla Buttercream Frosting

recipe below
Chocolate Ganache Filling and Topping:
3.5

oz.

70% dark chocolate

chopped

6

Tbsp

cream
Vanilla Buttercream Frosting:
2 1/2

sticks butter

room temperature

5 1/2

cups

powdered sugar

2

Tbsp

milk

2

tsp

vanilla extract

or 10 drops Wilton vanilla custard flavoring
Instructions
Strawberry Cupcakes:
Pre-heat oven to 350 degrees.

Cream butter and sugar in the bowl of a stand mixer or in a bowl with a hand mixer, until light and fluffy.

In a separate medium-sized bowl, whisk flour, baking flour, and salt together.

Slowly mix the dry ingredients into the butter and sugar mixture, alternating with milk. Add vanilla and mix until just blended. The batter will be thick.

In a separate large bowl, whisk egg whites with a hand mixer until stiff peaks form.

Gently fold whipped egg whites, chopped strawberries, and red food coloring (if using) into the batter until just blended.

Line a cupcake pan with paper liners and divide batter evenly among liners, filling each about 3/4 of the way full.

Bake at 350 degrees for about 16-18 minutes, until a toothpick comes out clean.

After cooling in the pan for a few minutes, move cupcakes to wire rack to cool completely.

Once cupcakes are cooled, use a cupcake corer or small knife to remove the center of the cupcake.

Spoon about 2 teaspoons of chocolate ganache into each cupcake. You should have enough ganache left to top cupcakes.

Fill a pastry bag with buttercream icing and using a #2A pastry tip, pipe buttercream around cupcake.

Drizzle the remaining chocolate ganache over the buttercream, letting it drip down the sides. If ganache has hardened, place back in microwave at 50% power for 30 second intervals

Sprinkle rainbow sprinkles over the top of each cupcake.
Chocolate Ganache Filling and Topping:
Place chopped chocolate in a medium-sized bowl.

Heat cream in a small saucepan over medium-low heat.

When cream is very hot (but not boiling), pour over chocolate. Let sit for one minute and then stir gently until smooth.

Allow to cool slightly before using.
Vanilla Buttercream Frosting:
In the bowl of a stand mixer or in a large bowl with a hand mixer, beat butter until creamy.

With mixer on low, slowly blend in the confectioner's sugar, cup by cup until well-combined.

Mix in milk and vanilla extract or flavoring.