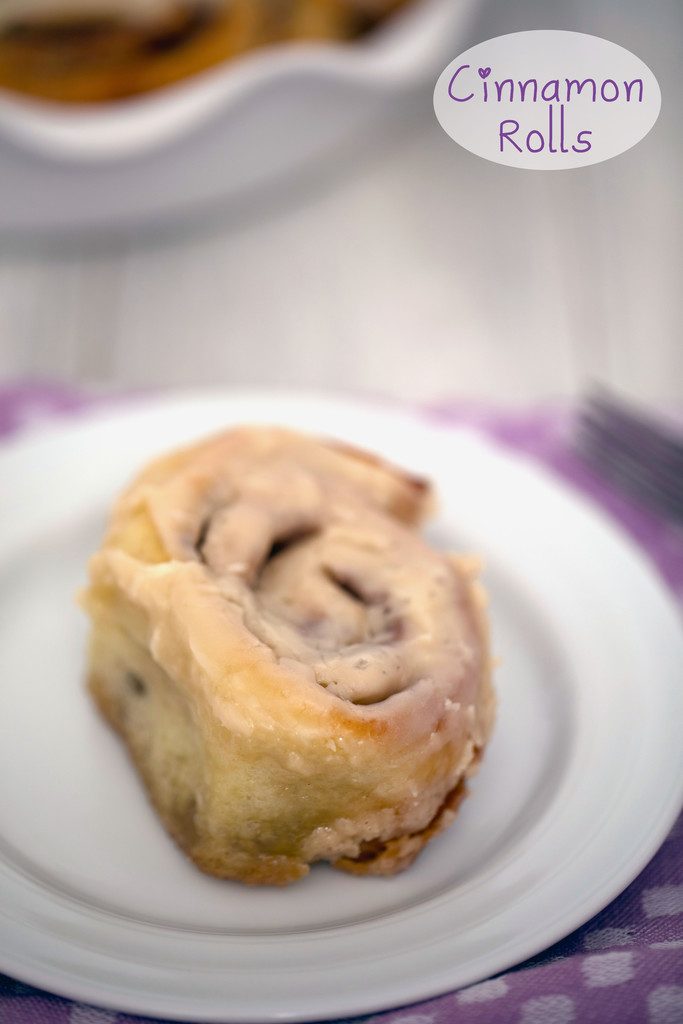 Merry Christmas and Happy Holidays to all our amazing readers! We hope you're all having lovely holidays with your friends and families. With lots of awesome food, of course.
For the past year I've been scoping out cinnamon roll recipes. But ugh, they're so much work, there's so much waiting, and I don't have enough space in my kitchen! But then I got The Pioneer Woman's cookbook. If you don't know The Pioneer Woman, get to know her! She and I have kind of different cooking philosophies, but I'm totally obsessed with her. She believes in butter, butter, and more butter. I also believe in lots of butter, but I often try to make my recipes a bit healthier. However, I fully acknowledge there are some dishes that absolutely should not be made healthier. Like cinnamon rolls. And indulging is totally OK, especially on Christmas.
So when I saw Pioneer Woman's cinnamon roll recipe in her cookbook, I knew they had to be made for Christmas. And I'm actually quite glad I waited until I was at my parents' house to make them because you need quite a bit of room and my kitchen would have been a disaster!
I cut Ree's recipe in half because hers made 40-50 cinnamon rolls and, um, Christmas brunch is simply my mom, dad, and me, so 50 seemed a bit excessive. Though after tasting how good they were, I would not have minded having 50.
Cinnamon Rolls (makes 20-25 rolls):
Dough:
2 C whole milk
1/2 C vegetable oil
1/2 C sugar
1 package active dry yeast
4.5 C flour
1/2 heaping t baking powder
1/2 scant t baking soda
1/2 T salt
Filling:
1 C melted butter, plus more as needed
1/8 C ground cinnamon for sprinkling
1 C sugar, plus more as needed
Maple Icing:
1 pound powdered sugar
1/4 C whole milk
3 T butter, melted
1/8 C strongly brewed coffee
Pinch of salt
1/2 T maple flavoring or maple extract
Here's her full recipe for the 40-50 cinnamon rolls, in case you'd rather have cinnamon rolls for life. Or at least a week or two.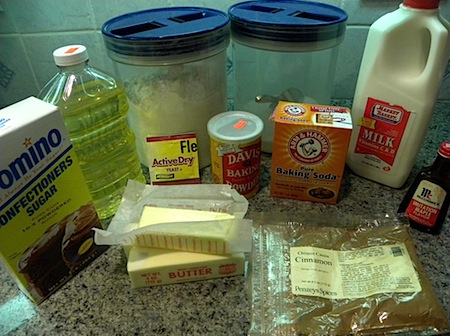 I actually made the dough last night, on Christmas Eve, after returning from our family friends' annual Christmas Eve party. It had to sit for an hour and I knew we wouldn't wait that long in the morning, so I figured I'd get it going the night before.
Heat the milk, vegetable oil, and sugar in a medium saucepan over medium heat. Make sure it's really hot, but don't allow it to boil. Set it aside and cool it to luke warm. FYI: I've never boiled milk AND oil together… It was interesting.
I ended up moving the mixture into a mixing bowl at this point, too.
Sprinkle the yeast on top and let it sit on the milk for 1 minute.
Then add 4 cups of the flour. Stir until just combined, cover with a clean kitchen towel, and set aside in a relatively warm place for an hour.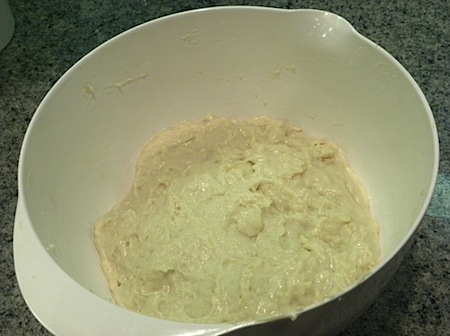 This is where I realized I was going to be up pretty late… Perfect opportunity to finish wrapping Christmas gifts!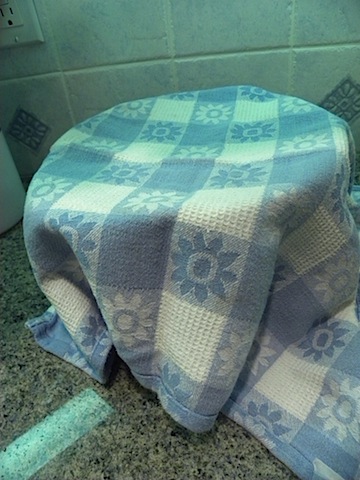 Remove the towel and add the baking powder, baking soda, salt and remaining 1/2 cup of flour.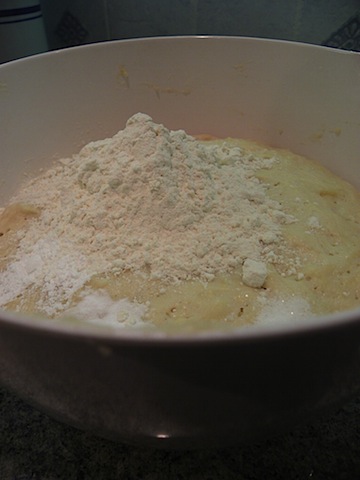 Stir thoroughly to combine.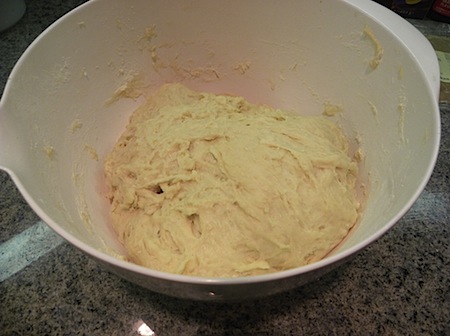 Now, you can either make your cinnamon rolls right away with the dough. Or you can put it in the refrigerator for up to 3 days. I put mine in the fridge until morning. I covered it in saran wrap sprayed with cooking spray, just in case it started rising a lot.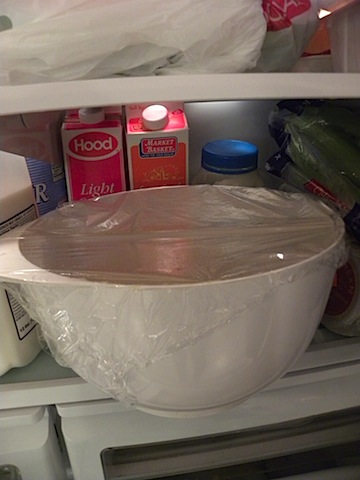 I was a little bit worried it would rise out of control through the night. But my mom said it was fine when she got up in the morning. She punched it down for me and left it until I got up.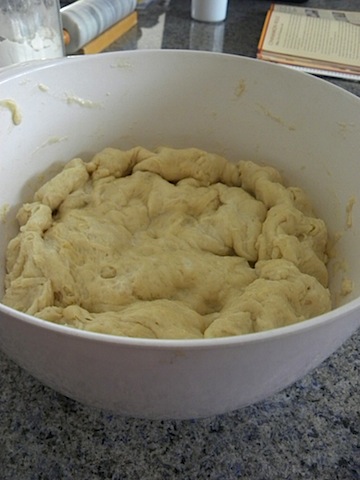 Place the dough on a floured surface and roll into a large rectangle, about 30×10 inches. This is where I'm really glad I had my parents' nice big granite countertop. While my kitchen isn't a bad size, it's kind of lacking counter space. Plus I wouldn't really want to put my dough right on my countertop. However, you could always cut this batch of dough into 2 and make 2 separate rolls if space is an issue.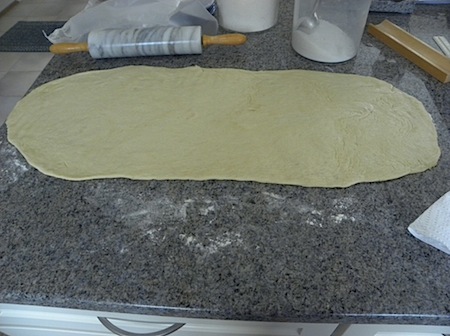 Melt your cup of butter (2 sticks) on the stove.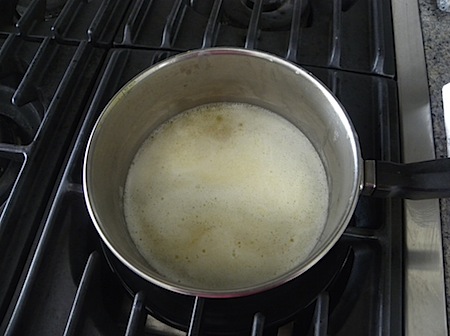 And pour the butter over the surface of the dough and use your fingers to spread the butter evenly. It's so much butter, it will probably start running onto the counter. Or maybe that's just me. Oops.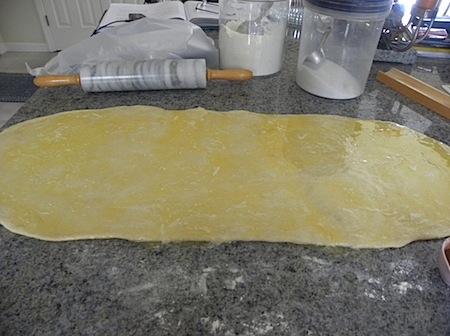 Generously sprinkle the ground cinnamon and the cup of sugar over the butter. Ree says you can also add more butter if you so desire, but um, the counter here was already getting covered in butter.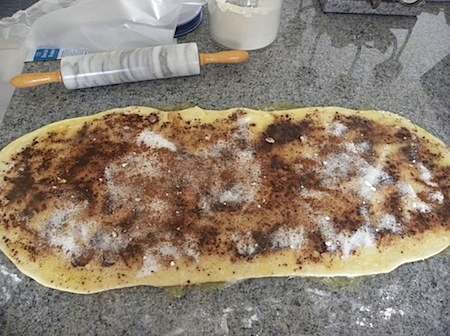 Now you need to roll the dough. My mom helped me with this (she kind of has a hard time watching me cook in her kitchen and not getting involved hehe), but it wasn't as hard to do as we thought it might be.
Start at the end farthest from you and roll the dough tightly toward you. Use both hands and work slowly. Pinch the seams together.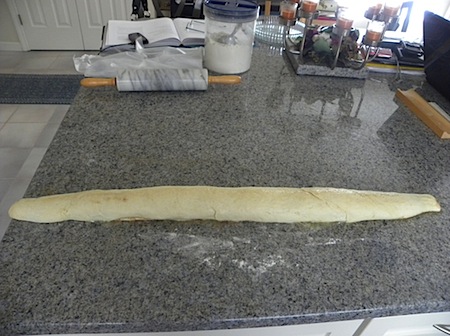 Now transfer the dough to a cutting board and slice 1 1/2 inch slices. Use a sharp knife! My mom and I ended up cutting the roll in half so we had 2 to work with.
Pour a couple of tablespoons of melted butter into desired pie pans or baking dishes. Place the rolls in the pan, but don't overcrowd them.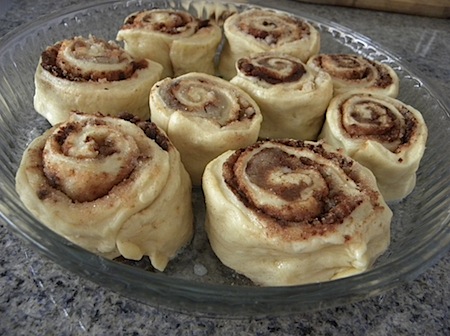 Don't they look totally delicious already?? I'd probably eat them raw. I ended up getting 2.5 pans of cinnamon rolls.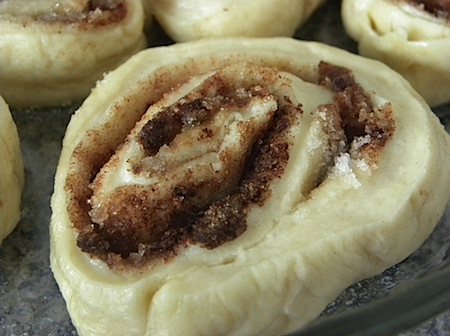 Now you want to cover the rolls with a kitchen towel for about 20 minutes, so they can rise. Then pop them in the oven at 375 degrees for 13-17 minutes. My mom told me if you're using glass pans to lower the temperature by about 15 degrees, so I actually baked mine at 360 degrees.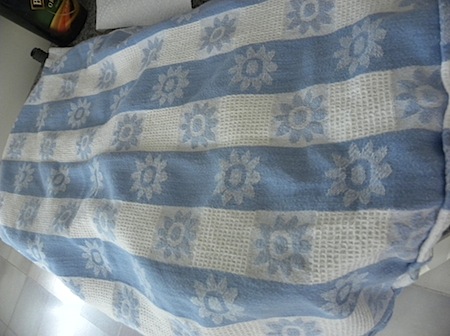 While the rolls are in the oven, you can start making the maple icing.
In a large bowl, whisk together the powdered sugar, milk, butter, coffee, and salt.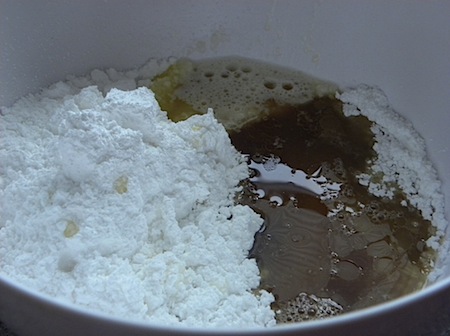 Then splash in the maple flavoring and whisk until smooth.
Taste it and add whatever you think is needed. I added more maple flavoring for a stronger maple taste. Ree says the icing should be thick, but still pourable.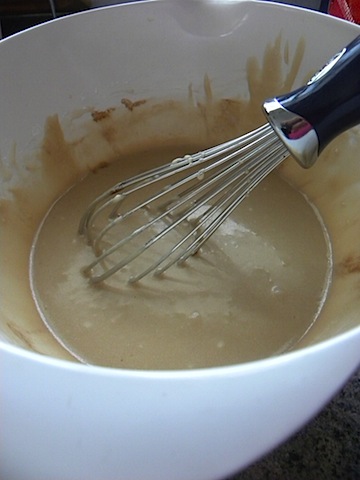 Take your cinnamon rolls out of the oven!! Yup, your whole kitchen will smell amazing!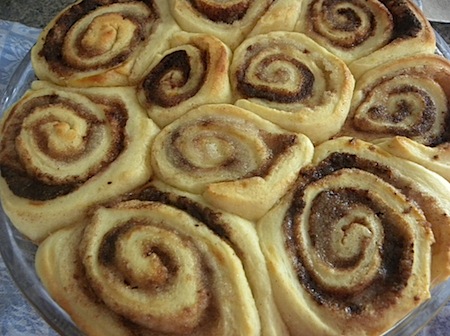 Honestly, right when I took them out of the oven, I wanted to dig in. I was thinking the icing was totally not necessary.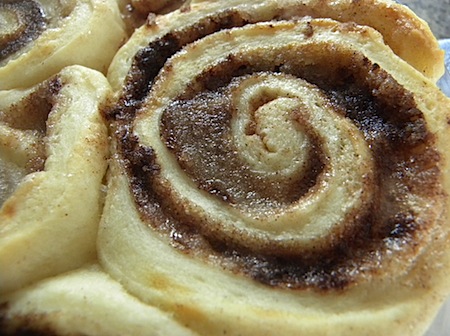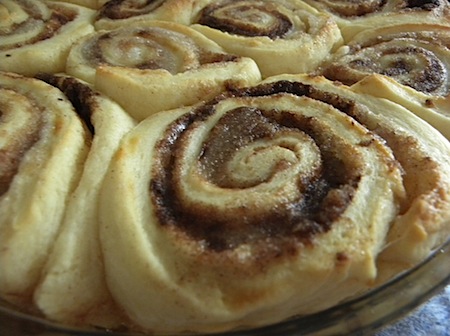 But I put it on anyway because why not? And I do whatever Ree tells me to do. And yes, I actually think it is kind of necessary. It was so gooey and good.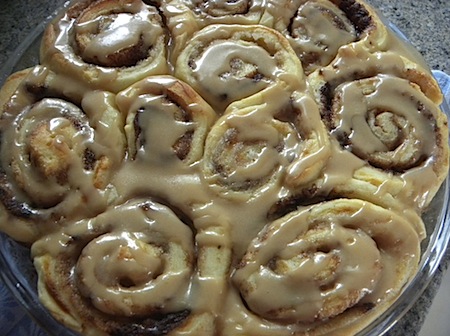 I don't even know what to say here. These completely STUNNED me they were so amazing. SO flavorful and moist and sugary and gooey and everything else you want your cinnamon rolls to be.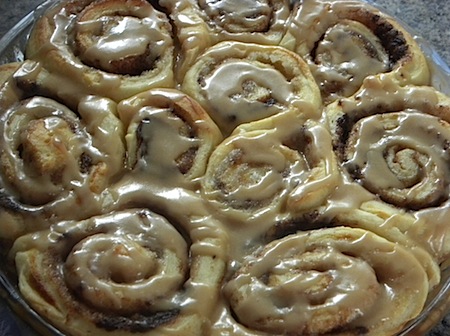 I have definitely NEVER had better and highly doubt I ever will. Ree isn't lying when she says when you make these you'll become famous. And then, "On a less positive note, people will forget everything else you've ever accomplished in your life." Totally agree.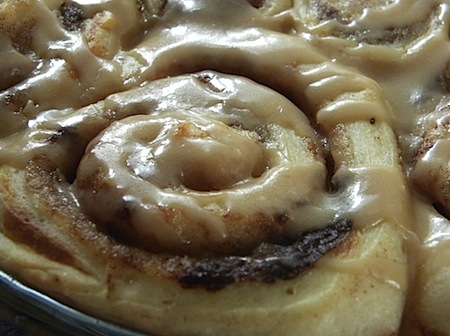 We had a really lovely Christmas brunch, just my mom, dad, and me. Though we really, really missed my sister and Adam who are celebrating Christmas in Hawaii and Chris who is home in Virginia with his family.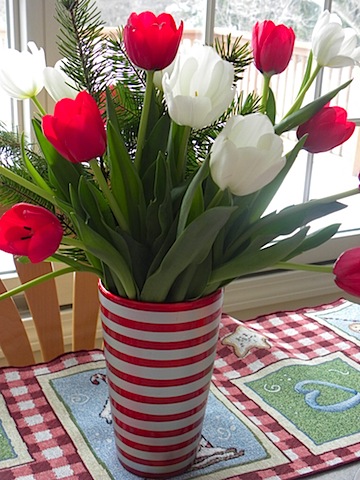 My dad made eggs benedict, minus the hollandaise sauce, which was actually a good thing since the cinnamon rolls had enough butter for life in them.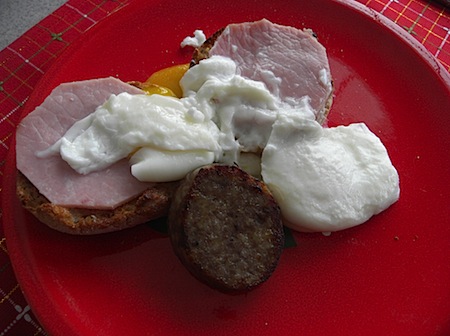 SO decadent and crazy amazing.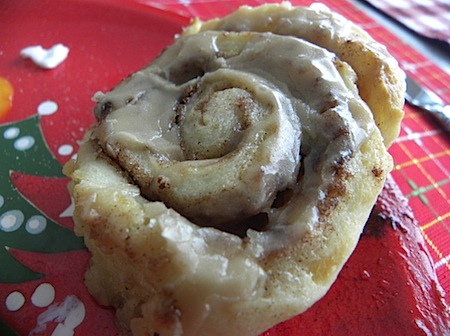 So, you really NEED TO MAKE THESE RIGHT NOW! Seriously NOW! I don't even care if you don't have enough room in your kitchen; make them on the floor or something. Just do it. You will thank me. And you will thank The Pioneer Woman. And life will be good. So, so good.
I may or may not be eating more right this moment. OK, I totally am.
I hope you all had wonderful holidays with your loved ones!! But I promise, they'll love you even more if you make these for them 🙂
[Sues]