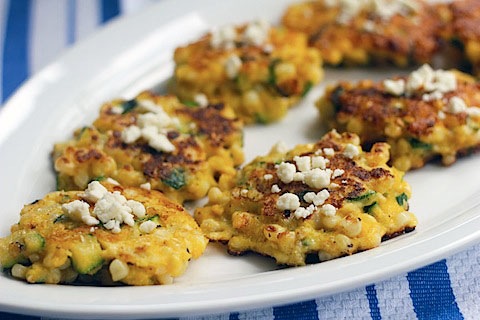 I can't be the only one in absolute disbelief that summer is almost over, right? I'm sorry; I shouldn't have brought it up. Especially on a Monday morning.That was rude. But I'm already entering that "summer is ending" depression. Especially considering the amount of summer recipes I have filed away that I still desperately want to make before time is up. I know it's still just mid-August, but the thing is, I've seen about 10 different varieties of pumpkin beers in stores already, while I'm sitting here still crushing on corn and tomatoes. Don't get me wrong; I'm just as obsessed with pumpkin beer as the next gal, but I'm so not ready for it. Pumpkin beer is meant for sitting on the deck with a light sweater on, the sun setting at 6:00 p.m. and the leaves falling. We're not there yet.
August is for corn. And this will not be the last of the corn recipes you see from me this season. Because, while I don't love eating it off the cob, I do enjoy incorporating it into multitudes of recipes. These corn cakes are super quick, easy, and satisfying. While they make a perfect appetizer, I definitely served them as a meal, with a light couscous salad. To me, this is summer. On a plate.
Corn Cakes (makes 8-10):
Adapted from Martha Stewart's Every Day Food
Print this recipe!
 2 T plus 1 t extra-virgin olive oil
3 C fresh corn (from about 3 ears)
1 small zucchini, diced
Coarse salt and ground pepper
2 scallions, thinly sliced
2 large eggs, lightly beaten
1/4 C cornmeal
3 oz. feta cheese, crumbled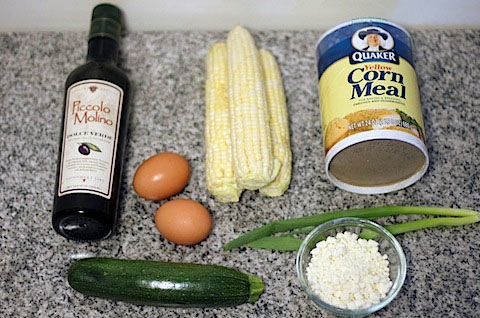 Of course, you need to start by getting the corn off the cob. Chels and I actually did this for our guacamole last week and employed a little Rachael Ray technique. Place a small inverted bowl inside a larger bowl. Put the base of the corn on top of the inverted bowl and cut the kernels off. If you use this technique, the kernels will fall right into the larger bowl instead of landing everywhere in your kitchen. Which saves you months of finding corn kernels under the toaster and between the cracks of your stove.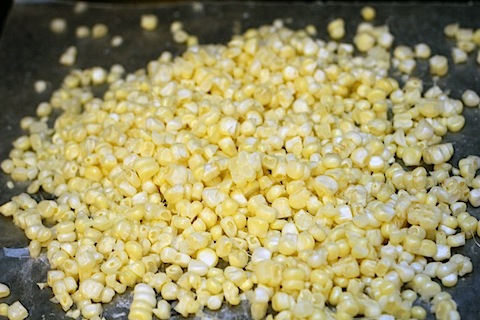 Heat 1 teaspoon oil in a skillet over medium heat. Put corn and zucchini in the skillet and season with salt and pepper. Cook for about 3 minutes, stirring often, until vegetables soften.
Put corn and zucchini in a bowl to cool a bit. Add the scallions, eggs, and cornmeal to the mixture.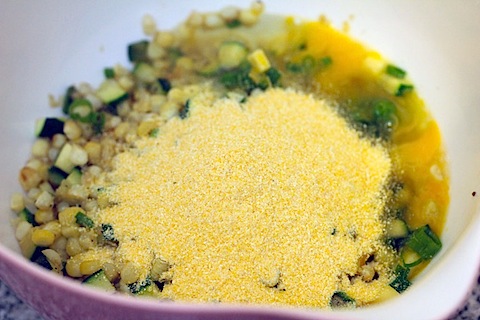 Stir to combine.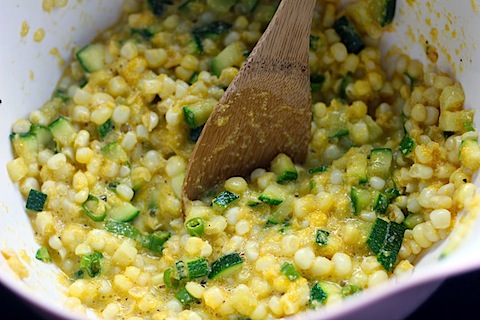 Wipe your skillet clean and heat the remaining 2 tablespoons oil over medium heat. Scoop out about 1/4 C of the corn mixture and form into a small patty.
Cook for about 3 minutes, until set on bottom.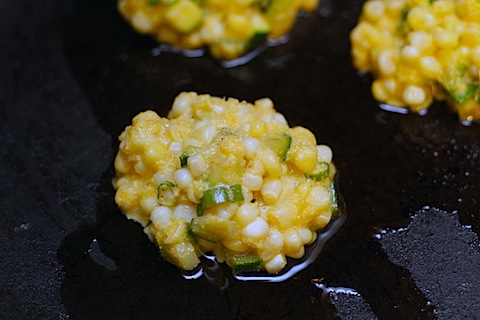 Flip the cakes and cook for another 2 minutes, until the cakes are cooked through.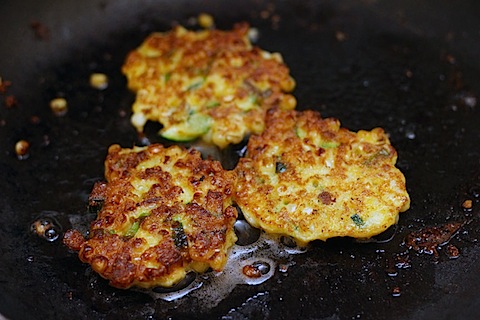 Transfer to a plate covered with a paper towel. And repeat with the remaining corn mixture.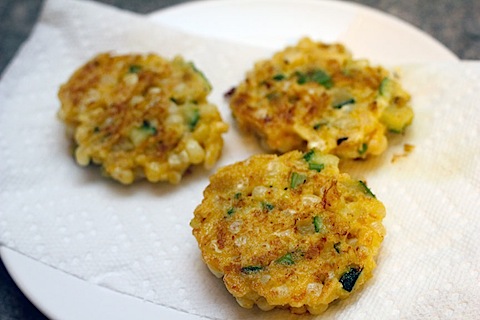 Sprinkle the corn cakes with delicious feta cheese.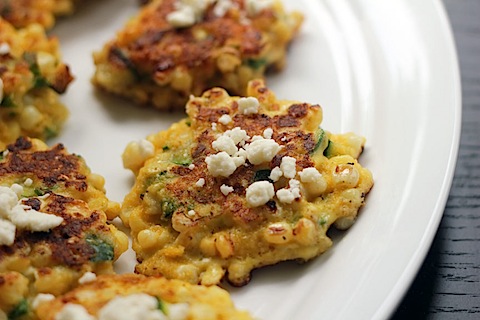 Serve the cakes warm.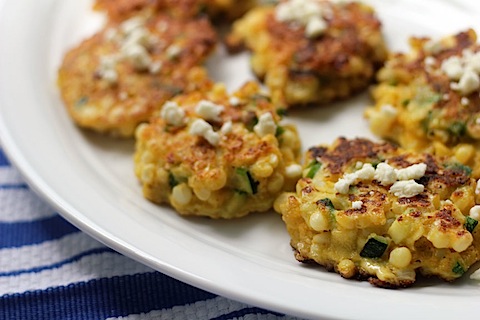 But not with a pumpkin beer. Seriously, that would mess with my senses in a major way. These corn cakes deserve light and summery accompaniments. Like a spritzer. Or glass of cold white wine. Seriously, I don't even really like white wine, but with these? Heavenly.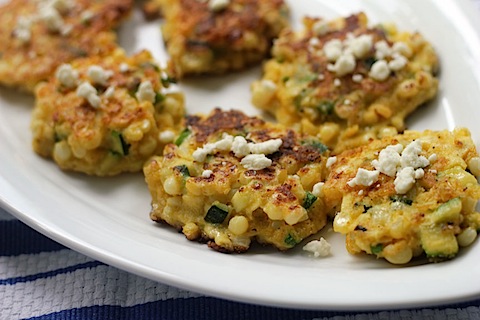 I ate the leftovers for lunch for two days and both days, I said to myself that these were the best lunch leftovers I'd ever had.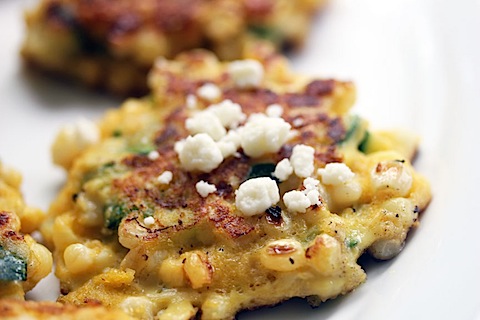 And with that I say, please summer, don't even leave me. I feel as though you just got here. I just bought 6 more ears of corn yesterday and plan to whip up some other corn dishes soon, so stay tuned for more. After all, corn season really lasts straight through September, yes? And right when that's done, I'll plan on breaking out the pumpkin beer. But please, let's hold on to summer a little bit longer.
What's your favorite way to eat fresh corn?
[Sues]