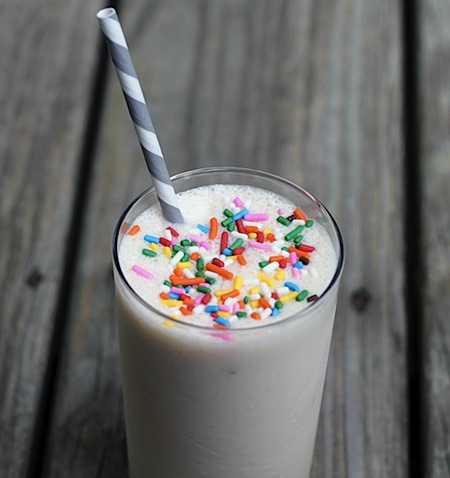 Because you should never let a cupcake go to waste.
Not that they ever do. That would be a travesty. But really, it's dangerous to live so close to a bakery that makes amazing cupcakes. Walking by nearly every day, you know you could just take 2 minutes to bop in, buy a few cupcakes, and then continue on your merry way home. You could even stuff your face with said cupcakes while finishing your walk home, shoving the box in the nearest trash can and erasing all evidence that you ever entered the cupcake shop in the first place. Oh wait, hips don't lie? Neither does frosting smeared on your face. Never mind, then.
I've been really good about limiting my cupcake consumption over the past 6 years, despite living very close to incredible cupcakes. Mainly because I have a constant fear if I over-indulge in the treats I love, I won't love them anymore. That's why I wait until September to start eating pumpkin and stop by December. It makes my pumpkin-eating time way more special and I always keep up my pumpkin excitement.
Anyway, after I took photos of my glitter cupcake stand last week, I realized I had a few cupcakes (couldn't just buy one!) hanging out in my fridge. Of course, some were consumed as is. But then I started wondering what to do with the remaining cupcakes before Chris could find me passed out in front of the refrigerator covered in frosting. My deep obsession with milkshakes got me thinking, "cupcake milkshakes!" So, I did. I know. Burger King already tried this a while back. I never sampled theirs, but have a feeling I like the simple, homemade version better.
Cupcake Milkshake (makes 1):
Print this recipe!
1 cupcake of your choice
1 ½ C vanilla ice cream
1 C milk (I used skim to be "healthy-ish," but whole would make the shake thicker)
Rainbow sprinkles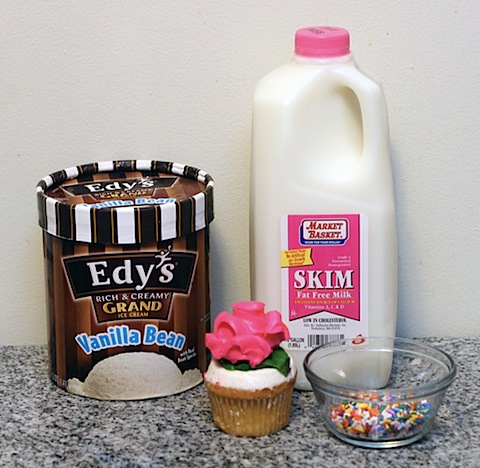 I have a rainbow sprinkle obsession. Kind of like glitter. If I had my way, I'd decorate the world in glitter and rainbow sprinkles. Wouldn't that be a happy place?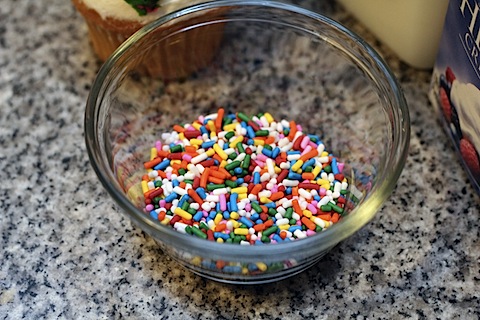 There really aren't any complicated instructions behind this recipe. It's better that way because this is not the kind of recipe you want to spend 8 hours waiting for. You'll end up drooling too much.
Simply put the cupcake, ice cream, and milk in the blender and combine.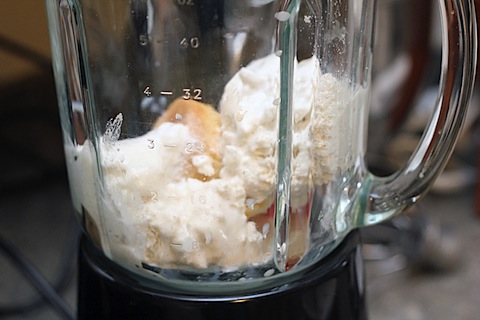 Pour mixture in a glass and top with rainbow sprinkles. Serve with a pretty stripey straw.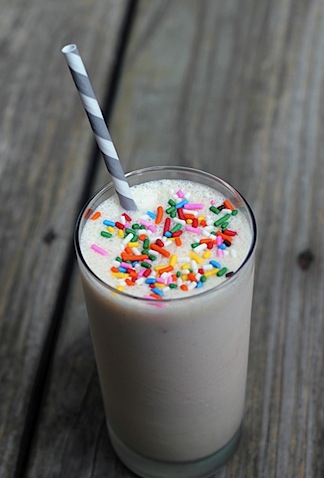 I don't want to force you into anything, but you should make this. It really is a cupcake in a glass. Like, literally.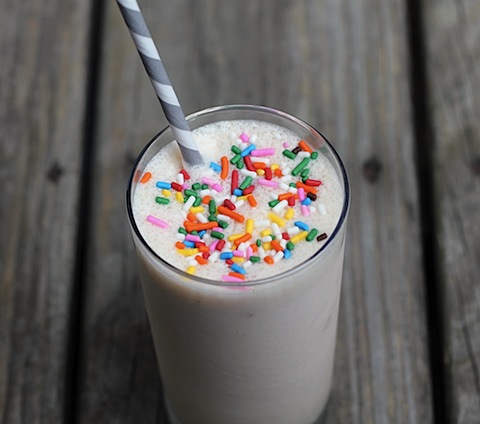 You could probably try blending the sprinkles into the milkshake, too, for a more colorful shake. But I kind of like the contrast of the rainbow sprinkles against the white shake. Yes, contrast of sprinkles is something I think about often.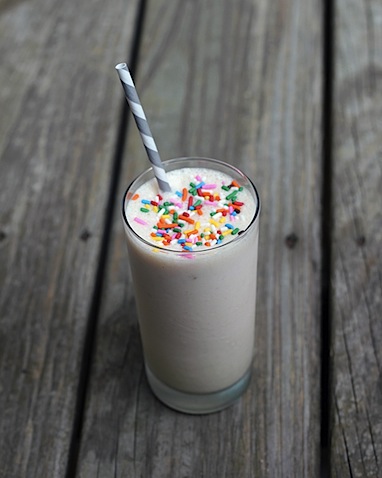 Some people don't like to drink their calories. I don't blame them. But if drinking your calories means enjoying a cupcake in a glass with ice cream, I'm game. And from now on, whenever I buy cupcakes, I'm going to be sure to buy an extra, so I can make it into a milkshake.
I have a feeling my new obsession is going to be turning all my favorite foods into milkshakes. Watch out. 🙂
What's your favorite food to turn into a milkshake?
[Sues]