This Malted Candy Cane Milkshake will have you in the holiday spirit in no time at all… And with just four ingredients, it's ridiculously easy to make!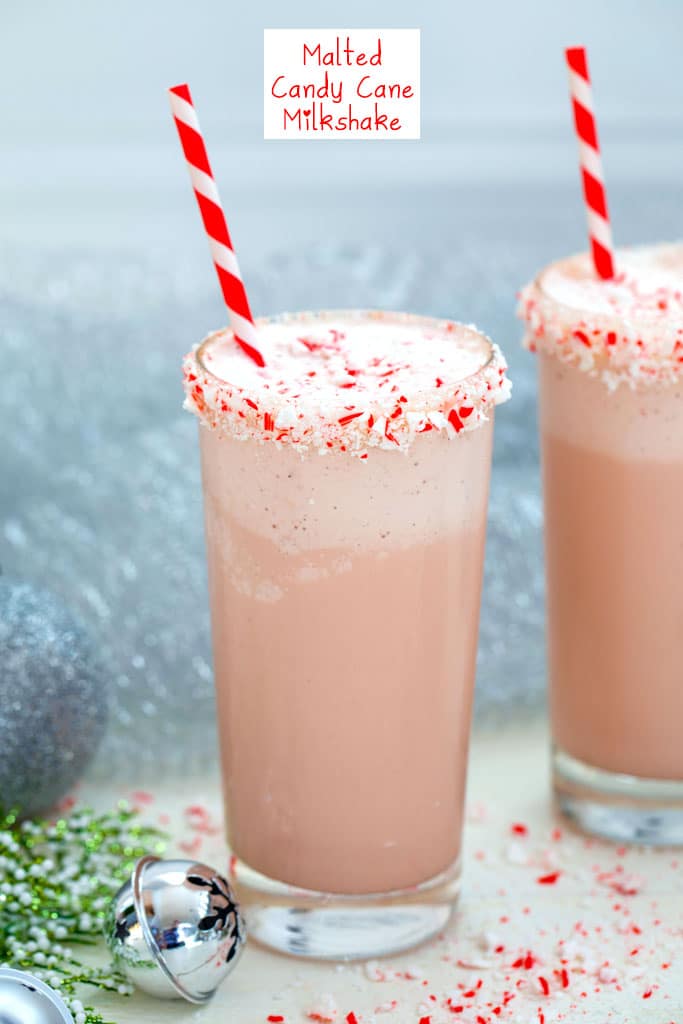 (This recipe for Malted Candy Cane Milkshake was originally published in December 2012, but was updated with new photos in 2019).
Happy December! Can you even get over that? I cannot. If I could have one wish, it would be to freeze time for a little bit so I could get ten million things done before going back to real-time life. That way, once in real-time life, I could feel completely put together and in control and not like a hot mess who goes to bed at 2 a.m. every night (morning?) and barely functions all day.
But since that clearly won't happen, I will continue on being a hot mess who's already crying over the fact that the holiday season is flying by without me having enough time to prepare or enjoy any of it. What is this life?
At least it can be enjoyed in some small ways. Like with milkshakes packed with candy canes. Because goodness knows this is the perfect treat for Christmas tree decorating, holiday gift wrapping, Miracle on 34th Street watching, and just all around decking the halls in between. Even if do happen to be sipping on it at 2 a.m. Le sigh. 'Tis the season to be jolly!
MALTED CANDY CANE MILKSHAKE RECIPE
Like most milkshake recipes, this candy cane milkshake is super easy to make. The toughest part about it is crushing all those candy canes. Which let me be clear, is one of my least favorite tasks ever. These days, you can pay a pretty penny to buy them pre-crushed.
Or you can just put them in a Ziplock bag and crush them yourself using something heavy. I use a meat mallet to crush mine.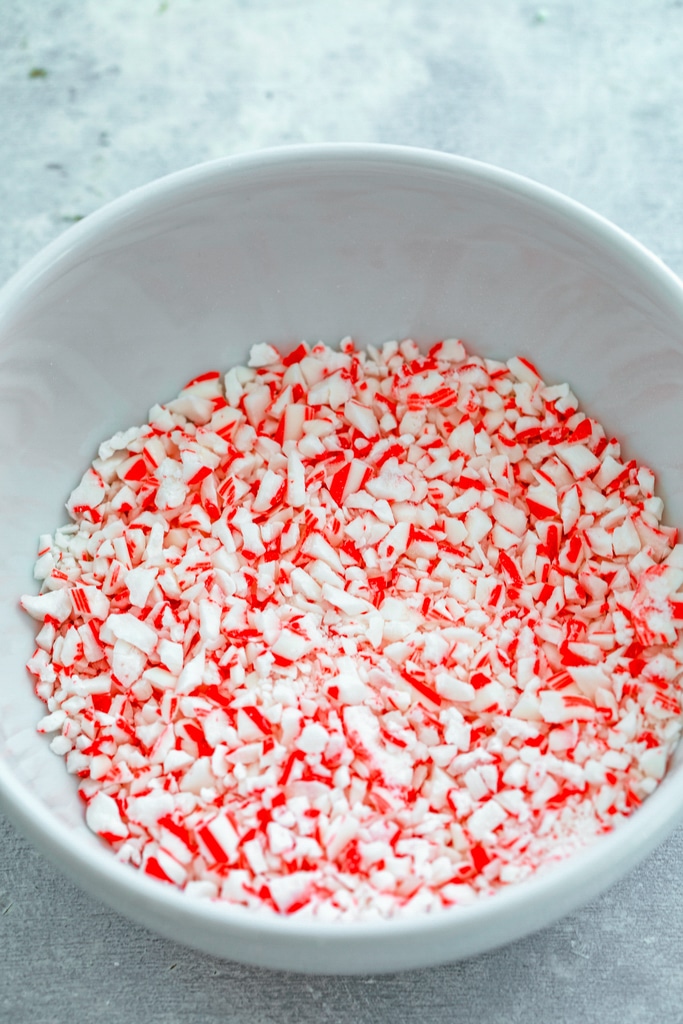 You'll want to use about 2 Tbsp of that crushed candy cane to rim your milkshake glasses. You can brush the rims with a little simple sugar, honey, or maple syrup… Anything that will make it stick.
And then place glasses upside down on a small plate with the crushed candy canes and coat the rims.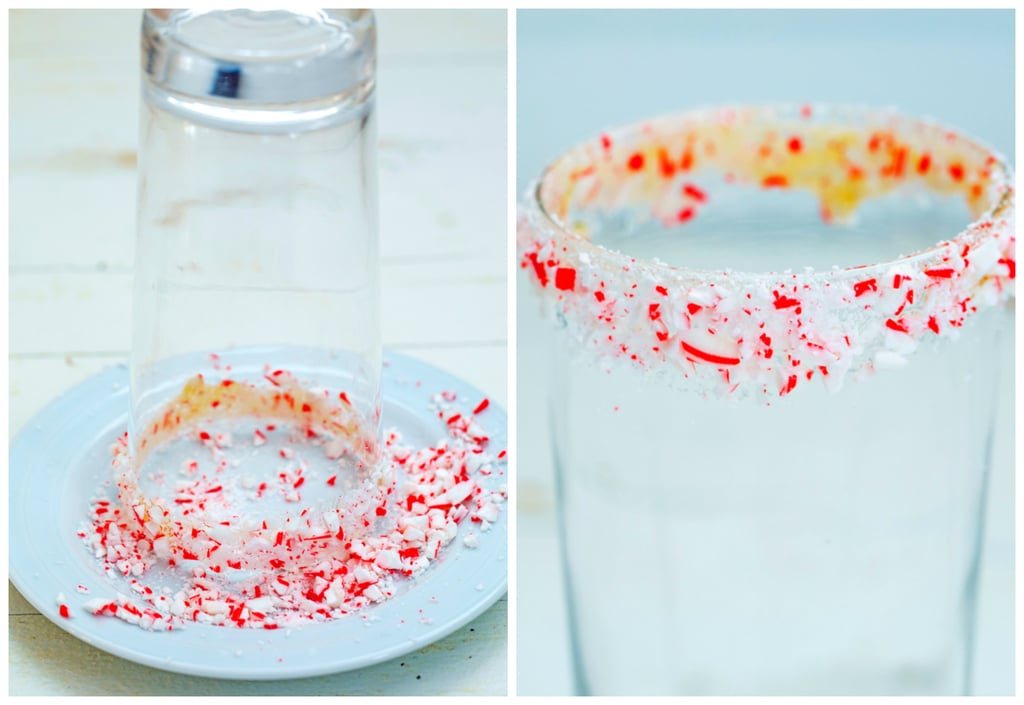 Now, put ice cream, milk, malted milk powder, and almost all of the rest of the crushed candy cane (leave a little bit for garnishing the milkshakes) into a blender and blend away.
Pour milkshake into the candy cane rimmed glasses, sprinkle a little more crushed candy cane on top, and enjoy!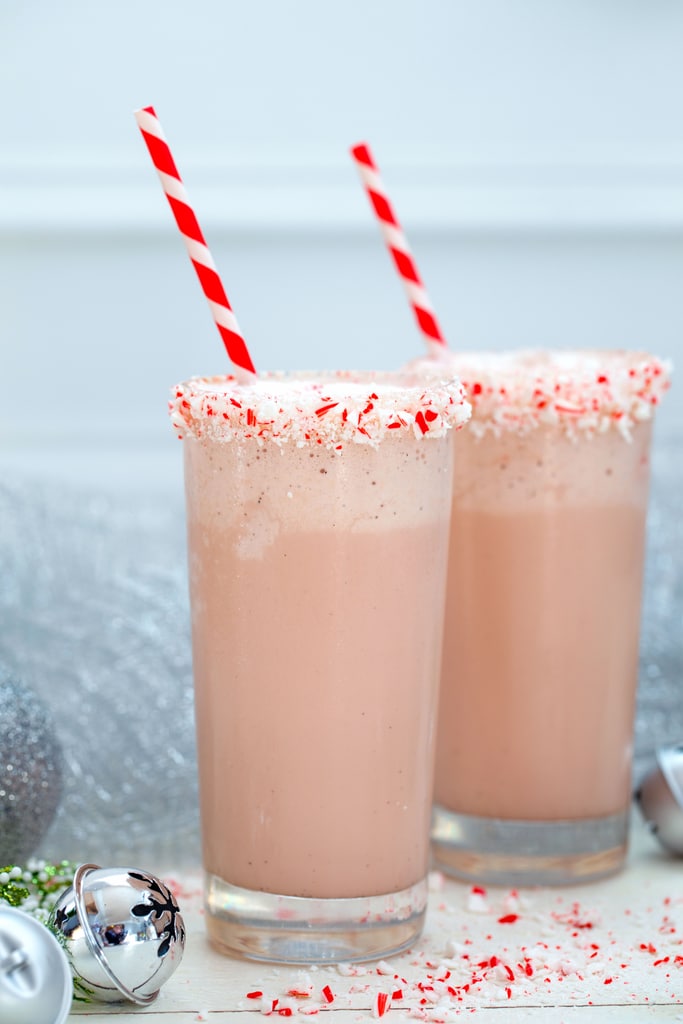 This candy cane milkshake is the perfect seasonal delight! It's just the right amount of pepperminty and has just a touch of malted flavor to it. The first time I made it, I actually added additional peppermint extract, but I decided to make it without this time just to see how it would be. And I realized that the crushed candy canes give it the perfect amount of peppermint flavor without added extract!
I should mention that I've been wanting to make a malted milkshake for some time now (with crushed malt ball on the rim!), but then I started craving peppermint… And thus, this drink was born. I think malted flavor is one of the most underrated things.
And to be honest, candy canes are pretty underrated these days, too. At least the classic red and white peppermint ones are. It seems like every other candy in the world has been turned into a candy cane. But in my opinion, there's nothing like the classic!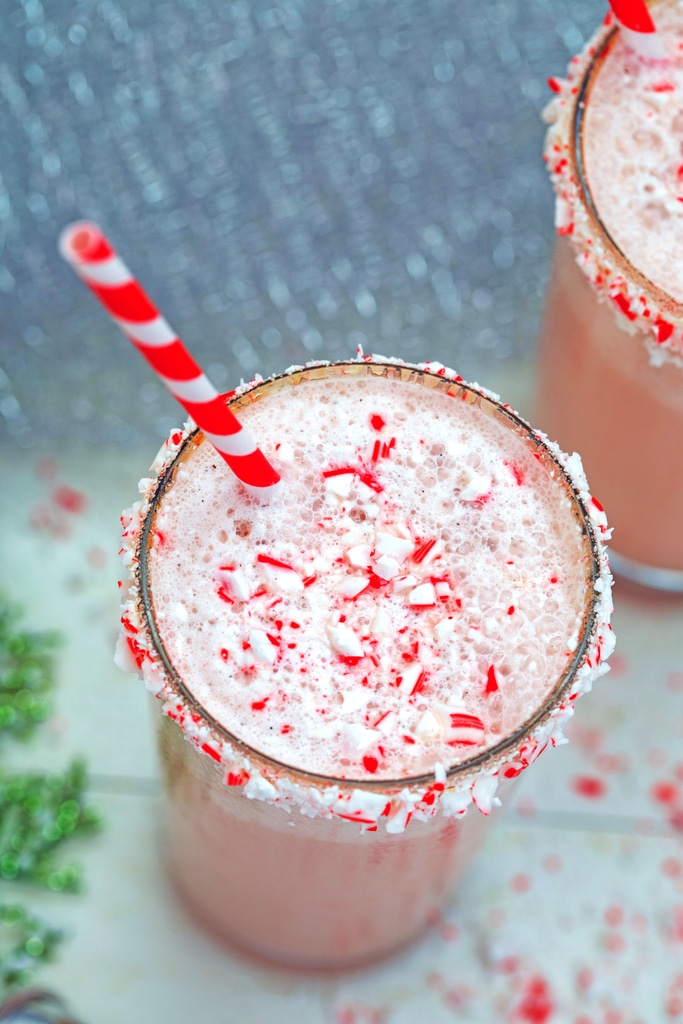 I feel like this is the sort of thing that if you left out for Santa instead of plain old milk, he'd be perfectly happy. But he'd probably have to fight other members of the household off for it. So, make extra. In fact, I feel like this candy cane milkshake is enough to get even the Grinch in the holiday spirit!
There are about a million more things I want to do with candy canes before the season is over, which is why I need at least 60 more days in the holiday season. Can we make that happen? Or can we make candy canes socially acceptable in March? Despite the fact that every candy is being made into candy canes, it seems that candy canes are the one candy that hasn't crossed over into other holidays!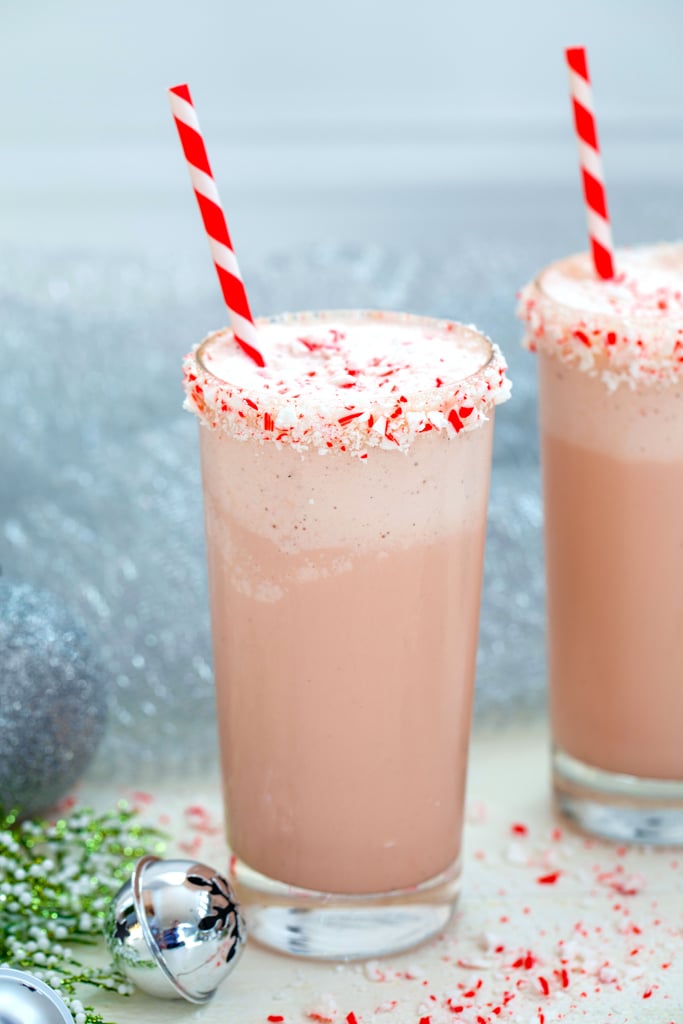 At least I now feel in much more of a celebratory holiday-like mood. Another thing getting me in the holiday-spirit? Writing my annual holiday gift guide for food lovers! It's in full swing and should be coming out soon, so get ready.
Have you started celebrating the holidays yet? How so?
If you're looking for more holiday desserts made with candy canes, check out my Coconut Candy Cane Truffles and my Peppermint Pavlova with White Chocolate Whipped Cream. I also really want to make this Peppermint Pie from Princess Pinky Girl!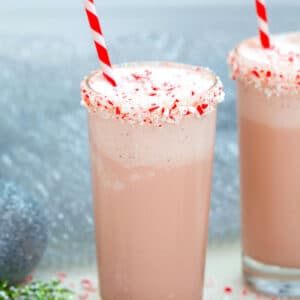 Print Recipe
Malted Candy Cane Milkshake
This Malted Candy Cane Milkshake will have you in the holiday spirit in no time at all... And with just four ingredients, it's ridiculously easy to make!
Ingredients
6

candy canes,

crushed (about 1/2 cup)

3

cups

vanilla ice cream

1 1/2

cups

1% milk

(or dairy or dairy alternative of your choice)

5

Tbsp

malted milk powder
Instructions
Place about 2 Tbsp crushed candy canes on a small plate. Brush a little simple syrup, maple syrup, or honey around the rim of two glasses and then place upside down in the crushed candy canes to coat rims.

In a blender combine ice cream, milk, malted milk powder, and the rest of the crushed candy cane (save a little bit for garnish!). Blend until smooth.

Pour milkshake into the rimmed glasses and sprinkle a little more crushed candy cane on top.