With all of this Athenos feta in my fridge I find myself tossing it in all sorts of dishes… including my scrambled eggs in the morning, which tastes real good, by the way! Since I adore the versatility of eggs and am definitely digging the feta in the scrambled eggs, I decided to experiment with a very simple egg salad with feta for lunch. I very loosely followed this recipe which called for only egg whites.
Here's what you need: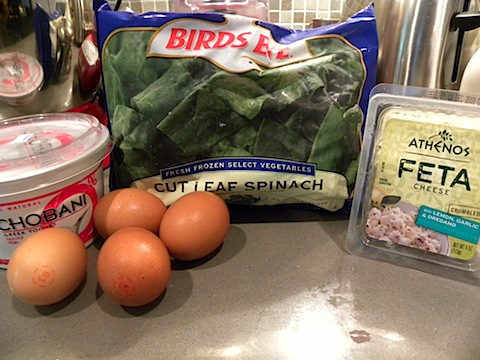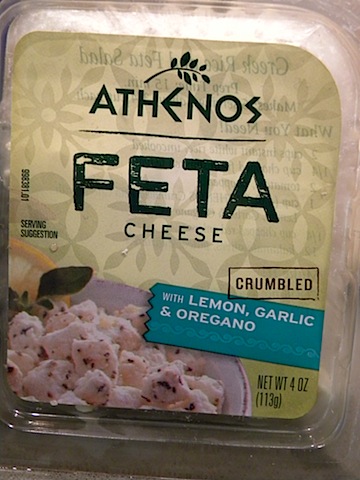 • 4 boiled eggs, I kept the yolks of 2
• 1/4 cup cooked and drained frozen spinach
• 2 Tablespoons feta, I used 1 tablespoon Athenos traditional and 1 tablespoon Athenos lemon, garlic, and oregano for some added flavor (LOVE THIS!)
• 1 tablespoon parmesan
• 1 tablespoon plain Greek yogurt (original recipe calls for light sour cream, I like to substitute Greek yogurt in dishes when I have it on hand!)
• Salt and pepper to taste
mmmmmmmmmmm… hard boiled eggs are thebomb.com 😉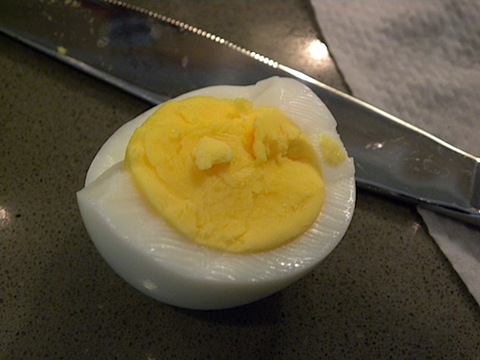 I promised you this was simple… Just roughly chop the eggs and mix all of your ingredients together and you're done!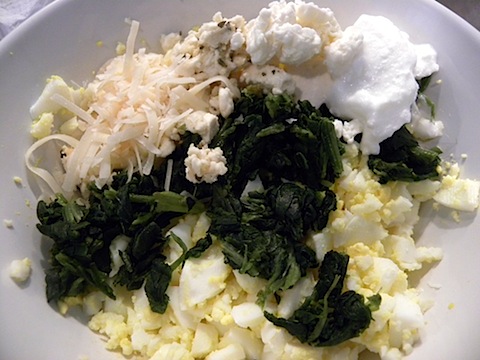 On a piece of whole wheat toast, I arranged the egg salad on a thin layer of mayo and a bed of greens.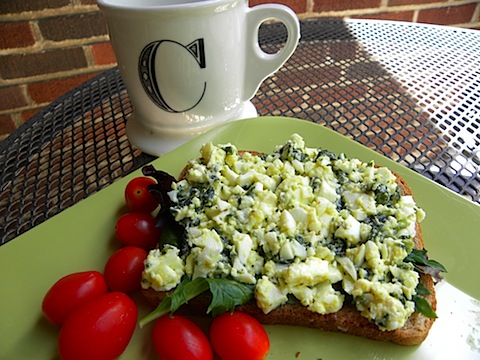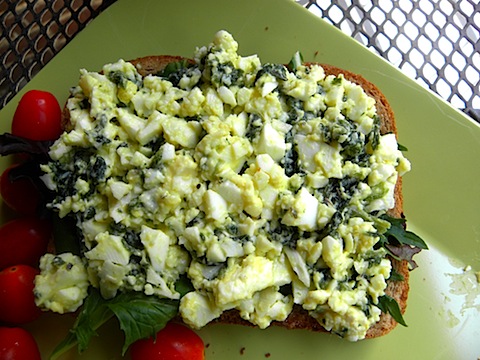 This was surprisingly good… I'm not going to lie I was a little skeptical of this healthier version! I normally make egg salad the old fashioned and classic way with mayo but this felt so clean and fresh! Not to mention I ate it about 4 hours ago and my "fullness" is just now wearing off. I think for tomorrow's lunch I'm going to nix the bread and use the leftover egg salad IN an actual salad! Two salads for the price of one 😉
Sorry for the short post but the cursor and mouse on my laptop is extremely possessed today and it's already taken me over an hour just to get this post done! It keeps moving all over the place and deleting what I type! Whyyy?! Bringing it to the doctor tomorrow… It's no way for a blogger to live! 😉
[Chels]