Egg salad is always a good idea, but to make it a little more exciting, add a flavorful mayo dressing, celery, apple, and red onion... It's Egg Salad with Lots of Crunch!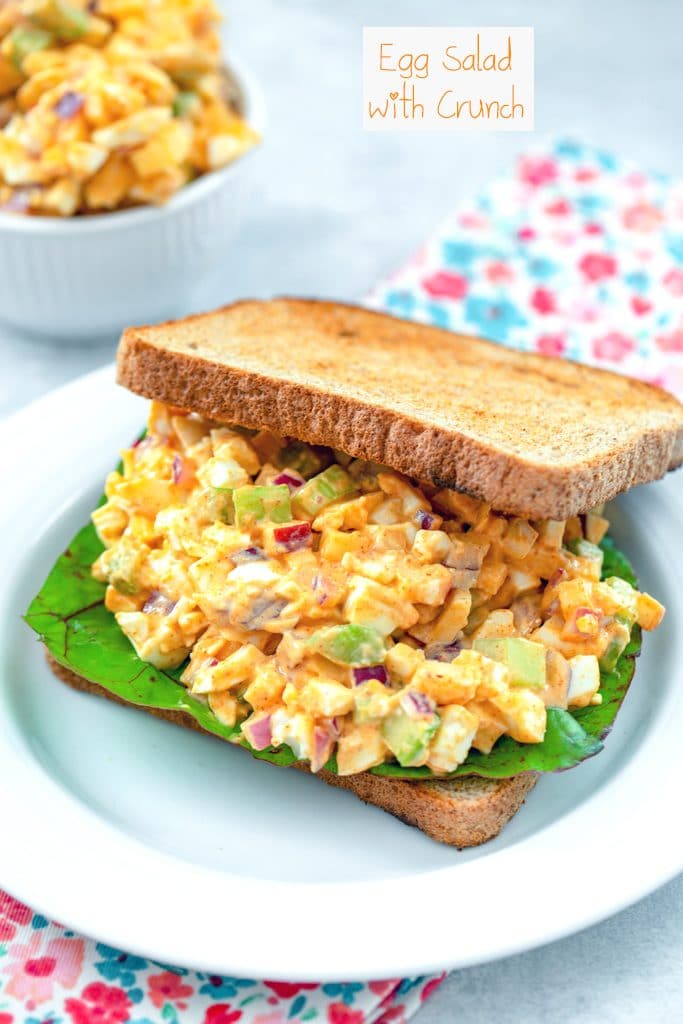 (This recipe for Crunchy Egg Salad was originally published in April 2010, but was updated with new photos in 2019).
This recipe ended up being totally different from where it started. But for me, that was a great thing! I originally really wanted to make a curried egg salad... But it wasn't until I actually got in the kitchen and started cooking that I realized I didn't actually have any curry powder. Oops. And then I realized that all my granny smith apples were gone. Oops again. It's hard to make curried egg salad without curry or green apples, but I was still majorly craving some sort of egg salad. So, I opened up my fridge to figure out what I did have. Luckily, eggs were one of those things! I also had a lot of crunch in my kitchen. You know, things like celery, red apples, and onions. So I decided to make an extra crunchy egg salad with a super flavorful mayo dressing. Guess what? It was even better than curried egg salad!
I'm of the mind that if you're making it yourself, there's really no such thing as a bad egg salad (I'm not going to get into storebought egg salad...). I know some people don't like mayonnaise, but I actually think most people who don't like it really just don't like the idea of mayonnaise. If you add it to egg salad and don't think about it, I feel like you'd love it! Also, mayonnaise is basically just eggs so it's really just like adding more eggs to your eggs. Take my word for it!
EGG SALAD WITH LOTS OF CRUNCH RECIPE
Obviously, when you're making egg salad, you'll need to start by boiling your eggs. If you've never done this before or just want some fabulous advice, read this little tutorial from Simply Recipes. These days, I use my Instant Pot ALL the time for hard boiling. I use the 4-3-4 method (cook for 4 minutes, release pressure for 3 minutes, and then sit in an ice bath for 4 minutes). I recommend peeling your eggs right when they come out of the ice bath as this always seems to be easiest!And then chop them up for the egg salad.
Since this is egg salad with lots of crunch, there are also a few veggies you'll need to chop up. You can feel free to adjust any of these ingredients that you want. Add more of one thing, leave another thing out, or add something completely new. This egg salad is your oyster. Or something like that. I used red onion, celery, and red apple. Crunch, crunch, crunch.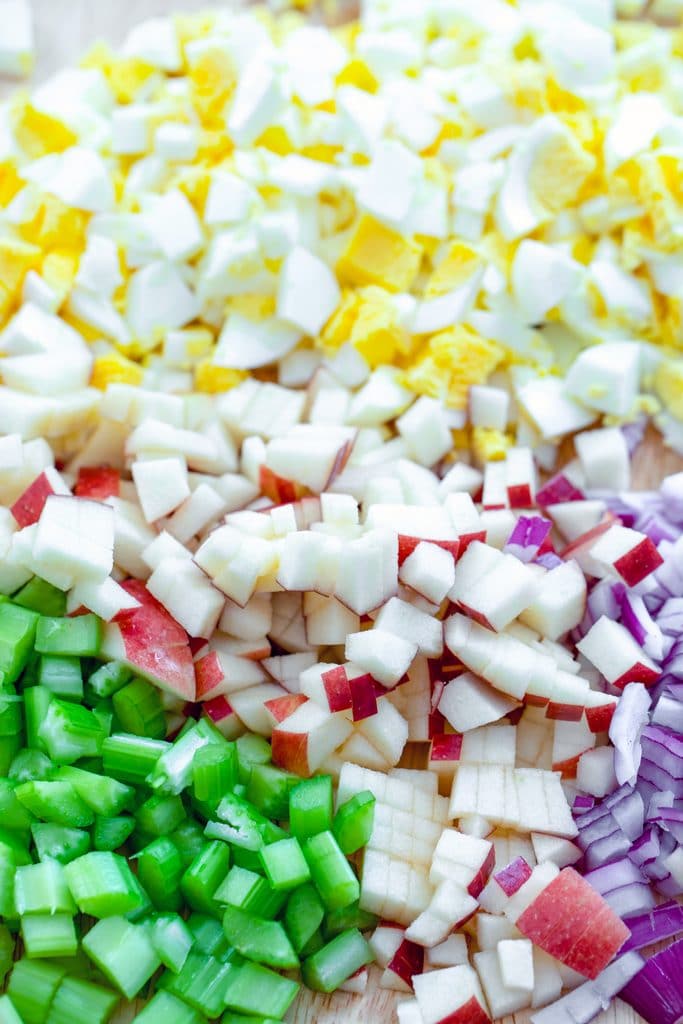 And instead of just mayonnaise, I made a nice little mayo dressing that also included mustard, lime juice, cayenne, paprika, garlic powder, and salt. Mix this up in a large bowl so you can just add all your other ingredients to it without dirtying any more dishes.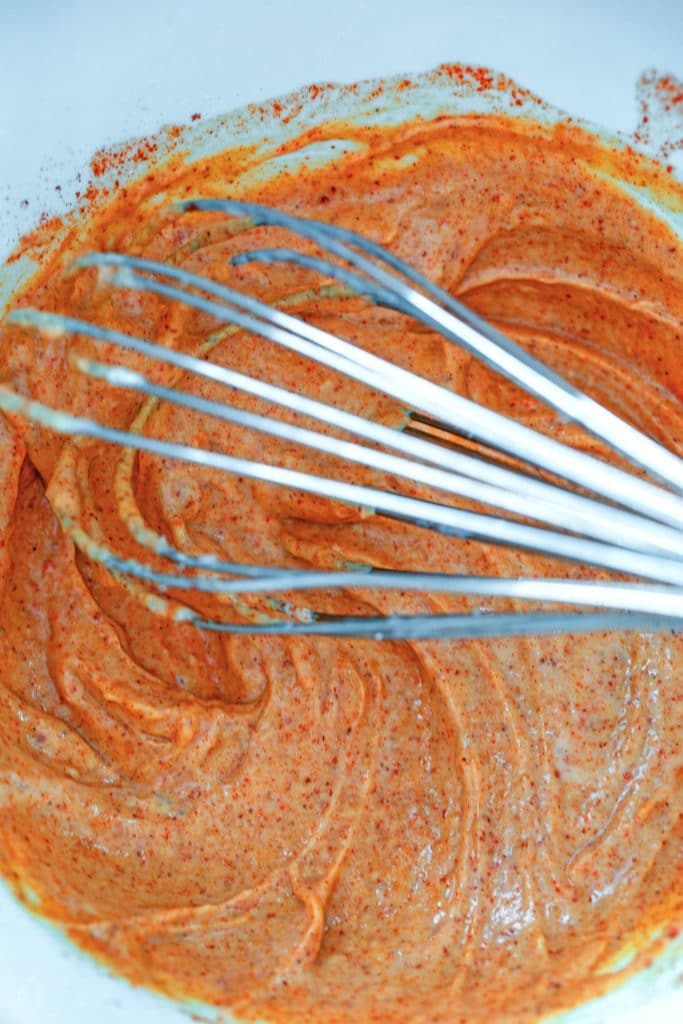 Add your crunch and the chopped egg to the bow and mix everything up to coat in the mayo.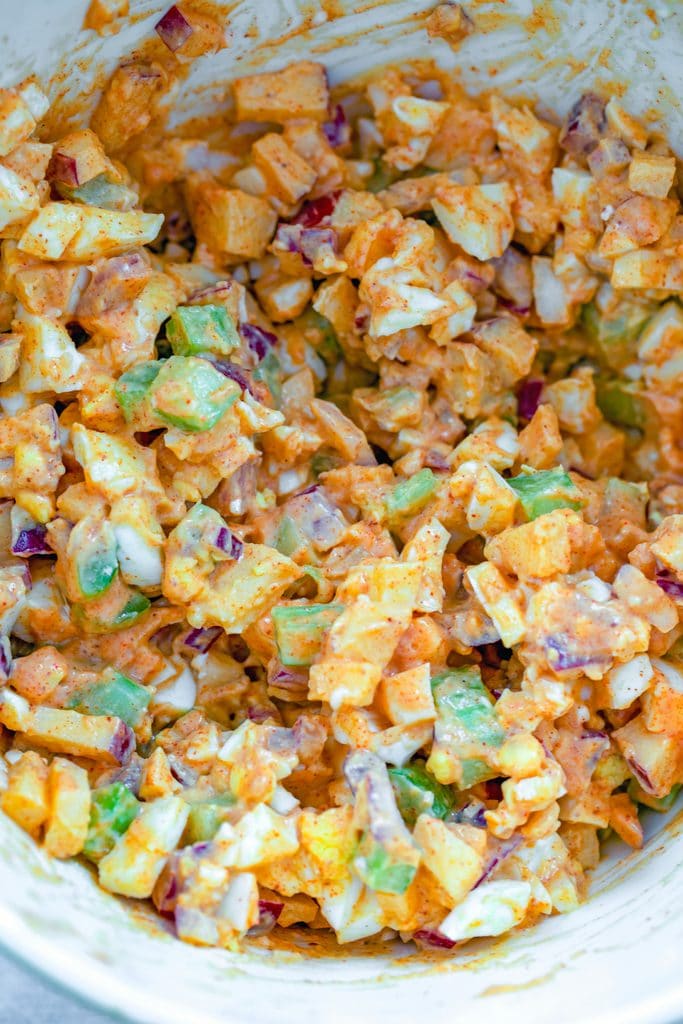 And if you're like me, you'll have a hard time not eating this egg salad directly out of the bowl with a spoon. I did this for a while before I decided to make sandwiches with the egg salad. I toasted some nice whole wheat bread, put some lettuce on it, and topped with the egg salad. Actually, I ran out of lettuce so I used Swiss chard instead. Brilliant idea if I do say so myself.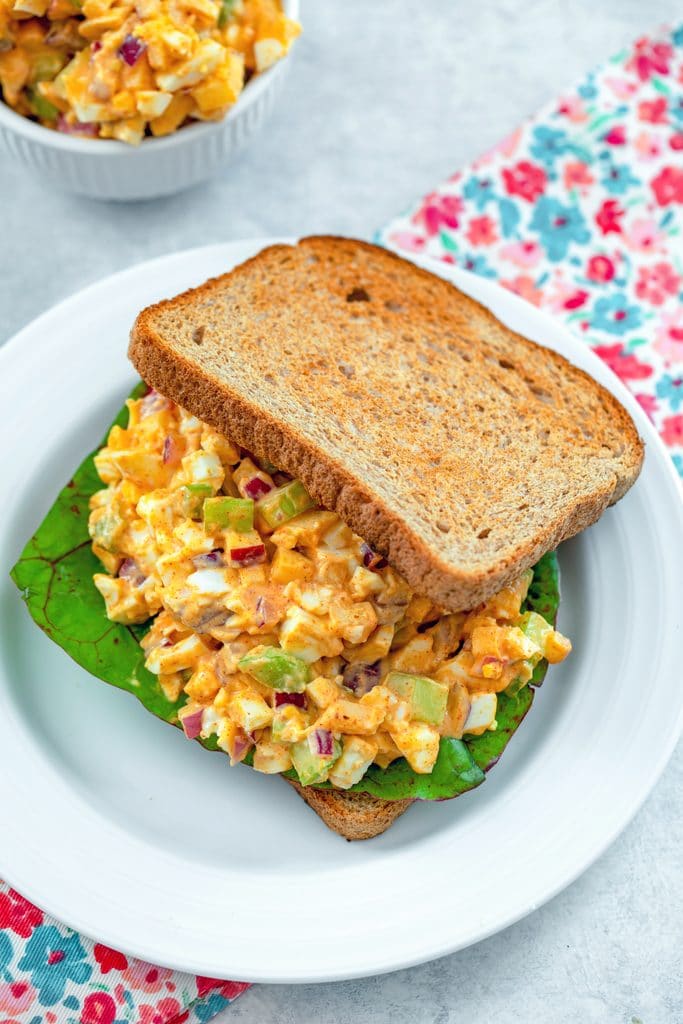 This would have also been wonderful as an open-faced sandwich. Or even just wrapped up in some swiss chard. Don't get me wrong, I love my carbs, but sometimes too much bread takes away from the flavor of the star of the sandwich.
And in this case, that crunchy egg salad really should be the star. Come on, look at all that crunch! It makes every bite of this egg salad a little bit more interesting. Plus, I love the little bit of sweetness that the apple brings. Sweetness is unexpected in egg salad, but in my opinion, it's very much welcome!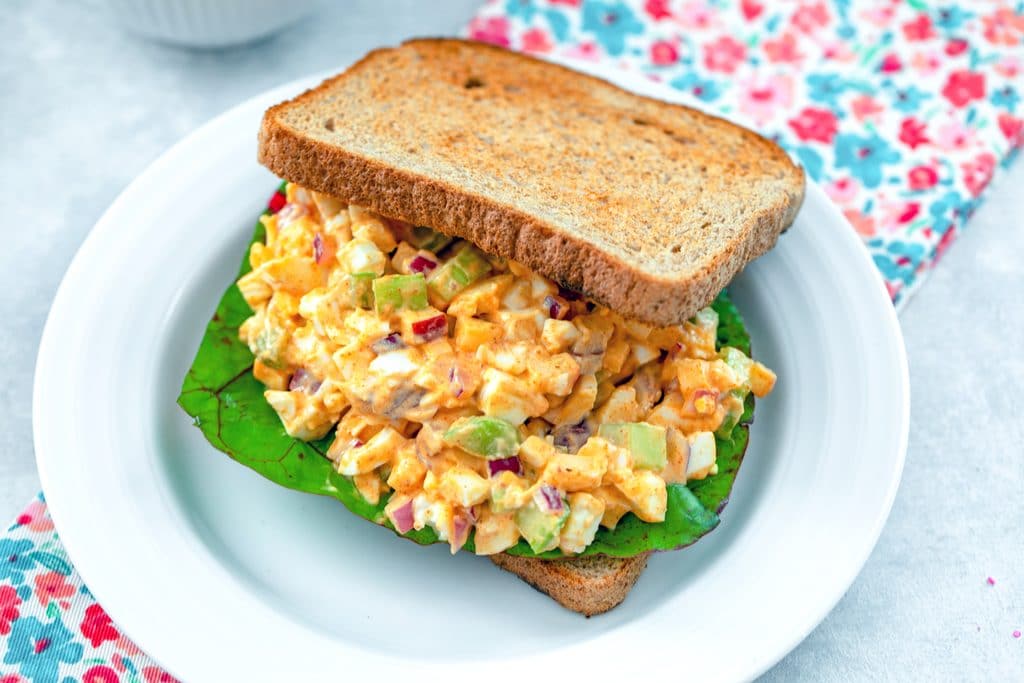 Now that I've written "crunch" so many times in this post, I'm starting to realize what a strange, but also oddly satisfying word it is. I guess it's kind of onomatopoeia? What a fun word.
I think egg salad is one of my favorite things ever and I just don't understand how people don't like it... Or eggs in general. My life would be oh so very sad without eggs. Though I hard boil eggs quite often, I actually don't eat egg salad too much... But when I do, it's such an awesome little treat and I savor every moment of it.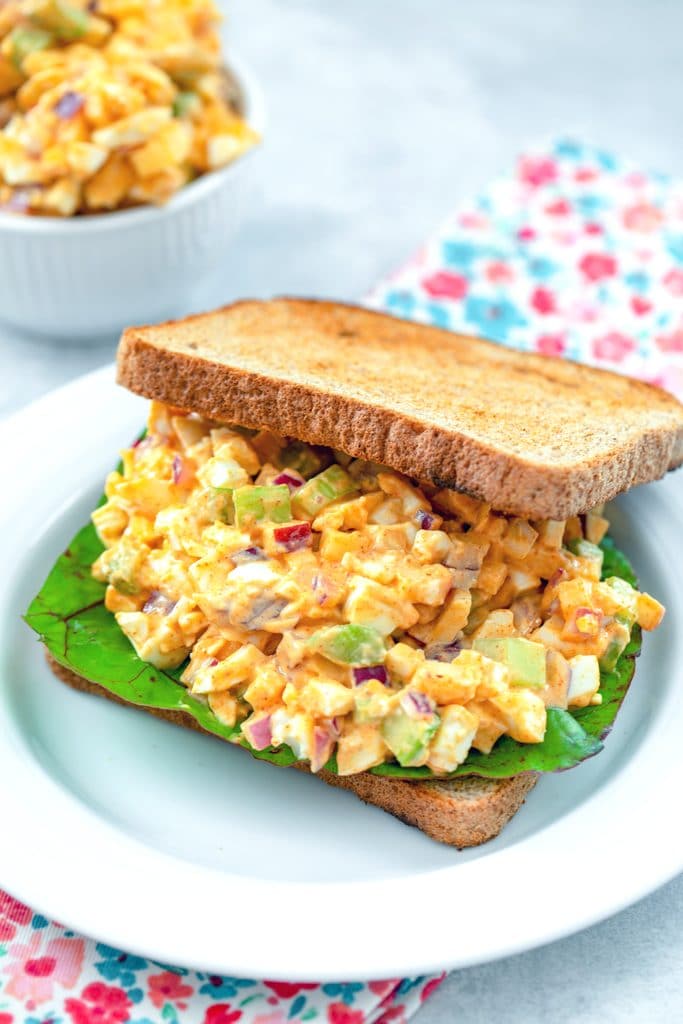 And while I'm always happy with a traditional egg salad made with a little bit of mayo and maybe some celery. I am now all about this egg salad with lots of crunch.
What are your favorite add-ins for egg salad?
If you like this egg salad recipe, check out my Avocado Egg Salad with Spinach and my Mini Egg Salad Donut Sandwiches. I also can't wait to actually make this Curry Egg Salad from Pinch of Yum at some point soon!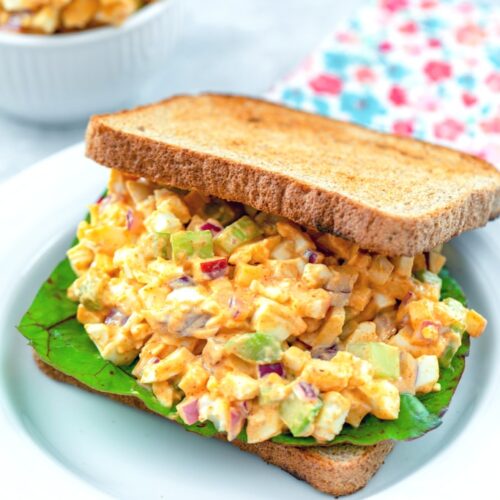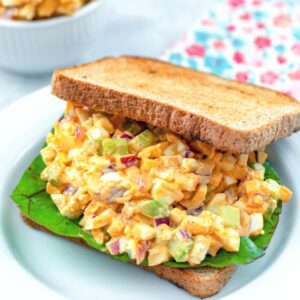 Egg Salad with Lots of Crunch
Egg salad is always a good idea, but to make it a little more exciting, add a flavorful may dressing, celery, apple, and red onion... It's Egg Salad with Lots of Crunch!
Print
Pin
Rate
Ingredients
⅓

cup

mayonnaise

(you can use light if you want)

1

Tbsp

dijon mustard

1

Tbsp

lime juice

1

tsp

cayenne

1

tsp

paprika

1

tsp

garlic powder

1

tsp

salt

6

large hard-boiled eggs,

peeled and chopped

1

chopped apple

⅓

cup

chopped red onion

½

cup

chopped celery
Instructions
In a large bowl,

mix together mayonnaise, mustard, lime juice, cayenne, paprika, garlic powder, and salt.

Add chopped egg, apple, onion, and celery to the bowl and toss all ingredients to coat in mayo.

Eat egg salad as is or make a sandwich with it!
Share a Photo of Your Finished Recipe!
Mention @wearenotmartha and share a photo if you've made the recipe!