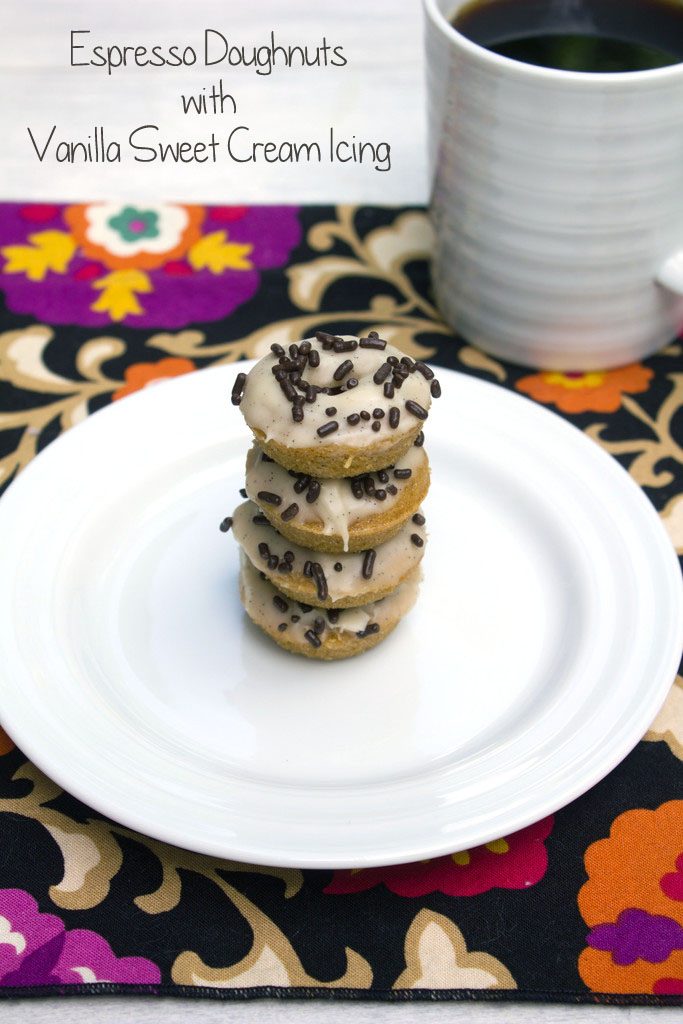 I really do think my life would be exponentially better if it involved daily doughnuts. Not like I couldn't experiment quite easily if I wanted to just to prove my theory correct. I walk by about 30 different Dunkin' Donuts on my way to work every morning and every morning I briefly consider picking up a doughnut. The coffee shop I normally go to has Doughnut Thursdays and those beauties are even more difficult to resist. I keep thinking that if doughnuts would actually make my life better, does a little bit of weight gain really matter? Why not just go for it? Why has society made me fear the almighty doughnut so darn much? Why is fried cake in the morning so looked down upon?
I already know that a daily cup of coffee (or four) makes my morning exponentially better. And I don't usually feel guilty over that one. Even when I purchase coffee out, I don't feel bad because I know it's a little dose of happiness that gets me through my work day. But that doughnut and coffee combination? I can't even imagine how much more productive and cheery I'd be first thing in the morning. I mean, until the sugar crash, but whatever.
Lucky for me, I know how to make what I think is a pretty scrumptious baked doughnut. And I have a mini doughnut pan. No, mini baked doughnuts are not exactly the same as those massive fried delights, but I swear, every time I make baked doughnuts, I figure out how to make them even more delicious. These Espresso Doughnuts with Vanilla Cream Icing are now considered my most successful baked doughnuts yet.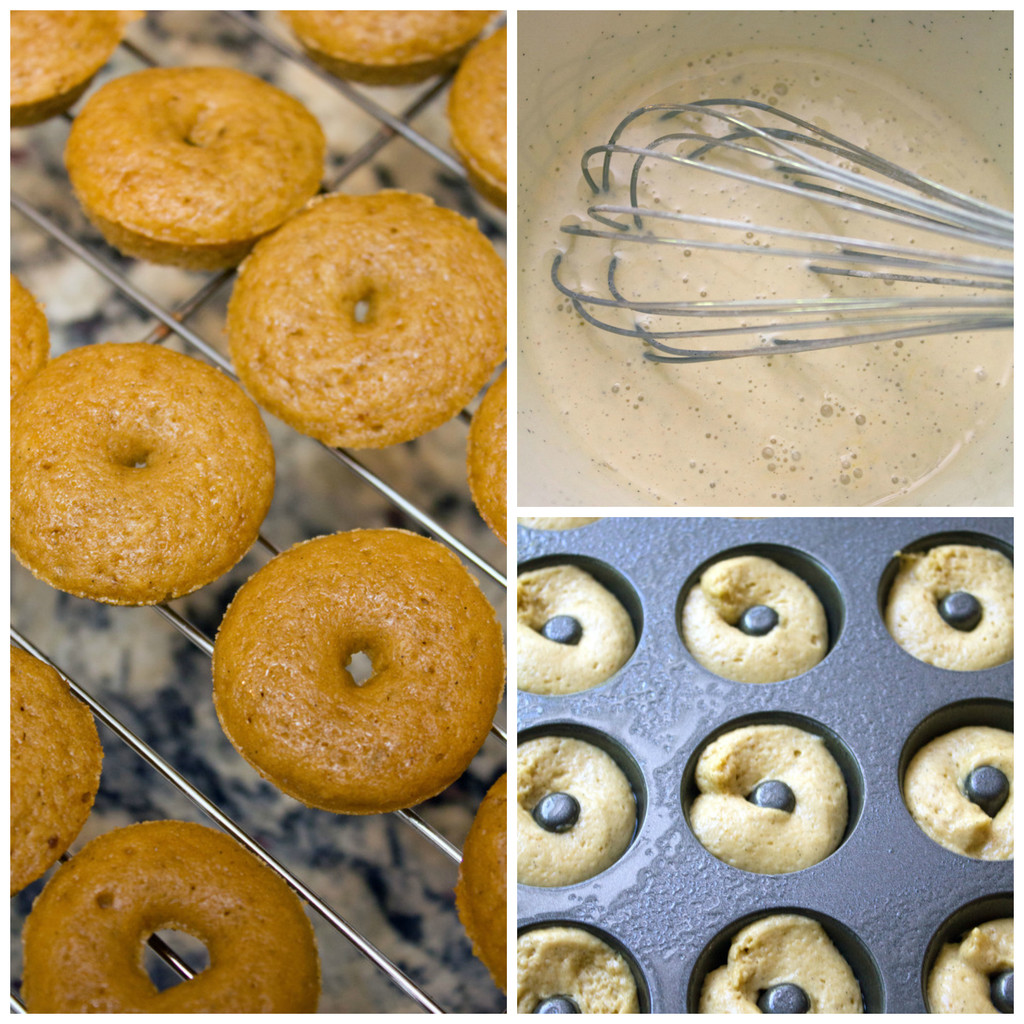 The recipe is based off my love for one of Starbucks new drinks- Vanilla Sweet Cream Cold Brew. I've been absolutely in love with this drink to the point where I find myself thinking about it at random times throughout the day. And seriously craving it.The closest Starbucks is a 12 minute walk from my office, which is jussst far enough that I only make it there on occasion. Also, they're expensive.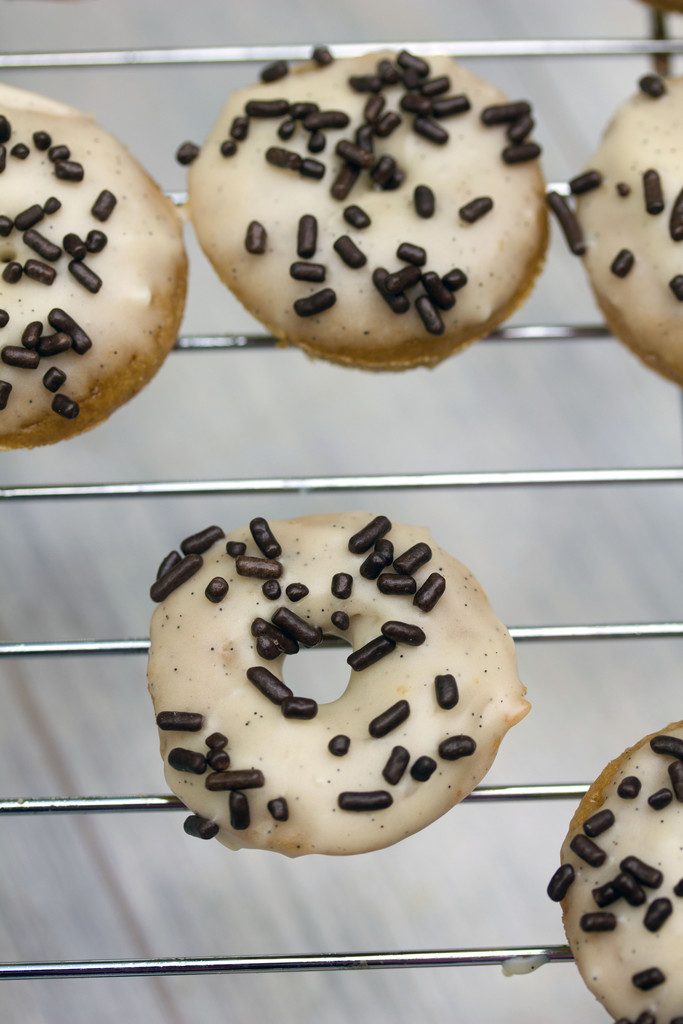 But I pretty much think about the Vanilla Sweet Cream Cold Brew every single day. Which I guess is really why I created these doughnuts. If I can't pay $6 for a coffee on the regular, I'll stuff my face full of doughnuts instead. Doughnuts that actually taste quite a bit like the coffee drink.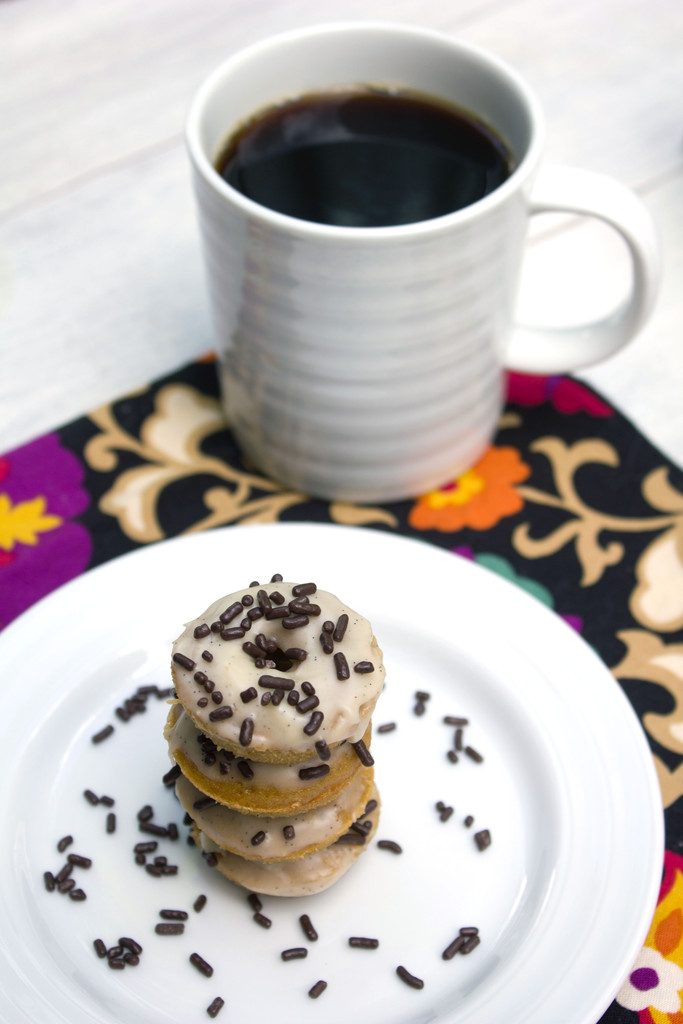 But really, they do. Some people think baked doughnuts are boring and if you're one of those people, I'm begging you to pop a couple of these in your mouth. The doughnuts were baked with plenty of espresso powder. And the icing is a strongly flavored vanilla with a dash of creaminess. Exactly what I want to wake up to in the morning.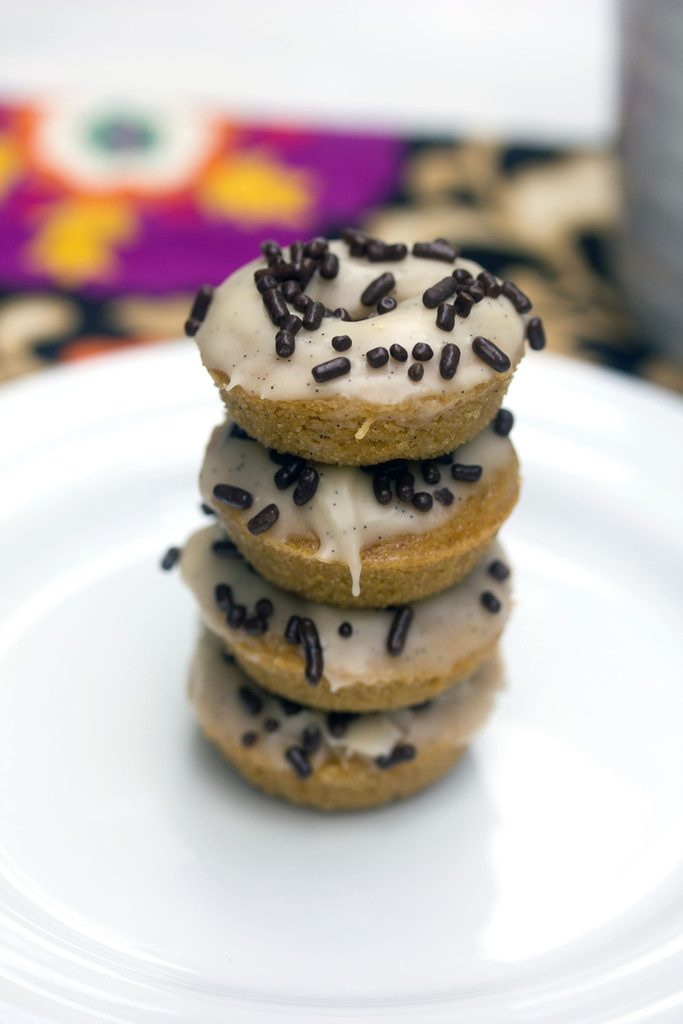 I ate my mini doughnuts with a cup of hot coffee because I am the type of person that must have hot coffee in the morning or else my day just doesn't feel right. I don't care if it's 90 degrees out there; I want a cup of hot coffee while I review the 9302 emails that hit my inbox overnight. Then when afternoon hits, I'm all about the iced coffee and other drinks to give me that second jolt. No, I am not addicted to caffeine at all. Why do you ask?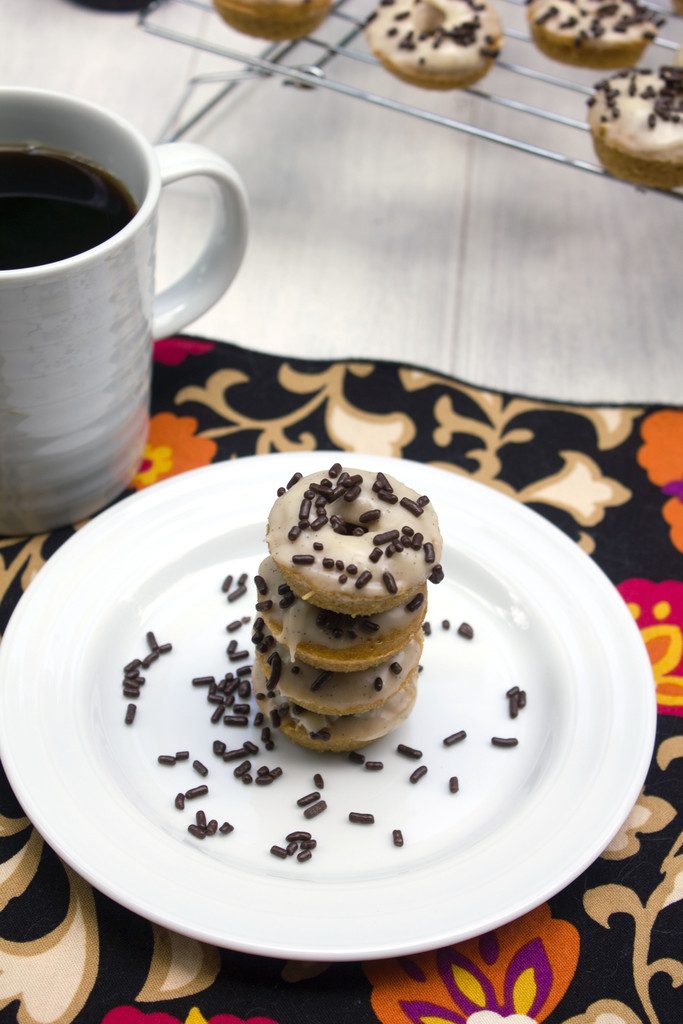 I've actually been reading quite a bit lately that dessert in the morning is likely better for you than dessert after dinner. It makes sense in that you indulge in that sugar early on and then have the rest of the day to burn it off instead of curling up on the couch and crashing. I almost convinced myself this was a brilliant plan... Until I realized that I'd be eating both a morning doughnut and an evening bowl of ice cream. To be honest, sometimes the only thing that gets me through the day is the thought of cookies, cake, and ice cream.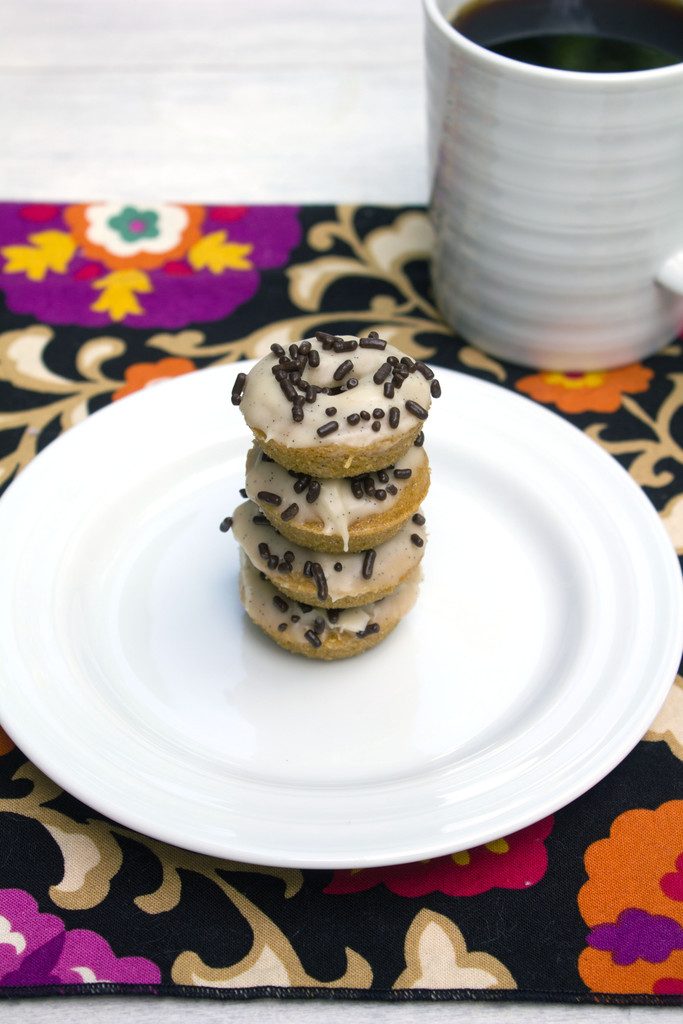 Then again, doughnuts would probably do a stellar job of getting me out of bed in the morning (yes, I just said stellar). So, I'm back to my original problem.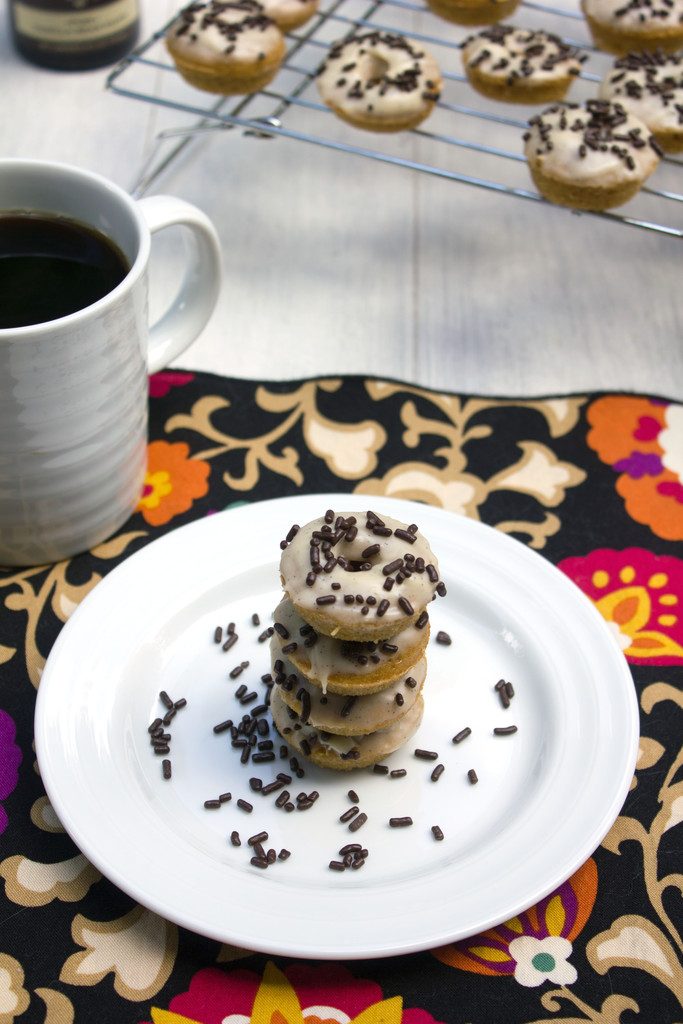 If a doughnut a day would make my life exponentially better, why don't I just go for it? Oh wait, I know why... Because these minis are too delicious to eat just one of and before I knew it, I'd devour a whole dozen with my morning coffee.
📖 Recipe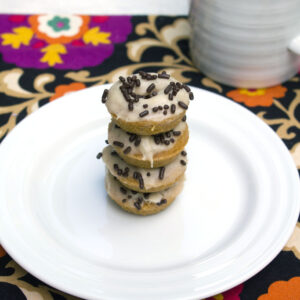 Espresso Doughnuts with Vanilla Sweet Cream Icing
There's nothing better than waking up to coffee and doughnuts! These Espresso Doughnuts with Vanilla Sweet Cream Icing are based off Starbucks' Vanilla Sweet Cream Cold Brew coffee and are sure to make your mornings a little sweeter.
Print
Pin
Rate
Ingredients
Espresso Doughnuts:
1

cup

all-purpose flour

1

Tbsp

espresso powder

1

tsp

baking powder

1

tsp

salt

½

cup

granulated sugar

1

large egg

½

cup

milk

2

Tbsp

butter

melted

1

Tbsp

vanilla extract paste

Vanilla sweet cream icing

see recipe below

Chocolate sprinkles
Vanilla Sweet Cream Icing:
1

cup

powdered sugar

3-4

Tbsp

heavy cream

1

Tbsp

vanilla paste
Instructions
Espresso Doughnuts:
Pre-heat oven to 350 degrees and spray mini doughnut pan with cooking spray.

Whisk together flour, espresso powder, baking powder, salt, and granulated sugar in a large bowl.

In a separate small bowl, whisk egg with milk, melted butter, and vanilla paste.

Gently stir wet ingredients into dry ingredients taking care not to over-mix.

Fill cavities of doughnut pan about ¾ of the way with batter.

Bake at 350 degrees for about 7-8 minutes, until doughnuts are cooked through and light and springy to the touch.

Let cool in pan for a couple minutes before removing to wire rack to cool completely.

Once cool, dip doughnuts in vanilla sweet cream icing and top with chocolate sprinkles.
Vanilla Sweet Cream Icing:
In a small mixing bowl, whisk together powdered sugar, 3 Tbsp heavy cream, and vanilla paste. If icing is too thick, whisk in another Tbsp of heavy cream.
Share a Photo of Your Finished Recipe!
Mention @wearenotmartha and share a photo if you've made the recipe!