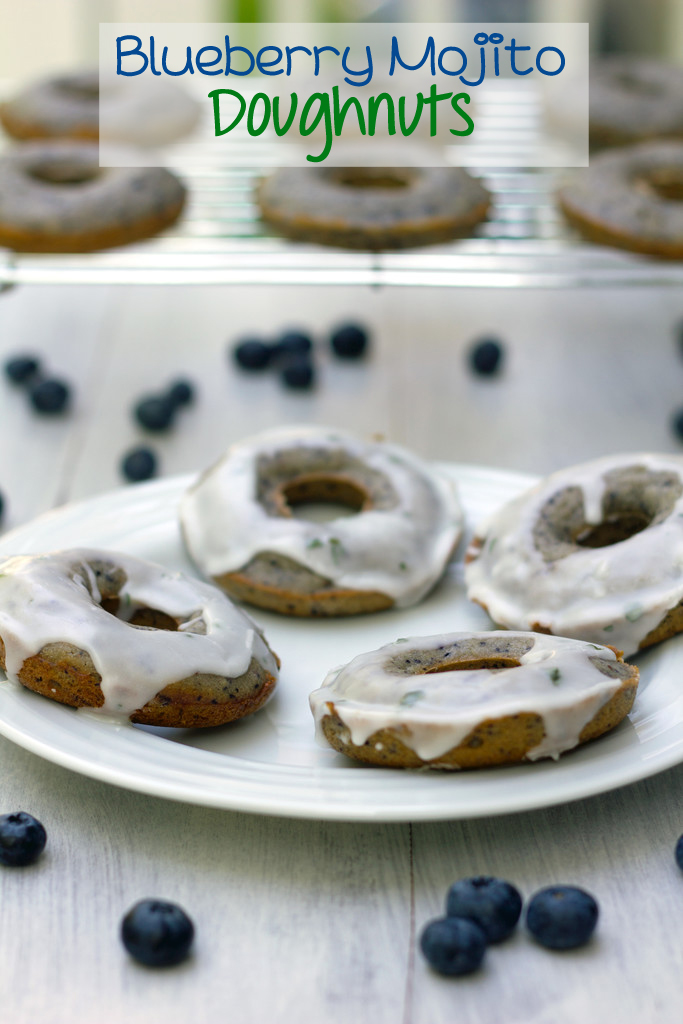 Sometimes I think about how much more sleep I could get if I didn't have to spend any time "getting ready." You know, taking a shower, deciding what to wear, fixing my hair, makeup, etc. Why can't I be the kind of person who just rolls out of bed, jumps in the car, and goes along my merry way? In some ways I actually like my morning routine because it gives me time to wake up and think about what I need to do for the day, but it also means less sleep. And I always prefer more sleep to thinking about the bazillion things I need to do that day. Since I moved and now have to go to work at the same time as Chris (read: EARLY), my sleep schedule is a serious mess. I wake up at 5:00 a.m. and generally only get 5 hours of sleep since I don't know how to go to sleep before midnight. It's bad.
In an effort to get a few extra winks, I've learned the most amazing thing… I don't actually have to wash my hair every morning. In fact, I don't have to wash my hair every other day; I can go 3-4 days without washing my hair. Is that gross? I would care except that my hair dresser says my hair is a million times healthier than it was a few months ago. And not washing and drying it every morning saves me so much time. Guys, I used to not leave the house without washing my hair and now I prefer to leave without washing it. At first it was tough, but now the less I wash, the less I need to. It's a miracle.
Anyway, despite having to wake up for work earlier, I love having a house because I can spend weekends in my pajamas without even brushing my hair… And I can still go outside for some fresh air in the privacy of my backyard. Ideally, I'll be outside with a platter of doughnuts in my coffee… Or if it's later in the day, a cocktail. Or in the most ideal world, doughnuts inspired by cocktails, like these Blueberry Mojito Doughnuts.
I'm not sure what it says about me that I posted a burger inspired by a Bloody Mary the other day and doughnuts inspired by a mojito today. And will probably post a cocktail recipe on Friday. But I hope it's something good. If not, oh well. I'll just be sitting on my deck with my unwashed hair, yoga pants, and slippers eating doughnuts. And that's just fine with me.
Blueberry Mojito Doughnuts (makes about 12):
Print this recipe!
1 C fresh blueberries
10 fresh mint leaves, chopped
8 T butter
3/4 C sugar
2 eggs
2 C flour
2 1/2 t baking powder
1/4 t of salt
1/2 C whole milk
1 1/2 t vanilla extract
1 batch Lime Mint Icing (see recipe below)
(pre-heat oven to 350 degrees)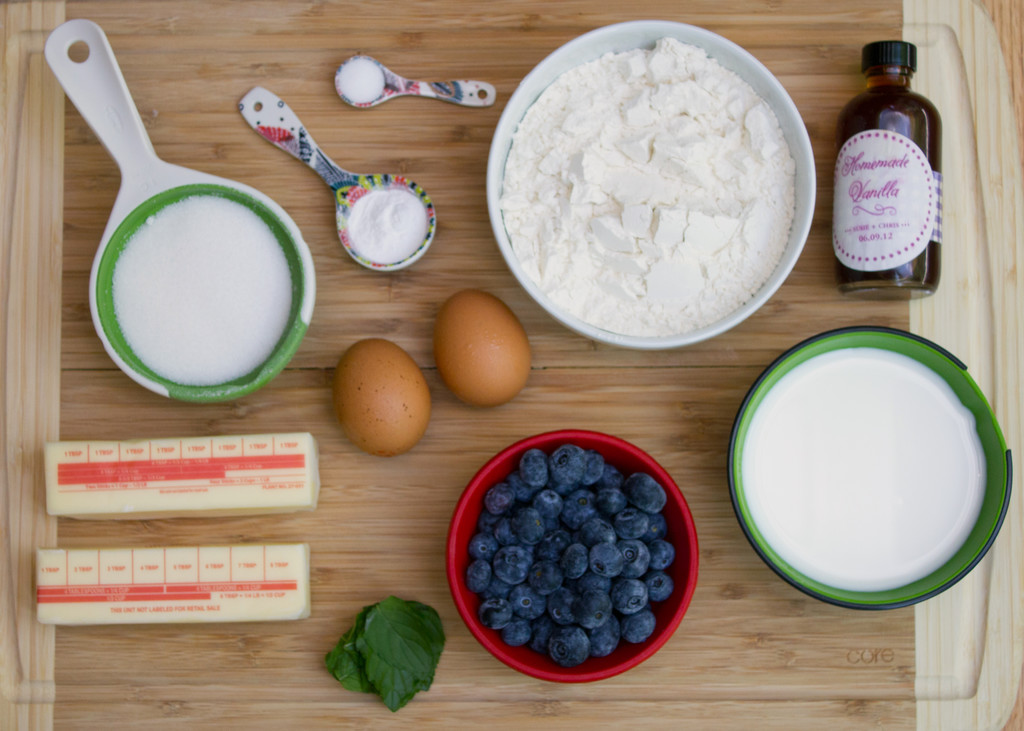 Put blueberries, mint leaves, and 1 T sugar in a blender.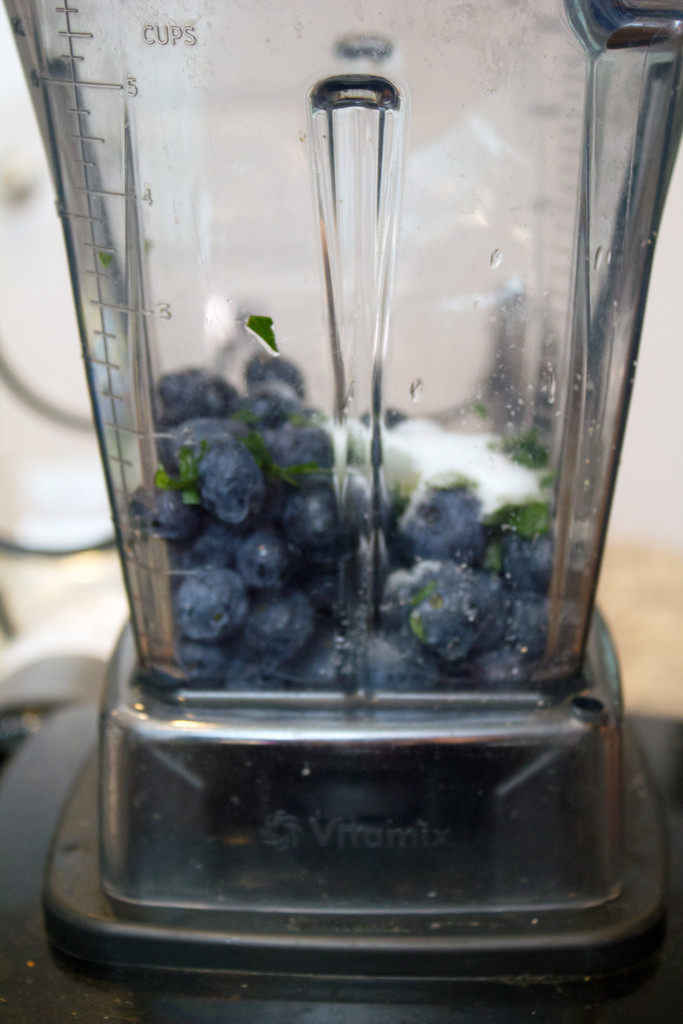 Blend until puréed. Set aside.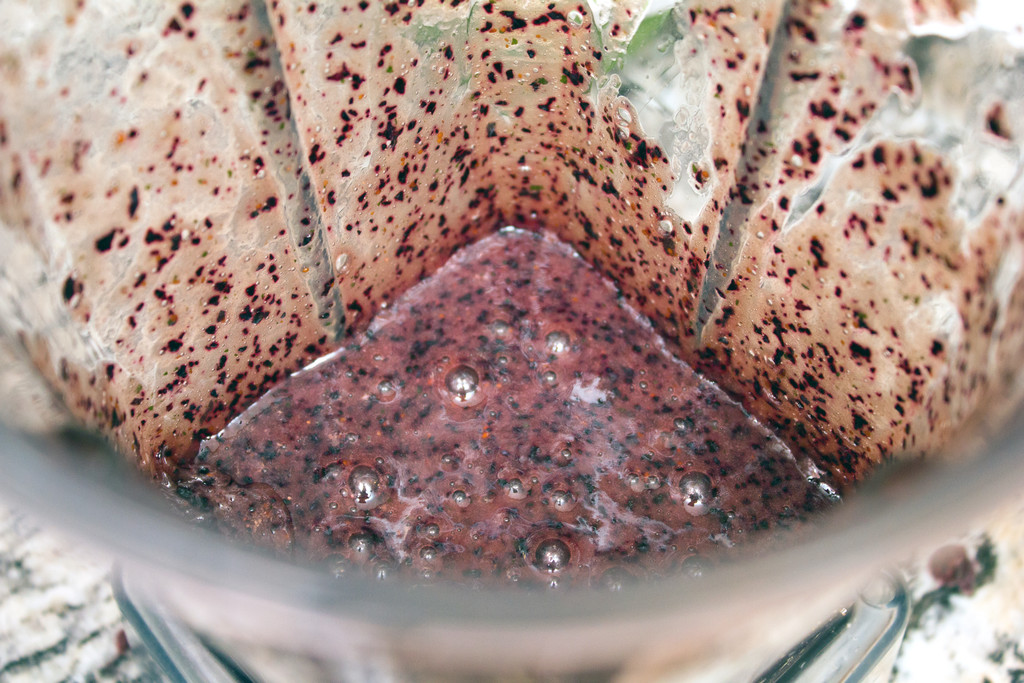 Whisk together flour, baking powder, and salt in a medium bowl. Set aside.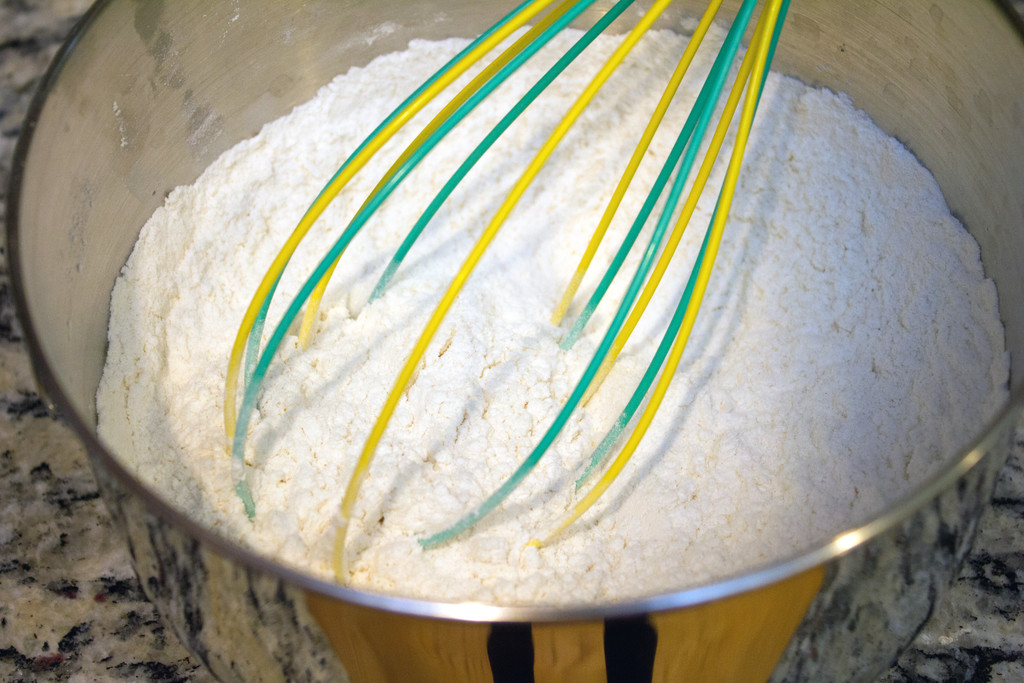 In the bowl of a stand mixer, beat together the butter and remaining sugar until light and fluffy. Add the eggs and mix to combine.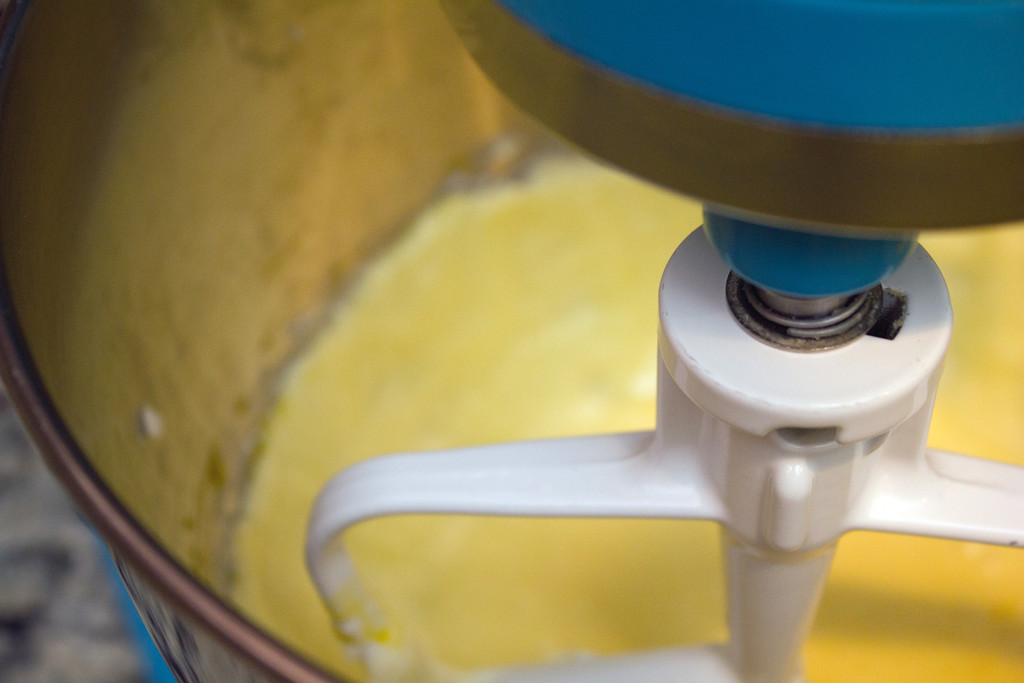 Gently stir the flout mixture into the butter and sugar mixture, alternating with milk. Then stir in the blueberry purée and vanilla extract. Take care not to overmix.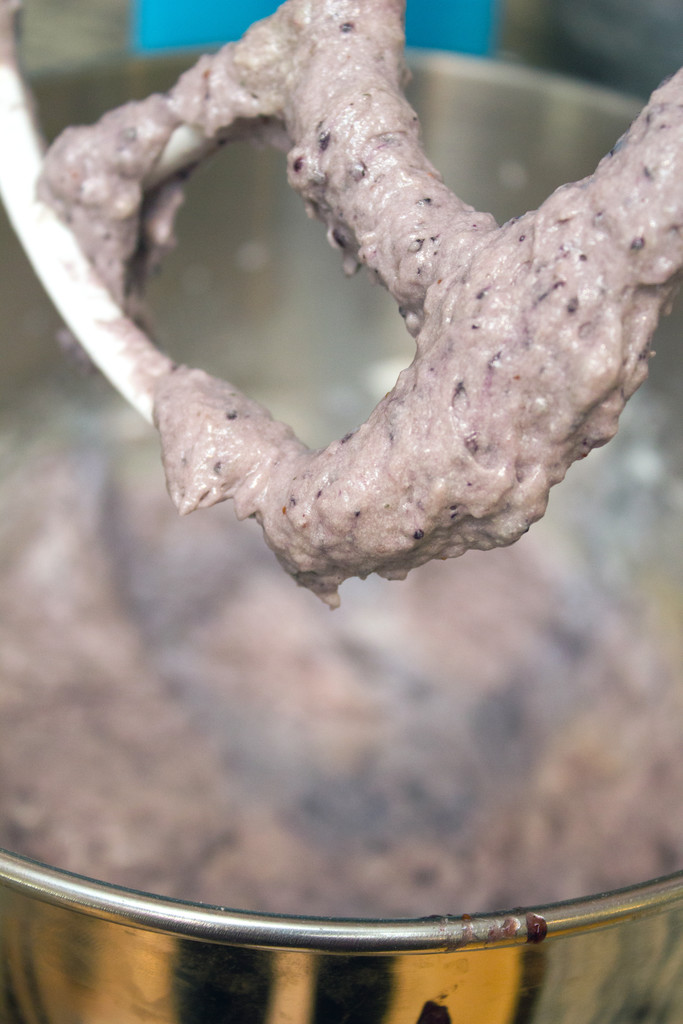 Evenly distribute batter in a lightly oiled doughnut pan, filling tin almost all the way.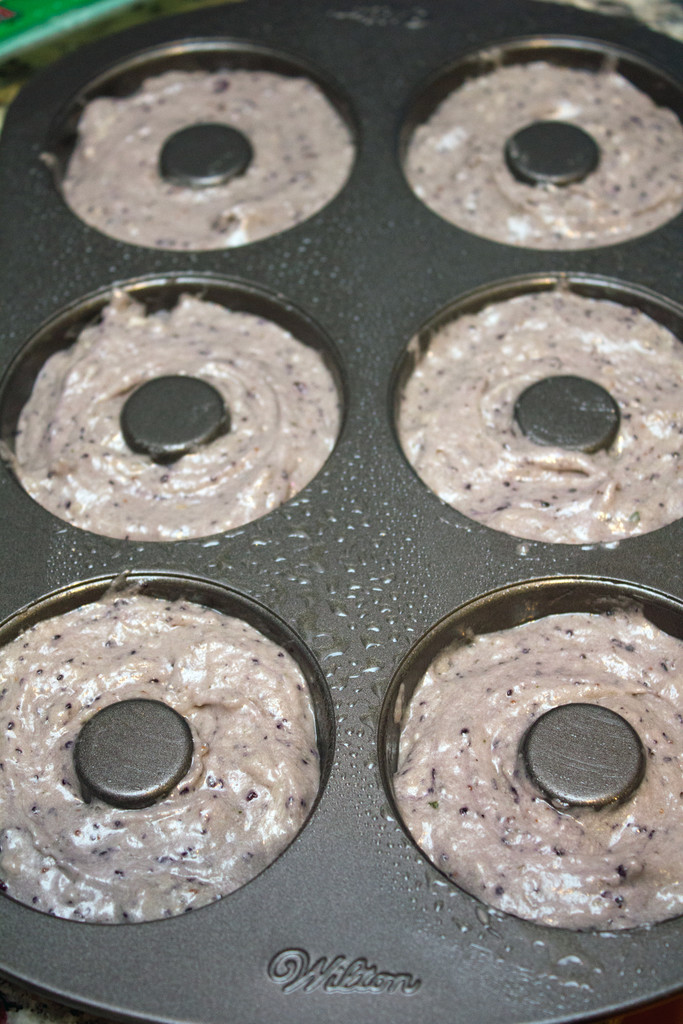 Bake at 350 degrees for 14-16 minutes, until doughnuts are light and springy and just beginning to turn golden at edges.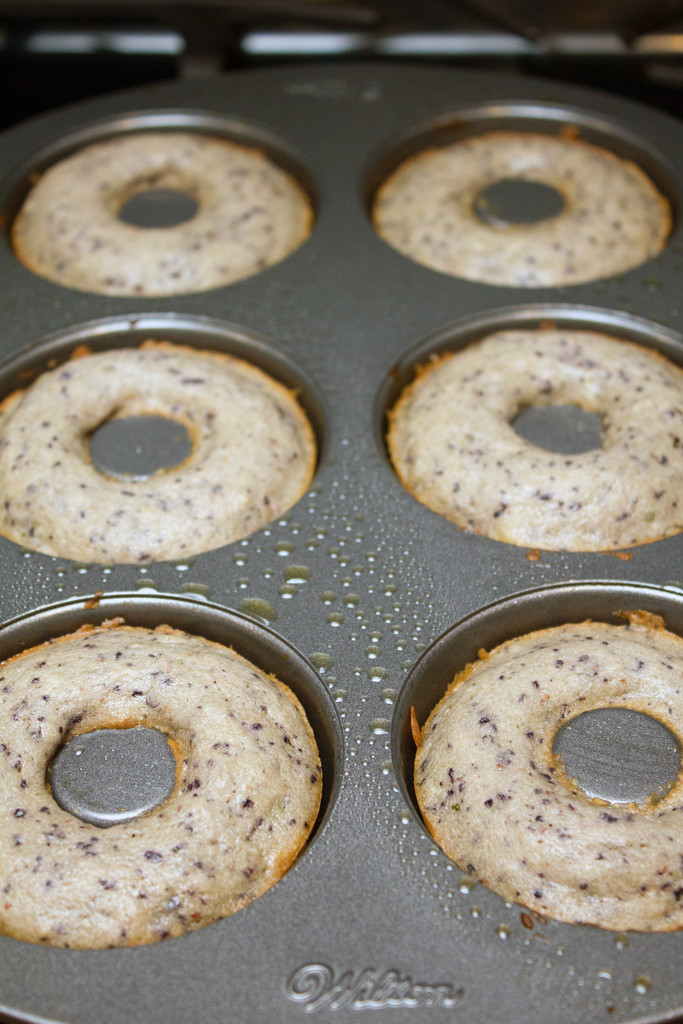 Remove from oven and let rest in doughnut pan for a few minutes, before removing to a wire rack to cool completely.
Lime Mint Icing:
Print this recipe!
2 C confectioner sugar
1 t lime zest
2 T freshly squeezed lime juice
1 T milk
5 mint leaves, finely chopped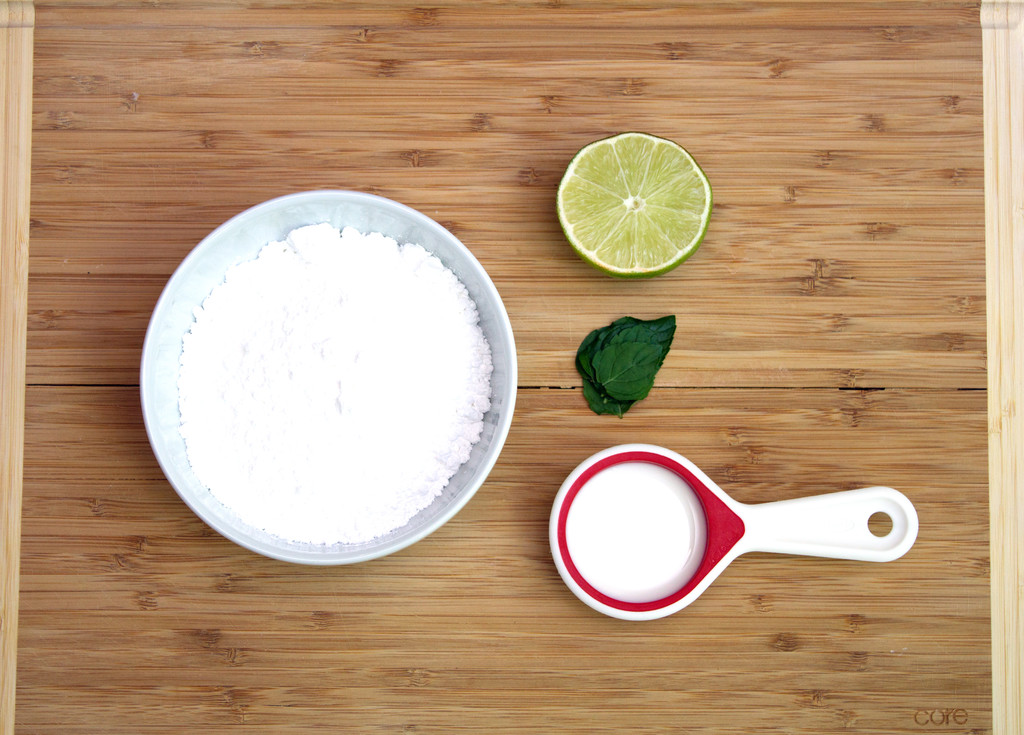 Whisk together all ingredients in a medium bowl.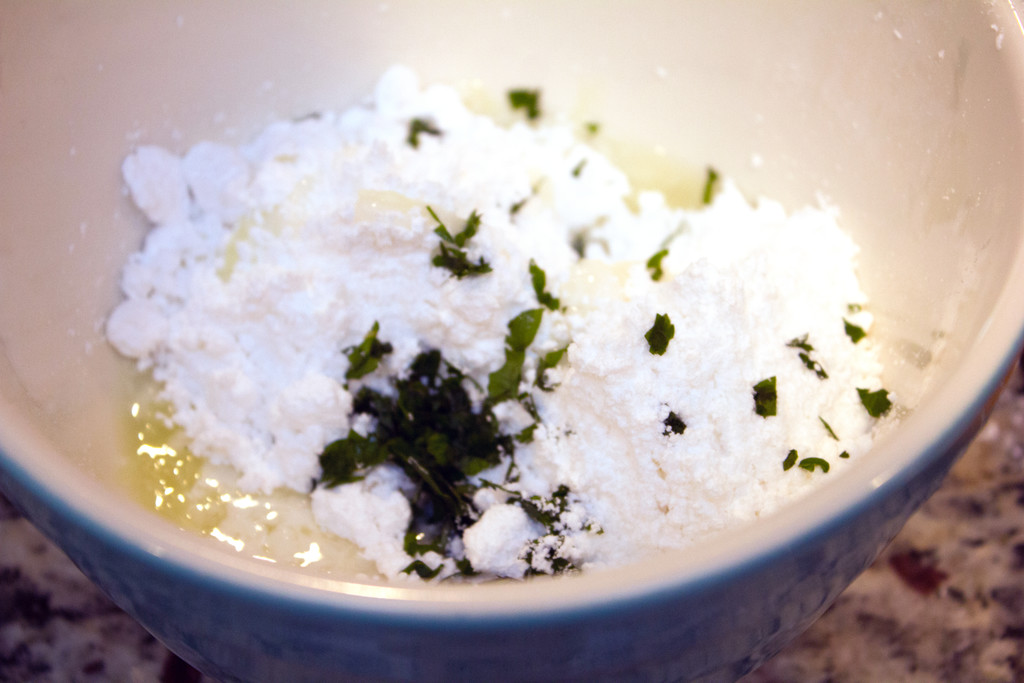 When doughnuts are completely cooled, drizzle lime mint icing over them. Allow the icing to cool and harden.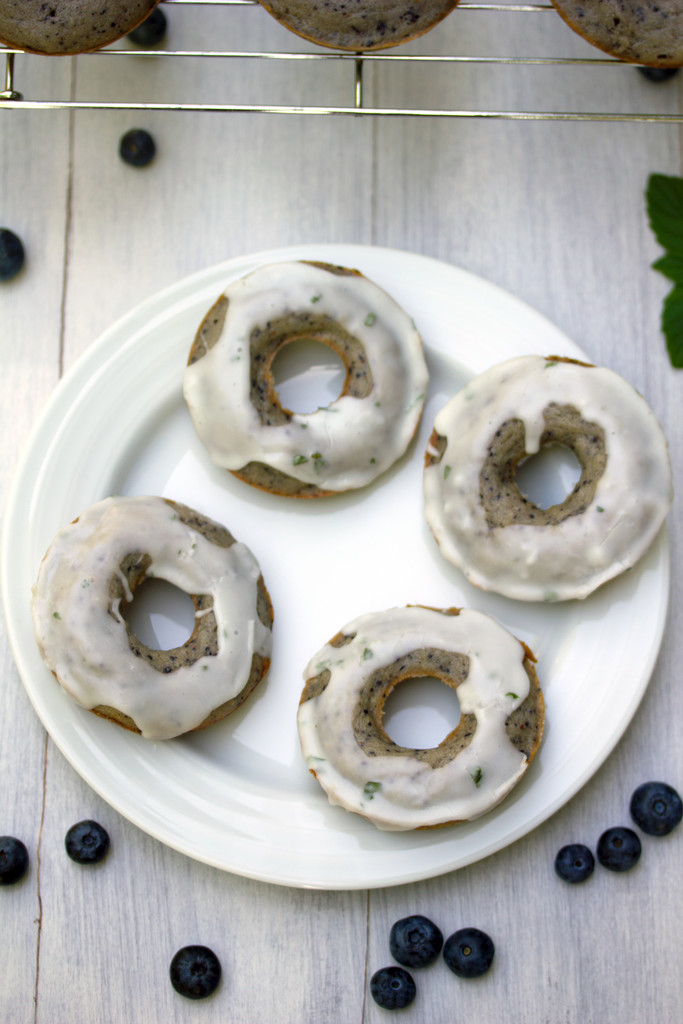 And… enjoy. Doughnuts and cocktails have to be two of my favorite things in the world (doughnuts and coffee are up there, too), so this is obviously a marriage made in my own little personal heaven.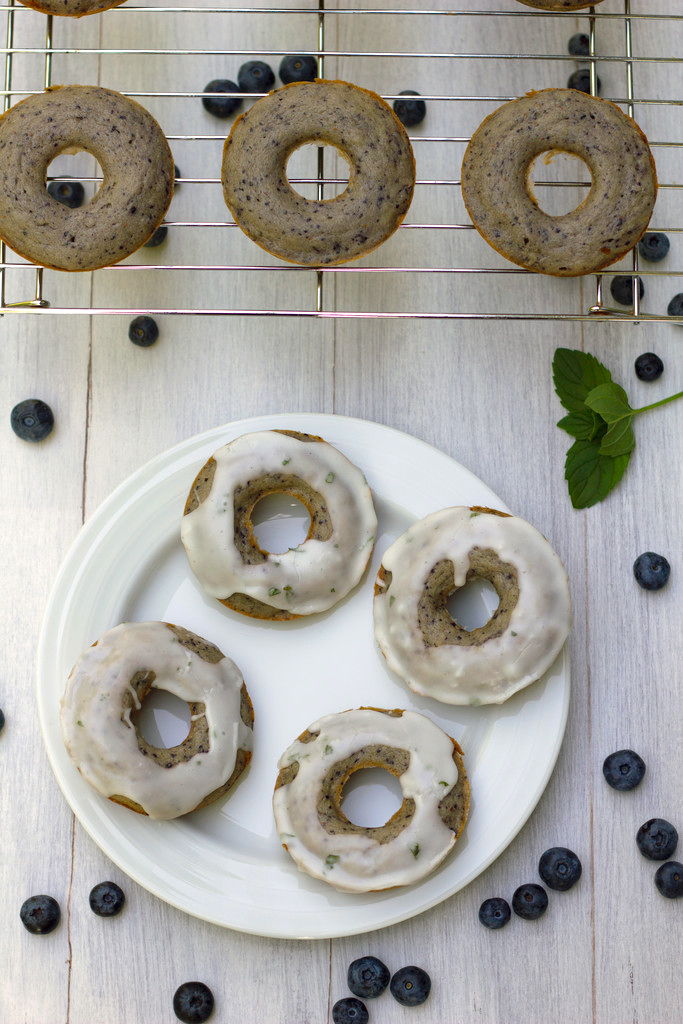 It also had me craving a real actual blueberry mojito. Why have I never made one before?? Now I'm wondering what it would be like to dunk these doughnuts into a mojito. Probably amazing, but also sinful in some way. Must. Practice. Restraint.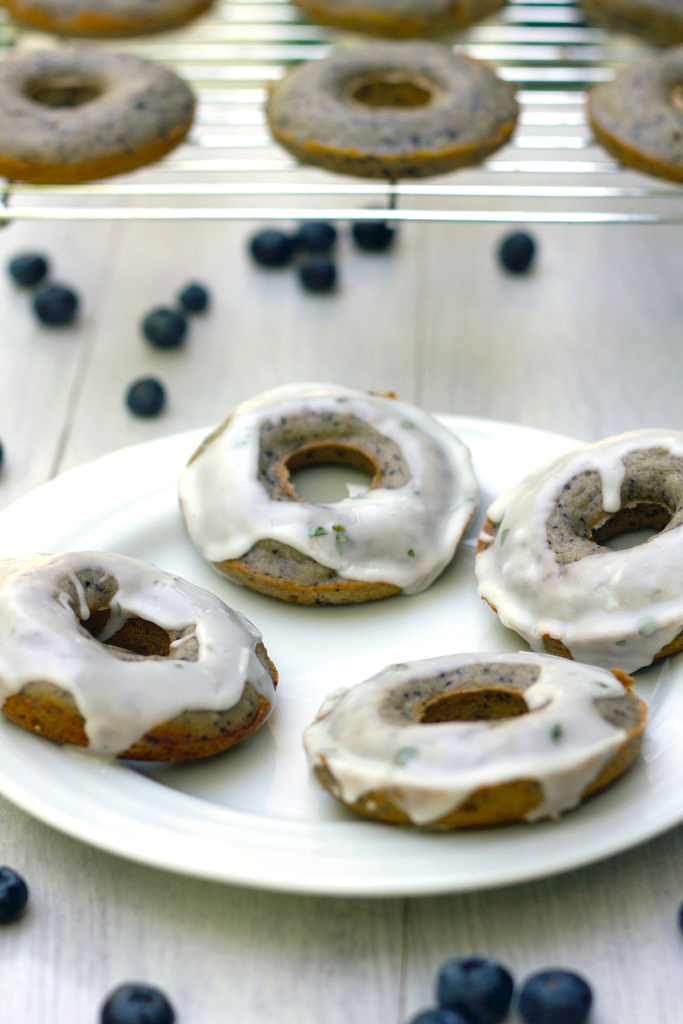 But ugh. Restraint is boring. And really, why bother practicing it on doughnuts?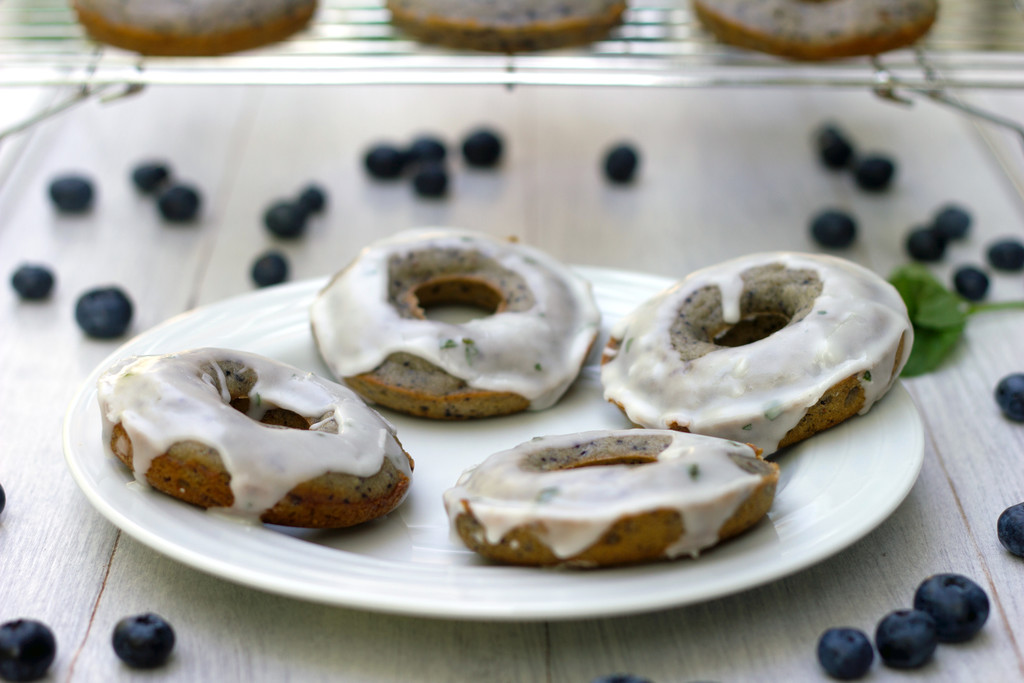 I say this all the time, but if you're going to bake a doughnut instead of frying it, you better be darn certain it's incredibly moist and fluffy. I think the blueberry purée helps achieve those goals here.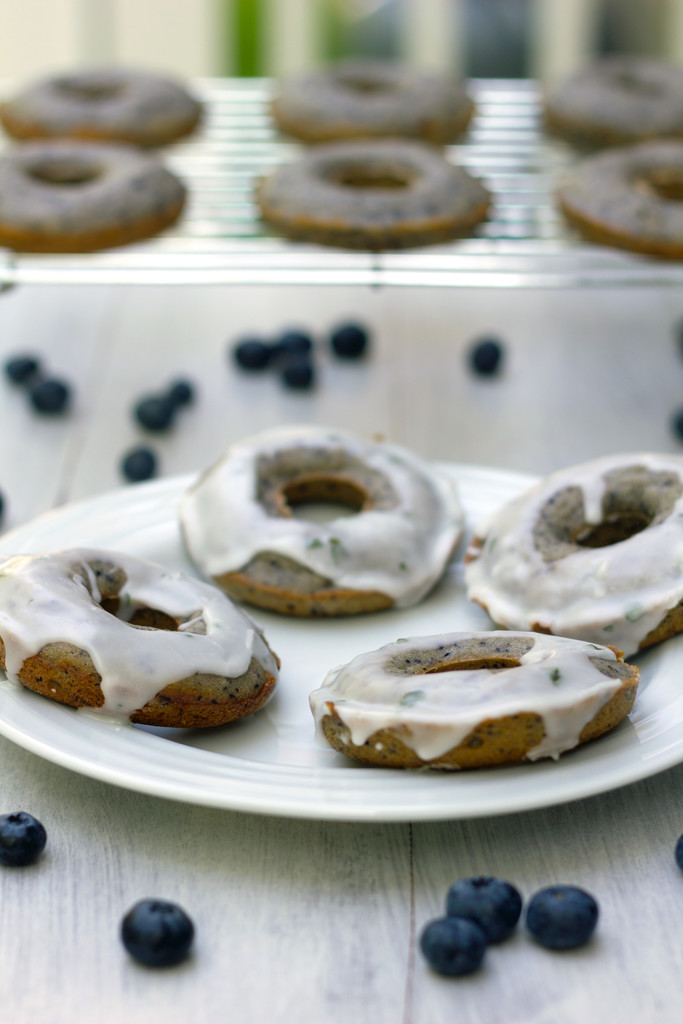 And the mint helps achieve the goal of awesome. OK, that sounded lame, but you know what I mean. What's a mojito without mint? Er, not a mojito. Duh. I didn't add any lime juice into the actual doughnuts, which is why I made certain to include a very healthy dose in the icing. It ended up being a really good idea as it made the doughnuts even more refreshing than they were icing-free.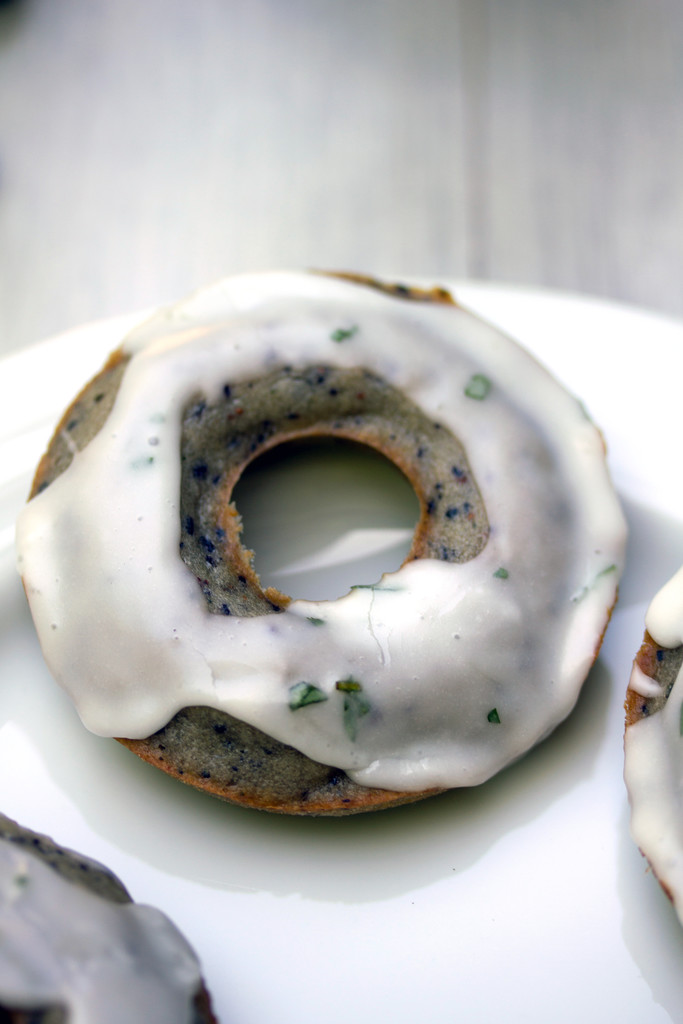 Sooo, is it a lazy Saturday morning yet? I just want to sit on my deck with unwashed hair eating some doughnuts and sipping on coffee. Can you blame me? Doughnuts and dirty hair… I kind of want that to be the name of my someday band. Also, thank goodness for dry shampoo. #amen.
Cocktail or doughnut… You can only have one. What do you choose?
[Sues]