These Blueberry Mojito Doughnuts take the classic flavors of a mojito and turn them into a cocktail-themed treat that's perfectly acceptable to enjoy with your morning coffee.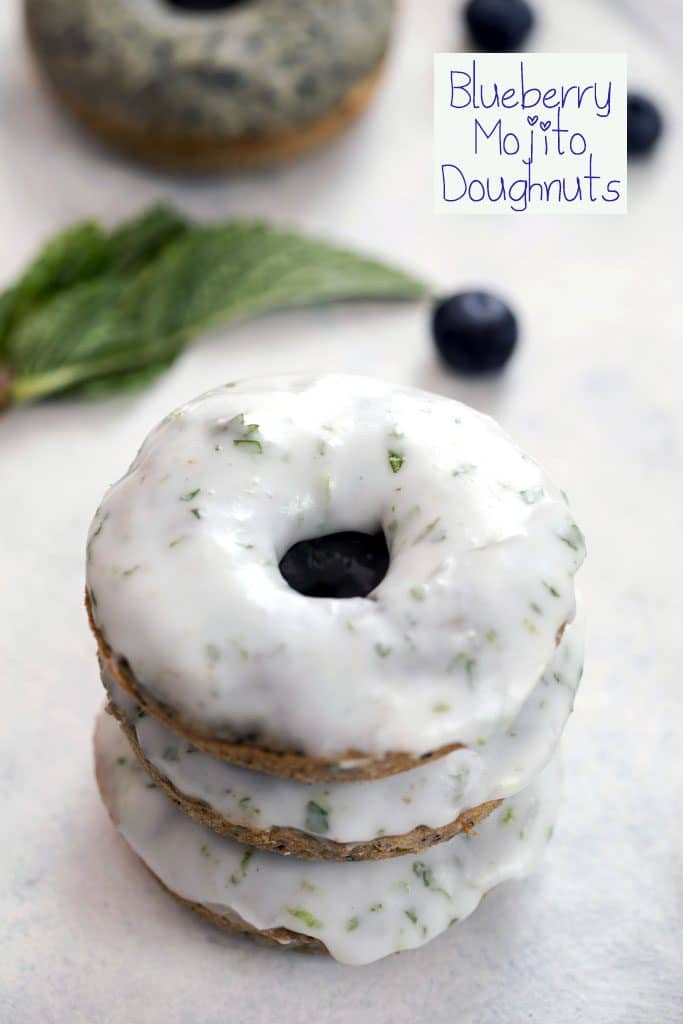 (This recipe for Blueberry Mojito Doughnuts was originally posted in August 2014, but the post has been updated with new photos and content.)
Do you know what the best part about working from home is? I don't have to get up at the crack of dawn to "get ready." I've never been one of those people who can get up in the morning, throw on clothes, and be out the door in 10 minutes. I need a good hour+ to get ready, in part because rushing in the morning is not something I can handle. I like to enjoy my cup of coffee and ease into the day and would rather set my alarm for 45 minutes earlier than wake up and have to run around like a crazy person. Now that I work from home, I still get up early and am out the door to take my husband to the train, but I don't have to do my hair (or even wash it... thanks, dry shampoo!) or put makeup on to do that. I still get "dressed" in the morning in that I change out of the clothes I slept in, though admittedly usually into yoga pants and a tee shirt (some people can only work well if they put on "real" clothes; I can only work well if I'm comfortable).
But other reasons I love working from home include having my dog by my side nonstop, afternoon walks and lunch dates, and just the fact that I can fully focus on my work with limited interruptions. Now that the weather is getting nice, I'm excited that I can actually enjoy the sunshine during the day instead of being stuck in an office all day. The only problem? A nice sunny summer day often has me craving a cocktail. And while I totally have the freedom to sit on my deck with a cocktail at 11:00 a.m.if I want (especially if I happen to be testing a cocktail recipe that day!), it's probably not a good habit to get used to. But cocktail flavored doughnuts? That's a habit I'm OK getting involved in.
I always say there's no bad time for a mojito, but I may have to refine that statement to include "except for with your morning coffee." Which is exactly why I developed these blueberry mojito doughnuts.
BLUEBERRY MOJITO DOUGHNUTS RECIPE
The batter for the blueberry doughnuts starts with a blueberry mint puree, which is literally just blueberries, chopped mint, and a little bit of granulated sugar.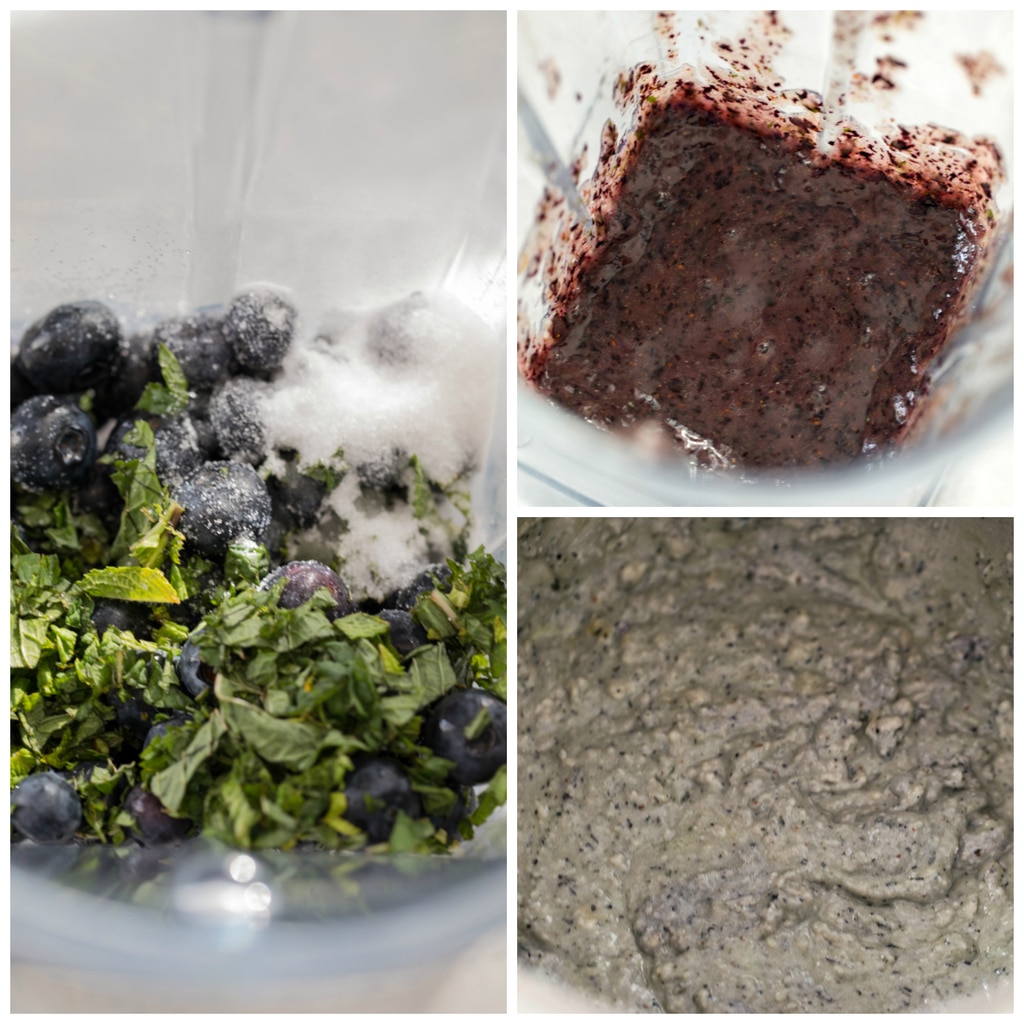 That puree gets folded into the doughnut batter, which turns it an ultra pretty blue.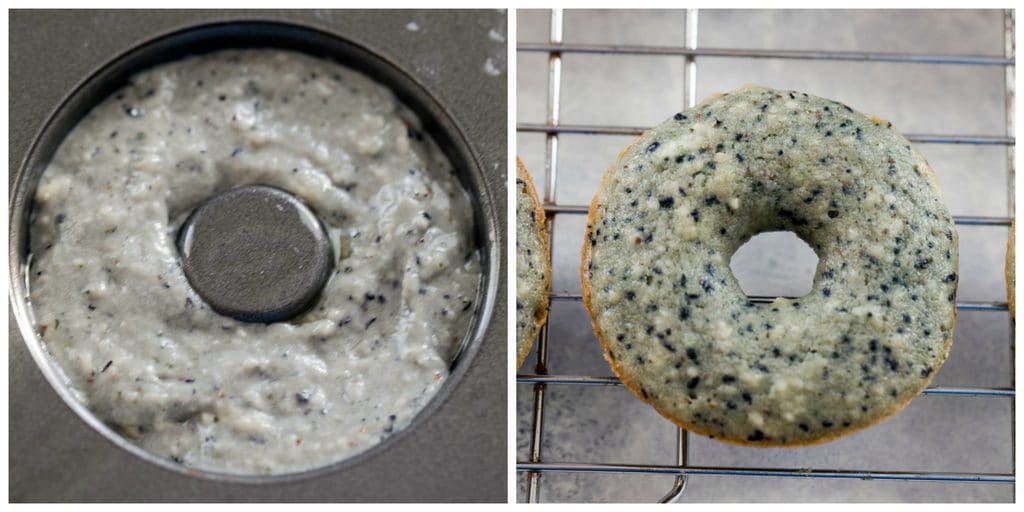 While the blueberry doughnuts are baking, you'll whip up a mint lime icing, which literally consists of putting all the ingredients in a bowl and whisking into a glaze. The icing turns these blueberry doughnuts into blueberry mojito doughnuts.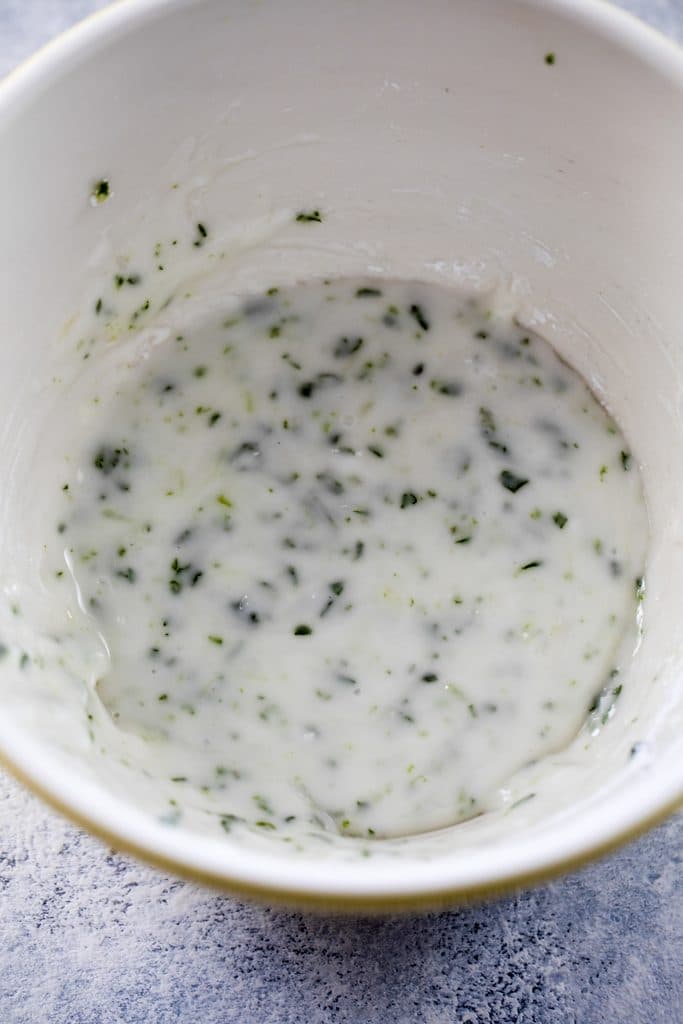 My favorite part is dunking the tops of the doughnuts into the glaze, lifting them up, and letting the glaze drizzle down. The first time I made these, I simply drizzled the glaze over the doughnuts, but this time I dunked them. Such a good decision. You want those doughnut tops to be completely coated in the mint lime icing!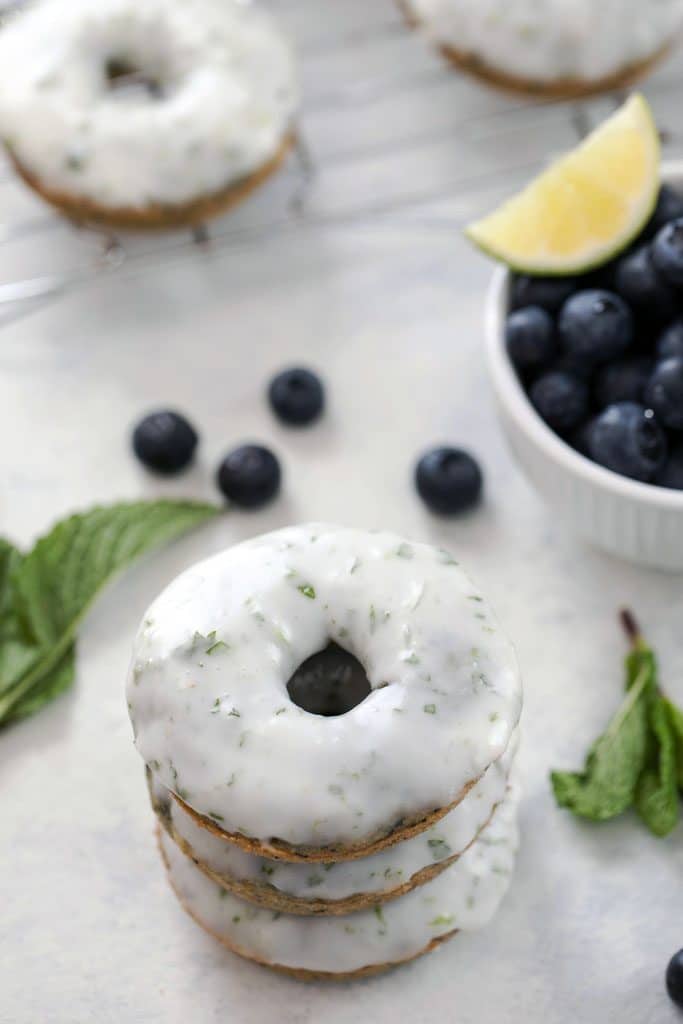 And... enjoy. Doughnuts and cocktails have to be two of my favorite things in the world (doughnuts and coffee are up there, too), so this is obviously a marriage made in my own little personal heaven.
Though I have to say, it also had me craving a real actual blueberry mojito. I have recipes for Frozen Blueberry Moscow Mules and Blueberry Vodka Lemonade, but no blueberry mojitos! Now I'm wondering what it would be like to dunk these doughnuts into a mojito. Help! Probably amazing, but also sinful in some way. Must. Practice. Restraint.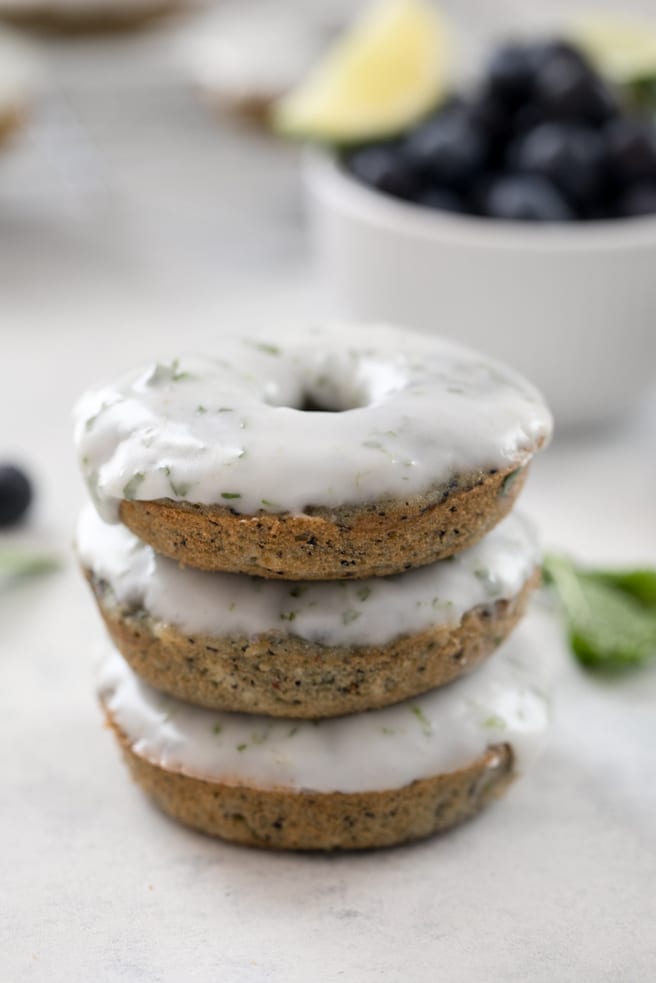 But ugh. Restraint is boring. And really, why bother practicing it on doughnuts? Especially blueberry mojito doughnuts. That sounds like a silly idea.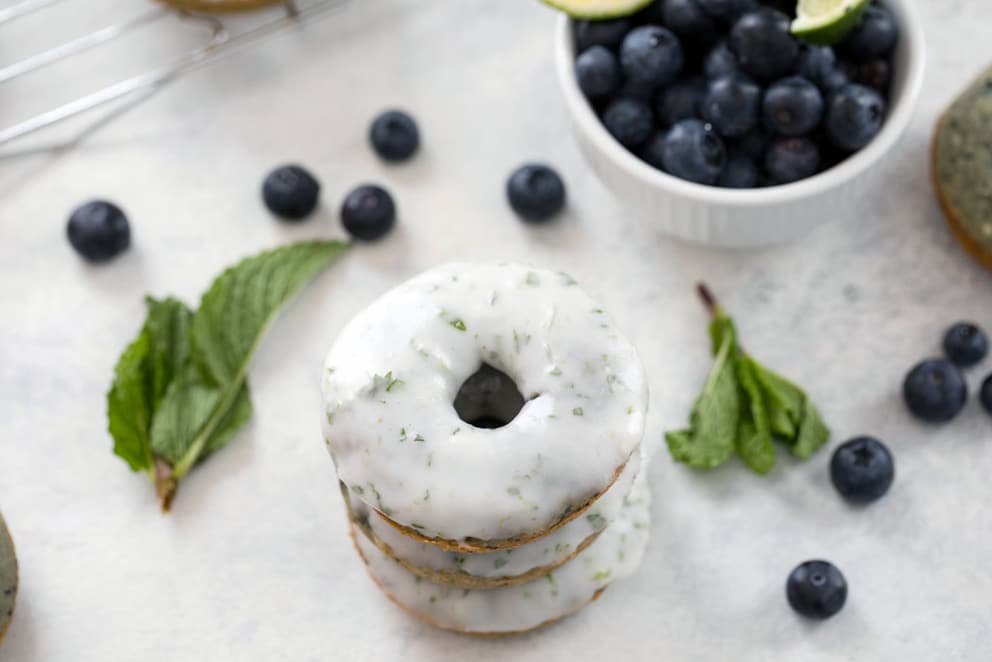 I say this all the time, but if you're going to bake a doughnut instead of frying it, you better be darn certain it's incredibly moist and fluffy. I think the blueberry purée really helps achieve those goals here. And the mint helps achieve the goal of awesome. OK, that sounded lame, but you know what I mean. What's a mojito without mint? Er, not a mojito. Duh. I didn't add any lime juice into the actual doughnuts, which is why I made certain to include a very healthy dose in the icing. It ended up being a really good idea as it made the mojito doughnuts even more refreshing than they were icing-free.
Note that there is no rum in these doughnuts, which I suppose is also a pretty necessary mojito ingredient. But think of these as virgin blueberry mojito doughnuts. And feel free to add a little rum to the icing if you're enjoying these in the afternoon (though seriously, no judgement from me!).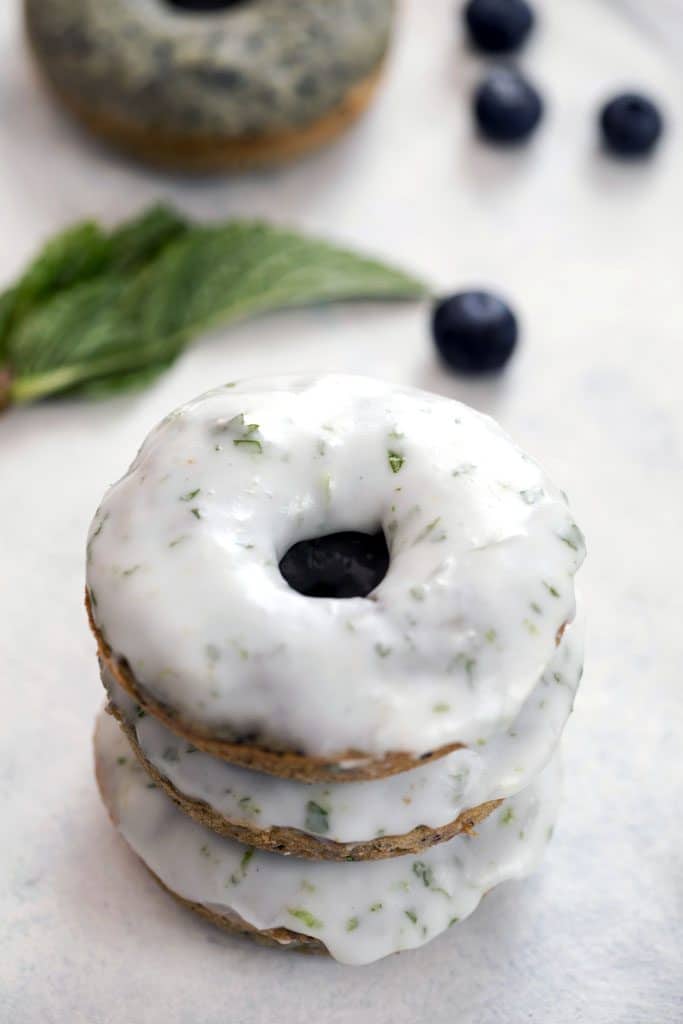 Sooo, if you stop by my house on a weekday in the summer, you may just find me sitting on my deck with my dog in yoga pants, no makeup and unwashed hair. But I'll totally offer you a cup of coffee and a blueberry mojito doughnut and we can sit and chat and enjoy the sun.
And I mean... Doughnuts and dirty hair? I kind of want that to be the name of my someday band. Also, thank goodness for dry shampoo. #amen.
Cocktail or doughnut... You can only have one. What do you choose?
If you love this cocktail-themed blueberry donut recipe, be sure to check out my Guinness Donuts or my Sweet Tea Vodka Cupcakes. I also can't wait to try these Mudslide Doughnuts from Goodie Godmother!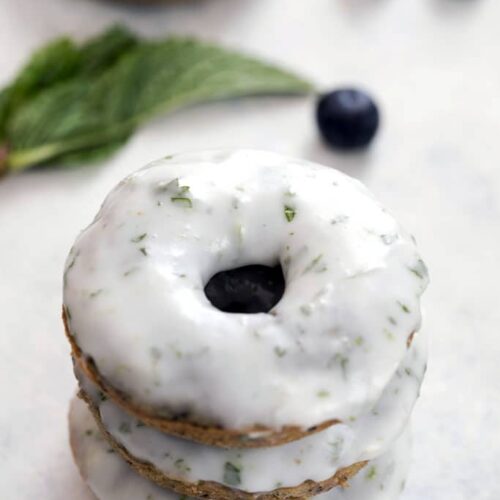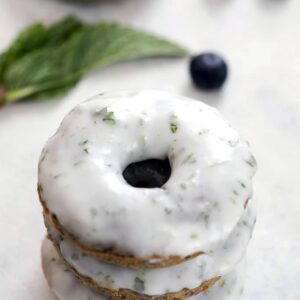 Blueberry Mojito Doughnuts
These Blueberry Mojito Doughnuts take the classic flavors of a mojito and turn them into a cocktail-themed treat that's perfectly acceptable to enjoy with your morning coffee.
Print
Pin
Rate
Ingredients
1

cup

fresh blueberries

8

fresh mint leaves,

chopped

¾

cup

sugar,

divided

2

cups

all-purpose flour

2 ½

tsp

baking powder

¼

tsp

salt

1

stick (8 Tbsp)

unsalted butter,

room temperature

2

large eggs

½

cup

whole milk

1 ½

tsp

vanilla extract

1

batch

Lime Mint Icing

(recipe below)
Lime Mint Icing
2

cups

confectioners' sugar

1

tsp

lime zest

2

Tbsp

freshly squeezed lime juice

1

Tbsp

whole milk

5

mint leaves,

finely chopped
Instructions
Pre-heat oven to 350 degrees and lightly spray or brush a doughnut pan with cooking oil.

Put blueberries, mint leaves and 1 Tbsp sugar in a blender.

Blend until puréed. Set aside.

Whisk together flour, baking powder, and salt in a medium bowl. Set aside.

In the bowl of a stand mixer, beat together the butter and remaining sugar until light and fluffy. Add the eggs and mix to combine.

Gently stir the flour mixture into the butter and sugar mixture, alternating with milk. Then stir in the blueberry purée and vanilla extract. Take care not to over-mix.

Evenly distribute batter in a lightly oiled doughnut pan, filling tin almost all the way. I recommend putting batter in a Ziplock bag, cutting off a corner, and piping batter into the doughnut pan.

Bake for 12-14 minutes, until doughnuts are light and springy and just beginning to turn golden at edges.

Remove from oven and let rest in doughnut pan for a few minutes, before removing to a wire rack to cool completely.

When doughnuts are completely cooled, dip them in lime mint icing to coat tops. Allow the icing to cool and harden.
Lime Mint Dressing
Whisk together all ingredients together in a medium bowl.
Share a Photo of Your Finished Recipe!
Mention @wearenotmartha and share a photo if you've made the recipe!