In case you haven't noticed, doughnuts are definitely the talk of the Internet lately. And after I made my Indian-spiced doughnuts a while back, I was hooked on doughnut-making, too (doughnut? donut? I still don't know). However, while those doughnuts were allegedly "healthy," they were still fried. So, I've been super excited to try out my doughnut pan for some baked, much more healthified doughnuts.
I've heard it's tough to find the perfect baked doughnut recipe because, well, they're not fried. And fried tastes good. After tons of research, I finally got my inspiration from King Arthur's baked doughnut recipe because I genuinely trust them. I did make several changes and replaced the buttermilk powder and water with vanilla Greek yogurt for some added flavor. I decided to try a strawberry frosted doughnut and next time I make them, I might try eliminating the cinnamon and nutmeg below for a more "vanilla" taste.
Vanilla Baked Doughnuts (makes 6):
• 1 C all-purpose flour
• 1/2 C sugar
• 1 t baking powder
• 1 t cinnamon
• 1/8 t nutmeg
• 1/4 t salt
• 3 T low-fat vanilla Greek yogurt
• 2 large eggs
• 3 T vegetable oil
(Pre-heat oven to 375 degrees)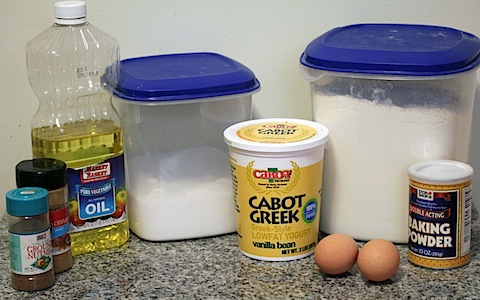 When Cabot took me and Chels to Sugarbush Resort in Vermont, they stocked our fridge full of Cabot cheese and other goodies. And at that point, I had no idea they even made Greek Yogurt. But I instantly fell in love with this low-fat vanilla bean yogurt. Seriously, it's heavenly. And you can even see the little specks of vanilla in it! I waited what seemed like forever for my grocery store to stock it and at long last, they did! Now it's a definite fridge staple.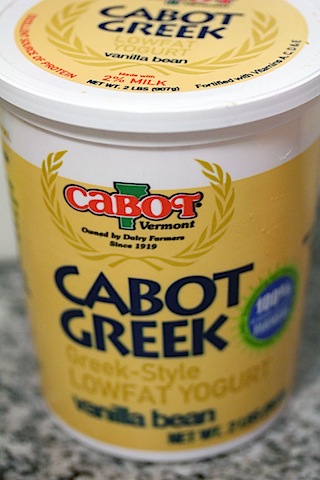 OK, let's get started on the doughnuts! Whisk together all the dry ingredients (flour, sugar, baking powder, cinnamon, nutmeg, salt) in a medium bowl.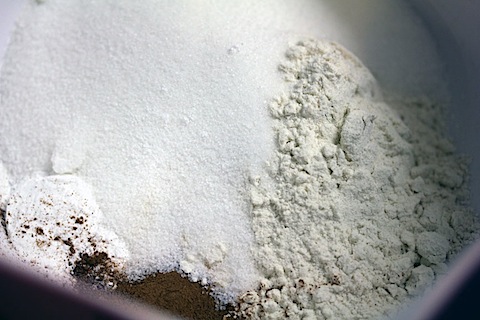 In a separate bowl, beat eggs, oil, and yogurt.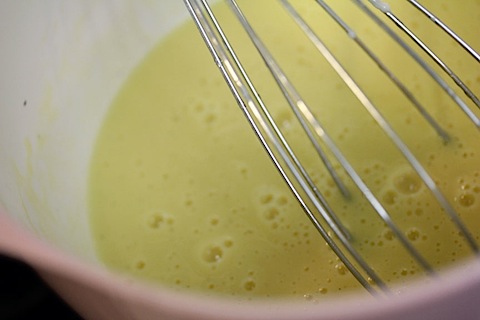 Pour the wet ingredients into the dry ingredients and stir until just combined. Don't over-mix or your doughnuts will likely be too dense.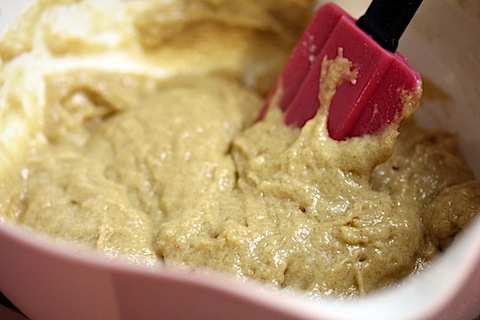 Make sure your doughnut pan is greased or buttered. Even if it's a non-stick pan, you'll want to oil it well as healthy-ish doughnuts can tend to stick.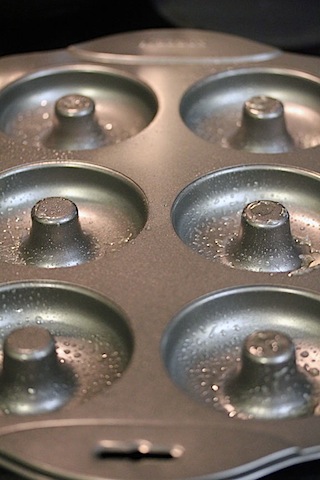 Fill each doughnut form half full. You can use a pastry bag to do this, but I found it easier to simply spoon the filling in.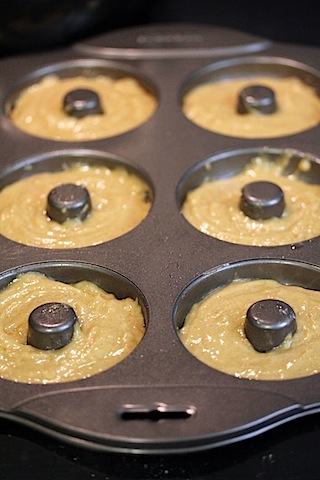 Bake doughnuts at 375 degrees for 10-12 minutes.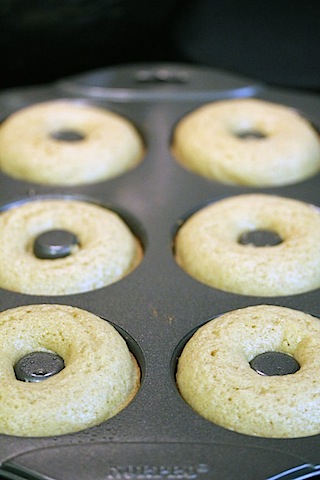 You'll know they're done when they're slightly brown and spring back at touch.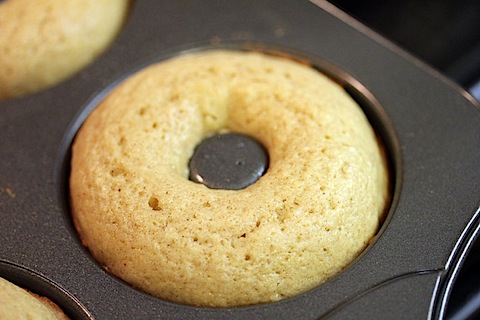 Remove doughnuts from pan and let them cool on a rack.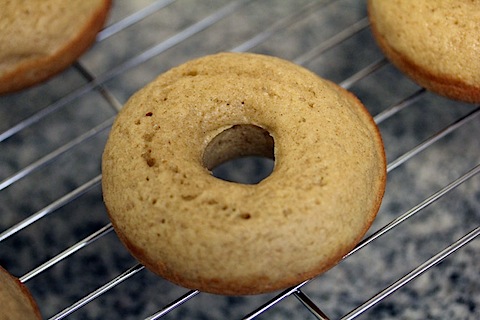 Of course, you'll want a topping or coating for your doughnuts, right? I had frozen strawberries and thought a strawberry icing would be pretty. Again, I decided to use Cabot's vanilla Greek yogurt for the icing, instead of butter. This makes a much healthier icing! You could probably half my below recipe since I was left with quite a bit of leftover icing (not always a bad thing).
Strawberry Yogurt Icing:
• 1 C frozen strawberries, thawed
• 3/4 C vanilla Greek yogurt
• 1 C powdered sugar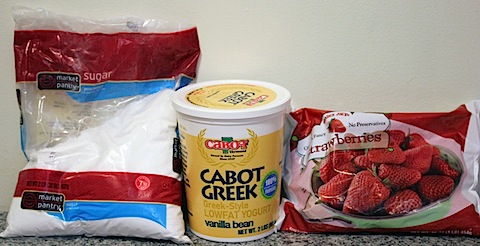 In a blender or food processor, puree strawberries until nice and smooth.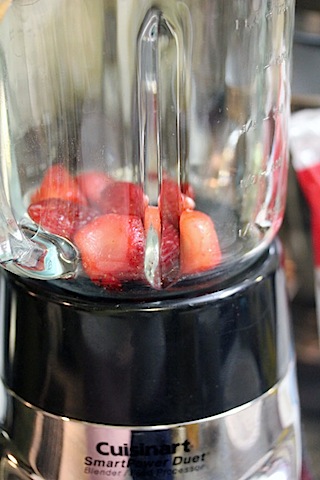 Whisk together confectioner sugar and yogurt until well-blended.
Pour strawberry puree into mix and combine with whisk.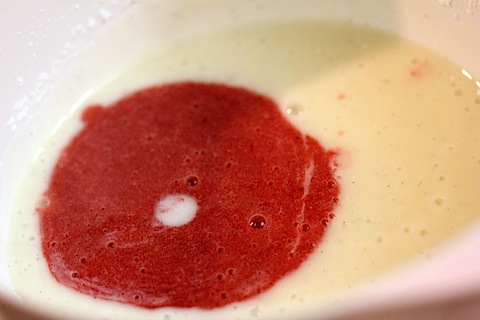 At this point, I put the icing in the fridge for about 30 minutes since it was extremely thin. It didn't thicken up a whole lot, but it was a little better. Of course, butter would have thickened it right up, but, well…I was determined to make a butter-free icing!
With a pastry brush, lightly glaze each doughnut.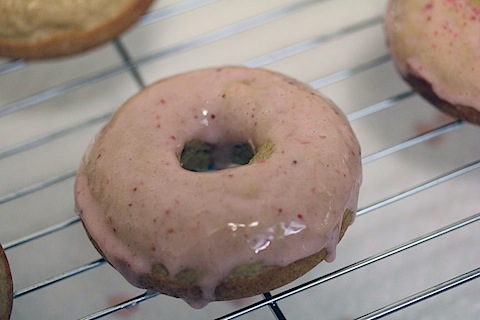 I put a couple coats of icing on since it was thin and seemed to get sucked into the doughnut.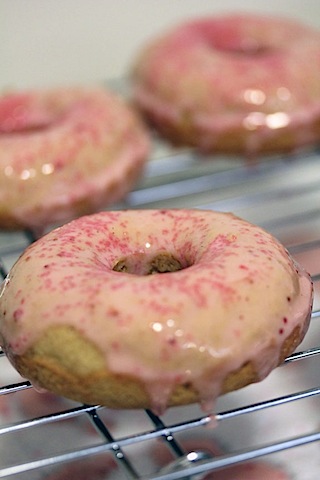 Then I put some sprinkles on top. I was super happy with how the doughnuts ended up in appearance… So pretty!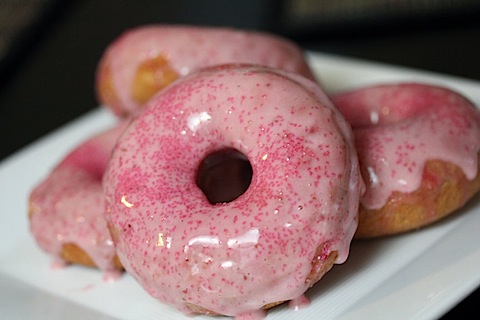 And while absolutely delicious, these doughnuts were definitely a bit more cake-y than your typical fried doughnut. Not necessarily a bad thing… Just not fried goodness. But that's what you're getting into if you're not frying your doughnuts. And cake-y? I've never had a problem with that.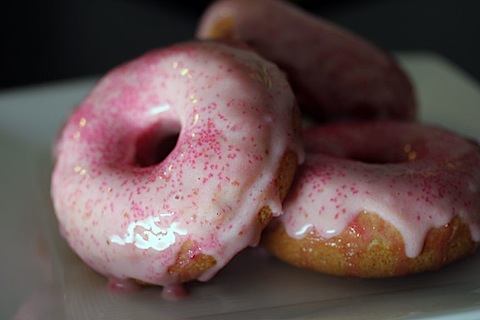 Next time I make these, I might actually leave the cinnamon and nutmeg out because I think it took away from the vanilla flavor and made them taste a bit too much like cinnamon bread/cake.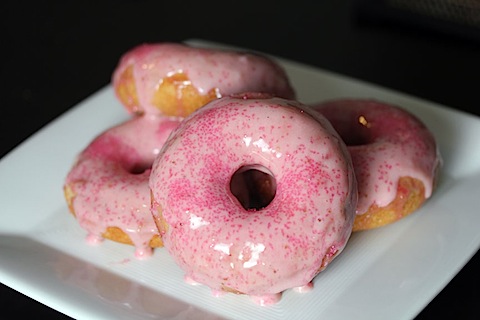 I definitely think the vanilla yogurt added to the richness and moistness of the doughnut. A lot of people complained that the King Arthur recipe was a bit too dry in the reviews. But I didn't get that at all in these doughnuts. Yogurt for the win!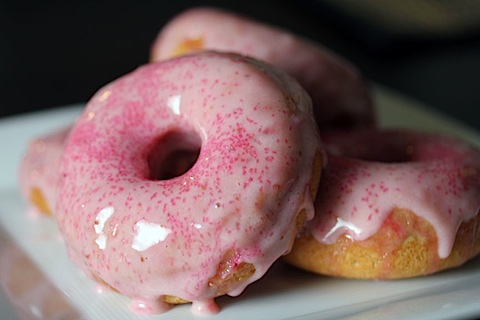 My verdict? Really, nothing compares to a fried doughnut. But if you're looking for something a bit healthier that's still absolutely delicious, baked doughnuts made with vanilla Greek yogurt is a fabulous option.
And it just means you can eat more doughnuts. More often. Without splattering all that oil all over your kitchen.
What's your favorite swap or technique to make baked goods a bit healthier?
[Sues]