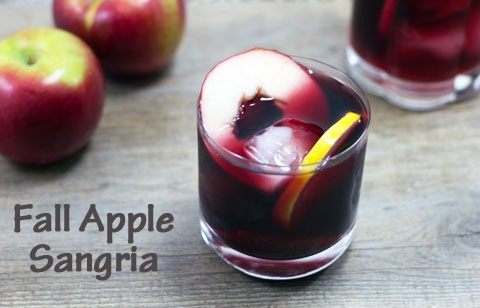 I may be accepting the fact that summer is over, but I'm definitely having a tougher time accepting the fact that sangria season is over. Like, why can't we make sangria a year round thing? Oh, we can? OK. Sheesh, I wish everything in life was that easy.
Grab your favorite variety of apples, some fall spices, and a bottle of wine and you're pretty much good to go. It's Friday, it's been a long and arduous week, and it seems like everyone and their mother is sick right now. It's definitely in the air and I'm pretty sure the only thing that can fix it is a good healthy dose of Cocktail Friday. So really, you're doing it for your health. Don't say I never helped you with anything 🙂
Fall Apple Sangria (serves 6):
Print this recipe!
1 ½ C sugar
3 C water
4 cloves
3 cinnamon sticks
¼ t anise seed
5 thin slices fresh ginger
2 apples, cored and cut into rings
1 bottle red wine of your choice
½ C triple sec
1 lemon, sliced
1 lime, sliced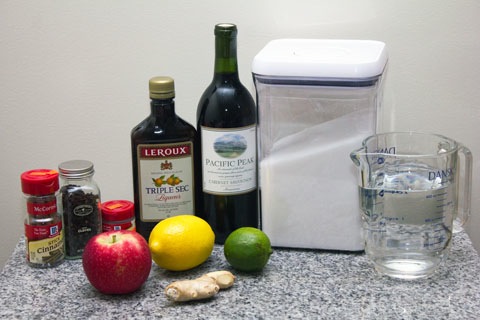 Start by making the simple syrup that will give your sangria the delightful festive spice you're craving now that there's a chill in the air.
In a medium saucepan, combine sugar and water. Add in cloves, cinnamon sticks, anise seed, and ginger and bring to a boil.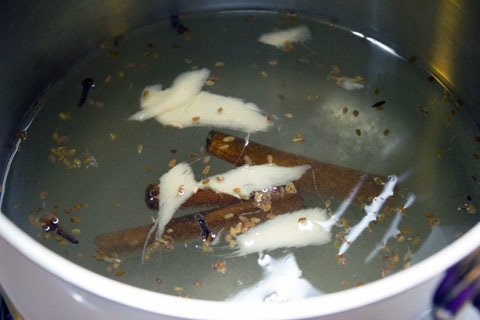 Once the mixture comes to a boil, reduce heat and let simmer for about 10 minutes.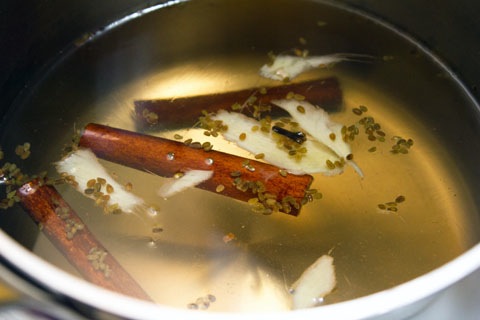 Remove mixture to container with lid and add in apple slices. I have a mac obsession, but you can use whatever you want. Refrigerate until chilled.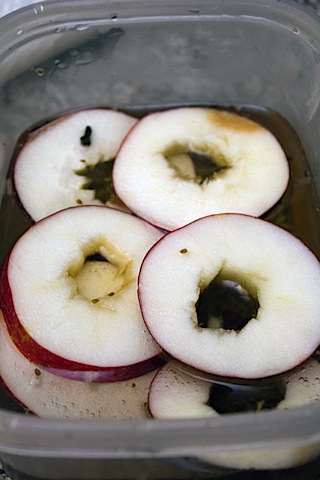 Once simple syrup is chilled, fill a pitcher with ice. Pour in bottle of wine, ½ C triple sec, and 1 C simple syrup. Put sliced lemons and limes and apple rings in pitcher as well. You'll definitely have simple syrup left over, but it should keep in the fridge for a few days, so you can make more sangria tomorrow and the next day and the next day.
For best results, let the sangria sit in the fridge for a while so all the flavors can meld.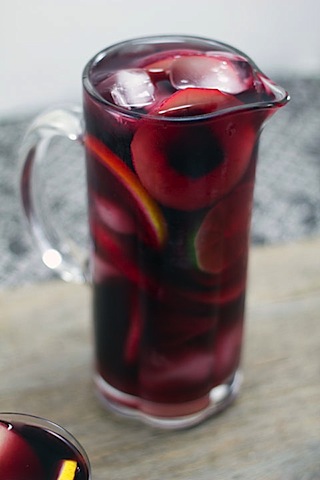 And suddenly, sangria is the perfect fall cocktail!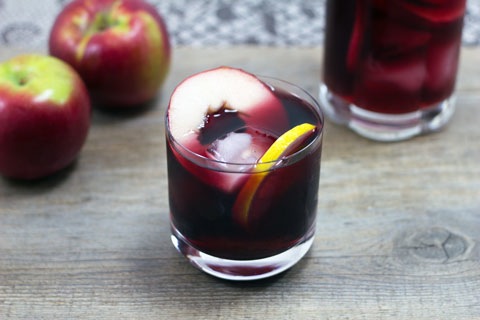 Don't get me wrong; there are certain things I think belong in their season and nowhere else. I only eat pumpkin in the fall. And I'm feeling pretty insulted that Cadbury wants me to eat Cadbury Eggs with green cream in them for Halloween. When you give me Cadbury Eggs all year round, I no longer care about them. I want to crave them all year long and wait in anticipation for Easter season to start so I can get my fill. Let's face it, Easter season starts at the beginning of February anyway, so they're certainly on the shelves for long enough. End rant.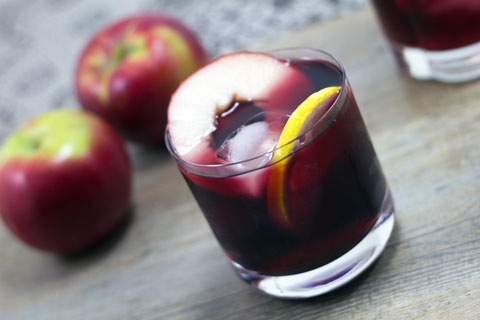 My point is, sangria is one of those things I don't feel the need to wait for. Because a fall spice sangria tastes totally different than your typical summer sangria. And the winter sangria I'm already planning in my head will taste totally different from that.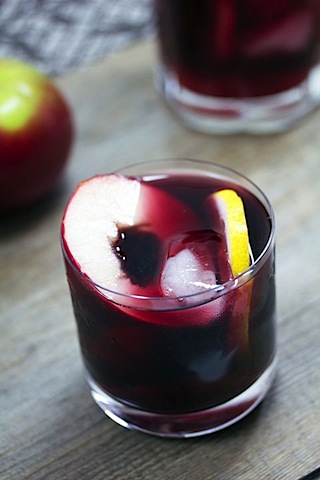 I first made this for my mom's birthday party and was a little nervous because I had no idea how it would turn out. But everyone loved it and agreed it was the perfect fall drink. I'm sure you could even do a hot version for when the chill in the air really picks up. I've already made it again and fall only started last week!
It's key to make sure that every glass gets a slice of apple. And it's key to make sure everyone eats their apple slice. Apples and wine (and apples that have wine completely seeped into them) are a match made in heaven. The only thing missing is cheese. But you might want to stay away from putting cheese in the sangria. Keep it on the side and serve this during happy hour.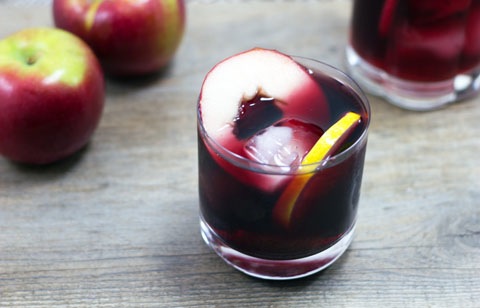 I love summer cocktails, but there's really something about warming up with a nice fall cocktail while the wind is blowing outside and you're snuggled up with a blanket. And don't even get me started on winter cocktails when there's a blizzard outside. But let's not talk about that just yet.
I'm super excited that it's Friday and even more excited that I'm going to Craigie on Main tonight for my first time ever. And I will definitely be doing my part to continue celebrating Cocktail Friday. Here in Boston? It's the perfect day an autumn spice drink like this… Rainy and chilly!
Don't forget to enter my Keurig giveaway! You have until tomorrow evening. Also don't forget that tomorrow is National Coffee Day! I will be celebrating with all my might. Which means I may attempt to drink a cup of coffee every hour. Wahoo!
What's your favorite kind of sangria?
[Sues]