Aloha from Hawaii!! I cannot even believe I've only been here 3 days; I feel like we've already done SO much! Coolest experience I've had so far? I honestly can't even say because I've had so many. There are about 50 million photos in this post, so I'll just add in a bit of my commentary.
First of all, the jet lag is no fun, but I think we've been doing pretty well with it. It's super easy to get up early, but by the end of the day, we're dragging.  After 17 hours in flight on Thursday, we about collapsed on Thurs night at 11 (4 a.m. Boston time). We were up at 5 a.m. in Hawaii time to take my sister and Adam to work and get our day started. Hilo is known as being the rainiest places in the country and it seems to be raining extra since our arrival. So, Friday was filled with lots and lots of rain.
We had breakfast at Ken's Pancake House, which was the cutest breakfast spot with the biggest menu ever.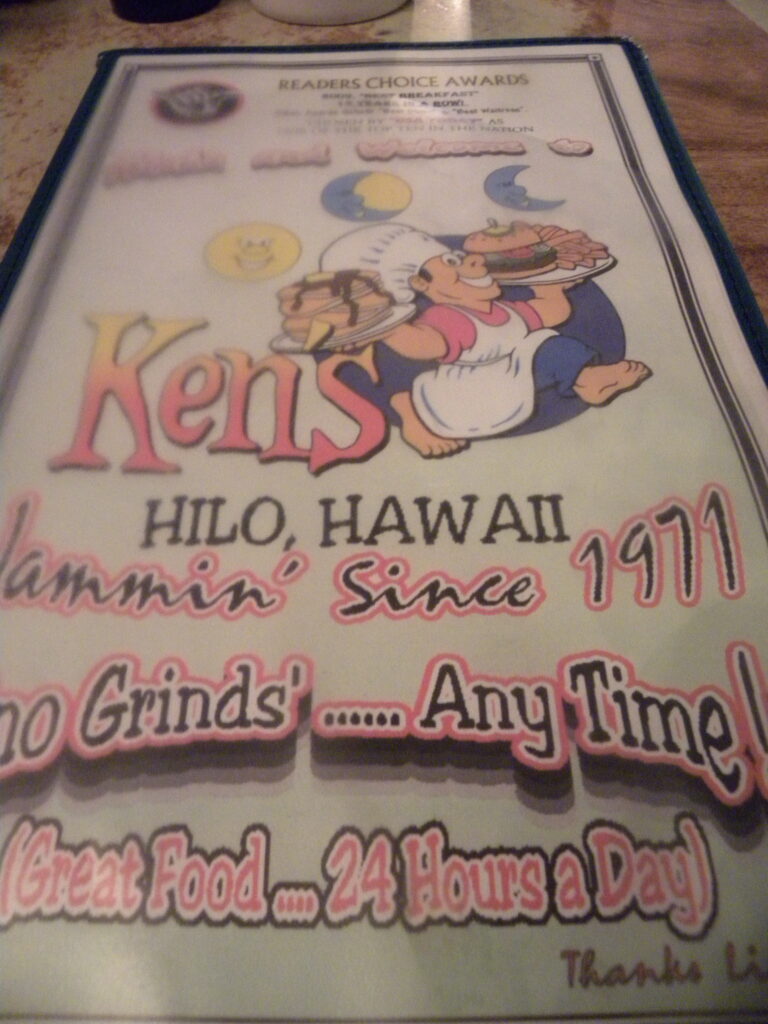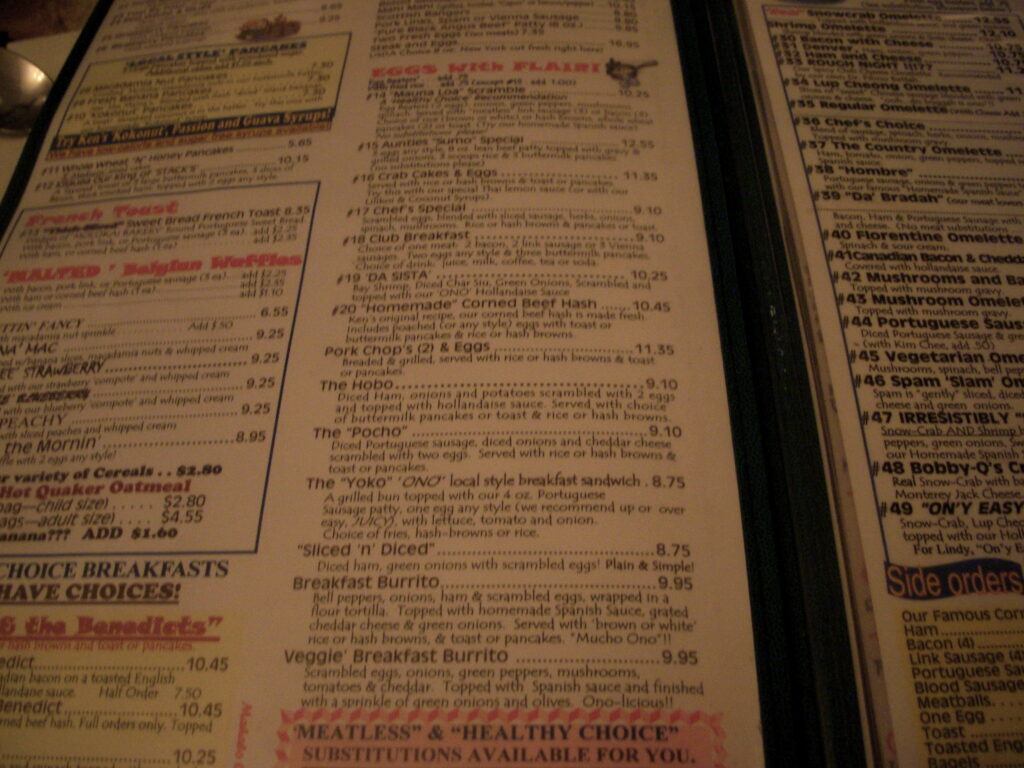 Apparently, it's also one of the top 10 breakfast spots in the nation!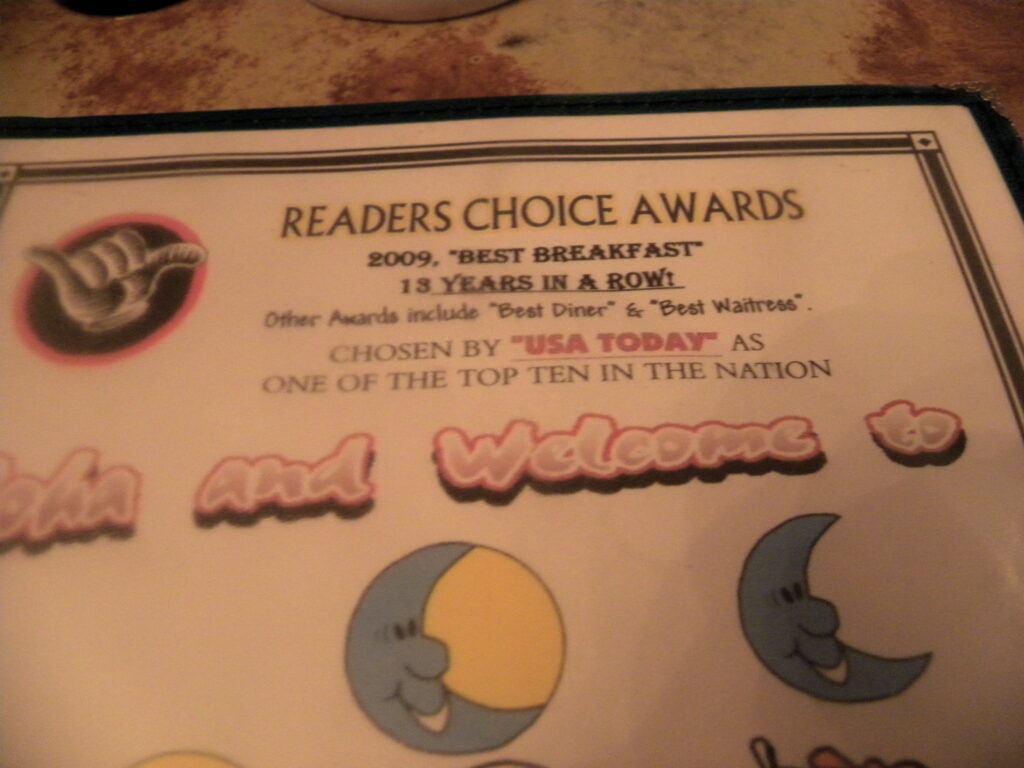 I had a spinach and mushroom scramble, which was pretty good. They honestly had about 7 different syrups for pancakes, waffles, etc. Everything from coconut to guava, I can't even remember them all.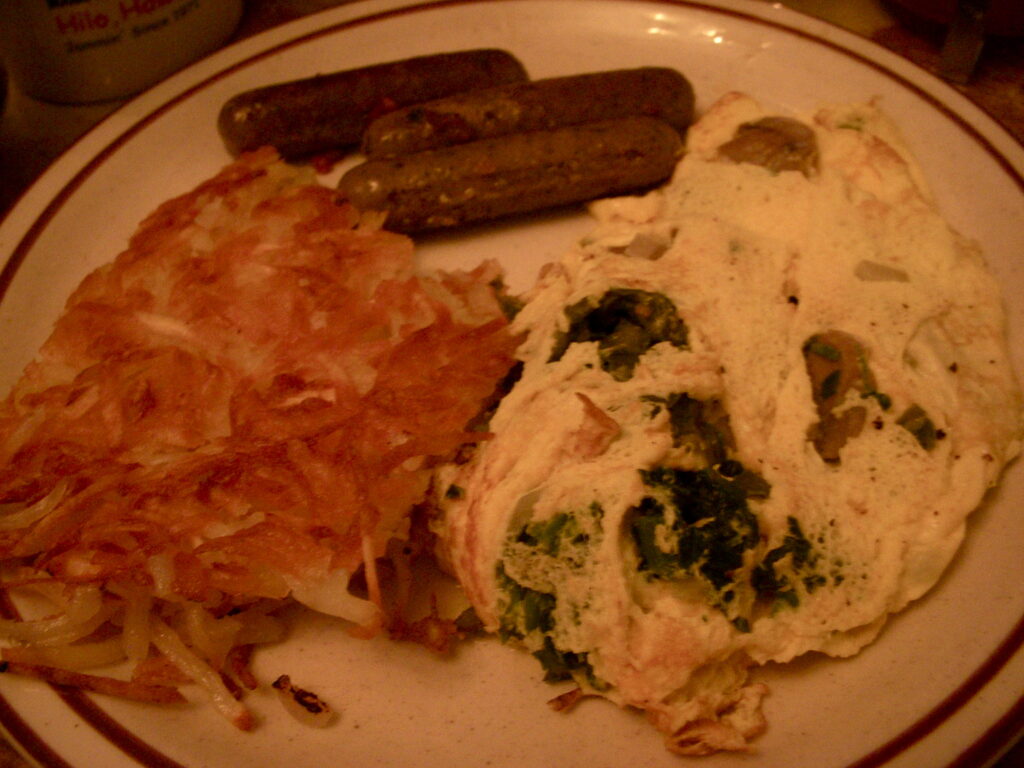 Of course, we had to stop at the local brewery. Mehana Brewery was super small, but had an awesome selection of beer.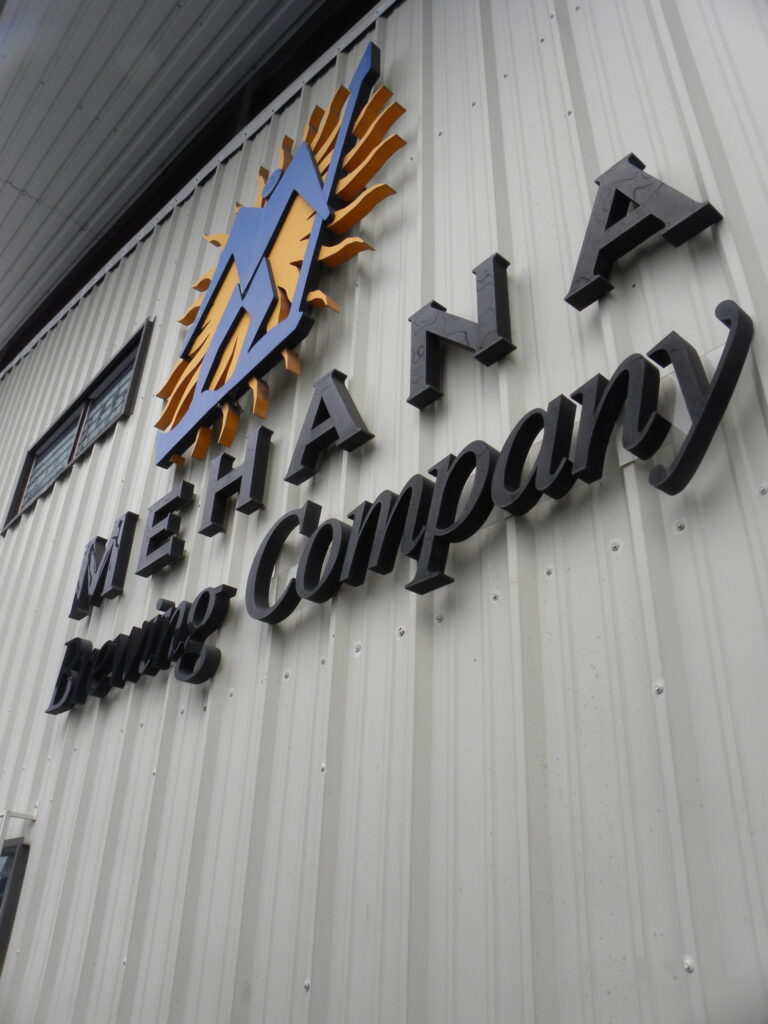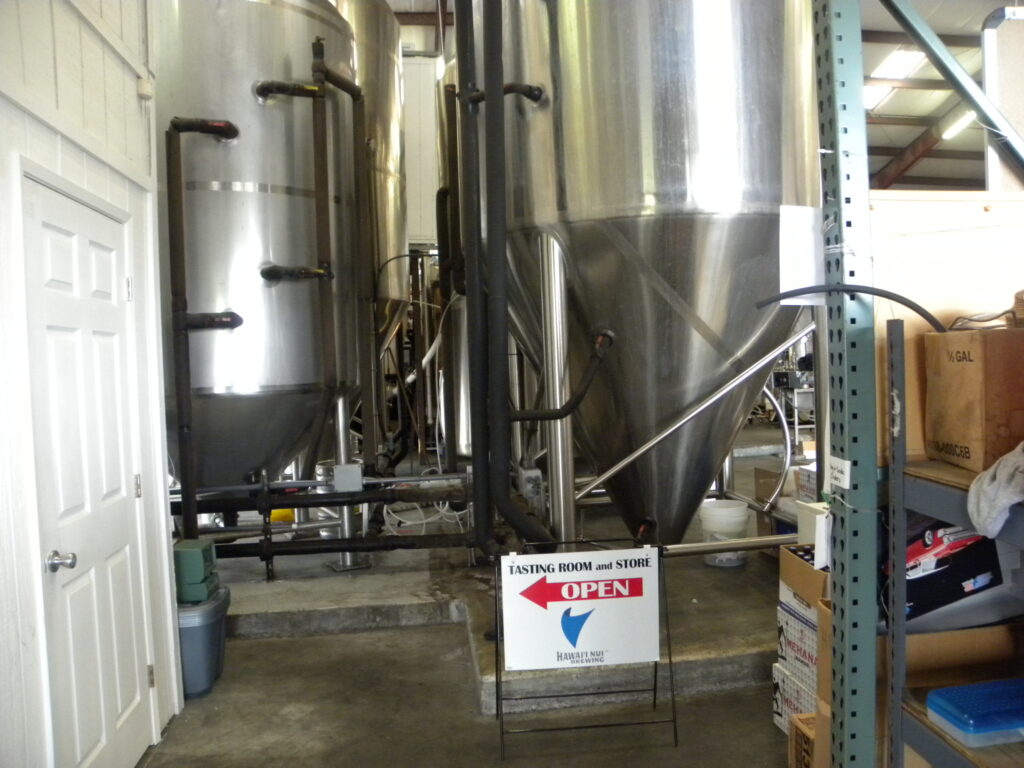 My favorites were the Volcano Red Ale and the porter, but their winter ale was also pretty great.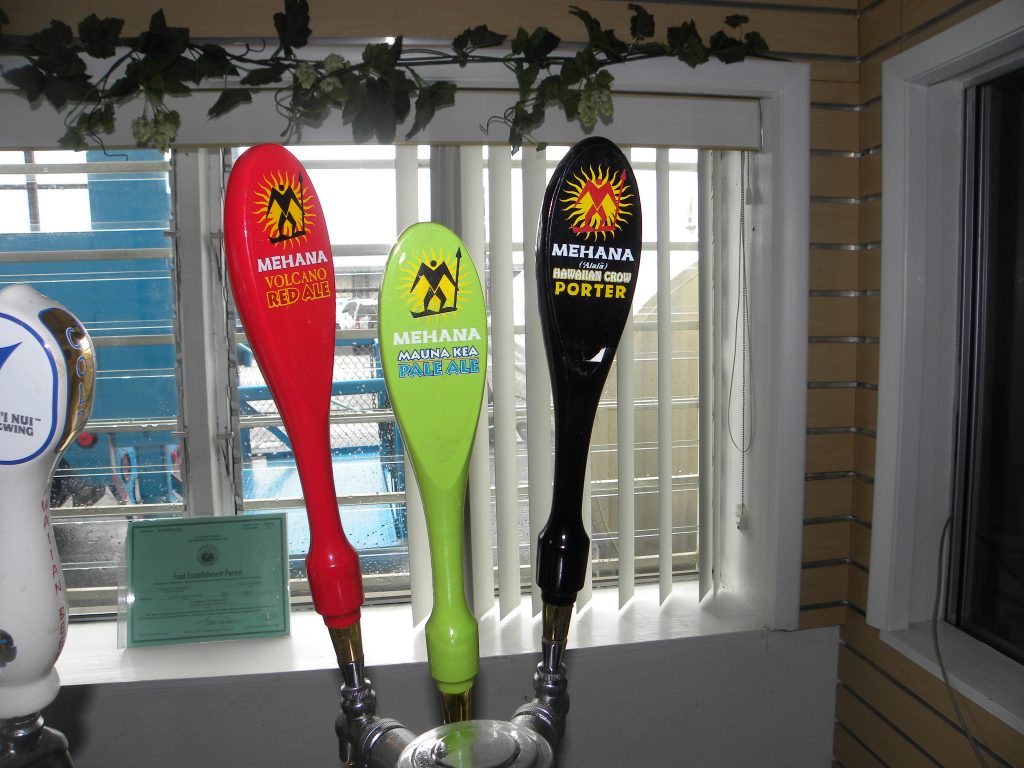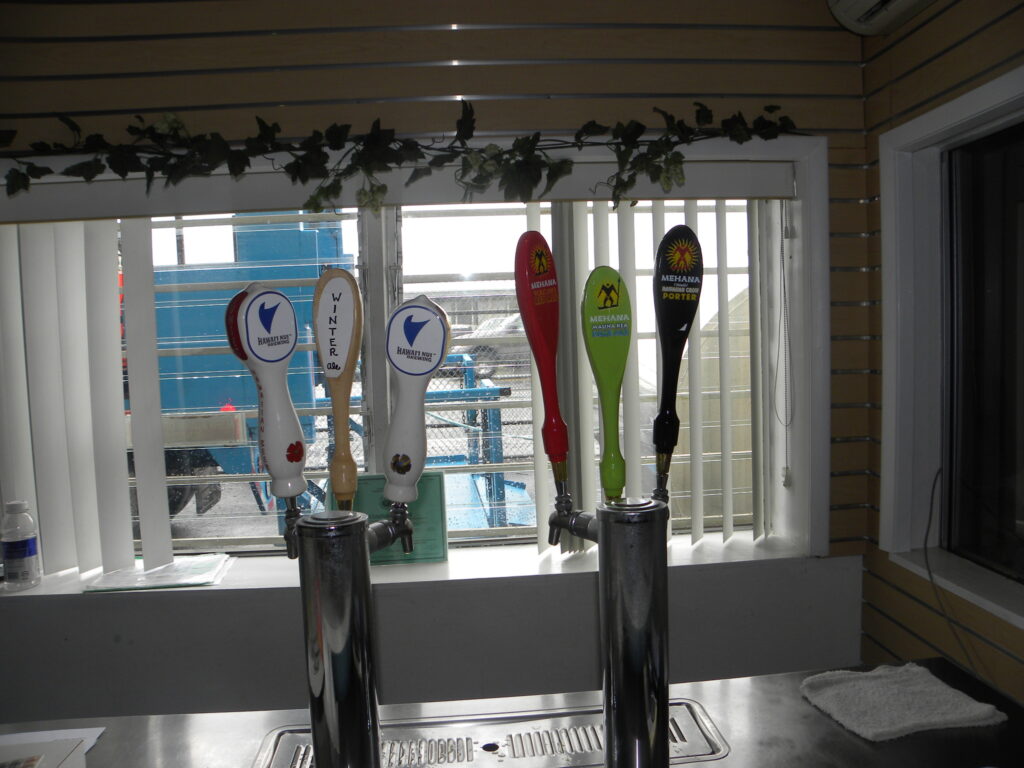 The tasting room was tiny with just the taps and shirts and stuff for sale.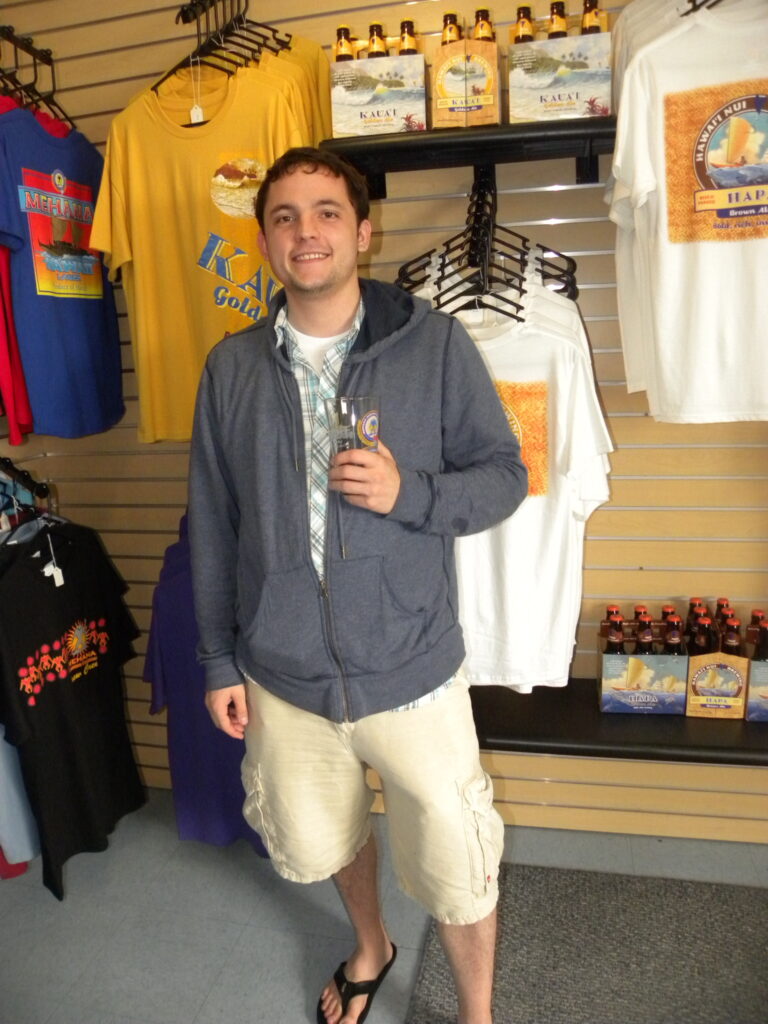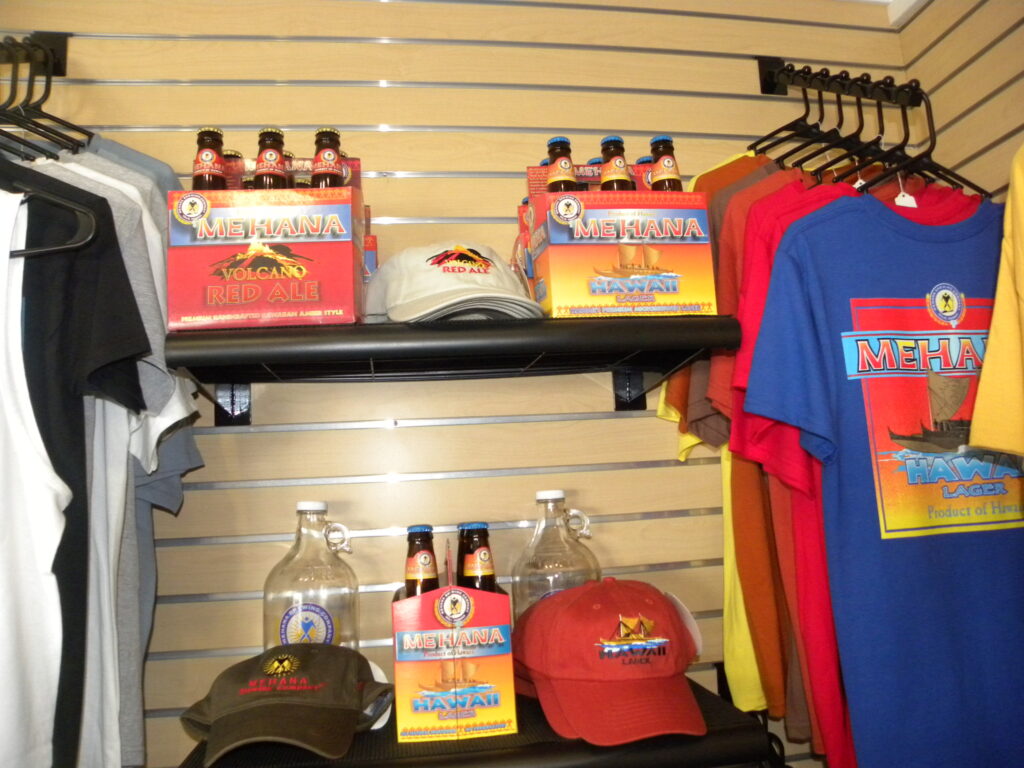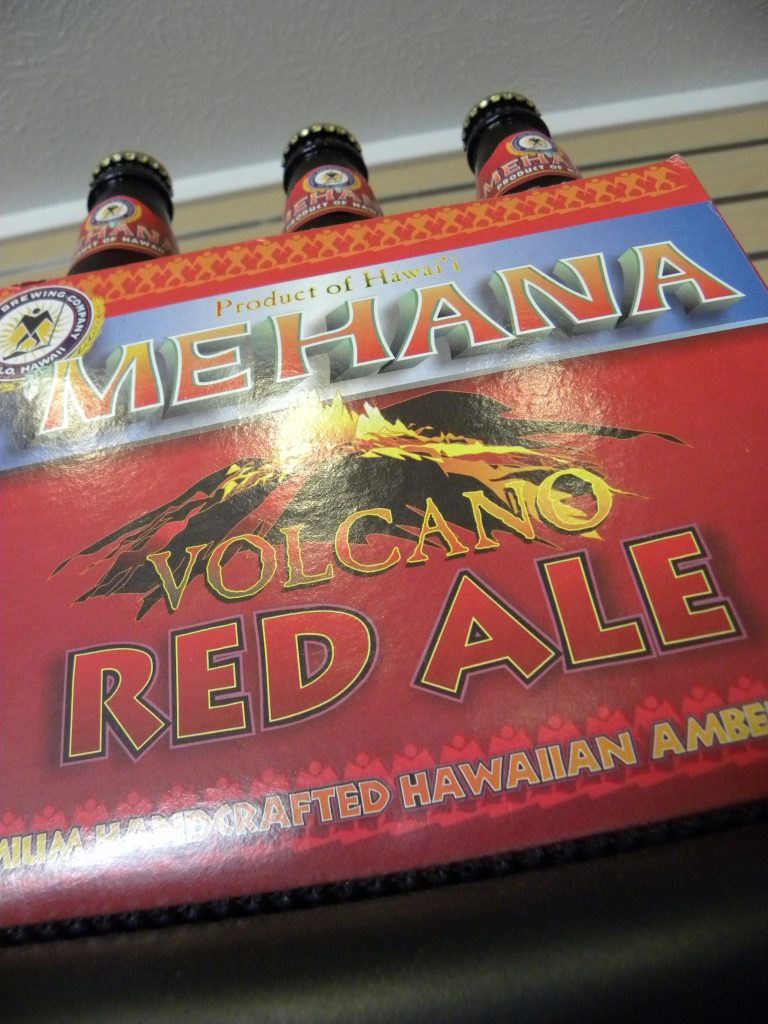 Next, we headed to Rainbow Falls in Hilo. Miraculously, the rain stopped for a bit while we were there and we got to see the spectacular view (but no rainbow!).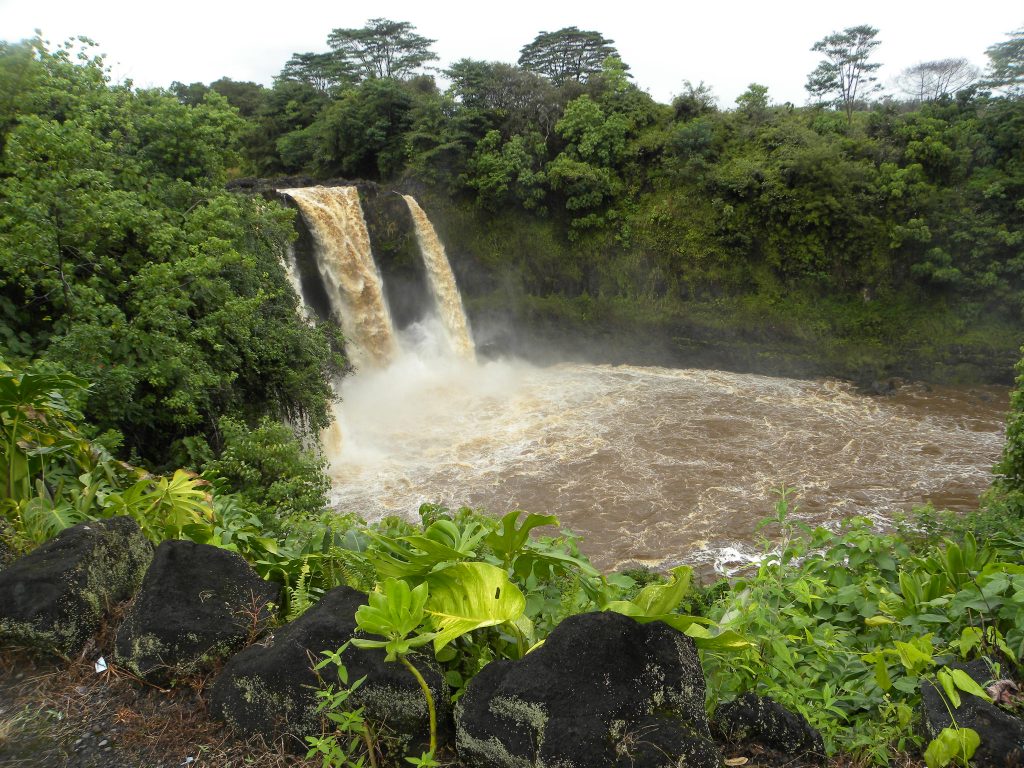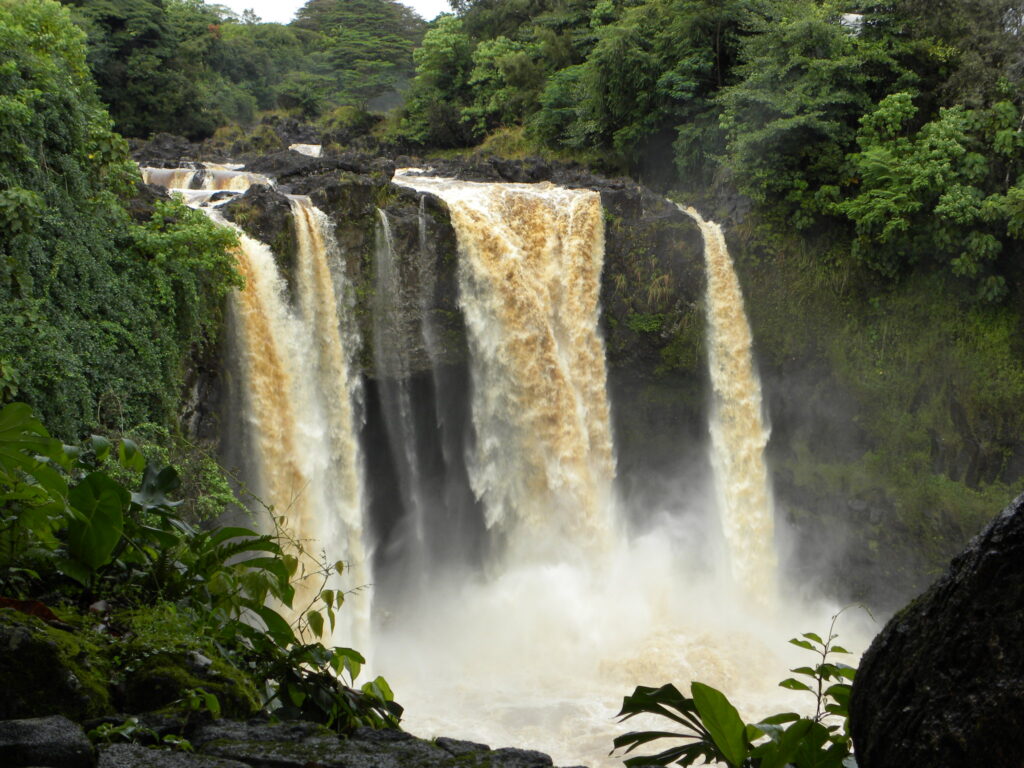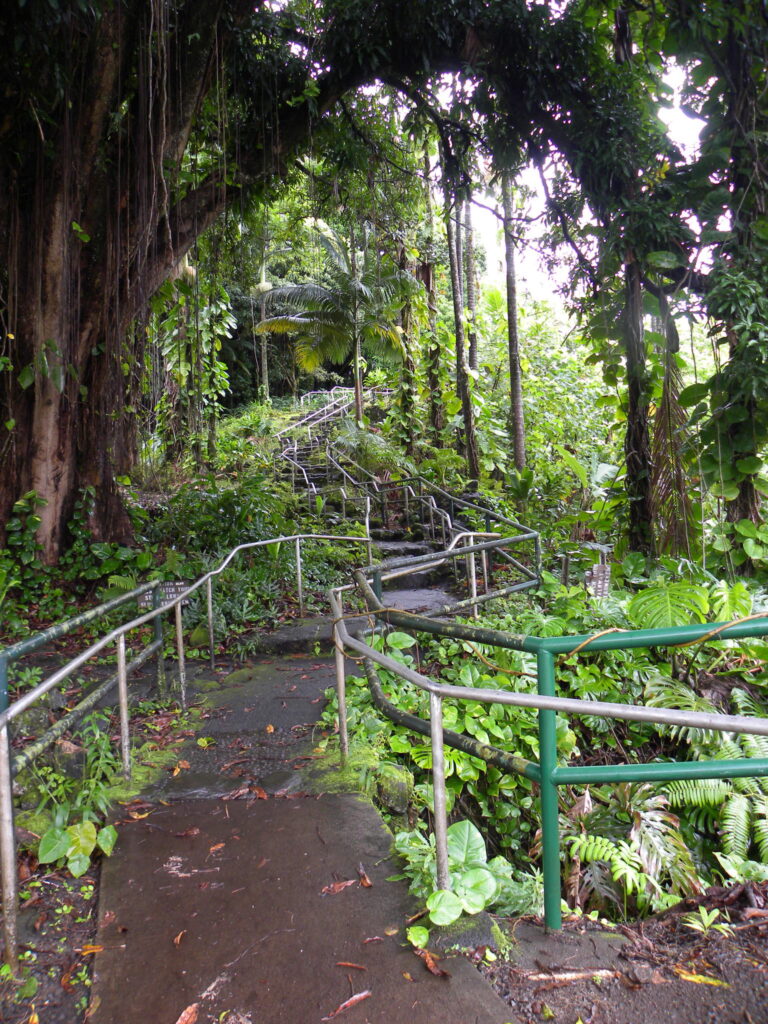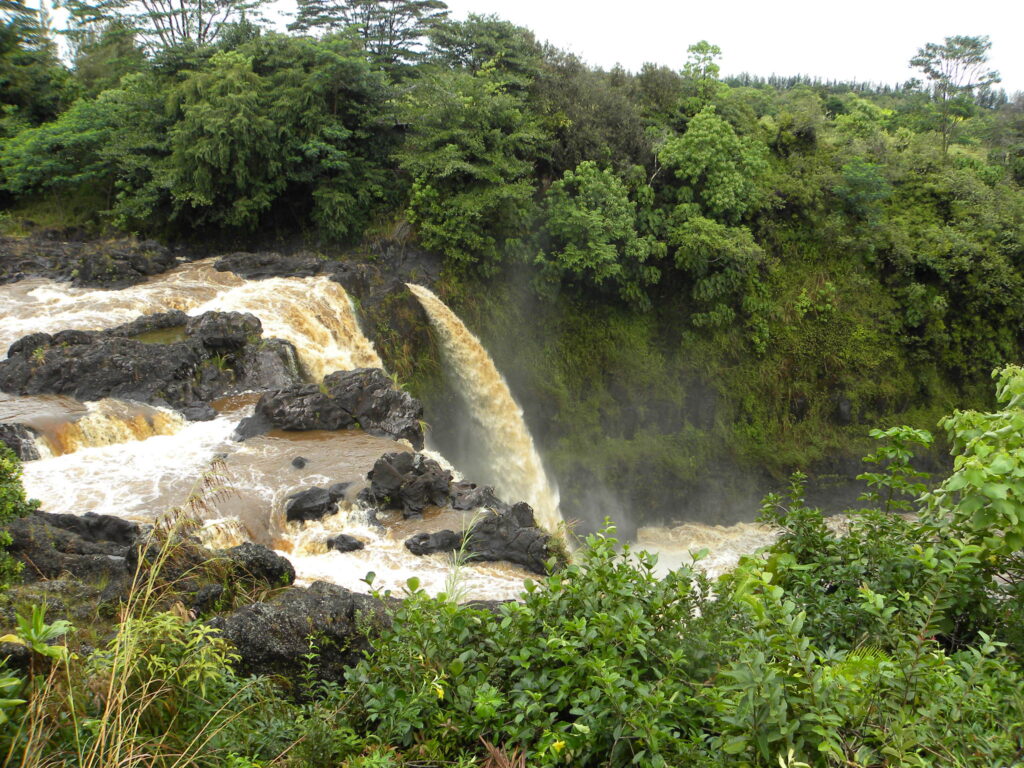 We did a bit of exploring.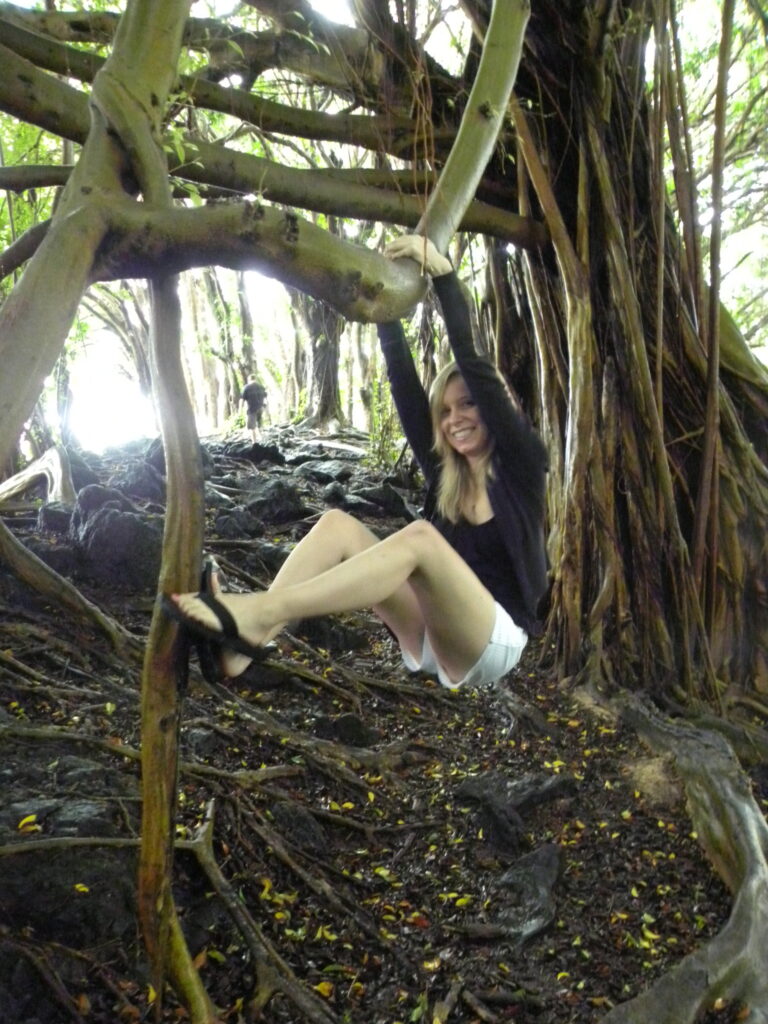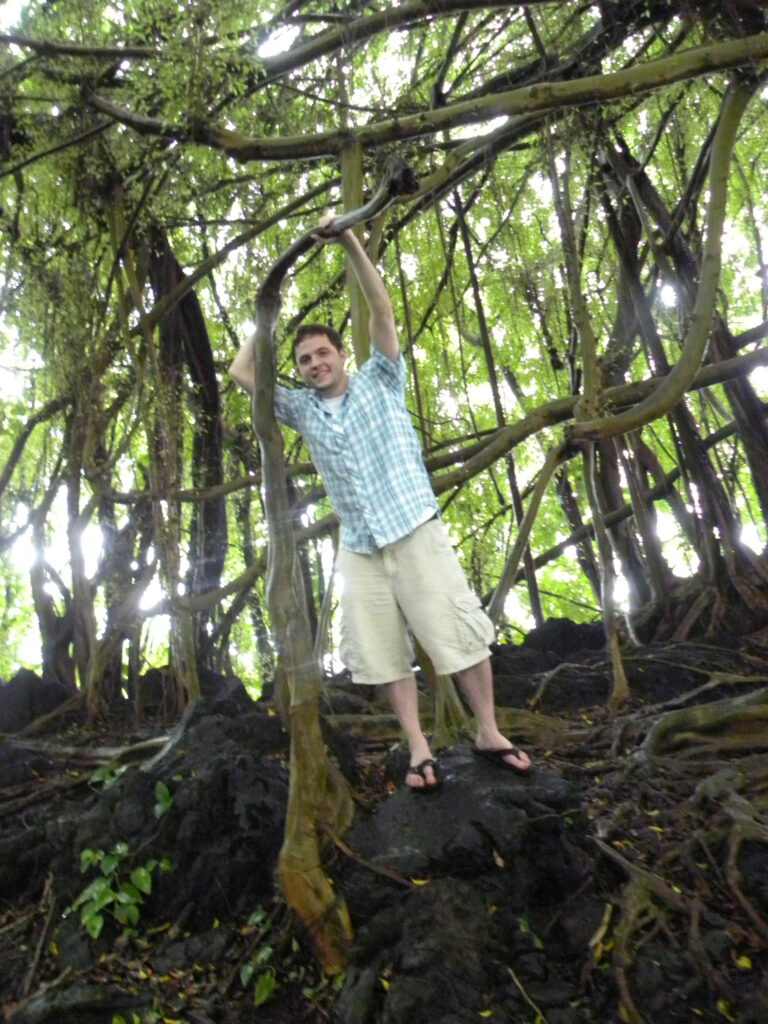 When my sister and Adam were done with work, we were ready to get the weekend started! Right from their works, we headed to Kona, which is on the Western side of the island. Unlike Hilo, Kona is known for having beautiful weather. After spending the day in the downpours, we were more than ready for some sun!
And as we got closer to Kona, the sun got brighter and brighter, thank goodness! When we got there, we headed straight to a lu'au!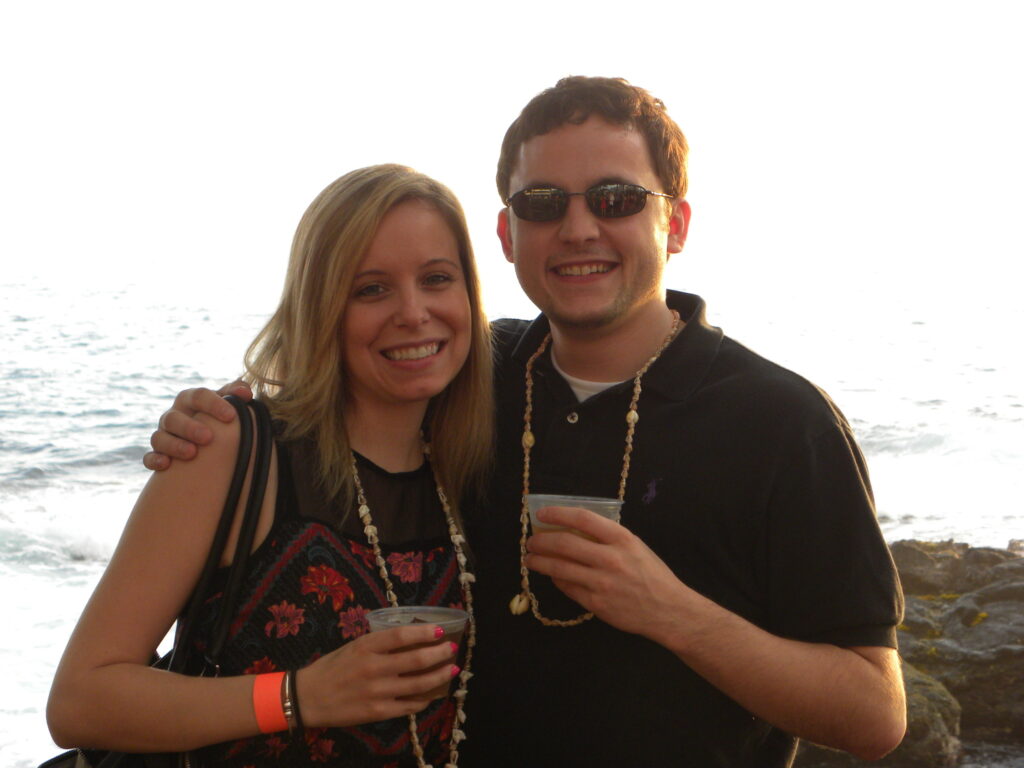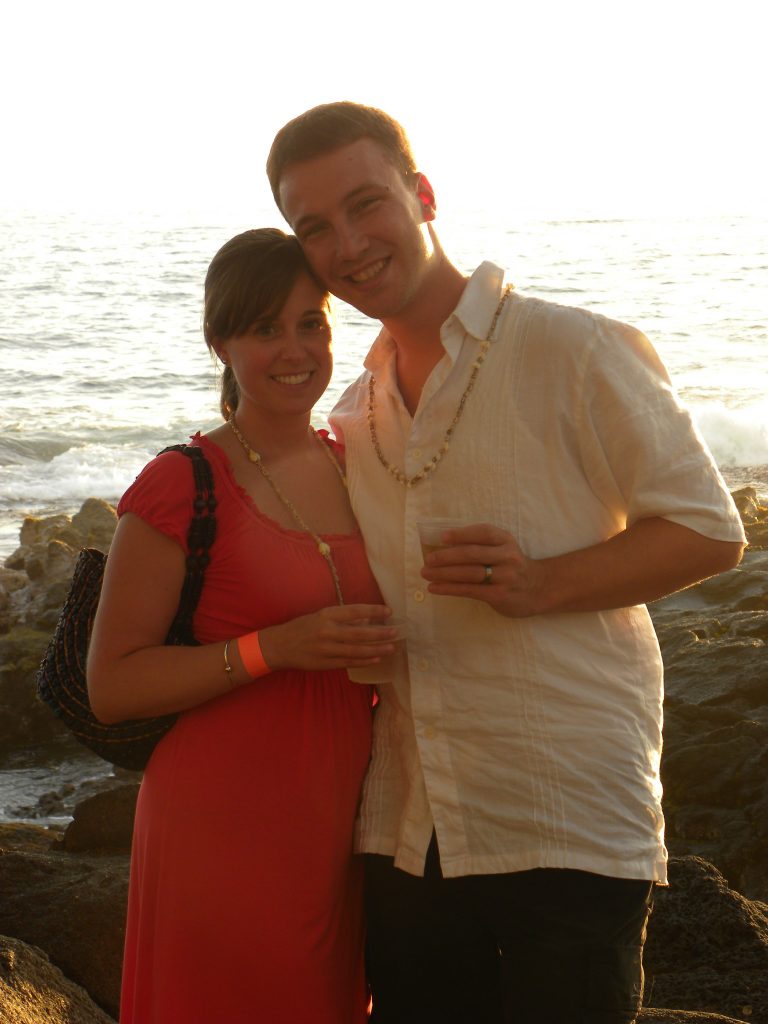 That's where the pig is!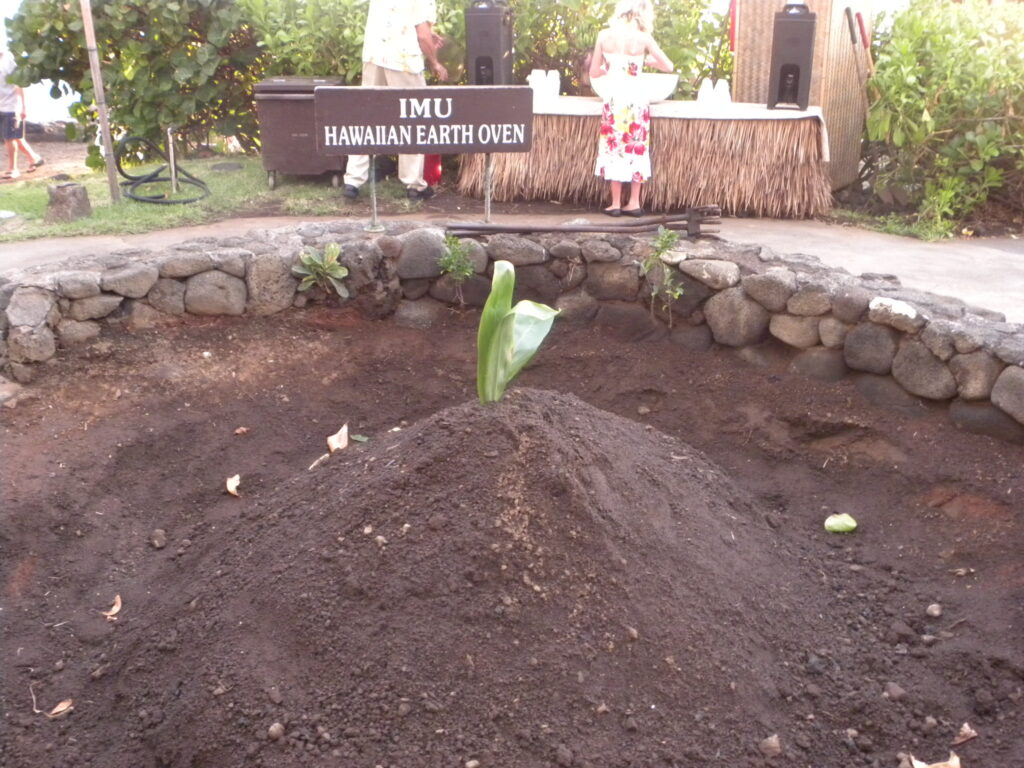 The views were beautiful.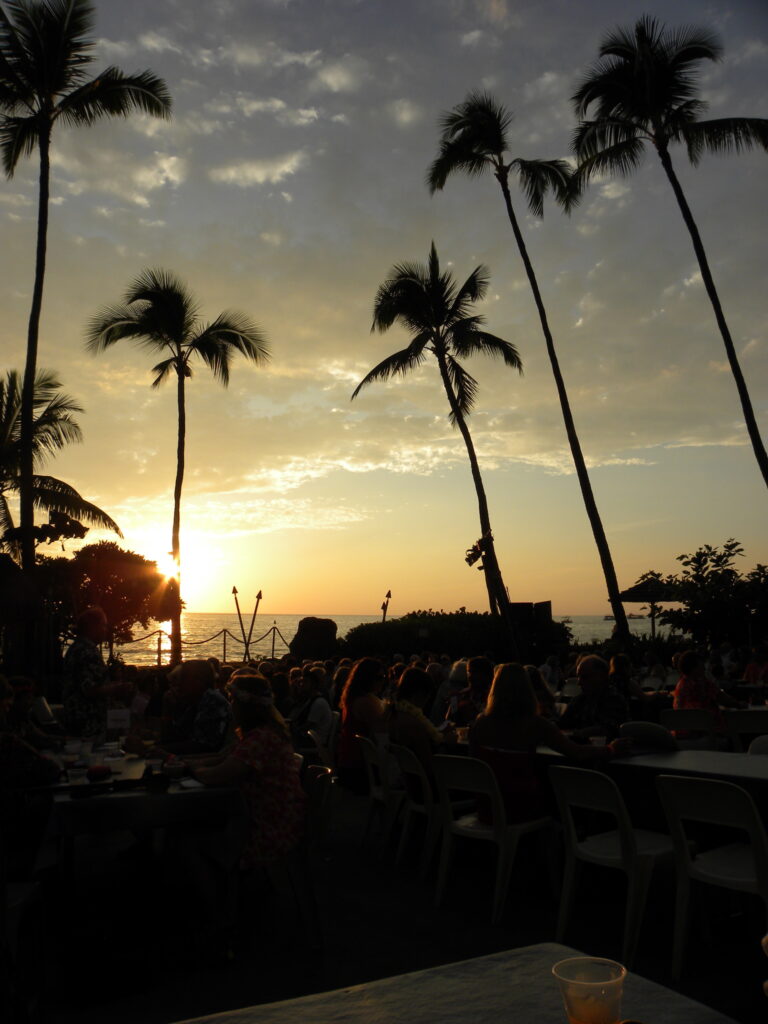 We had our first mai tais of our vacation.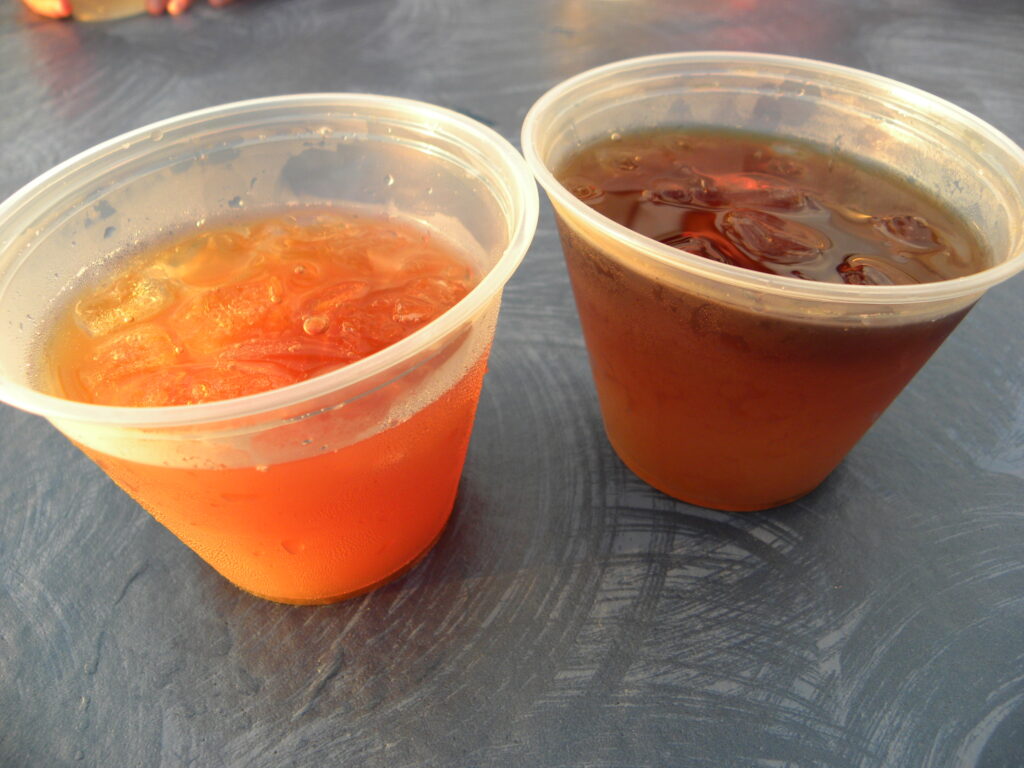 And sat down for dinner and the show.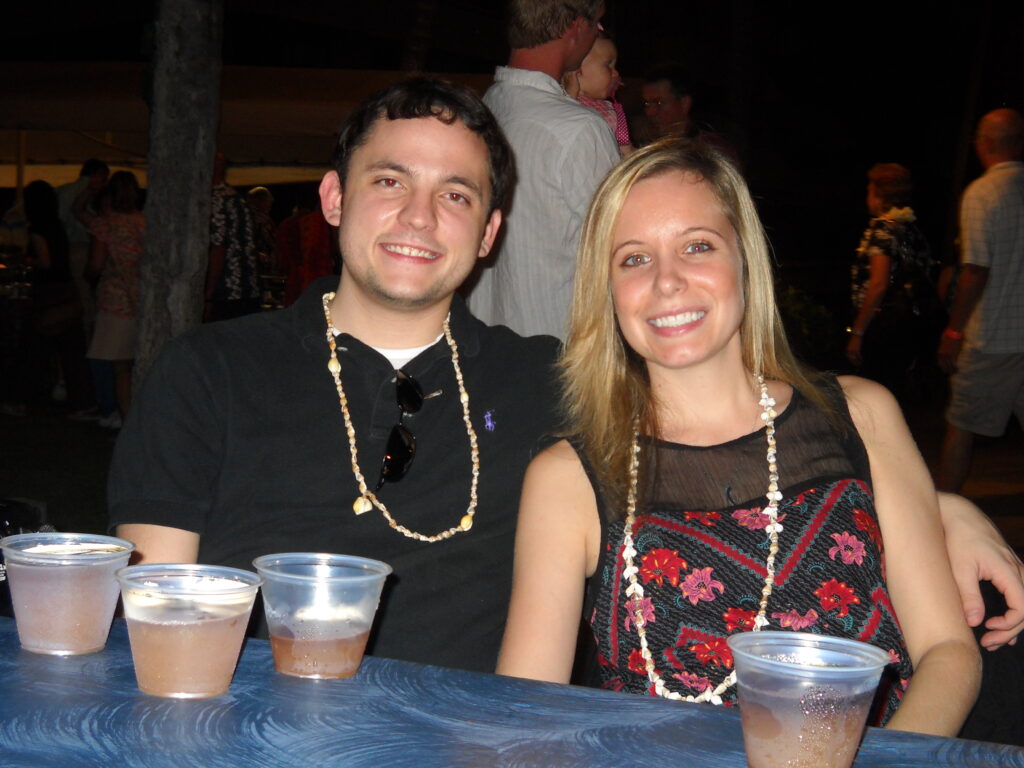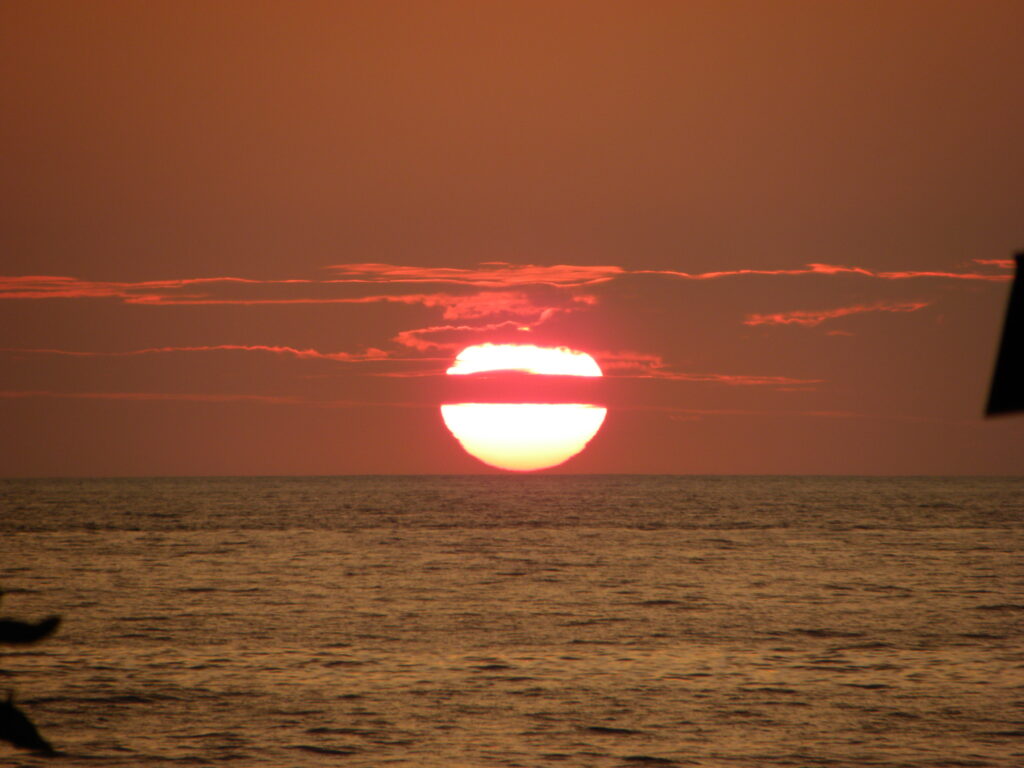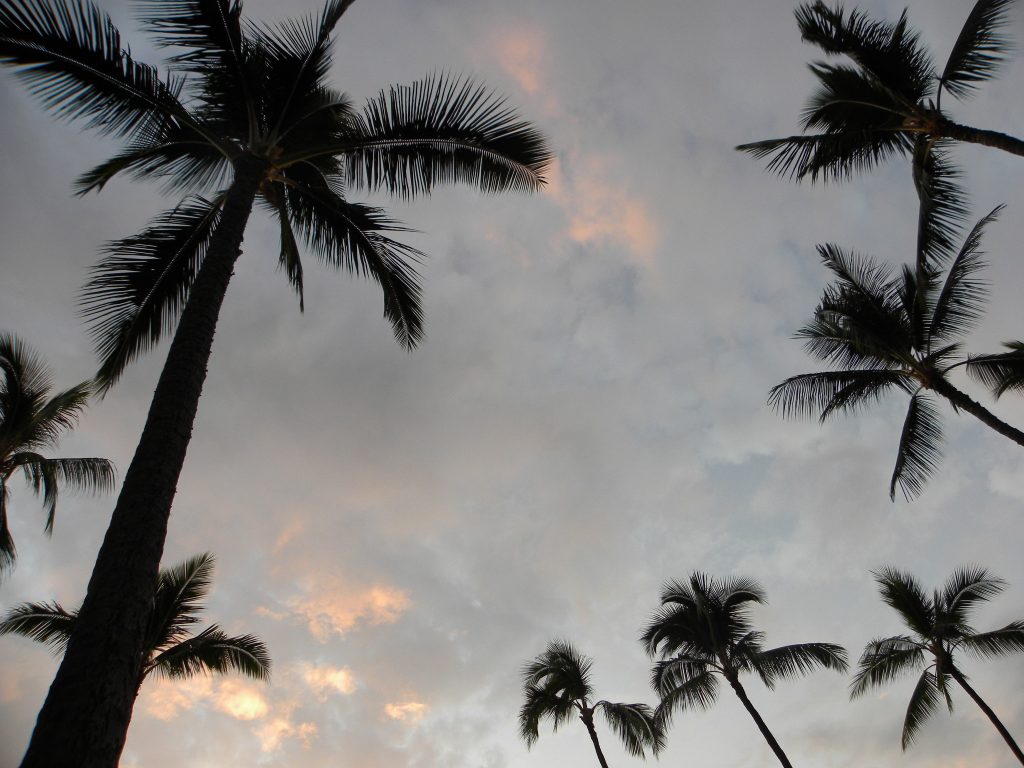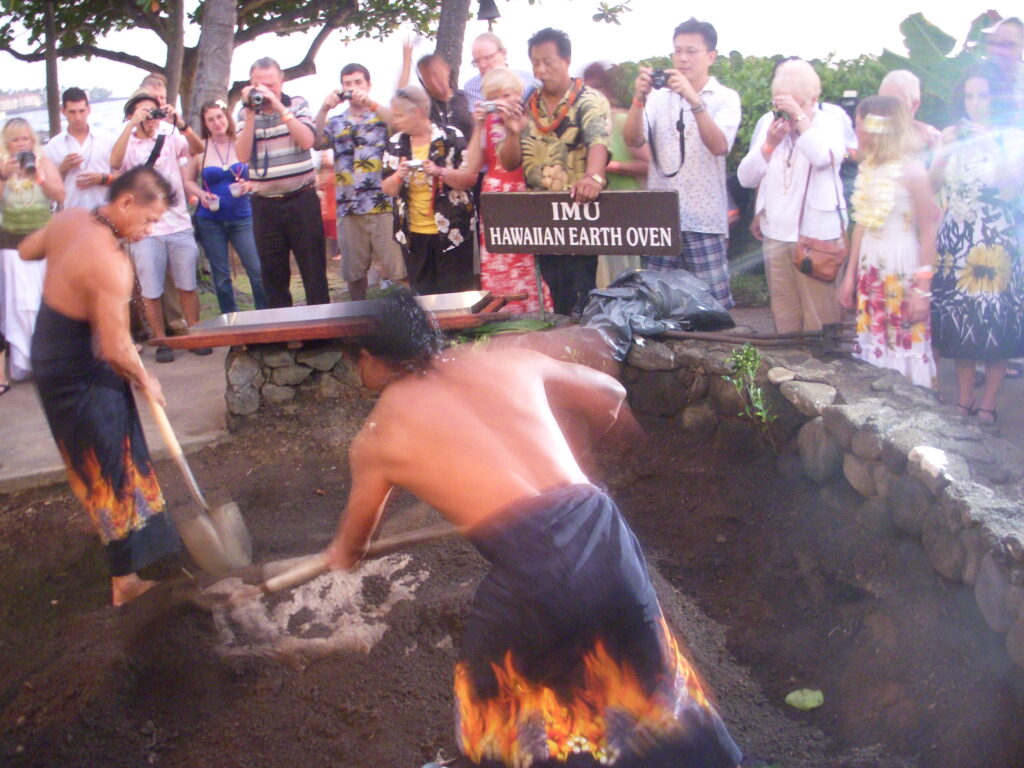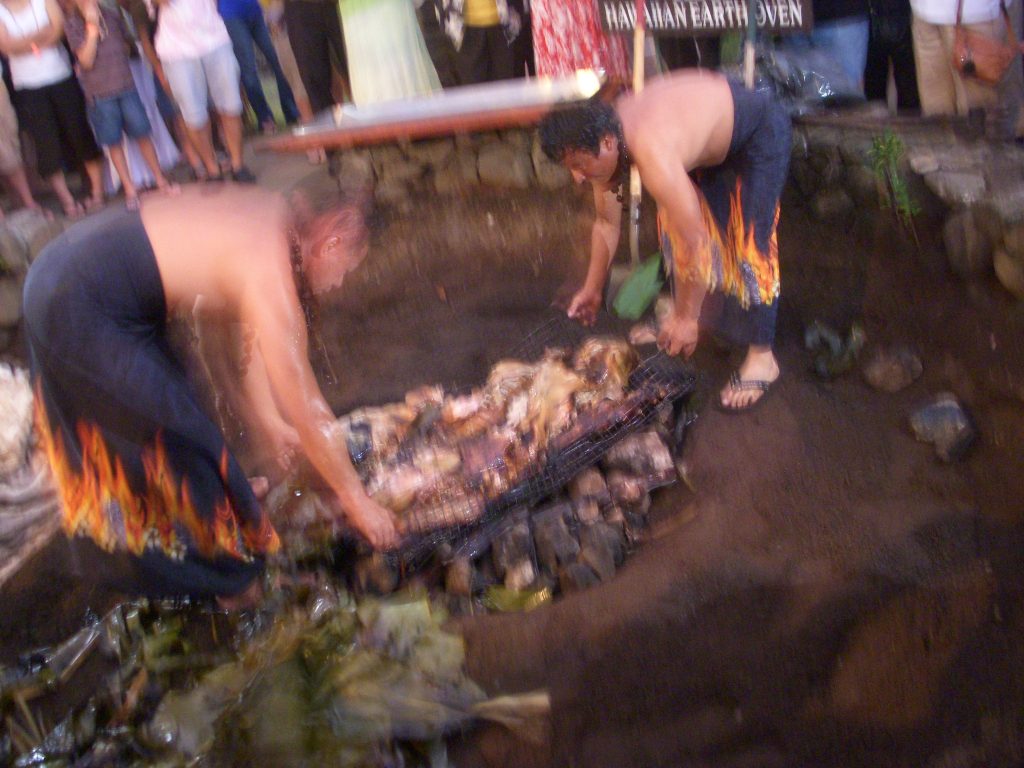 I had my first taste of poi. It wasn't as bad as some people describe it to be, but is definitely different than anything I'm used to. I generally do like taro, which is what poi is made from, so that's probably why I didn't hate it.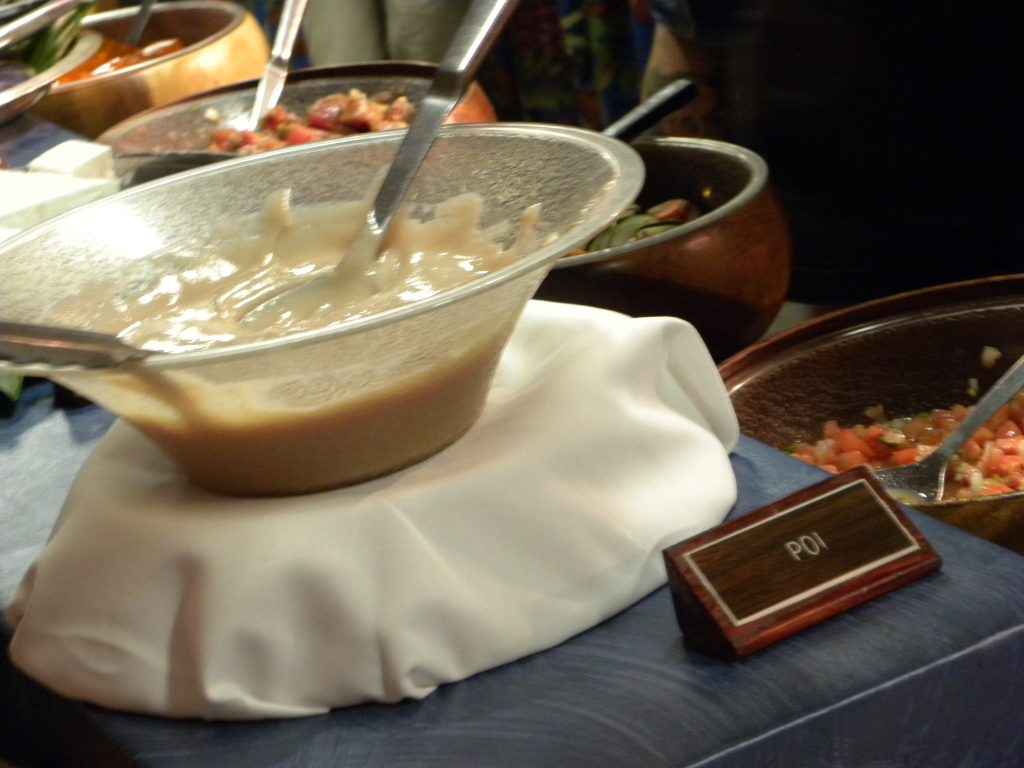 We had lots of traditional lu'au food. I loved the purple sweet potatoes!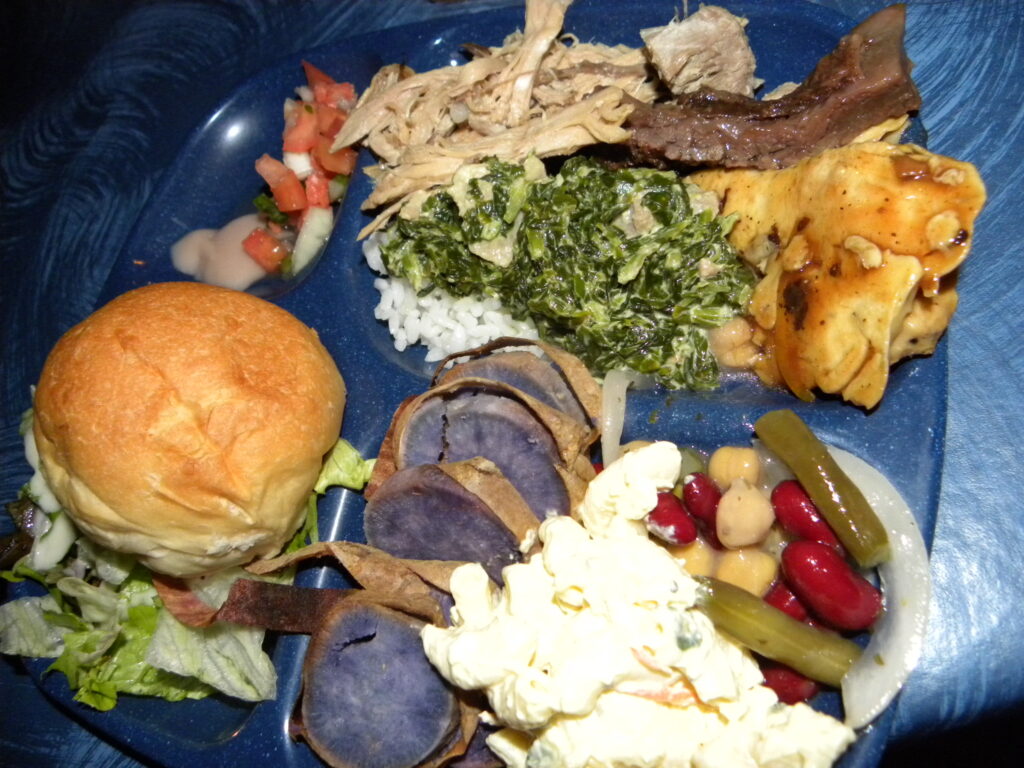 We also got to enjoy a fabulous show with traditional dancing (and lots of hulaing!)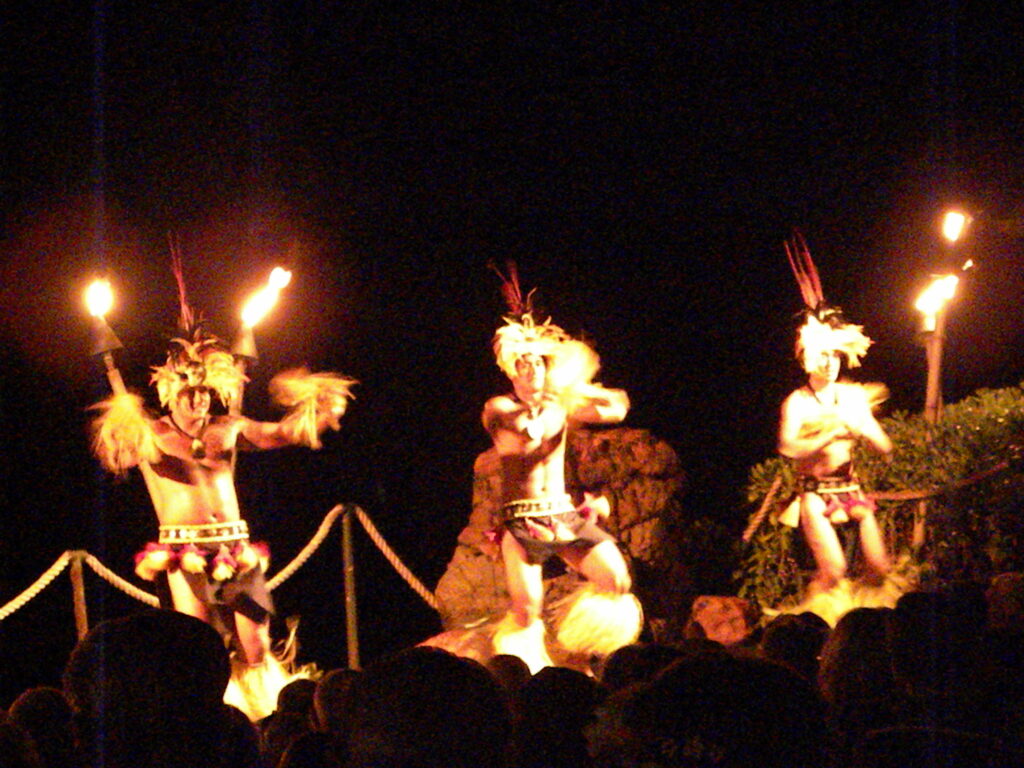 After dinner, the boys got some cigars.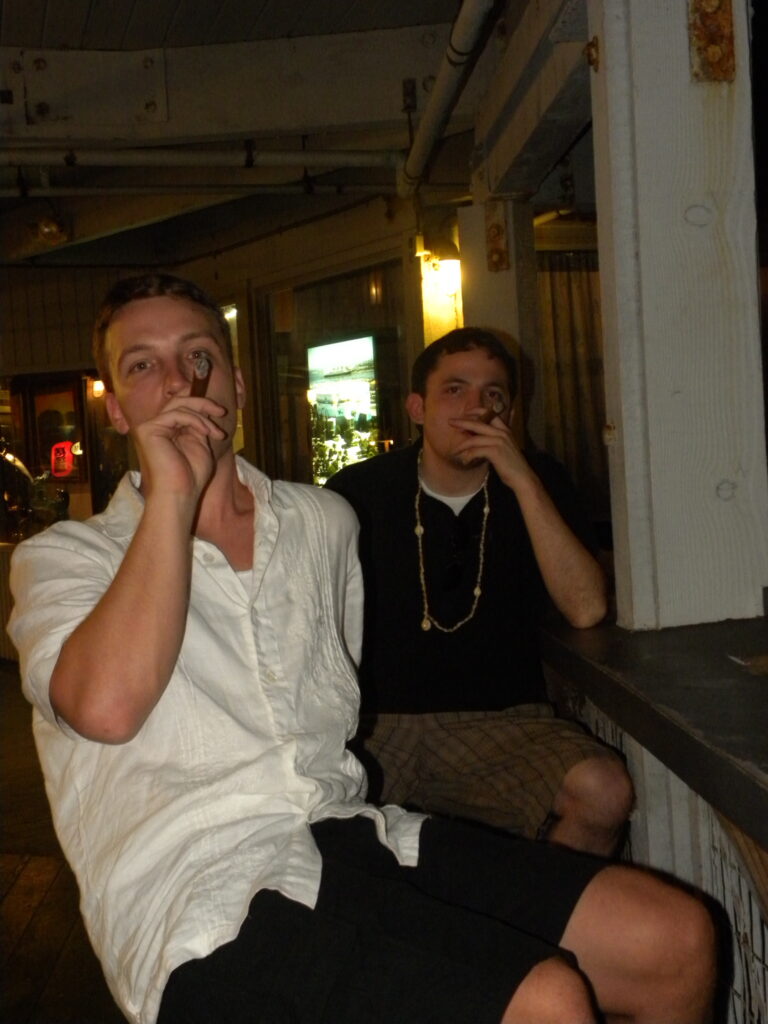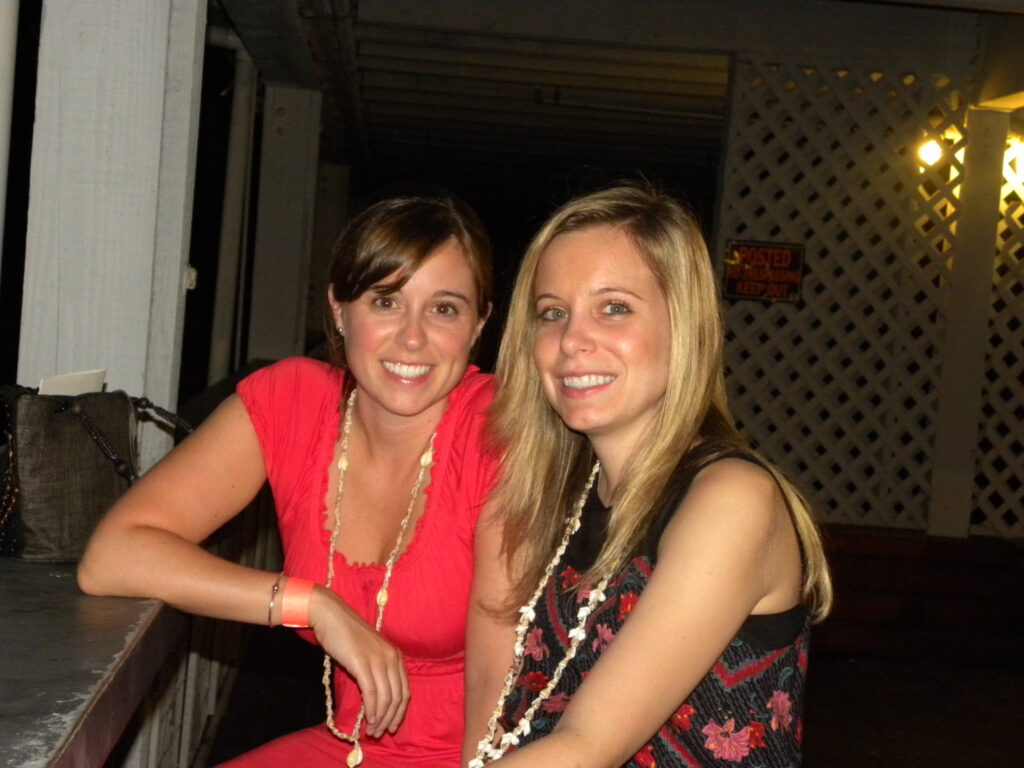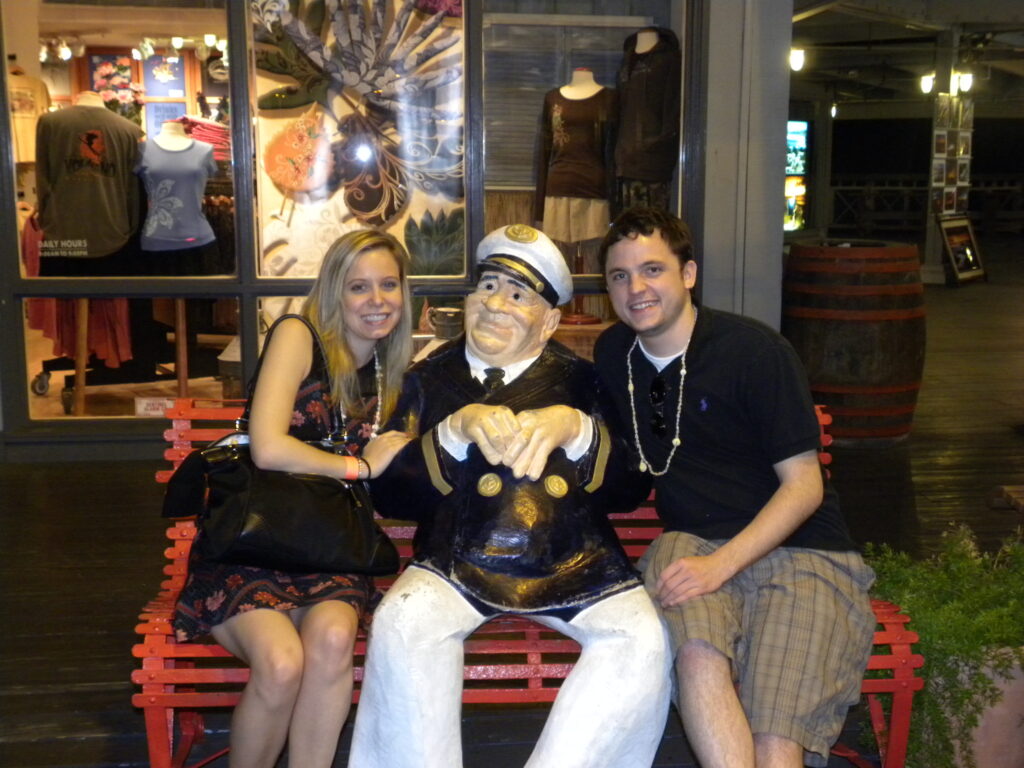 And we finally headed to our hotel in Kona, where we promptly passed out.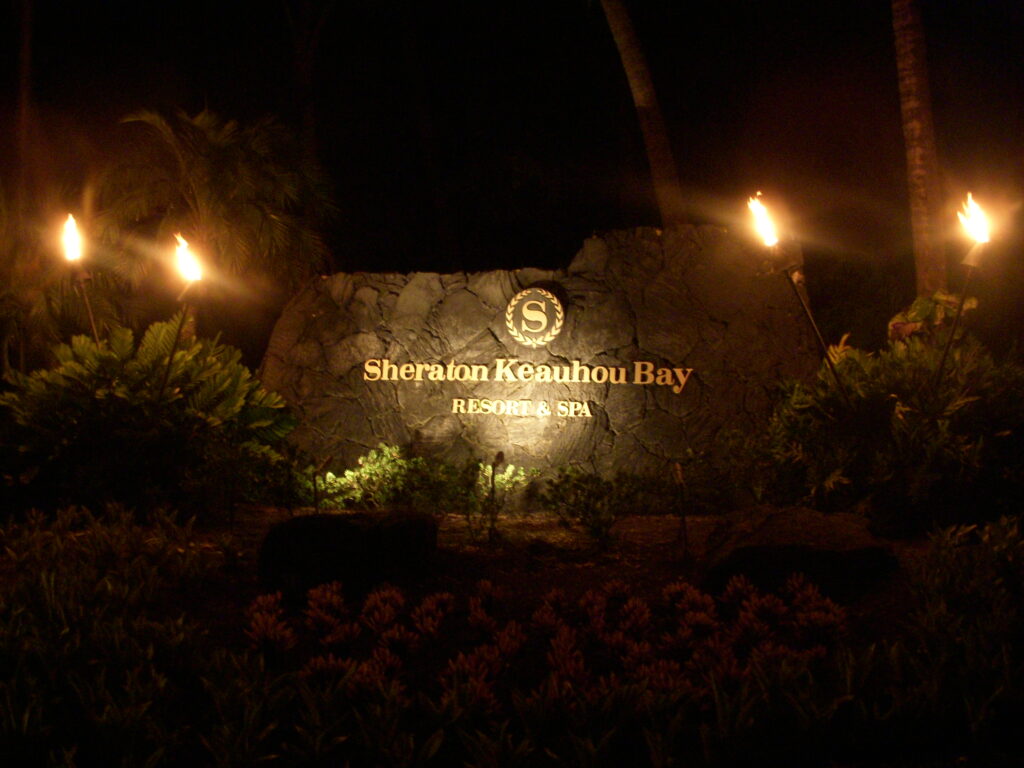 The next morning, we headed to the Kona Coffee Festival, where we tasted a bunch of different local coffees.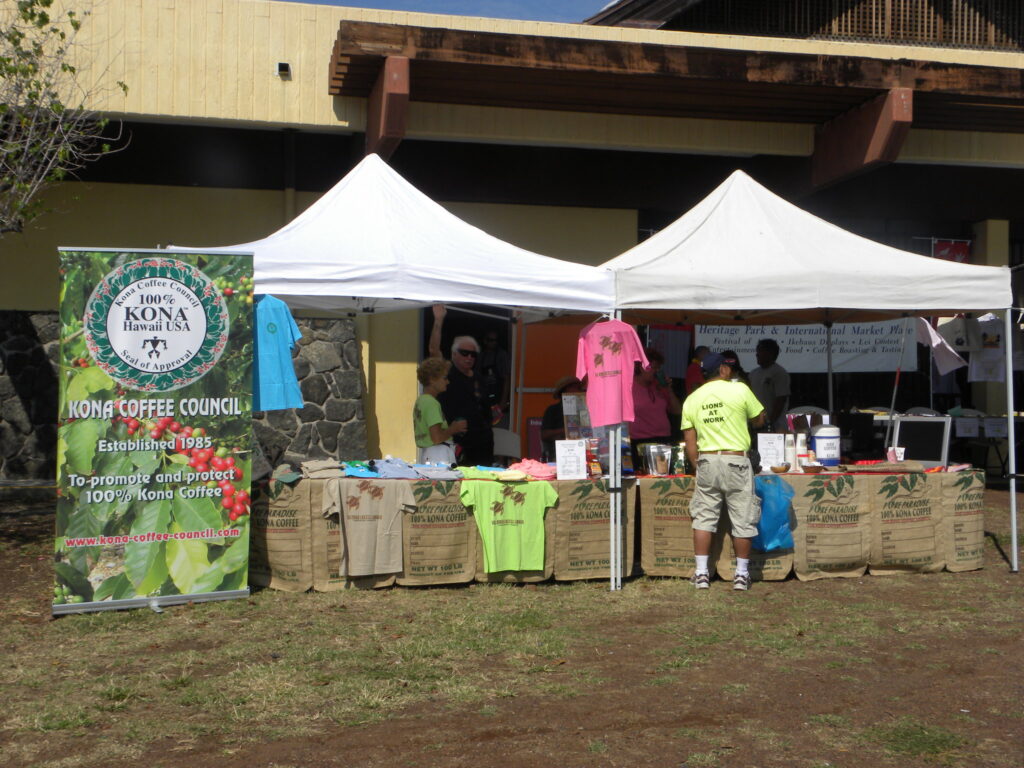 We all purchased one of these mugs because we thought they were so unique and pretty.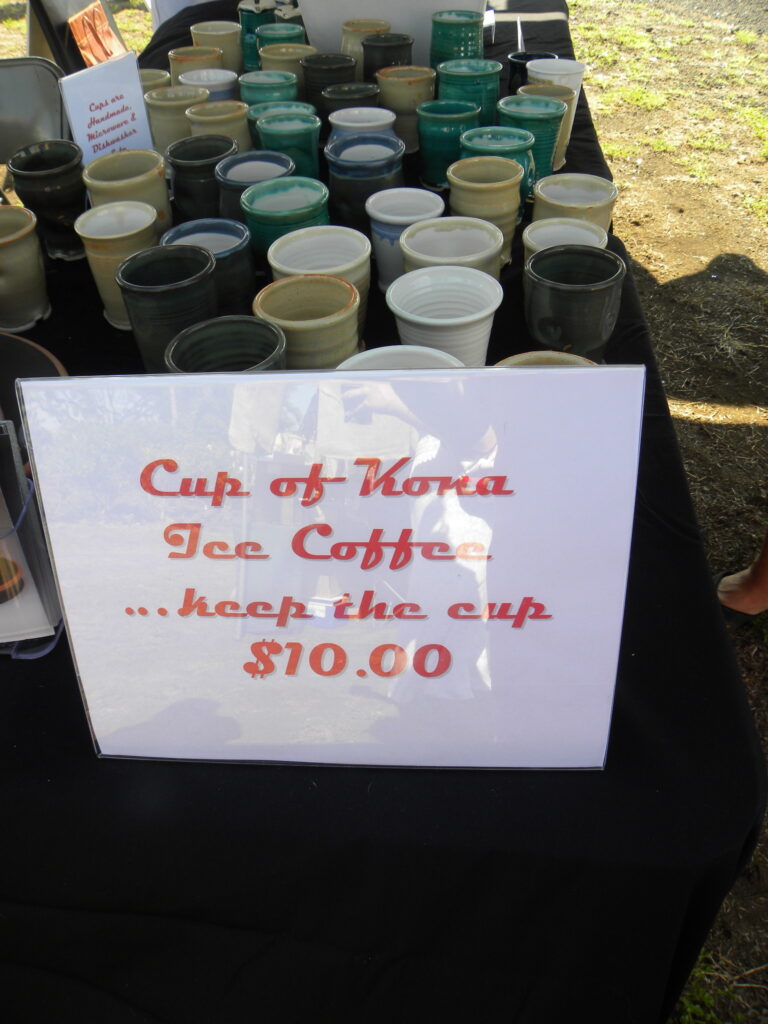 Here's mine!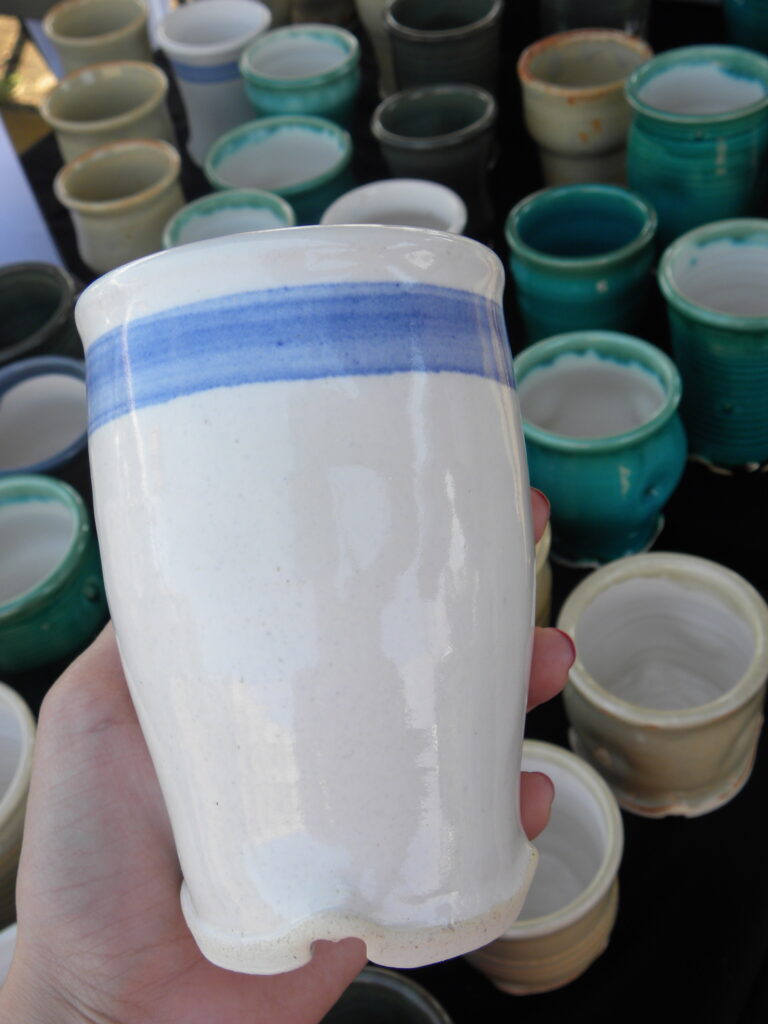 Then we went back to the hotel for some pool time. The pool at the Sheraton was absolutely beautiful.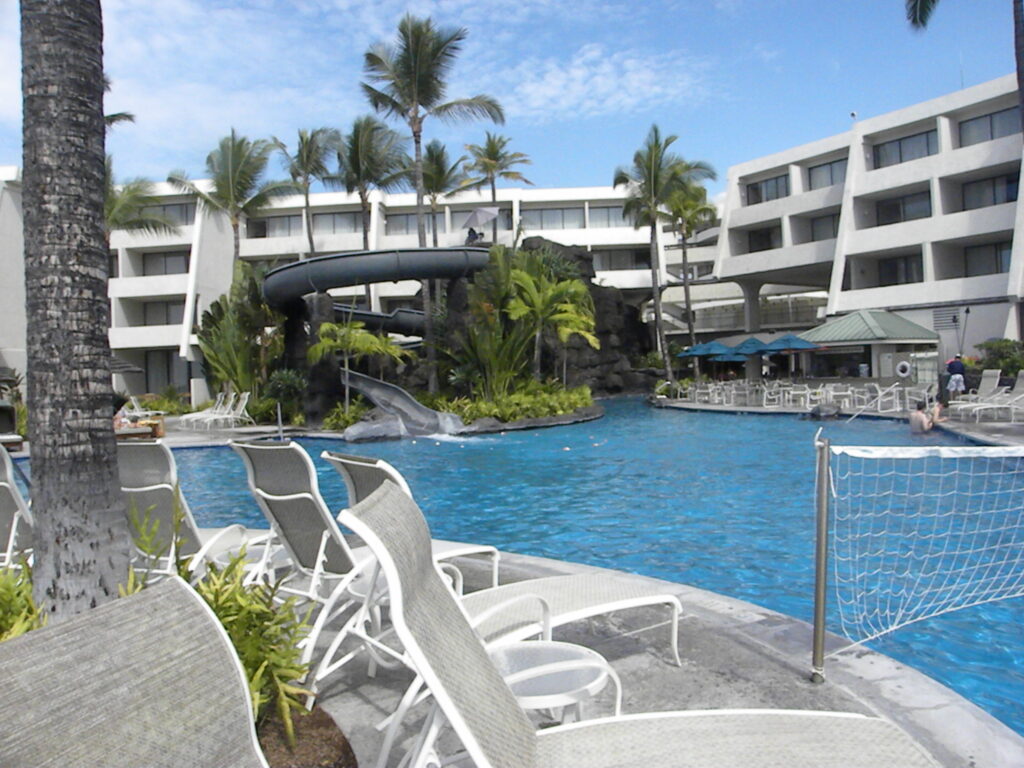 As was the whole resort.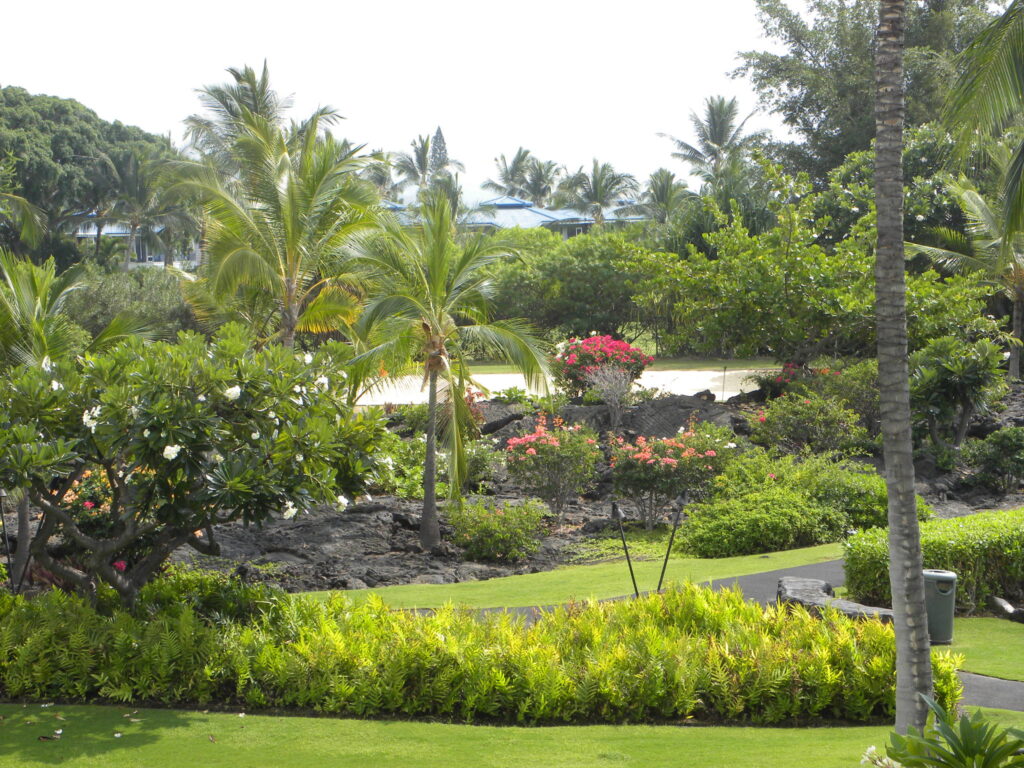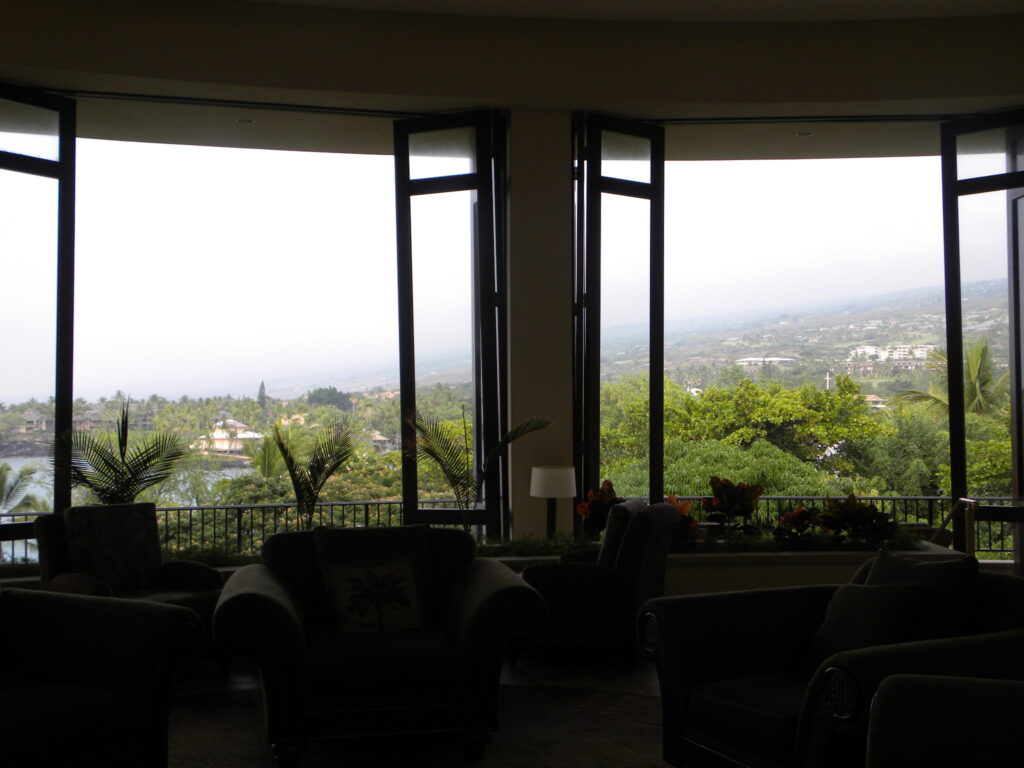 But the most exciting part of the day? We were going swimming with mata rays! This was rated one of the 10 ten things to do in your life by the Travel Channel. OK, so I wasn't really nervous about it until my sister and I were telling the manicurist in the salon that afternoon and she said, "ooh you're brave; I would never do that!" Then I started thinking about it and freaking out a bit. Swimming in dark water at night with huge sea creatures? Yeah, kind of scared. Let it be said, that I'm not the most adventurous person in the world, so this was kind of a big deal for me.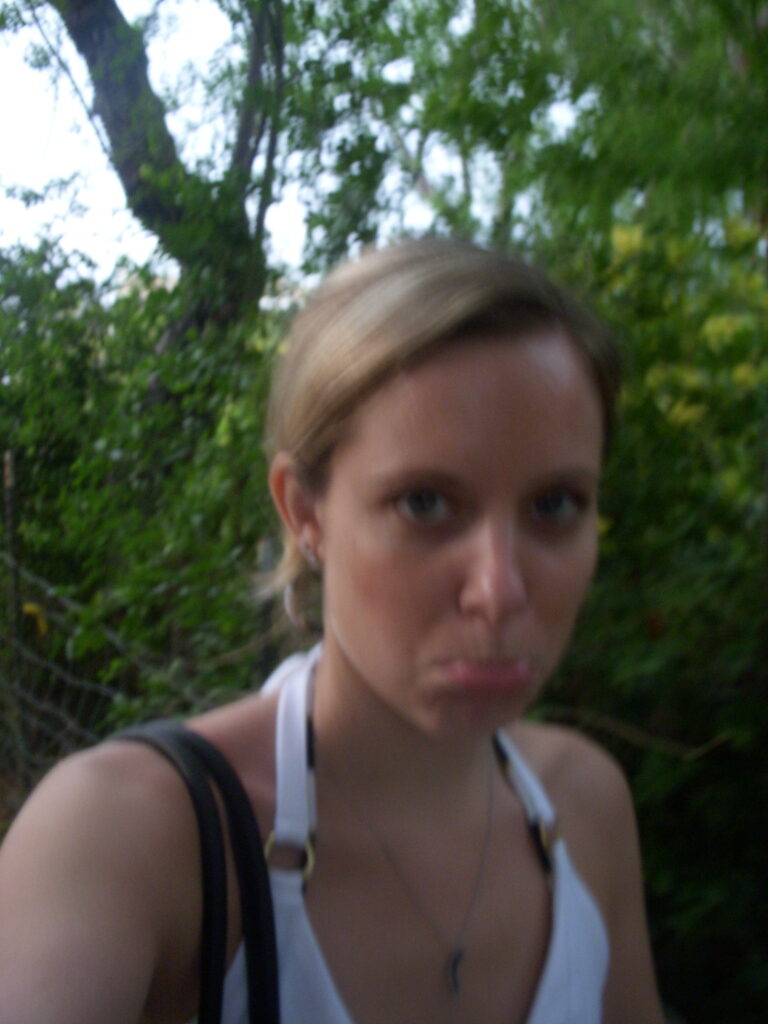 But I knew I had to do it.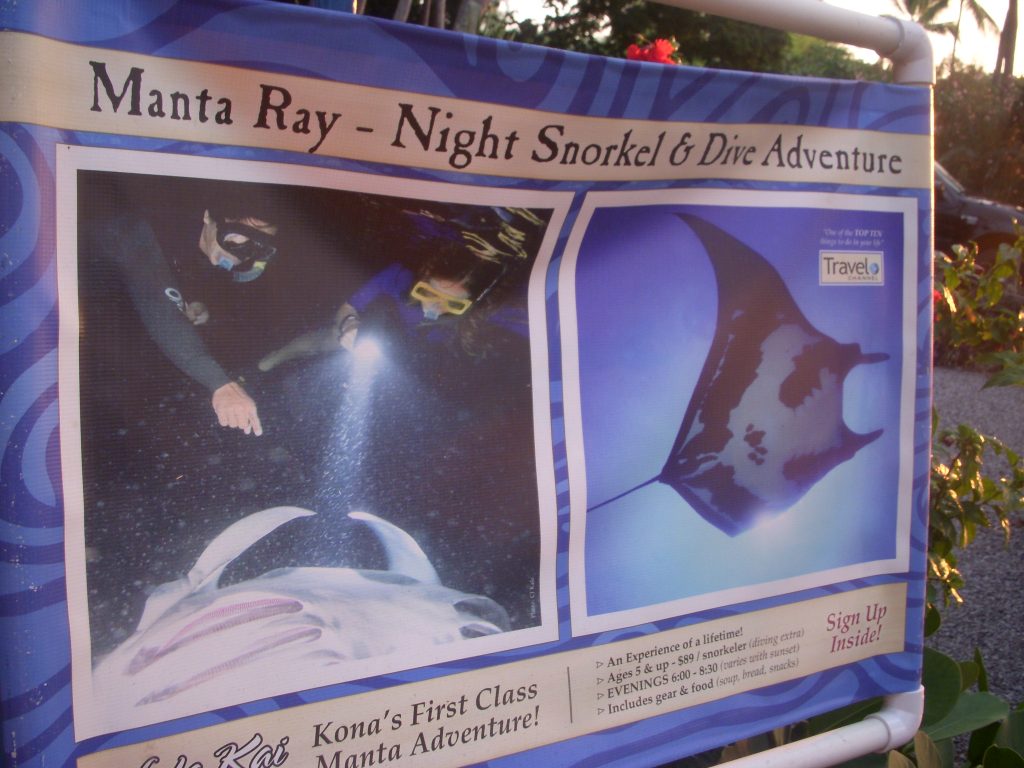 The sun was setting and the views were so pretty.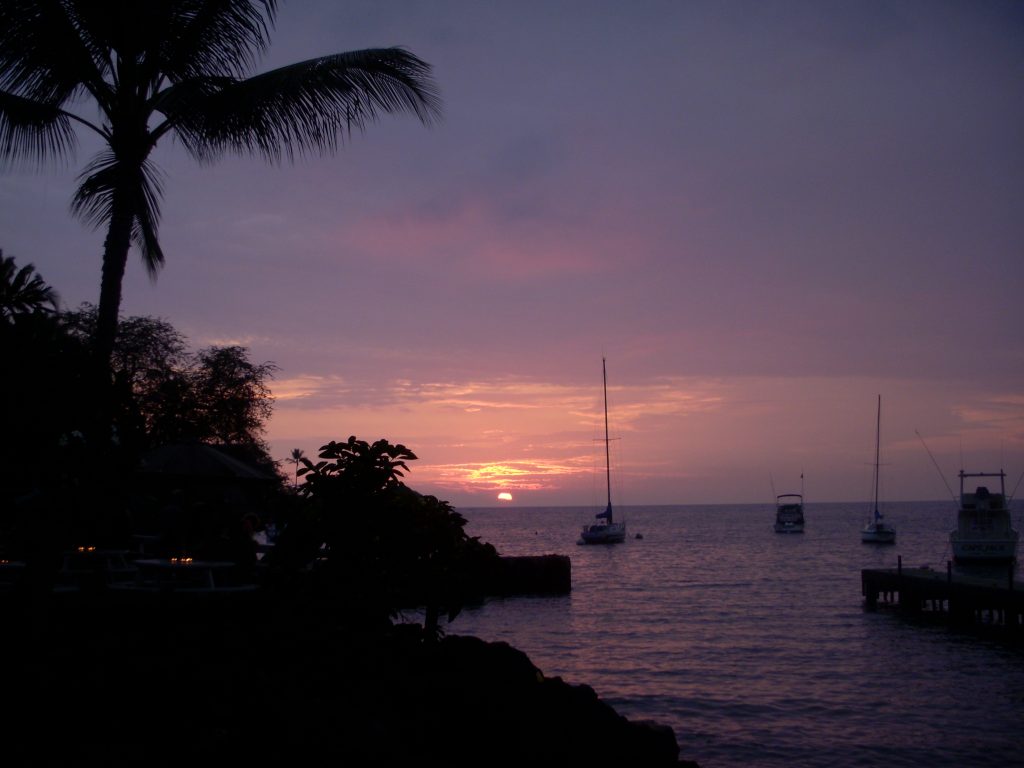 We put on our wet suits and got ready to board the boat.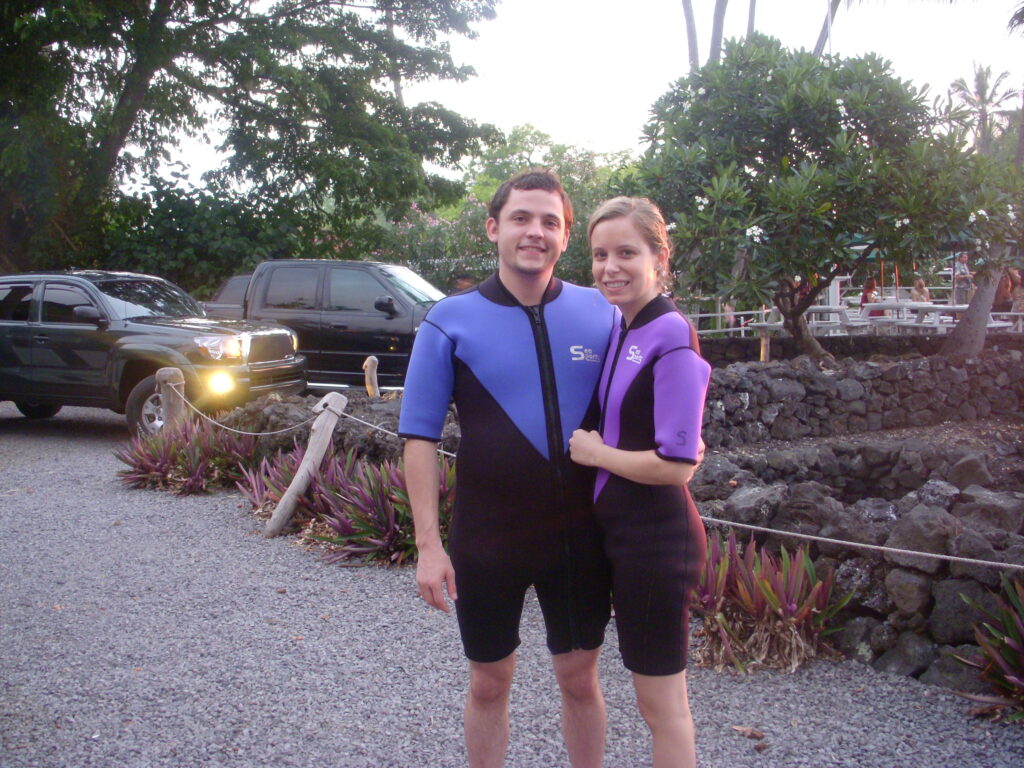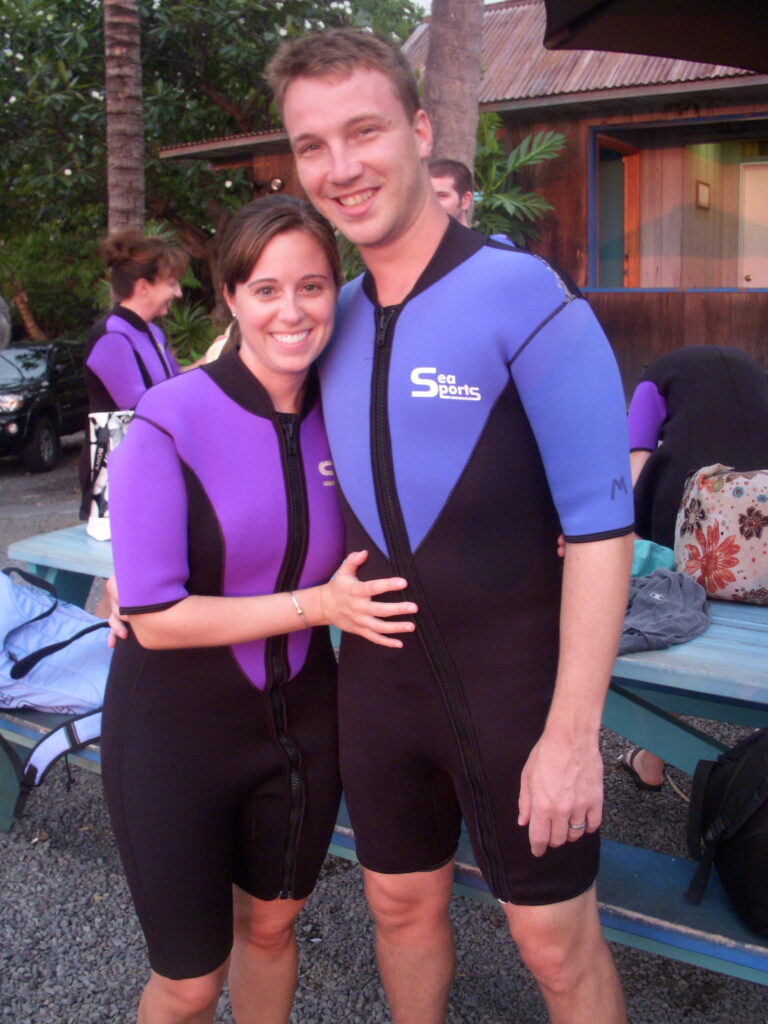 The people who ran the tour were super nice and made me feel a bit more comfortable. The videographer said it best when he described the experience as sensory overload: "You're on a boat at night in the dark with a bunch of strangers…. You're going to get in the cold water and huge sea creatures are going to be swimming right at you with their mouths wide open." Lucky for us, manta rays don't have teeth. But still.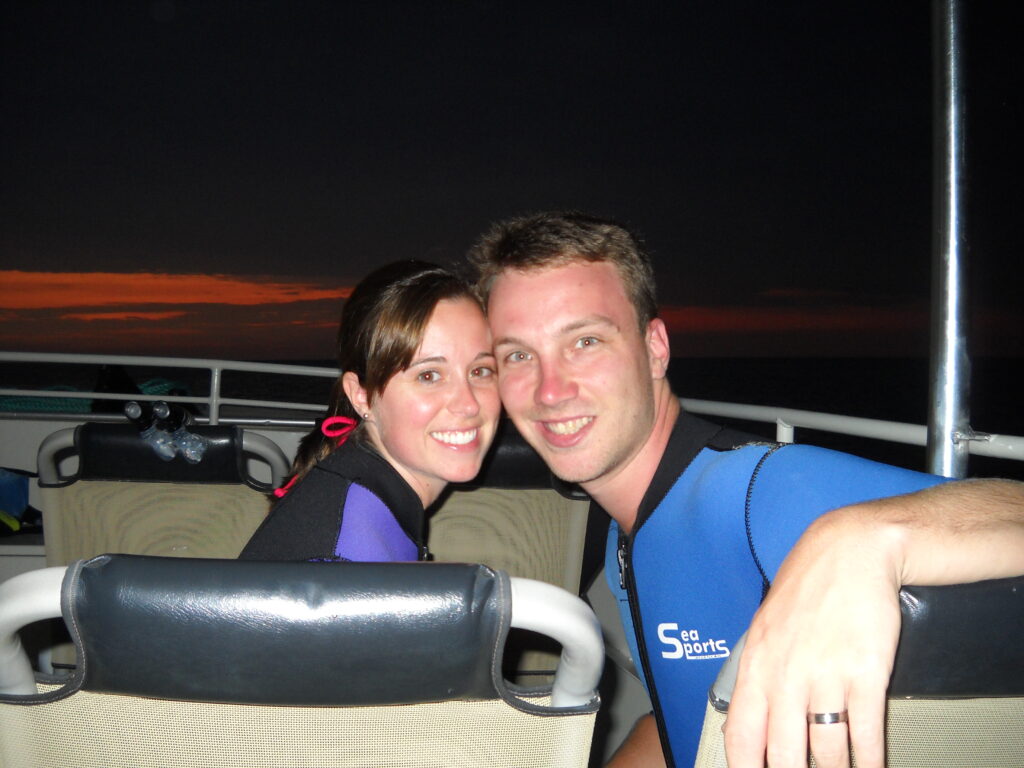 I can do this… And I did! There are no photos of us in the water with the manta rays, but I have to say this is definitely one of the coolest things I've ever done in my life. We floated around with our snorkels and watched 4 huge manta rays swim around us. The were so close to me, they actually touched me a couple times! The longer I was in the water, the less scary it was. But it definitely got a bit chilly.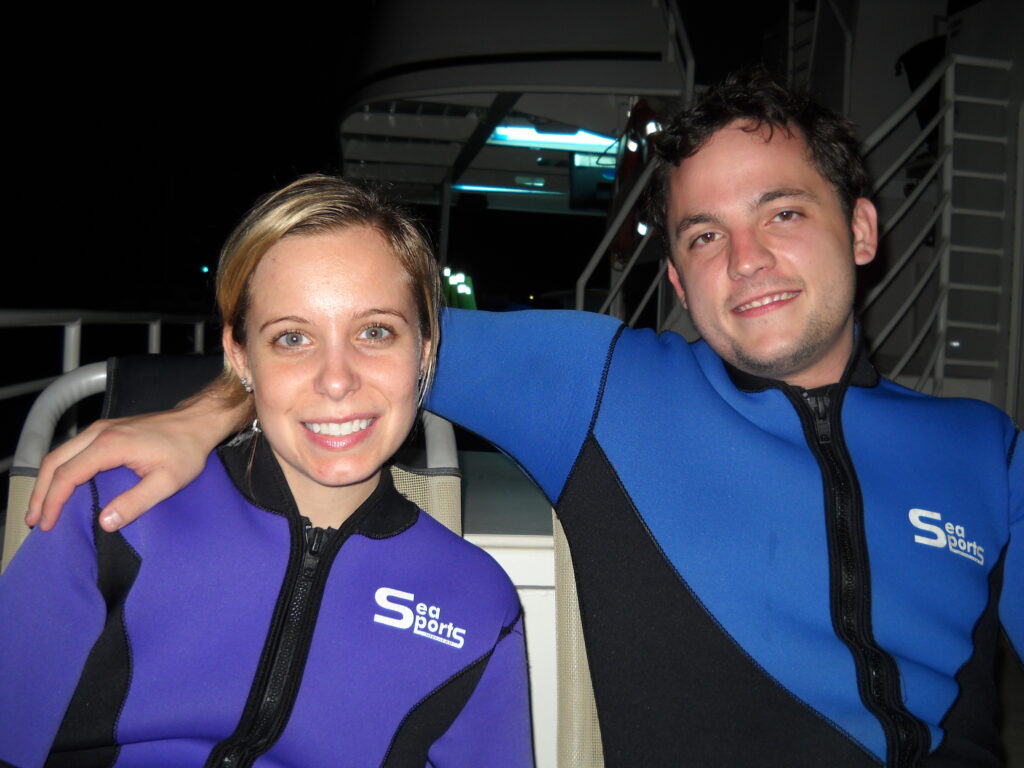 The next morning we woke up bright and early (5:30 a.m.) to go on a kayak trip with Beth and Adam's friends Laura and Plabo. Strangely, I've never been kayaking before so this was also a new experience for me. We went so early because we heard the dolphins are often out at this time and we wanted to see them.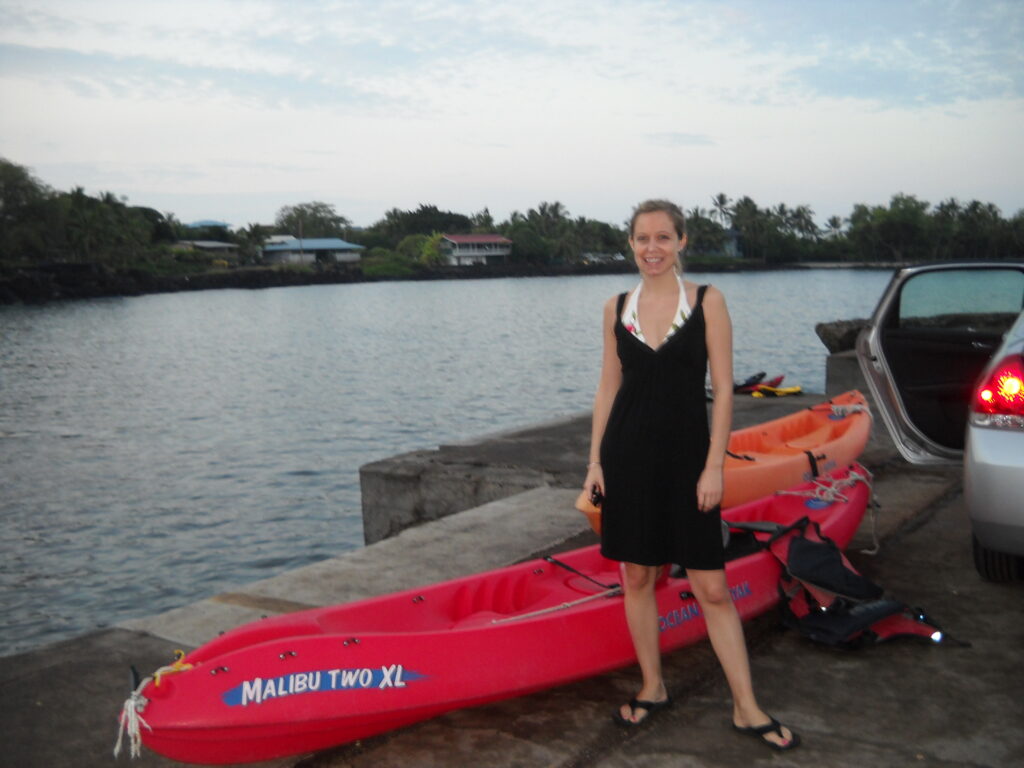 Unfortunately, we didn't see any on our way to the island, which was super disappointing. But we hung out on the island and went snorkling. There were some really awesome and beautiful fish in the water (I wish I had an under water camera!)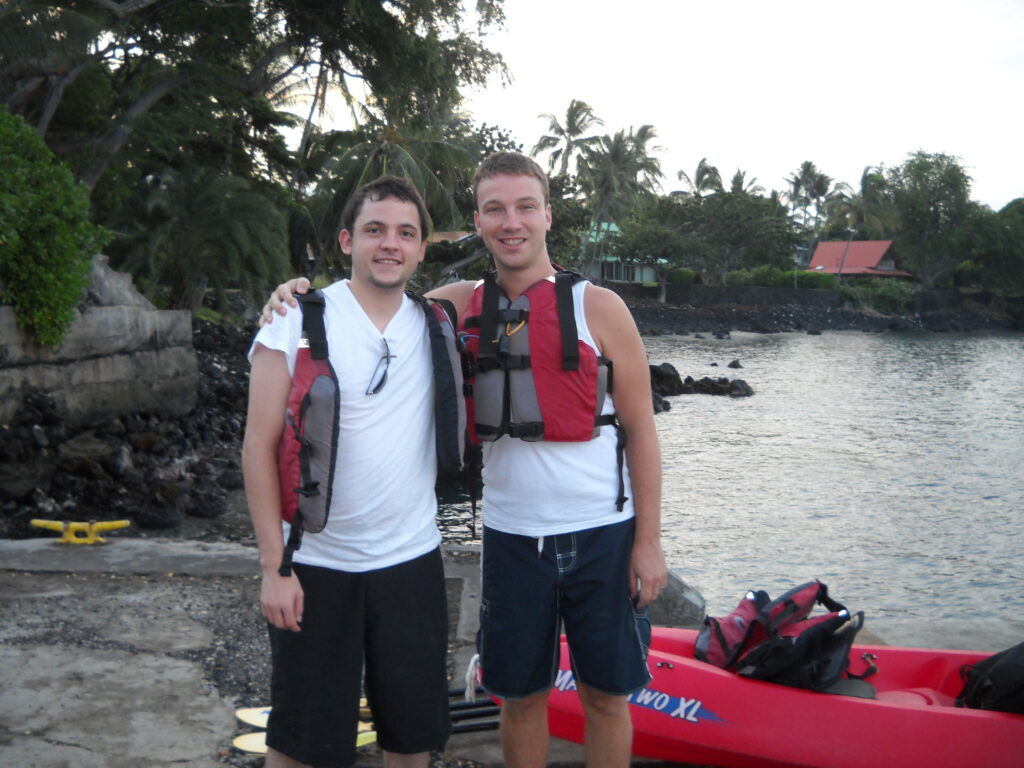 Captain Cook's Monument is also on the island.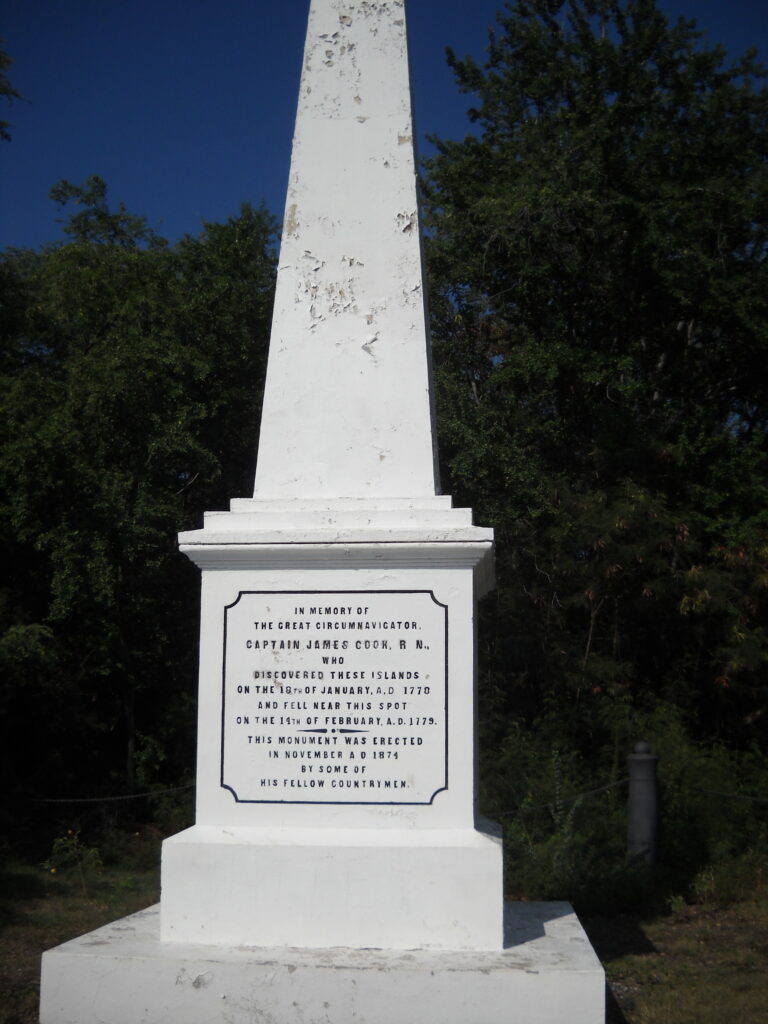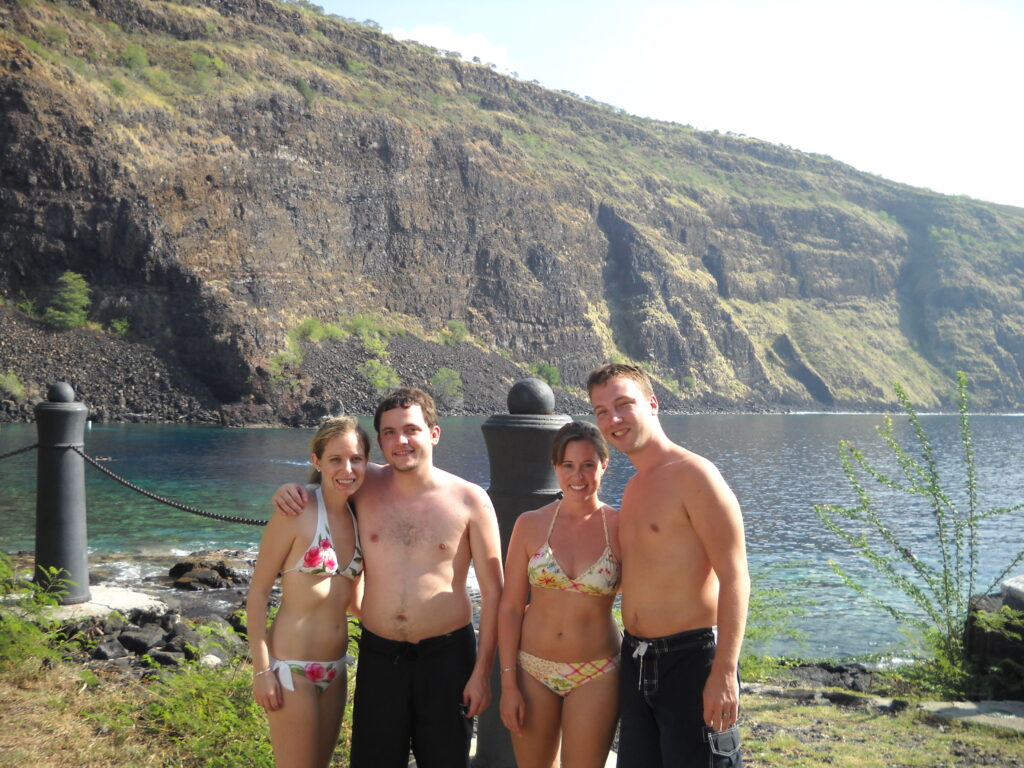 We decided to head back on our kayaks and as we were getting closer to shore, we were suddenly surrounded by dolphins! And thus began another one of the coolest experiences in my life. We sat in our kayaks (some of us getting out and swimming around) for about an hour watching the dolphins put on a show for us.
Lots of the photos are on the waterproof camera, but take a look at the amazing video Beth caught!
Needless to say, we were quite happy with our expedition. I never imagined I'd be swimming so close to dolphins. Especially right after swimming with manta rays!
We went to hang out by the pool a bit more and then headed back to Hilo… Where, of course, it is still raining.
We had to do a fast u-turn on the way home due to my sister shouting "Zebra!!" Huh? We didn't believe her until we turned around and saw a herd of wild pigs running down the road. Then we saw a zebra, along with some huge longhorn cattle, a pony, and other interesting animals. We never thought we would see a zebra mingling with longhorn cattle in the middle of Hawaii, but it was pretty cool.
Since we did ALL this in just a couple days, I have a feeling the rest of my trip is going to be pretty packed too. My sister and Adam have to work the rest of the week, so Chris and I will be exploring on our own until Friday when the four of us are off to Honolulu!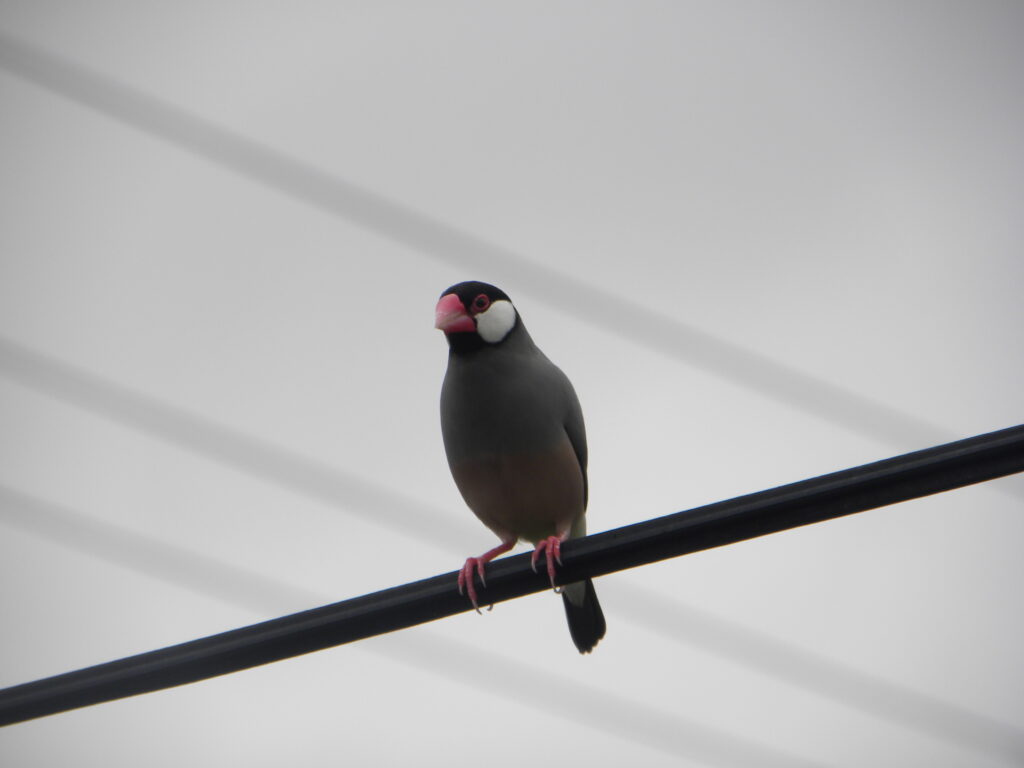 Thanks to Beth and Adam for being awesome hosts so far and seriously showing us the best of Hawaii!
And Happy Birthday to Chris who gets to spend his birthday in Hawaii! We'll definitely be doing some celebrating 🙂
[Sues]