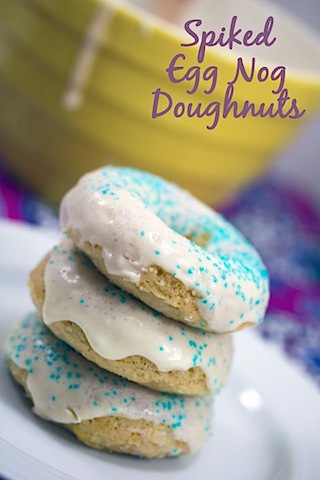 I used to think egg nog was one of those things you either love or hate. But then I realized I was not a lover or a hater, but an in-betweener. Do I get cravings to chug a huge cold glass of egg nog? Not usually. Do I enjoy the flavor and thinks it's one of the most fabulous things about getting into the holiday spirit? Yes. And there's so much more you can do with it than drink it if you're just not a huge fan of the thick, creamy consistency. Like make doughnuts. I realize it's still early November and some think it's a crime to be posting holiday recipes. I swear, it's Pinterest's fault I'm in the spirit already. These days, most of my issues can be blamed on Pinterest.
But I'm also blaming Polar Seltzer and the fact that their winter flavors are out already. And one is Egg Nog.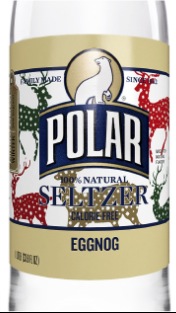 And it's heavenly. Like, it's hard to put my feelings about this into words, but basically, it's egg nog without any of the thickness or calories. All amazing refreshing flavor. Now I just want to know what would happen if I mixed it with rum. See? My mind is always working.
I'd also like to place some of the blame for my early holiday cheer on Bigelow's Eggnogg'n tea.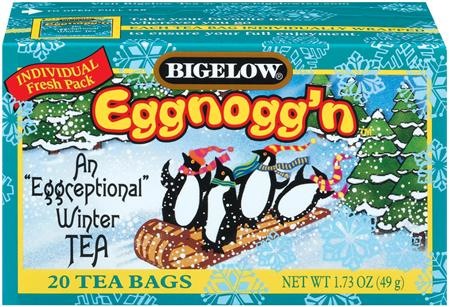 Again, all the flavor of egg nog without the thickness and calories. Plus you drink it hot, so it warms you up on cold winter nights. Or Fall nights. Whatever. My point is, it's not too early.
But if you're mad I'm posting holiday recipes already, please feel free to blame Pinterest, Polar Seltzer, and Bigelow. Thank you very much.
Anyway, back to the issue at hand. Egg nog. While I'm very much an egg nog in-betweener, Chris is most definitely an egg nog lover. Like I've never known someone who can drink so much of the stuff. So, I've been experimenting with some recipes to see what I can come up with involving egg nog all in the name of making the husband happy. But really just because I wanted to try putting egg nog in doughnuts. Fair enough, right?
I'd also like if you could all give a warm welcome back to my trusty old doughnut pan. You know, I kind of abandoned it for a while because, when I craved doughnuts, I craved real fried doughnuts. But then I decided if a doughnut involved egg nog, it could probably be A-OK baked. And I was right.
This recipe also has all the flavor of egg nog without all the thickness and… well, it does have the calories. But that's OK because they're totally worth it. I promise.
It also has rum. In both the doughnut and the icing. Because I would never let you down like that.
Spiked Egg Nod Doughnuts (makes 12):
Print this recipe!
2 C all-purpose flour
3/4 C sugar
2 t baking powder
1/2 t cinnamon
1/2 t nutmeg
1 t salt
2 eggs
3/4 C egg nog
1 t rum
2 T butter, melted
Spiked egg nog icing (see recipe below)
pre-heat oven to 325 degrees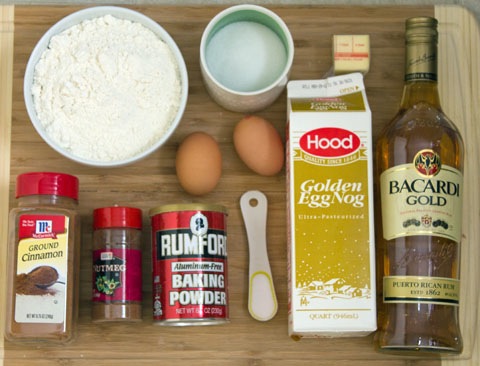 Whisk together flour, sugar, baking powder, cinnamon, nutmeg, and salt in a large bowl.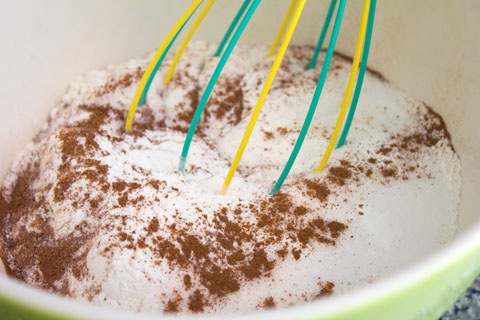 In a separate small bowl, whisk eggs. Then add in and whisk together egg nog, rum, and melted butter, until combined.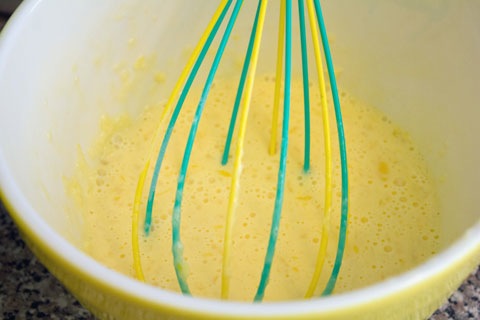 Stir the wet ingredients into the dry ingredients, being very careful not to over-mix (that's what causes the dense cakey doughnuts).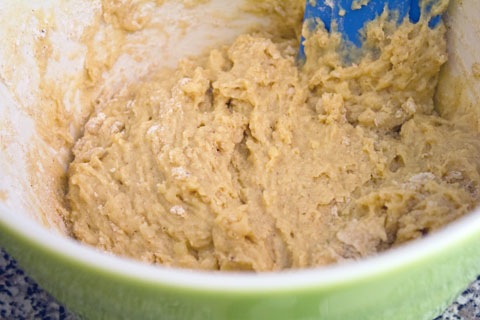 Spray your doughnut pan with some cooking spray. Then fill the doughnut pan about 3/4 of the way with batter.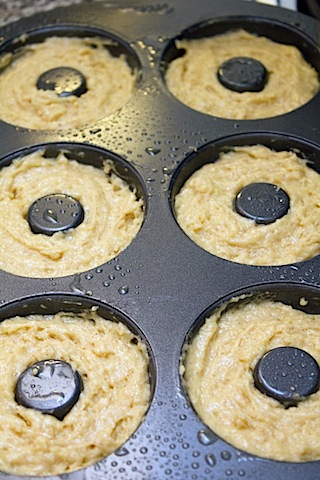 And bake for about 8-10 minutes at 325 degrees. Doughnuts should be nice and springy to the touch.
Let cool in the pan for a few minutes and then remove. Re-spray the pan and pop the next batch in the oven (if your doughnut pan only holds 6 doughnuts like mine!).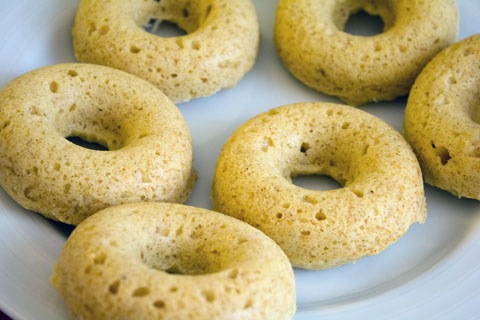 While doughnuts are baking and cooling, you can make the icing! It's easy.
Spiked Egg Nog Icing:
Print this recipe!
2 C confectioner sugar
1 1/2 T butter, very soft
2 T light rum
1/4 t salt
4-5 T egg nog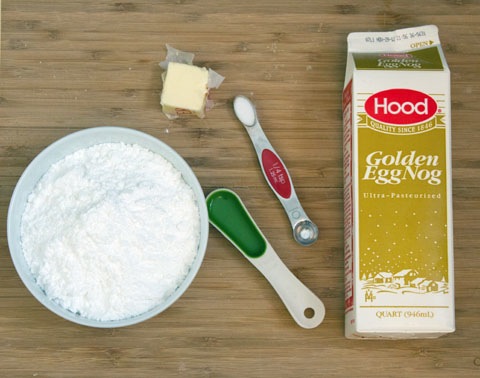 Simply whisk all the ingredients together. If you find your icing is too thin, you can add more confectioner sugar; if it's too thick, you can add more egg nog… OR rum. Whatever floats your boat. I used light rum for this part because I didn't want my icing to turn a weird color.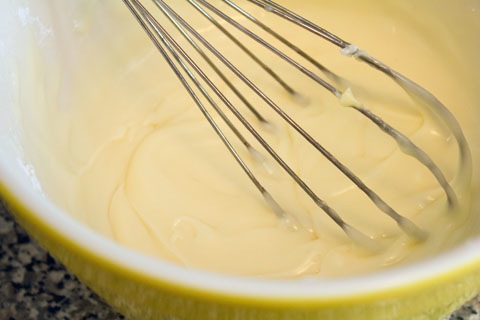 Once the doughnuts are totally cool, top with frosting. And some pretty sprinkles if you so desire.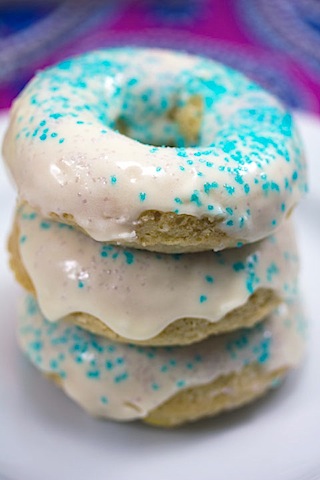 So, welcome to the holiday season. The weather in Boston has certainly been preparing us the last couple days. Brrrr. A glass of egg nog straight from the fridge might not warm you up, but I'm pretty sure a spiked egg nog doughnut would.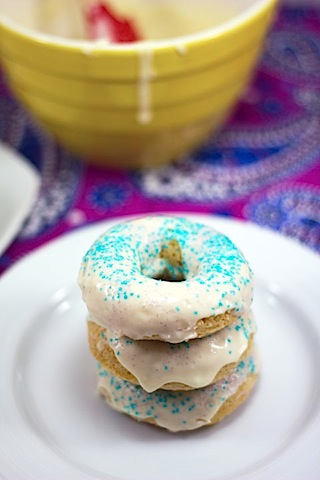 This was definitely the BEST baked doughnut I've ever made. Of course, it still didn't taste like a traditional fried doughnut, but I feel like fried AND egg nog would have been a little too much. Even for me. So, I liked that this was more of a cake doughnut. But it certainly wasn't as dense and cakey as some doughnuts I've made in the past. Phew.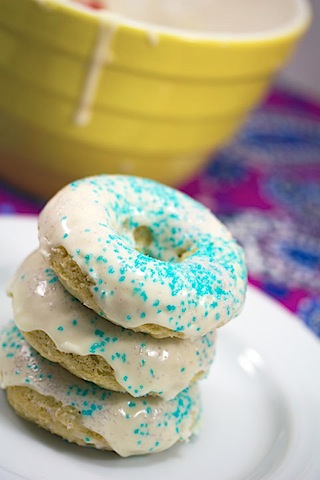 There's really nothing about these doughnuts that won't make you happy. Or launch you into the holiday mood. And let's face it; egg nog is pretty harmless in November when you consider I could be decking the halls with candy canes and Christmas trees. Don't worry; that's coming. You ain't seen nothing yet!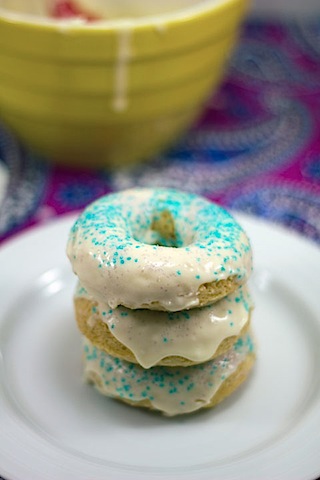 Oh, but we can't forget about the icing. Oh my God, the icing. It was sweet for sure, but also tasted distinctly like egg nog. And it had just an itty bitty teeny weeny touch of rum. Because if that doesn't get you into the holiday spirit, I don't know what will.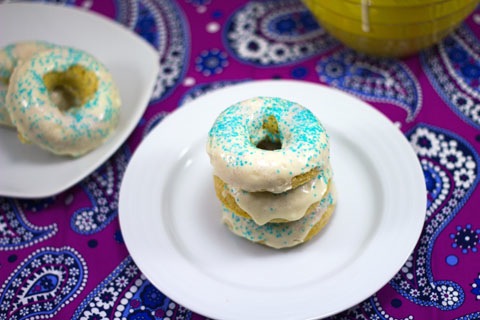 I'm pretty excited for holiday drinks this year. And I'm sure I'll be spiking up some egg nog and whipping up some creamy cocktails to welcome the holiday decorations, snow, and Christmas carols.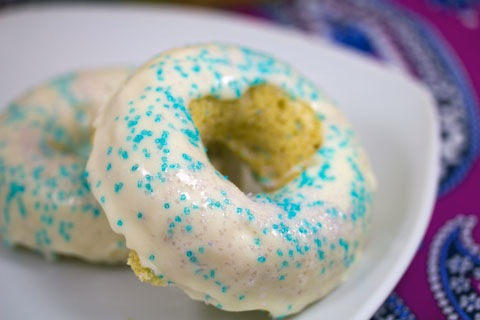 But first, we'll be celebrating Thanksgiving in just a few weeks (!!!). It's my all-time favorite holiday and I plan on enjoying it to the fullest extent. But still, all egg nog concoctions are fully welcome at my Thanksgiving celebration.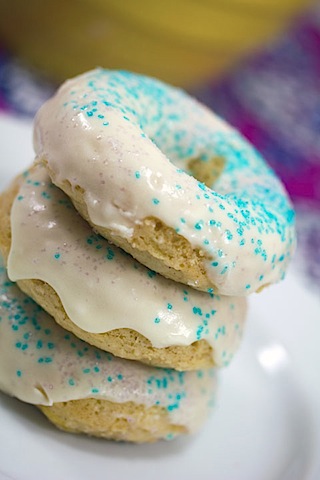 Happy November 5 🙂
Are you an egg nog lover, hater, or in-betweener?
[Sues]