If you're planning a trip to Chicago, make sure you plan to spend plenty of time in the West Loop neighborhood. You won't be disappointed if you hit up these 7 spots for food and drinks!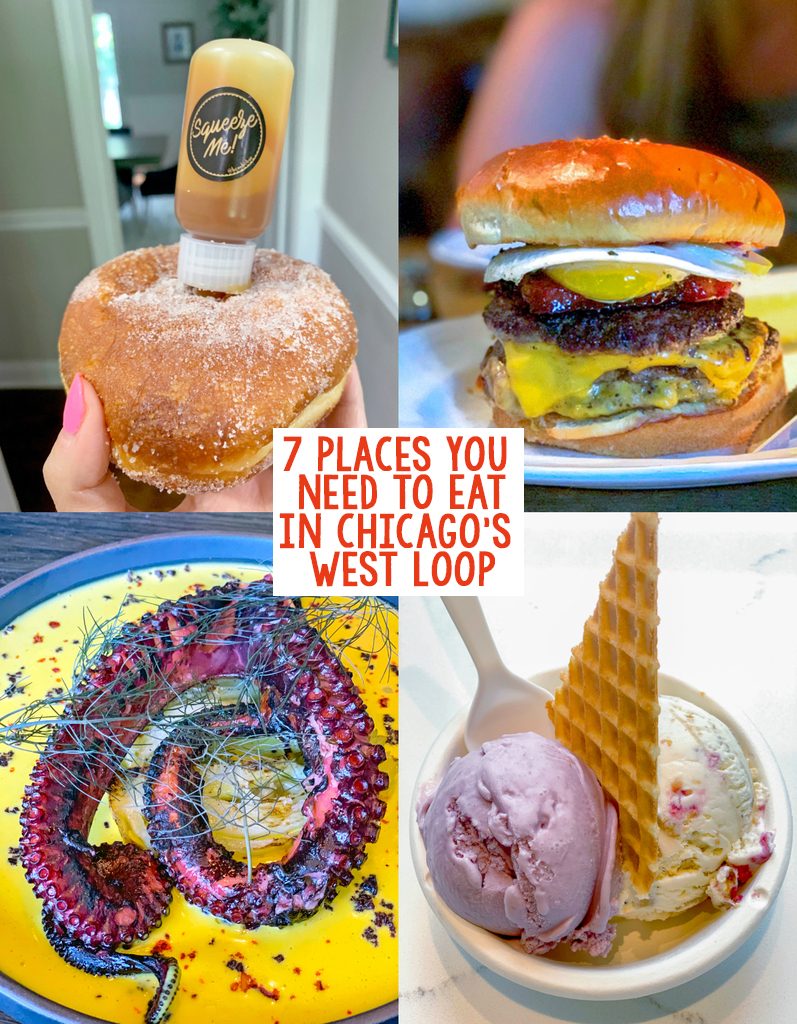 While I hate that my sister and her family moved to the Chicago suburbs and are so far away from me, there is one good thing to come out of it... I get to visit them in Chicago! I've been a couple times since they moved and on my last visit, we ate A LOT of good food in the city, mainly in the West Loop neighborhood and more specifically in the Fulton Market area. I've compiled this list of 7 places you have to eat in Chicago's West Loop (OK fine, one is a place you have to drink!), but this is in no way an exhaustive list. I can't wait to go back and discover more (and I still want to eat at all of Stephanie Izard's restaurants). And yes, I know the West Loop has more to offer than the Fulton Market district, but as you can see, we hung out there quite a bit.
To be clear, I am by no means an expert on the Chicago food scene. There are SO many great spots in the city and I am constantly astounded by how much there is to do... And eat! I love Boston with all my heart, but in terms of innovative restaurants and things going on in the city, Chicago definitely has it beat. I'm not saying these are the BEST places because I'm not even close to trying them all; but I am saying that if you hit up all these spots on your next trip to Chicago's West Loop, you will not be disappointed.
#1 Jeni's Ice Cream
When my sister asked me if there was anything in particular I wanted to do in Chicago, I only listed things i wanted to eat. Luckily, she and I are very much on the same page and she was immediately on board with fulfilling all of my food dreams. I've been wanting to visit Jeni's Ice Cream forever. I got her first cookbook in 2009 and have dreamed about actually trying her ice cream ever since. Though Jeni's is an Ohio institution, she's been opening shops around the country and there are now quite a few in Chicago. I told my sister I wanted to stop by, so the first thing we did when we got to the city was put our stuff down in our hotel room and walk 2 miles to Jeni's in the West Loop. It was a gorgeous walk all along the river on a beautiful afternoon and the shop is just SO cute.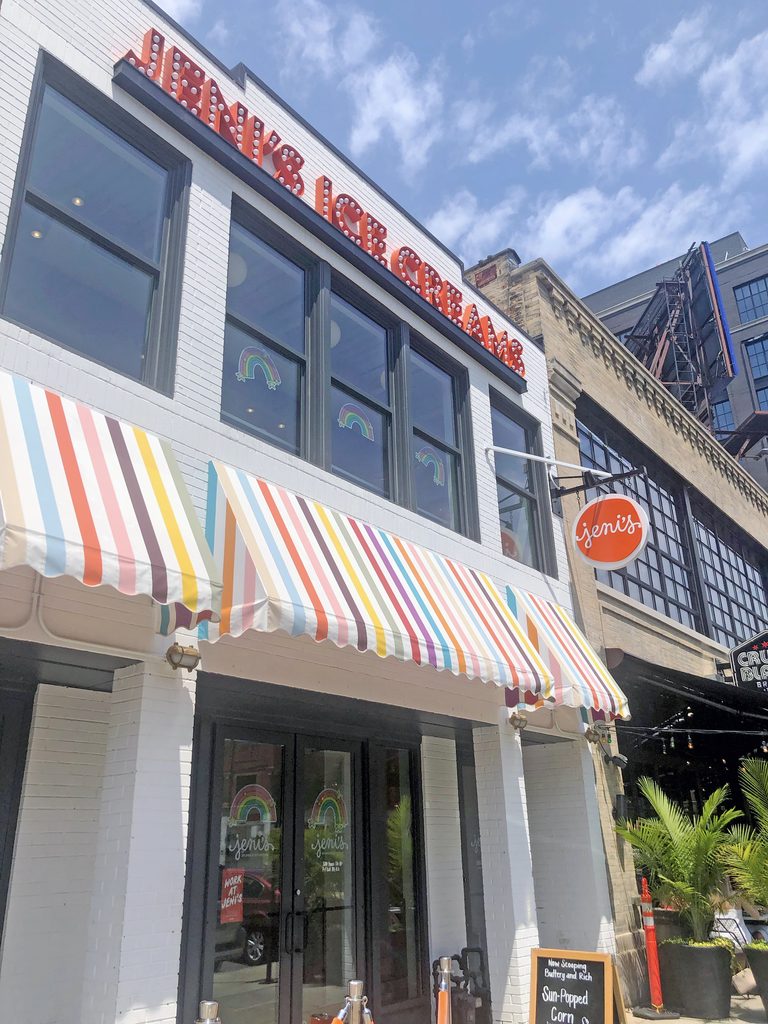 It was almost impossible to pick out a flavor at Jeni's, so I texted my friend Grace who's from Ohio and is a Jeni's expert. I ended up taking her recommendation and ordering the Salted Peanut Butter with Chocolate Flecks... I also tried the Cold Brew with Coconut Cream. My sister also got the PB along with the Blackout Chocolate Cake. Oh my goodness, this ice cream is absolutely awesome.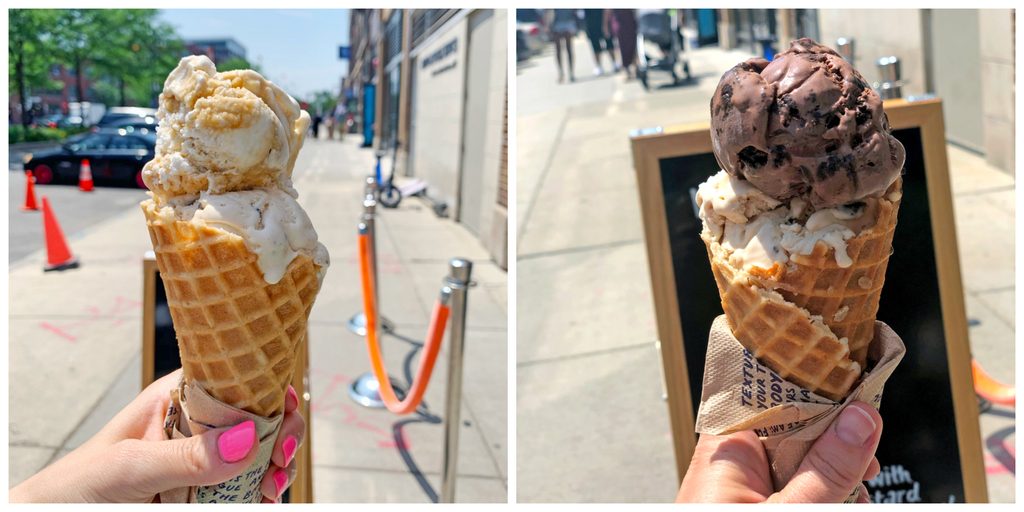 We actually went back to Jeni's a couple days later when we returned to the city! After walking by it with my nephews, Charlie reallyyy wanted to go (the storefront is so enticing!). Henry wanted donuts, so we got donuts first and then headed back to Jeni's for ice cream. Yes, it was basically the best day ever! This time I got the Brambleberry Crisp (another Grace recommendation) and Wildberry Lavender. Both were incredible!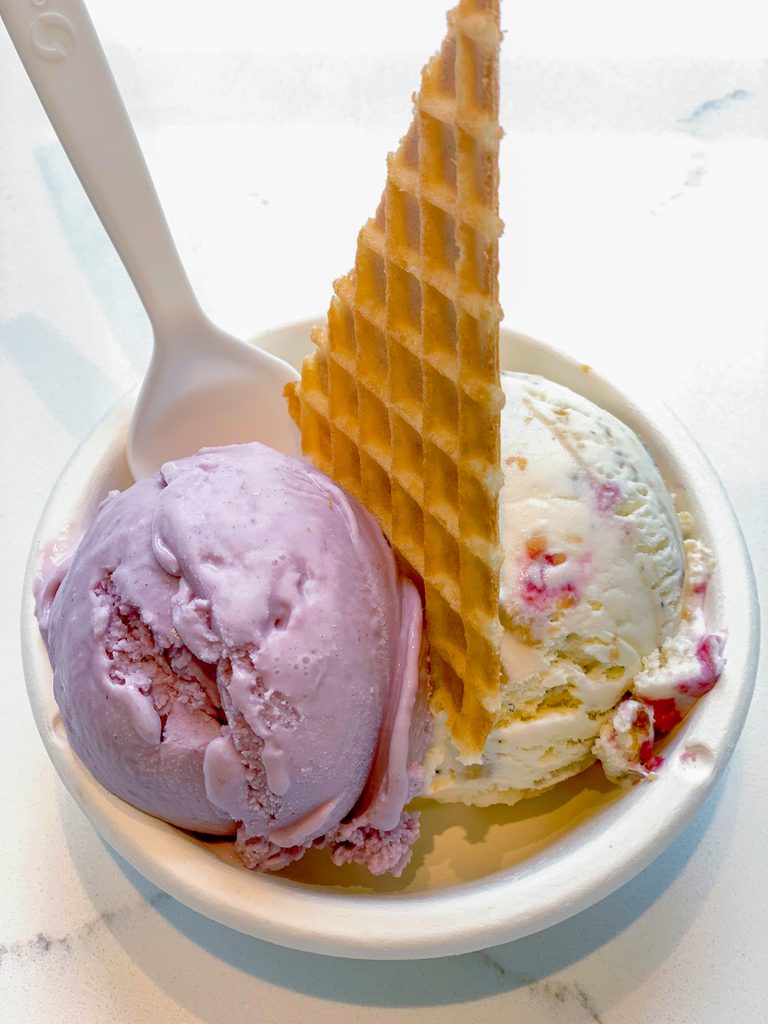 But I think I liked Charlie's Roasted Peanut Butter and Strawberry Jam the best. It tasted exactly like a peanut butter and jelly sandwich.
I'm legit about to start a petition to bring Jeni's to Boston, but in the meantime, I just learned Whole Foods and Wegman's sells pints of her ice cream in my area. I can't wait to go pick a few out!
#2 Roister
If you haven't heard of Roister yet, you may have heard of Alinea? Often named one of the best restaurants in America, Alinea has 3 Michelin stars and chef/owner Grant Achatz is a leader in molecular gastronomy/progressive cuisine. I haven't been to Alinea yet, but from what I've heard, dining there is absolutely incredible and is basically a show for all of your senses. So, what does that have to do with Roister? Well, Roister is also owned by Grant Achatz (side note, if you haven't watched Achatz's Chef's Table episode yet, watch it immediately! His story is so, so amazing). Roister is also a Michelin starred restaurant (1 star) and a little easier to get reservations at (and a little less expensive, too). Beth has been before and we contemplated trying something completely new to both of us, but ultimately decided that she would love to go back and I needed to try it.
The restaurant is known for having an open kitchen so guests can see everything being prepared. The first time my sister went, Grant was actually in the kitchen cooking! He wasn't there when we dined and we were sitting pretty far from the kitchen, but it was still cool to see all of the action. I have to first give a major shoutout to my drink. It's called Could've Had a Fern-8 and is made with Aviation gin, fernet-branca, carrot, and beet. I am a huge fernet-branca fan and I love seeing it used in innovative cocktails. This was the perfect way to start the meal and I couldn't get over the stunning color.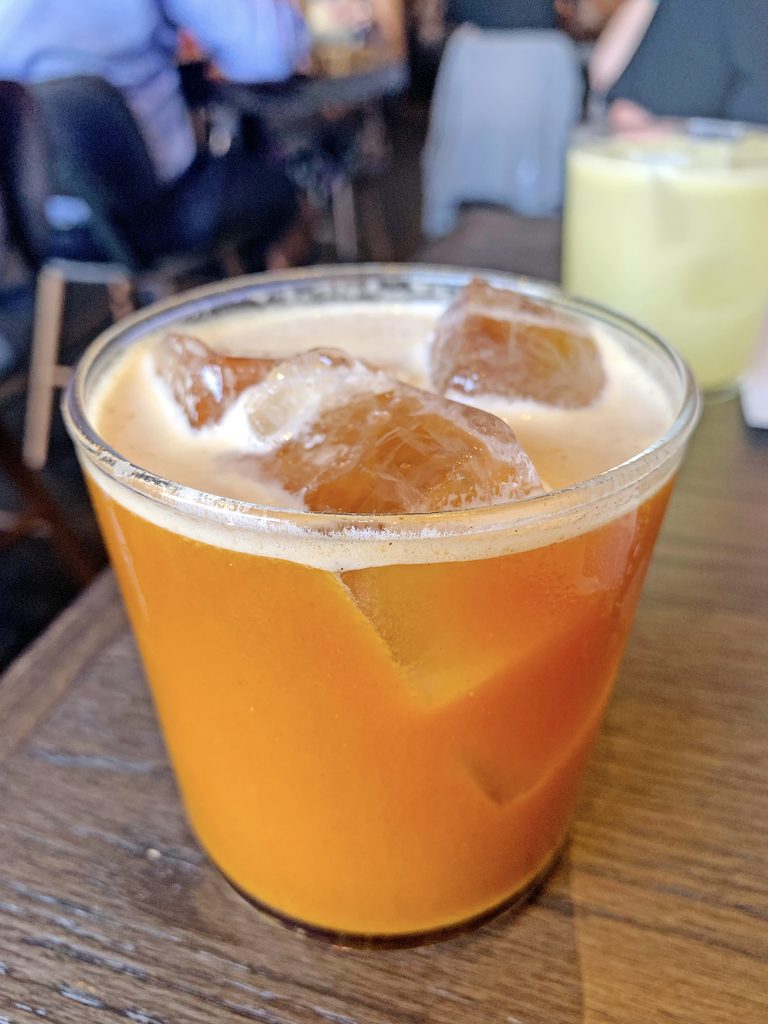 Roister has a very sharable menu, so Beth and I decided to order a bunch of dishes (many based off the waiter's recommendations) and share everything. The first thing we tried was the white cheddar rillettes and I think we both closed our eyes and died a little when we took our first bite. But really, I'm pretty sure after each thing we tasted we said, "omg those flavors!" In addition to beautiful presentations, each dish had the perfect combination of flavors that worked so well together and just exploded with each bite. The rillettes are on the top right of this photo with the salsify (salsify is a root vegetable that looks kind of like a parsnip) on the left and our dessert, the banana split on the bottom right.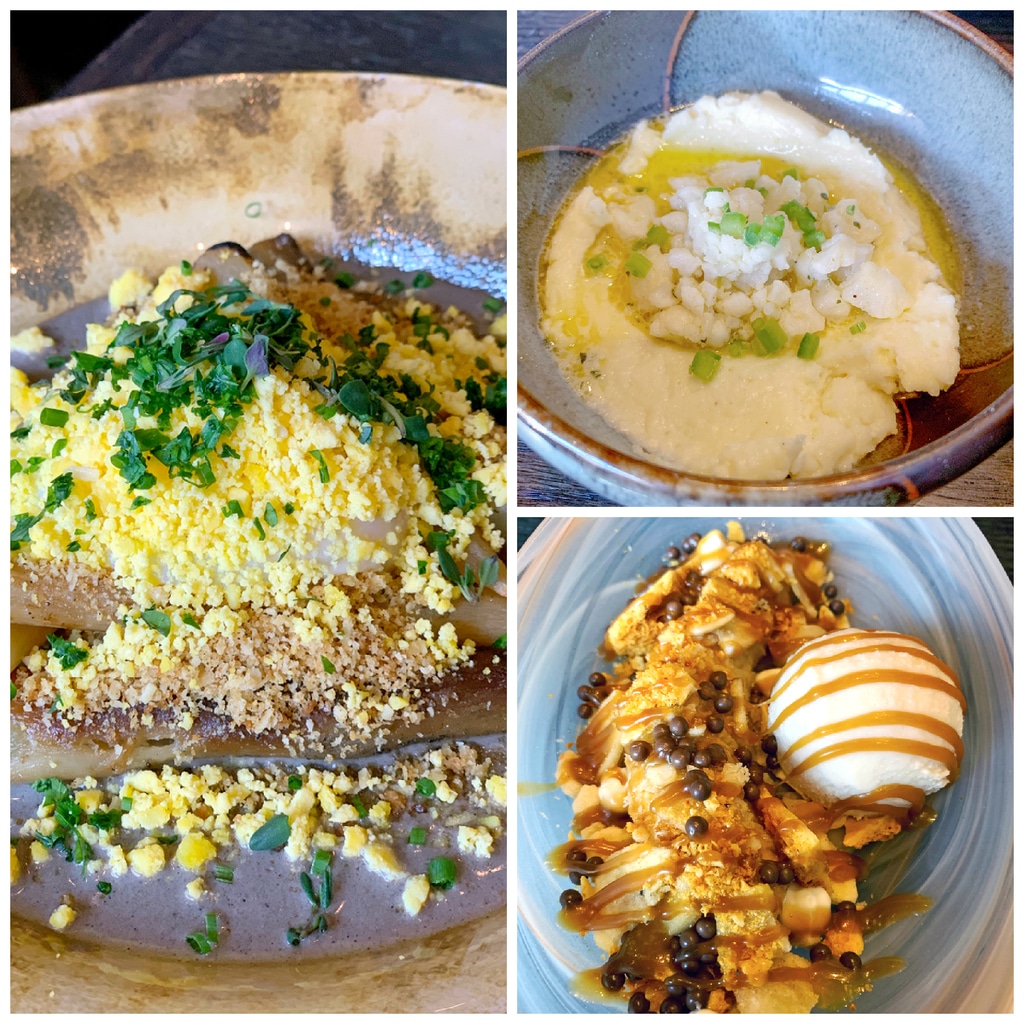 Oh and this Mediterranean octopus needs its own photo because look how gorgeous it is! I've had octopus before, but never any like this. It was so incredibly tender and perfectly paired with the fennel.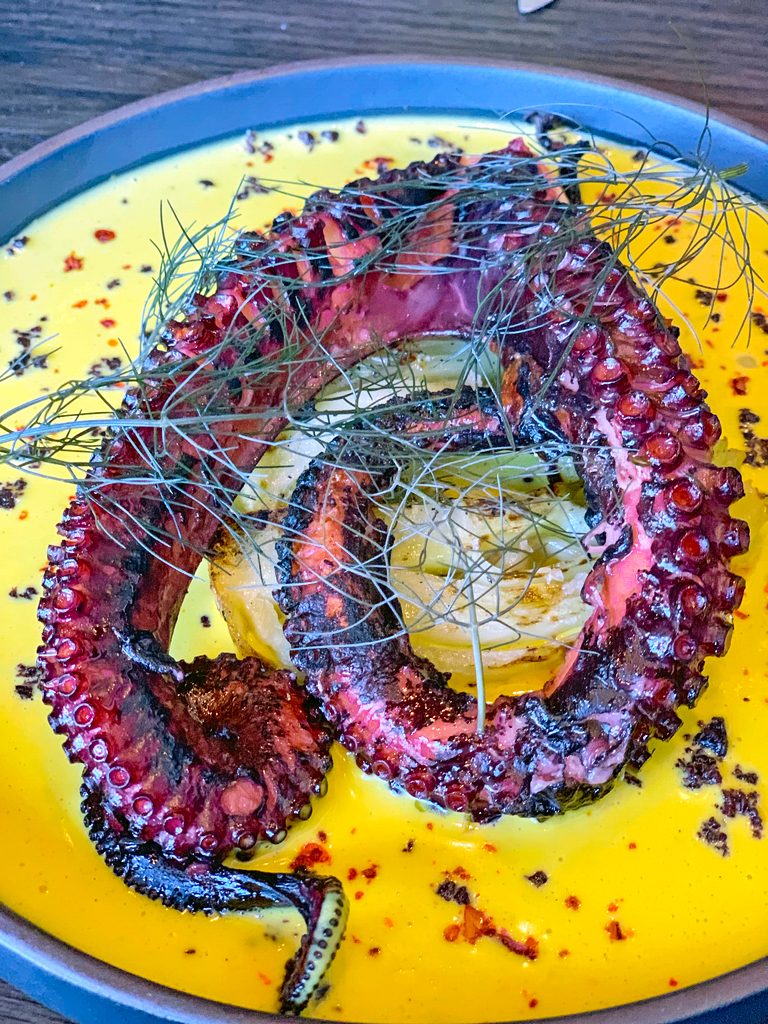 And the chicken! My sister and I almost didn't order this because we never like to order chicken in restaurants. But the waiter highly recommended it and when I took a peek at what food people were raving about on Instagram, the chicken was at the top of the feeds. OK, done! So we ordered it and it was completely worth it. The chicken is served braised, poached, and fried with chamomile and sunchokes, along with two delicious sauces. The only negative of our experience is that we definitely ordered too much food for the two of us and as much as we wanted to, we just couldn't finish it all. But whose fault is that??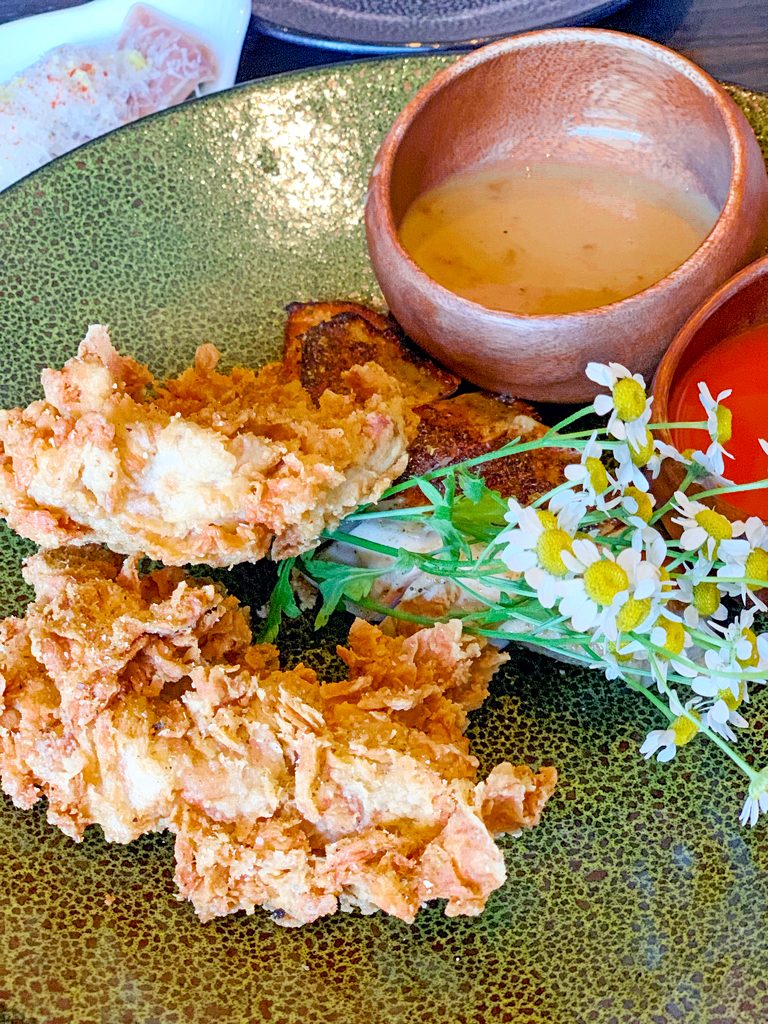 Overall, dinner at Roister was well worth it and a spot I'd definitely visit again.
#3 The Aviary
Our next stop of the night was another Grant Achatz spot, high-concept cocktail lounge The Aviary. My sister tried to make reservations for us about a month in advance, but couldn't get one. We asked our waiter at Roister if he thought we'd have a hard time getting in and he ended up calling over and after a short wait, got us in. If you're at an Achatz restaurant for dinner and want to go to Aviary after, it's definitely worth asking for help!
The Aviary isn't really a typical bar; it's pretty small and the bar area is actually behind a sort of caged area (the dream is to get a seat at the chef's table right in that area!), but it was so cool to watch the bar staff so hard at work. It looks like a high-end kitchen, but everyone is mainly just focused on cocktails.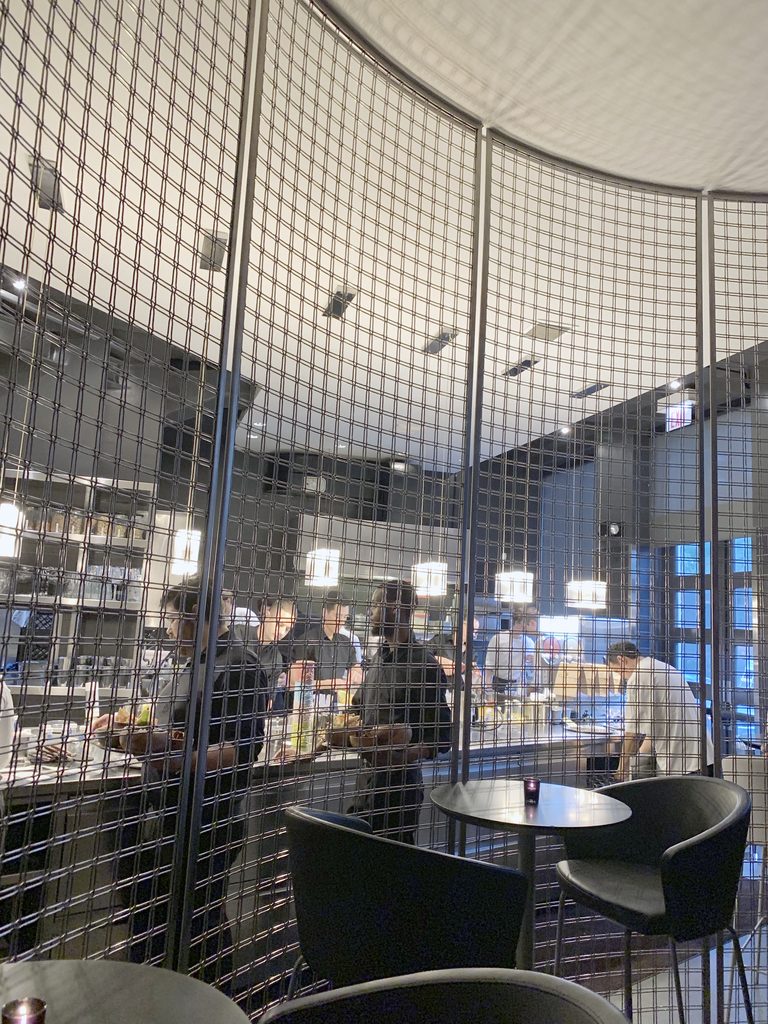 At a glance, the cocktail list is a bit overwhelming, but our waiter was so amazingly helpful at describing everything from what cocktails pack the biggest punch to which ones provide the best "show." I ordered "Loaded to the Gunwalls," which is served in a ship in a bottle and involves pineapple, mace, hazelnut, and batavia arrack (and a glass lit on fire to add to the smoky appeal). My sister ordered the "Passion of the Ice," which was even more of a show (I can't remember exactly what's in it besides passionfruit). Our friend Rey was with us and he ordered "Jesus Can't Hit a Curveball," which came with serrano chile ice cubes (as the ice cubes melt, the cocktail gets spicier).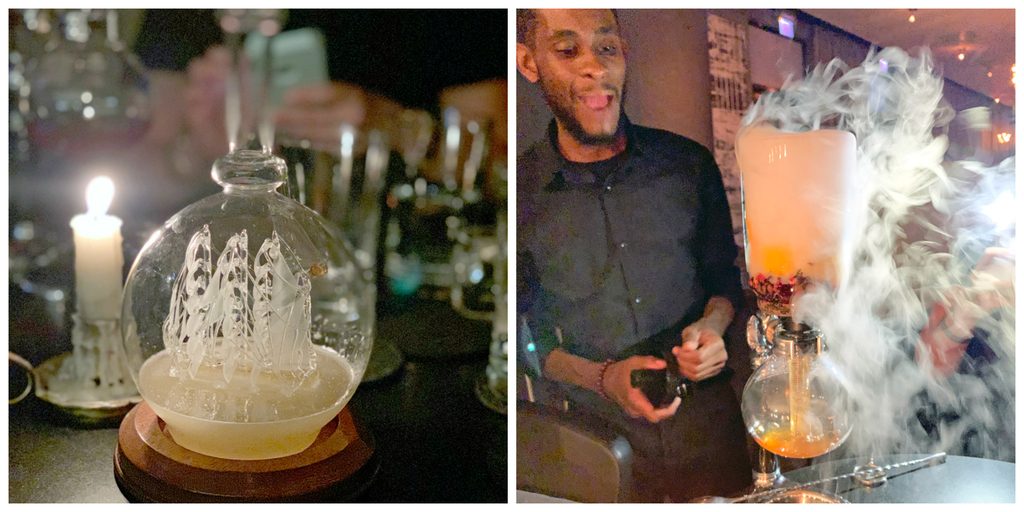 Speaking of ice cubes, The Aviary actually has 25-35 different kinds of ice and an "Ice Guy" who just freezes things all day. I'm pretty sure that's a clear sign this place is serious about their cocktails (if it wasn't already clear). There were so many cocktails on the menu that I wanted to try (but I mean, I could only handle so much in one night) and I'd love to visit The Aviary again in the future. They also offer a tasting menu in which you get to choose three different cocktail along with some small bites. This is definitely an experience!
#4 Firecakes
I always have to seek out the best donuts in every city I visit and according to my sister and some friends, Firecakes are some of the best in Chicago. After we had brunch at The Publican (my brunch wasn't the best, which is why it didn't make this list, but they had a special menu the day we visited and I probably just ordered the wrong thing), we met back up with Rey and headed to Firecakes to get some donuts to take home with us. Firecakes is a tiny little shop and if there are more than a few people inside, you'll likely have to wait outside the shop.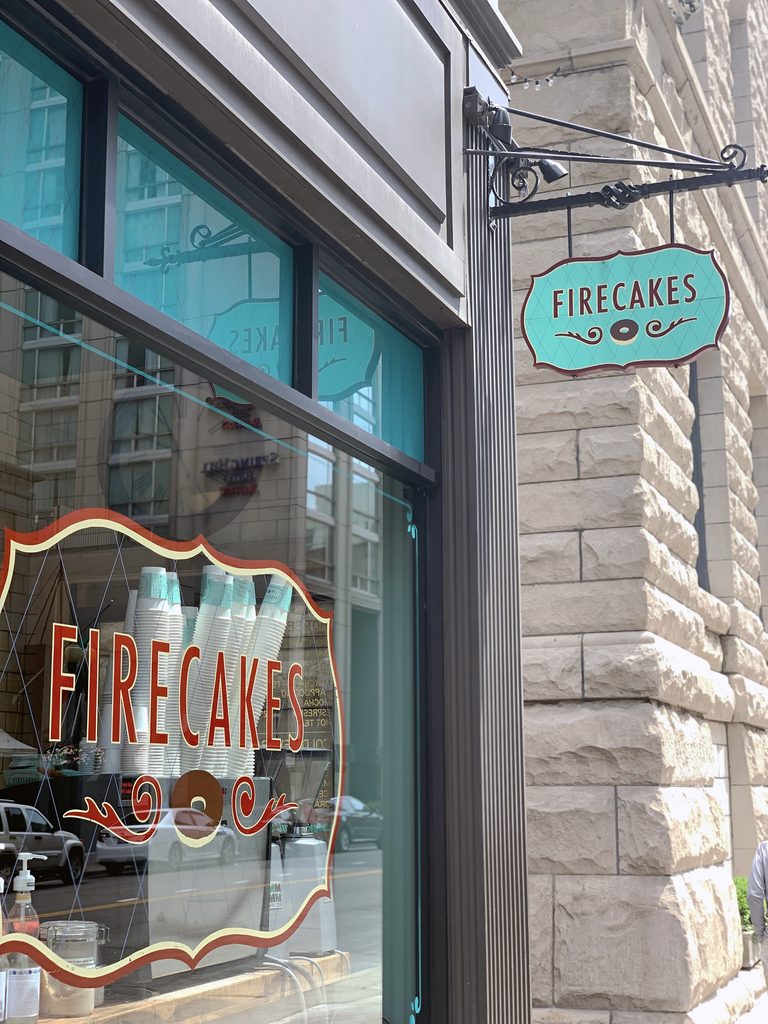 But the donut selection is incredible and we ordered quite a few to take home with us to share with the boys, including this donut cake, which is basically two large donuts frosted together into one delicious treat. Other standouts were the mini peanut butter cups mini malted milk balls and the slightly tart rhubarb fritter.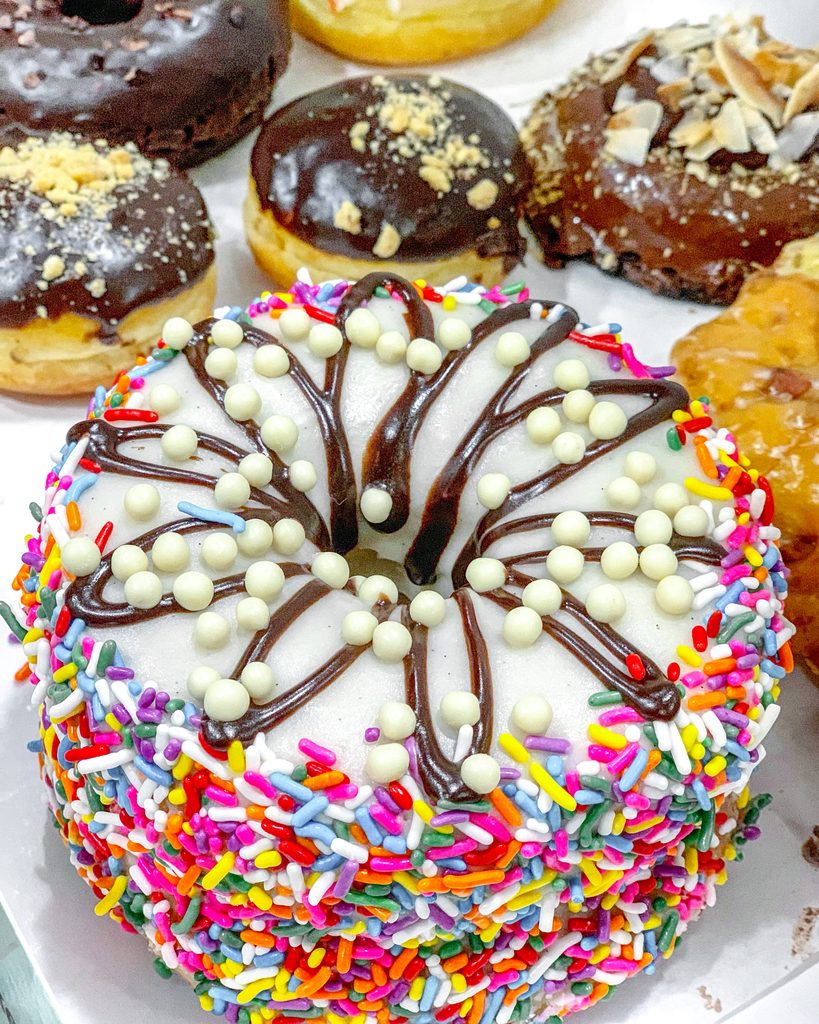 If you're craving donuts, Firecakes is definitely worth a visit.
#5 Bonci Pizza
On our way home from the city, my sister and I decided we were going to go right back the next day (it's about an hour drive from her house), mainly because we still had so much more we wanted to eat... And also because we knew my nephews have an absolute blast. After parking at Millennium Park, walking around for a while, and letting the boys play at Maggie Daley Park (they seriously have the coolest playgrounds ever), we headed back over to the Fulton Market area for more food... In case you haven't noticed, we actually spent most of our time in the city in this area. When my sister lived in Chicago about 10 years ago, this neighborhood didn't even exist; now it's packed with so much to do and eat.
We stopped at Au Cheval to put our name in and when we heard there was an hour wait, we decided to head over to Bonci for a little pizza appetizer! Bonci is straight from Italy, as in the owner's other pizza shop is in Rome. Our friend recommended it and upon looking into it a bit, we realized it was a stop we had to make.
Bonci serves Roman style pizza al taglio ("by the cut"). You tell them which pizza you want and how much and they cut you off a slice with scissors and weigh it. I legit wanted to try every single variety.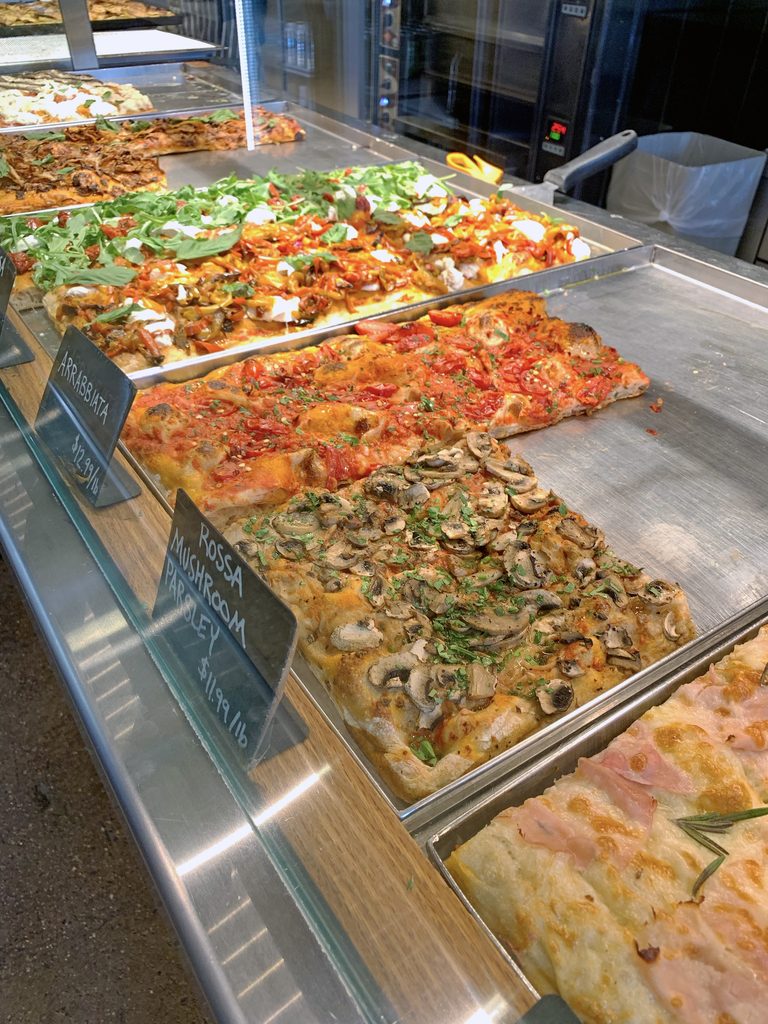 But since we were on our way to lunch, we restrained ourselves and just sampled three. This pizza is unlike anything I've found in Boston and definitely a nice alternative if you're not into the traditional deep dish Chicago pizza. It's incredibly fresh, light, and flavorful. We were a little nervous to get pizza before our burger lunch, but this was the most perfect appetizer for the four of us (if I were eating it as a meal, I could have eaten A LOT more).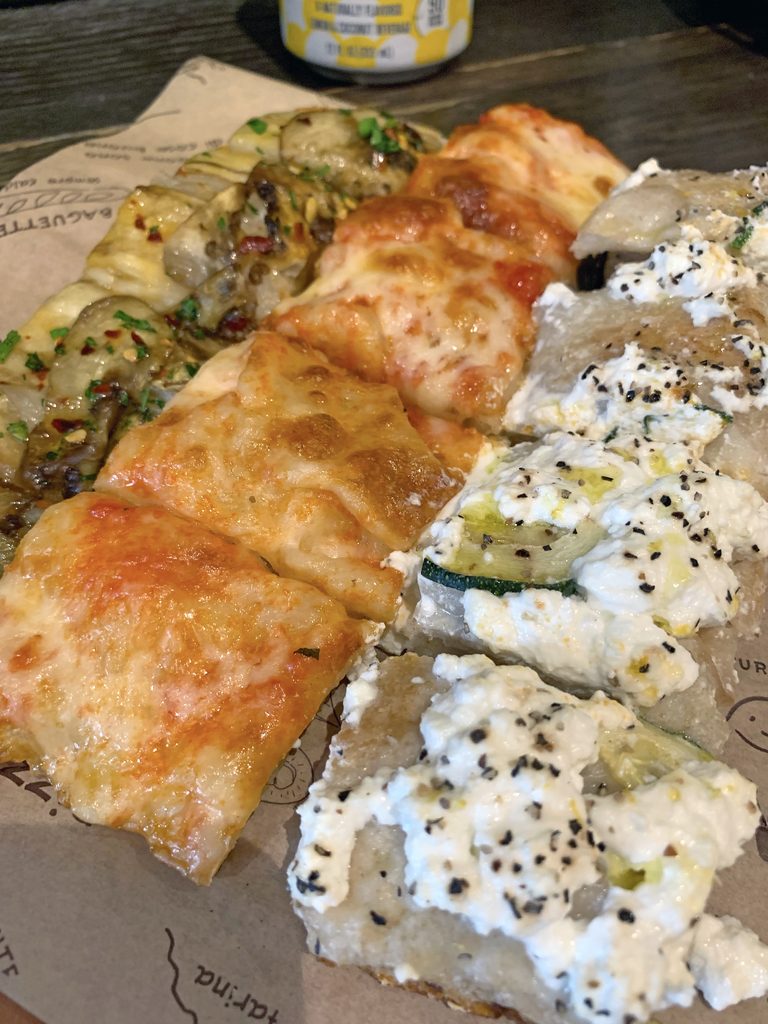 Oh, and in case you're skeptical, here's what Anthony Bourdain said about Bonci Pizza: "It's amazing … You want it. You want it bad. Your life would be so much better if you have this right now. Leave your family. Abandon your children … You know you want it." Case closed!
#6 Au Cheval
OK, on to our lunch entree! According to many, Au Cheval serves the best burger in the entire country. As soon as I heard that, I knew I had to try it! They're also known for their extremely long wait times, sometimes up to 4 hours! Since we were headed there on a Monday afternoon, we figured it wouldn't be too long and we were right as our wait estimate was only an hour... It actually ended up being even shorter, but was still the perfect amount of time for us to get that pizza appetizer.
My nephews are both excellent eaters, but Henry is a huge meat lover and we knew he's love trying Au Cheval's burger!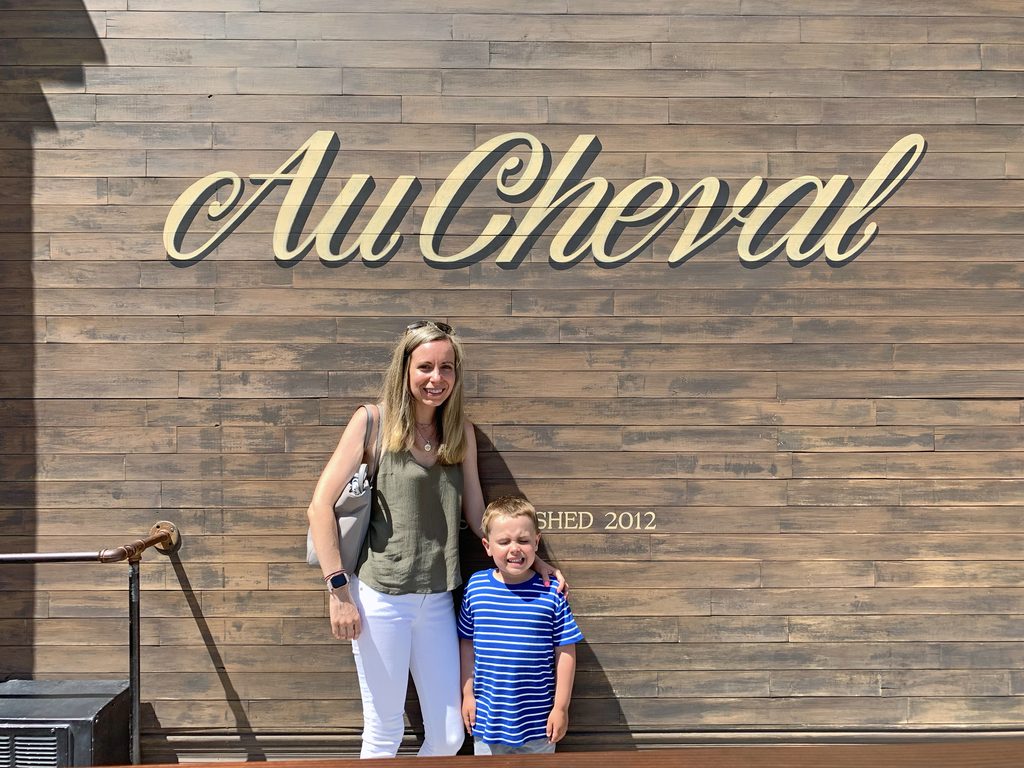 For some reason, I guess based on the French name and its reputation, I thought Au Cheval was going to be super fancy. But it's really not and is often referred to as an "upscale diner." My sister and I decided to celebrate our meal with cocktails (I got a bloody Mary) and the boys had their very first root beers! We decided to order two burgers and fries and share them. We got one single cheeseburger and one double cheeseburger with bacon and egg (since "au cheval" means "with an egg on top," we figured it was only appropriate).
Hello!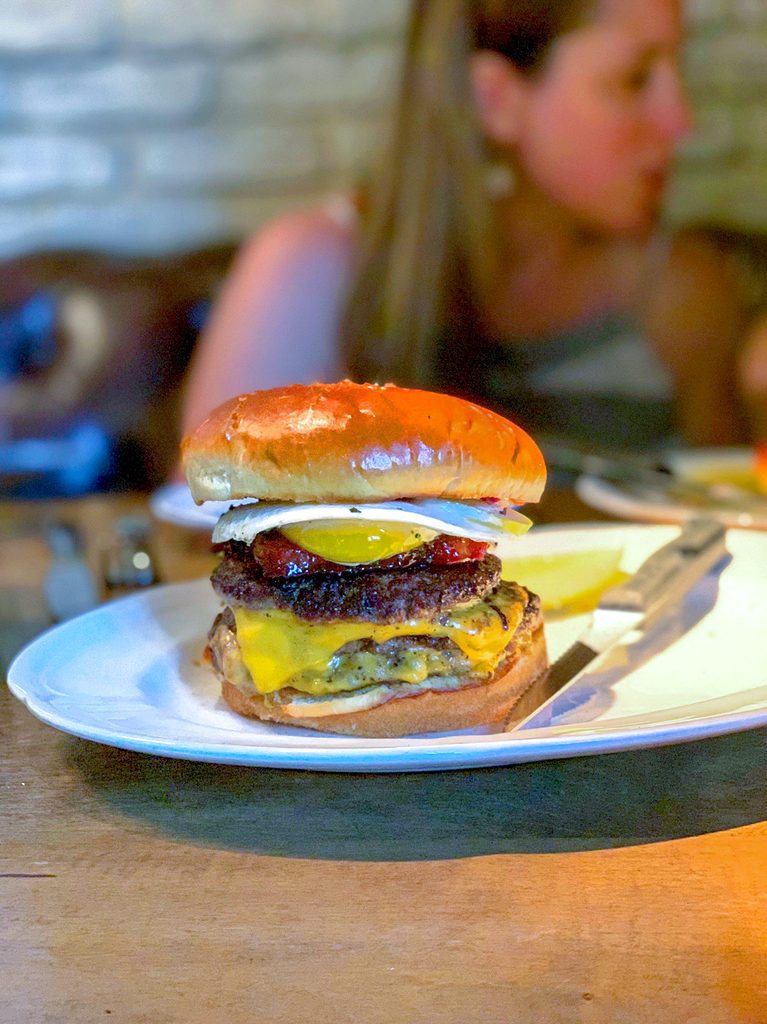 I can tell you with 100% certainty that this is the best burger I've ever had. I'm honestly not often that impressed with burgers and have a hard time finding the right bun/burger/cheese ratio and the flavor I best like. This burger is 100% the burger of my dreams and I'm not sure when I'll next find a burger that can compare. Plus, look at that bacon!!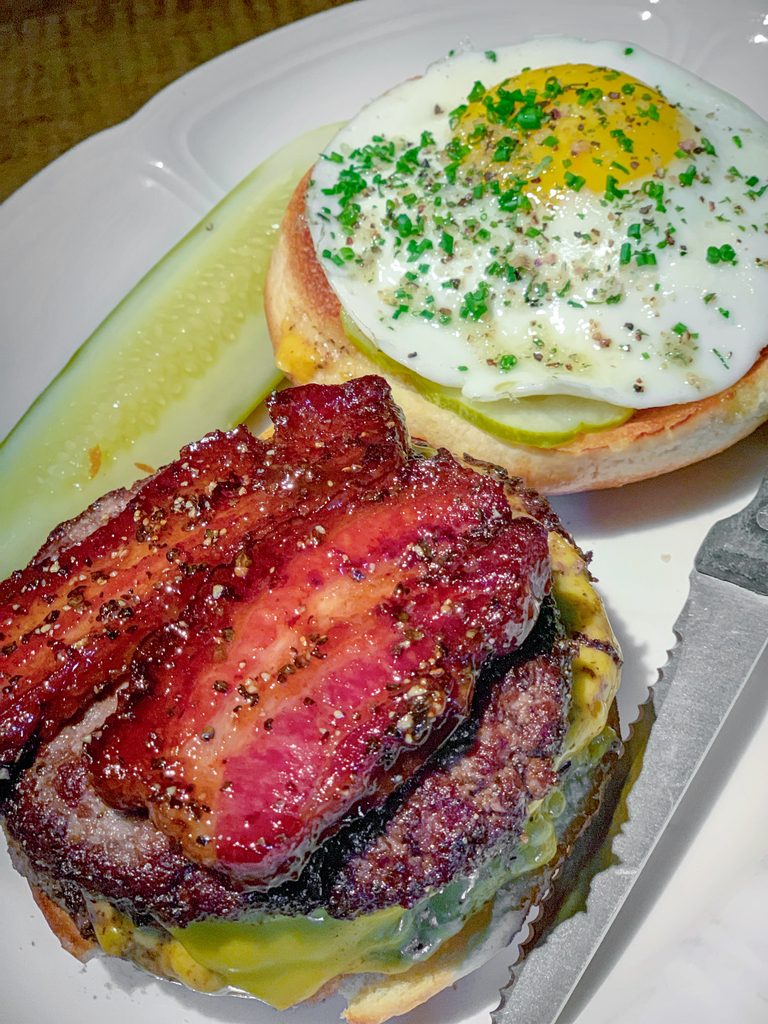 We finished the burgers completely, but I can tell you with certainty that Henry ate more than all of us. He was absolutely loving these burgers and I'm pretty sure this is his idea of heaven (I cannot blame him).
#7 BomboBar
After that lunch, we wanted to grab a quick dessert. Here's where we had the donut versus ice cream debate. Henry really wanted a donut and Charlie really wanted ice cream, so we decided to hit both places up because when you're going big, you may as well keep going! We went to BomboBar's walkup window for the donuts, which is a super cute little spot.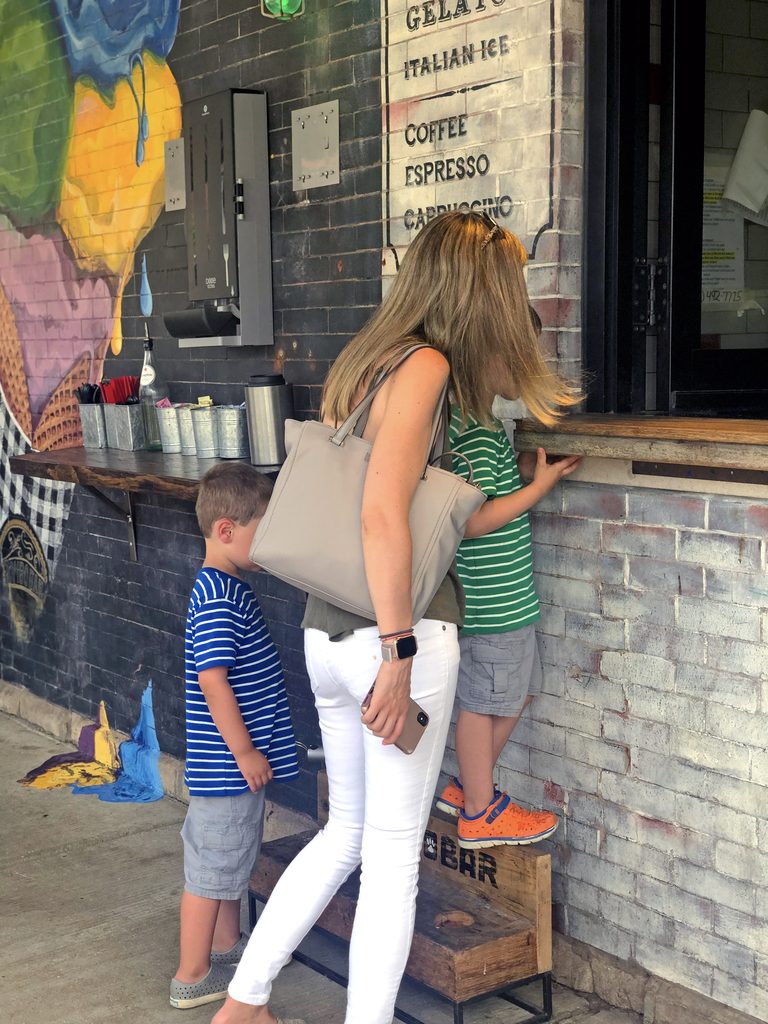 Henry ordered a Caramel Apple Gelato Sandwich... basically an ice cream sandwich made with donuts and topped with Cinnamon Toast Crunch. Yup, we all dug into this.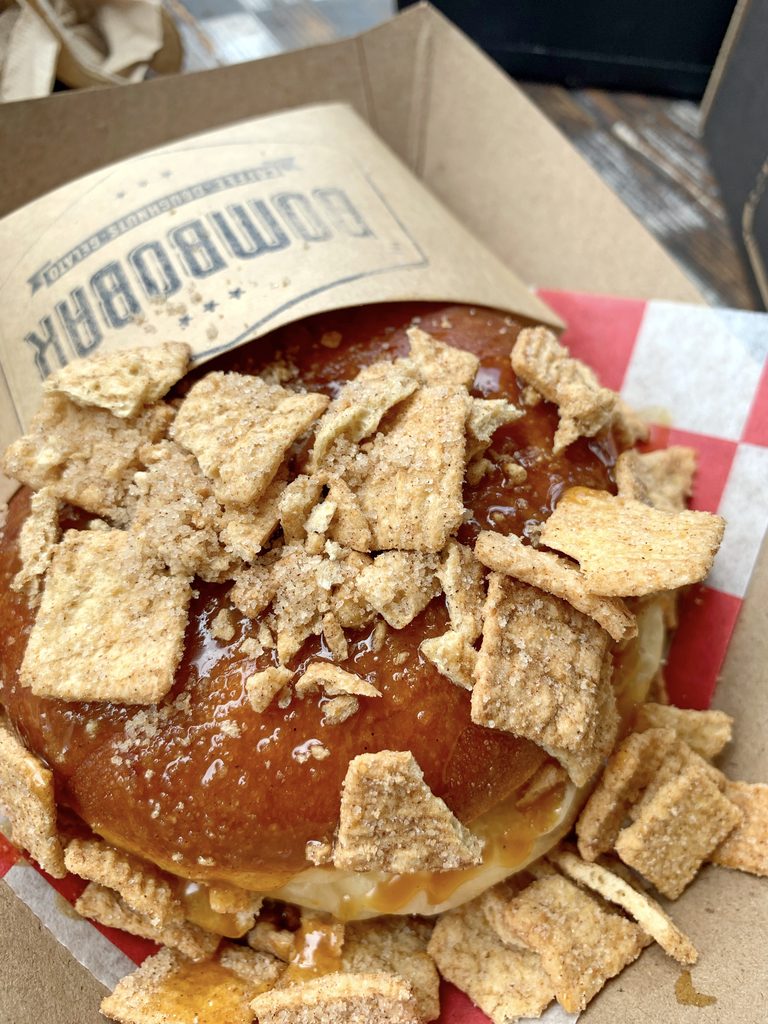 Isn't this the face of pure happiness??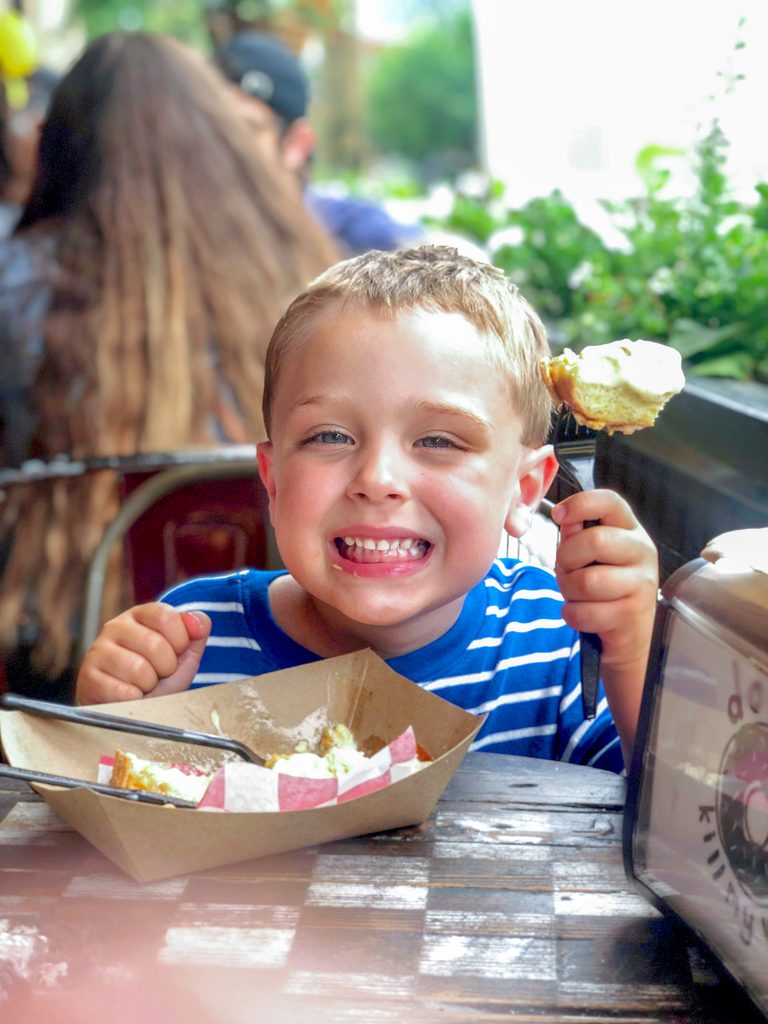 Of course, we also took some donuts to go, so we could sample them with friends after dinner. BomboBar is known for their "Bomboloni," which are Italian hole-less donuts. The donuts come with little squeeze bottles of fillings that you insert into the donuts yourself. So fun!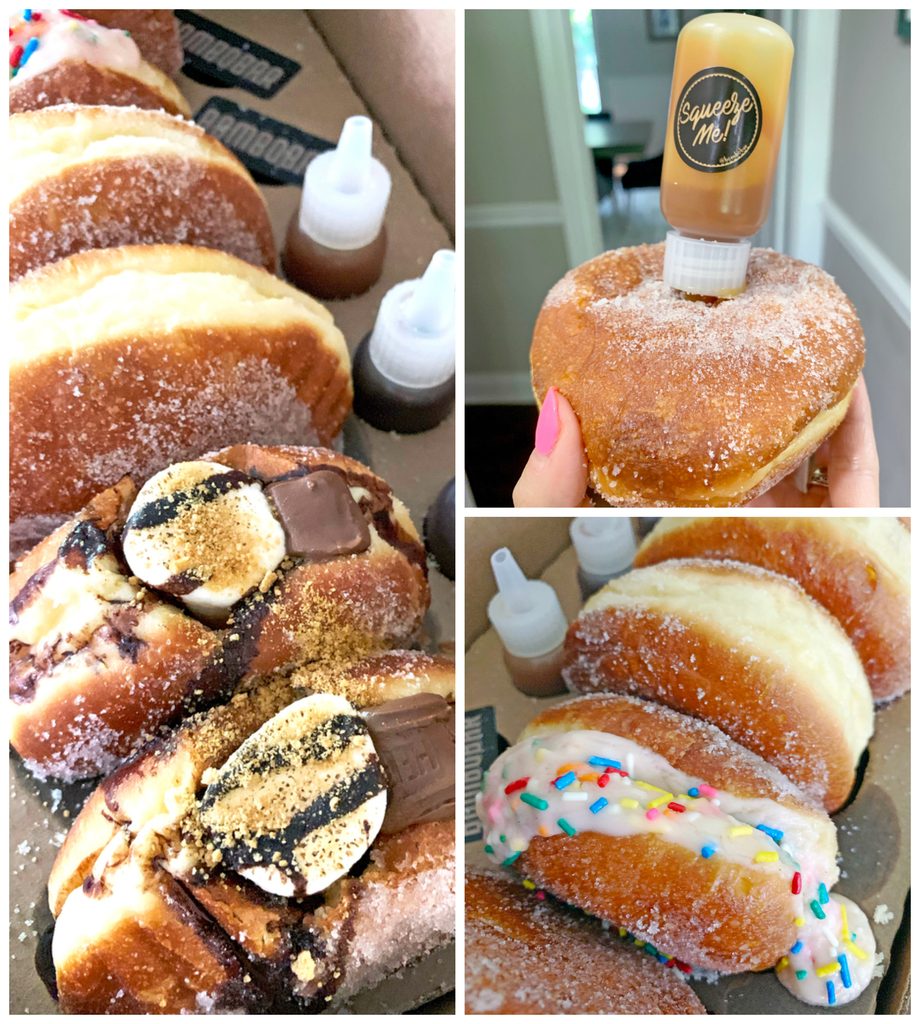 It's probably a good thing I don't live near BomboBar because I would be making excuses to bring these home way too often.
And that concludes my food adventures in Chicago's West Loop... Mostly Fulton Market! What neighborhood should we explore the next time I visit??
Aside from a couple days in the city, I had such a lovely time visiting Beth and Adam and spending lots of quality time with Henry and Charlie. I also got to teach a class at One Life Kitchen while I was in town. I taught a wonderful group of people how to make homemade dog treats and it was a blast! If you live in the Barrington, IL, area, you need to check out One Life Kitchen; not only do they offer cooking classes, but the space is also great for holding private culinary events. It's absolutely gorgeous!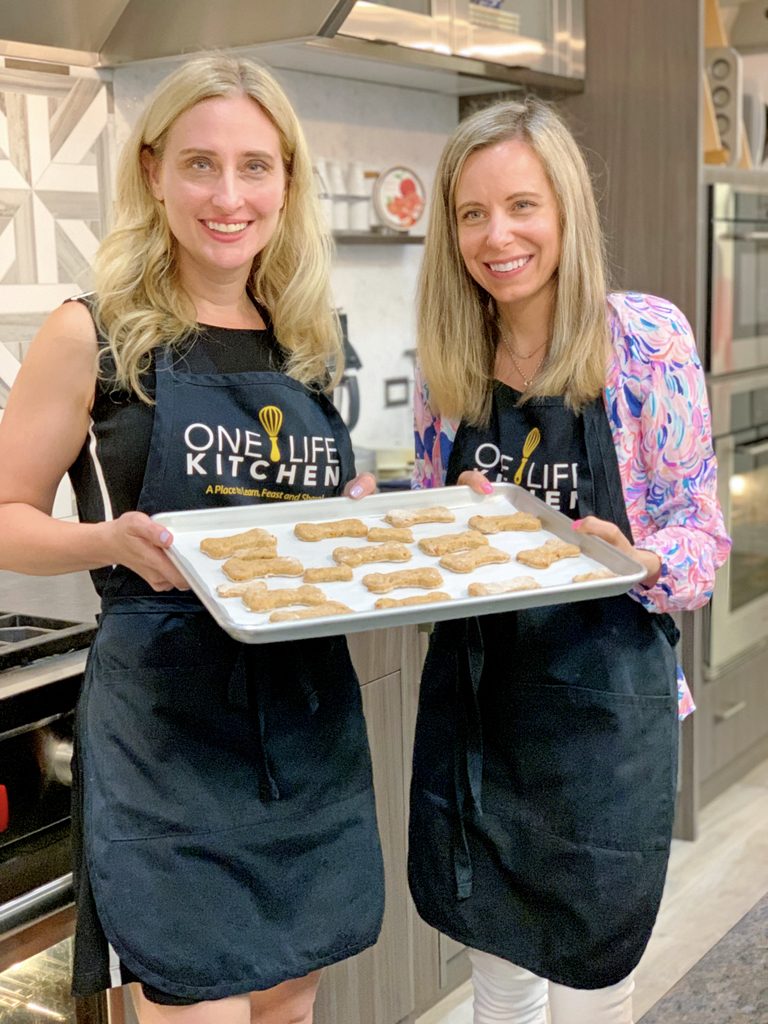 And since I couldn't be there for Henry and Charlie's 5th birthdays, we had a little celebration for them!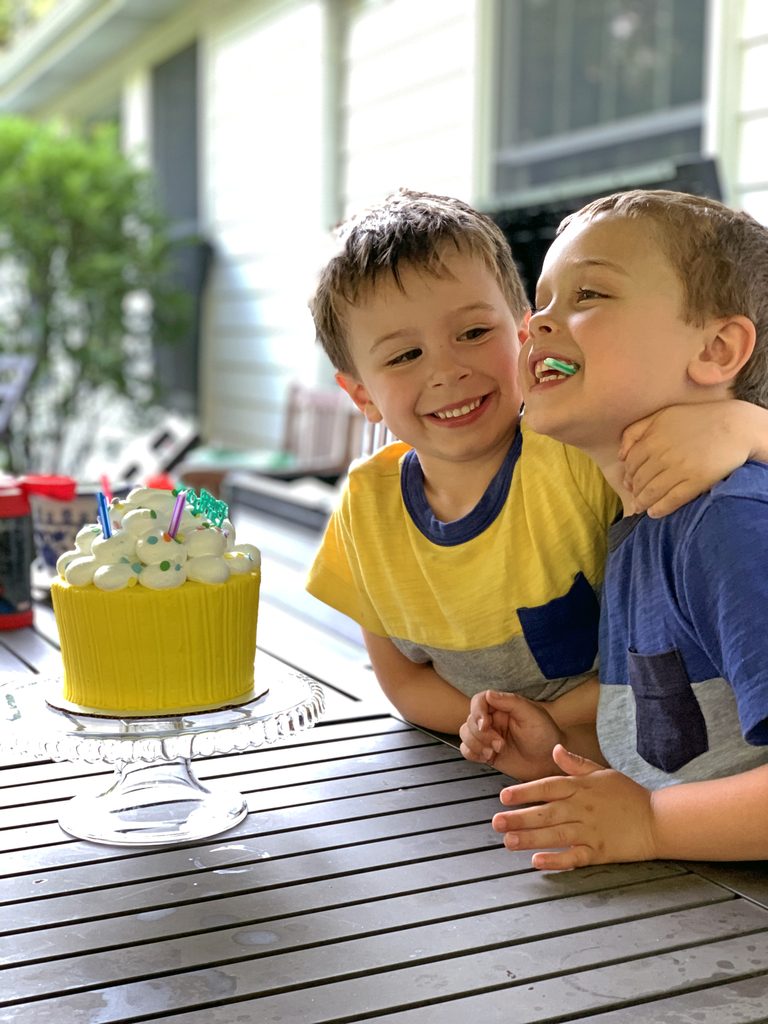 All in all, it was a fabulous visit to Chicago and I can't wait to visit again soon. Thank you so much to Beth, Adam, Charlie, and Henry for hosting me and showing me such a fabulous time (and feeding me maybe a little bit too much!). I'm thinking that I may have to do a donut crawl the next time I'm in the city! Way back in 2008, I conducted two Chicago cupcake crawls (here and here) and for a long time, they were some of my most popular posts. Sadly many of the spots have closed and cupcakes aren't quite as popular as they used to be, but I think donuts will be sticking around for quite a while.
Where should I eat the next time I'm in Chicago?