If you're planning a Hawaii vacation (or just want to daydream about planning one!), check out this post featuring 7 things to do in Maui. From restaurant recommendations to hiking spot recommendations and tips on great views, you'll have plenty to do on your Maui vacation!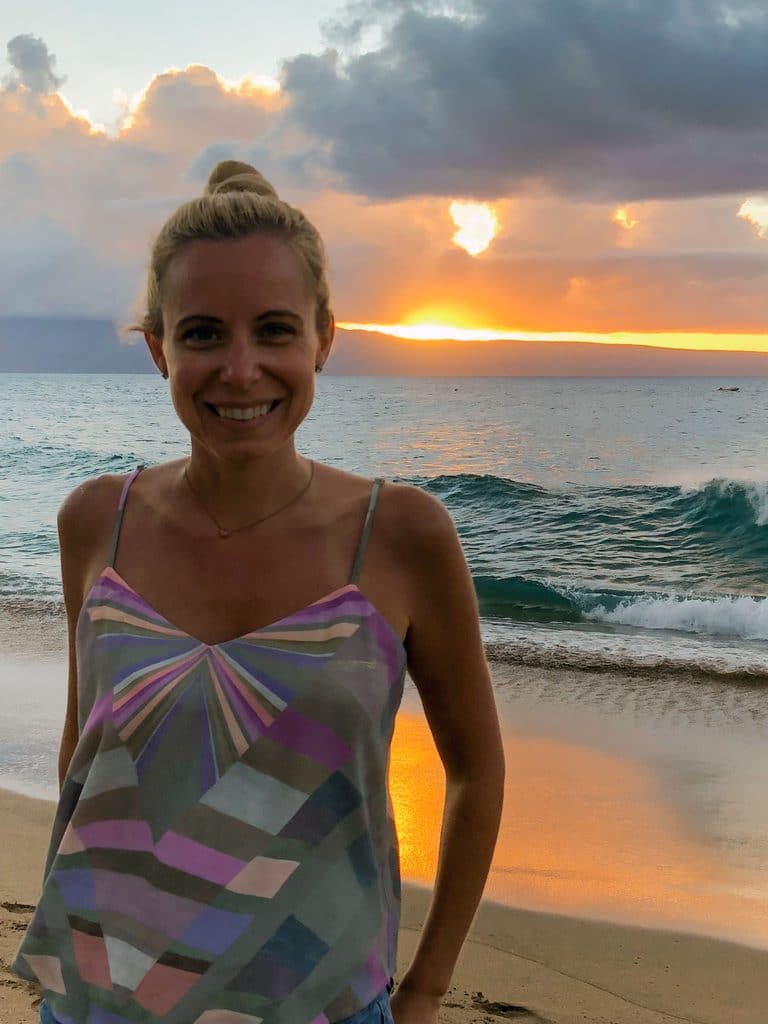 Hello! Last week, I told you all about our fabulous vacation on The Big Island and now I'm back to give you some recommendations for things to do in Maui. It was our first time in Maui and I know we didn't even scratch the surface of all there is to do, but we had an absolutely amazing time and I'd re-do this same trip a million times over if given the opportunity. We went into it excited to do many of the activities my sister recommended to us, but also to get some major relaxation in. Maui has some amazing beaches and our resort had fabulous pools, so we knew we'd find a balance between getting out and exploring and just chilling.
Without further ado, here are my recommendations for things to do in Maui!
HIKE THE BAMBOO FOREST
I'm going to start here since it's one of my favorite things we did on Maui! We heard about the bamboo forest along the Pipiwai Trail from several people and immediately added it to our itinerary. The Pipiwai Trail is a 4-mile roundtrip hike that's located at the end of the Road to Hana. After walking through a beautiful forest for about a mile and seeing the Makahiku Falls, you'll enter the bamboo forest. How cool!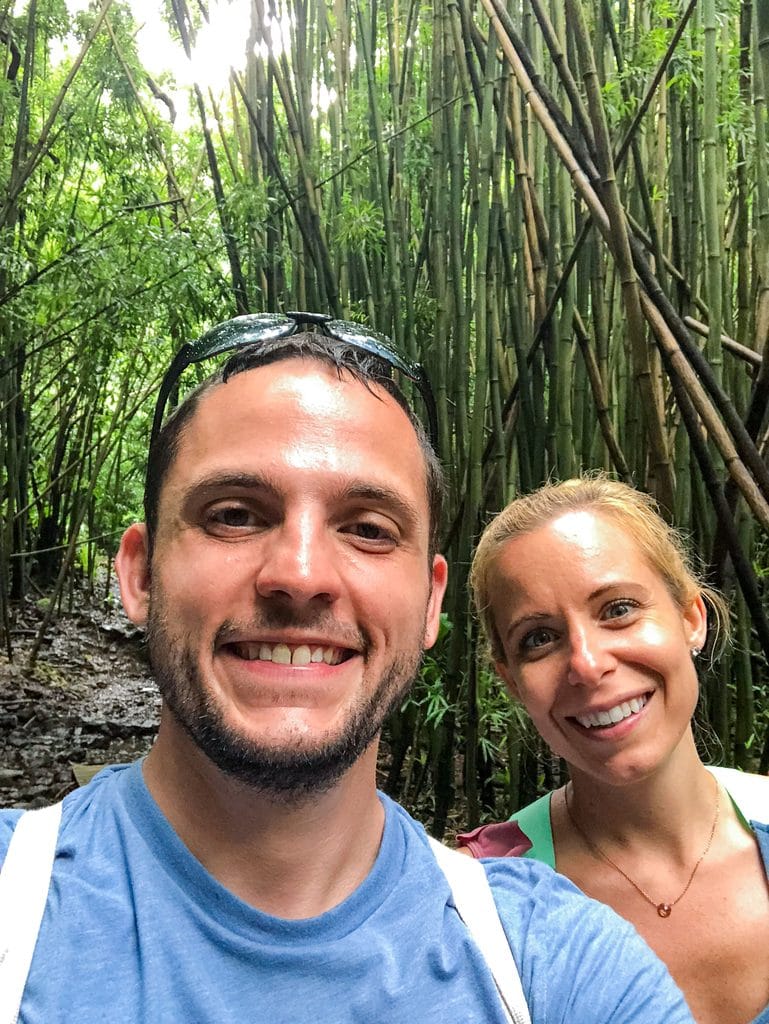 The hike ends at the 400-foot tall Waimoku Falls, which is incredible to take in.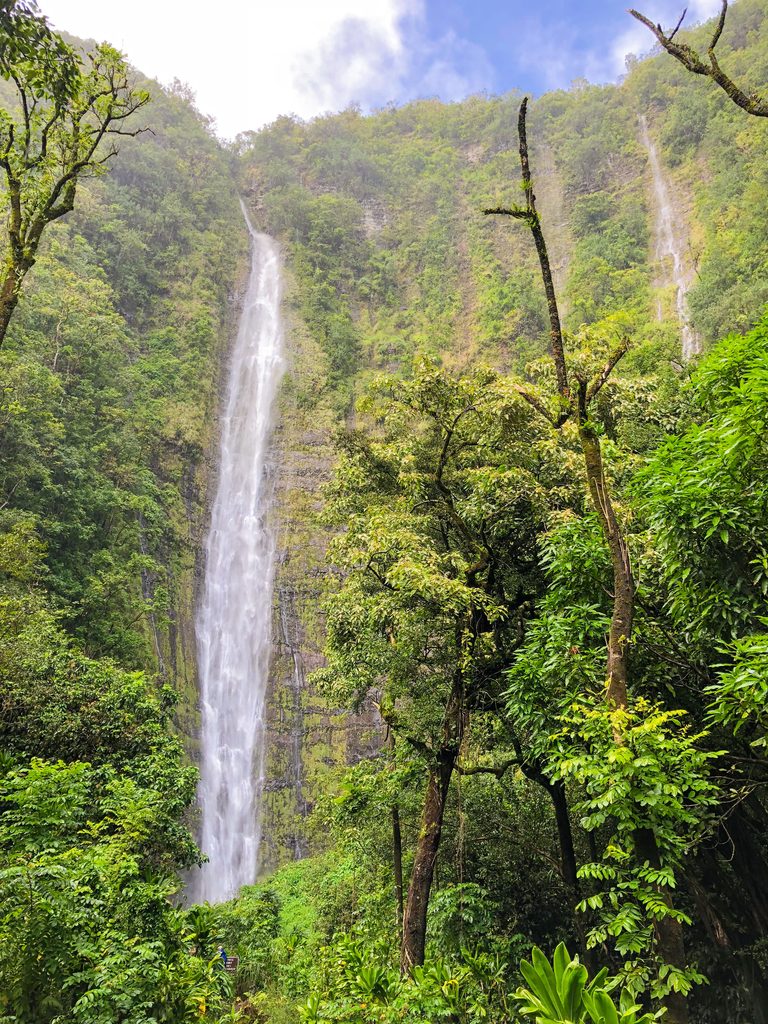 In order to get close to it, we had to get across a little river of water. This is definitely the most challenging part of the hike and not everyone will want to cross it. We took our shoes off and tried to jump from rock to rock, but it wasn't the easiest thing.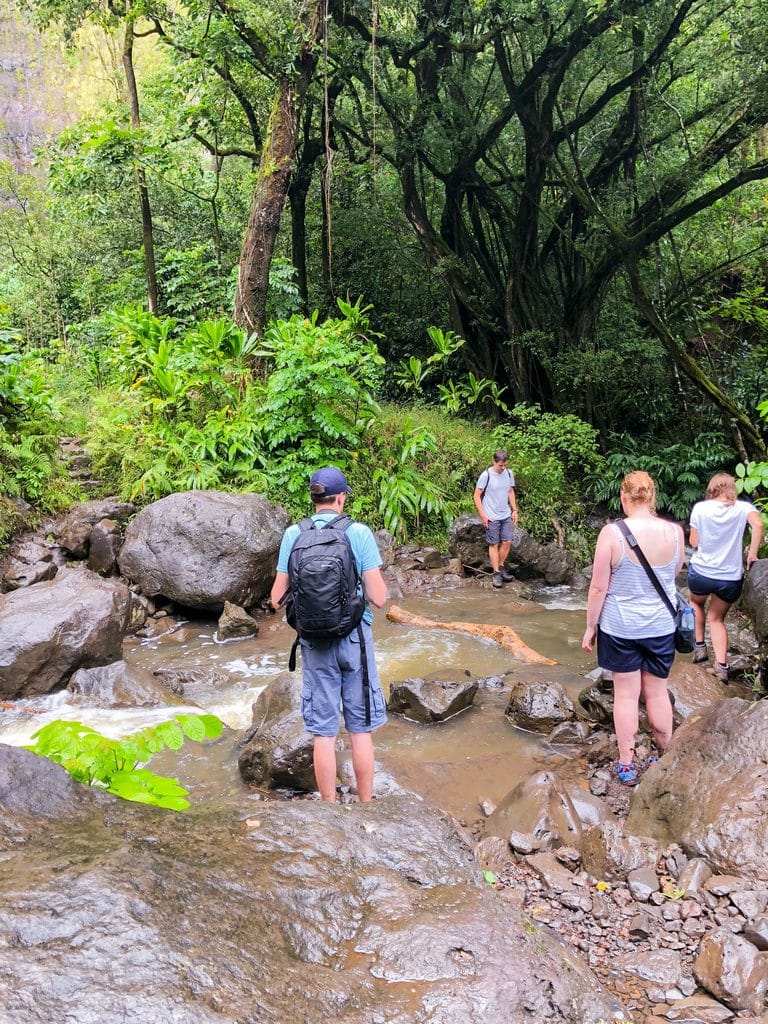 You still have a good view of the falls without crossing, but just won't get that perfect photo opp!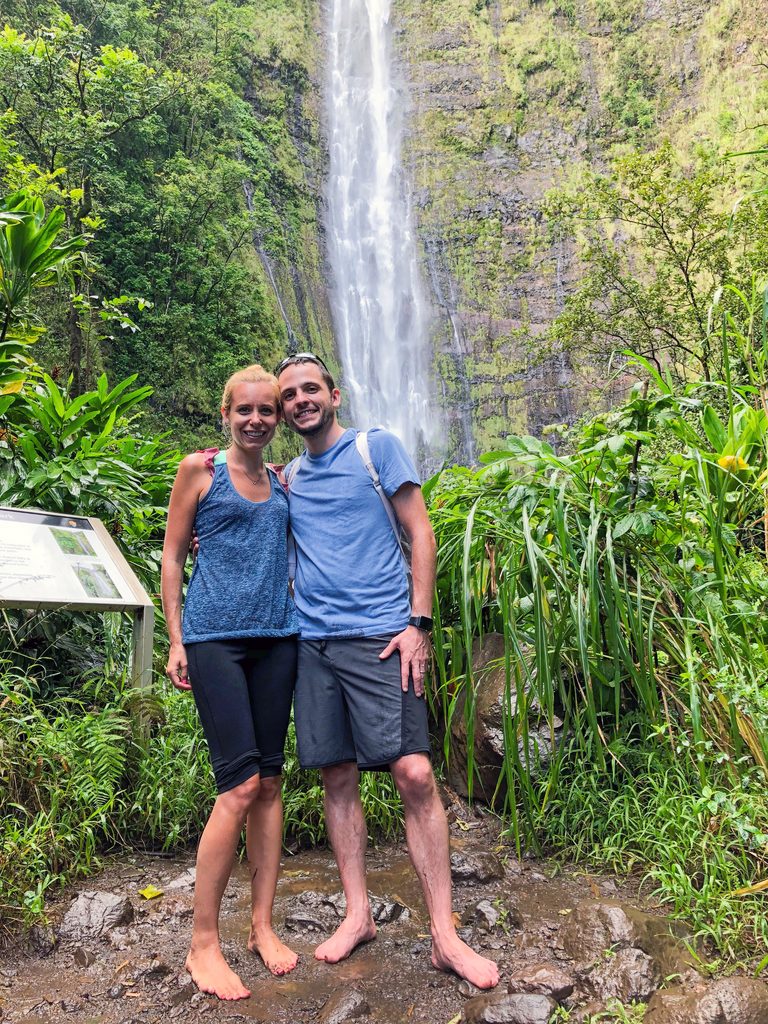 This hike isn't difficult at all, but when we were there in November, it was incredibly muddy. Portions of the trail had to be carefully traversed to avoid getting completely covered in mud. Luckily much of the bamboo section of th ehike has a wooden walkway, making things much easier.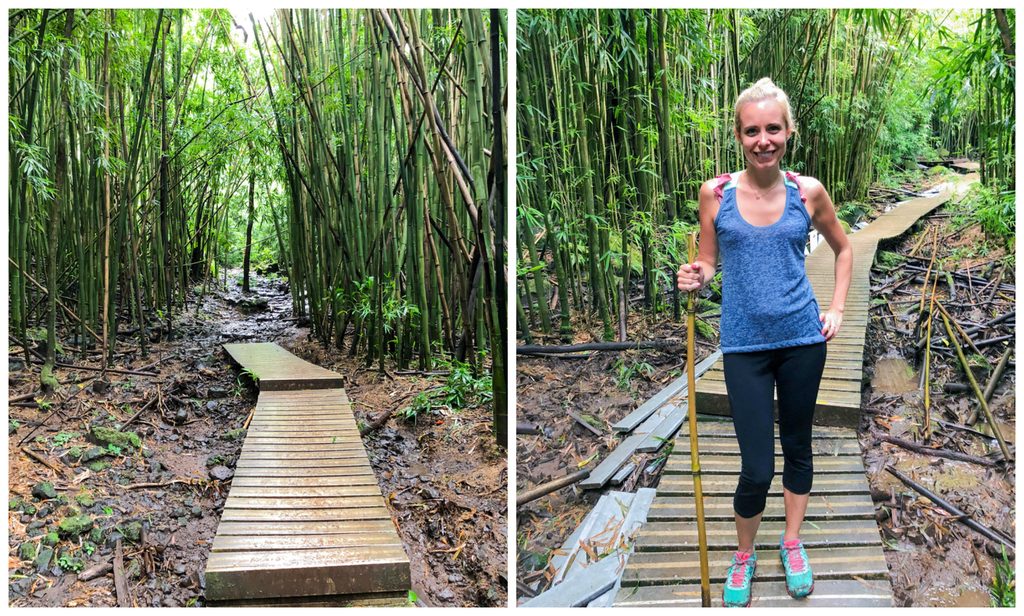 In any event, I really can't recommend this hike enough. It's just such a surreal experience to be in the middle of a bamboo forest and it really felt like a once-in-a-lifetime type thing with a sort of magical feel to it.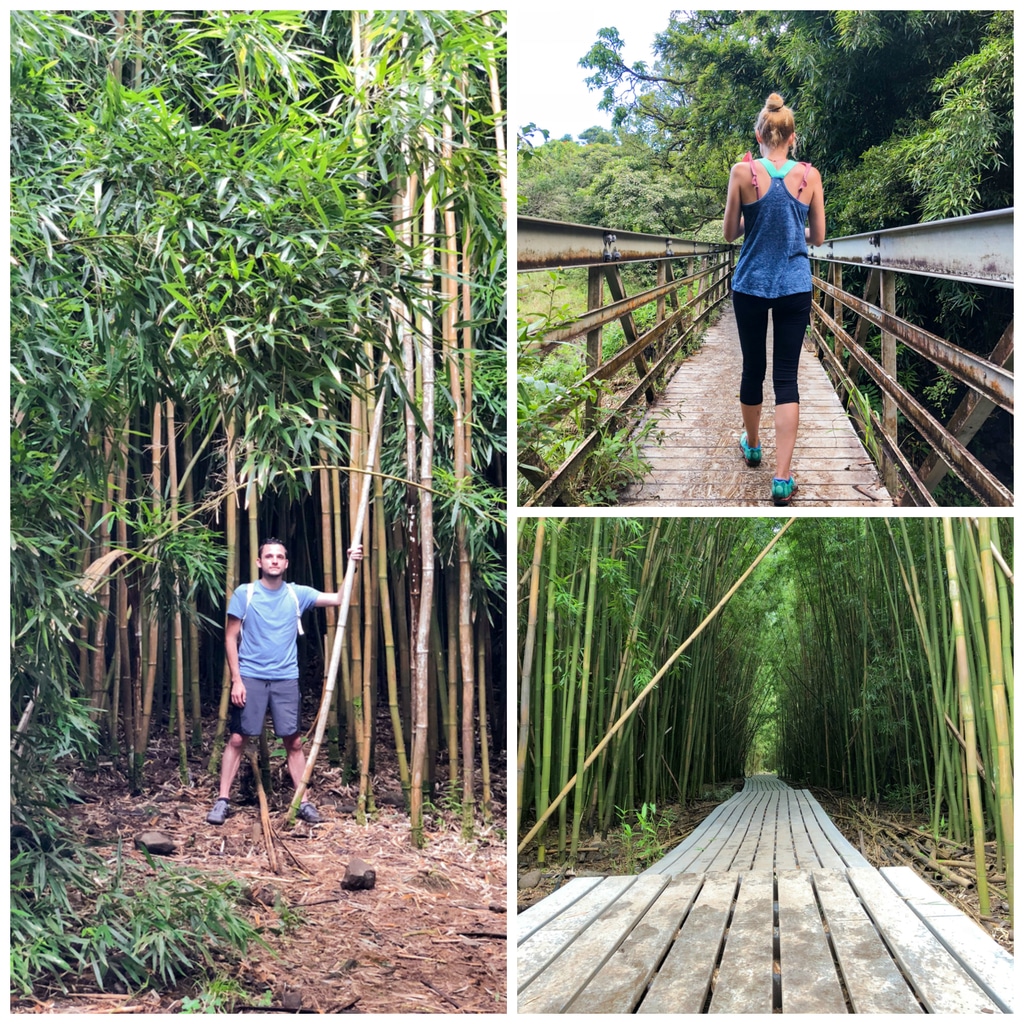 This was definitely a hike I'll never forget!
SEE THE SUNRISE
OK guys, this one makes me SAD. One of the reasons we chose Maui as an island destination is because of all the amazing things we heard about Haleakala and how seeing the sunrise from this viewpoint would change our lives. Mark Twain called it, "the sublimest spectacle I ever witnessed" and my sister and parents raved about it. Done. So, I admit that I added this to our itinerary without doing a ton of research. My sister gave me the rundown about what to expect and we figured we'd look at the weather to see what morning was set to be the most clear.
WELL. Our first night in Maui, I Googled to see what people recommended weather-wise and learned that the park had made a change earlier in the year that required reservations to go to the summit for sunrise. And that reservations basically fill up right when they open, 60 days in advance. Cue my first heartbreak. But then I learned that they offer 30 additional tickets on their website two days in advance on a first come first serve basis at exactly 4:00 p.m. HST. Lots of people online said it was highly competitive, but worth a try. So, we tried the next day and immediately got tickets. Yay!! We planned our trip and outlined a full day of fun since we would be on the other side of the island. It takes about two hours to get to Haleakala from Kaanapoli and sunrise is at 6:30 a.m. in Maui in November. We wanted to build in a little padding, so we left our hotel a little after 3:00 a.m.
The drive up Haleakala is a little scary since it's dark and very steep. There also aren't guardrails in many spots and a lot of cows randomly walking along the road! But you'll be in a line of other cars, so it's not too bad. When you get to the summit, it's COLD. You probably don't expect to need a ton of layers for a Maui vacation, but pack layers if you're doing Haleakala. I wish I packed more, but at least I had wool socks (I always pack thick socks for long plane rides!) and a warm-ish rain coat and sweatshirt.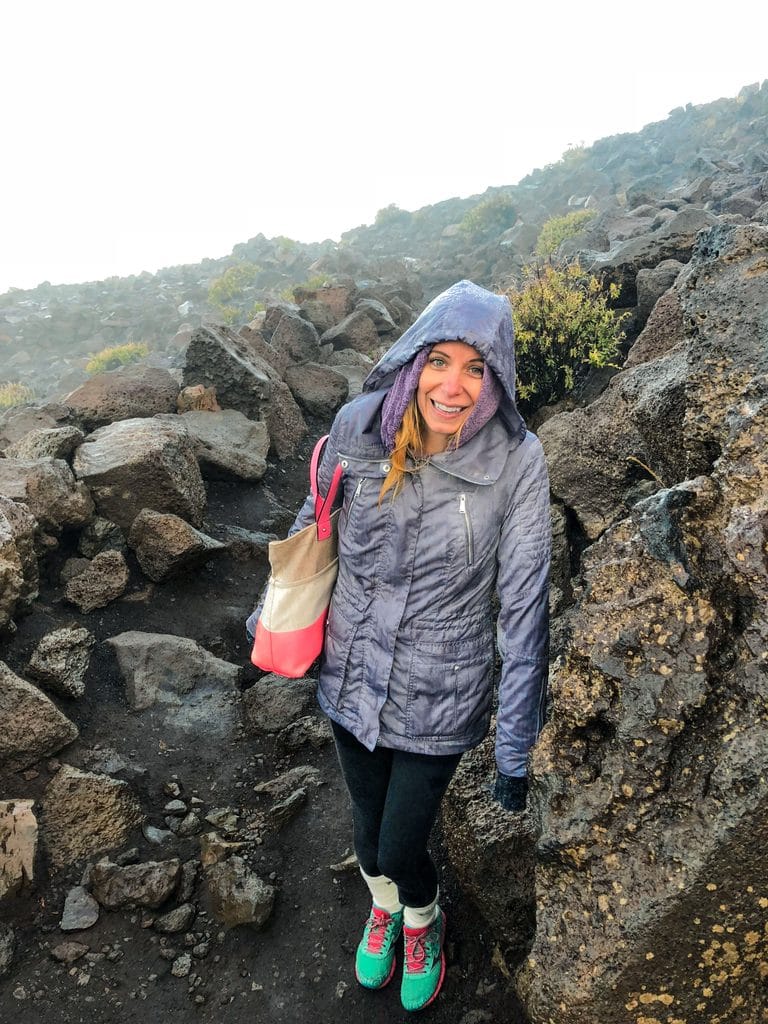 But I was COLD. So, so cold. And coming from Boston, that's saying a lot. Not only was it freezing, but also windy and precipitating the whole time. We got out of our car in the summit parking lot and walked to the highest point we could (probably a .5 mile walk) and waited. I was super uncomfortable and thought my feet were going to freeze off.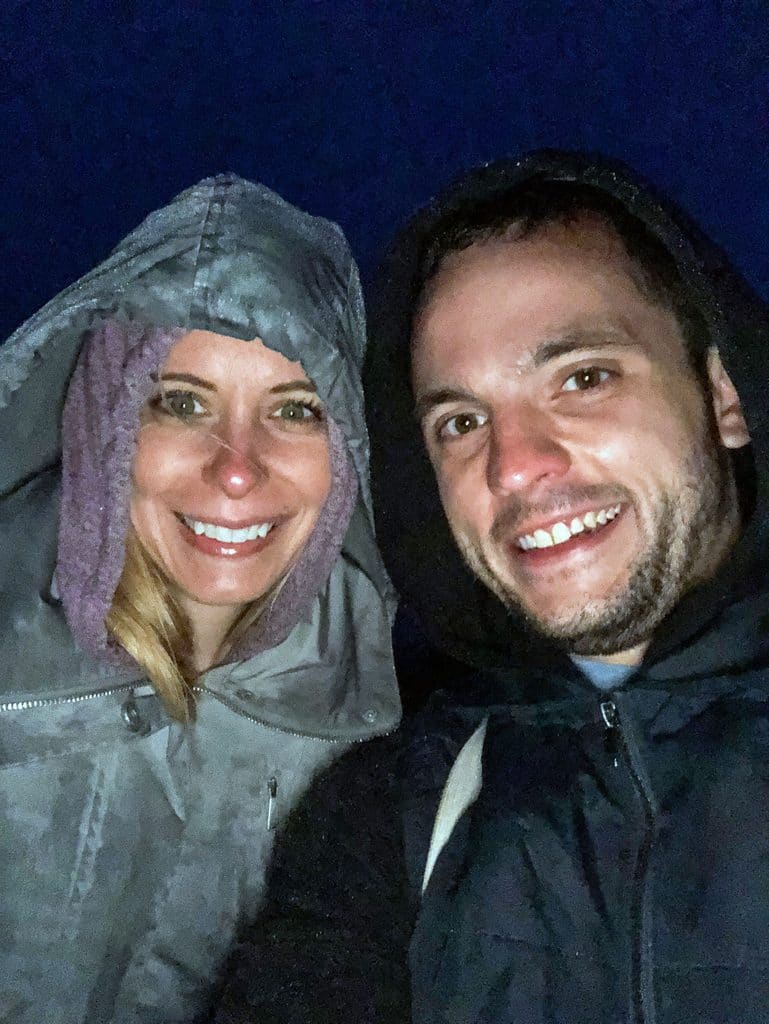 And then, ladies and gentlemen, here was our sunrise: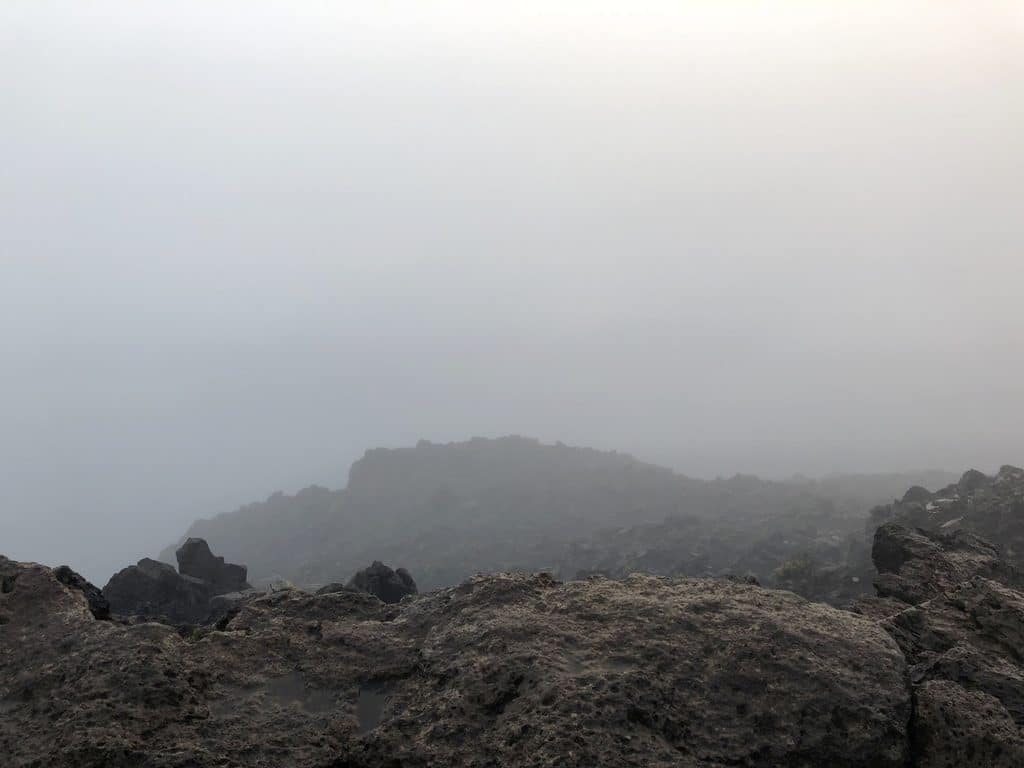 Noooo. The thing is, we knew the weather didn't look the best when we woke up (at 2:30 a.m.) but everyone says that the weather changes so quickly and not to pay attention to the forecast because it just wouldn't be accurate. We just got super unlucky. Oh well; some things are just totally out of your control. We still made the best of it and stuck around for a while just in case (until it was light enough that we knew the sun was up.... But that we just couldn't see it). What can you do, right?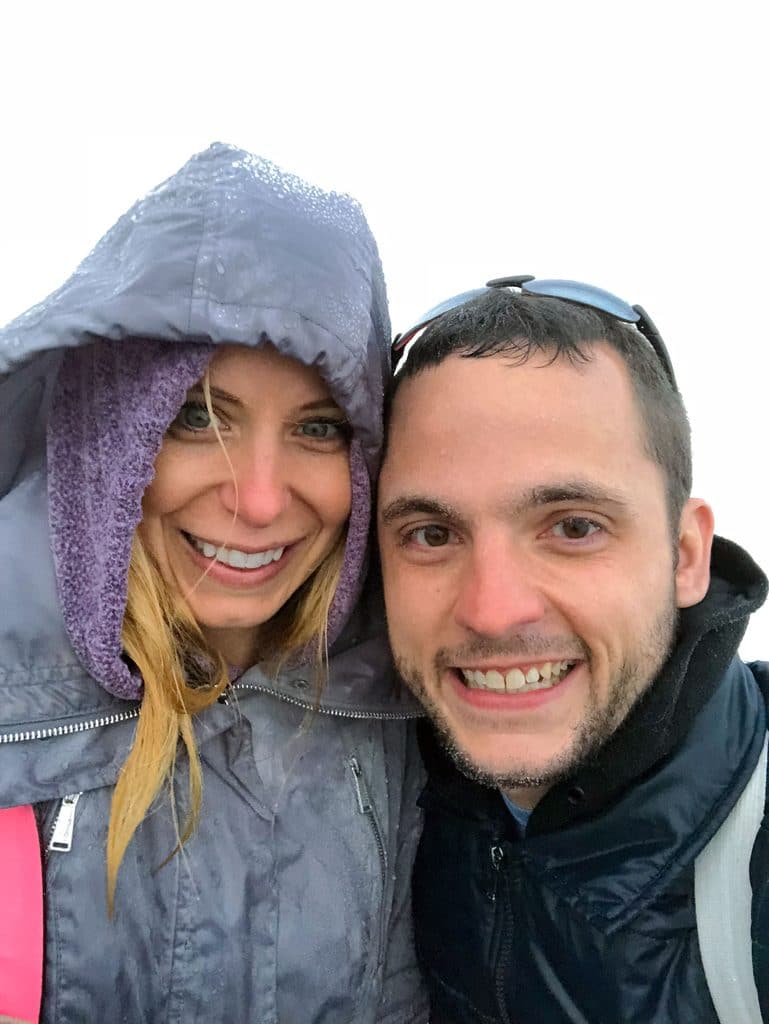 And I'm still glad we attempted it. We considered trying for reservations again during our stay, but the early wakeup and long drive plus chances of this happening again just didn't make it worth it for us. But if we ever go back to Maui, I'm sure we'll make another attempt. We trekked back to our car and turned the heat up on full blast.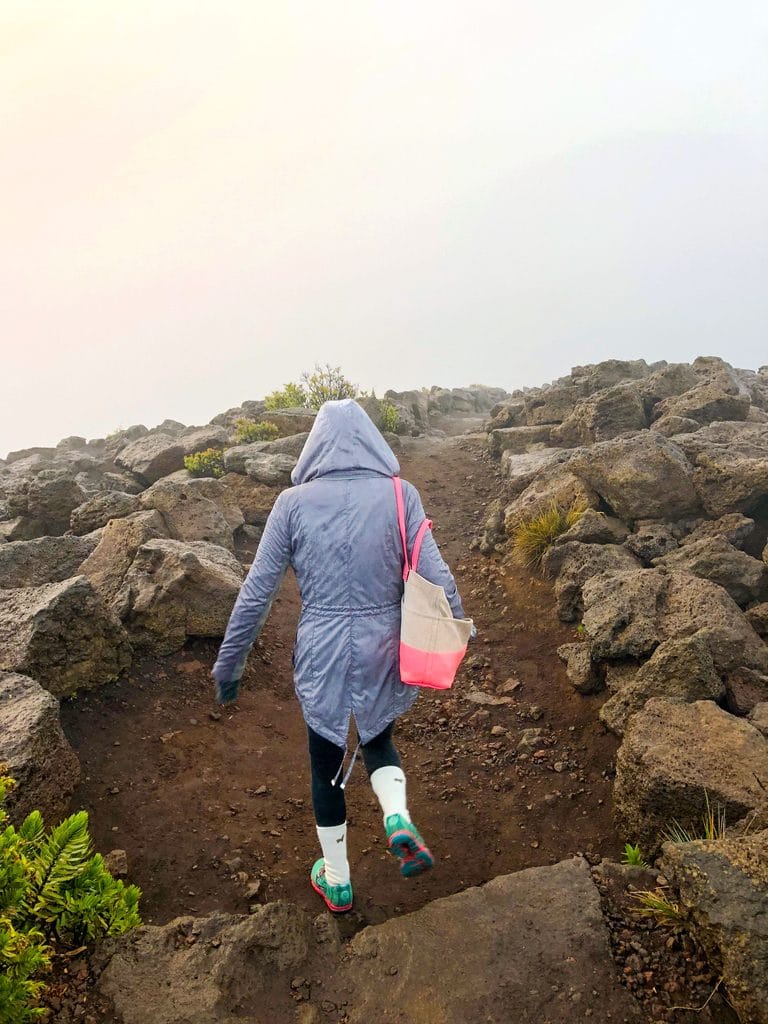 Of course, about five minutes into our drive down from the summit, the clouds dissipated and the views were gorgeous.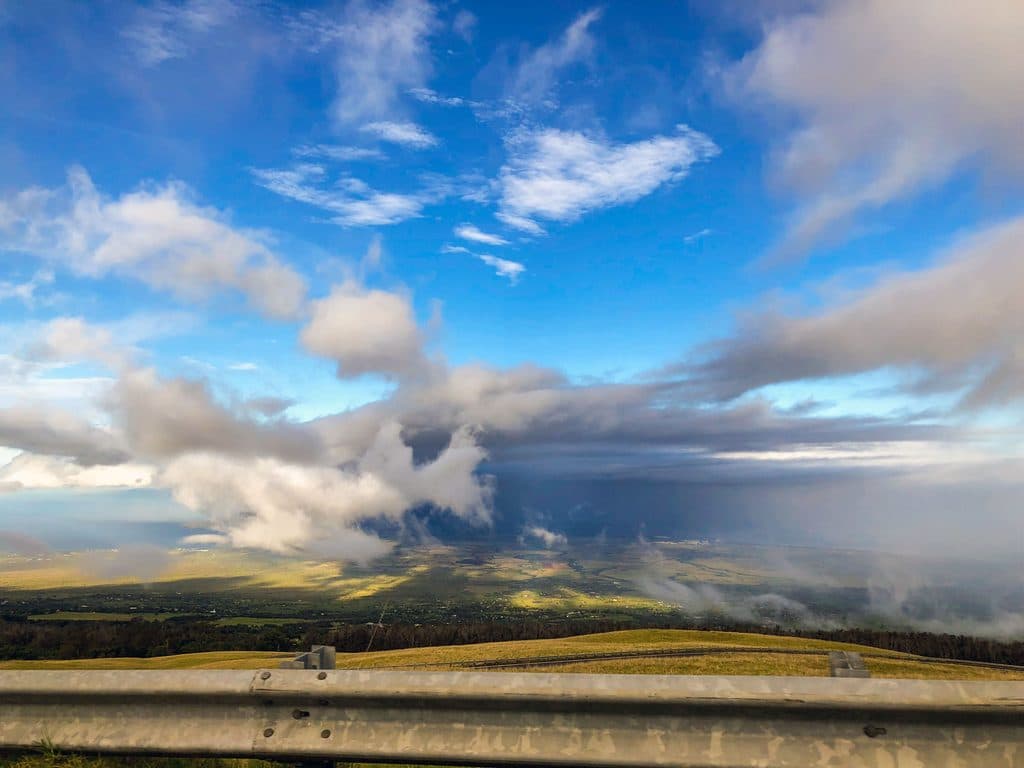 So, lesson for you if you're planning a trip to Haleakala? Book your reservation far in advance, pack warm clothes, and set your expectations so you're not disappointed if your sunrise isn't quite as gorgeous as everyone says. Follow those three simple tips, and your trip will be a huge success!
Another option is to take a tour bus up to the summit. We almost did this when we realized we didn't have reservations for the our trip, but I'm SO glad we didn't since they're very expensive and it would have been a huge waste of money without the sunrise. You can also take a bus up and bike down after the sun is up, but the roads were a little too treacherous for my biking skills.
TAKE A DRIVE (IF YOU DARE)
And here's where I made another mistake called "didn't quite research this part enough." Since we were going to be on the south part of the island for Halekala and would be done with the "sunrise" around 7:30 a.m., I built an entire day's itinerary for us and mapped the whole thing out. Wonderful, we would do part of the Road to Hana, but first stop at the lavender farm, Maui Winery, and Surfing Goat Dairy. And then hike the bamboo forest before heading home. So, if I can offer you one piece of advice with this blog post, it's that when you're planning your trip and stops along the way, make sure you research your route!! Because there are some seriously scary roads in Maui that you don't want to be on. Rookie mistake on our part.
We got stuck on Kahekili Highway, which is BY FAR the scariest road I have been on in my entire life... And pretty much the longest one, too (mainly since you're going so slow). It's basically a one-lane winding road with steep drop-offs, no guardrails, and lots of potential for falling rocks. You can read more about it and see video on dangerousroads.org (ha!). It would be scary enough if the road were two lanes, but since it's one, you have to move over every time a car is coming in the opposite direction. And since the road is so windy, you can't always see if a car is coming. And the road is so narrow in some places, there is literally no place for you to go. We legitimately thought we were going to die and sometimes had to go around a bend just praying another car wasn't coming. Also, the locals who drive this road all the time think it's no big deal and speed and get annoyed at you if you take a second to figure out you're not going to fall off the cliff.
The thing is, it also offers BEAUTIFUL views. Here we are at the start of the drive not knowing what we were about to be hit with.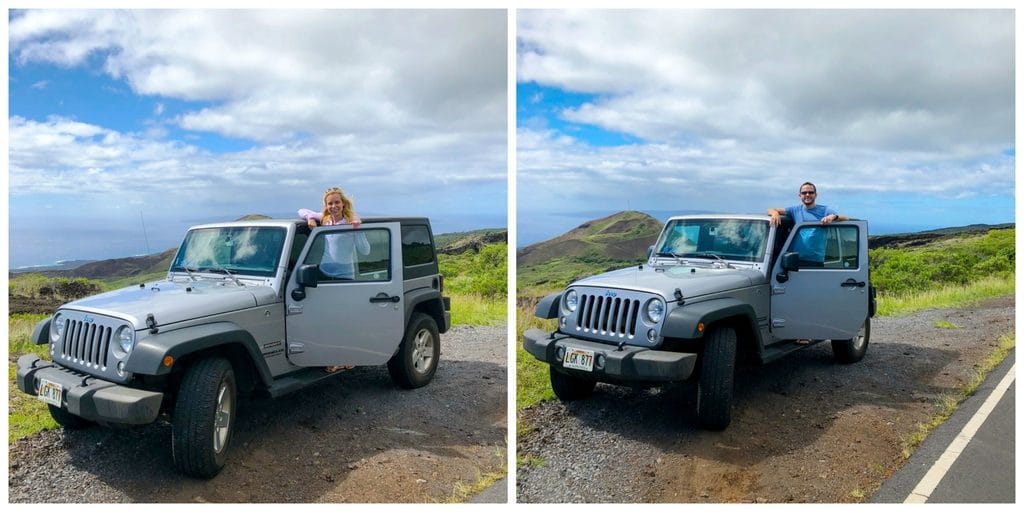 And those were basically the only photos we took because we were terrified for our lives for the next few hours. Yes, HOURS. This highway never freaking ended. Halfway through during a brief moment of cell phone service, I Googled and realized we made a major mistake by getting on this road and were also violating our car rental agreement (oops) and that it was definitely too late to turn back. I have to admit that some of the reviews on TripAdvisor were a little hilarious, like "Good god, who would possibly have time to enjoy the scenery while trying not to fall of the cliff or avoid getting stuck on a one lane road on a cliff with another car coming the opposite way. This is a road devised by Satan himself" and "Not just NO, but OH HELL NO." Of course, there are lots of people saying it's no big deal and the views are worth it, but I'm in the oh hell no camp.
If, however, you want to experience Kahekili Highway, I highly recommend you drive it clockwise, so that the water is on your left instead of right (of course, we were driving counter clockwise). I also recommend you don't get stuck on it in the dark. We stupidly thought we were in the clear when we stopped at the bamboo forest and spent a couple hours there before realizing while we may have been done with Kahekili Highway, we were now on the Road to Hana, which while it isn't as bad as Kahekili, it's still pretty tough... Especially when it gets dark. Like it did for us. Sigh. Lesson learned. Also? Avoid reading stories about people plunging to their deaths while on the highway. I had to stop talking when I saw how seriously stressed Chris was (and he's a great driver).
That said, I do recommend doing the Road to Hana for the beautiful views, beaches, and especially because it's the only way to get to the bamboo forest. Here's a list of stops to make. I couldn't convince Chris to get back on those highways after our experience on Kahekili Highway, but the Road to Hana is definitely do-able.
WALK IN LAVENDER FIELDS
One of the things I knew I wanted to do while in Maui was to visit Ali'i Kula Lavender Farm. Ali'i Kula is a 13.5 acre farm at an elevation of roughly 4000 ft. and is home to approximately 55,000 lavender plants and 45 different varieties of lavender. None of the farm's tour times worked with our schedule, but we spent an hour or so just wandering around and taking in the gorgeous views.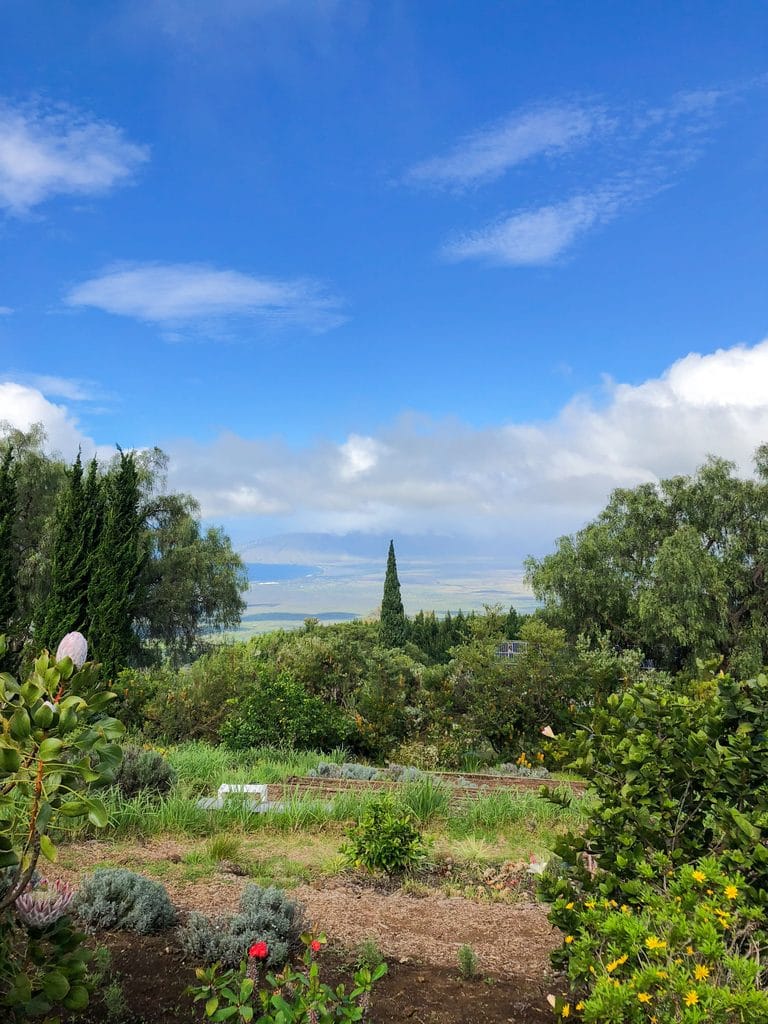 The lavender wasn't in full bloom during our November visit (it's generally in full bloom June-early September), but there was still plenty to take in.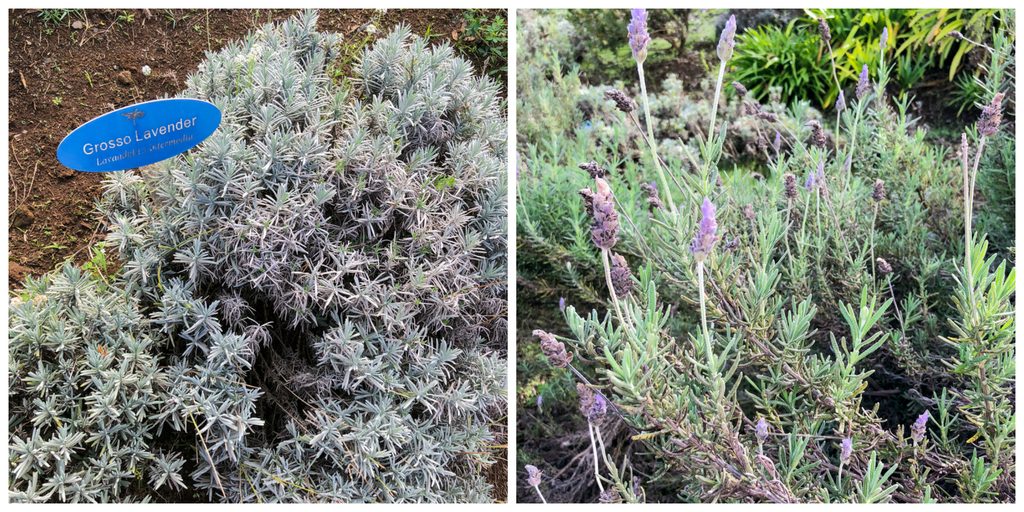 And a whole host of beautiful flowers aside from lavender.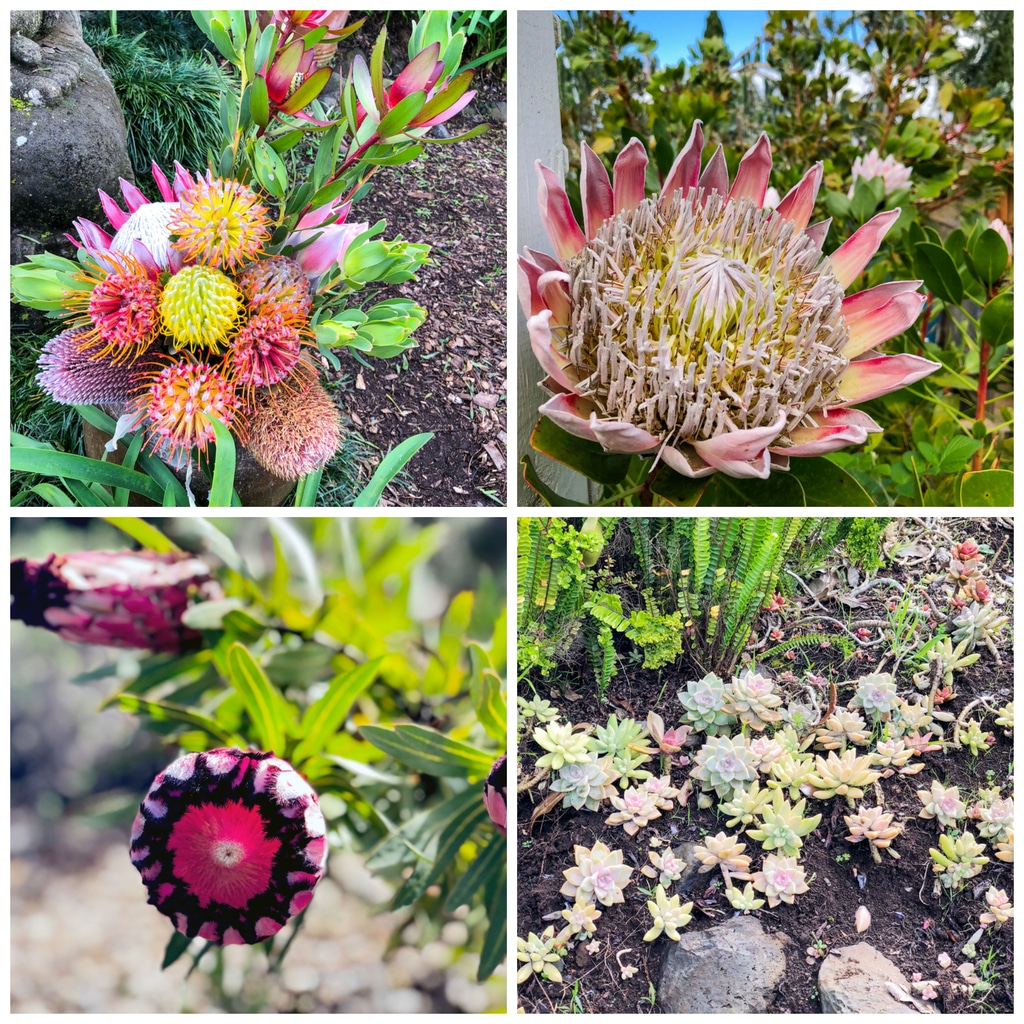 I took way too many photos at Ali'i Kula Lavender Farm and probably could have happily stayed all day. We concluded our visit by picking up a few things in the gift shop and sipping on some lavender tea.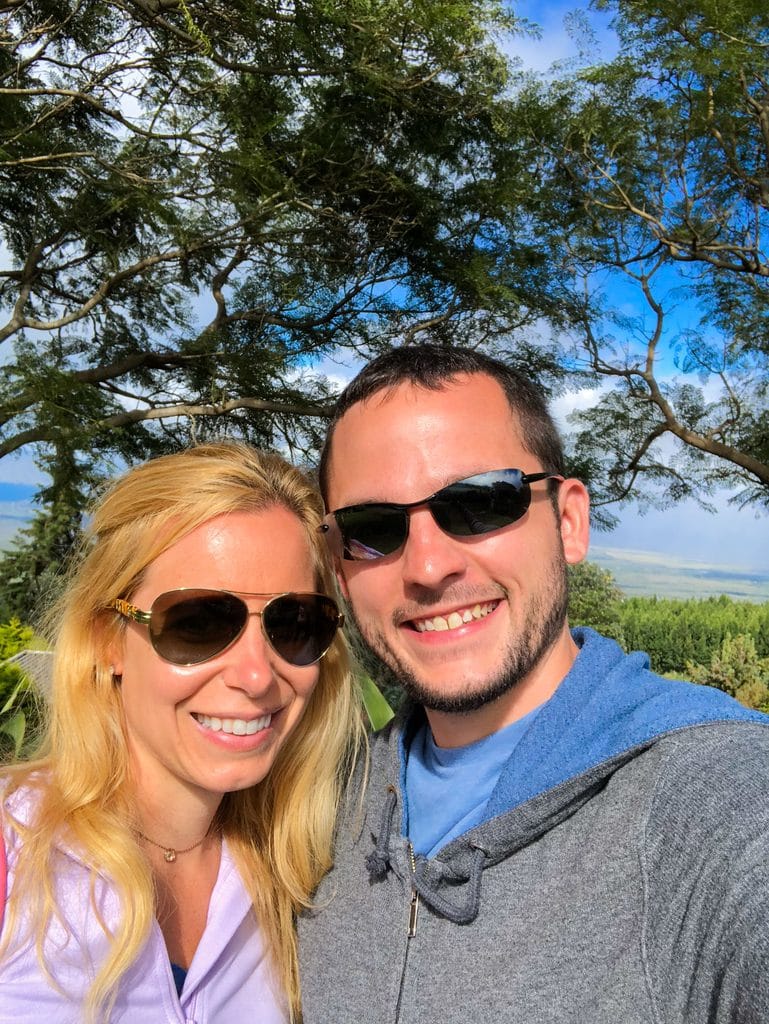 ENJOY THE DINING SCENE
On to the food! Maui has some amazing restaurants and I really hope to return some day to experience even more of them. If you want to go to some of the most talked about restaurants (read: Mama's Fish House), make sure you make reservations far in advance. When we're going on long trips, we like to find a balance of a couple upscale restaurants and then some more casual spots.
One of our favorite meals was at a little spot called Mala Ocean Tavern and I cannot recommend this place enough! If you go, try to plan an reservation for just before sunset and ask for a window seat. The views are gorgous!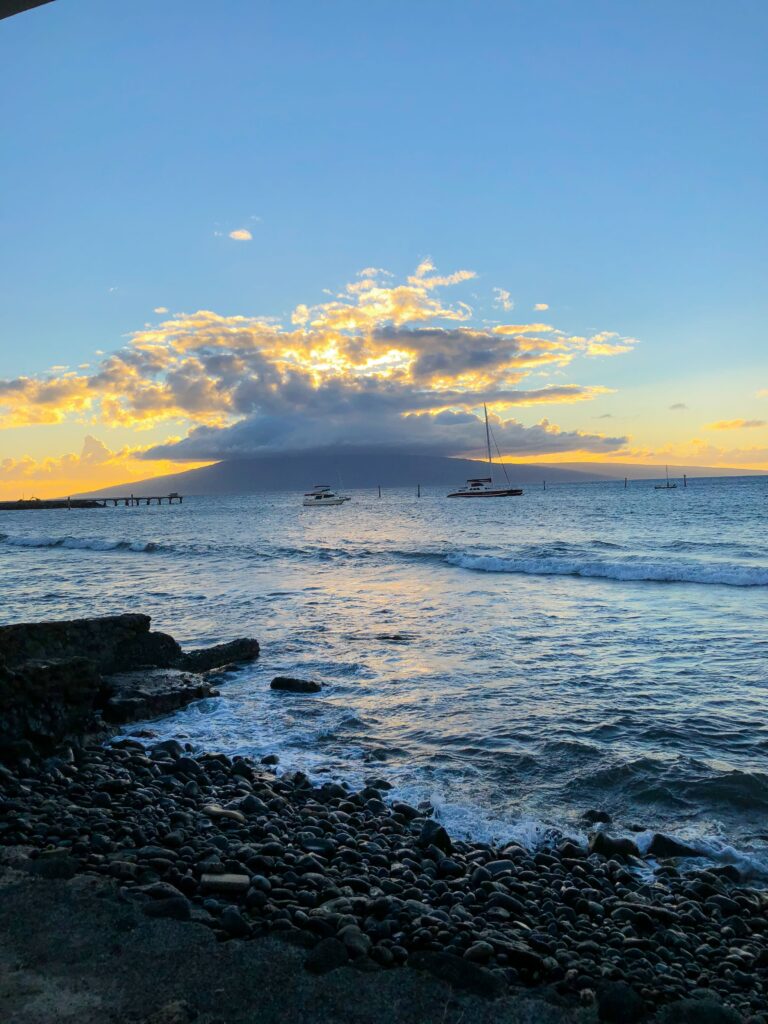 And the food and cocktails are the perfect combination of what both me and Chris love. We enjoyed their award-winning mai tai and a rosé sangria.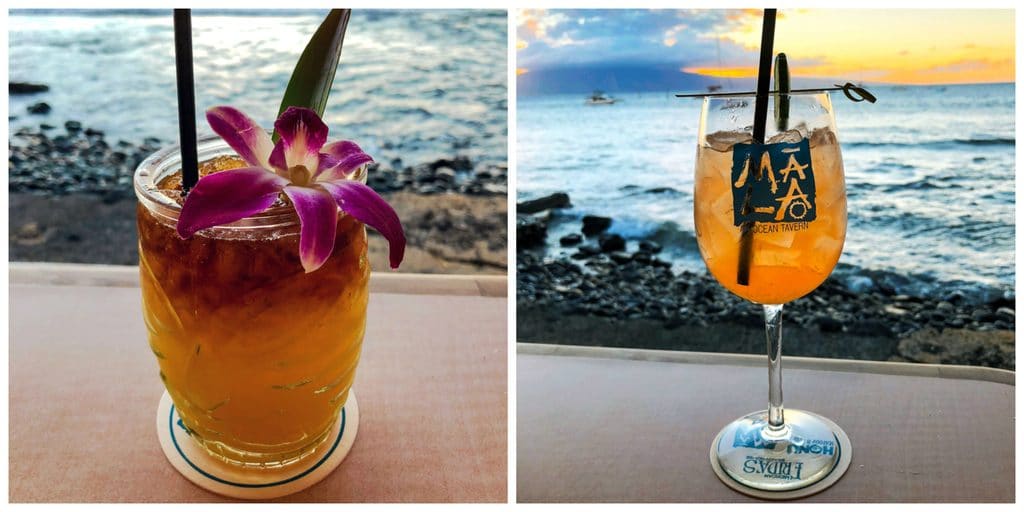 And our meals were seriously to-die-for. We started with the spicy lamb pita (I'm going to make my own version of this for the blog soon!) and then Chris had the Ahi Bolognese Pasta (so creative!) and I had the Asian Seafood Pasta, which was absolutely packed with seafood.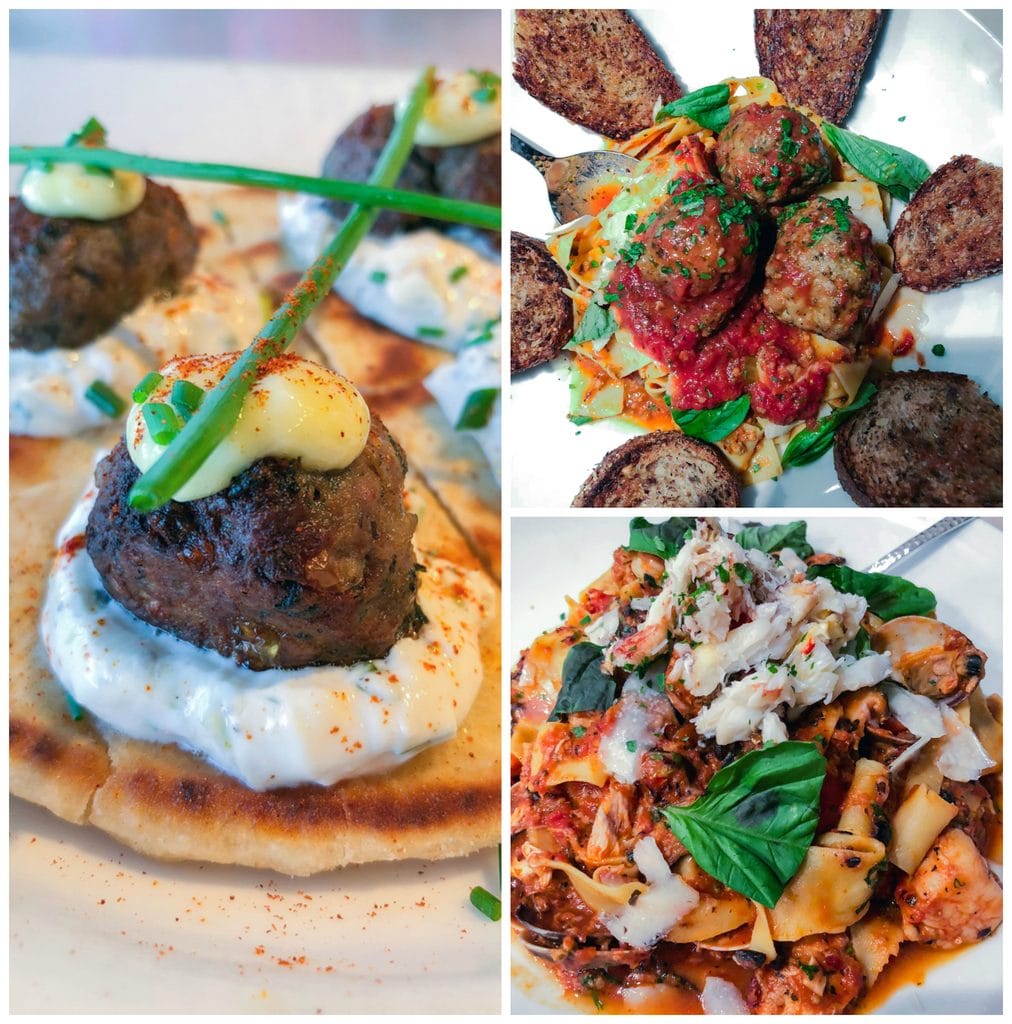 Fresh ingredients, unique and flavorful food, beautiful presentation, and stunning views. Could you ask for anything more in a restaurant?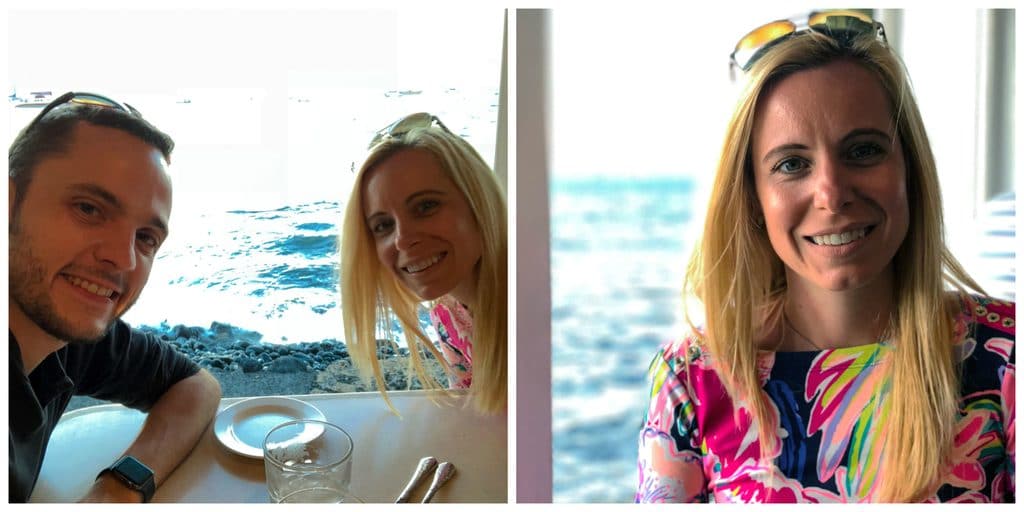 Since it was Chris's birthday while we in Maui, I made him choose his birthday dinner spot. And being a creature of habit, he chose Morimoto. I'll admit it probably wouldn't have been my choice, only because we've been to the Napa location twice and I like to explore new spots when traveling, but I'll also never say no to a night at Morimoto, so I was cool with it. The Maui restaurant is located in the Andaz Maui at Wailea Resort, which is an absolutely beautiful hotel. I think it would be dangerous for me to stay here because I'd totally be swimming up to Morimoto for lunch every day.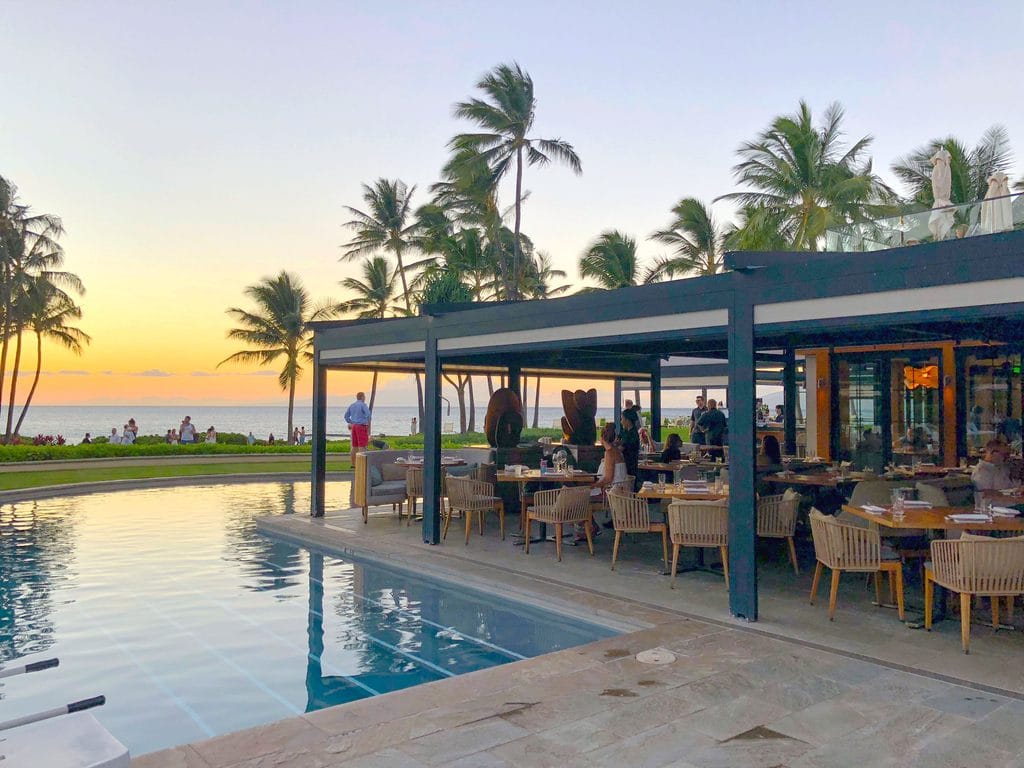 Mostly because I'm obsessed with the Toro Tartare!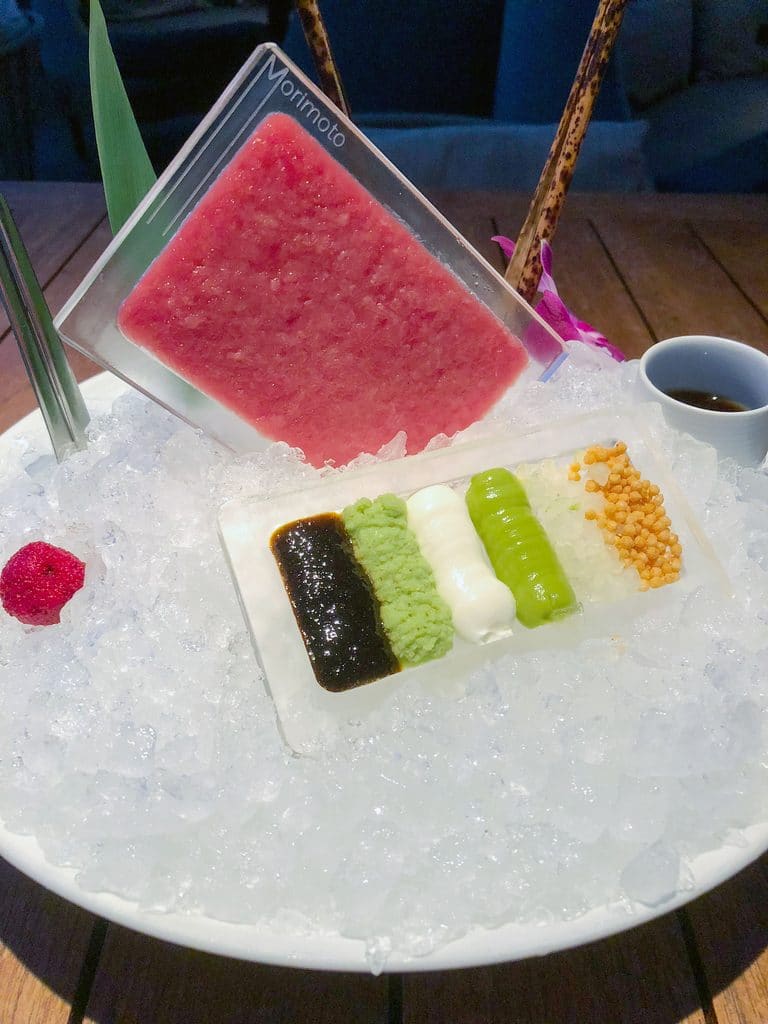 The first time we went to Morimoto we got the Omakase and fell in love with this dish and I think it's one of the main reasons Chris wanted to go back again. We also enjoyed hamachi tacos, tuna pizza (so much tuna!), some sashimi, the watermelon gazpacho, sea urchin carbonara, and donuts for dessert.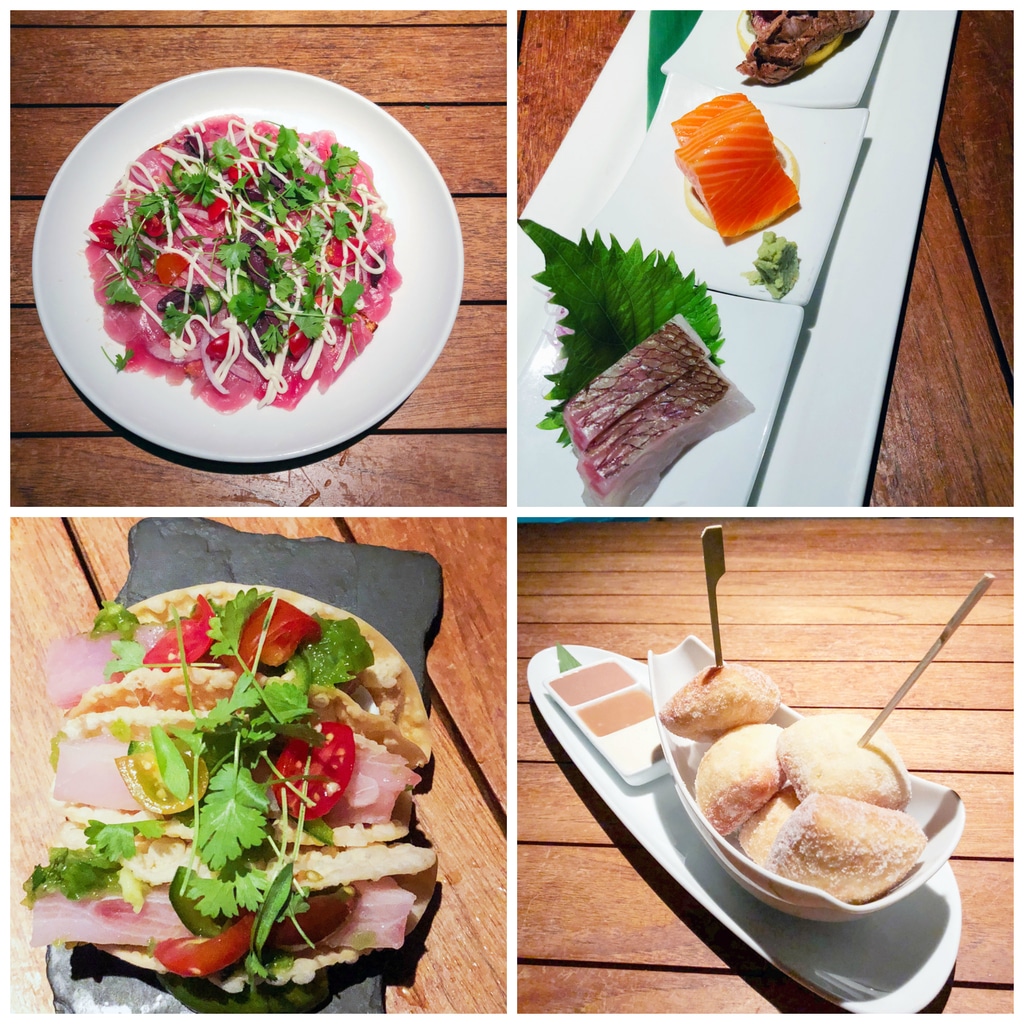 It was such a fabulous meal and a great way to celebrate Chris's birthday in paradise.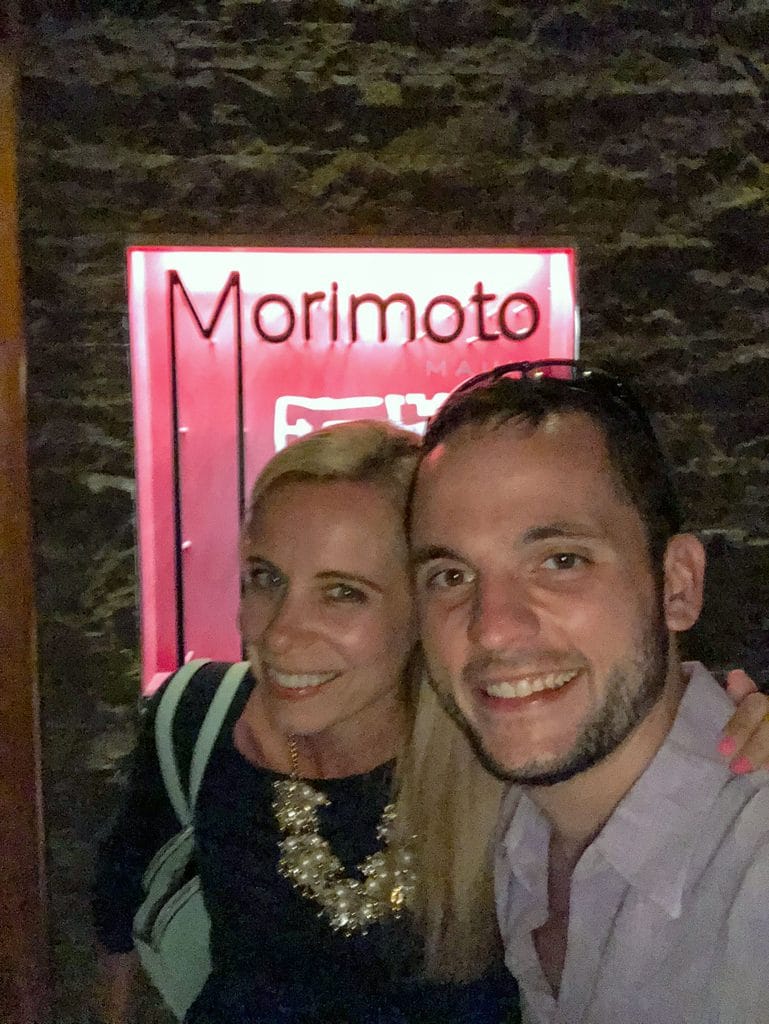 The Westin Maui Ka'anapali (where we stayed) is located right next to a cute little area with restaurants and shopping, which you can walk to in about 5 seconds. On one of our low-key nights, we randomly went to a spot called Monkeypod Kitchen and absolutely loved it. So much that we returned a few nights later when we wanted a late night bite. It was the perfect casual spot for a low-key dinner with incredible cocktails.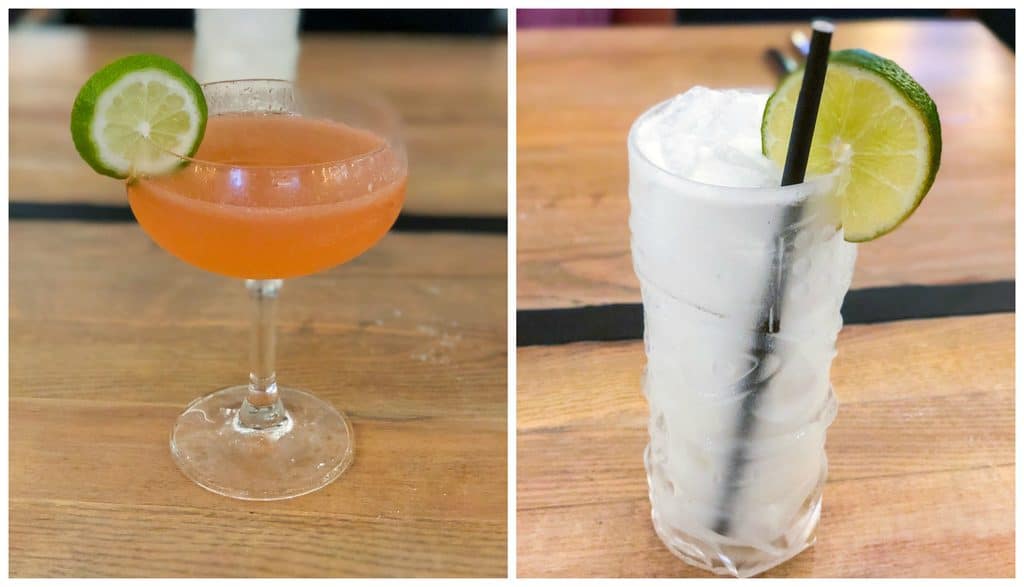 We both loved the fish tacos and bulgogi pork tacos. And the lobster deviled eggs? Yes, please!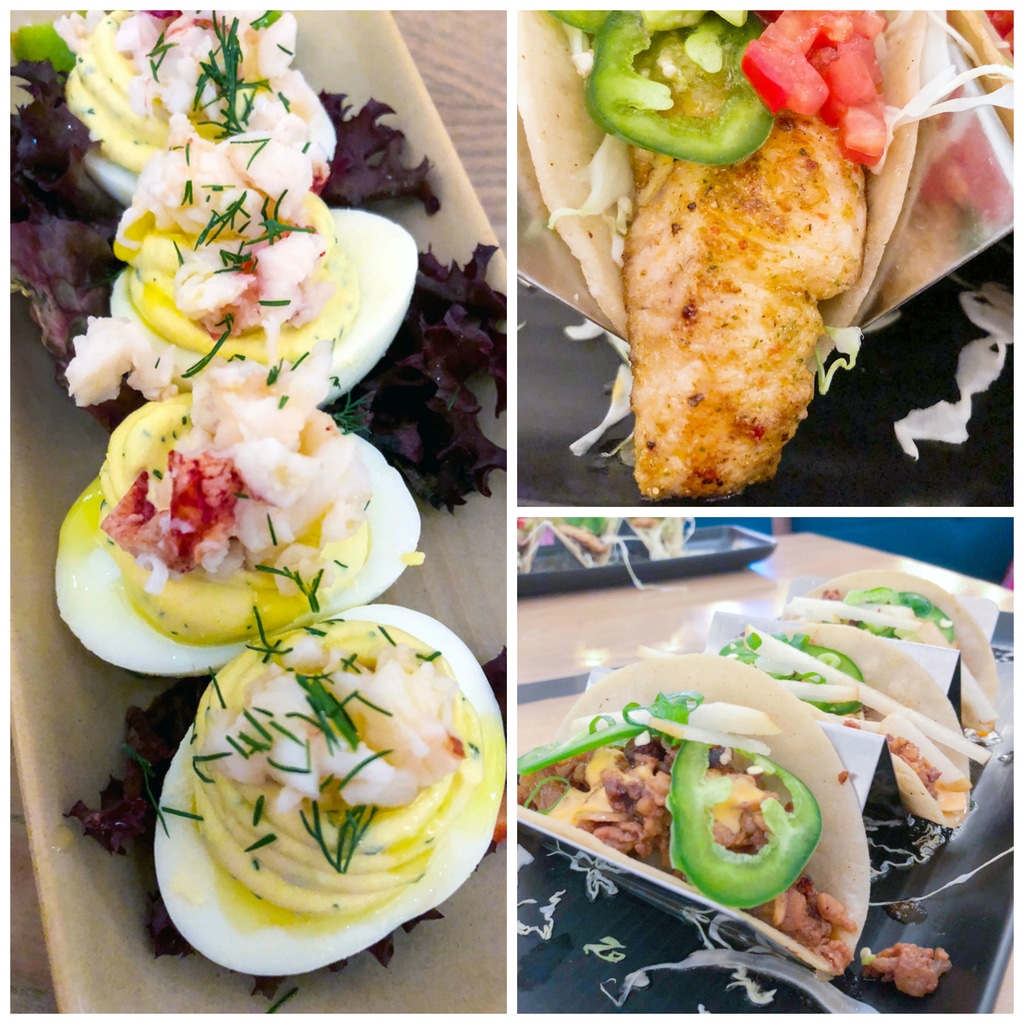 The interior of the restaurant was so fun and I want those chairs for my house!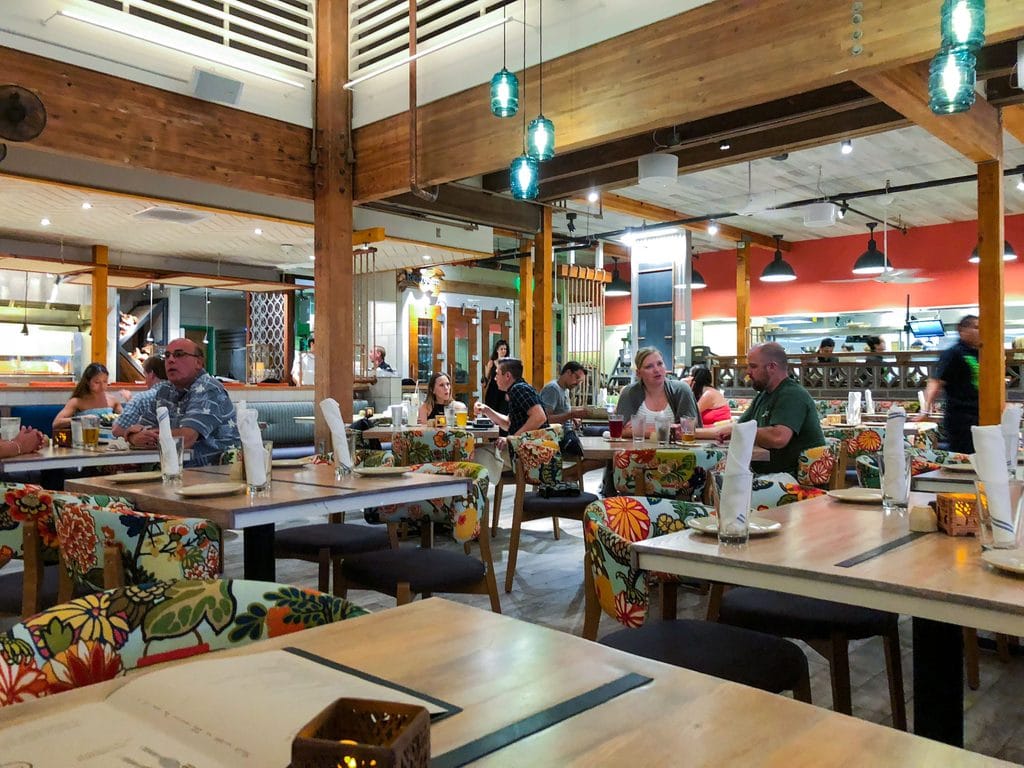 The restaurant is by the team behind Merriman's, which is supposed to be an amazing spot in Maui. We tried making reservations after our great experience at Monkeypod, but couldn't get anything at a time that worked for us. Next time!
One last spot I have to mention is a restaurant we stopped at for breakfast after driving down Haleakala. It seems like everyone is talking about Kula Lodge for breakfast, but we heard very mixed reviews, so when we stumbled upon Kula Sandalwoods, we decided to give it a try.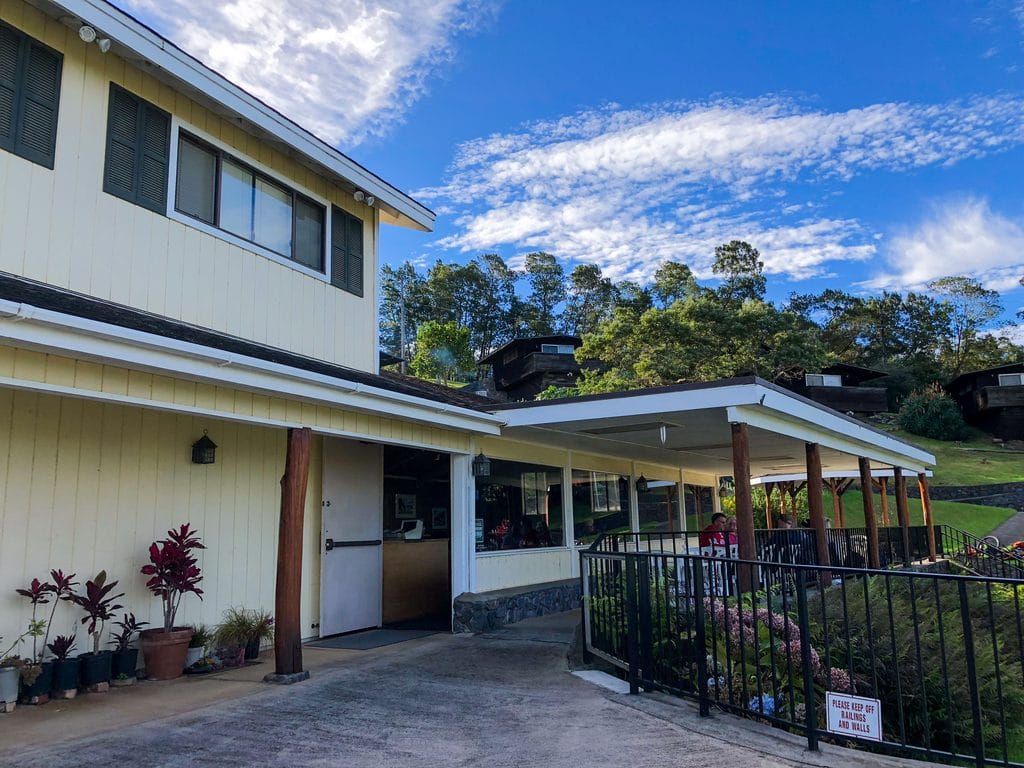 It's one of those places where you walk in and aren't quite sure if you're supposed to be there. The restaurant was completely empty and it felt like we were in someone's home. But there was a table right next to this beauty and since I was still working on thawing off from Haleakala, I felt like it was meant to be.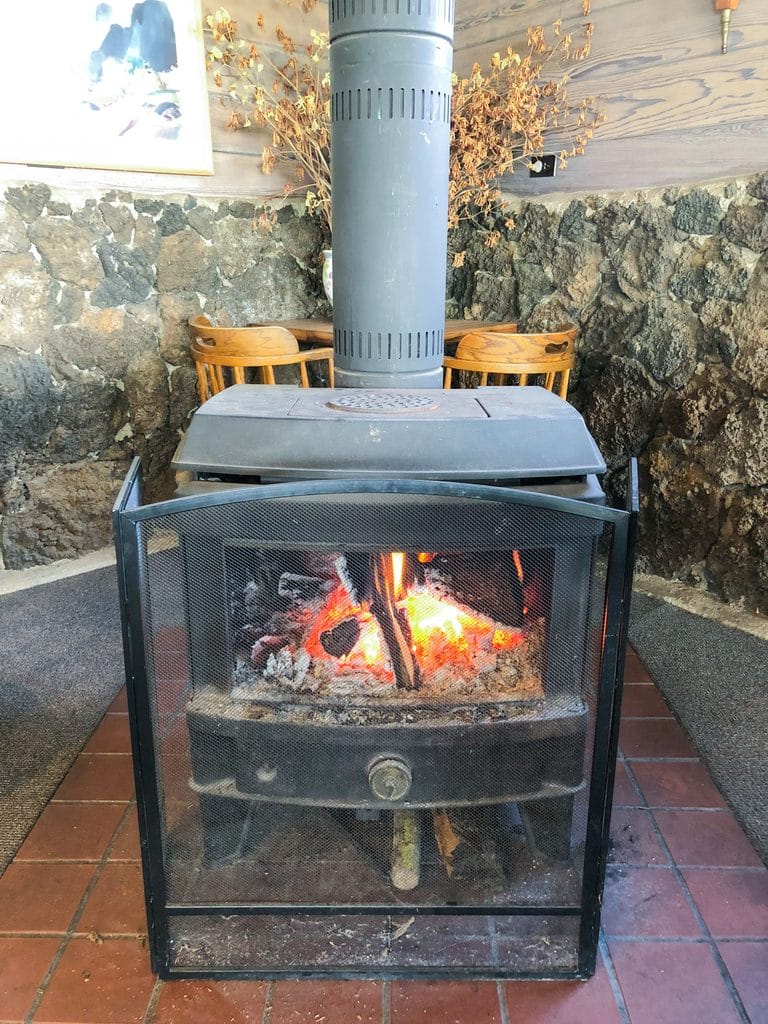 The owner came out and warmly greeted us, offering us hot coffee and a breakfast menu. He then went into the kitchen and got cooking. This breakfast totally hit the spot, especially after our early wakeup call and cold and wet morning watching the non-sunrise.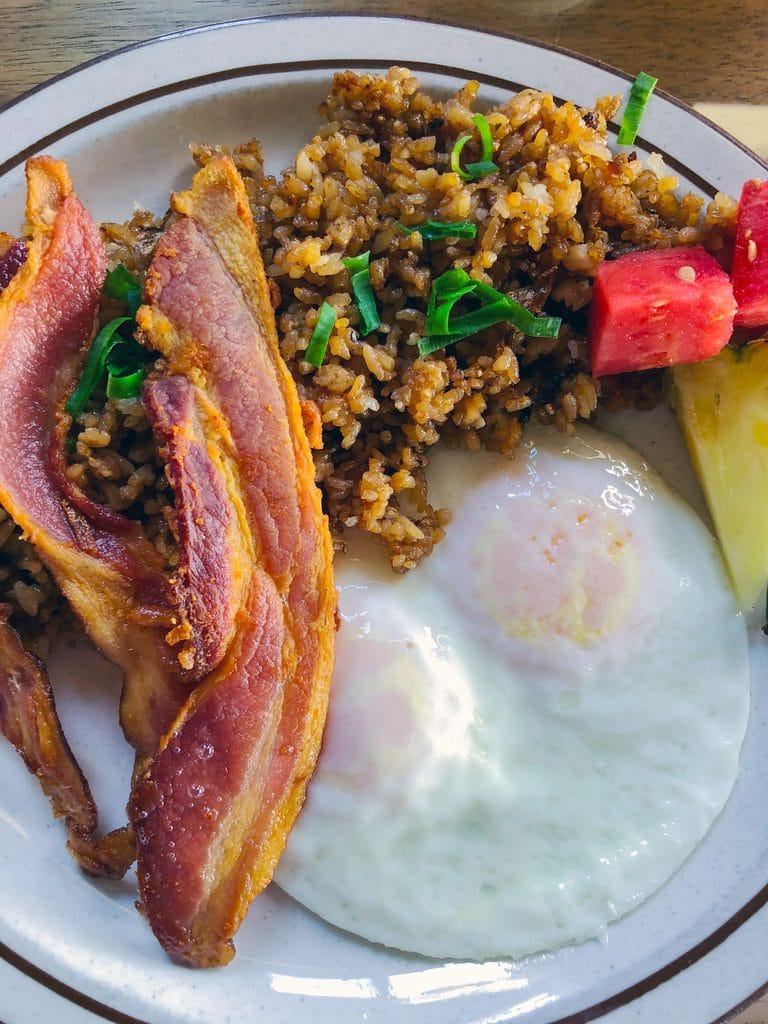 By the time we left, the restaurant was filling up with a lot of people who had biked down Haleakala.
There's not a ton of info about Kula Sandalwoods when you search for breakfast near Haleakala online, but I can't recommend it enough! They also offer lodging, so it could be a great place to stay if you want to be closer to Halekala to catch the sunrise.
SNORKLE
I don't know why I didn't take more photos during out snorkling experience, but we were happy to hear that our hotel was located on the same beach (Kaanapali Beach) as one of the best snorkle spots, Black Rock. I totally psyched myself out reading reviews online from people saying it has dangerous currents and people have drowned there (geez, sorry I'm talking about death so much in this post), but figured I'd just go with my gut and see how I felt. I'm happy to say it was totally fine when we were out and we just refrained from going around the rock (where it's said currents are stronger). We got out on the early side since people said we'd be more likely to see turtles and they were right! Not only were there gorgeous fish, but we got to see a huge sea turtle.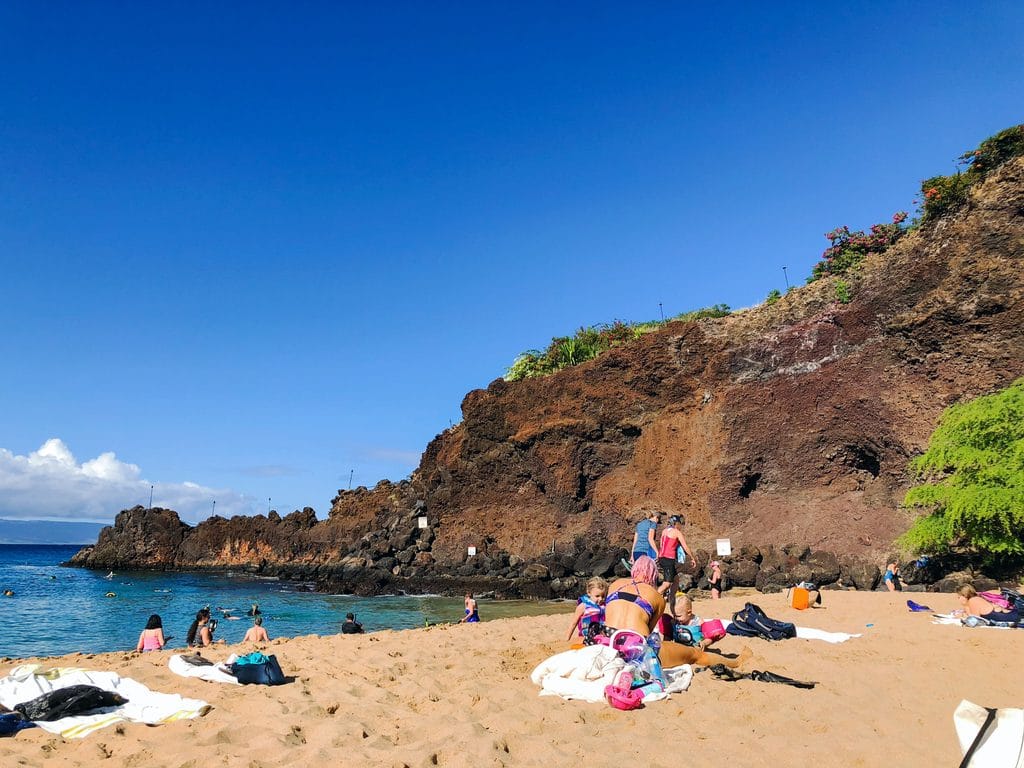 Black Rock is the perfect snorkling spot and gets tons of bonus points for the fact we could rent the snorkle gear from our hotel and walk along the beach to get there.
RELAX
There are probably a million more things we could have done on Maui, but we really wanted to get in some major relaxation time. We couldn't have been happier with The Westin Maui for all it had to offer in terms of relaxation. We're Starwoods Rewards members and almost always stay at Starwoods hotels, but obviously have some experiences that are better than others. This one was fabulous. Our room view was incredible and there were so many pools that never really felt crowded.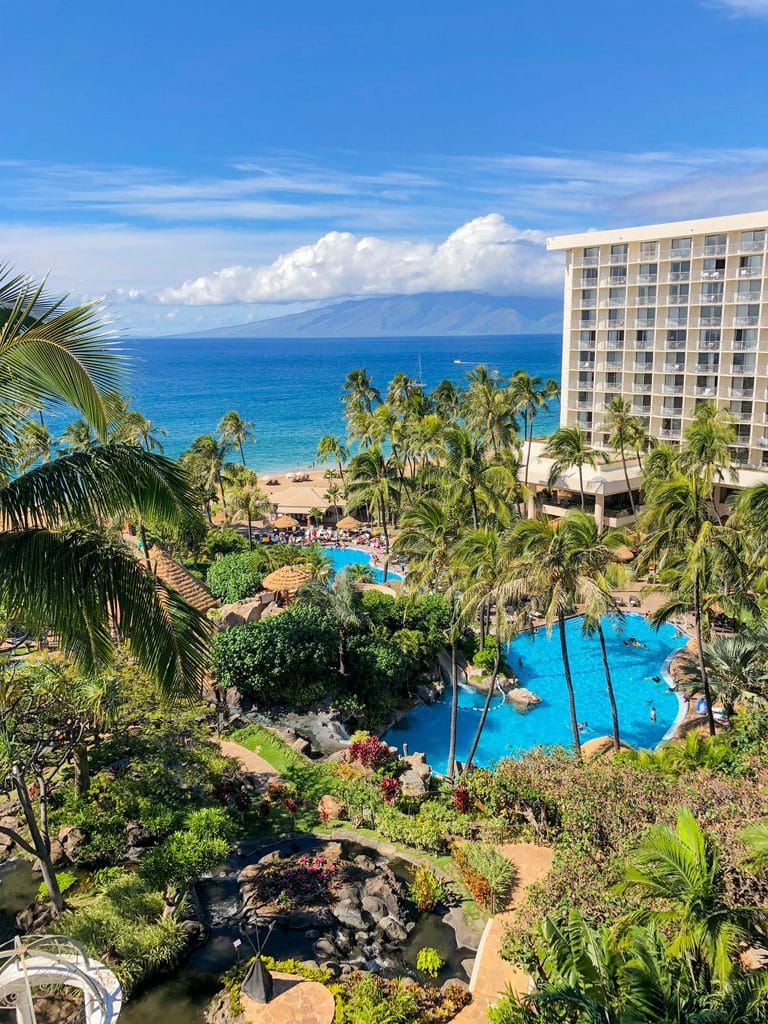 Obviously we indulged in plenty of cocktails and on our last day we had to get piña coladas in pineapples because you only live once, right??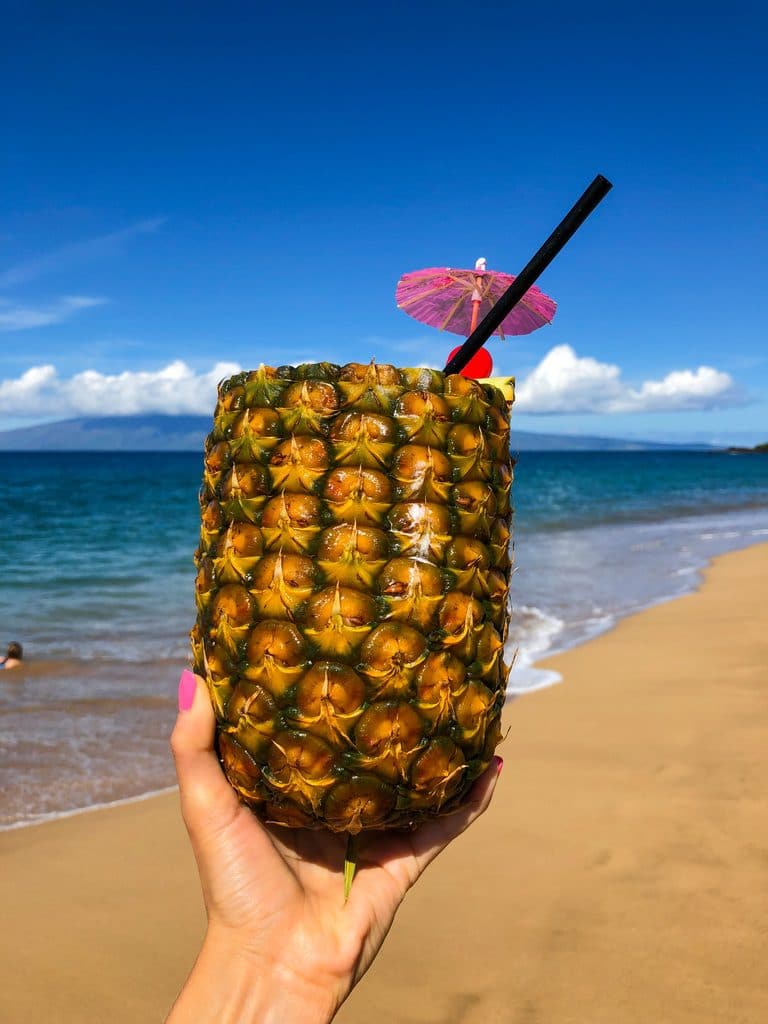 And Kaanapoli Beach is just gorgeous and the perfect spot to catch the Maui sunset.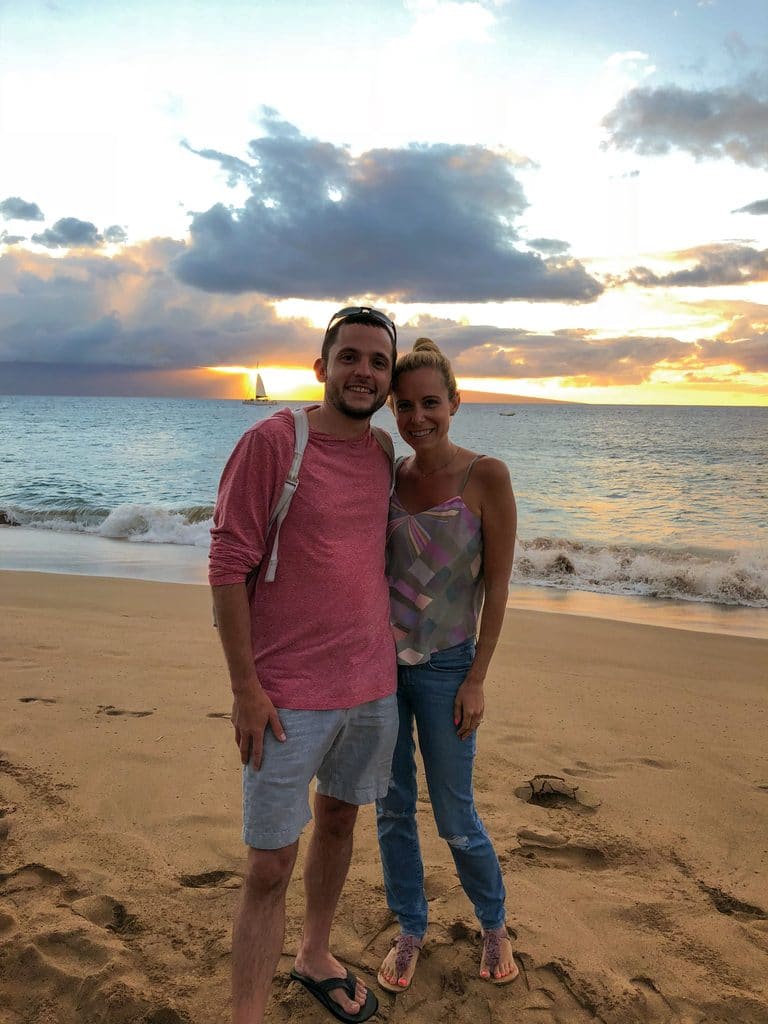 Also, the hotel has flamingos and a black swan chilling their lobby. So cute!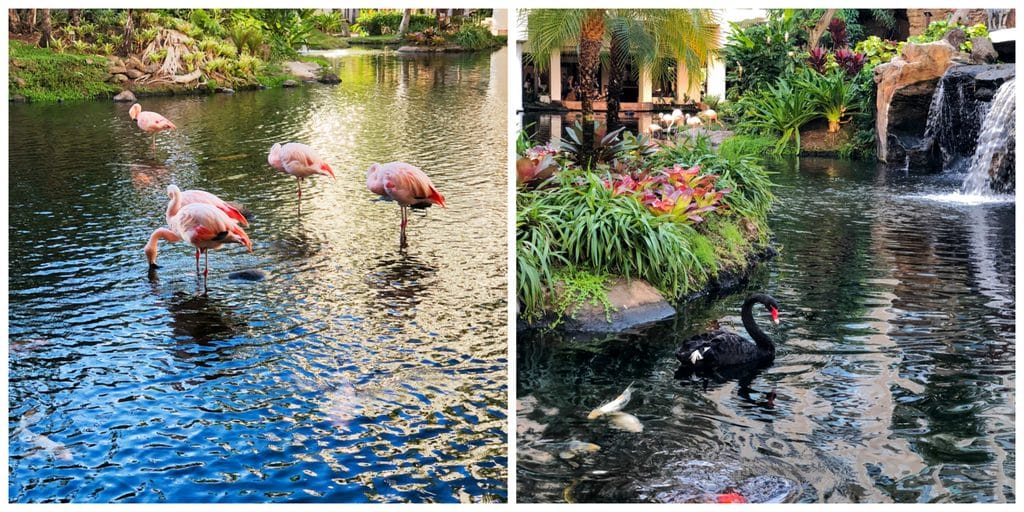 We mostly dined away from the hotel, but the casual bar menu was great for a late-night bite and the breakfast buffet was definitely better than I've had at most hotels. The staff was also super friendly and welcoming and we really couldn't have been happier.
A few other things we did that should get shoutouts include visiting Maui Wine (we had a delicious tasting in a gorgeous setting!) and Surfing Goat Dairy. We had a weird experience at Surfing Goat as we arrived when they first opened and were ignored by three different staff members and only got to see one goat. But I've heard it's generally really awesome and they have a great goat cheese tasting.
I feel like we didn't even scratch the surface of all Maui has to offer in terms of things to see and things to eat! There are so many places in the world I want to visit, but I hope we can get back to Maui some day to do more (and maybe even catch the Haleakala sunrise!). If you're planning a trip to Maui and have any questions or need any other tips, feel free to reach out to me!
Until next time, aloha!