If you're craving a big bowl of french onion soup, try it in pizza form instead! This French Onion Soup Pizza takes all the elements of the classic soup and turns it into a meal.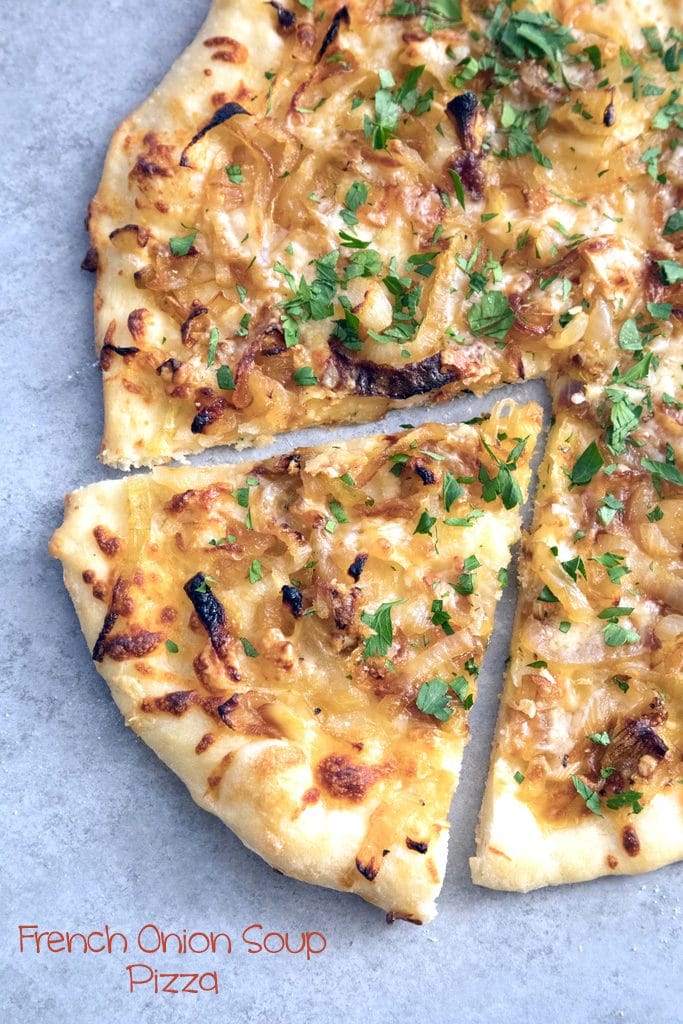 This week we're learning what a bomb cyclone is. Apparently they're actually quite common in New England, so I have no idea why meteorologists have waited until the first blizzard of 2018 to pull out this super cool term. I swear scientists come up with these names just to keep us all interested and Googling things like "what is a bomb cyclone?" Start talking about drops in atmospheric pressure and what bombogenesis actually is and people may start nodding off... But that won't stop them from posting all over social media about bomb cyclones. I guess it helps make things like snowstorms a little more exciting for New Englanders who have been experiencing them regularly for their entire lives. Despite the fact that I've lived here my entire life, I don't hate the snow. As long as I'm safe at home and don't need to be on the road at all.
Well, pretty much every day this winter has been a good day to stay inside due to the extreme cold, but today takes the cake for days you shouldn't leave the house... Unless you need to take your dog out (thanks, husband!) or snowblow your driveway (thanks again, husband!). OK, also unless you're an essential worker at a hospital or somewhere else important (thank you!!), but ugh, the roads are so bad right now that I hope most of you in New England can stay warm and cozy and do something like read a book or make Caramelized French Onion Soup Pizza for dinner. Because really, is there any better pizza weather than during a snowstorm?
French onion soup is one of my all time favorite dishes and something I have a hard time not ordering when I see it on a menu out. As a kid, I used to order French onion soup and a caesar salad at pretty much every restaurant I dined at (both served together as my entree, please). Clearly, I've always loved my umami even before I knew what that word meant. A few years back, I made a French Onion Soup Grilled Cheese and I'm currently working on my dream French Onion Soup. But for now, I'm caramelizing onions and putting them on pizzas loaded with gruyere and mozzarella cheese and calling it my new favorite comfort food.
There's something so warm and home-y about caramelizing onions. It takes a fair amount of time, but not much energy or effort. Just let them cook away on your stove while you go about your regular business, giving them a little stir here and there.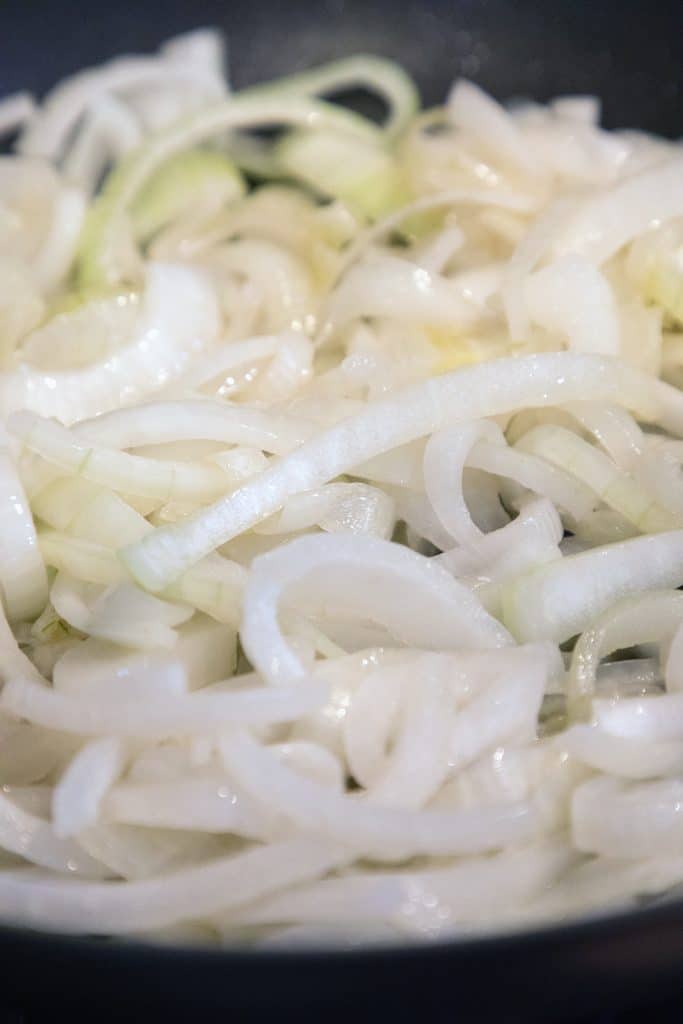 I made a homemade crust with a little bit of onion powder mixed in for some extra flavor. You can follow my recipe or use a store-bought crust if you're short on time. After brushing my rolled out crust with a little bit of olive oil, I sprinkled on a layer of mozzarella cheese and then added my caramelized onions and some thyme on top. I finished the pizza off with a nice healthy layer of grated gruyere cheese and baked it at 500 degrees for about 10 minutes.
The onions are already caramelized and some of them get a little crispy when you bake the pizza. Which I LOVE.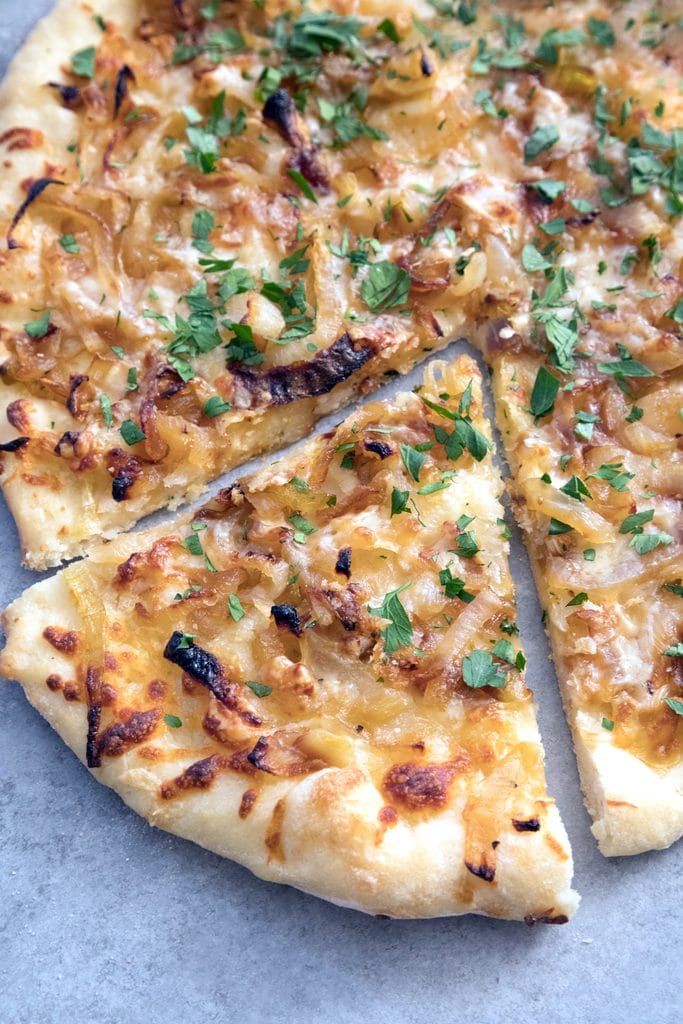 There's nothing wrong with treating yourself to a beer or two on a snow day. I mean, even if you're working from home, I'm not going to tell your employer. And what goes better with pizza? Sadly, hot chocolate just doesn't pair the way that beer does. So, save the hot chocolate for later when you're snuggled in front of the fire.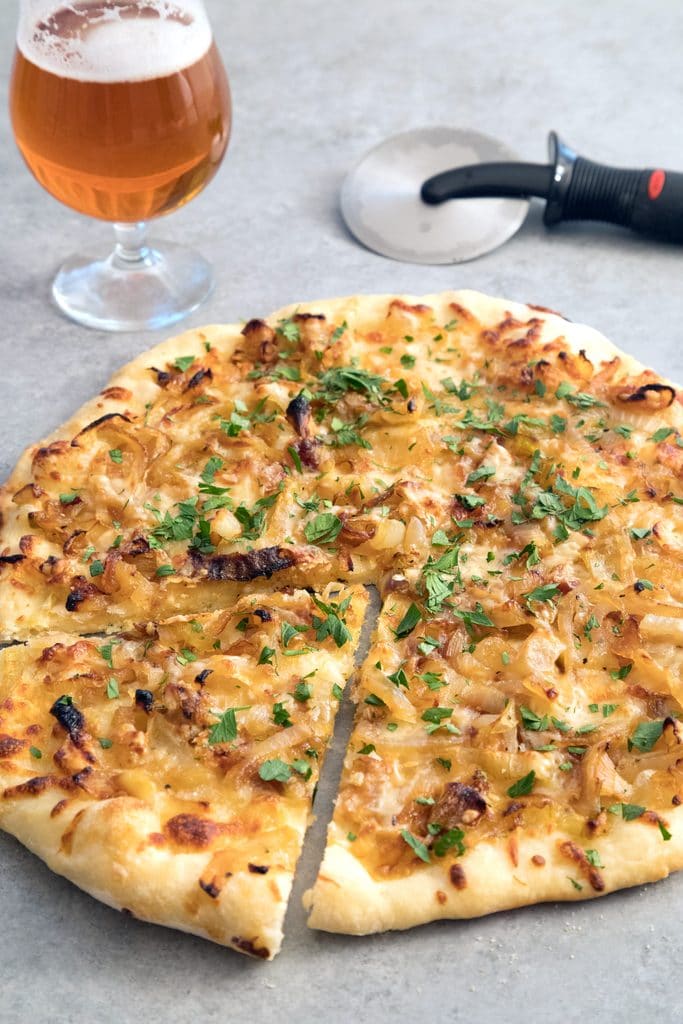 You know what would be really delicious and also kind of meta? This French Onion Soup Pizza cut into croutons and served on top of actual french onion soup. Smartest idea ever, right??
I have a theory that even people who say they don't like onions like caramelized onions. Am I right?? A caramelized onion is so completely different than a raw onion, it's wild. Yes, I just used the word "wild" to describe onions. Clearly, I need to get out more. But not in this weather.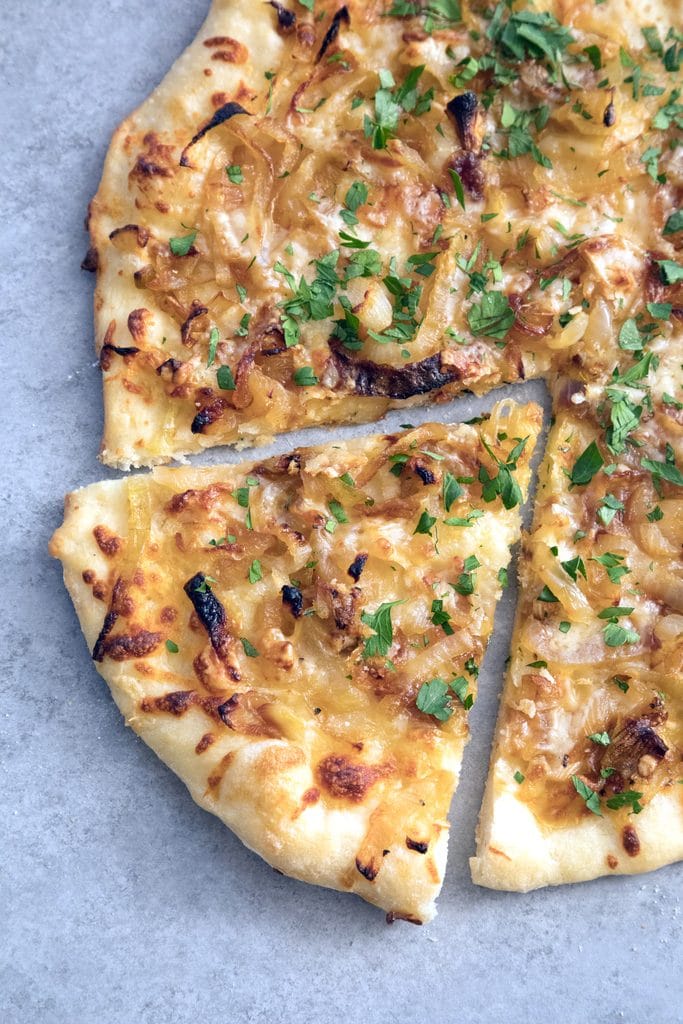 Nope, if you need me, I'll be sitting on the couch with my dog on my lap. Both of us watching the storm through the window. And Chris snow blowing the driveway. Rude? Don't worry, I'll make sure a nice hot slice of French Onion Soup Pizza and an ice cold beer are waiting inside for him when he's done.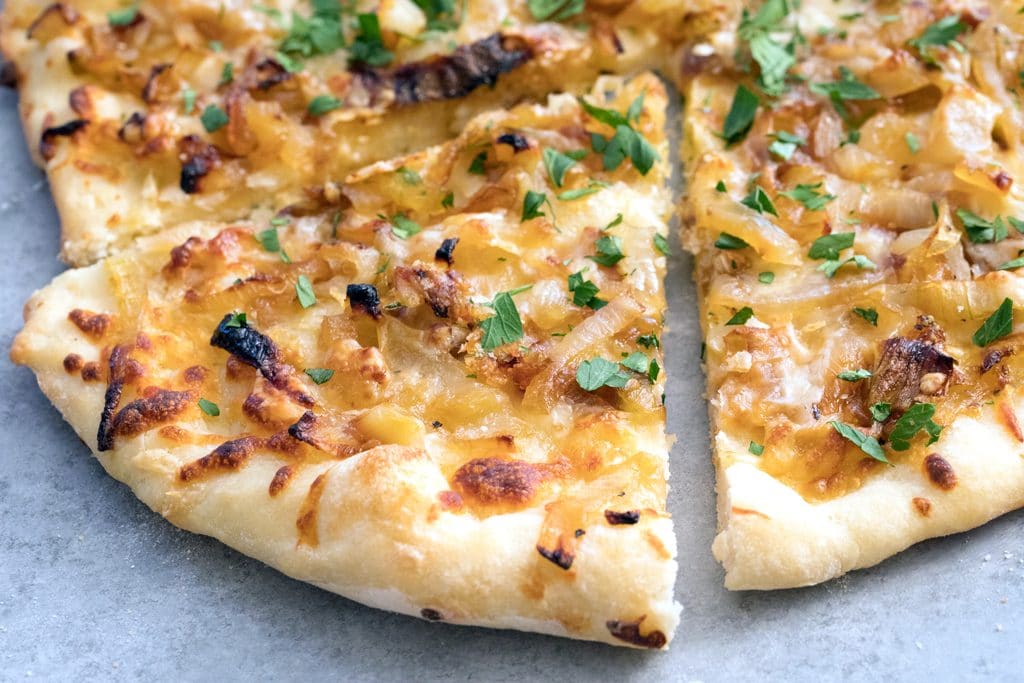 I know what I'm good at and it's not shoveling snow.
What's your ideal blizzard food? And if you live in a location without snow... Can I come visit you?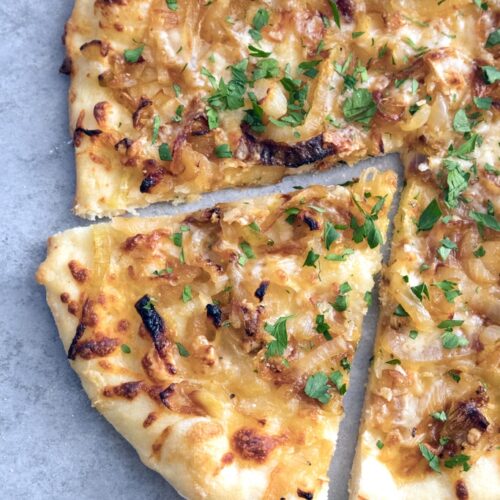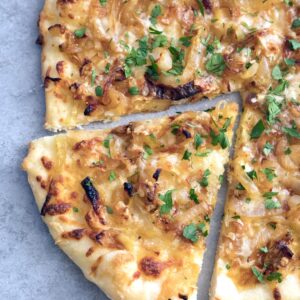 French Onion Soup Pizza
If you're craving a big bowl of french onion soup, try it in pizza form instead! This French Onion Soup Pizza takes all the elements of the classic soup and turns it into a meal.
Print
Pin
Rate
Ingredients
1 ½

Tbsp

unsalted butter

2

large

vidalia onions,

peeled and thinly sliced

1

Tbsp

brown sugar

1

Tbsp

apple cider vinegar

¼

tsp

salt

¼

tsp

pepper

½

batch

onion pizza dough

(recipe below)

1

tsp

olive oil

1

cup

shredded mozzarella cheese

½

tsp

finely chopped fresh thyme

2

oz.

shaved or grated gruyere cheese

1

Tbsp

chopped fresh parsley
Onion Pizza Dough
¾

Tbsp

rapid rise yeast

1 ½

cups

lukewarm water

½

Tbsp

salt

1 ½

tsp

granulated sugar

⅛

cup

extra-virgin olive oil

3

cups

all-purpose flour

½

tsp

onion powder
Instructions
Add butter to a large skillet over medium low heat. When melted, add onions and stir until well coated in butter.

When onions are turning transparent, after about 10 minutes of cooking, stir in brown sugar and apple cider vinegar.

Continue cooking for 30-40 minutes, stirring every 5 minutes or so, until onions are well caramelized. Stir in salt and pepper.

Pre-heat oven to 500 degrees and place pizza pan or stone in oven.

Roll pizza dough out into a 12-inch circle on a lightly floured surface.

Remove pan or stone from oven and place dough on top. Lightly brush with olive oil.

Sprinkle mozzarella cheese over the dough. Top with caramelized onions and chopped thyme. Layer shaved or grated gruyere cheese over the top.

Bake pizza at 500 degrees for about 9-11 minutes, until dough is nice and crispy.

Remove from oven and sprinkle chopped parsley over the top.
Onion Pizza Dough
Mix yeast and lukewarm water in a large bowl and let rest for two minutes.

Stir salt, sugar, and extra-virgin olive oil into the bowl.

With a wooden spoon, mix flour and onion powder into the mixture.

Cover bowl with a kitchen towel and let rest in a warm spot for about 2 hours so dough can rise.

Wrap dough in plastic wrap and refrigerate until ready to use. Recipe makes enough for two large pizzas. Wrapped dough can stay in fridge for about 7 days. You can also put dough in freezer for up to 3 months and defrost in fridge overnight before using.
Share a Photo of Your Finished Recipe!
Mention @wearenotmartha and share a photo if you've made the recipe!