These Fruity Pebbles Popsicles are made with Greek Yogurt and packed with brightly colored crunchy cereal for the perfect summertime treat.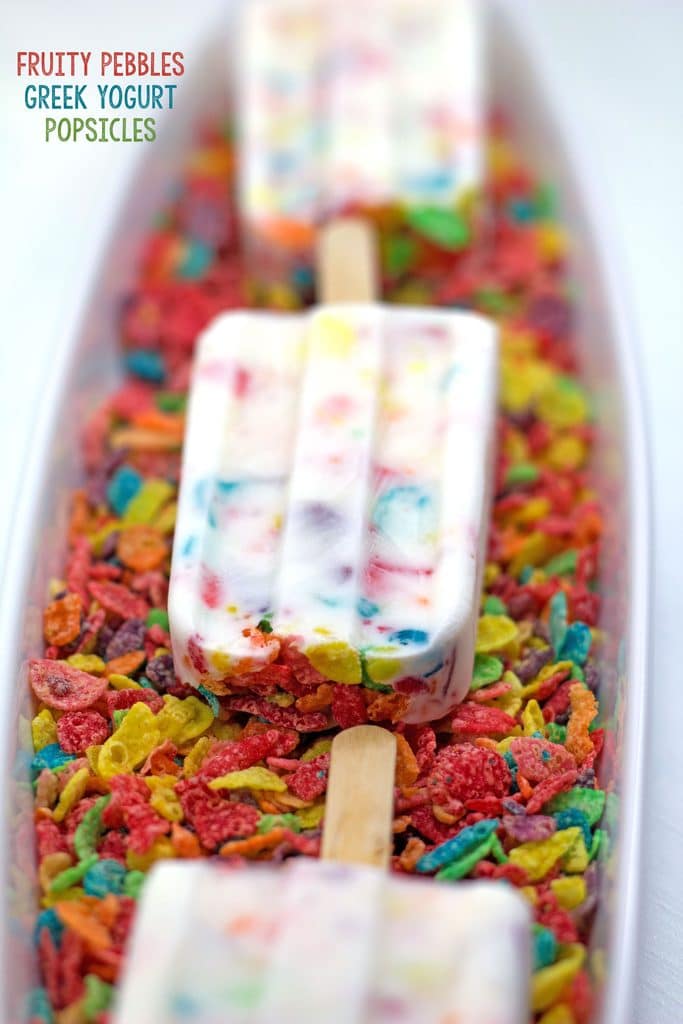 You know the awesome thing about popsicles? You're always in the mood for them. Well, I am anyway. No matter how I'm feeling, a popsicle sounds like the best idea ever.
I've been feeling a bit under the weather lately and haven't had much of an appetite. Except for popsicles. Luckily I currently have these Fruity Pebbles Popsicles in my freezer.
Because I had bought a box of Fruity Pebbles for those delightful doughnuts I made and then was stuck with half a box and nothing to do with them. And we all know if I ate a sugary bowl of Fruity Pebbles for breakfast, my stomach would be grumbling about 10 minutes later.
But they're so pretty and I didn't want to waste them, so I decided they'd look fun against some nice white Greek yogurt.
Fruity Pebbles Greek Yogurt Popsicles Recipe
Though these Fruity Pebbles popsicles are made with a seriously sugary cereal, I'm claiming them to be quite healthy. Because they're Greek yogurt popsicles made with 0% Greek yogurt and a splash of 1% milk.
You're loading up on protein, calcium, and a little sugary goodness for good measure. Nobody can argue with that one. And if you have kids? They might love you a little bit extra on any day you give them a popsicle with Fruity Pebbles involved.
Little will they know how much nutrition they're actually getting. Muhahaha!
This recipe has 3 ingredients and take about 7 minutes to make, so they couldn't be easier!
The only annoying part is waiting for them to freeze. But patience is a virtue and any time I make a frozen treat, I practice it.
All you need to do is blend the yogurt and milk in a blender and then combine ¾ cup Fruity Pebbles. Add remaining ¼ cup Fruity Pebbles to the bottoms of your popsicles molds and then fill them up with the Greek yogurt mixture.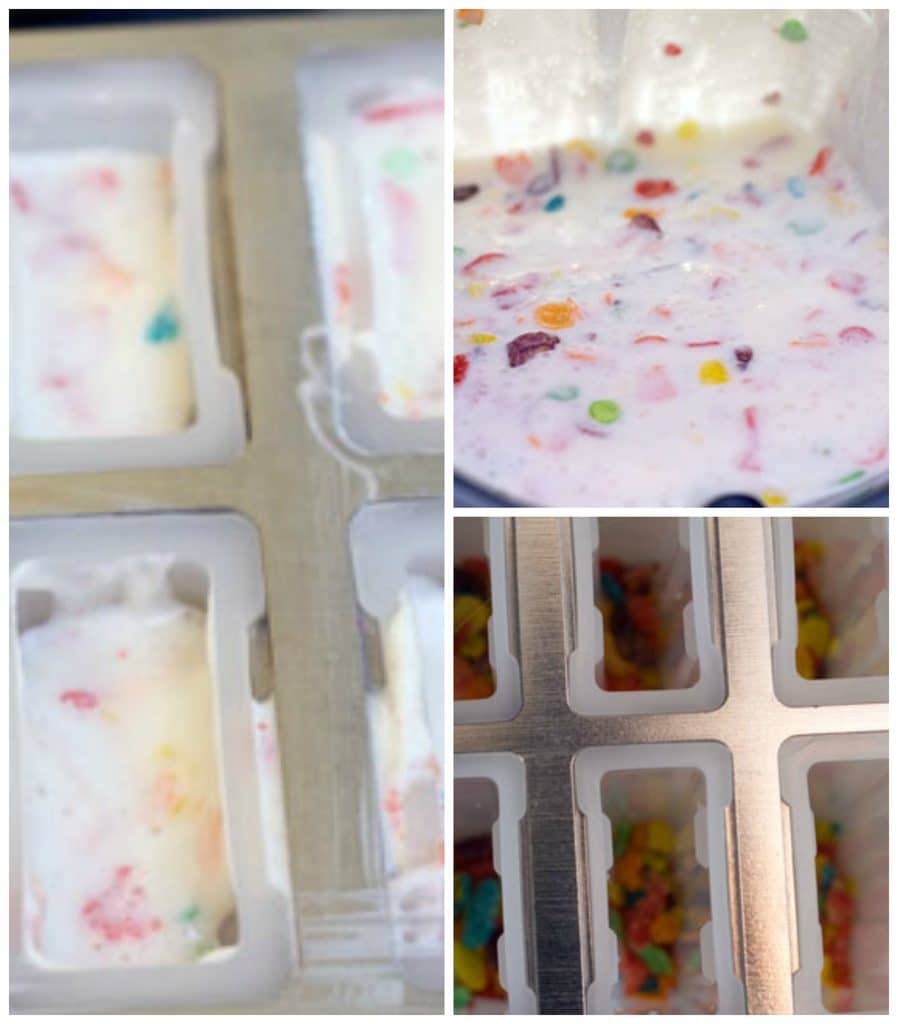 Fit with popsicle sticks for easy eating.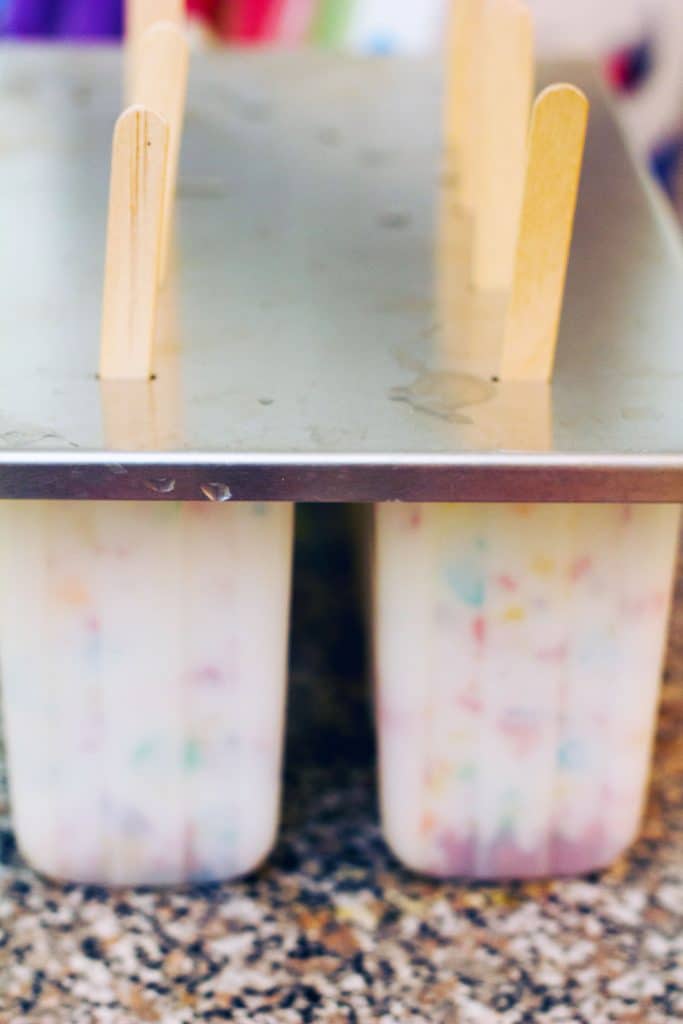 And then wait while those Greek yogurt popsicles freeze. YAWN. This is the worst part because they should really stay in the freezer for about 6 hours.
But then it's finally time for a fun little summertime treat. That's likely also perfectly enjoyable in the winter. I'm a year-round popsicle eater. And am generally colder in the summer anyway because the AC always freezes me half to death.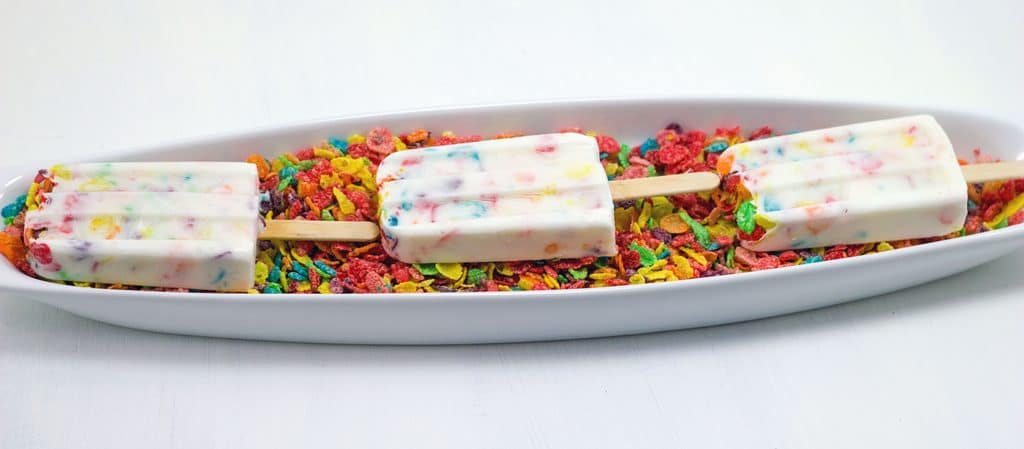 I absolutely loved the yogurt-taste of these Fruity Pebbles Popsicles. I was a bit worried they'd be too icy with the milk and yogurt, but they ended up being quite creamy.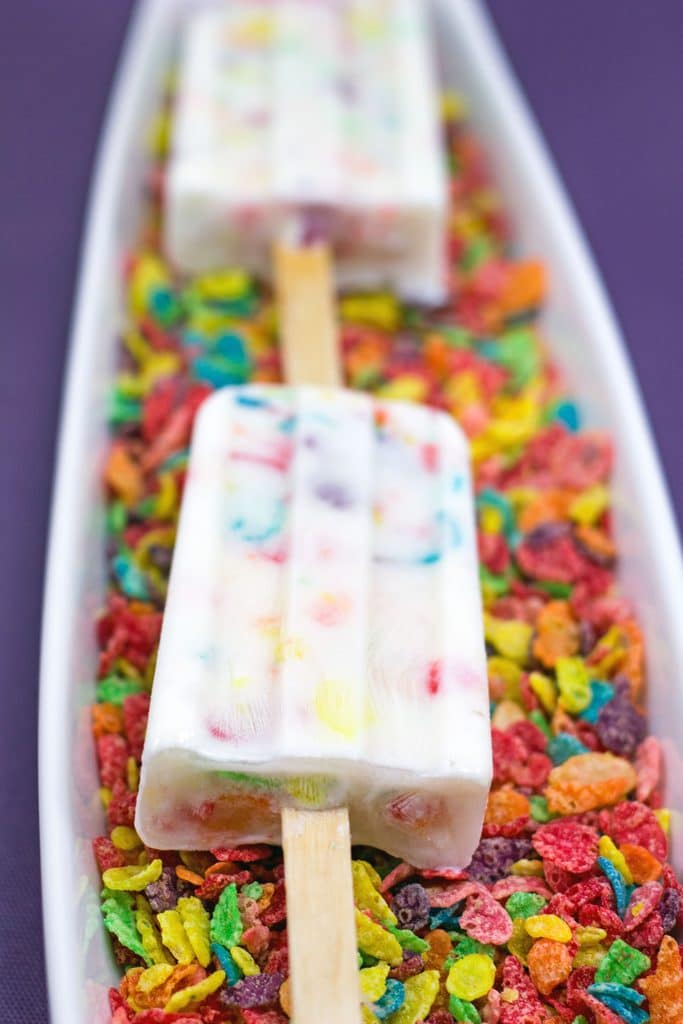 Of course, they could have used a tad more sugar, but I also kind of liked the subtle sweetness of the Fruity Pebbles in these popsicles.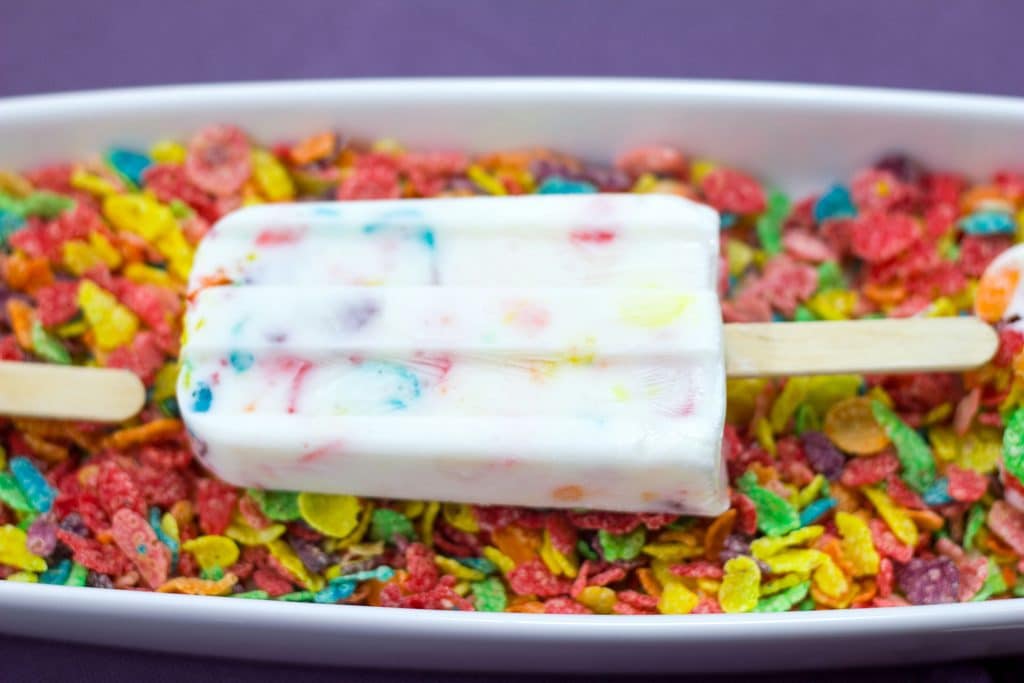 Don't be alarmed; I did not eat the entire bed of Fruity Pebbles these were resting on. Though I was tempted… Very, very tempted.
The bottom line is, these Fruity Pebbles popsicles satisfied a craving without really going overboard. Sure, I could have just topped my Greek yogurt with some Fruity Pebbles, but when it's hot outside, sometimes you need dessert in frozen form.
And eating yogurt doesn't sound nearly as fun as eating a popsicle. Am I right?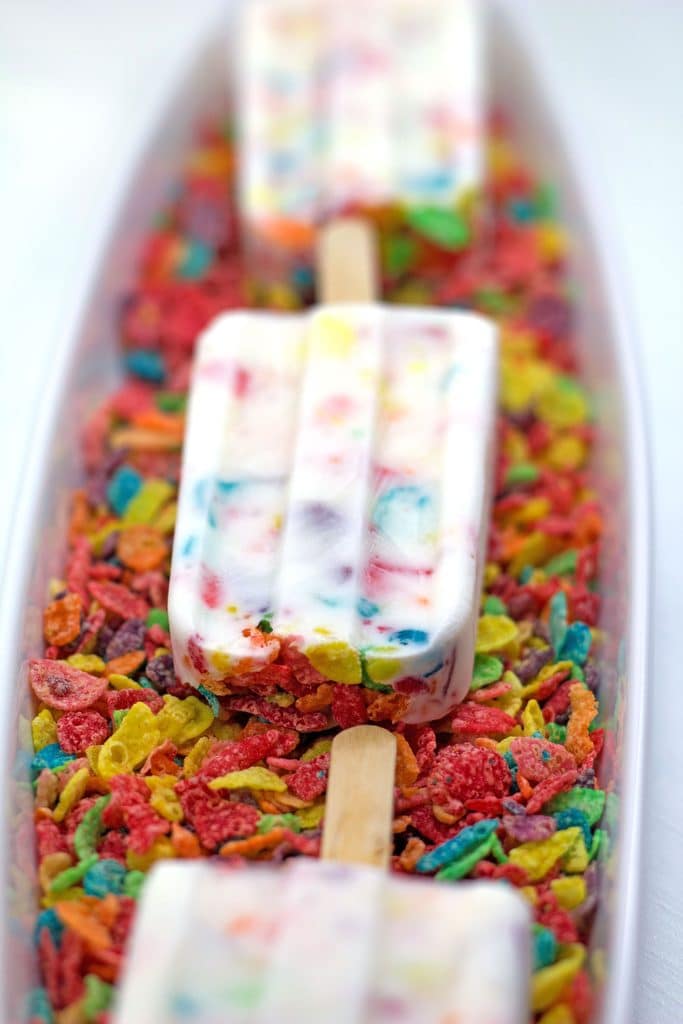 Especially when nothing else really sounds appetizing. Fruity Pebbles popsicles to the rescue!
Hopefully my appetite is back in full force tomorrow. Though I must admit, it is kind of nice not having to feed myself every couple hours. There's something really obnoxious about a loudly grumbling stomach when you're sitting in quiet office or in a meeting. But still, I love my food and I'd like to enjoy it again, thankyouverymuch.
Is there any type of food that always sounds appetizing to you?
If you're looking for more fun recipes to use Fruity Pebbles in, check out my Fruity Pebbles Cookies and my Fruity Pebbles Meringues. I also can't wait to make this Fried Ice Cream with Fruity Pebbles from TipBuzz!
📖 Recipe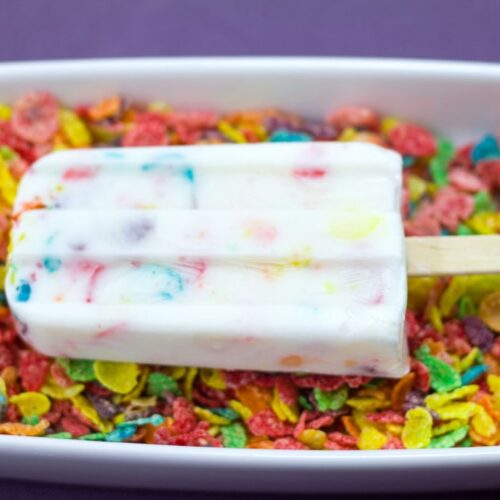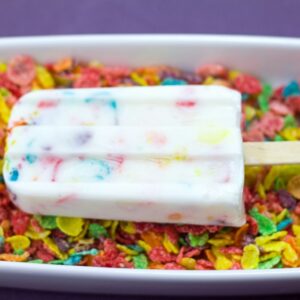 Fruity Pebbles Greek Yogurt Popsicles
These Fruity Pebbles Popsicles are made with Greek Yogurt and packed with brightly colored crunchy cereal for the perfect summertime treat.
Print
Pin
Rate
Ingredients
1 ½

cups

fat-free Greek yogurt

¾

cup

1% milk

1

cup

Fruity Pebbles,

divided
Instructions
Put yogurt and milk in a blender and blend until combined.

Stir ¾ cup Fruity Pebbles into the yogurt mixture.

Sprinkle remaining ¼ cup Fruity Pebbles into the bottoms of popsicle molds.

Pour or spoon the yogurt/milk mixture into the molds. Hit molds on the counter a few times to push the yogurt mixture into the mold and remove air bubbles.

Insert popsicle sticks.

Freeze popsicles for at least 6 hours or overnight.

To remove popsicles from molds, run molds under warm water for about 15 seconds and gently jiggle popsicles from molds.
Notes
Please note that recipe prep time does not include 6 hours popsicles require for freezing.
Share a Photo of Your Finished Recipe!
Mention @wearenotmartha and share a photo if you've made the recipe!