These Fruity Pebbles Doughnuts are the stuff your childhood dreams were made of! But will you enjoy these baked doughnuts topped with sugary cereal for breakfast... Or save them for dessert?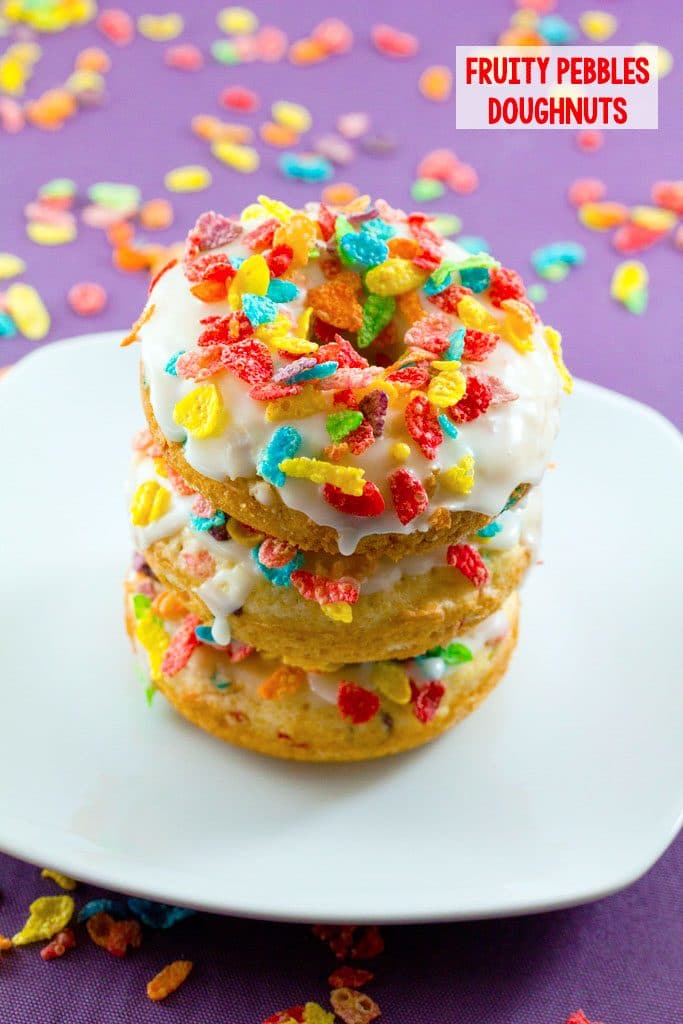 Is this post a revolt against my childhood? At first I thought it might be. As a kid, I was never allowed sugary cereal for breakfast. Nor was I allowed donuts. Once in a blue moon, we were granted permission to pick out a box of sugary cereal, but it was relegated to snack and dessert time in carefully rationed portions. No fair. I figured I would some day revolt. But it's a funny thing about growing up. Oftentimes instead of revolting, you start understanding why your parents did what they did and made the rules they made. These days, I would never eat sugary cereal or donuts for breakfast. I need something with protein and vitamins that will power me through the morning; not empty calories. Ugh. Growing up can be annoying. Why can't I just eat my sugary cereal and be absolutely thrilled like I would have been at age 10? See? Life isn't fair. Now that I can do anything I want to do, I don't want to freaking do anything fun. Boo.
In an effort to live like a 10 -year-old, I decided to buy a box of Fruity Pebbles and get crazy and do something fun with them. When I was 10, Fruity Pebbles wouldn't necessarily have been my cereal of choice, but given their bright colors, I figured they were the ideal dessert-making cereal. And why not combine them with another forbidden breakfast food? The doughnut. Don't worry, though, because these doughnuts are baked. And that, um, makes them OK? For breakfast? To be honest, I wasn't obsessed with baked doughnuts the first couple times I made them. In general, they just left me craving a "real" doughnut. But I decided to give it another go with these and am so happy I did. Best baked doughnuts I've ever made. Thank you, Fruity Pebbles.
But guess what? I ate them for dessert. Because that's how life is. Wah.
TIPS FOR MAKING BAKED DOUGHNUTS
Once you make your first baked doughnut, you'll learn how crazy easy they are. The hardest thing about making baked doughnuts, in my opinion, is filling the doughnut pan with the batter. The number one thing you can do to make this easier is to pipe the doughnut batter into the pan. You can either fill a pastry bag with the doughnut batter or simply put the batter into a plastic Ziplock type bag, cut off the corner, and pipe it in. This tip will ensure your doughnuts are neater looking with no messy batter all over the pan. Don't even get me started on how much it helps when you're making mini doughnuts!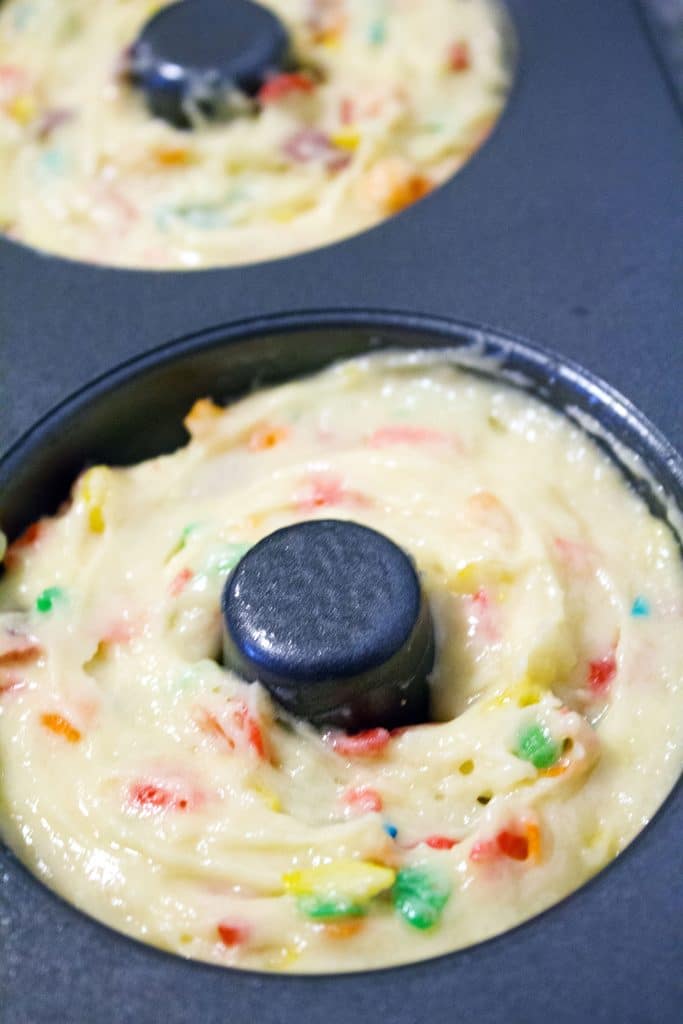 Once your doughnut pans are successfully filled, bake away! Your kitchen will instantly smell glorious... Instead of like frying oil. That is one of my favorite things about baked doughnuts!
All that's left to do is let those doughnuts cool, mix together the icing ingredients, and sprinkle more beautiful Fruity Pebbles (lots of them!) over the top.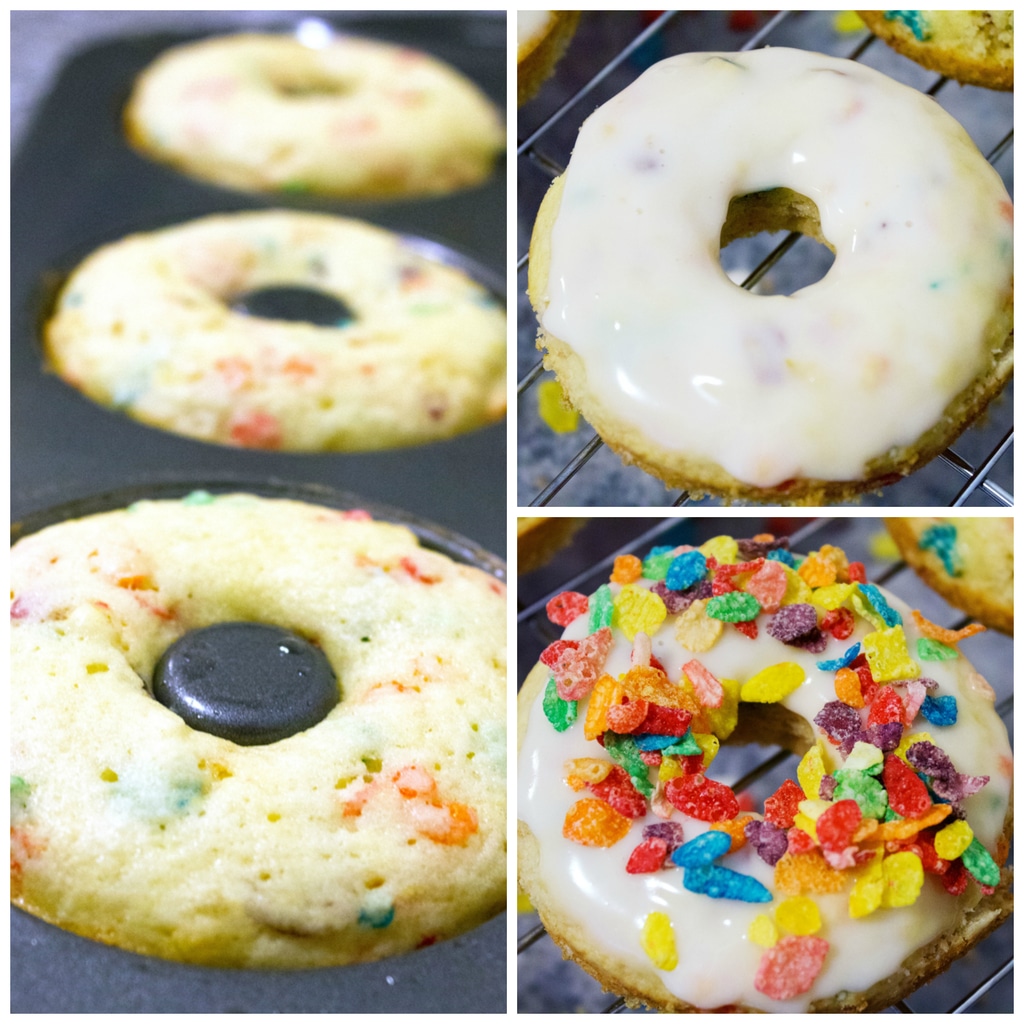 Childhood dreams are coming true everywhere. Bright, happy (sugary) childhood dreams.
And your Fruity Pebbles doughnuts are ready to be enjoyed. Like I said, I didn't eat these for breakfast, but had them for dessert instead. And while they're still not fried, they were much closer to being an indulgent doughnut than any other baked one I've had. The icing and Fruity Pebbles definitely didn't hurt.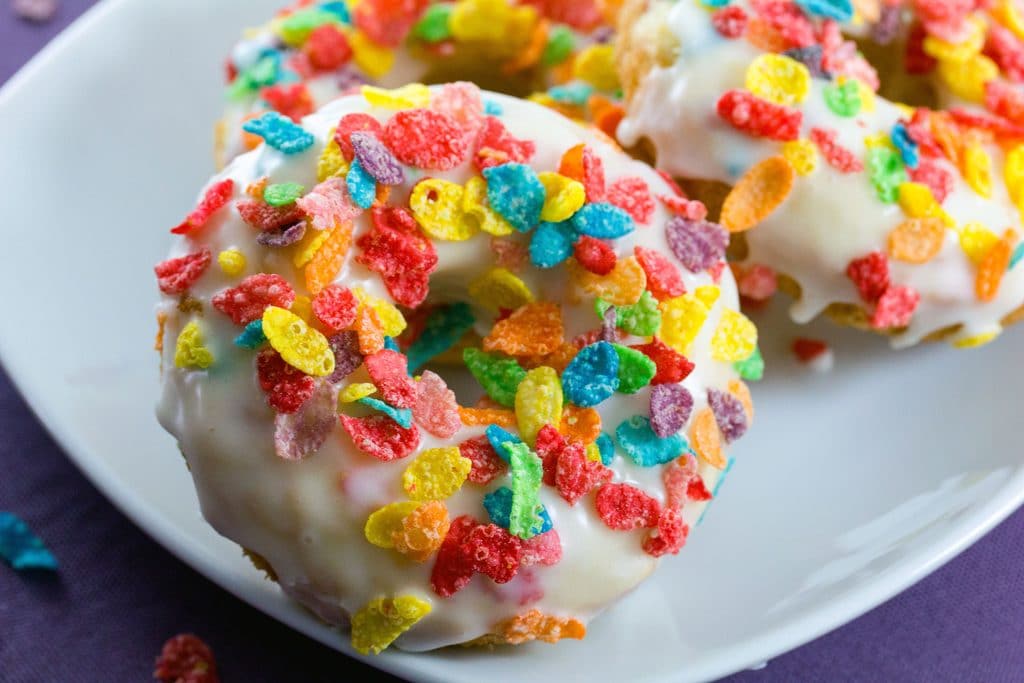 These are basically a party in a pan. Which makes me think, if you have kids... And those kids are not allowed to have sugary cereal for breakfast. Or doughnuts... You should make them Fruity Pebbles doughnuts as a special treat for their birthday breakfast. A once a year type of thing!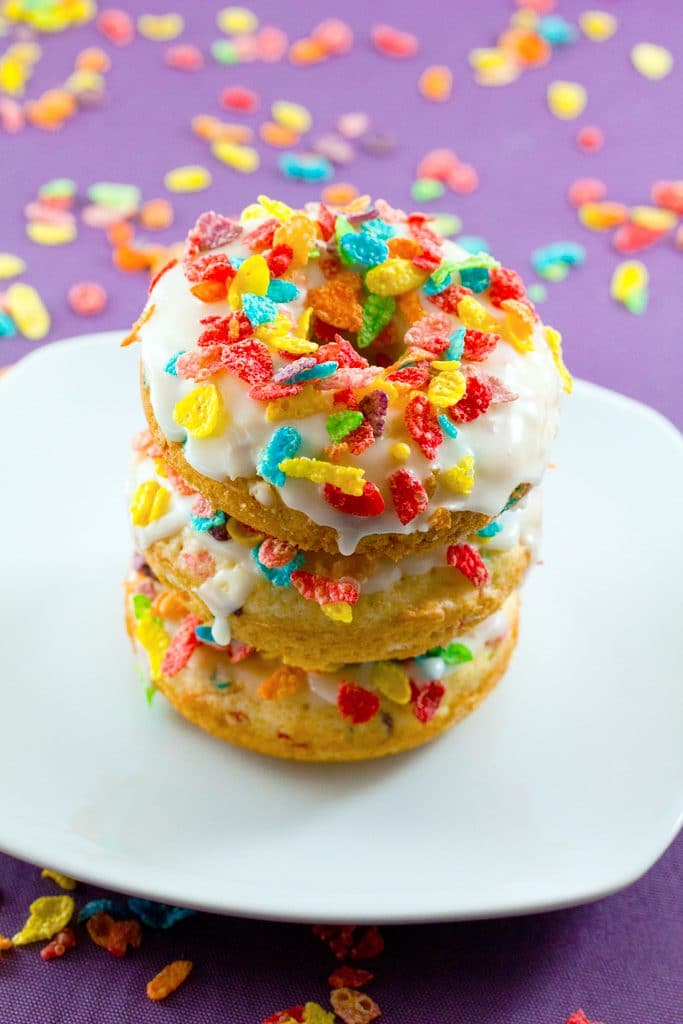 They'll be absolutely thrilled. But make sure you tell them that some day they'll understand why they can't eat sugary cereal and doughnuts for breakfast on a daily basis. And that some day they probably won't even want to.
They won't believe you. They'll be appalled. Which is why you should probably write it down. And then laugh about it. And maybe cry a little, too. Because how did life turn out like this?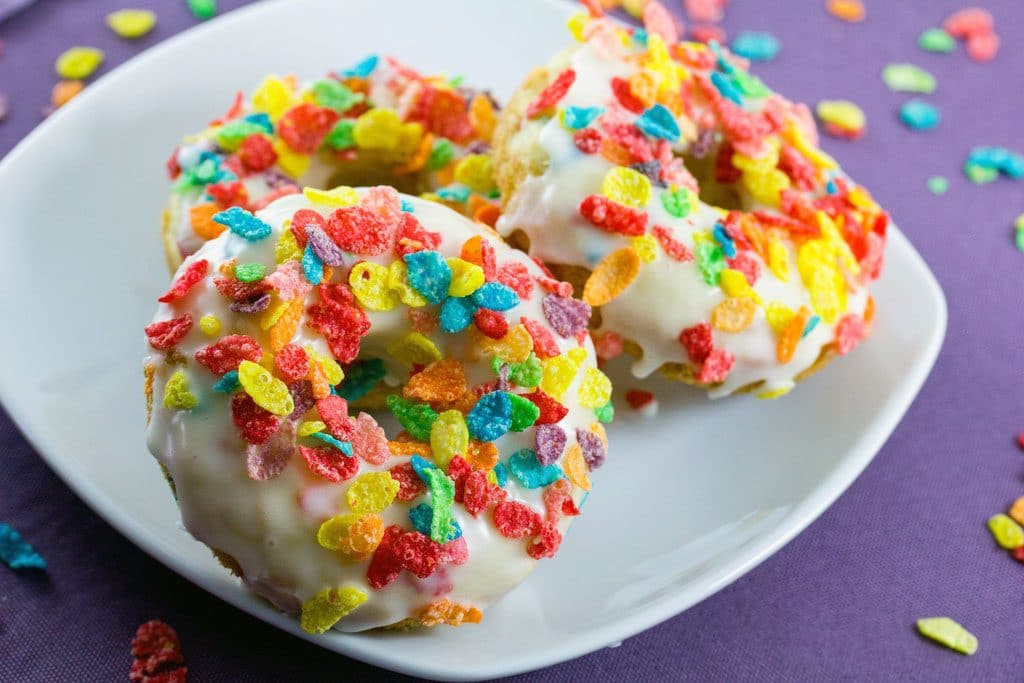 So, thanks Mom and Dad for making sure I always had the nutrition and energy to get powered through a school day. Bet you never thought I'd be making Fruity Pebbles Doughnuts some day, did you? Too bad I have to be so darn responsible about it.
Did you have breakfast rules when you were a kid
If you're looking for more Fruity Pebbles recipes, be sure to check these out:
Fruity Pebbles Popsicles
Fruity Granola with Fruity Pebbles
Fruity Pebbles Meringues
Fruity Pebbles Cookies
Sherbet Fruity Pebbles Pancakes
📖 Recipe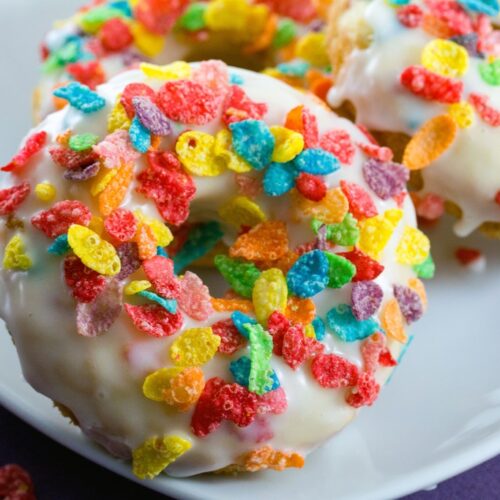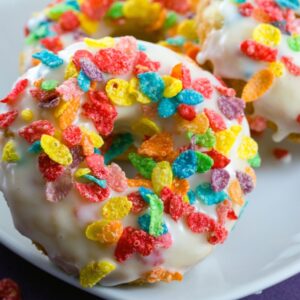 Fruity Pebbles Doughnuts
These Fruity Pebbles Doughnuts are the stuff your childhood dreams were made of! But will you enjoy these baked doughnuts topped with sugary cereal for breakfast... Or save them for dessert?
Print
Pin
Rate
Ingredients
4

Tbsp

unsalted butter,

room temperature

½

cup

granulated sugar

1

large egg

1

cup

all-purpose flour

1 ½

tsp

baking powder

Pinch

salt

⅓

cup

whole milk

1 ½

tsp

vanilla extract

1 ½

cups

Fruity Pebbles,

divided

1

batch

vanilla icing

(recipe below)
Vanilla Icing
1 ½

cups

confectioners' sugar

2

Tbsp

whole milk

2

tsp

vanilla extract
Instructions
Pre-heat oven to 350 degrees and lightly grease 6-cavity doughnut tin with cooking spray.

In the bowl of a stand mixer or in a large bowl with a hand mixer, b

eat together butter and sugar until light and fluffy.

Add the egg and vanilla extract and mix to combine.

In a separate bowl, whisk together flour, baking powder, and salt.

Pour dry ingredients into the butter/sugar, alternating with milk, and mix until just combined. Take care not to over-mix or doughnuts will be dense.

Fold ½ cup Fruity Pebbles into the batter.

Evenly distribute batter amongst cavities of prepared doughnut pan, filling tin almost all the way.

Bake for 15 minutes, until the doughnuts are starting to turn golden and spring back when touched. Let cool in pan for a few minutes, before moving to wire rack to cool completely before icing.

When doughnuts are cooled, dip upside down into icing to coat the tops. Sprinkle remaining cup of Fruity Pebbles over icing.
Vanilla Icing
In a medium bowl, whisk confectioners' sugar, milk, and vanilla extract together. If you want your icing to be thicker, add more confectioners' sugar, 1 Tbsp at a time. If you want it to be thinner, add more milk, 1 tsp at a time.
Share a Photo of Your Finished Recipe!
Mention @wearenotmartha and share a photo if you've made the recipe!