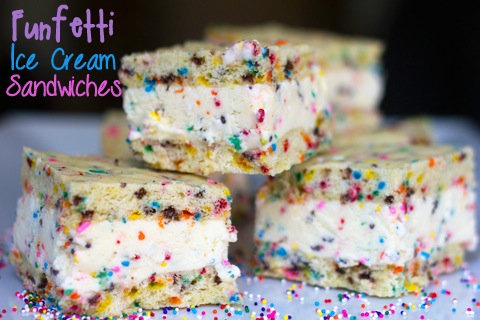 Happy Bachelorette finale day! Wait, what? I can't believe I just said that. But seriously. It's both a happy and a sad day because after tonight, what the heck will I have to look forward to on Mondays? Especially now that the Bachelor Pad has been canceled. Canceled! Such fools they are over at ABC. But um, I should probably talk about something else since a) most of you smart people probably stopped watching the Bachelor franchise at least 7 years ago, if you ever watched at all and b) I probably won't publish this post until tonight's episode is pretty much over. Who won?!?! Anyone?? I have no idea and it's killing me.
But let's talk about happy stuff like sprinkles and confetti instead. I mean, who doesn't like this stuff? Who wouldn't feel a little brighter on a Monday after some sprinkles and confetti? Or, you know, more specifically, Funfetti. I hesitated with even calling these ice cream sandwiches Funfetti because the word is so "on trend" right now (I also hate when people say "on trend"… even though I just did) and because really, what is Funfetti besides vanilla and some sprinkles? But I'm using the word anyway because "sprinkles" and "confetti" just don't have the same ring.
Also, this is the first time I've made square ice cream sandwiches and it was a game time decision and I love it!
Funfetti Ice Cream Sandwiches (makes 9 very large sandwiches):
Print this recipe!
Ice Cream:
2 large eggs
3/4 C sugar
2 C heavy cream
1 C milk
1 T vanilla extract
3/4 C rainbow sprinkles
Cookies:
3/4 C sugar
1/2 C butter (1 stick), softened
1 egg
1 T vanilla extract
1-2/3 C flour
3/4 t cream of tartar
1/4 t salt
1/2 C rainbow sprinkles
Yes.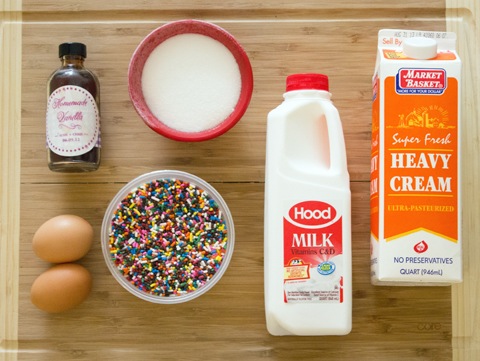 And more yes.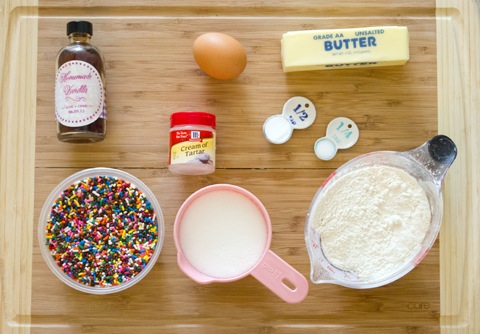 You need to start with the ice cream because that takes the longest and obviously you want to cut down waiting time on these as much as humanely possible.
In a large bowl, whisk eggs until they're light and fluffy, about a minute. Then slowly whisk in the sugar, a little at a time, until it's well-blended. Then keep whisking for another minute.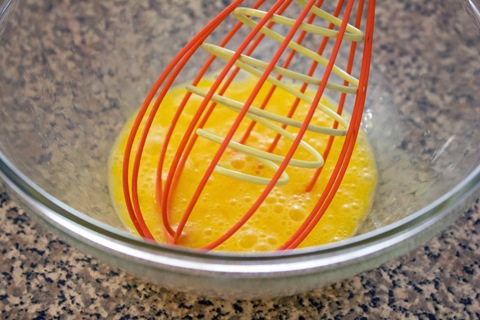 Whisk in the heavy cream, milk, and vanilla.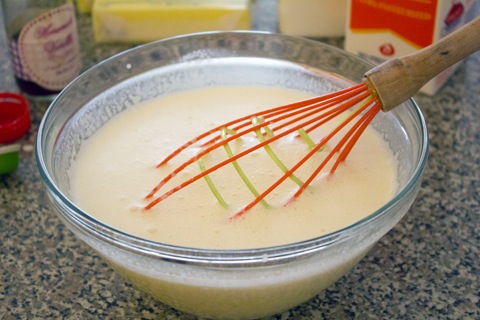 I told you ice cream is the easiest thing in the world to make. Especially if you don't make a custard and use raw eggs instead. All it takes is some waiting! And wait you will. I would pop this bowl in the fridge for a good 2 hours to as long as overnight.
But while you're waiting, you can whip up those cookies. Pre-heat oven to 350 degrees.
And start by creaming the butter and sugar together in a stand mixer (or in a bowl with a hand mixer) until light and fluffy.
Add the egg and vanilla and mix to combine.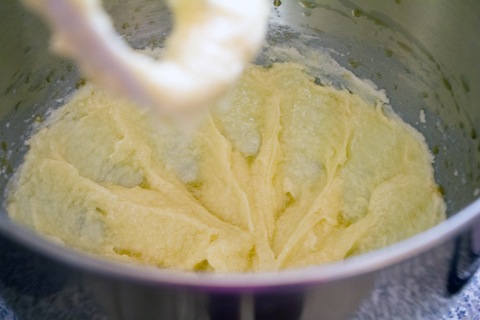 In a separate bowl, whisk together the flour, baking soda, cream of tartar and salt.
Pour the flour mixture into the wet mixture and mix until just combined, taking care not to overmix. Gently stir in the rainbow sprinkles.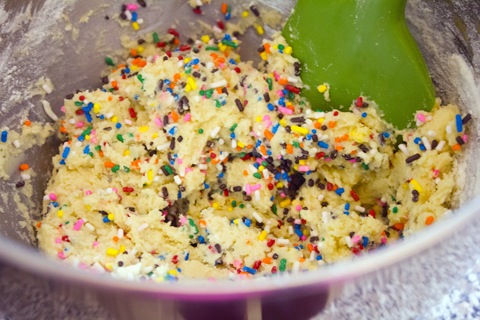 Here's where I got a bit crazy. I thought I was going to make cookies and press them together into ice cream sandwiches. But then I decided I wanted square ones because duh, ice cream sandwiches are supposed to be square (unless they're Skinny Cow, which are some of my favorite ice cream sandwiches basically ever!). But I didn't have a square cookie cutter. Then I had the brilliant idea that I'm sure a million people had before me. Bake 2 giant cookies in a pan, put ice cream in between, press together, and slice. The only problem is that I only had one 8×8 baking pan so I had to bake one at a time. Not a big deal.
Basically, I sprayed an 8×8 baking pan with cooking spray.
Pressed half of the cookie batter into the bottom of the pan.
Baked at 350 degrees for 10-12 minutes, until edges are just browning. I let the cookie cool in the pan for a couple minutes.
Then I popped the cookie out onto a baking rack to let completely cool.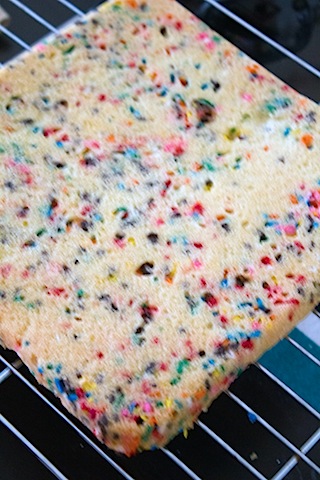 Then I pressed the rest of the cookie dough into the bottom of the pan and baked the second giant cookie. This time, when the cookie is done, you can leave it to cool fully in the pan.
While all of this cookie business was going on, I finished the ice cream.
Pretty much, I poured it into my ice cream maker and let it work its magic. You should do the same, following the instructions on whatever ice cream maker you have (I have the KitchenAid attachment and couldn't love it more).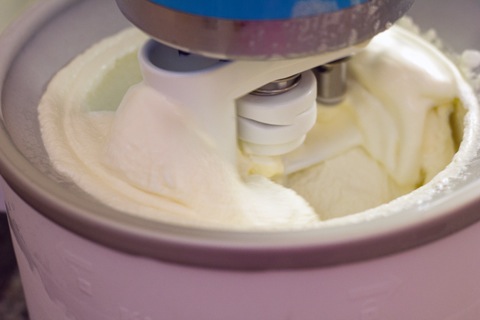 When the ice cream was just about done, I poured in the sprinkles.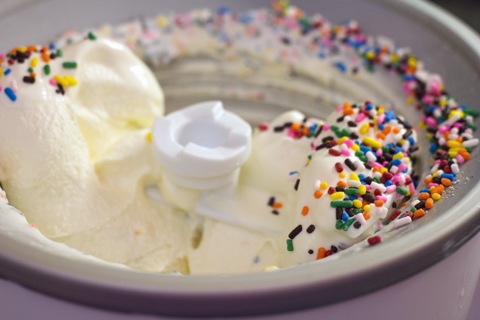 And then I put it in a separate container and let it freeze for another hour. This probably isn't totally necessary, but I wasn't done baking my cookies anyway at this point.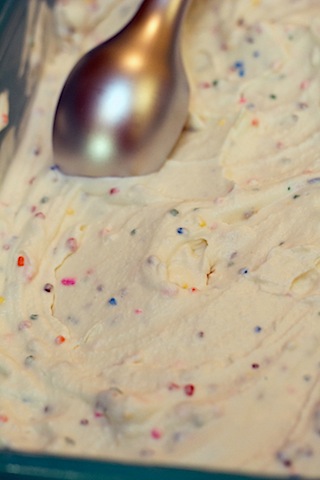 Once cookies are completely cooled and the ice cream is ready, you'll want to put the ice cream on top of the cookie in the pan. I didn't use all the ice cream and probably more like 3/4 of it. Use your judgement; you obviously don't want the ice cream to overflow out the pan.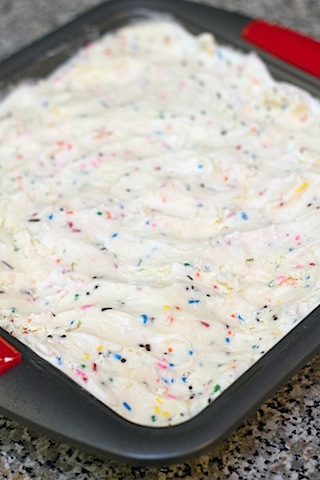 Then press the second cookie on top.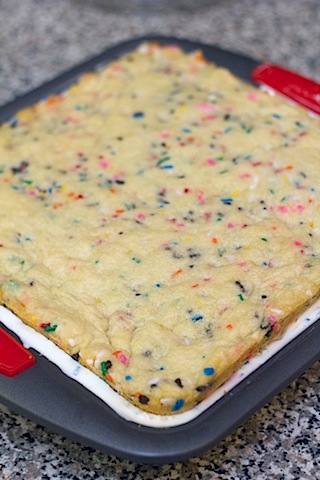 And yup, cover in plastic wrap and pop back in the freezer for another 4+ hours. You want these to be nice and cold before you slice.
But then… Then you are ready to slice and dig in! Take your baking pan out of the oven and with a super sharp knife (careful!), slice cookie sandwich into 9 pieces.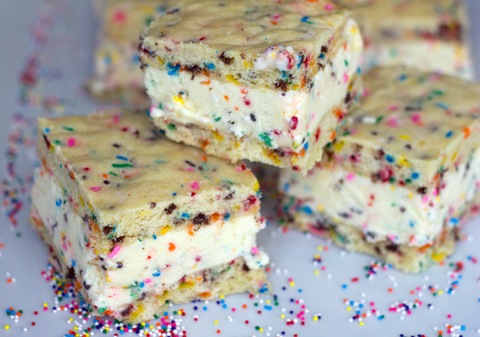 ZOMG. I probably put too much ice cream in mine as these ice cream sandwiches were BEASTS. But I'm not going to pretend like it wasn't the best thing ever. And that I wouldn't do it all over again. Happy mistakes are the happiest.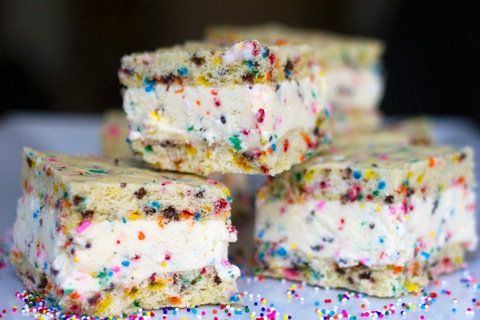 I'm also being totally honest when I say these are one of the best treats I've made in a long time. I almost could have eaten the entire platter of them all at once. But 9 ice cream sandwiches is kind of a lot. KIND OF.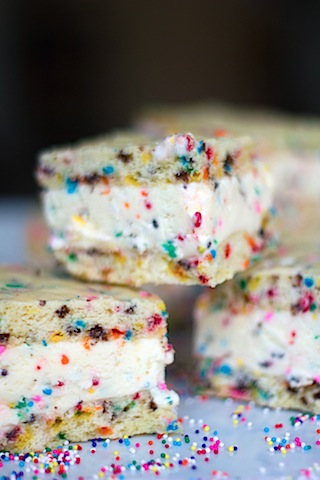 I still don't quite get what Funfetti is besides vanilla and sprinkles, but I'm not sure there actually is a whole lot more to it. Because these tasted quite like the famous cake flavor and I didn't even have to open a box to make them!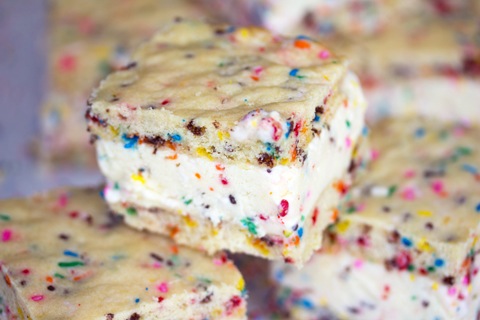 If you think these ice cream sandwiches seem like a lot of work, I hope I can assure you that both the ice cream and the cookie are tremendously easy! Of course, you could always buy the ice cream… they even make "Funfetti" ice creams now… But if you do get yourself an ice cream maker, I promise you'll get obsessed! I've made ice cream twice in the last week. My freezer hates me and I contemplated throwing away my healthy frozen fish, veggie burgers, and edamame so I can fit more ice cream.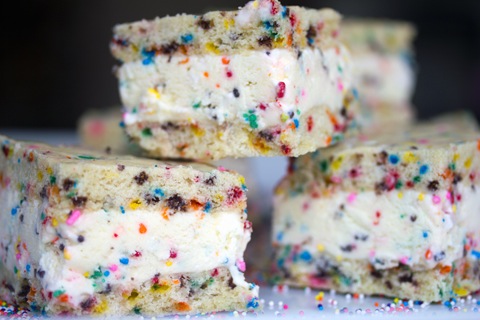 Some day, I'll have a freezer in my house devoted only to ice cream. I feel like that's not too much to ask and that I deserve it. Just keep working for the dream.
In the meantime, as long as my freezer can manage to stay shut, I'll stuff it with as much ice cream and frozen novelties as possible. Hooray!
Have you made your own ice cream sandwiches?
[Sues]