These Funfetti Ice Cream Sandwiches are 100% homemade, from the funfetti ice cream to the cookies. You'll want to keep your freezer stocked all year round!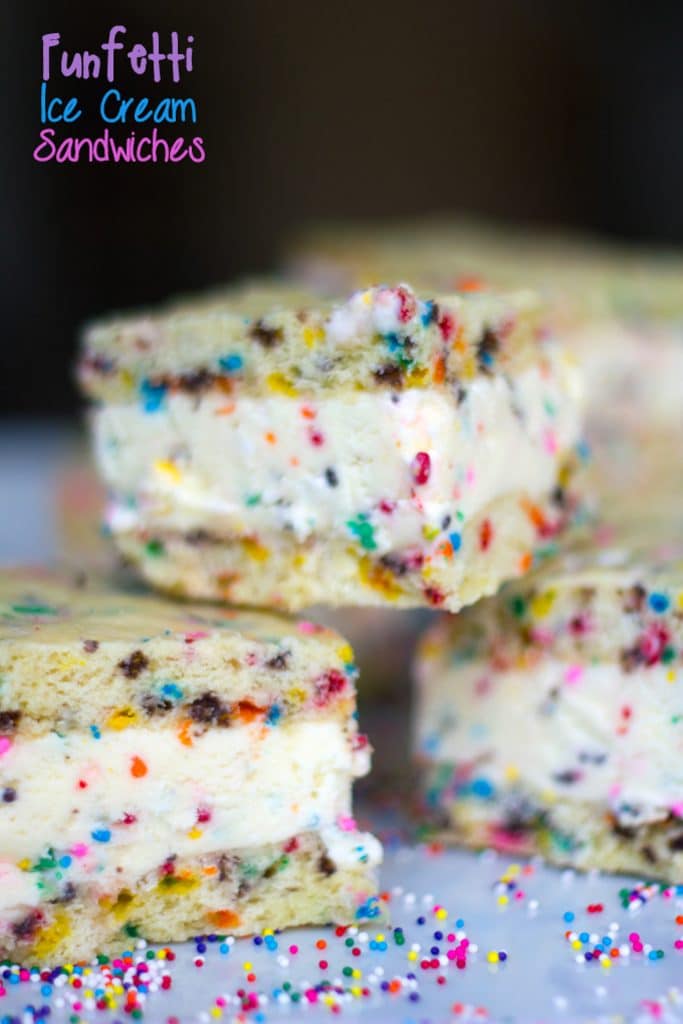 Happy Bachelorette finale day! Wait, what? I can't believe I just said that. But seriously. It's both a happy and a sad day because after tonight, what the heck will I have to look forward to on Mondays? Especially now that the Bachelor Pad has been canceled. Canceled! Such fools they are over at ABC. But um, I should probably talk about something else since a) most of you smart people probably stopped watching the Bachelor franchise at least 7 years ago, if you ever watched at all and b) I probably won't publish this post until tonight's episode is pretty much over. Who won?!?! Anyone?? I have no idea and it's killing me.
But let's talk about happy stuff like sprinkles and confetti instead. I mean, who doesn't like this stuff? Who wouldn't feel a little brighter on a Monday after some sprinkles and confetti? Or, you know, more specifically, Funfetti. I hesitated with even calling these ice cream sandwiches Funfetti because the word is so "on trend" right now (I also hate when people say "on trend"… even though I just did) and because really, what is Funfetti besides vanilla and some sprinkles? But I'm using the word anyway because "sprinkles" and "confetti" just don't have the same ring.
These funfetti ice cream sandwiches are 100% homemade, but I promise they're not very difficult. And if you don't want to make your own ice cream, you can certainly use store-bought. Actually, the ice cream I make here is egg-based, but not cooked, so if you're worried about raw eggs, use an alternative. But also know that I've done a ton of research on raw eggs and that the risk of salmonella from them is so small (especially compared to other things we're exposed to), so it doesn't bother me at all. Use your personal judgement!
So, this ice cream is super easy to make, but you still have to do some waiting for it to chill. Ugh, waiting is the worst.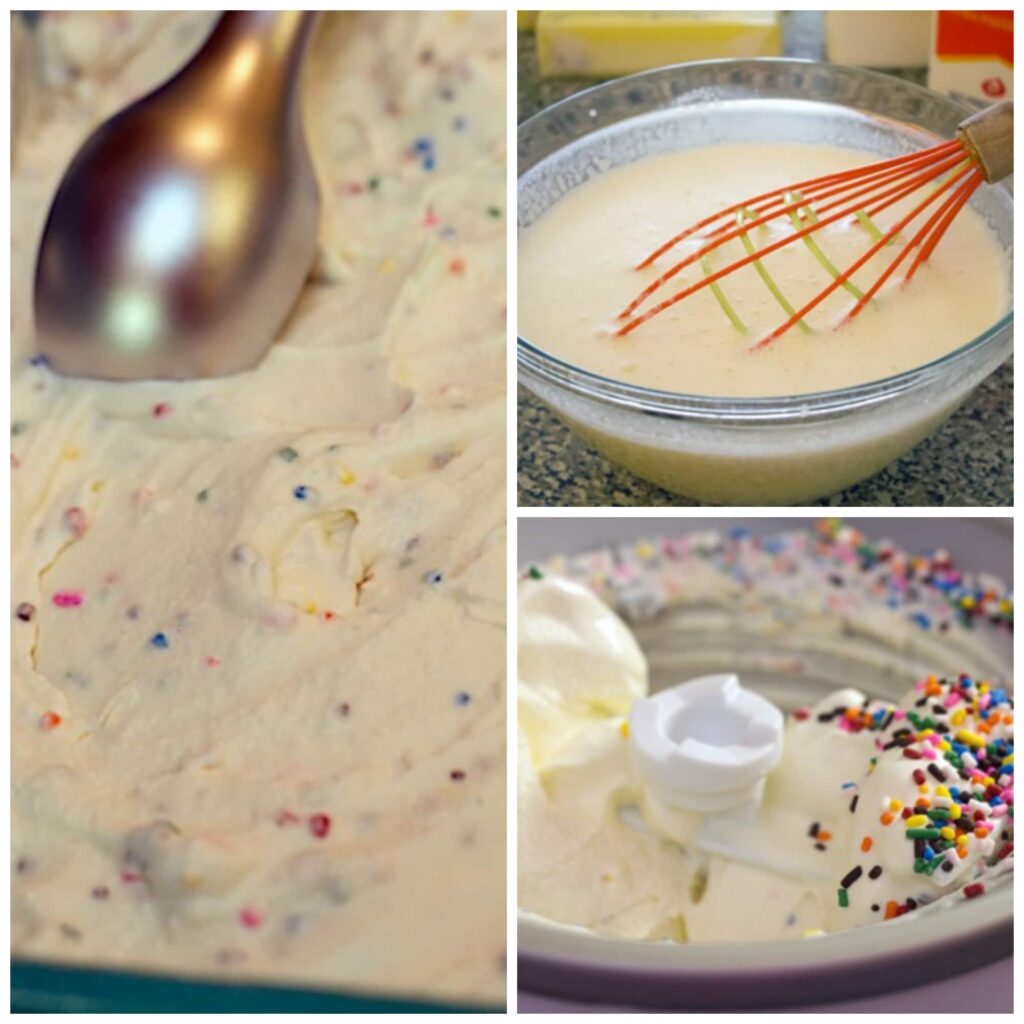 But at least you can make your cookies while you're waiting. You need to make two 8×8 cookies for these ice cream sandwiches, but if you don't have two 8×8 pans, you can bake one at a time. Make sure you add a healthy dose of rainbow sprinkles to the cookie batter; these are funfetti ice cream sandwiches, after all!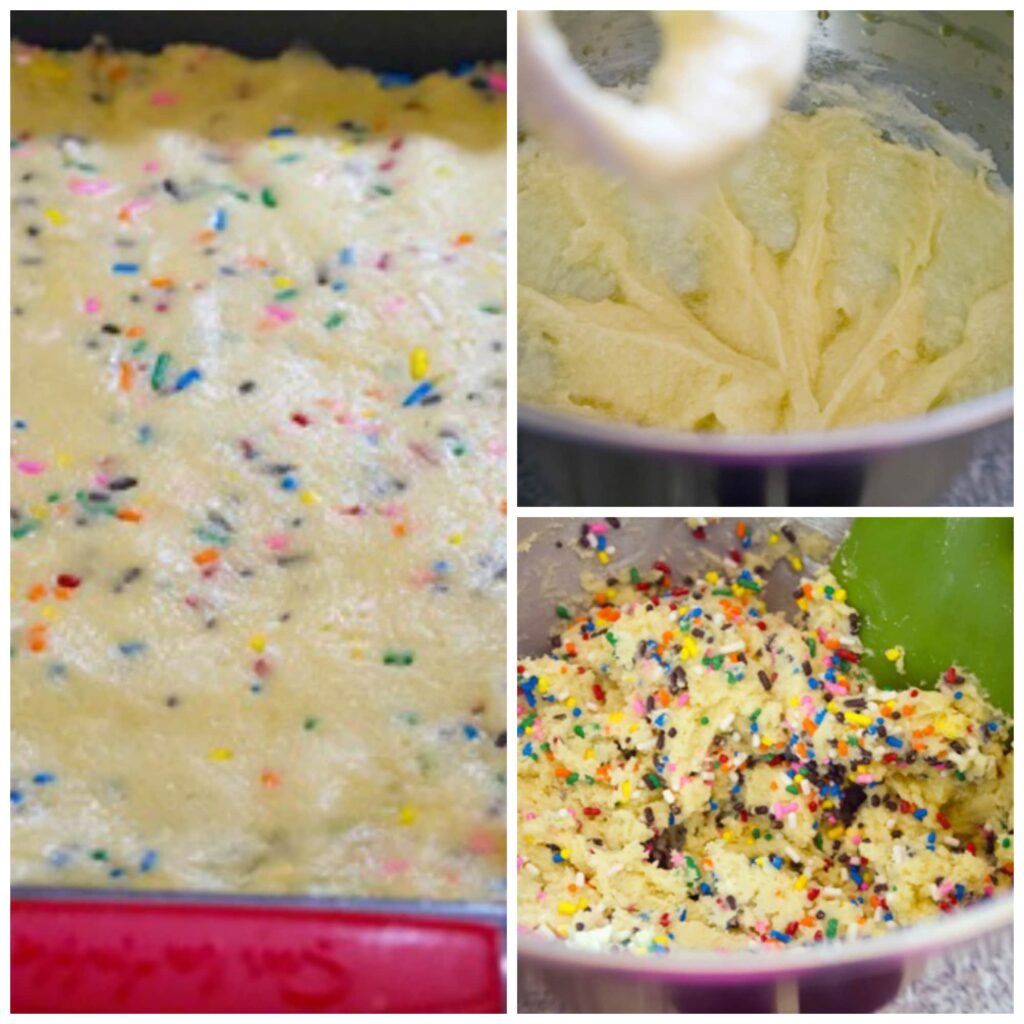 The assembly of the ice cream sandwiches is easy. Put the ice cream over one giant cookie and then top with the second giant cookie. And then wait for it all to freeze again. I know, I know. But it's worth it!!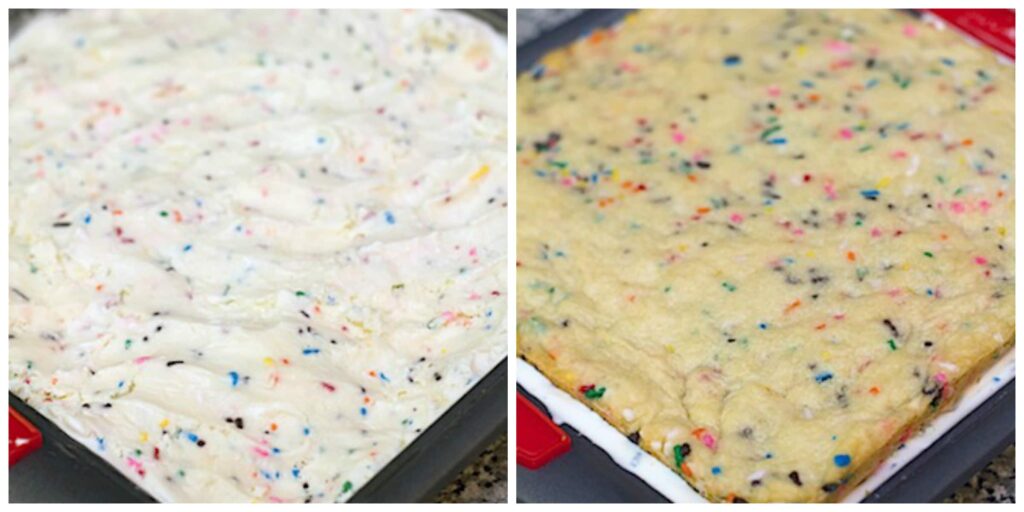 And you end up with homemade genuine ice cream sandwiches. I was initially going to bake regular old funfetti cookies and just sandwich ice cream between them, but I'm so glad I decided to make giant cookies and slice the sandwiches into squares.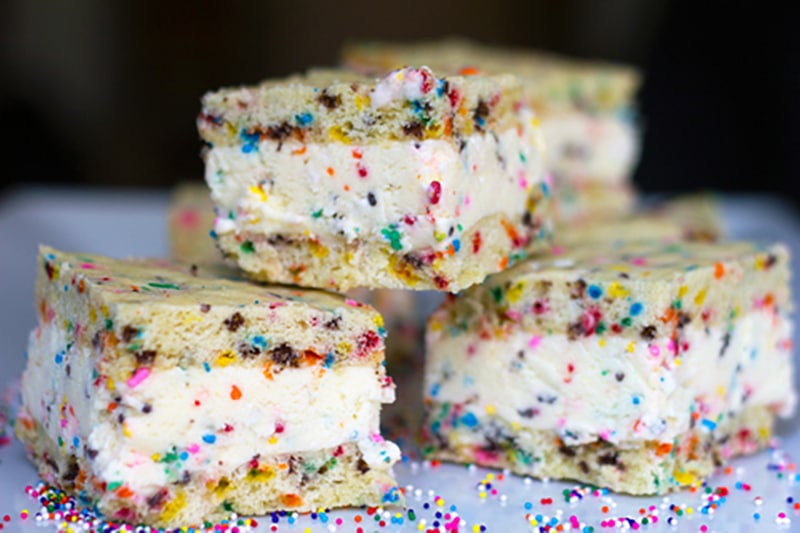 ZOMG. I probably put too much ice cream in mine as these ice cream sandwiches were BEASTS. But I'm not going to pretend like it wasn't the best thing ever. And that I wouldn't do it all over again. Happy mistakes are the happiest.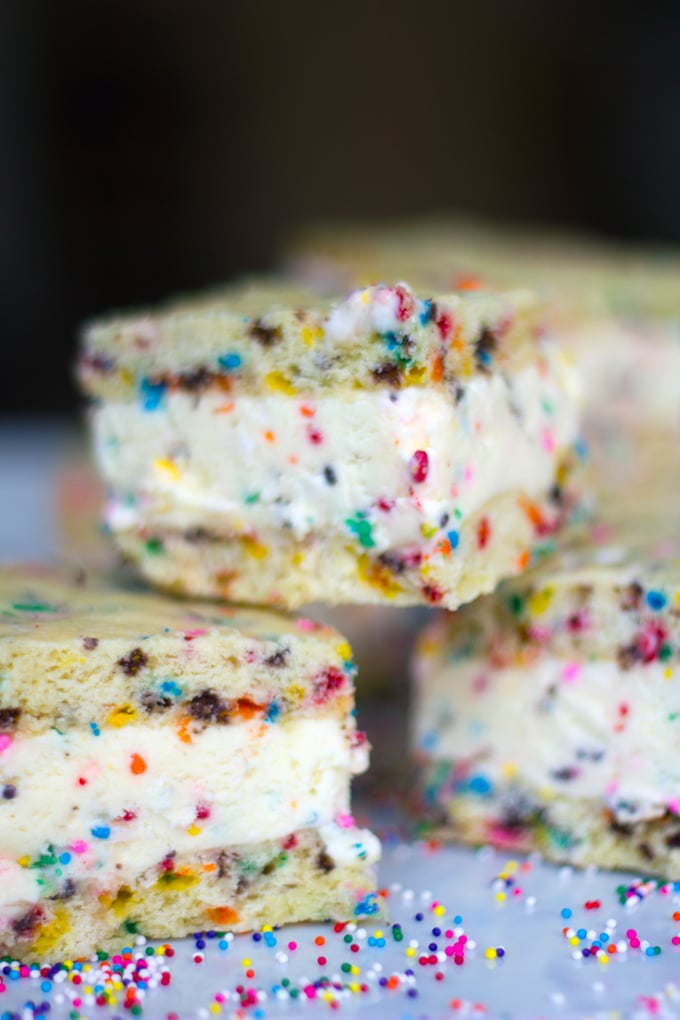 I'm also being totally honest when I say these are one of the best treats I've made in a long time. I almost could have eaten the entire platter of them all at once. But 9 ice cream sandwiches is kind of a lot. KIND OF.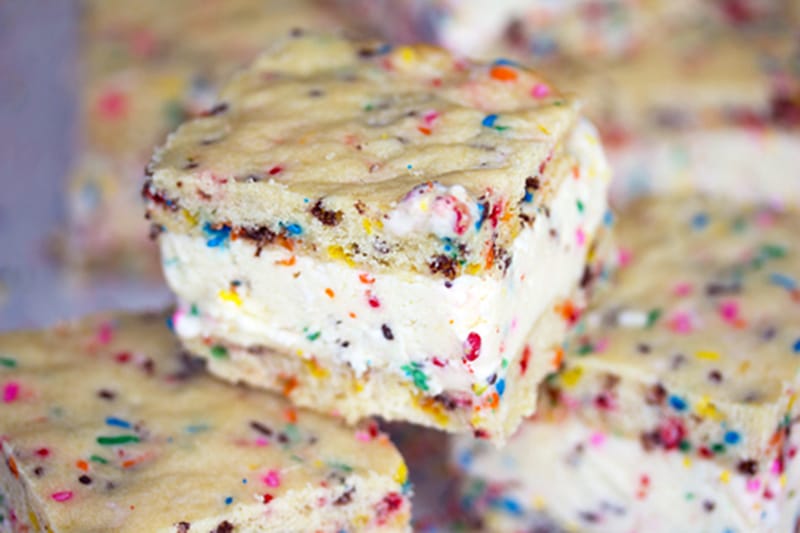 I still don't quite get what Funfetti is besides vanilla and sprinkles, but I'm not sure there actually is a whole lot more to it. Because these tasted quite like the famous cake flavor and I didn't even have to open a box to make them!
Some day, I'll have a freezer in my house devoted only to ice cream. I feel like that's not too much to ask and that I deserve it. Just keep working for the dream.
In the meantime, as long as my freezer can manage to stay shut, I'll stuff it with as much ice cream and frozen novelties as possible. Hooray!
Have you made your own ice cream sandwiches?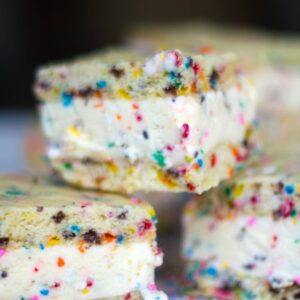 Print Recipe
Funfetti Ice Cream Sandwiches
These Funfetti Ice Cream Sandwiches are 100% homemade, from the funfetti ice cream to the cookies. You'll want to keep your freezer stocked all year round!
Servings:
9
ice cream sandwiches
Ingredients
Ice Cream
2

large eggs

3/4

cup

granulated sugar

2

cups

heavy cream

1

cup

whole milk

1

Tbsp

vanilla extract

3/4

cup

rainbow sprinkles
Cookies
3/4

cup

granulated sugar

1/2

cup (1 stick)

unsalted butter,

room temperature

1

large egg

1

Tbsp

vanilla extract

1 2/3

cups

all-purpose flour

3/4

tsp

cream of tartar

1/4

tsp

salt

1/2

cup

rainbow sprinkles
Instructions
Ice Cream
In a large bowl, whisk eggs until they're light and fluffy, about a minute. Slowly whisk in the sugar, a little at a time, until it's well-blended. Continue whisking for another minute.

Whisk in the heavy cream, milk, and vanilla. Cover bowl in plastic wrap and place in refrigerator for at least two hours and up to overnight.

After chilling, pour mixture into ice cream maker and follow manufacturers' instructions to process. When the ice cream is almost fully processed, pour in sprinkles.
Cookies
Pre-heat oven to 350 degrees and spray two 8×8 baking pans lightly with cooking spray (if you only have one 8X8 pan, you can bake cookies one at a time).

Cream butter and sugar together in a stand mixer (or in a bowl with a hand mixer) until light and fluffy. Add egg and vanilla and mix to combine.

In a separate bowl, whisk together the flour, baking soda, cream of tartar and salt.

Pour the flour mixture into the wet mixture and mix until just combined, taking care not to over-mix. Gently stir in the rainbow sprinkles.

Divide cookie dough in two and press into the bottoms of the prepared pans.

Bake for 10-12 minutes, until edges are just browning. Remove from oven and let cookies cool in the pan.
Assembly
Put ice cream (you'll likely only need about 3/4 of it) on top of one of the cooled cookies in the pan. Remove the second cookie from its pan and press on top of the layer of ice cream. Cover in plastic wrap and place in the freezer for about 4 hours.

Once chilled, remove from freezer and using a sharp knife, cut into 9 squares.