Garlic Habanero Chicken Meatballs with Kale Polenta is comfort food that's packed with flavor, but still nice and healthy. It's the perfect chilly weather meal!
(This recipe for Garlic Habanero Chicken Meatballs with Kale Polenta was originally posted in September 2010, but has been updated with new photos and content in 2018).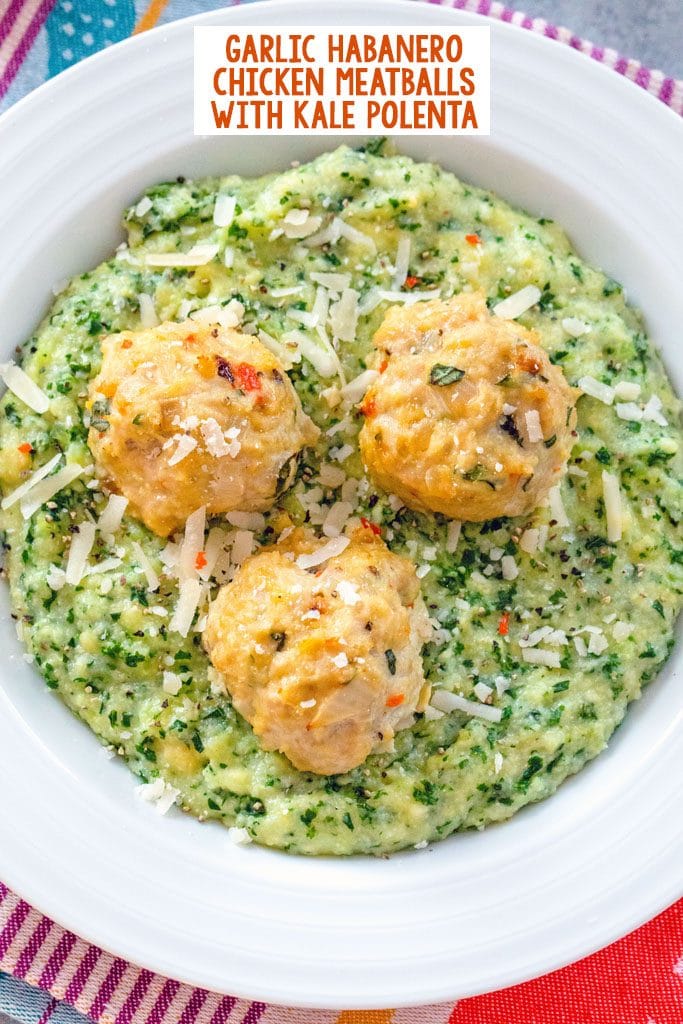 This dinner is totally necessary. Because sometimes I need some nutrition in my life. You get it, right? I obviously wish I could survive on milkshakes and cupcakes alone. And Halloween candy. SO much Halloween candy. All over my house, everywhere I look. But I don't have the willpower to get rid of it. Also, my husband would kill me. So, it sits and watches me and dares me to eat it. And I do. Ugh. However, one cannot live on Halloween candy alone and sometimes I require an actual meal that doesn't involve chocolate or peanut butter or caramel. But if you're going to force me to eat an actual meal, it's going to need to involve some carbs. Fine, you can mix my carbs with kale and top it with some healthy protein. As long as there are carbs, I'm there.
I wanted to make a meal that would create some good lunch leftovers and meatballs were an easy decision. Chicken meatballs because I wanted healthy; garlic and habanero meatballs because I wanted flavor. Oh, and polenta because I wanted carbs. Also, kale because I wanted to add some nutritional value to those carbs. That was easy. I wish all decisions in life were as easy as that.
GARLIC HABANERO CHICKEN MEATBALLS RECIPE
At first glance at the ingredient list, this may seem like a complicated recipe. But it's not! Meatballs are one of the easiest ever foods to make because you literally throw everything in a bowl, mix it together, and form it into meatballs. There is one additional step to this recipe, but it's simply sautéing the onion, garlic, and habanero peppers. Easy!
Note that you'll need to chop onions and mince garlic in both the meatball and the polenta recipe, so you may as well do them both at the same time.
Obviously, these chicken meatballs are a little bit spicy since they're habanero meatballs. If you're not huge into spicy, just use fewer of them. If you hate spicy altogether, simply make these garlic meatballs instead. They'll still be perfectly delicious. Mix all the ingredients together, form into meatballs, and bake.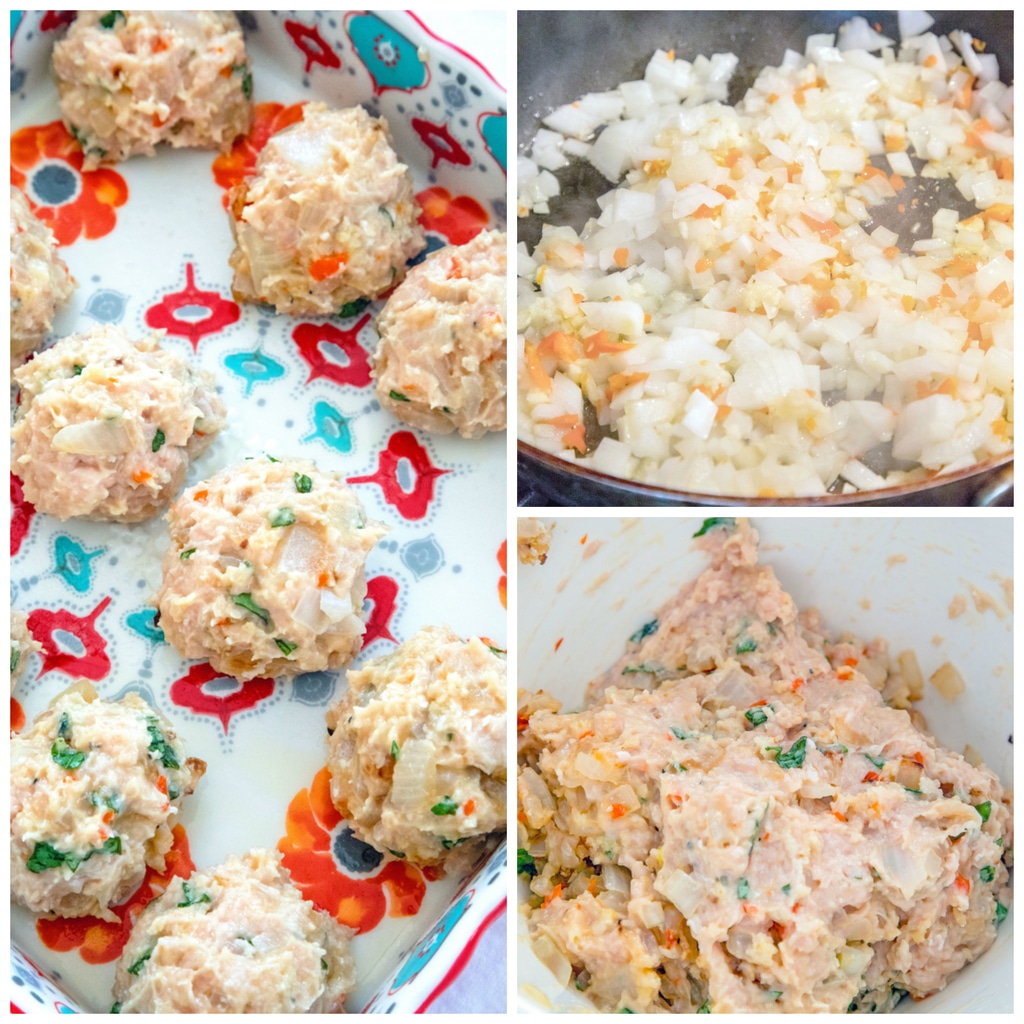 KALE POLENTA RECIPE
While the meatballs are baking, you should get your polenta going. Polenta is really easy to make, but kind of like risotto, it can sound a little bit scary. Literally, all you have to do is bring water, milk, and salt to a boil and then whisk in your polenta. Turn heat to low let thicken, while you can continue to stir every now and then. Once it's thickened, remove it from the heat and stir in the butter and parmesan... Also, the yummy kale mixture you'll make (simply kale, garlic, and onion blended together in a food processor or blender).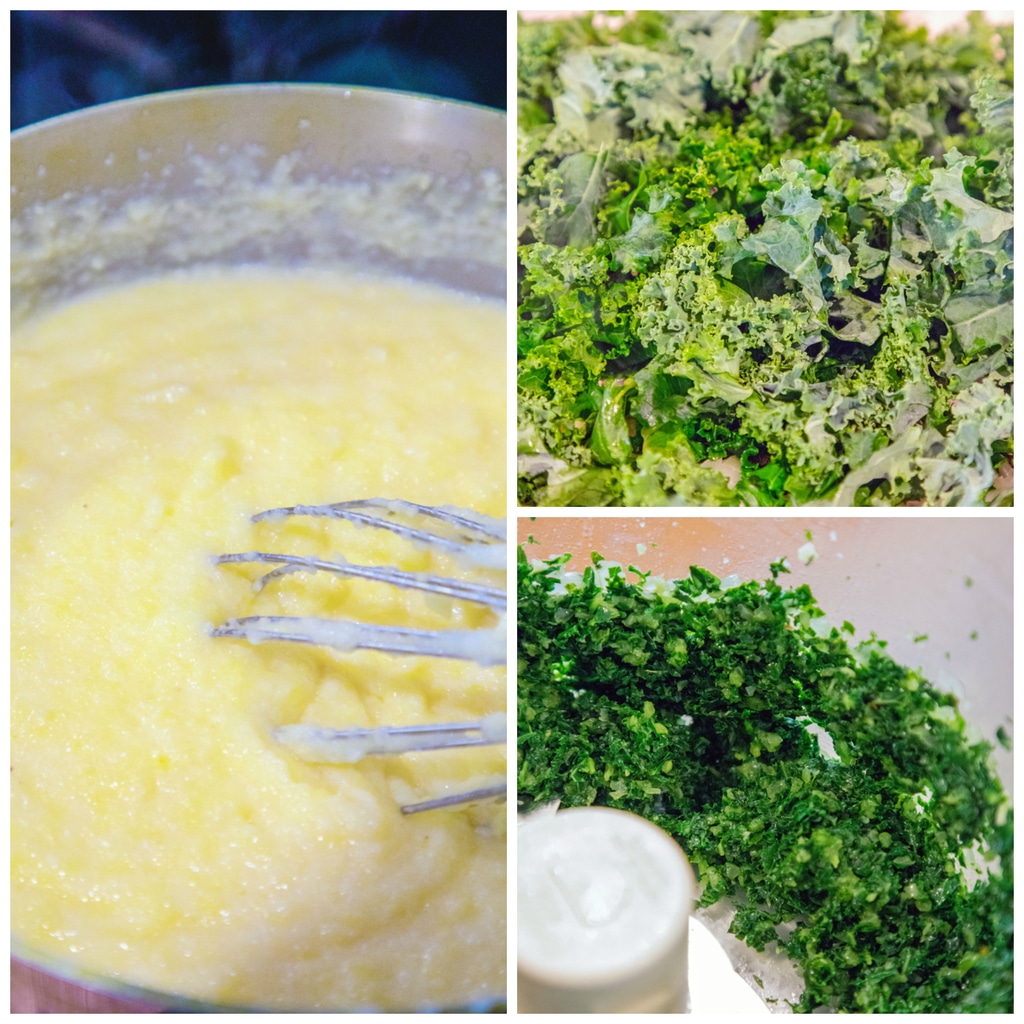 Serve the polenta in bowls, topped with a few chicken meatballs. You can sprinkles some more parmesan cheese over the top, too, if you desire. And why wouldn't you??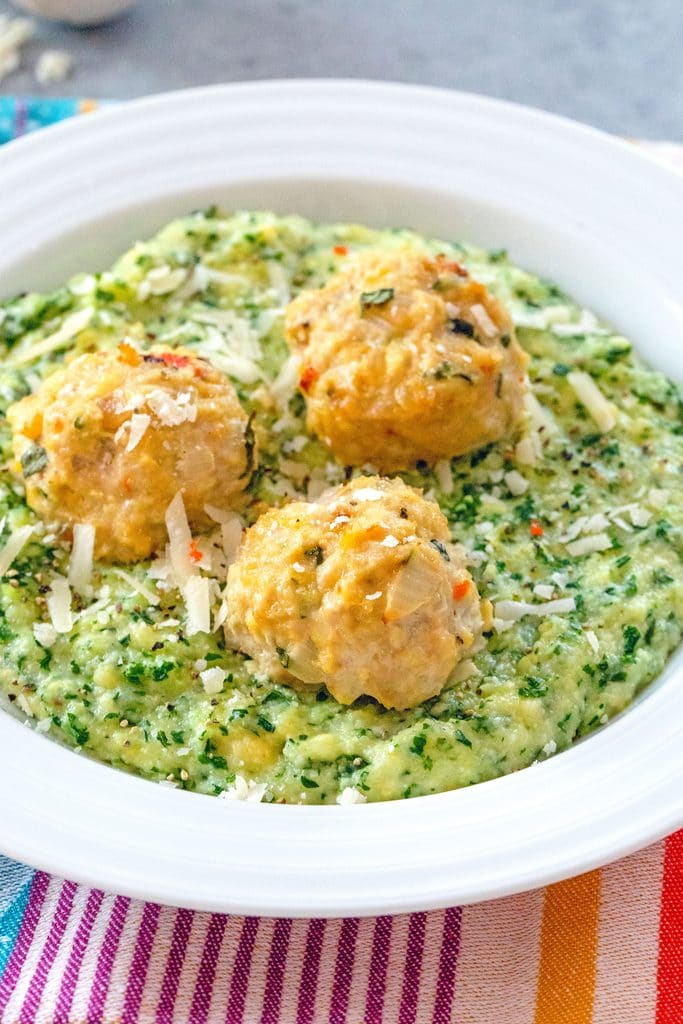 Meatballs and polenta is such a satisfying cold weather meal. The weather has been so icky here in New England lately. Not absolutely freezing or anything (though we know that's coming!), but chilly and rainy. So, so rainy. This meal is exactly the kind of comfort food you want when the weather is gross. BUT it's comfort food that won't make you feel gross after you eat it. It's relatively healthy, but you're not even depriving yourself of carbs.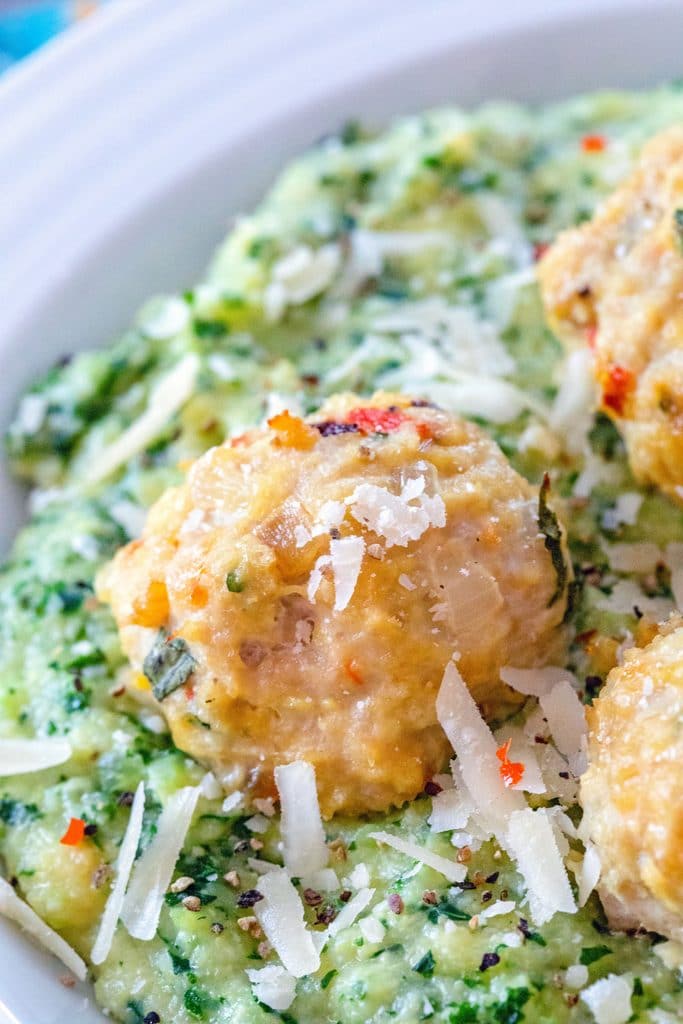 I'm obsessed with the color of the polenta. It's such a fun sneaky way to get in that healthy kale, even if you're not necessarily a kale lover. I will get in those vitamins and nutrients any way I can, especially at this time of year. I didn't get sick at all last year and I'm totally crediting it to all of the kale I get in my diet. Because Lord knows I certainly don't get enough sleep. And Lord also knows I ate plenty of Halloween candy last year, too. So yup, definitely the kale.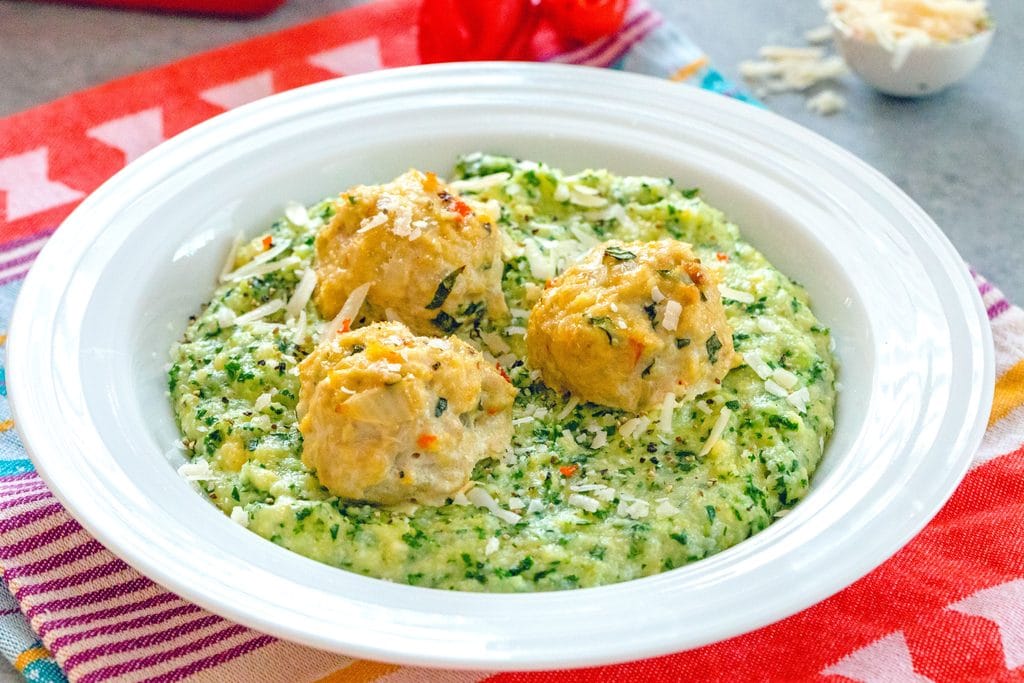 Everyone loves meatballs (OK, unless you're a vegetarian), but chicken meatballs (especially when made with chicken breast) are especially healthy. And when they're fully loaded with garlic and habanero, they're definitely not short on flavor. These habanero meatballs are nice and spicy, just the way we like them!
This recipe makes 6 servings, which means there's a chance you'll have leftovers for lunch the next day. It's perfect for packing up and bringing to the office or for having for dinner two nights in a row (I promise you'll get no complaints!).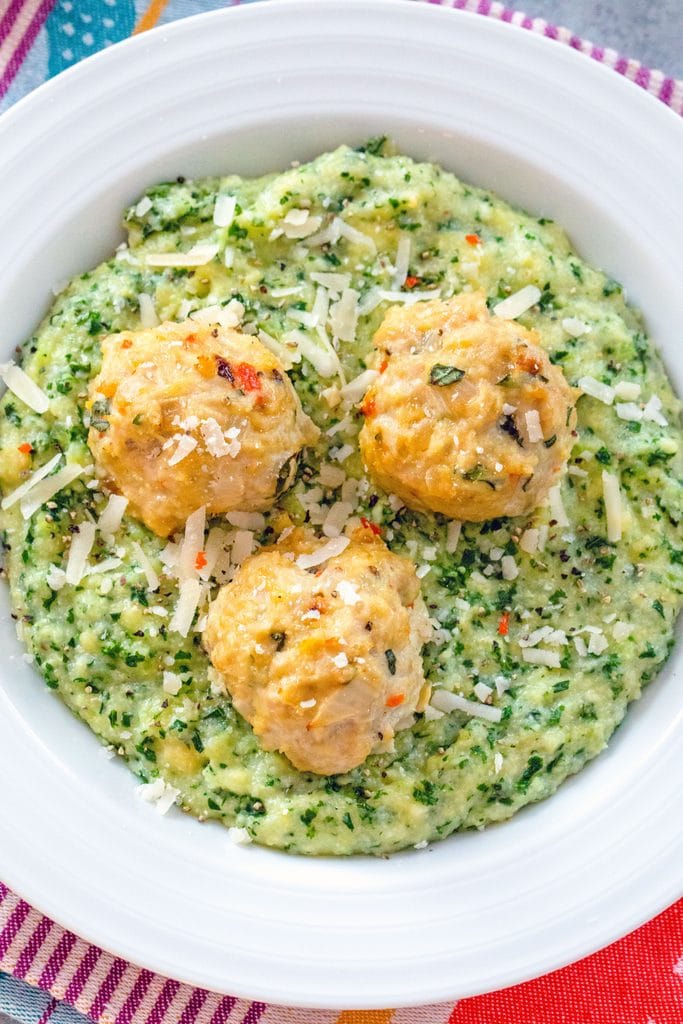 And now excuse me while I go spend the rest of the fall/winter trying to eat my carbs while also staying relatively healthy. Who's with me??
How do you try to health-ify your carbs?
If you're looking for more comfort food dinner recipes, check out my Pumpkin Mac and Cheese (also relatively healthy!) or my Thai Beef Basil (on regular meal rotation in my house!)
📖 Recipe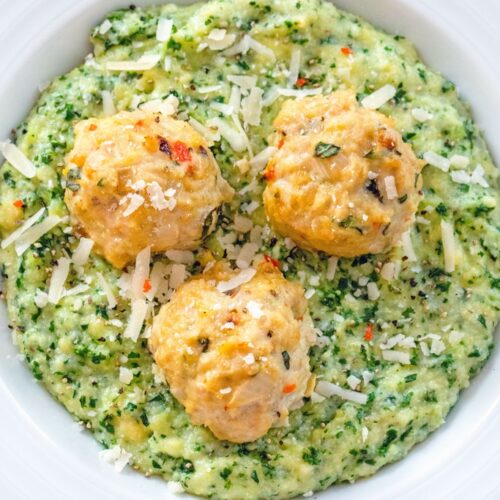 Garlic Habanero Chicken Meatballs with Kale Polenta
Garlic Habanero Chicken Meatballs with Kale Polenta is comfort food that's packed with flavor, but still nice and healthy. It's the perfect chilly weather meal!

Print
Pin
Rate
Ingredients
Garlic Habanero Chicken Meatballs
1

Tbsp

olive oil

1 ½ cups

chopped onion

(from about 1 medium onion)

1 ½

Tbsp

minced habanero

(from about 2 habanero peppers)

5

cloves

garlic,

minced

1

lb.

ground chicken

½

cup

panko

3

Tbsp

grated parmesan cheese

⅓

cup

milk

6

basil leaves,

chopped

1

large egg,

lightly beaten

½

tsp

paprika

½

tsp

salt

¼

tsp

pepper
Kale Polenta
1

Tbsp

olive oil

1

cup

chopped onion

(from about 1 small onion)

3

cloves

garlic,

minced

4

cups

roughly chopped kale

¼

tsp

pepper

1 ¼

tsp

salt,

divided

4

cups

water

1

cup

milk

1 ½

cups

polenta

(can also use yellow cornmeal)

3

Tbsp

unsalted butter

¼

cup

grated parmesan cheese
Instructions
Garlic Habanero Chicken Meatballs
Pre-heat oven to 400 degrees.

Heat olive oil in a large skillet over medium heat and add onion and habanero pepper. Cook until soft, about 5 minutes. Add garlic and cook for another 1-2 minutes. Set aside to cool a bit.

In a large bowl, mix together chicken, panko, parmesan, milk, habanero mixture, basil, egg, paprika, salt, and pepper.

Form 12 golf ball-sized meatballs from mixture and place in a lightly oiled baking dish.

Bake meatballs for 20-25 minutes, until cooked through.
Kale Polenta
Heat olive oil in a large skillet over medium heat and add onion. Cook for about 3 minutes. Add garlic and then kale. Season with ¼ tsp salt and pepper.

Cook until the kale is wilted, about 2-3 minutes.

Put kale/onion mixture in a food processor or blender and process until smooth.

Bring water, milk , and 1 tsp salt to a boil in a large saucepan. Slowly whisk in the polenta. Reduce heat to low and cook until polenta thickens, stirring regularly with a wooden spoon, about 15-20 minutes.

Remove from heat and stir in butter and parmesan. Fold in kale mixture. Taste and add more salt/pepper if desired.

Serve kale polenta in bowls and top with chicken meatballs.
Share a Photo of Your Finished Recipe!
Mention @wearenotmartha and share a photo if you've made the recipe!