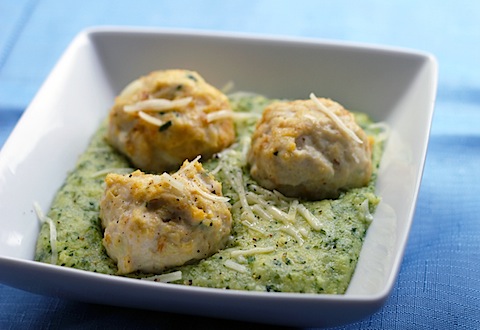 Because sometimes I need some nutrition in my life. You get it, right? I obviously wish I could survive on milkshakes and cupcakes. And cupcake milkshakes. But sometimes I require an actual meal. However, if you're going to force me to eat an actual meal, it's going to need to involve some carbs. Fine, you can mix my carbs with kale and call it a day. Trust me, it works.
I wanted to make a meal that would create some leftovers and meatballs were an easy decision. Chicken because I wanted healthy; garlic and habanero because I wanted flavor. Polenta because I wanted carbs. And kale because I wanted (again) healthy. That was easy. I wish all decisions in life were like that.
Garlic Habanero Chicken Meatballs with Kale Polenta (serves 4… with extra polenta):
Print this recipe!
Garlic Habanero Chicken Meatballs:
1 small onion
5 cloves garlic, minced
1-2 habaneros, minced
1 T olive oil
1 lb. ground chicken
1/4 C bread crumbs
1/3 C milk
1 small bunch basil
1 large egg, lightly beaten
(Pre-heat oven to 400 degrees)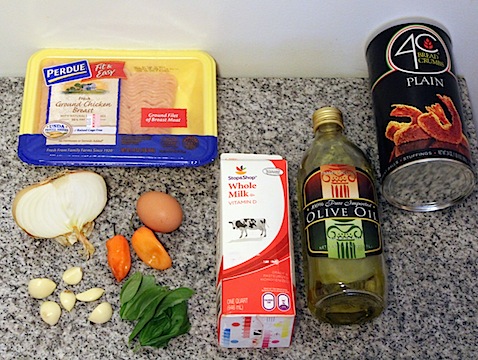 Of course, start by chopping your onion and mincing your garlic and habanero. I haven't featured this little guy here in a while. My trusty old Chef'n Garlic Zoom! That's because I lost the blade for a while… Before finally finding it in my VeggieChop. Yes, my kitchen is stocked with Chef'n. And I love it.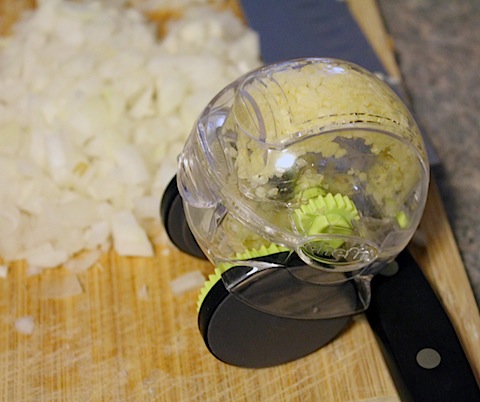 Heat 1 T olive oil in a skillet over medium heat and add onion, garlic, and habanero. Cook until soft, about 5-6 minutes.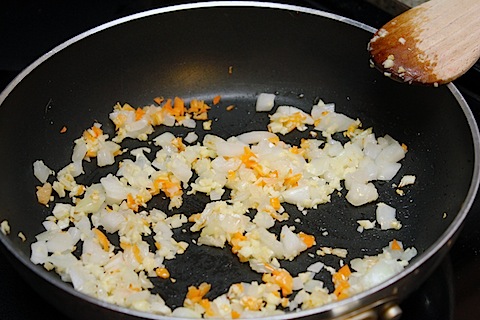 In a large bowl, mix together chicken, bread crumbs, milk, habanero mixture, basil and egg.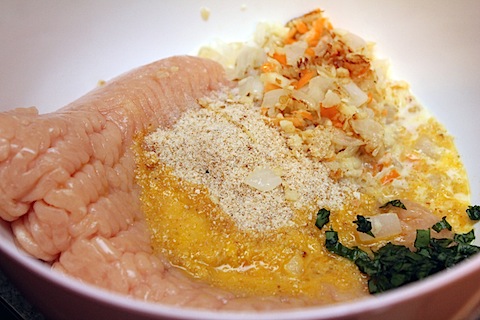 Form 12 meatballs and place in a lightly oiled baking dish.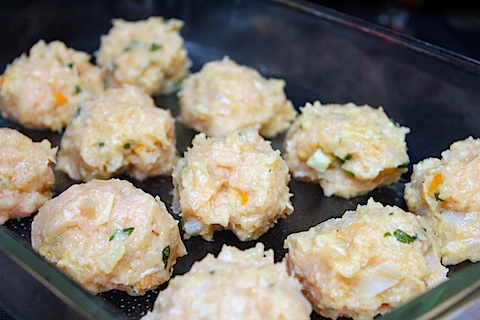 Bake meatballs at 400 degrees for 20-25 minutes, until cooked through.
While the meatballs are cooking, you can get going on your kale polenta.
Kale Polenta:
1 T olive oil
1/2 onion, diced
3 cloves garlic, minced
1 bunch kale
6 C water
1 C milk
1 1/2 C polenta
3 T butter
4 T parmesan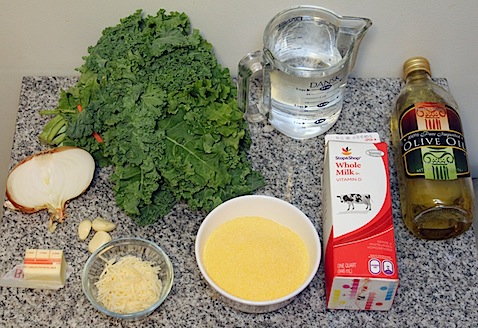 Chop onion and mince garlic.
Also, chop and clean your kale. Basically you'll want to remove the stems from the kale and chop into strips.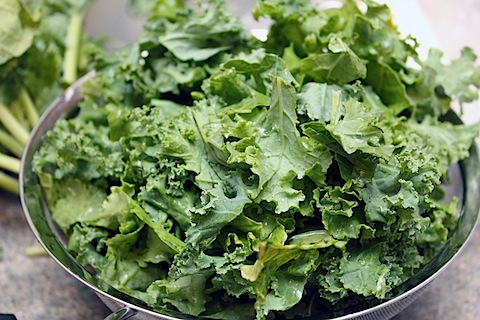 Now, sauté onion in olive oil for about 3 minutes.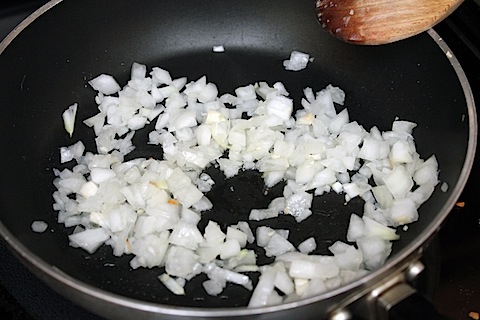 Add garlic and then kale. Season with salt and pepper.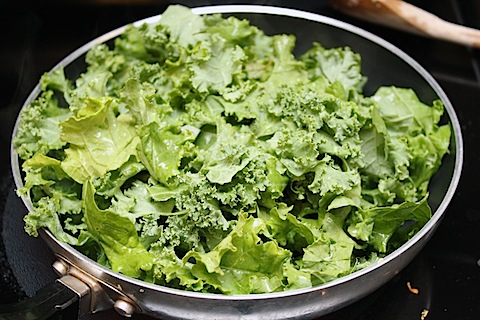 Cook until the kale is wilted.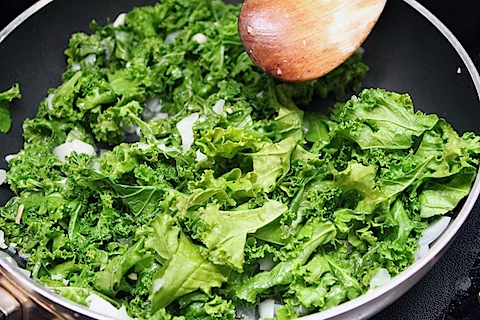 Put mixture in a food processor and process until smooth.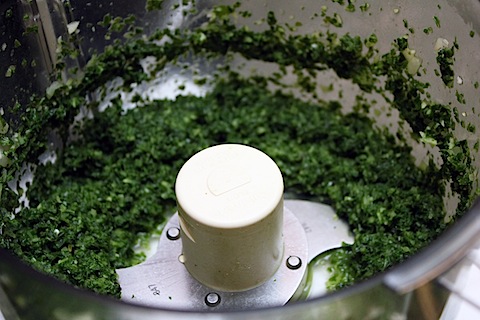 Now, bring water and milk to a boil in a large saucepan. Whisk in the polenta and continue to whisk until it's smooth. This could take about 20 minutes, unless you're using quick cooking polenta and then, of course, it's much faster.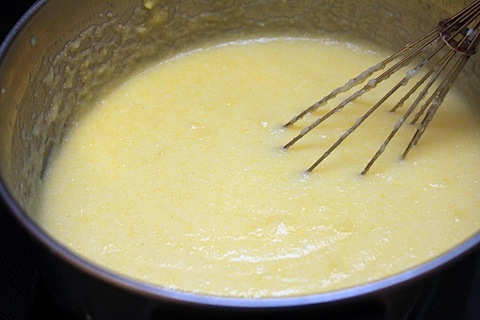 If you like a thinner polenta, feel free to add in more water (or milk).
Now, stir in the butter and parmesan.
And fold in the kale puree.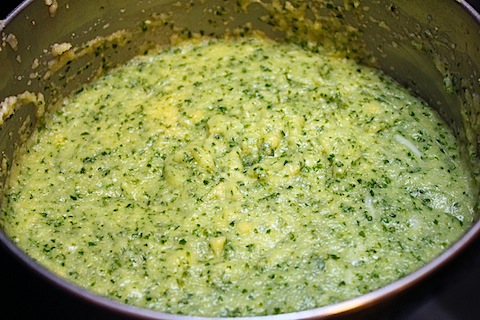 Season to taste. And serve meatballs on top of polenta. And sprinkle some parmesan on top.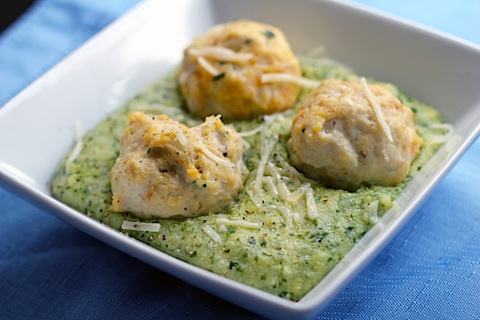 Polenta isn't exactly known for being healthy, but stir in a whole bunch of kale, and you're packing in the vitamins and nutrients. I absolutely loved the polenta, though it definitely needed salt and pepper. I might mix in some hot pepper flakes next time for an extra kick.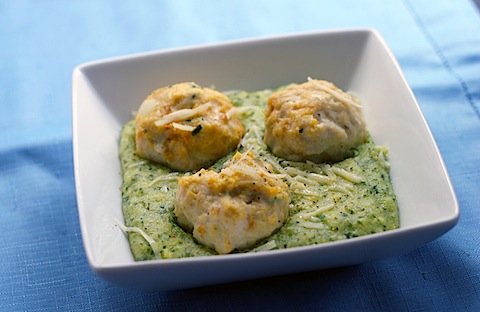 Everyone loves meatballs (fine, unless you're a vegetarian), but chicken meatballs (especially when made with chicken breast) are especially healthy. And when they're fully loaded with garlic and habanero, they're definitely not short on flavor. I ended up using 2 whole habaneros because that's how we like it around here. They were definitely spicy, but not overly so. If you want even more flavor, I'd recommend adding some parmesan into the actual meatballs.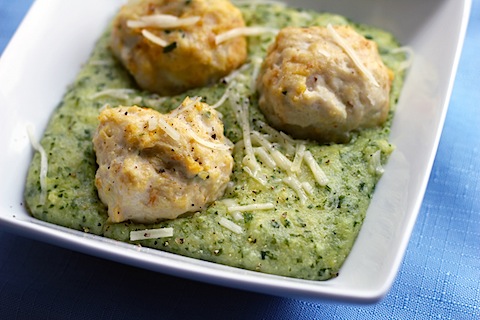 Considering you'll want 3 meatballs per serving, this meal only made about 4 complete servings. But there was leftover polenta for days. Days. And that, in my opinion, is a very good thing.
So, there. I had my carbs. And I had a healthy meal, too. That's the way life should be.
How do you try to healthify your carbs?
[Sues]