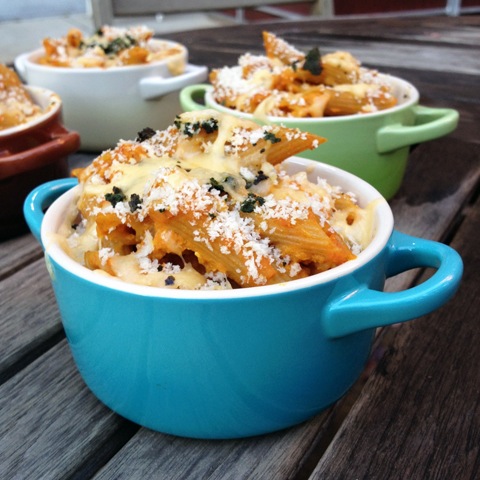 I've been thinking about this recipe for at least 3 years now. Seriously. In the past 3 years, it has not left me alone. I've been carrying it around in my head to the point that it's entered my dreams and I'm pretty sure I even saw it sitting next to me on the T one morning. It's totally stalkerish like that. Or maybe it's me who's been doing the stalking. In that case, excuse me. I've wanted to make pumpkin mac and cheese for years now, but it's one of those recipes that's always been pushed aside for something else. I know pumpkin mac and cheese has been done by so many people already and I didn't really want to follow anyone else's recipe. I wanted to make it my own and, of course, I wanted to add in some fun touches.
Like pumpkin beer. Obviously. When I first set out to make the mac and cheese, I immediately knew I wanted to add in a splash or two of pumpkin beer. I also knew I wanted the dish to be a bit on the healthier side (at least as far as mac and cheese goes!). Which, I know, is not me at all. But seeing that pumpkin is healthy and creamy-tasting, I figured I could make it work. I also enlisted the help of my good friend Greek yogurt. And then I fried some sage. Er, I know I didn't have to fry it. But I did. Just let me be me! Thank you 🙂
Pumpkin Mac and Cheese (serves about 6-8):
Print this recipe!
13.25 oz. whole wheat penne (I'm sure 16 oz. works, too. Lots of whole wheat comes in 13.25 oz. boxes)
1 T butter
1 C chopped onion (1 medium onion)
3 clove garlic, chopped
1 can pumpkin puree
3/4 C non-fat Greek yogurt
1/2 C pumpkin beer
1/2 C gouda (or any cheese you want)
1-2 T olive oil
8-10 sage leaves
1/2 C panko (or regular breadcrumbs if you prefer)
(pre-heat oven to 350 degrees)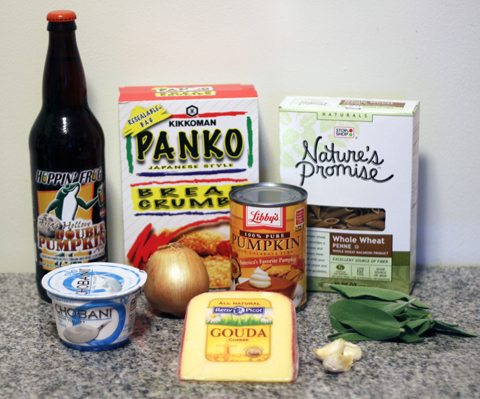 Of course, you'll want to start by boiling the water for your pasta and getting the pasta cooking. I used whole wheat pasta, but you can definitely use regular if you prefer. Cook it until it's just al dente. When the pasta is cooked, drain and return to pot.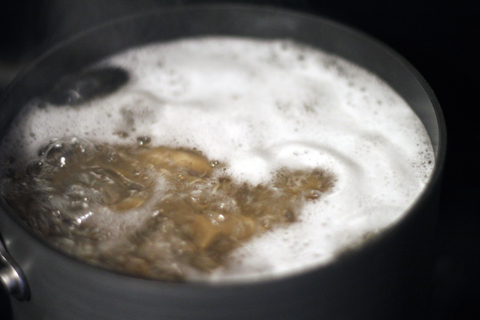 While your water is boiling, add the butter to a large saucepan over medium heat. When it's melted, cook the onion and garlic for about 3 minutes.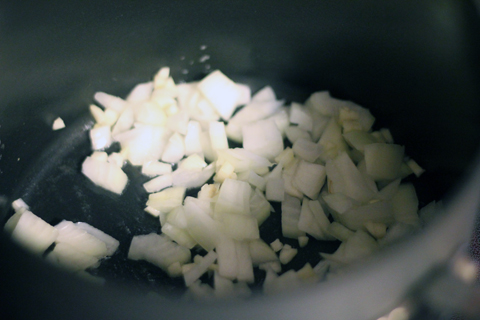 Now add the pumpkin into the pot, along with the Greek yogurt. Stir until smooth and let cook for about 2 minutes.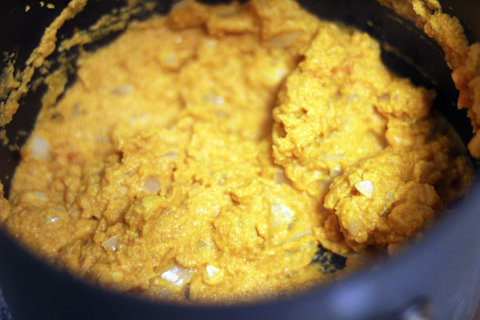 Turn the heat down to medium-low and add in the pumpkin beer; stir until smooth. Now add in the 1/2 C gouda and stir until melted. Season with salt and pepper.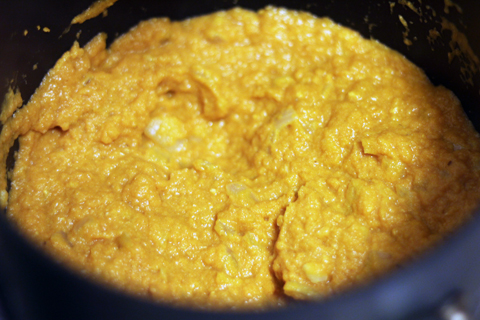 I used this Hoppin' Frog Frog's Hollow Double Pumpkin Ale. It was definitely a bit more on the sweet side, but I think it added a nice little depth to the dish.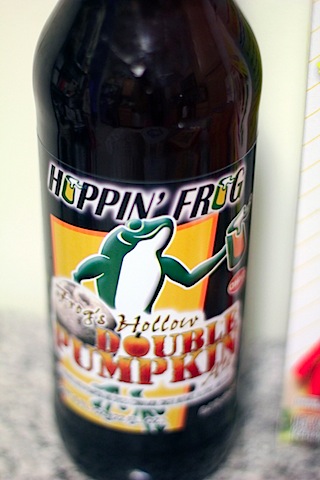 Add the pasta to the pumpkin mixture and stir well to combine.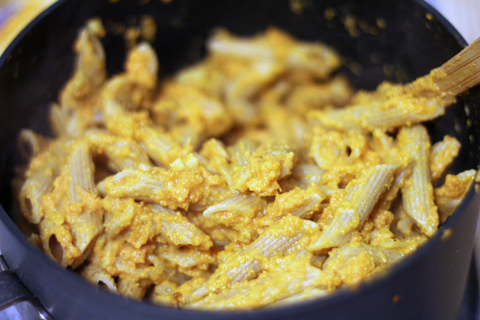 Add a T of olive oil to a small frying pan over medium heat. Add sage leaves to pan and fry for about 30 seconds on each side. Repeat for all the sage leaves (and add more oil if you need to) and then move sage to a cutting board to chop finely.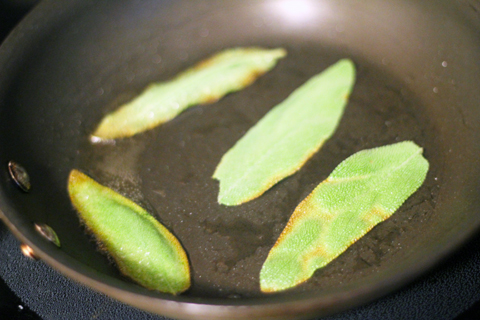 Now, spoon the pumpkin and pasta mixture into ramekins or a 13×9 baking dish (or some combination of the two). I used a combination because I had been looking for an excuse to use my Le Creuset cocottes. I filled four cocottes and used a small Le Creuset baking dish for the rest.
Sprinkle fried sage, remaining 1/2 C of cheese, and panko over the top. You can sprinkle a little parmesan on top, too, if you want.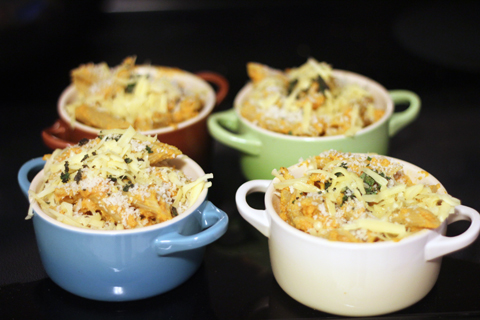 Bake at 350 degrees for 10-15 minutes, until the top is browned how you like it.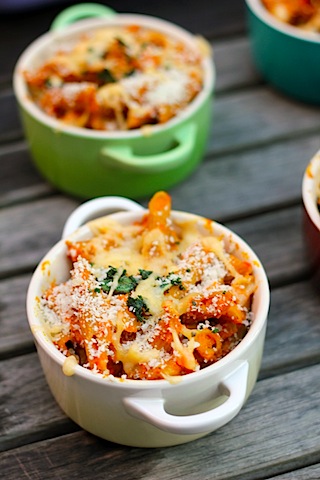 Pretty quick and simple, right? But there it is; the most perfectly creamy pumpkin mac and cheese that actually doesn't involve any cream or milk… And really doesn't have too much cheese in it either. Which just means you can eat more of it. I'm not talking just one of those little cocottes.
I'm talking the whole big dish of it.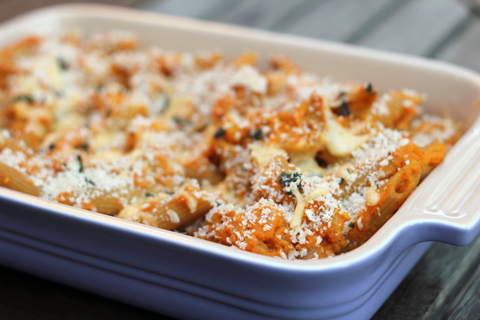 Or you could just eat it for breakfast, lunch, and dinner, like I did. I may have even eaten some cold. And it was just as delicious.
I love gouda cheese, but next time I make this (and yes, there will be a next time!), I might go for something a little bit more sharp. Just for the extra kick to balance out the mellowness of the pumpkin.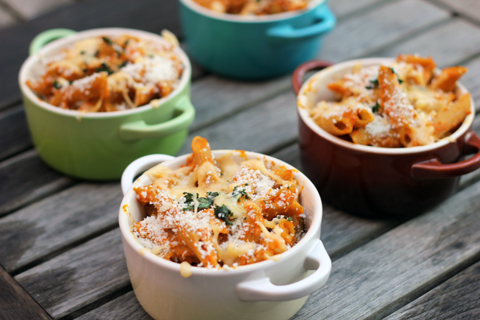 Oh, and I know I said you don't have to fry the sage. But you kind of do. Because it's pretty awesome. And I mean, don't you want a little green in your m & c?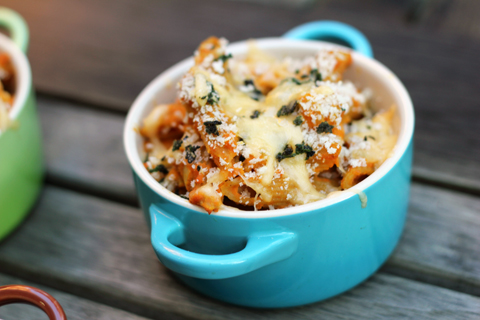 I have to admit, I was feeling a bit guilty that i haven't been experimenting with pumpkin too much this season. But not only is that guilt gone, but I think I'm back on my game. Pumpkin season is only around for a few months each year, so I may as well take advantage of it.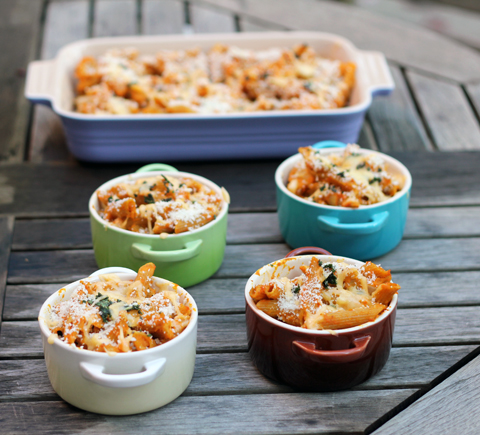 Now finally, this recipe can leave me alone for a bit. That time I was in the airport bathroom and it tapped me on the shoulder was a little creepy. I'm just saying. Fine, I'll stop stalking it, too. I'm leaving it here on the safety of my blog and that's where it will stay until I choose to welcome it to my kitchen again.
Now I just need to get those chocolate croissants to leave me alone. I swear they watch me when I'm sleeping.
Do you have a recipe you've been thinking about forever?
[Sues]