This Pumpkin Mac and Cheese is perfectly creamy and flavorful, not to mention healthier than the typical mac and cheese, thanks to pumpkin puree and Greek yogurt. There's no milk or cream involved... But there is pumpkin beer!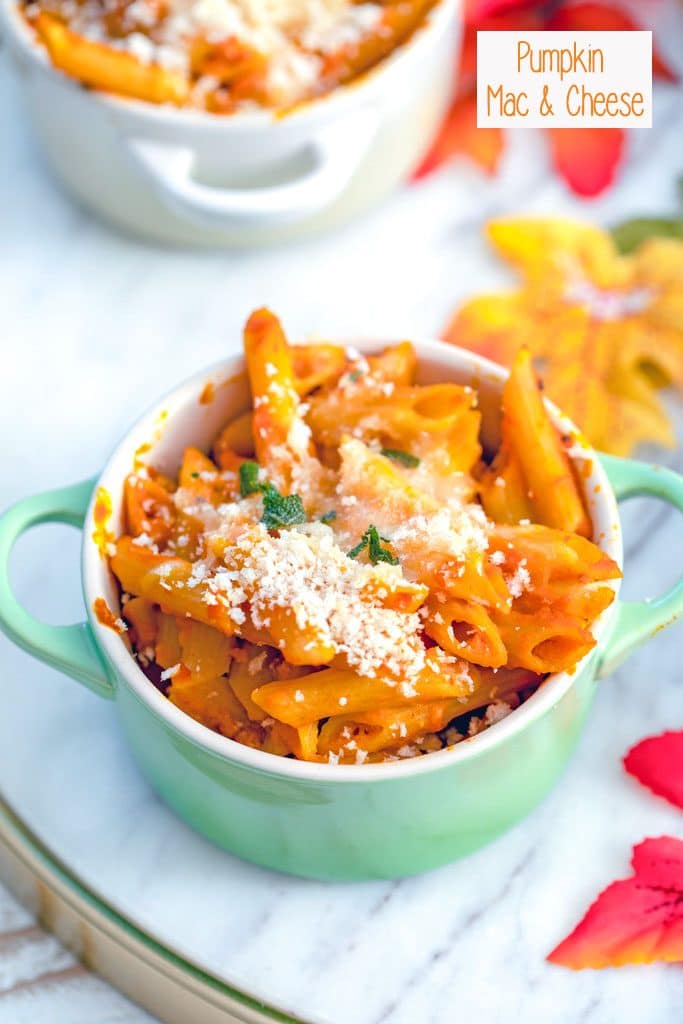 (This recipe for Pumpkin Mac and Cheese was originally published in November 2011, but has been updated with new photos and content in 2018).
I first made this recipe in 2011, but at the time of posting, I mentioned I had been thinking about it for at least 3 years prior. Which would bring us way back to when this blog was first started in 2008. At the time, I wrote about how I really wanted to make a pumpkin mac and cheese, but I felt like it had been done too many times already.
If I felt like there were too many pumpkin mac and cheese recipes way back in 2008, I can only imagine how many more there are today in 2018! But thoughts of pumpkin mac and cheese kept following me around, tapping my on the shoulder, and visiting me in my dreams. So, I finally decided to just go for it and make my own special version.
This version is special for many reasons, including the fact that it uses a nice splash of pumpkin beer for dimension. But more importantly, I decided I wanted the dish to be a bit on the healthier side (at least as far as mac and cheese goes), which, I know, is not very me at all. But seeing that pumpkin is healthy and creamy, I figured I could make a healthier pumpkin mac and cheese work.
I also enlisted the help of my good friend Greek yogurt. And then I fried some sage. Er, I know I didn't have to fry it. But I did. Just let me be me! Thank you 🙂
Now that I've been making this recipe for seven years, I decided it deserved to make a return to the blog with a photo and content update. So, I'm adding this recipe back into the thousands of pumpkin mac and cheese recipes on the internet (seriously, a Google search brings back over 73K results), with the promise that this one really is a little bit different.
Pumpkin Mac and Cheese Recipe
So, what makes this pumpkin mac and cheese different than the typical mac and cheese? Well, it's certainly been lightened up a bit with the use of pumpkin puree and Greek yogurt. There are no heavy creams or milks in it and it's relatively light on the cheese when compared to other mac and cheese recipes.
But don't worry; it's still plenty flavorful! I also added in some pumpkin beer and fried sage to boost the fall flavors.
You'll start the pumpkin mac and cheese by sautéing chopped onion and garlic and then mixing them with pumpkin puree and Greek yogurt. That's your mac and cheese sauce right there.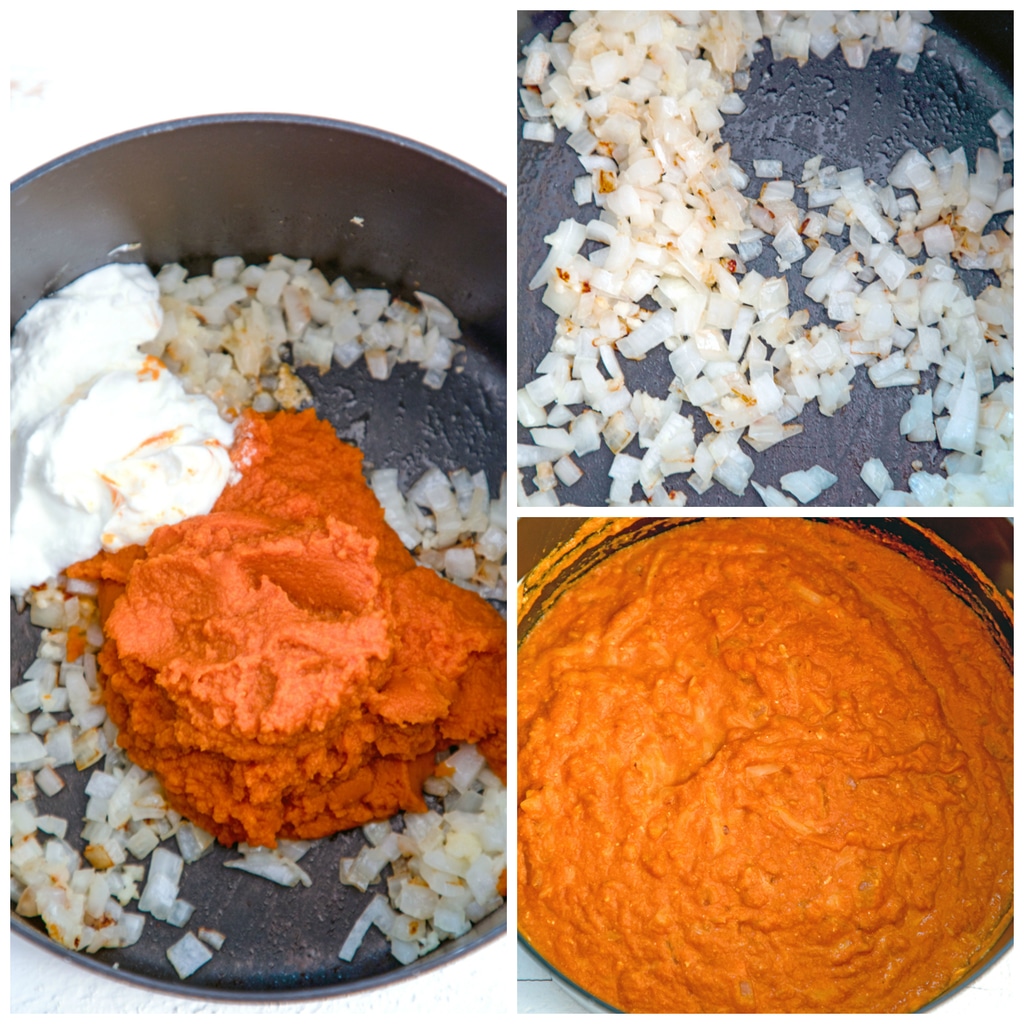 Now for the beer! I went with a Shipyard Pumpkinhead because it's a definite staple in our house from September to December (I won't let Chris bring it into the house before September 1! Though he definitely tries), but you can use the pumpkin beer of your choice.
Just note that the flavorings and spices of the beer will definitely affect the flavor of your mac and cheese. Generally, in a really good way.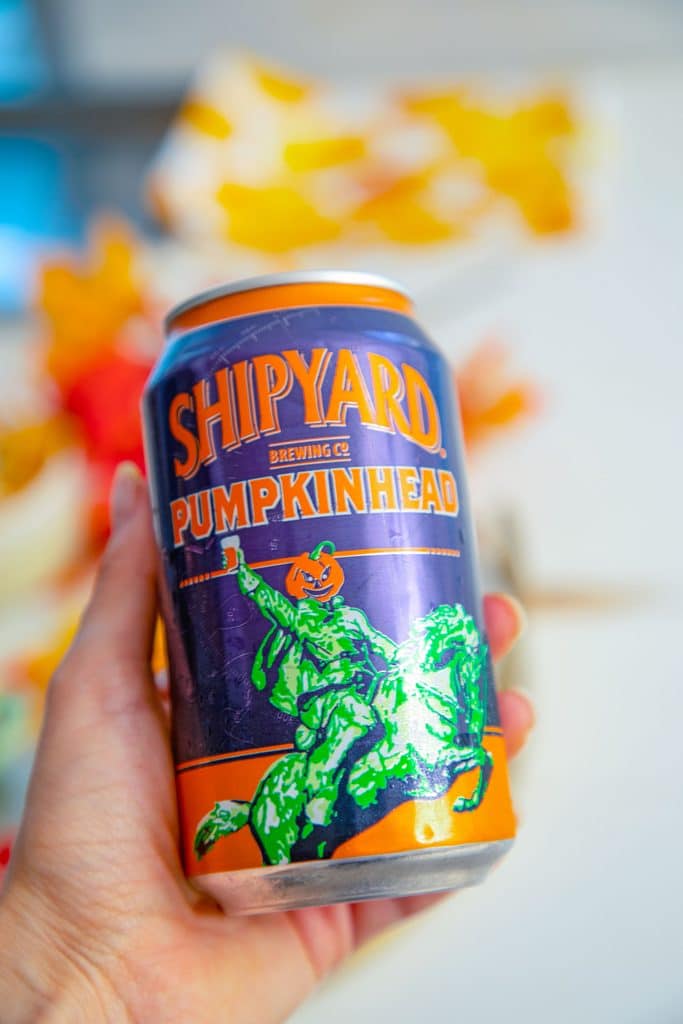 Stir the pumpkin beer and most of the cheese into the sauce and season with salt and pepper. And then toss the pasta in!
You'll also want to fry up some sage for a nice fall touch. Sage absolutely screams fall to me.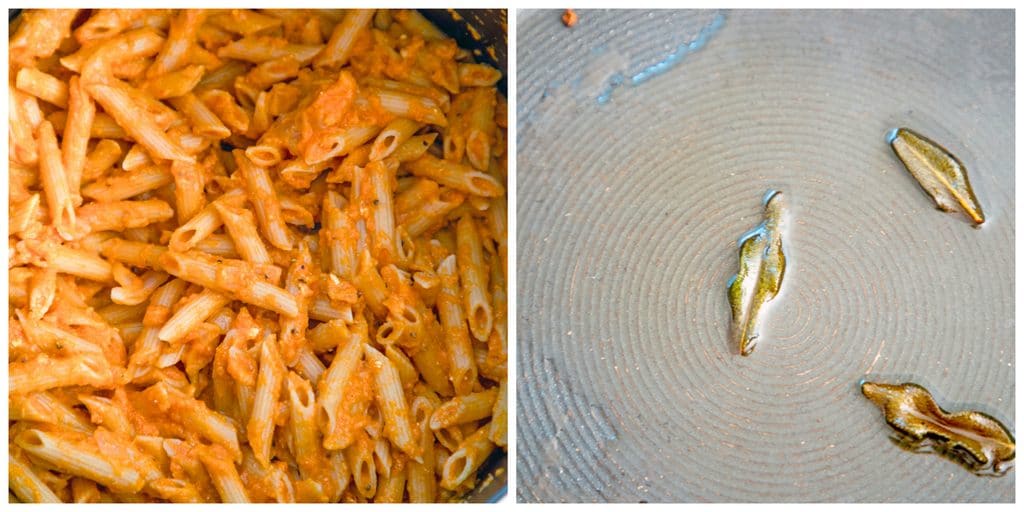 I love making this pumpkin mac and cheese in little individual servings and am obsessed with my Le Creuset cocottes (affiliate link). But you can also make it in a 13x9 baking dish.
Once you have your dish or ramekins filled, you'll top with the rest of the cheese, the chopped sage, and the panko. And then bake just util the tops are browned.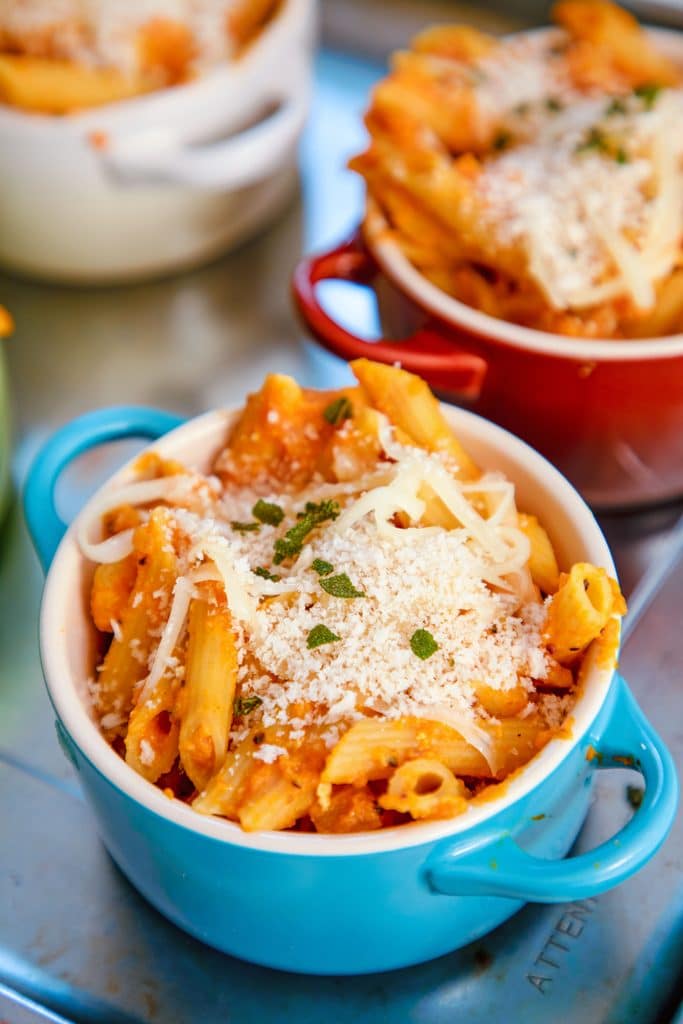 Alterations to Recipe
There are lots of adjustments that you can make to this recipe if you desire, including:
You can use any kind of pasta you want and that includes shape and type. You can go whole wheat for an even healthier version if you want.
You can add whatever kind of cheese you like best. I love the gouda and sharp cheddar cheese combination I used here, but I can think of all different kinds of cheese that would be delicious to use, including mozzarella, gruyere, and swiss... I even think blue cheese would be absolutely delicious with pumpkin!
Feel free to replace the pumpkin with butternut squash. They're pretty similar and would both be equally tasty.
If you don't care about making this mac and cheese lighter, you can always use milk and cream and leave the Greek yogurt and pumpkin beer out.
In any event, this is a super quick and simple recipe, especially when it comes to mac and cheese! There's no roux-making or making sure your milk is almost to a boil, but not actually boiling or any of that other nonsense.
And there you have it; the most perfectly creamy pumpkin mac and cheese that doesn't actually involve any cream or milk. Which just means you can eat more of it.
Or you can just eat it for breakfast, lunch, and dinner, like I have done. I may even eat it cold on some occasions. And it is just as delicious.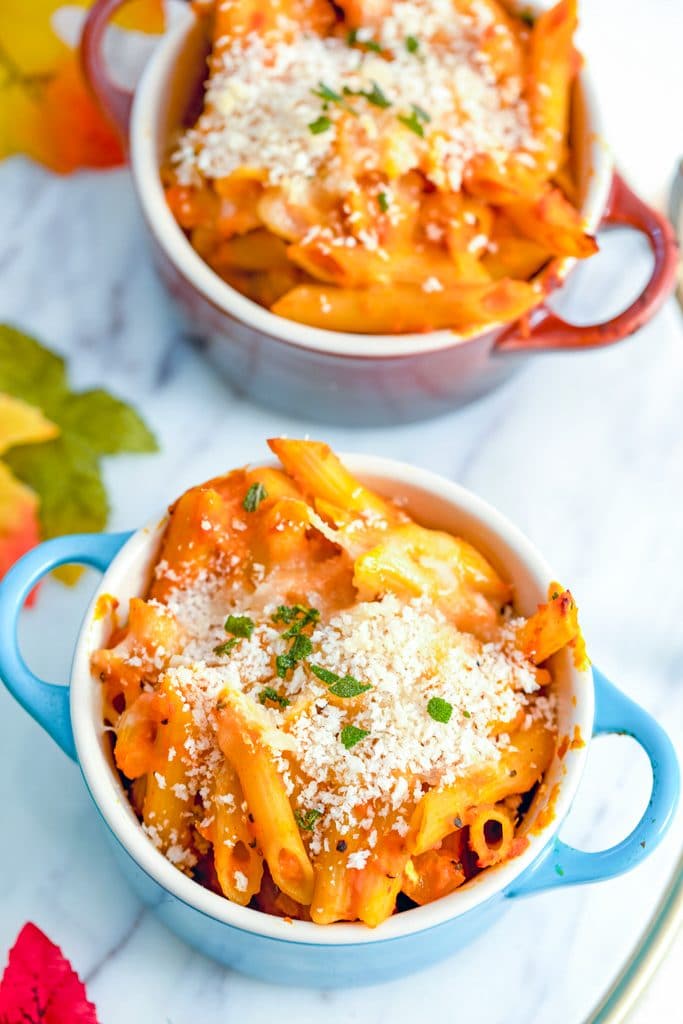 Oh, and I know I said you don't have to fry the sage. But you kind of do. Because it's pretty awesome. And I mean, don't you want a little green in your pumpkin mac and cheese?
Don't get me wrong, you could totally add some kale or spinach into the pasta mixture if you want even more greens, but I didn't want to go too overboard on the healthy factor. I have made this with whole wheat penne before, but I have to admit it really is better with good old fashioned pasta.
Then again, think about how many pasta varieties are around these days that weren't back in 2011 (quinoa! chickpea! lentil!), so really, use whatever pasta you like best. I mean, I wouldn't even be surprised if a pumpkin pasta existed (hint: it does).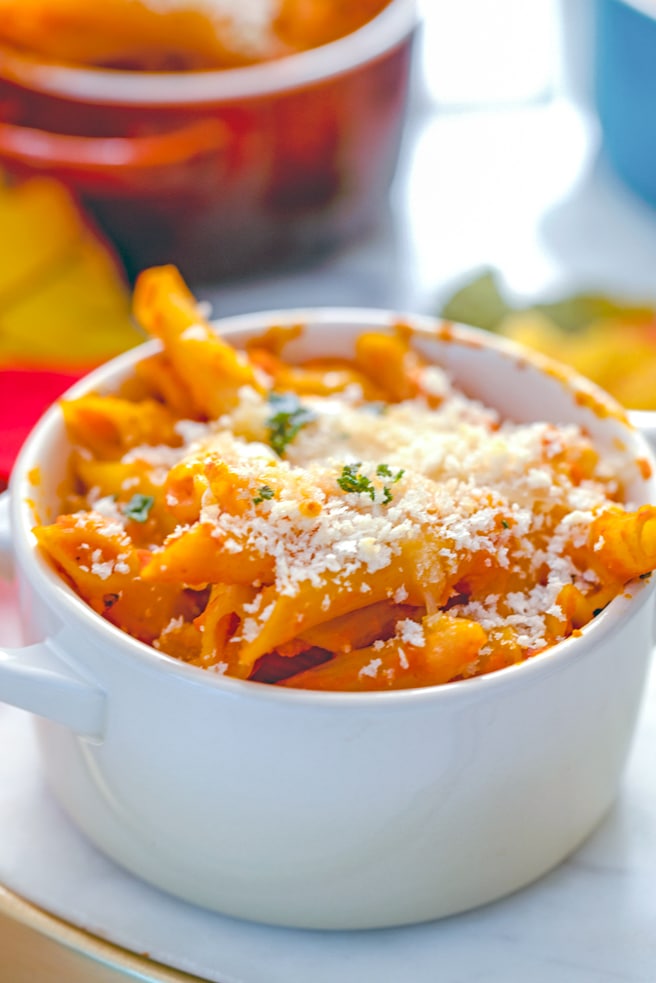 After seven years, I think I can safely say this healthier pumpkin mac and cheese is a dish that has withstood the test of time. And I can't even imagine how many more years I'll be making it for (forever? quite possible forever).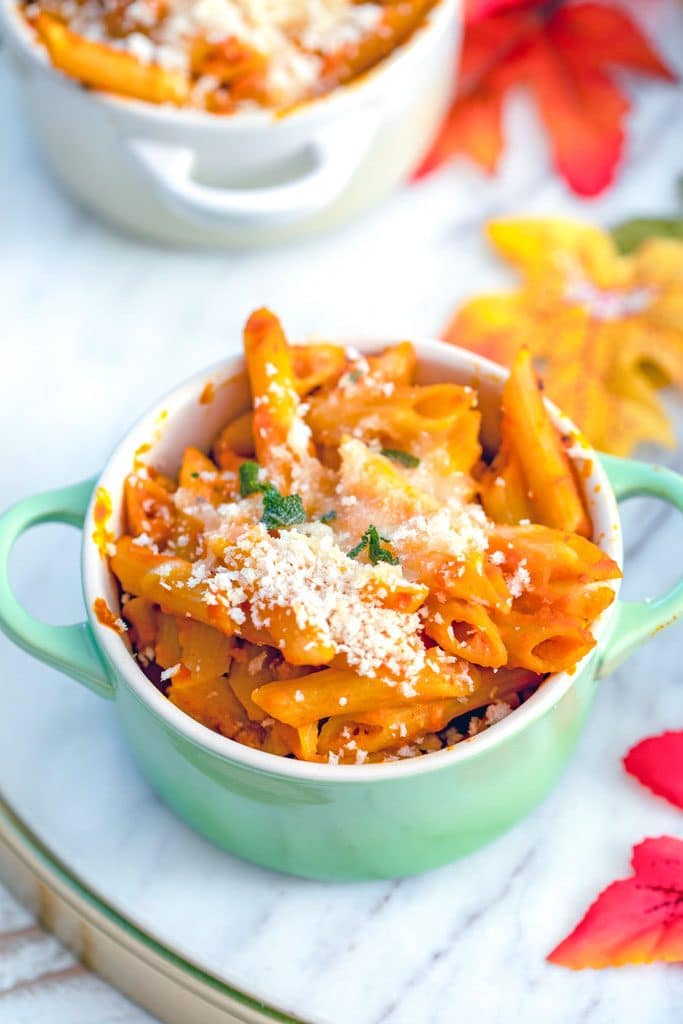 I'm so happy that I finally put a stop to this recipe stalking my dreams and made my own all those years ago. And now, of all the thousands of recipes on the internet, I hope you'll take the time to try this one.
OK, and now I'm pretty sure chocolate croissants visited me in my dreams last night and I need to finally bite the bullet and make those, too!
Do you have a recipe you've been thinking about forever?
For more savory pumpkin recipes, check out my Coffee-Rubbed Lamb Chops with Pumpkin Cinnamon Polenta and my Red Wine Pumpkin Chili. I also really want to try this Thai Pumpkin Squash Soup from Garlic & Zest!
📖 Recipe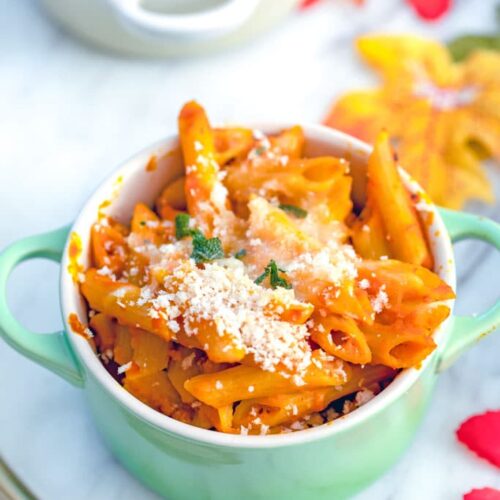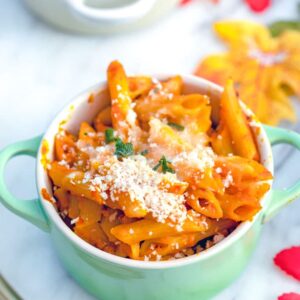 Pumpkin Mac and Cheese
This Pumpkin Mac and Cheese is perfectly creamy and flavorful, not to mention healthier than the typical mac and cheese, thanks to pumpkin puree and Greek yogurt. There's no milk or cream involved... But there is pumpkin beer!
Print
Pin
Rate
Ingredients
1

lb.

penne pasta

1

Tbsp

unsalted butter

1

cup

chopped onion

(from 1 medium onion)

3

cloves

garlic,

minced

1

can

pumpkin puree

¾

cup

Greek yogurt

(I used 1%)

½

cup

pumpkin beer

¾

cup

gouda cheese,

divided

¾

cup

sharp cheddar cheese,

divded

1

tsp

salt

½

tsp

pepper

1-2

Tbsp

olive oil

10

sage leaves

¾

cup

panko

(or regular breadcrumbs if preferred)
Instructions
Pre-heat oven to 350 degrees and lightly butter individual ramekins or a 13x9 baking dish.

In a large pot of boiling, lightly salted water cook the penne to al dente. Drain and set aside.

While pasta is cooking, add butter to a large saucepan over medium heat. Let melt and add onion. Cook for about 3 minutes. Add garlic and cook for another minute.

Add the pumpkin and Greek yogurt to the pot and stir until smooth. Let cook for about 2 minutes.

Turn the heat down to medium-low and add the pumpkin beer; stir until smooth. Add ½ cup gouda and ½ cup cheddar and stir until melted. Season with salt and pepper.

Add pasta to the pumpkin mixture and stir well to combine.

Add 1 Tbsp olive oil to a small frying pan over medium heat. Place sage leaves in pan and fry for about 30 seconds on each side. Repeat for all the sage leaves (add more oil if needed) and then move sage to a cutting board to chop finely.

Spoon the pumpkin pasta mixture into prepared ramekins or baking dish.

Sprinkle with fried sage, remaining ¼ cup of gouda and ¼ cup of cheddar, and panko.

If using ramekins, place on a baking sheet. Bake for 10-15 minutes, until the top is browned.
Notes
Recipe has been slightly adapted since its 2011 publication.
Feel free to adjust ingredients accordingly, including using whole wheat pasta (or pasta of your choice), different varieties or different amounts of cheese, etc.
Share a Photo of Your Finished Recipe!
Mention @wearenotmartha and share a photo if you've made the recipe!