I think by summer's end, I'll be known as the eccentric girl in my apartment building. The sun is starting to stay out longer these days, which means food photos with natural light. Unfortunately, I don't have my own deck in my apartment unit. But there's a common deck down the hall from me. So, after I cook dinner (or, well, anything). I run down the hallway carrying platters of food, through the common room and out to the deck.
And I'm usually wearing these: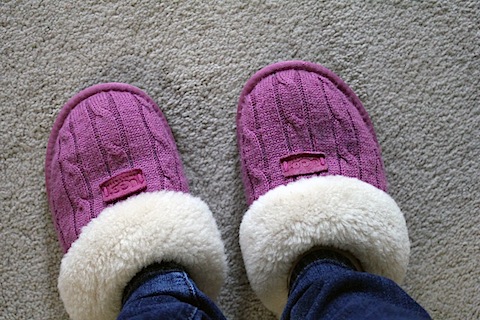 P.S. they're the most comfortable slippers in the world.
Then I proceed to take tons and tons of photos before the sun sets.
I'm not overly concerned by the weird looks I get. I like to feel at home in my building and if the other ladies can sit in the common room knitting, drinking wine, and gossiping; then I can carry plates of food through the building and take photos of it outside in my slippers, right?
Thank you. I knew you'd understand. You always do 🙂
On Sunday afternoon, Chris and I headed to Market Basket to do our grocery shopping after hanging out at my parents' house. In case you're not from the New England area, Market Basket (or Demoulas where I'm from) is SO much cheaper and better than anywhere in the city (they have more Bob's Red Mill products than any Whole Foods!) While there, I realized I had approximately 1 hour to make dinner if I wanted to catch any natural sunlight. The race was on. Luckily, while at my parents' house, I came across this lovely book: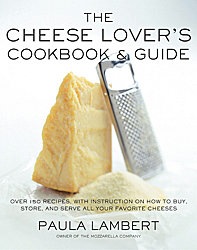 Yes, The Cheese Lover's Cookbook and Guide (affiliate link) by Paula Lambert. Heaven.
And it didn't take long for me to pick out a recipe I needed to make ASAP: Grilled Swordfish Steaks Stuffed with Pepper Jack Cheese. It looked super simple and obviously delicious. I never really pair fish with cheese, unless it's fish tacos, and this seemed like the perfect way. There are two steps to this recipe. First is the sauce.
Grilled Swordfish Steaks Stuffed with Pepper Jack Cheese (serves 2):
Adapted from Paula Lambert's The Cheese Lover's Cookbook and Guide
Herb Sauce:
• 5 garlic cloves, peeled
• ½ C tightly packed fresh flat-leaf parsley leaves
• ½ C tightly packed fresh cilantro leaves
• ¼ C freshly squeezed lemon juice
• 1-2 t ground cumin
• ½ t cayenne pepper
• Salt to taste
• ½ C extra virgin olive oil
• Freshly ground black pepper to taste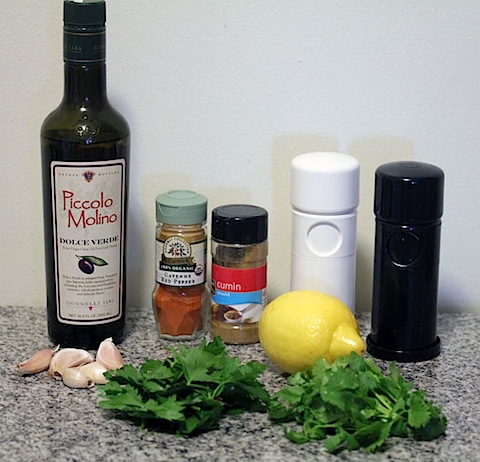 Start the motor on your food processor (you can use a blender if you don't have one), drop the garlic through the feed tube. Then add parsley and cilantro leaves and pulse to finely chop the herbs. Add lemon juice, cumin, cayenne, and salt and process to blend.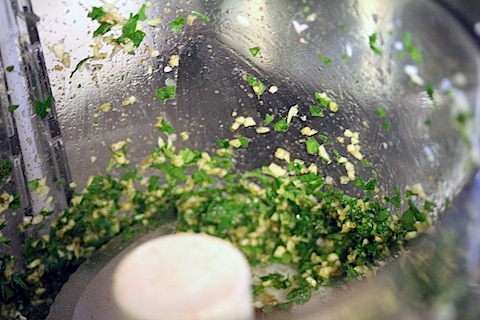 With the motor running, drizzle olive oil through the tube and process until thickened and emulsified. Taste and adjust seasonings if need be.
Set aside or refrigerate if not serving within an hour or so. And step one is complete. Easy!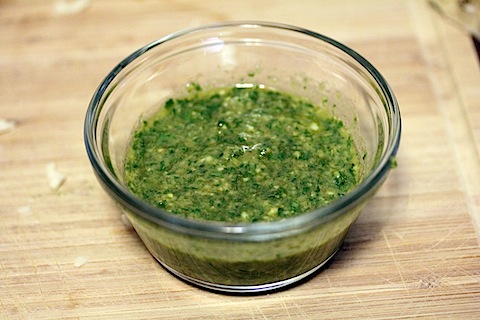 Now for the fish.
Swordfish:
• 2 swordfish steaks, each 1-inch thick (about 1 pound)
• 4 oz. Pepper Jack cheese
• 2 sprigs fresh cilantro, leaves only (plus a couple sprigs for garnish)
• 1 T extra virgin olive oil
• Salt and freshly ground black pepper to taste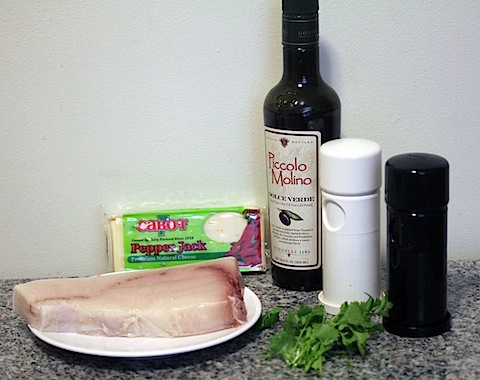 Grate cheese and mix with cilantro leaves.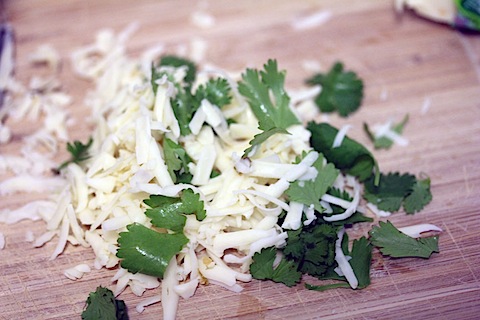 Rinse swordfish steaks and pat dry. Cut a horizontal slit in the side of each steak to form a pocket. Stuff each pocket with ½ the cheese and cilantro mix.
You're supposed to secure the opening with toothpicks, but since I couldn't find my toothpicks anywhere, I didn't. And it was fine.
Rub the fish with olive oil on all sides and season with salt and pepper.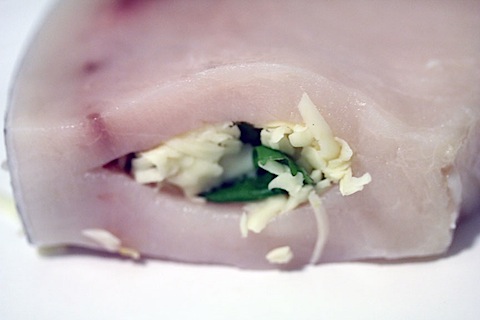 Now, heat a grill pan and cook swordfish steaks for about 3 minutes on each side. You'll know it's done then the flesh is opaque and flakey, but not dry. Spoon 2 tablespoons of herb sauce onto each steak, spread it on the fish and let cook for another one minute.
I was rushing around so much, I didn't take a picture of my fish grilling, but I used my Le Creuset grill pan. You could definitely use a frying pan if you don't have a grill pan. Or you could use an actual grill!
I took the swordfish off the grill pan, got my slippers on, and ran out the door and down the hall.
There was still a little bit of daylight left!
This ended up being an awesome dish! It literally took about 30 minutes and was packed with flavor and perfect for summer.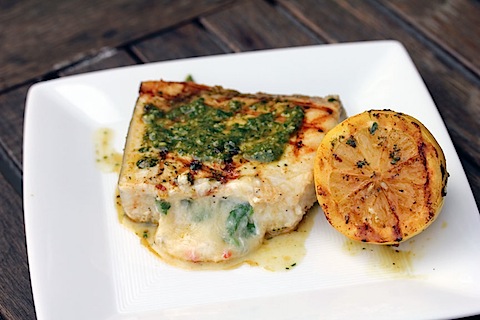 The herb sauce is definitely like a pesto and I love how it complemented the mildness of the fish and the slight spiciness of the cheese.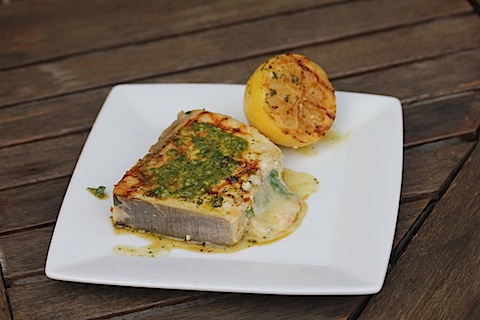 When I make fish, I want it to be simple and this most definitely was. Some might argue with the idea of adding cheese to fish, but I say cheese makes everything more delightful and this was a hit. I squeezed a little extra lemon over the top, too.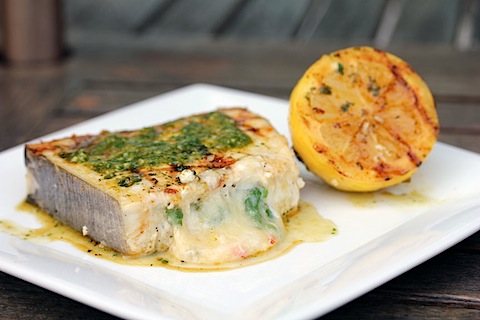 And now I am insanely excited for summer and taking photos on the deck in the sun. I wish it could last forever. By September, I'm sure everyone in the building will be wondering what the heck I'm doing. But maybe I can just invite them over for dinner. Nah, that would mean less food for us.
Do you do anything that could have your neighbors thinking you're a bit eccentric?
[Sues]