Fish tacos are delicious, but fish tacos with cheese and cajun spices are even better! This recipe is so simple, but incredibly fresh and delicious!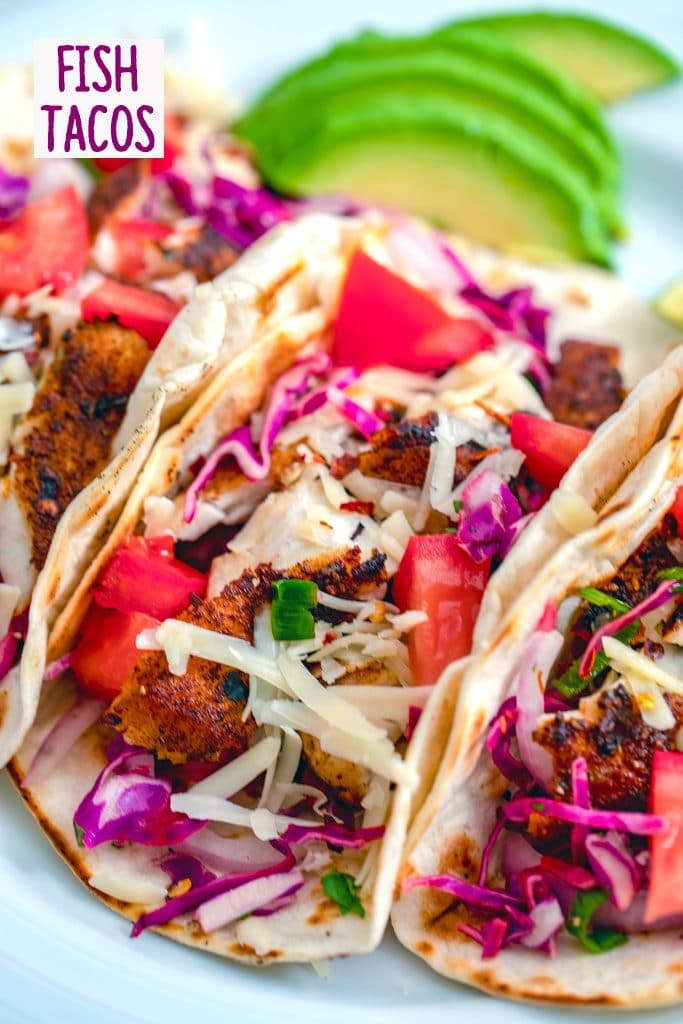 (This recipe was originally published in March 2010, but was updated with new photos in 2018).
Isn't it funny that there are some foods and cuisines that we just never have cheese with? Take most Asian food for example. You don't go to a Chinese restaurant and expect anything on the menu to contain cheese.
And when you have fish, you rarely ever enjoy it with cheese. Until now. Because, what the heck is the point of a taco if there's no cheese involved?
At first, I thought cheese on fish tacos was kind of strange... But then I just went for it and it turned out it's actually fantastic. Especially when the fish is rubbed in Cajun spices and served with a cabbage slaw.
Making Fish Tacos with Cheese
First I have to tell you a secret. I've generally never been a big fish taco person. I LOVE tacos (maybe more than life) and I LOVE fish. But I rarely have fish tacos in restaurants that I really like.
And often when I'm in the mood for tacos, I want beef or pork... Smothered in cheese and guacamole. But I'm pretty sure this fish taco recipe with cheese has changed my mind completely.
I am now a big fish taco person.
What Type of Fish to Use?
First things, first you have to decide what kind of fish to use for your tacos. Honestly, you can use whatever you want! One of my favorite fish taco recipes ever is this one for salmon tacos.
But traditionally, fish tacos are made with a white, flaky fish. My favorite choice is barramundi. If you haven't had barramundi before, it's definitely worth trying! It's a mild fish that is a great source of Omega-3s. Even better? It's a sustainable eco-friendly fish!
However, you can also use mahi-mahi or cod for these fish tacos... Or really, any other type of fish you're craving.
What is the Best Cheese for Fish Tacos?
Again, the options are pretty endless when it comes to cheese for fish tacos, depending on the style of cooking you're doing. But I think a sharp cheddar (I always recommend Cabot's Seriously Sharp) is always an excellent choice.
If you like spicy, a habanero cheddar or pepperjack will help give your tacos an extra Mexican flair. However, I'm currently dreaming up a Greek fish taco with feta cheese and a Buffalo-style one with blue cheese. Once you come around to pairing fish and cheese, you'll start to get all kinds of creative!
This recipe uses a Cajun spice mix that you'll rub all over the fish. Then cook the fish in a skillet while you mix up a shredded cabbage, red onion slaw.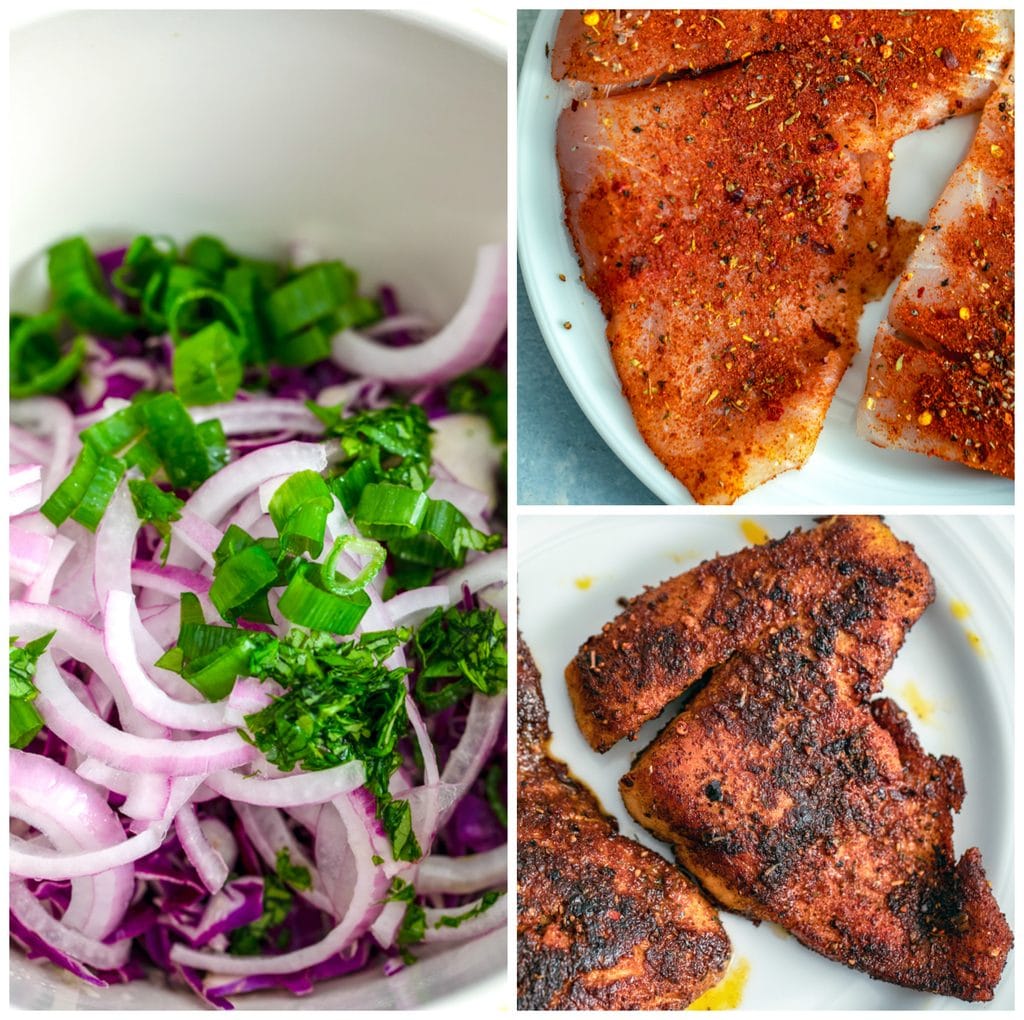 After warming your tortillas in a skillet, top them with the cabbage slaw and flake the fish over the top. Then come the chopped tomatoes and shredded cheese!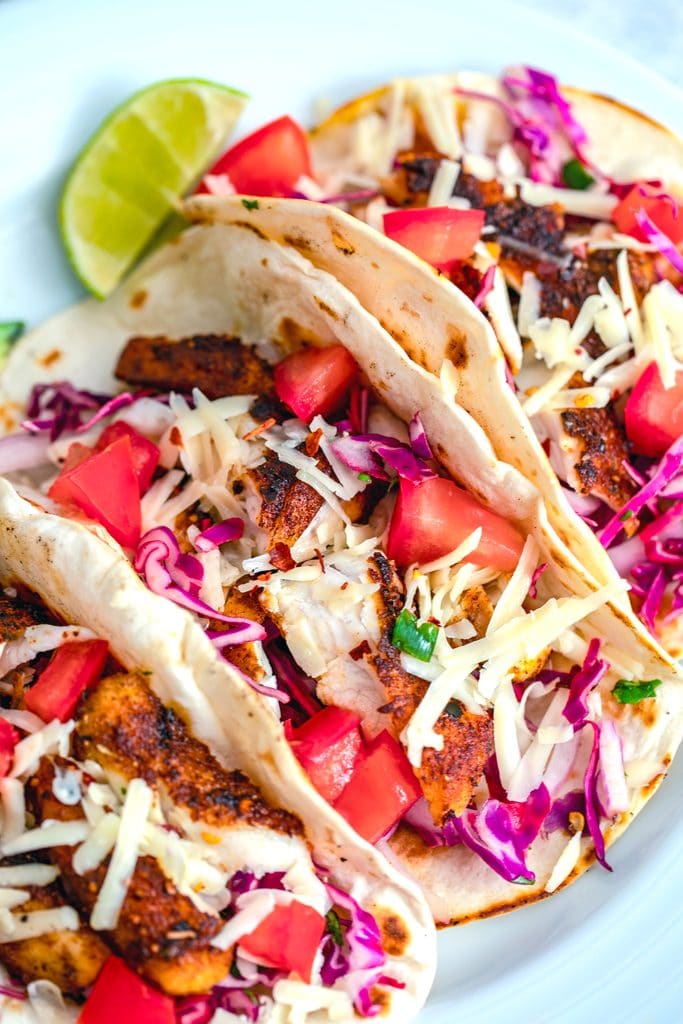 And the perfect fish taco with cheese is that easy. I like to serve them with some extra lime wedges and avocado. Because any time you mention "taco," I'm gonna need some avocado, too.
Pick up and dig in. I can honestly say these were the best fish tacos I've ever had. Probably in part because the fish wasn't fried and was full of flavor.
I love knowing that it's all fresh and while eating it, I kind of felt like I was on a beach in California. Though I was really in Boston in the middle of another huge rain storm.
But food can totally transport you, right?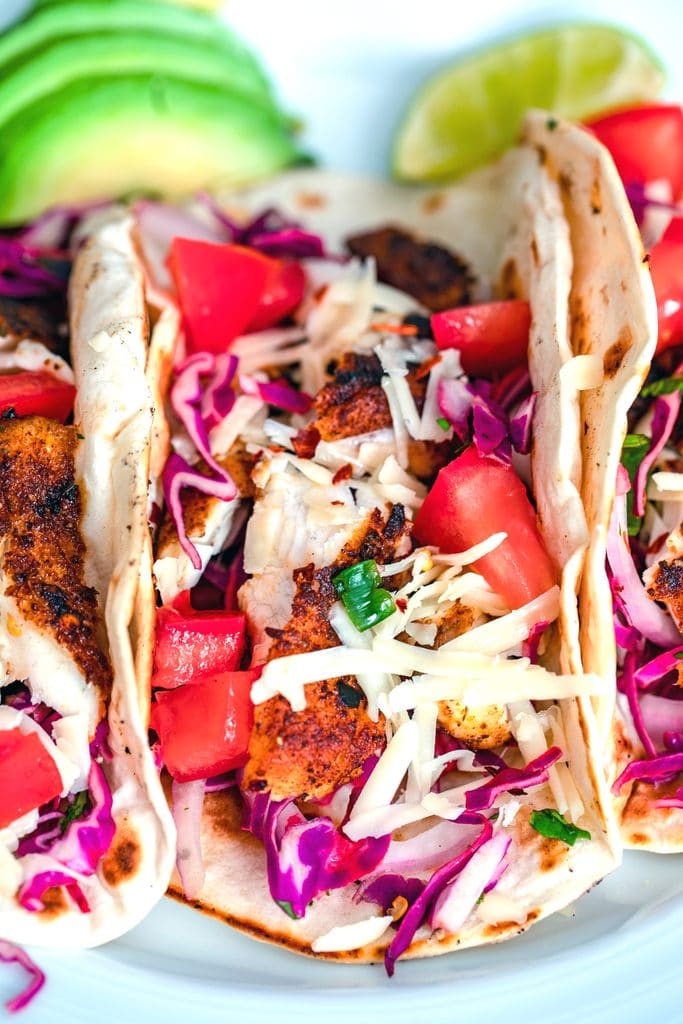 The flavors in the tacos went so well together as did the textures/consistencies- I love the little crunch from the cabbage.
The sharpness of the cheese is amazing. I don't discriminate against cheese and really do love them all, but when forced to choose, I say the sharper, the better. I've never tried a cheese that's too sharp for my liking.
Nor have I met one that's too spicy. Actually, that's a lie... I recently had a ghost pepper colby jack and it almost killed me. It was beyond spicy.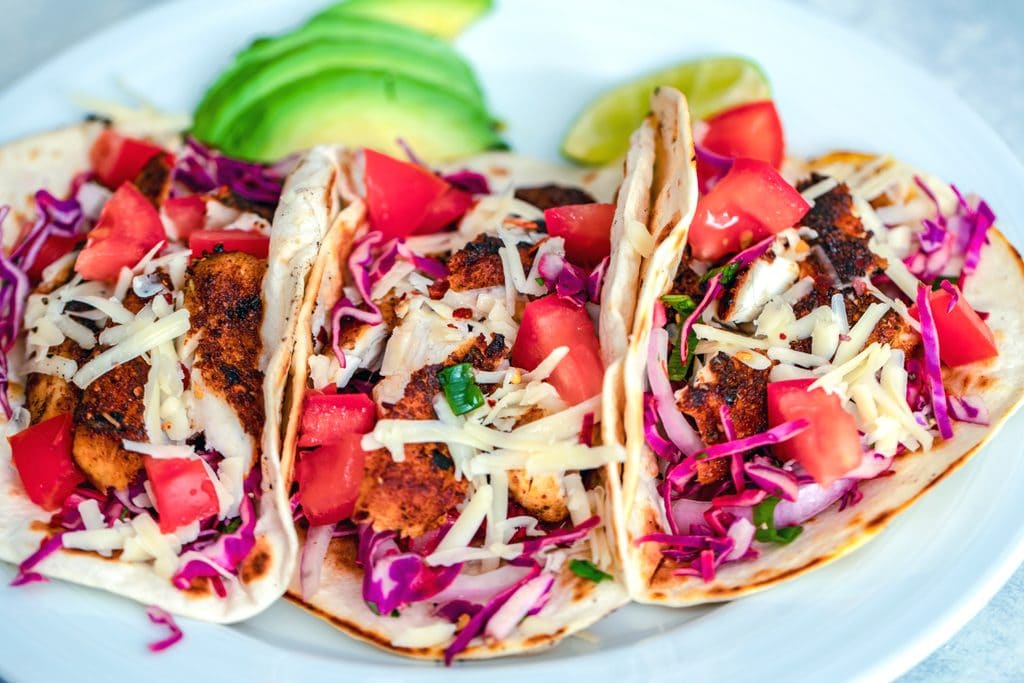 I have to tell you that these go absolutely perfectly with a nice bottle of hoppy beer. Then you'll really feel like you're on a beach in California.
And you'll probably be all kinds of relaxed and forget you have a job and a family and responsibilities and a house to clean. I told you food could transport you.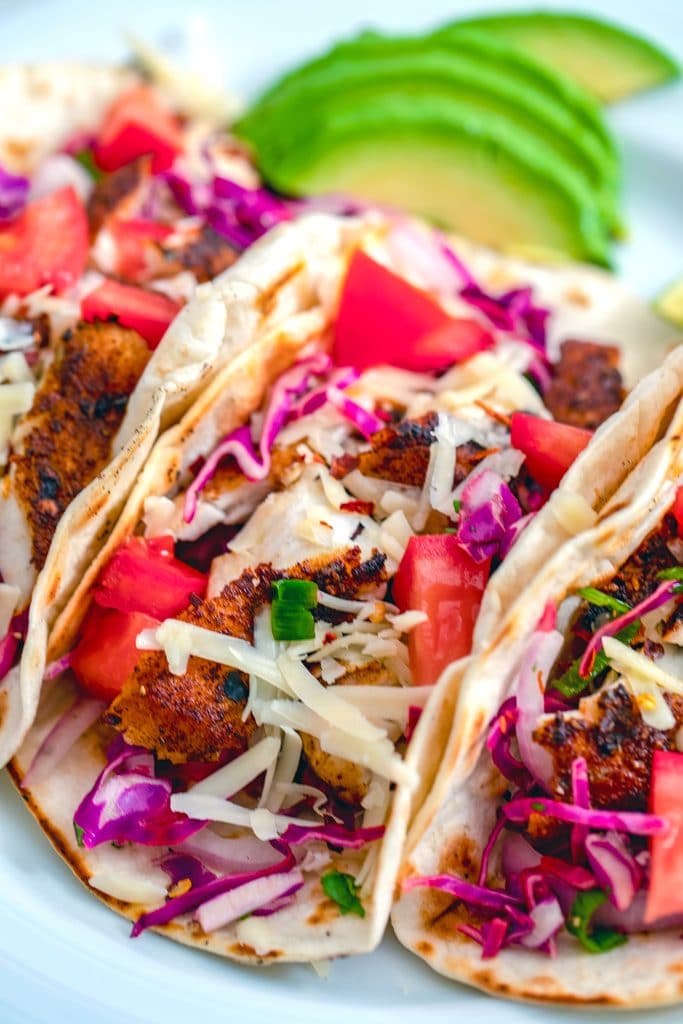 And now I am a true fish taco believer and am on a quest to convince everyone that you should always serve fish tacos with cheese.
What kind of cheese would you use on fish tacos?
If you're looking for more delicious fish recipes, check out my Grilled Mojito Swordfish or my Salt Baked Fish. I also love these Crispy Jerk Tacos from More Than You Can Chew!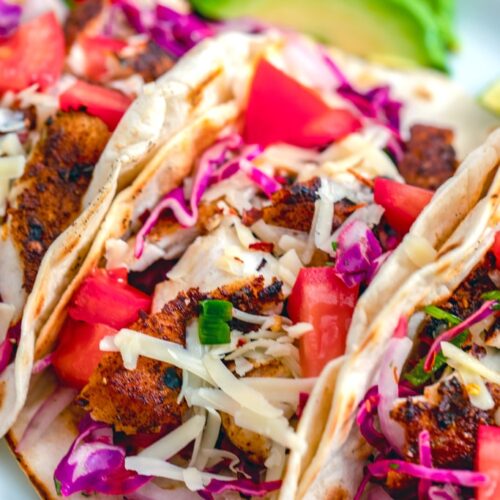 Fish Tacos
Fish tacos are delicious, but fish tacos with cheese and cajun spices are even better! This recipe is so simple, but incredibly fresh and delicious!
Print
Pin
Rate
Ingredients
1

Tbsp

paprika

1

tsp

salt

1

tsp

pepper

1

tsp

garlic powder

½

tsp

red pepper flakes

½

tsp

oregano

½

tsp

thyme

1

lb.

barramundi, mahi mahi, or cod,

skin removed

2

Tbsp

canola oil

1

Tbsp

unsalted butter

2

cups

shredded red cabbage

½

red onion,

thinly sliced (about ¼ cup)

2

scallions,

thinly sliced

2

Tbsp

finely chopped cilantro

2

Tbsp

freshly squeezed lime juice

(from about 1 lime)

6

small (6-inch)

flour tortillas

½

cup

diced tomatoes

½

cup

shredded sharp cheddar cheese (can also use habanero cheddar or pepperjack)
Instructions
In a small bowl, mix together paprika, salt, pepper, garlic powder, red pepper flakes, oregano, and thyme.

Rub spice mix all over both sides of the fish.

Heat canola oil in a large skillet or grill pan over high heat. Once the oil is shimmering, place fish in the pan and immediately add butter. Cook fish for about 4 minutes on one side to blacken, flip and cook for another 3 minutes on the other side. Remove to plate to rest for a few minutes.

While fish is cooking, put shredded cabbage, red onion, scallions, cilantro, and lime juice in a medium bowl. Toss to combine.

Warm tortillas on both sides in a skillet over high heat or in a microwave.

Put some of the cabbage mixture on each tortilla. Using a fork, flake fish and put over the cabbage. Top with tomatoes and cheese.
Notes
Recipe adapted from Stephanie Sokolove