These Honey Bee Cupcakes with White Chocolate Honey Ganache are bee-decorated honey cupcakes with a sweet white chocolate honey ganache filling and vanilla buttercream frosting. Don't forget the honey drizzle on top!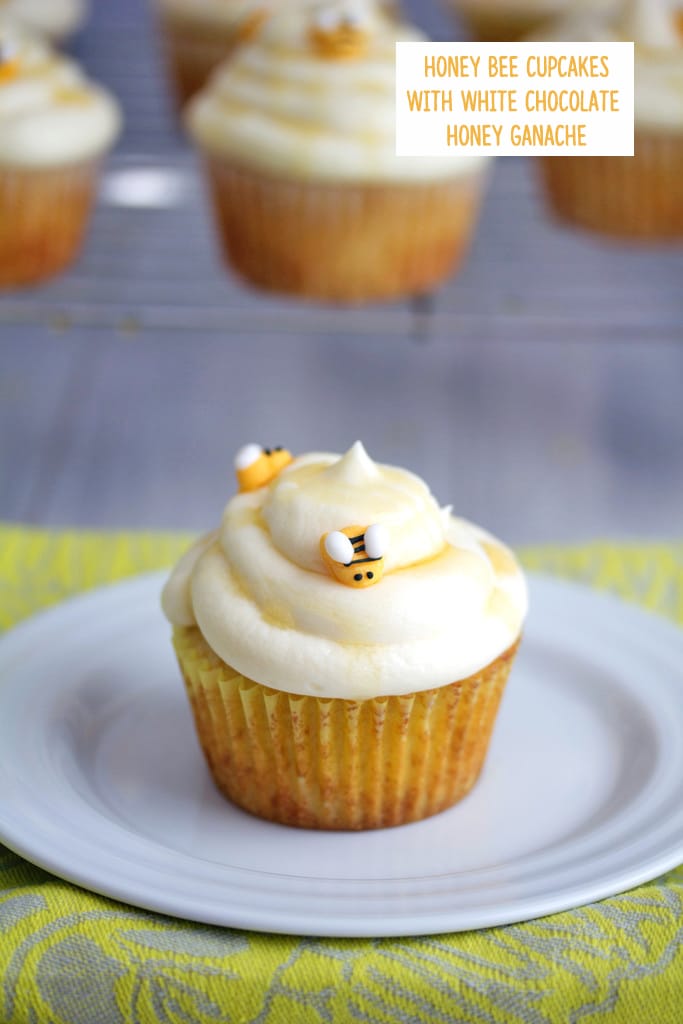 My husband is deathly afraid of bees. Like, it's kind of a joke, but also not really, that he wouldn't hesitate to throw me into the path of an angry bee if it came down to either him or me. On a positive note, he did say that he would jump in front of a bullet for me. I suppose I'd rather get a few bee stings than a gunshot wound, so I'm going to call that true love.
Then again, I've actually never been stung by a bee, so I have a difficult time judging the level of pain a sting would entail. Somehow I think it wouldn't be quite as bad as a gunshot.
Despite the fact that my husband hates bees, he actually likes bee themed things. Does that even make sense? He tried to compare himself to Batman in that Batman hates bats but still wears one on his uniform (learn something new every day! Also, is it actually even called a uniform? costume??). I mean, I love raccoons, but wouldn't exactly want to be stuck in a dark alley with one, so maybe it's kind of like that?
In any event, I hope you won't get mad that I made cupcakes again. I legit cannot stop. There's more where this came from, too. I kind of feel like I'm going back to my roots since I used to be absolutely cupcake obsessed. My love for them has been rejuvenated.
The inspiration for these honey cupcakes came from these bee icing decorations (affiliate link) I picked up at Wilton's Sweet Up. Aren't they absolutely adorable?
Honey Bee Cupcakes with White Chocolate Ganache Recipe
I decided to make these little treats for my husband, featuring his most hated/most loved insect. I added honey into the bee cupcakes and also made a white chocolate honey ganache to fill them with. On top went a simple vanilla buttercream with a little more honey drizzled over the top.
The honey cupcakes are a very simple cupcake recipe that involve the addition of honey. The batter is a pretty honey yellow color!
Once the cupcakes are cooled, you'll need to core the center of each one either with a knife or a cupcake corer. If you're looking for a good cupcake corer, I highly recommend this one (affiliate link). I've been using it for about 10 years!
You can make the white chocolate honey ganache in advance if you want. Otherwise, make it while the cupcakes are baking and then chill it while they're cooling. Remember, you'll want your honey cupcakes to be 100% cooled before you spoon the ganache in!
I pretty much only use Ghirardelli chocolate when it comes to baking these days. It really is the best for melting!
And ganache is so, so easy to make. All you have to do is heat the cream, pour it over the chocolate, let it sit for a minute, and then stir until chocolate is melted and smooth. Don't forget to add a little honey too for some extra sweet flavor.
Then you can spoon that beautiful white chocolate ganache into the cored honey cupcakes!
And whip up a simple buttercream frosting!
I piped the frosting onto the bee cupcakes with a pastry bag fitted with a Wilton 1M tip to make them look a bit like hives. Then I drizzled the remaining 2 Tbsp honey over the tops. And obviously added some buzzing little bees.
Isn't it funny how cute bee themed things are? I mean, they never feature the stinger, do they?
Nope, they're so adorable that you just want to cuddle up with them. Kind of. Or at least you want to cuddle up with the bee cupcake. I think. OK fine, hopefully they'll at least encourage you to remember how absolutely wonderful honey bees are and to do whatever you can to keep them alive (even if you're terrified of them).
These bee cupcakes are absolutely drowning in honey. It's in the cupcake, in the ganache, and in the frosting. And it added a fun bit of sweetness and flavor to the cupcakes.
Who doesn't love a ganache in a cupcake? I usually go with a dark chocolate ganache, but this white chocolate honey one fit the honey cupcakes perfectly.
Yes, I really tried to get a bee hive effect with my frosting. A bee hive with honey dripping out… Because these bees are super busy bees.
Cute cupcakes don't have to be difficult to make... I can't wait to make these pig cupcakes next! I also love these lion cupcakes.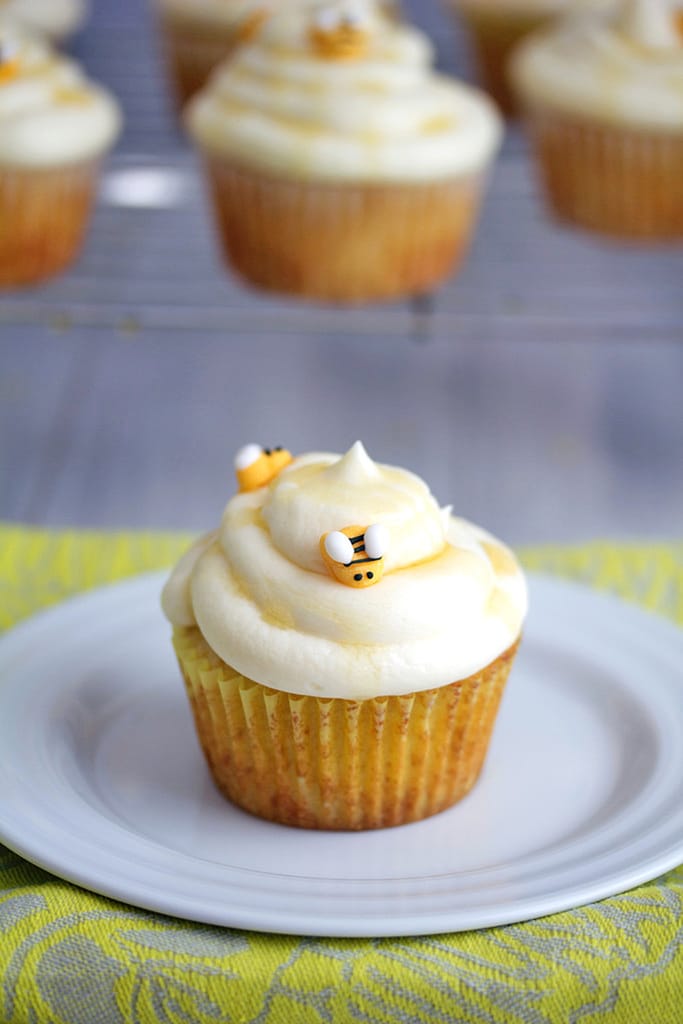 I really do love these little Wilton decorations. But seriously, if your cupcakes actually do have bees on them (and they totally could with all the honey that's been loaded in and on these baked goods), be careful. Like, really careful.
These bees are just icing, which means you can happily eat them without any worry about a stinger to the lip. But honestly, I'd say it's worth the risk. We'll see if my husband agrees!
Are you a bee fan? What about honey?
If you're looking for more fun cupcakes, check out my recipes for Root Beer Float Cupcakes and Funfetti Chocolate Chip Cookie Dough Cupcakes. And for more bee love, check out these adorable Honeycomb Oreo Pops!
📖 Recipe