Soda craving? These Root Beer Float Cupcakes topped with a whipped cream frosting and root beer syrup (and a cherry, obviously) will totally hit the spot!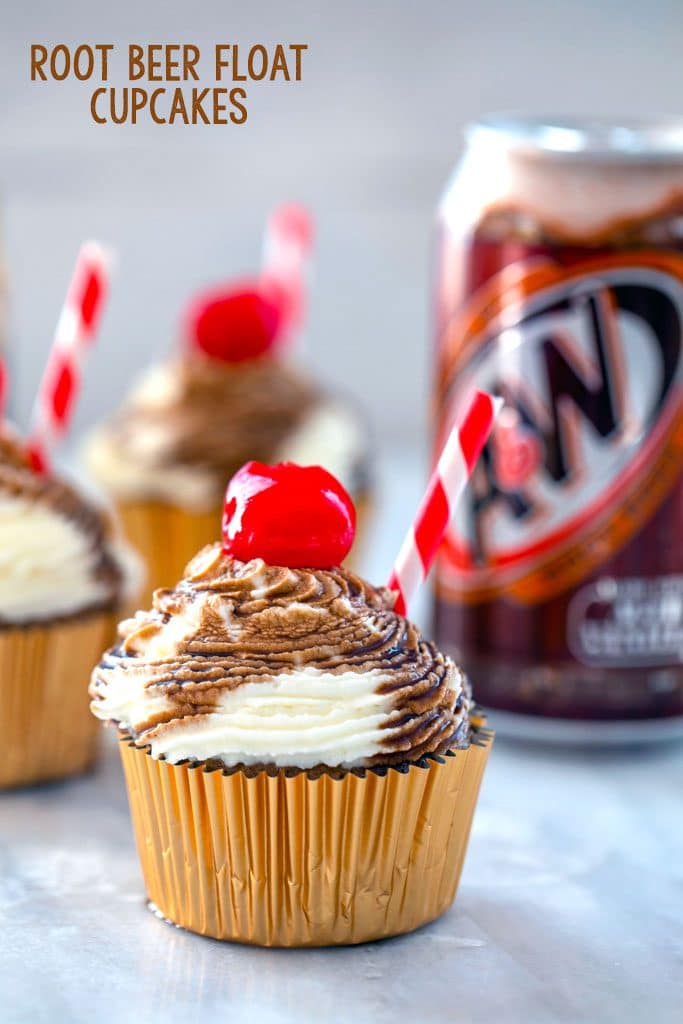 Happy September, y'all!! Also known as my favorite month of the year (despite the fact that I'm legit crying about the end of summer). One of the reasons I love September so much is that I always think of it as a second New Year.
I mean, it's not like I'm heading back to school or sending kids off to school or even really changing much in my life come September, but it just feels all shiny and sparkly and fresh and new. It's the perfect time to re-visit my goals from the beginning of the year (that I've so conveniently forgotten about), re-new my commitment to productivity (ugh), and maybe even try to exercise a bit (August was just a tad bit indulgent).
Also, there are only four months left in the year and that absolutely terrifies me considering how fast the first eight flew by.
Though I've already broken out the pumpkin and apples and have some fun fall recipes coming up for you soon, I want us all to ease into the season with a food that knows no season... Cupcakes.
More specifically, root beer float cupcakes. This recipe has been in my head for years and I finally decided to take the plunge and make them.
No, these cupcakes aren't going to help you get this "September New Year" off to a healthy start... But it will be a very happy start. And you'll notice I said I want to try to exercise more; not stop eating cupcakes. Important semantics, my friends.
I don't really drink soda (aside from tons of soda water), but ever so occasionally I crave it. And when I do, it's almost always root beer (or Dr. Pepper) that I crave. When it's incredibly hot out (it may be September, but it's still ridiculously hot here in New England!) and I'm parched, a nice cold glass of root beer totally hits the spot.
Root Beer Float Cupcakes Recipe
There are a few important elements in this cupcake recipe. I did use real root beer to make them, but I also added root beer extract (here's an affiliate link to a quality root beer extract) because I really wanted to up the root beer flavor and it's tough to do with the soda alone.
The topping is a simple whipped cream frosting as I really wanted the cupcakes to mirror a real root beer float.
Of course there's a cherry on top because no matter how you feel about maraschino cherries, you absolutely cannot have a root beer float without them. I was slightly disappointed that the cherries I bought didn't have stems, but what can you do?
Oh, there's one other really important element to this recipe... That root beer syrup! More on that in a minute.
The cupcake recipe is a typical cupcake recipe, but I do use my favorite egg white technique. I find cupcakes to be so much lighter and moister (literally just had to make sure that's actually a word) if you beat egg whites in a separate bowl and then fold the stiff egg whites into the batter.
And the whipped cream frosting is simply heavy cream, confectioners' sugar, and vanilla. Easy!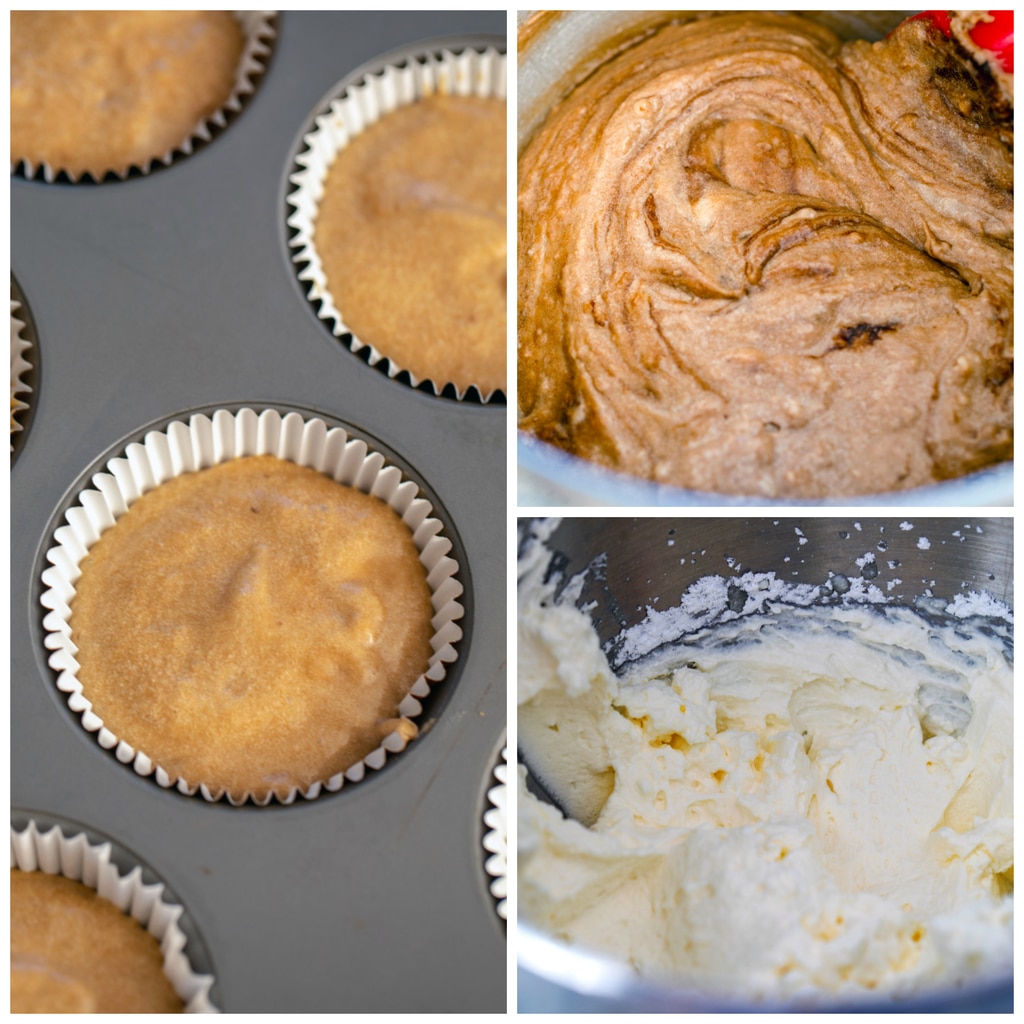 OK, want to talk about that root beer syrup? I still have some sitting in a jar in my fridge and I'm currently contemplating how root beer coffee would taste. The syrup is that delicious.
I first attempted to reduce and thicken actual root beer, but no matter how long I simmered it, it just wouldn't get syrupy enough for me. So, I decided to simply make a root beer flavored simple syrup with the root beer extract. Incredibly easy and exactly what I was hoping for.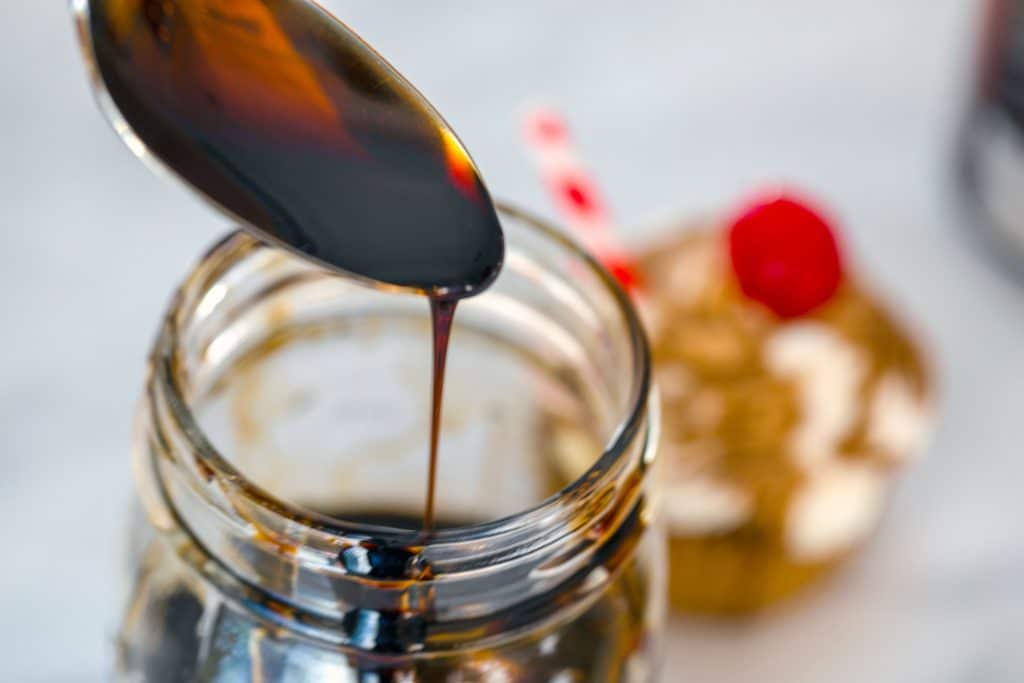 When the root beer float cupcakes cool, you top them with whipped cream frosting, a nice healthy dose of root beer syrup, and a cherry.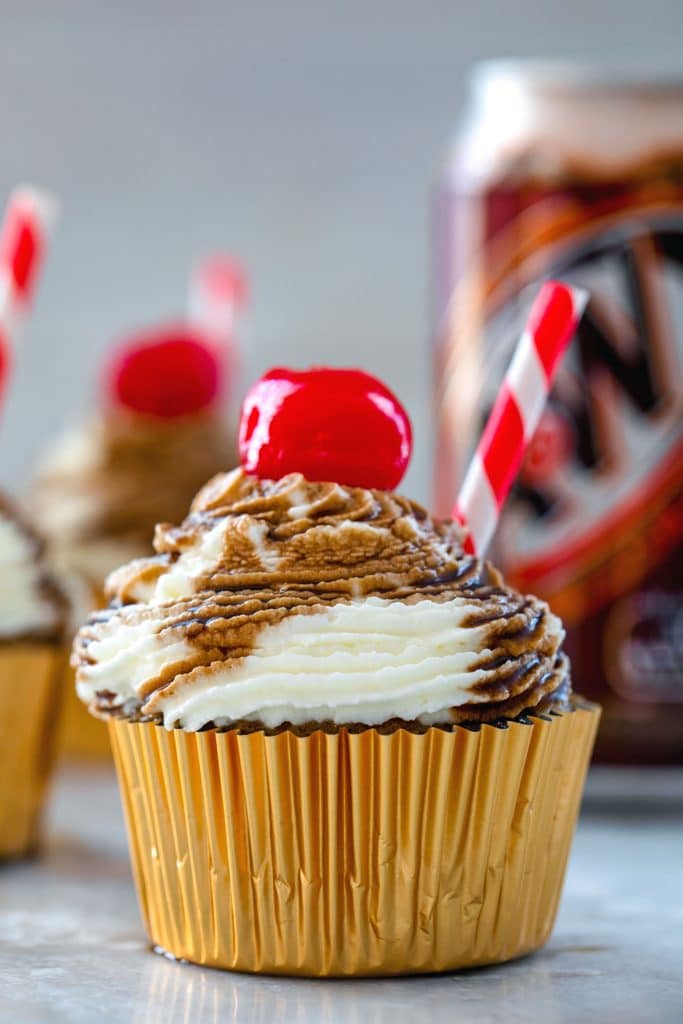 I actually unknowingly made these on Root Beer Float Day (August 6), which felt like some kind of sign that these were meant to be. I admit I enjoyed quite a few myself, but I also shared my batch and even brought a couple to my 4-year-old nephews for a special treat when I was babysitting.
Sometimes I think the boys are my best taste testers because they're so blatantly honest and will tell me something is "gross" if they don't like it. I wasn't quite sure how they'd feel about root beer float cupcakes a they've never had soda before (however, when Henry had surgery earlier this summer and was asked which flavor he wanted for his anesthesia, he chose root beer. Ha!).
At first I think they were more excited about the cherries on top, but then they ate these cupcakes right up and asked for seconds. And since I'm their aunt, I totally let them (to be fair, I only gave them each a half to start).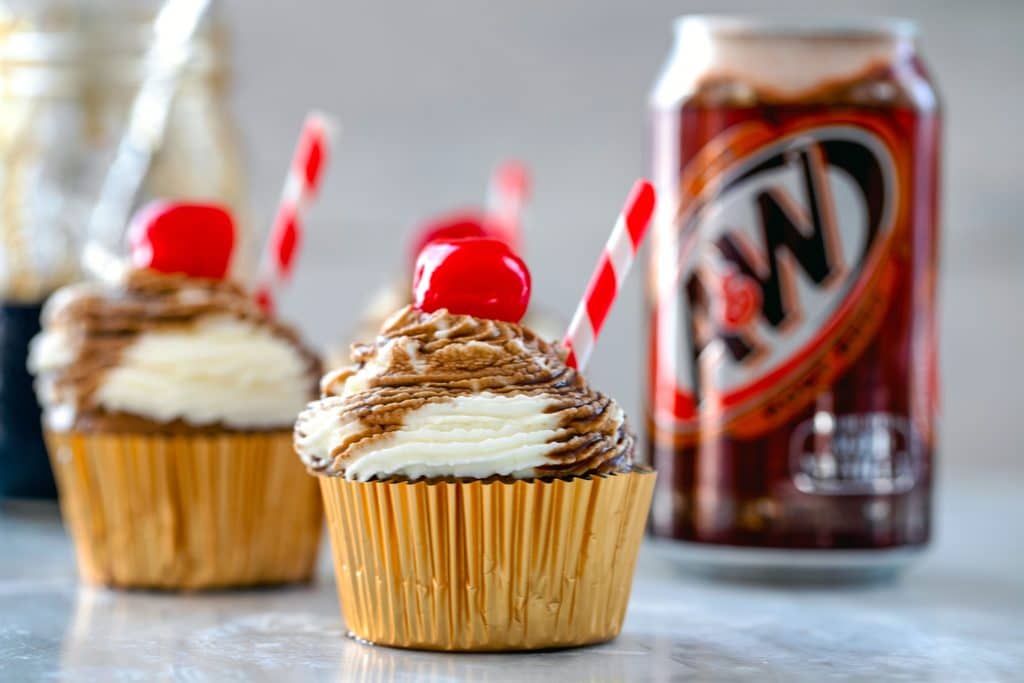 So, I can happily tell you that these cupcakes are both kid- and adult-approved. The root beer flavor pretty spot-on... It's full-bodied and apparent, but not overwhelming at all.
And if for any reason you want more, simply add on more of that root beer simple syrup. Or just grab a spoon and drizzle it into your mouth. I'm not going to pretend like I didn't.
I'm so happy I finally checked these root beer float cupcakes off my baking bucket list and I know they're a recipe that will be making many more appearances in my kitchen.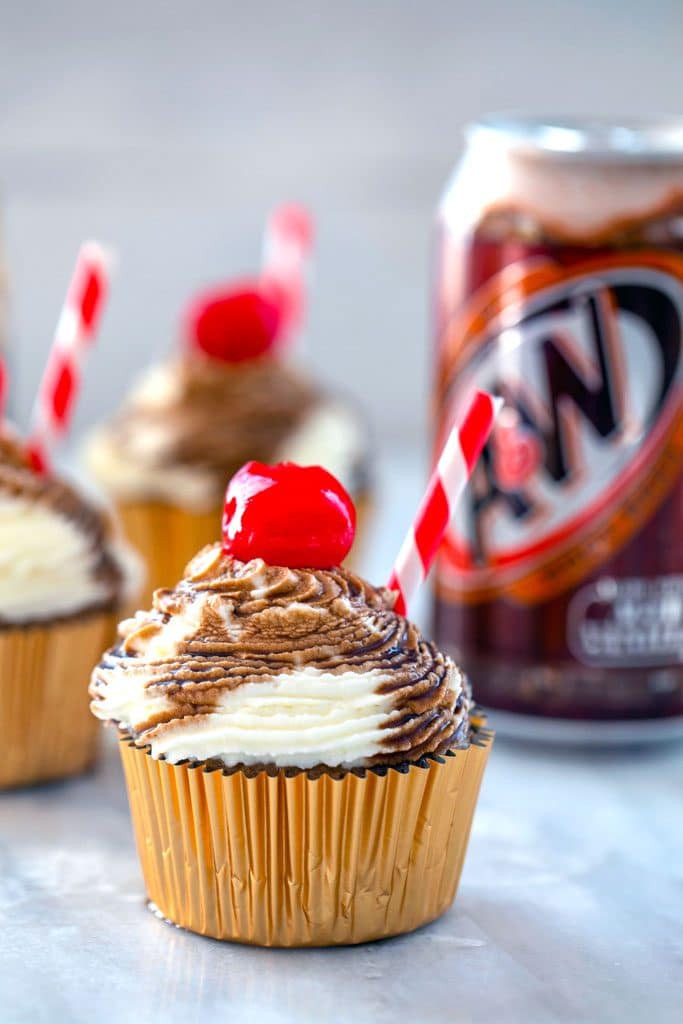 Also not sad about the fact that I had to buy a 12-pack of root beer to test this recipe and now I have several extra cans residing in my fridge, just waiting for me to get a craving.
A very happy September New Year to me! (OK, but seriously, I need to go exercise like ASAP). And then eat more root beer cupcakes.
What kind of soda do you crave most?
If you're looking for more fun cupcake recipes, check out my recipe for Sweet Tea Vodka Cupcakes or Mint Chocolate Ice Cream Cupcakes. Next, I really want to try these Cherry Coke Cupcakes from Midwestern Moms!
📖 Recipe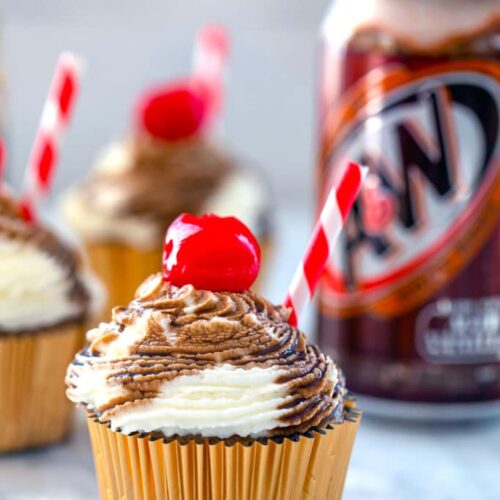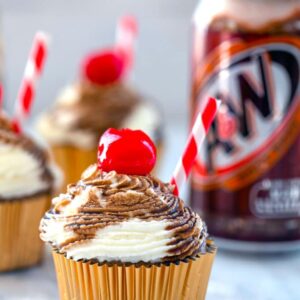 Root Beer Float Cupcakes
Soda craving? These Root Beer Float Cupcakes topped with a whipped cream frosting and root beer syrup (and a cherry, obviously) will totally hit the spot!
Print
Pin
Rate
Ingredients
6

Tbsp

unsalted butter,

room temperature

¾

cup

granulated sugar

1 ⅓

cups

all-purpose flour

1 ½

tsp

baking powder

½

tsp

salt

½

cup

whole milk

½

cup

root beer

1

Tbsp

root beer extract

2

large egg whites

12

maraschino cherries
Whipped Cream Frosting
1 ½

cups

heavy cream

1

cup

confectioners' sugar

1

tsp

vanilla extract
Root Beer Syrup
1

cup

water

1

cup

granulated sugar

2

tsp

root beer extract
Instructions
Pre-heat oven to 350 degrees and line a cupcake pan with paper liners.

Cream butter and sugar in the bowl of a stand mixer or in a bowl with a hand mixer, until light and fluffy.

In a separate medium-sized bowl, whisk flour, baking powder, and salt together.

Slowly mix the dry ingredients into the butter and sugar mixture, alternating with milk and root beer. Add root beer extract and mix until just blended. The batter will be thick.

In a separate large bowl, whisk egg whites with a hand mixer until stiff peaks form.

Gently fold whipped egg whites into the batter until fully combined.

Divide batter evenly among paper liners in prepared pan, filling each about ¾ of the way full.

Bake for about 16-18 minutes, until a toothpick comes out clean.

After cooling in the pan for a few minutes, move cupcakes to wire rack to cool completely.

Fill a pastry bag with whipped cream frosting and pipe frosting around cupcake. If you don't have any pastry bags, you can use a ziplock bag with the corner cut off for easy piping.

Drizzle root beer syrup over cupcakes and top with maraschino cherries.
Whipped Cream Frosting
In the bowl of a stand mixer or in a large bowl with a hand mixer, beat heavy cream until soft peaks form.

Add confectioners' sugar and vanilla to cream and beat until stiff peaks form.
Root Beer Syrup
Combine water and sugar in a small saucepan over high heat. Bring to a boil.

Lower heat and let simmer for about 10 minutes, until sugar is completely dissolved and syrup thickens. Remove from heat and stir in root beer extract.

Pour syrup into a mason jar or heat-proof bowl and let cool completely. Store in fridge until ready to use.
Share a Photo of Your Finished Recipe!
Mention @wearenotmartha and share a photo if you've made the recipe!