With this Buffalo Chicken Pasta in the Instant Pot, dinner will be ready in no time at all... And you won't be left with a sink full of dirty dishes!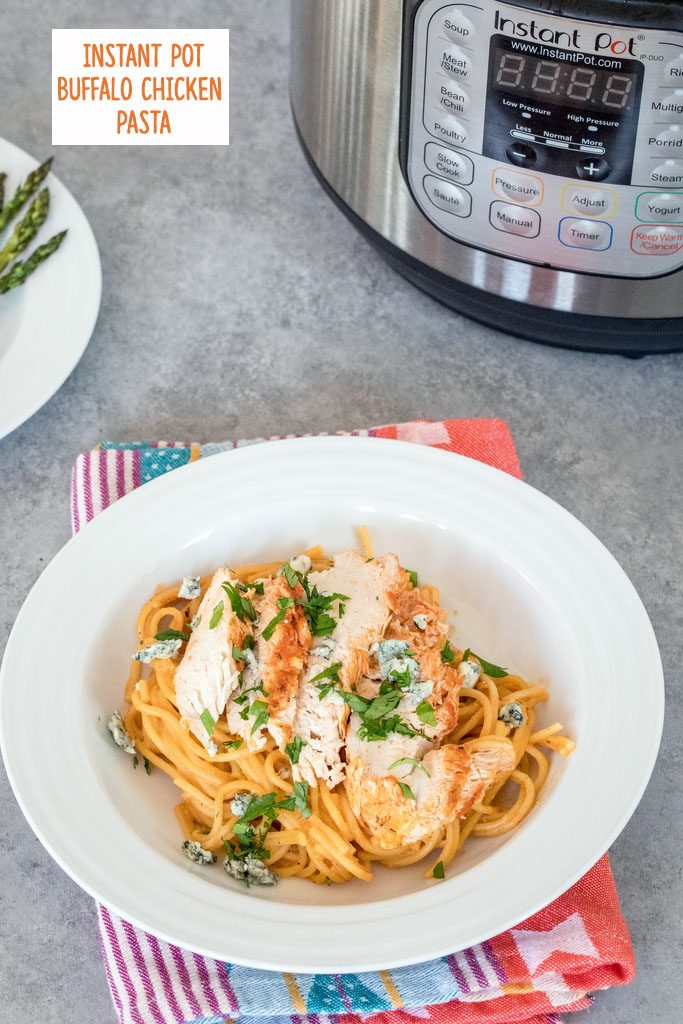 You know you have issues when you spend an hour Googling tips for how you can manage to enjoy your vacation while you're missing your dog. Desperately hunting for some kind of magical technique that will allow you to stop feeling like a guilty dog mom and get into full-on vacation mode.
Because I'm going to be spending a glorious couple weeks in Hawaii (Maui and the Big Island... give me all your travel tips, please!) and I absolutely cannot wait. But man, every time I think about leaving little Winnie, my heart breaks. Lucky for us, my amazing sister and brother-in-law will be taking care of her and I know she'll be more than fine (her little cousins will keep her quite busy!); I just need to get over my weird issues. Sigh.
With tons of packing and prepping on my plate, I've been on the hunt for some quick and easy dinner recipes... And ones that don't leave 3902 dirty pots and pans in my sink. Enter the Instant Pot. I can't believe it has almost been a year since my sister gifted it to me. I've been loving it (especially for perfect hardboiled eggs), but don't think I've been utilizing it to its full potential, so I've recently been experimenting more.
I've now made this Instant Pot Buffalo Chicken Pasta a few times and love it for so many reasons. It's so easy and is ready so quickly. But most importantly, it's all made in the Instant Pot, so you literally have ONE dish to clean. True love. OK, so you'll probably need a cutting board, too, but I can handle that.
If you're looking for more great Instant Pot options, try this easy and delicious Instant Pot Pepper Steak or these Instant Pot Ramen Noodles.
INSTANT POT BUFFALO CHICKEN PASTA RECIPE
A few important notes to make this Instant Pot buffalo chicken pasta as delicious as possible:
Make sure you season your chicken well. Obviously the chicken here isn't fried or breaded like many buffalo chicken dishes are, but with the right seasoning, it's perfect. And way healthier, too.
Break your spaghetti in half and lay it in the Instant Pot sort of jumbled up and not all going in the same direction. Spaghetti is a tougher pasta to cook in the Instant Pot and if you put it in without mixing it up, it can end up sticking together when cooking. Also, always make sure it's totally covered in liquid, but that shouldn't be a problem here.
When you take the cover off your Instant Pot, you might think "oh, I used way far much liquid."But then you'll stir the spaghetti and realize it was the perfect amount.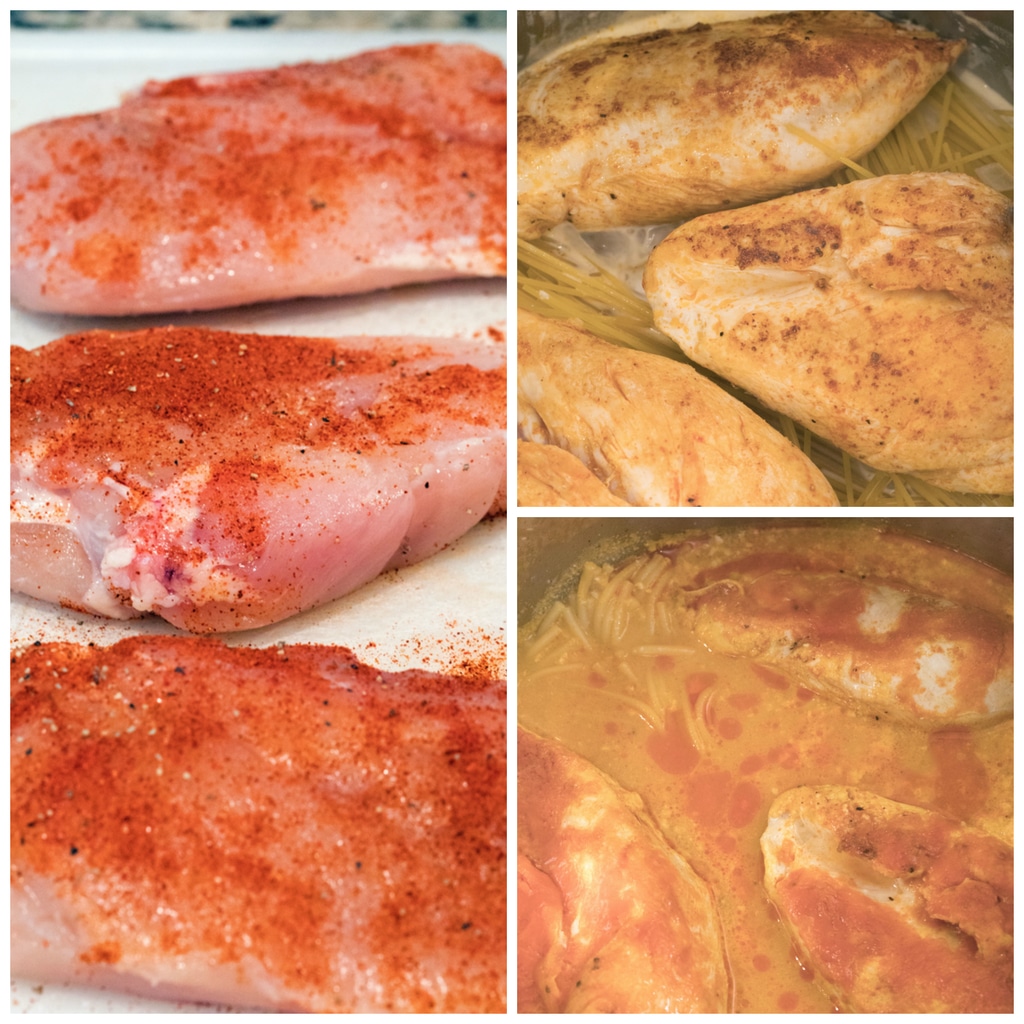 After you sauté your chicken for a few minutes (in the Instant Pot!), this meal only requires 7 minutes at pressure (with it taking about 7 minutes to get to pressure) and then 8 minutes of natural release before you manually release it the rest of the way. A quick stir of the pasta, slicing of the chicken, and sprinkling of the blue cheese, and dinner is served.
Well, I do recommend serving a veggie on the side since this meal is pretty absent of any. Asparagus goes wonderfully!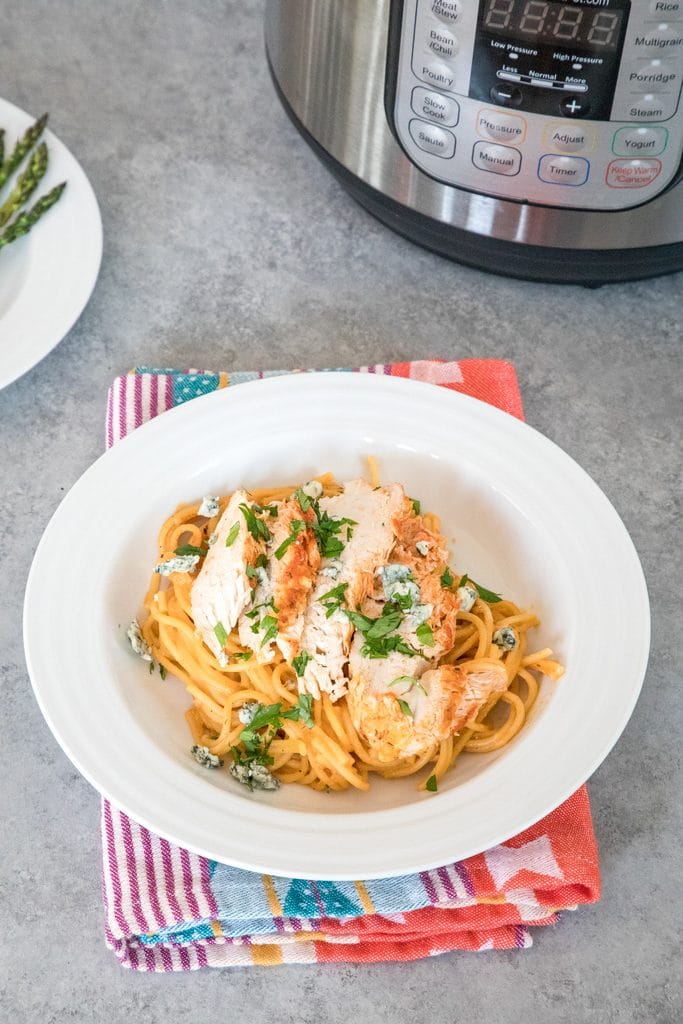 I haven't cooked a lot of chicken in the Instant Pot and was seriously stunned by how well this Buffalo Chicken Pasta came out each time I made it. I'm not always the biggest chicken breast fan since it can easily get dry and not be very flavorful, but it's absolutely awesome here. The chicken was some of the most moist chicken breast I've ever had. And the flavors were wonderful, in part due to the seasoning.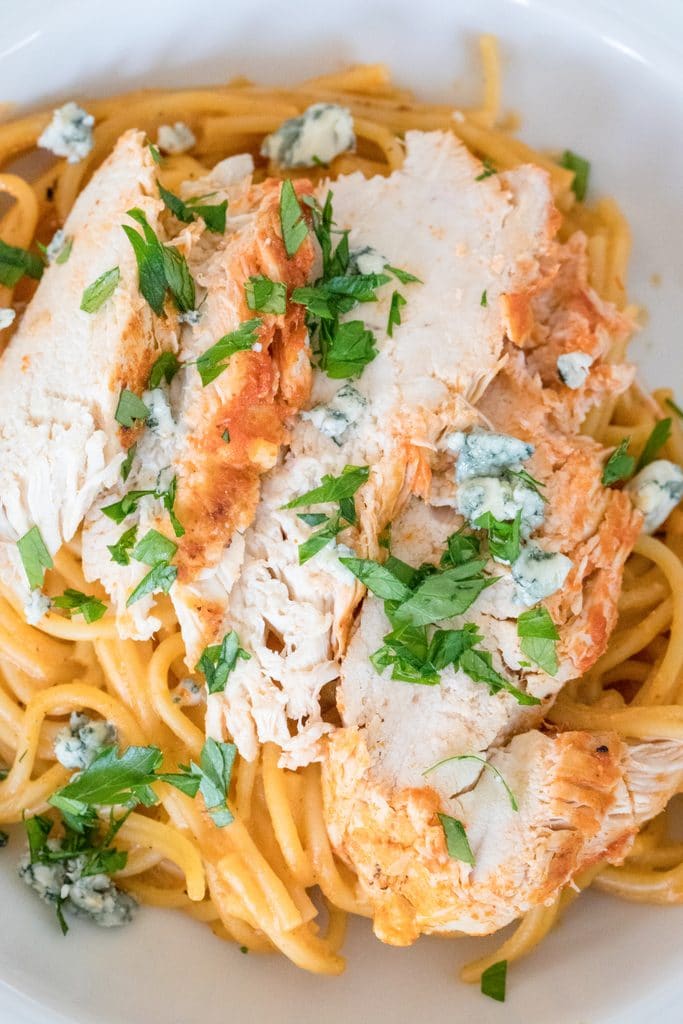 Speaking of my lovely dog, she clearly enjoys Buffalo Chicken Pasta in the Instant Pot quite a bit, too. Due to the fact that I left a bowl of it on my low-to-the-ground photography table and she managed to take pretty much all of the chicken off the top before Chris and I noticed her licking her lips. I thought it might be too spicy for her, but she didn't seem to mind (side note: there are tons of recipes for dog food made in the Instant Pot, so I may have to get on this!).
But Chris is the true test since he's a buffalo chicken fanatic and a bit more of a discerning diner than Winnie. So, I was thrilled that he ate a full plate, asked for seconds, and claimed he was in love (with the buffalo chicken pasta, not me... but I'll take it). And then he got excited when I told him I had to tweak a few things and would need to make it again. Instant Pot Buffalo Chicken Pasta for dayyyz.
In addition to the chicken, I absolutely loved the light creaminess and spice of the pasta and obviously the final kick of the blue cheese. Also the fact that this dinner makes the perfect lunch leftovers for the rest of the week.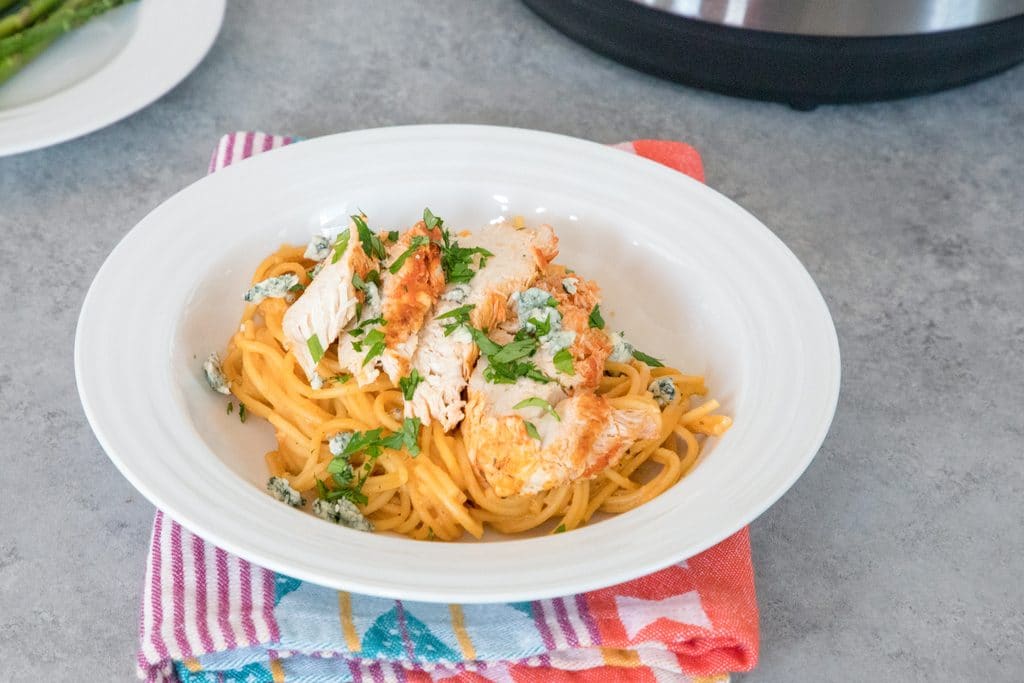 I feel like this is opening up all kinds of Instant Pot doors to me. Recipe development is a little bit more difficult with the Instant Pot since you really have to get the timing right and can't just pop your meat in for a few more minutes if it's undercooked. Nor can you check it partway through cooking to make sure it's not going to be overcooked.
But I've got a lot more ideas up my sleeve for recipes that will cut down on time and dirty dishes. My baby back ribs in the Instant Pot have a bit more of a summery kick (due to the watermelon BBQ sauce and beer), but they can also easily be done with a store-bought BBQ sauce and any beer of your choice.
But for now, I'm going to have to leave my Instant Pot behind to indulge in a whole lotta sushi and poké and shaved ice while I'm in Hawaii. If you've been to either the Big Island or Maui and have other food recommendations for me, please send them my way! Or you know, tips on how not to miss my dog so freaking much.
Do you have an Instant Pot and if so, what's your favorite thing to cook in it?
For something a little sweeter, try my Pumpkin Pie Applesauce in the Instant Pot. I'm also really excited to use my Instant Pot to make this Homemade Chicken Stock from Will Cook for Smiles!
📖 Recipe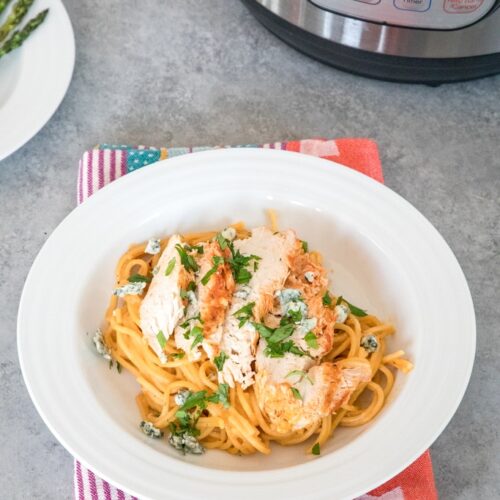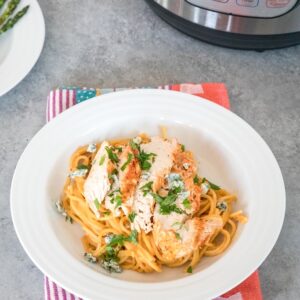 Buffalo Chicken Pasta in the Instant Pot
With this Buffalo Chicken Pasta in the Instant Pot, dinner will be ready in no time at all... And you won't be left with a sink full of dirty dishes!
Print
Pin
Rate
Ingredients
½

tsp

cayenne

½

tsp

salt

¼

tsp

black pepper

¼

tsp

garlic powder

1 ½

lbs

boneless skinless chicken breast

(about 3 large breasts)

1

Tbsp

olive oil

1

cup

diced onion

3

garlic cloves,

minced

1 ½

cups

half and half

2

cups

unsalted chicken broth,

divided

1

lb

spaghetti

¾

cup

buffalo sauce

(I use Frank's Red Hot)

¼

cup

crumbled blue cheese

2

Tbsp

chopped parsley
Instructions
In a small bowl, mix together cayenne, salt, black pepper, and garlic powder together.

Season chicken breasts on both sides spice mixture.

Press the sauté button on the Instant Pot and wait for it to say "hot." Add olive oil and place chicken breasts in Instant Pot. Cook for about 2 minutes before flipping and cooking an additional 2 minutes on the other side. Remove from pot to separate plate.

Add onion and garlic to Instant Pot and let cook for one minute.

Pour half and half and ½ cup chicken broth into pot and bring to a boil. Deglaze by scraping the brown bits off the bottom of the pot.

Break spaghetti in half and place in Instant Pot. Try to scatter the spaghetti in different directions so it won't clump up when cooking. Top pasta with chicken breasts.

Pour in remaining 1 ½ cups chicken broth and buffalo sauce.

Press "Manual" on Instant Pot and set for 7 minutes. When time is reached, let Instant Pot naturally release pressure for 8 minutes, before manually releasing it the rest of the way. Open pot.

Remove chicken breasts to cutting board; slice. The pasta may look very liquid-y, but if you give it a couple stirs, the sauce will completely coat spaghetti.

Serve pasta on individual plates or bowls and top with sliced chicken. Sprinkle crumbled blue cheese and chopped parsley over the top.

Share a Photo of Your Finished Recipe!
Mention @wearenotmartha and share a photo if you've made the recipe!