What could be better than baby back ribs made with watermelon beer and slathered in watermelon BBQ sauce? Watermelon Beer Baby Back Ribs in the Instant Pot!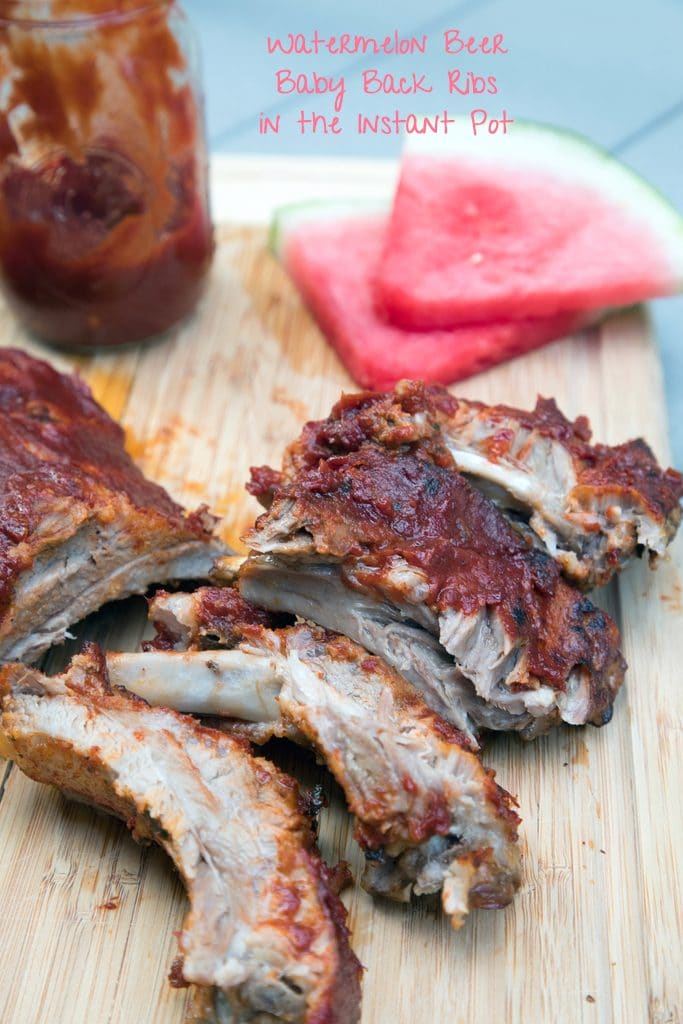 Do you guys love or hate that there's a "food holiday" for pretty much every food in the world? I have to admit that, while I know it's totally ridiculous, I also kind of love it. The "awareness day" trend, in general, is kind of strange, but in a time where "content is king," I get it. I'm also a little ashamed to admit that I've helped create new awareness days for clients in my marketing job. I thought I was better than that, but nope, I'm not. The more reasons to celebrate, the better, in my eyes!
But some of the food holidays totally confuse me... Like the fact that National Gingerbread Day is on June 5. Like, who on Earth is making or even thinking about gingerbread in June?? And the fact that National Gazpacho Day is December 6. I mean, what is gazpacho if not a delightful cold summer soup made with garden fresh fruits and vegetables? But I also love when food holidays just make sense. National Watermelon Day is today, August 3. And that's just so right. It's so right that was planning to post this watermelon recipe anyway, before I even knew it was National Watermelon Day. Kind of like National Coffee Day being on my birthday, some things are just meant to be.
In addition to being all about the watermelon, this is my first Instant Pot recipe on the blog! If you don't have an Instant Pot, you can feel free to grill these oven-bake these ribs. But I also recommend you get an Instant Pot (in case you aren't aware, Instant Pots are electric pressure cookers). I totally didn't think I needed one as I rarely use my slow cooker and just didn't get the whole deal with appliances. But my sister got me one for Christmas and I find myself using it all the time.. At least once a week to make my weekly hardboiled eggs!
I recently discovered that baby back ribs in the Instant Pot are the most glorious ribs of all. I first made this recipe from I Wash You Dry and it was so delicious that I've made my own variations of ribs in the Instant Pot three times since. This version involves a delicious spice rub, honey, watermelon beer, and watermelon BBQ sauce.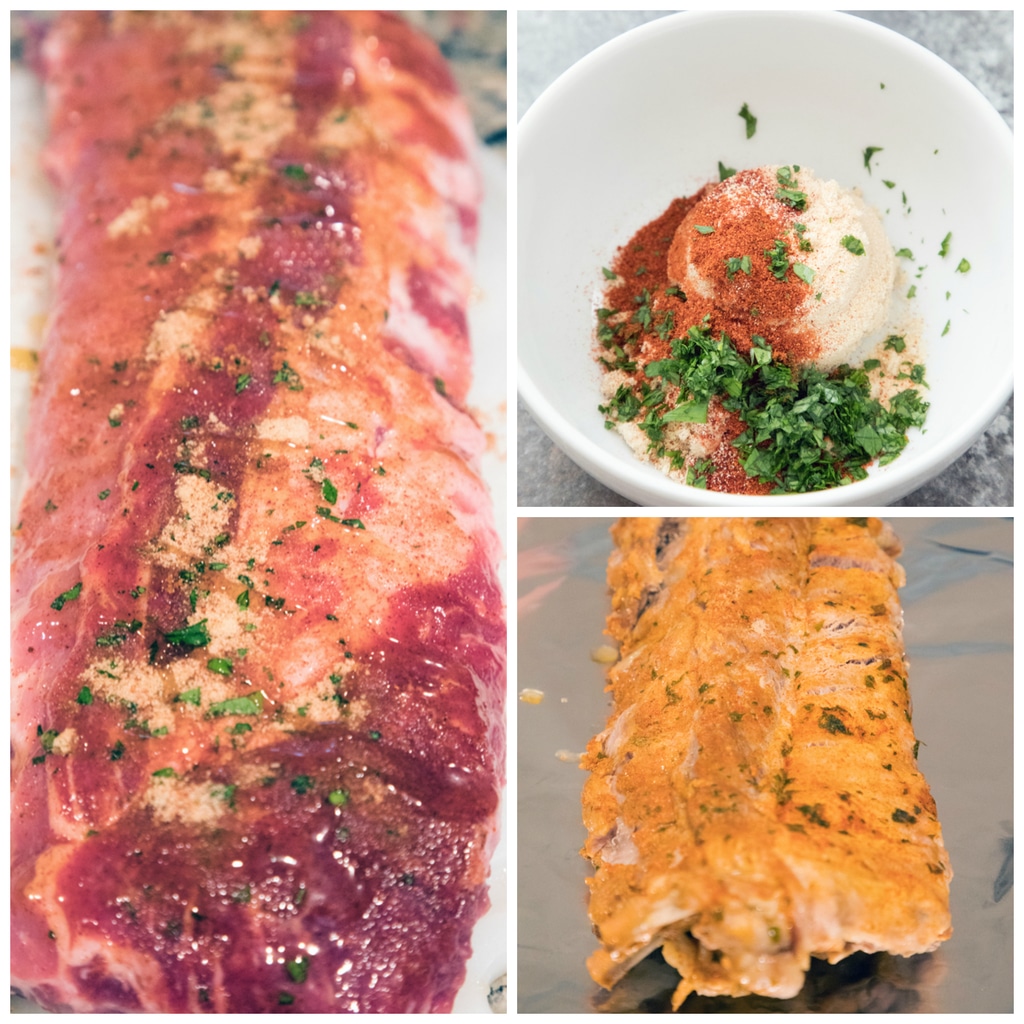 You will need to make your own BBQ sauce for this recipe, but I promise you it's easy and worth it. I ended up with a sauce with a delightful watermelon and tomato base and am basically planning to put it on everything.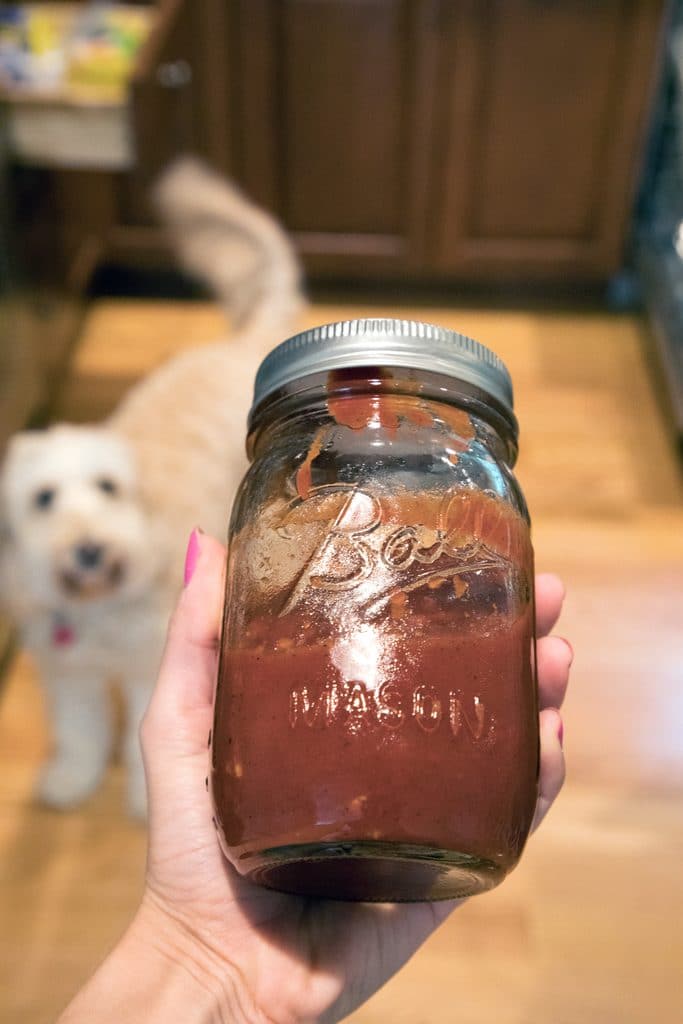 The ribs are cooked in the Instant Pot with a cup of watermelon beer. If you can find it, I highly recommend 21st Amendment's Hell or High Watermelon Beer. If you can't find watermelon beer at all, you can still make delicious ribs in the Instant Pot. Just use any beer of your choice... preferably something summery! After cooking in the Instant Pot, I slathered them in BBQ sauce and also popped them in the oven to broil for a few minutes.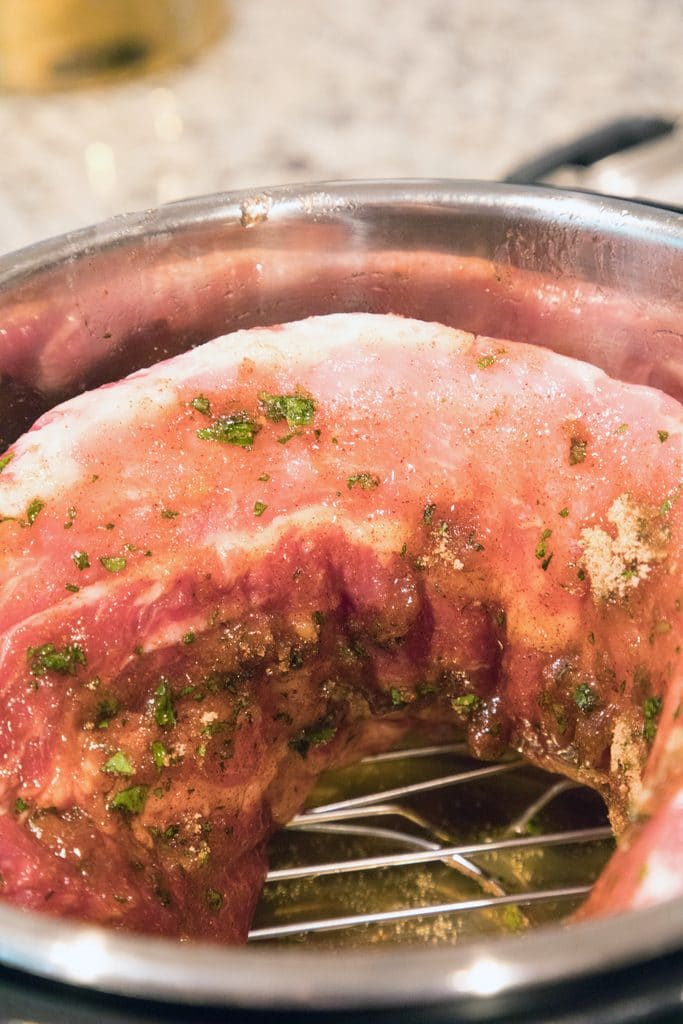 Honestly, I pretty much never made baby back ribs until I got my Instant Pot. And now I've had them a ridiculous amount of times this summer. And I still have about a month of summer left!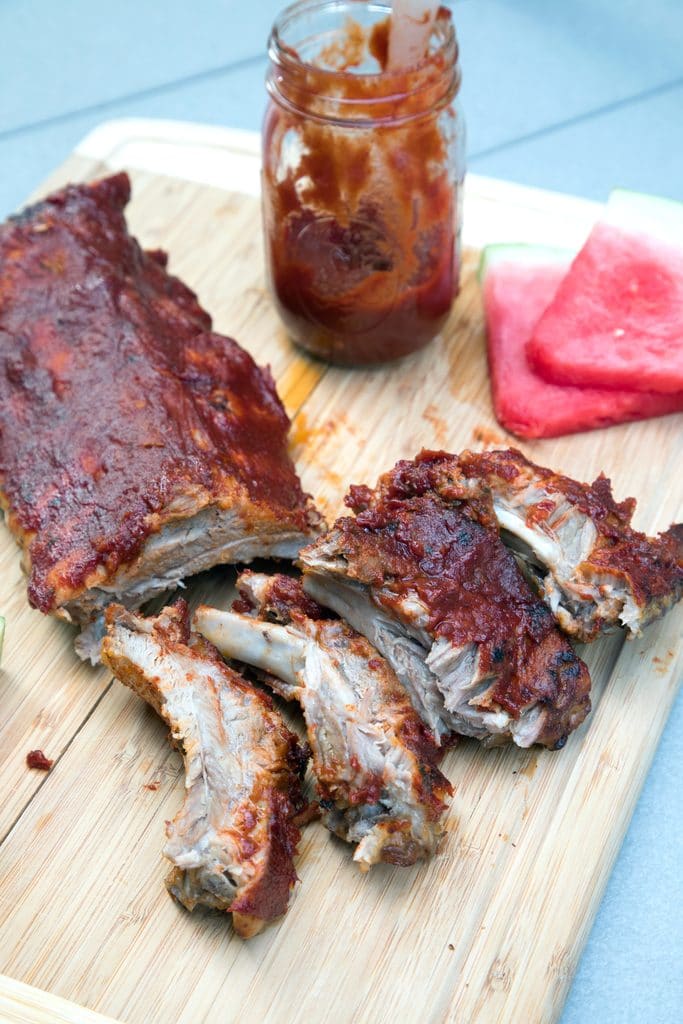 And man, these are tough to resist. I experimented a bit with the Instant Pot and found the timing that worked best for me and resulted in absolutely perfect fall off the bone ribs. There's practically no work involved, especially if you already have that BBQ sauce waiting for you in your fridge. You really just have to rub the ribs with the spice, drizzle with honey, and then pop in the Instant Pot. Easy summertime living.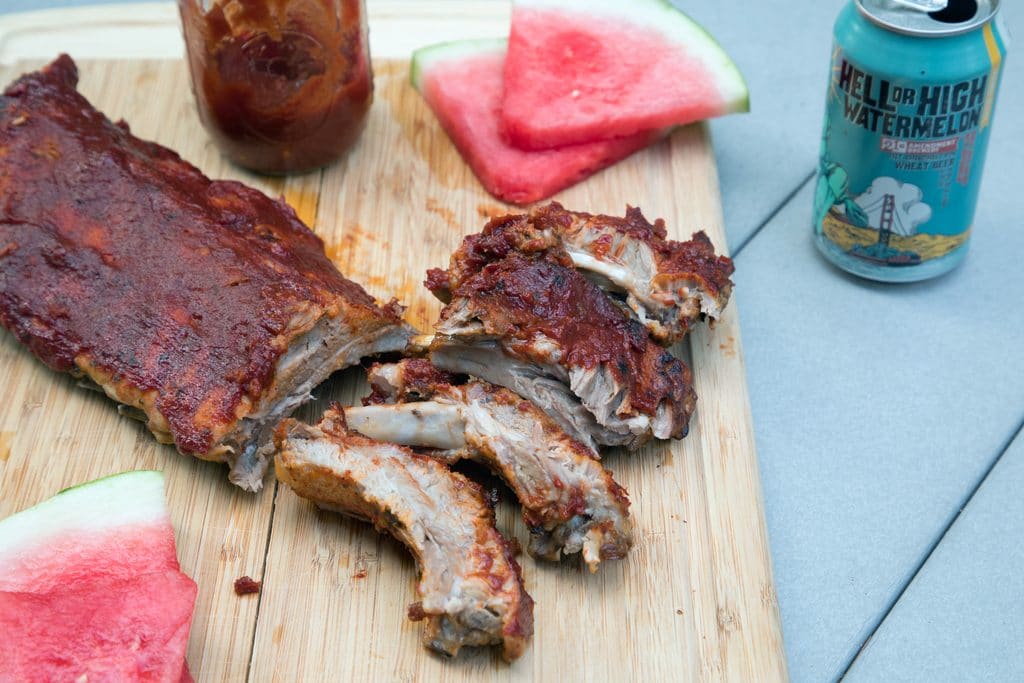 This is one of my husband's absolute favorite beers and drinks of the summer. It's light and easy to sip and now I also know it makes for the perfect baby back ribs.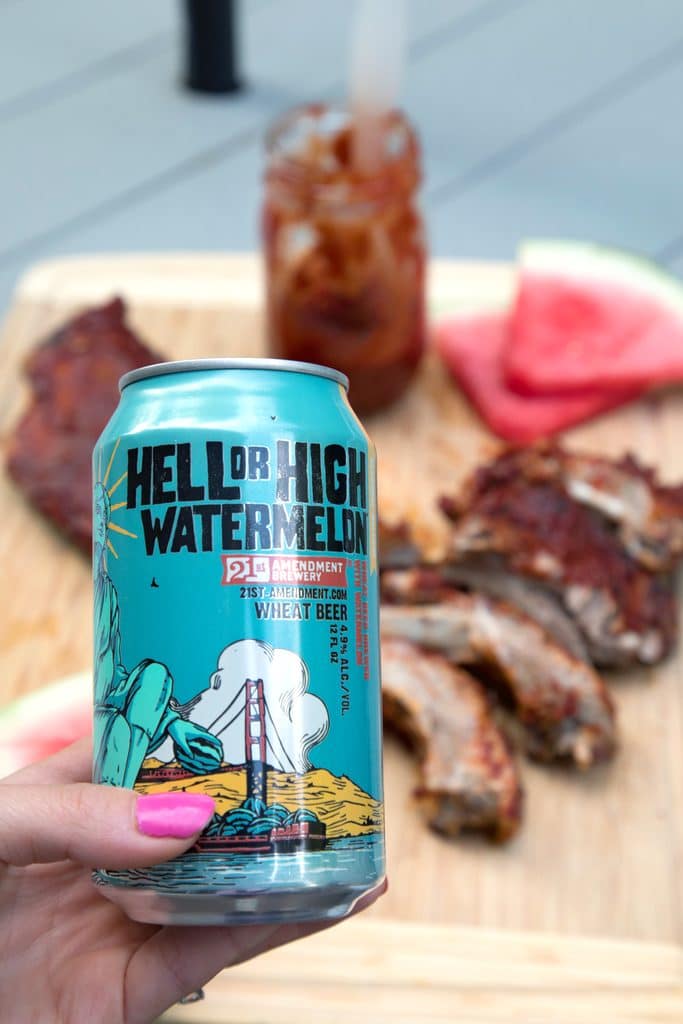 This meal is best enjoyed on a deck or patio. With plenty of napkins. And a side of watermelon because why not? I'm saying that my recipe serves 2-3 because technically, it's pretty easy to eat half a rack of ribs. At least for me. If you're having guests, you should probably make two racks of ribs, in which case I recommended cutting the ribs into thirds before putting them in the Instant Pot,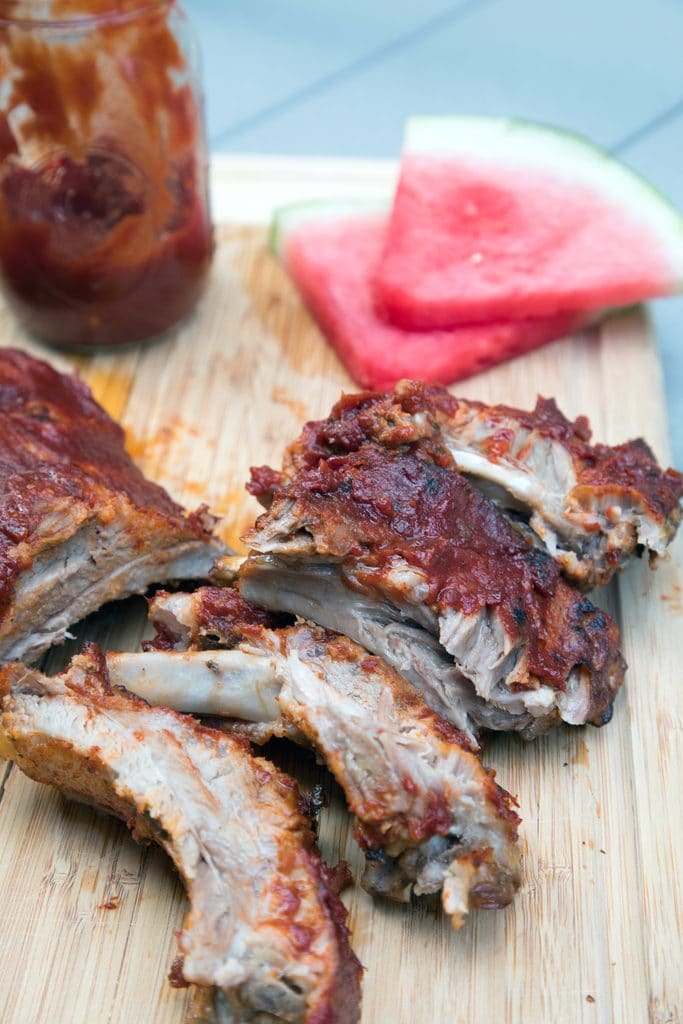 You can't really hate on the fact that it's National Watermelon Day now, can you? Well, you're probably still shaking your head and sighing and thinking, "I'll eat watermelon every darn day I want to, food holiday or not."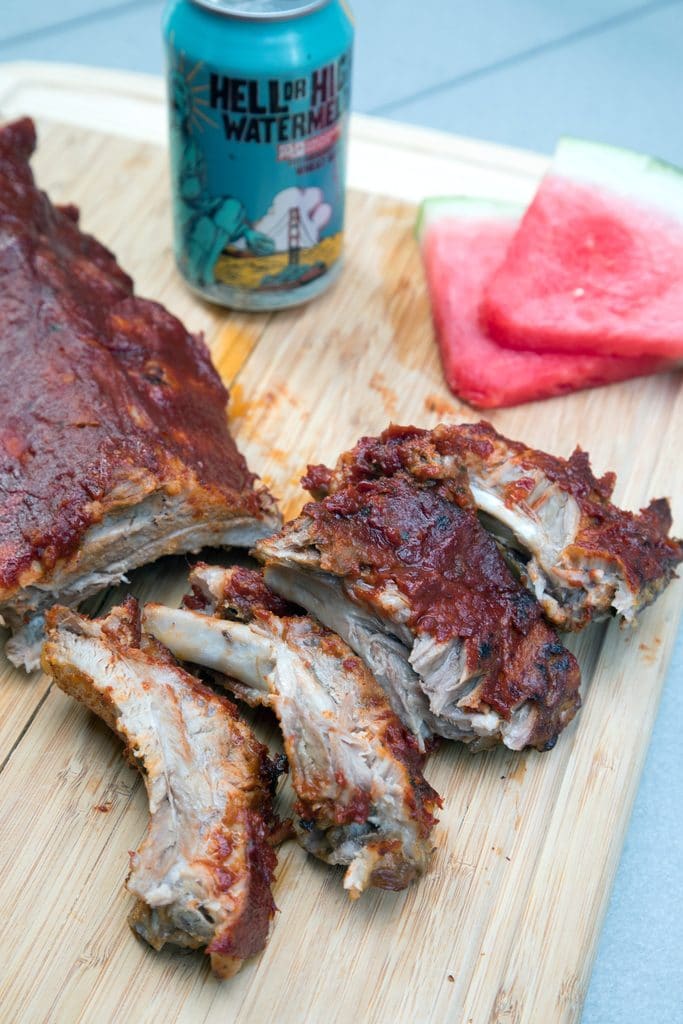 Fair enough. Just as long as you make these Watermelon Beer Baby Back Ribs in the Instant Pot. I'm extra excited because this little appliance means I'm going to be having baby back ribs year round! Perhaps I'll celebrate a year of food holidays in my Instant Pot (kind of kidding, but also kind of thinking that would be a ridiculously successful blog). In any event, Happy Watermelon Day! Though, if you're reading this on August 4, it's now officially National Chocolate Chip Cookie Day (and Friday!), so please celebrate accordingly.
Do you have an Instant Pot? If so, share your Instant Pot recipes with me!
📖 Recipe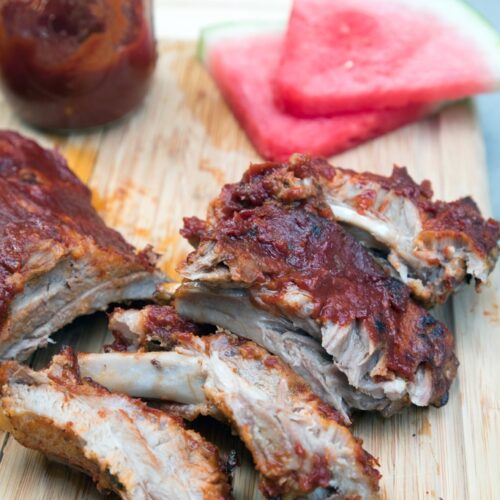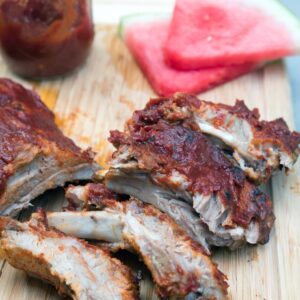 Watermelon Beer Baby Back Ribs in the Instant Pot
What could be better than baby back ribs made with watermelon beer and slathered in watermelon BBQ sauce? When those Watermelon Beer Baby Back Ribs are made in the Instant Pot!
Print
Pin
Rate
Ingredients
1

rack baby back ribs

⅓

cup

packed light brown sugar

1

tsp

cayenne powder

¼

tsp

smoked paprika

¼

tsp

garlic powder

¼

tsp

ground black pepper

2

Tbsp

honey

1 ½

cups

watermelon beer

(or similar)

⅓

cup

Watermelon BBQ Sauce

(recipe below)
Watermelon BBQ Sauce:
1 6

oz.

can tomato paste

1

cup

watermelon juice

(purée watermelon in blender)

2

cloves

garlic,

minced

2

Tbsp

light brown sugar

2

Tbsp

apple cider vinegar

1

Tbsp

Worcestershire sauce

1

tsp

chili powder

½

tsp

paprika

½

tsp

chipotle powder
Instructions
Pat ribs dry with paper towels. If not already done, remove the thin membrane attached to the underside of the ribs by sliding tip of a knife under the membrane, lifting, and loosening until it breaks. Use a paper towel to grab it and pull it off.

In a small bowl, mix together brown sugar, cayenne, smoked paprika, garlic powder, and pepper.

Season the ribs all over and then drizzle honey onto both sides of the rack.

Put steaming rack in the Instant Pot and place rack of ribs on it, wrapping them around the pot. If you're doubling this recipe, I recommend cutting racks into thirds and placing them on steaming rack.

Pour watermelon beer (or any other type of beer) into the Instant Pot.

Close lid and vent and press manual button to set to 22 minutes. Let pressure release naturally for 6 minutes, before quick releasing it the rest of the way.

Carefully remove ribs from Instant Pot, using tongs and/or a spatula and place meat-side-up on foil-lined baking sheet.

Brush ribs with Watermelon BBQ Sauce (or BBQ sauce of choice) and place in oven under broiler for about 5 minutes.
Watermelon BBQ Sauce:
Add all the ingredients to a medium-sized saucepan. Bring mixture to a boil before lowering heat to a simmer.

Let simmer for about 15 minutes, stirring frequently.

Remove BBQ sauce to a jar and keep stored in the refrigerator.
Share a Photo of Your Finished Recipe!
Mention @wearenotmartha and share a photo if you've made the recipe!