What's better than a jelly doughnut? A jelly doughnut in cupcake form! These Jelly Doughnut Cupcakes don't require frying and have the added bonus of vanilla buttercream in addition to the sugar topping.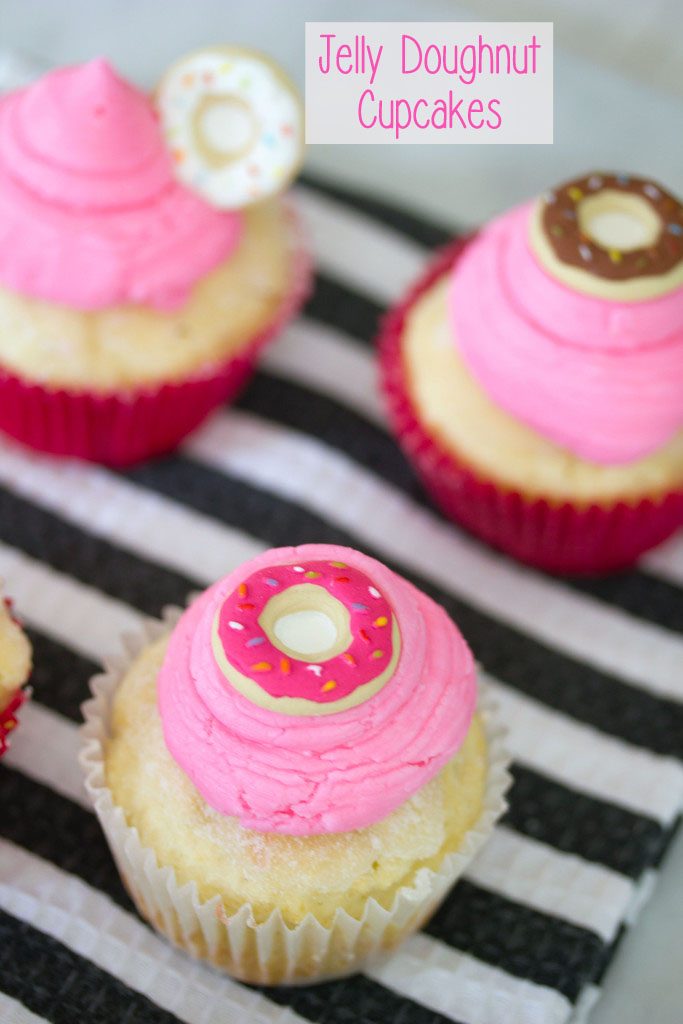 When someone presents you with a large box of doughnuts of mixed variety, which flavor do you immediately choose? Hurry up; you need to choose quickly! There's a line of people behind you waiting to grab their own doughnut. And they're getting angry and pushy. Unlike you, they probably have more important things to get to in their morning than choosing the perfect doughnut. And no, you can't change your mind once you pick a doughnut up. Gross. Don't be that co-worker.
If you're me, you legitimately have a hard time deciding. You want to pick up the Boston cream, but then you remember how you always need a nice long nap after you eat a Boston cream doughnut. You almost pick up the strawberry frosted because it's the prettiest (and sprinkles!), but then you go to grab the toasted coconut because you're the weirdo who thinks that's one of the best flavors ever. But just when you're about to grab it, your hand gets a mind of its own and veers toward jelly. The jelly doughnut wins. Pretty much every time.
I don't know what it is about a jelly doughnut that makes my heart sing, but I think it probably has something to do with their fluffiness. And the fact that they're coated in so much sugar, you can actually feel it crunching between your teeth (clearly, I have my priorities straight). And obviously the cool burst of strawberry or raspberry jam that adds a whole other layer of excitement. If you check out my Pinterest page, you'll likely see no fewer than 30 jelly doughnut recipes pinned over time because whenever I see one, I immediately think, "omg I need to make those!!" Like I want to turn my kitchen into a jelly doughnut factory or something (though I really should update the recipe I have published on my blog...). But for now, I'm making Jelly Doughnut Cupcakes.
JELLY DOUGHNUT CUPCAKES RECIPE
These cupcakes are a little bit easier to make than the typical doughnut because you don't have to fry them... But also they have the addition of vanilla buttercream on top. Jelly doughnuts + buttercream = a heaven you didn't even know existed.
The key to the jelly doughnut cupcakes is filling the cupcakes with a little bit of jelly, just like a doughnut.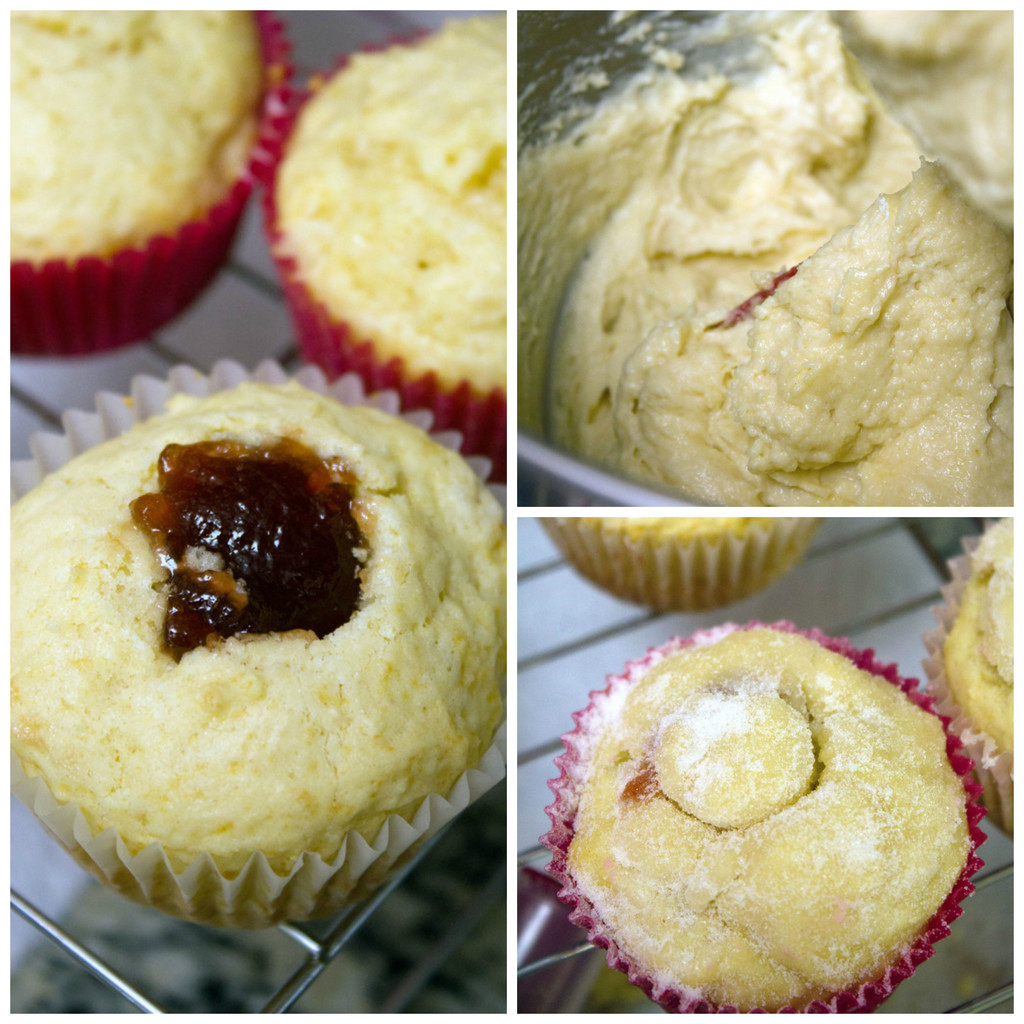 To be honest, the idea for these doughnuts came to me solely because I wanted to use my Wilton doughnut icing decorations (affiliate link). The funny part is that it's not even feasible that any of the icing decorations are actually jelly doughnuts since they're all the typical hole in the middle doughnuts. But that wasn't going to stop me. Next, I vote for Wilton to make a jelly doughnut version of these.
So, what else makes these cupcakes similar to jelly doughnuts? There's the obvious jelly in the middle, bu I also coated the tops of the cupcakes in sugar. Jelly doughnuts don't typically have icing, which is probably the only negative thing they have against them... But I fixed that issue right up with a nice dollop of vanilla buttercream. Pink, of course. I used the Wilton Color Right Color Performance System (affiliate link) to get the frosting pink. This is my favorite food coloring on Earth and I swear it's made my baking life so much easier since I discovered it.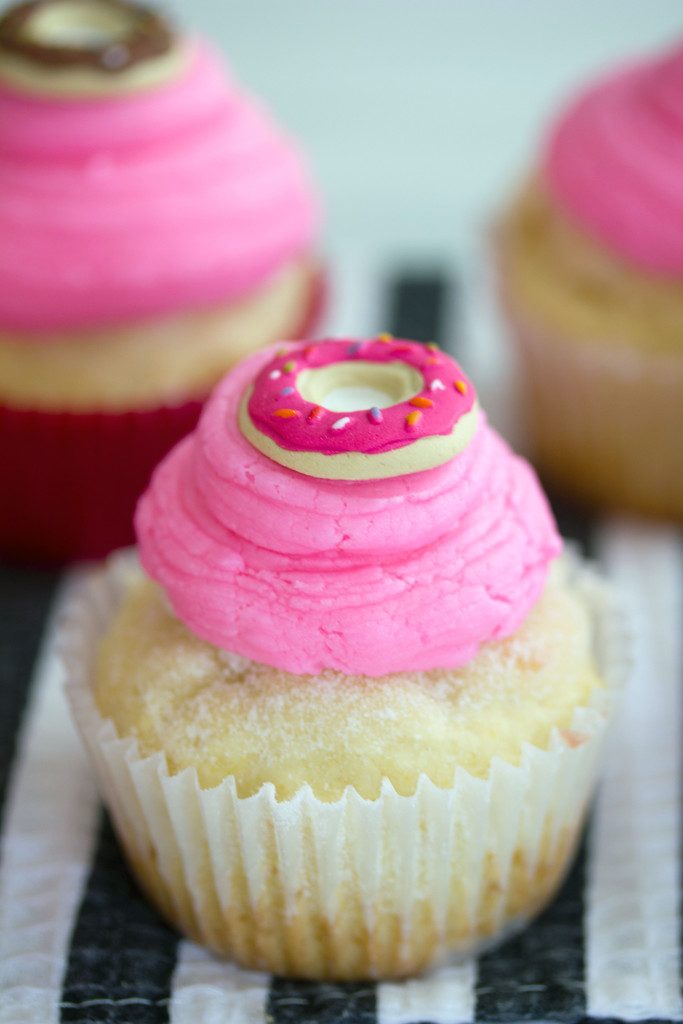 Since I'm known for being the worst decision maker in all the world (legit I could probably win a global contest as world's worst decision maker), it would likely be best if you just brought me a box of jelly doughnut cupcakes instead of a selection of doughnut flavors.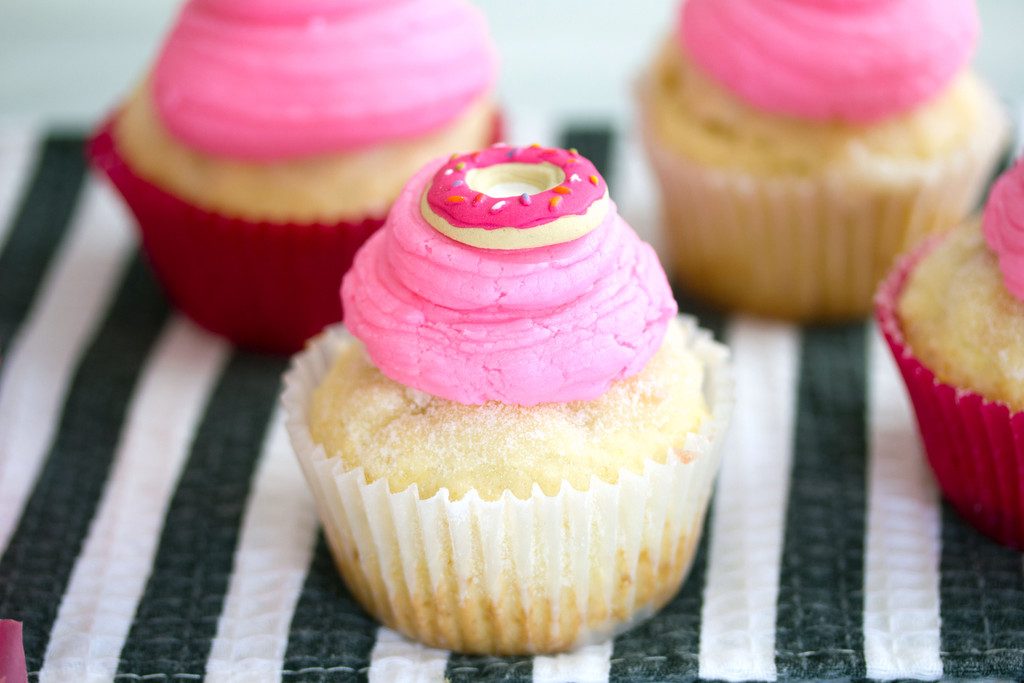 Then I wouldn't have to waste my decision making brainpower on such matters first thing in the morning. I could save it for more important things... Like, which of the Bachelorette contestants I think our going to make it to the finals (office pool, y'all!) or which of the 100 books on my Kindle I'm going to read next. Or I guess maybe something work-related... Like hiring decisions or client matters. You now, things more important than doughnuts. So I'm told.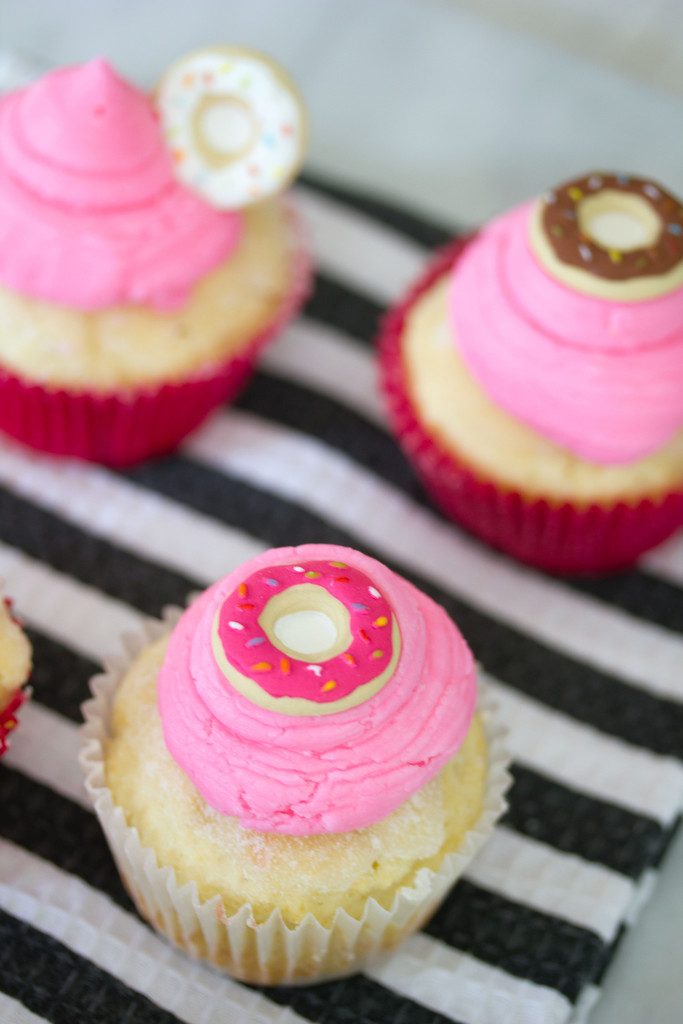 But really, is there that much possibly more important than that jelly? Also, can we talk about the difference between jelly, jam, preserves, and marmalade? Because I was seriously confused in my grocery store aisle. But I haven't had time to do the research yet, so please enlighten me if you know. Talk about having to make a hard decision when you're standing in the grocery store on a Sunday afternoon, with fourteen-thousand people pushing their carts into you. I ultimately went with "jelly" because it seemed the reasonable choice when making jelly doughnuts.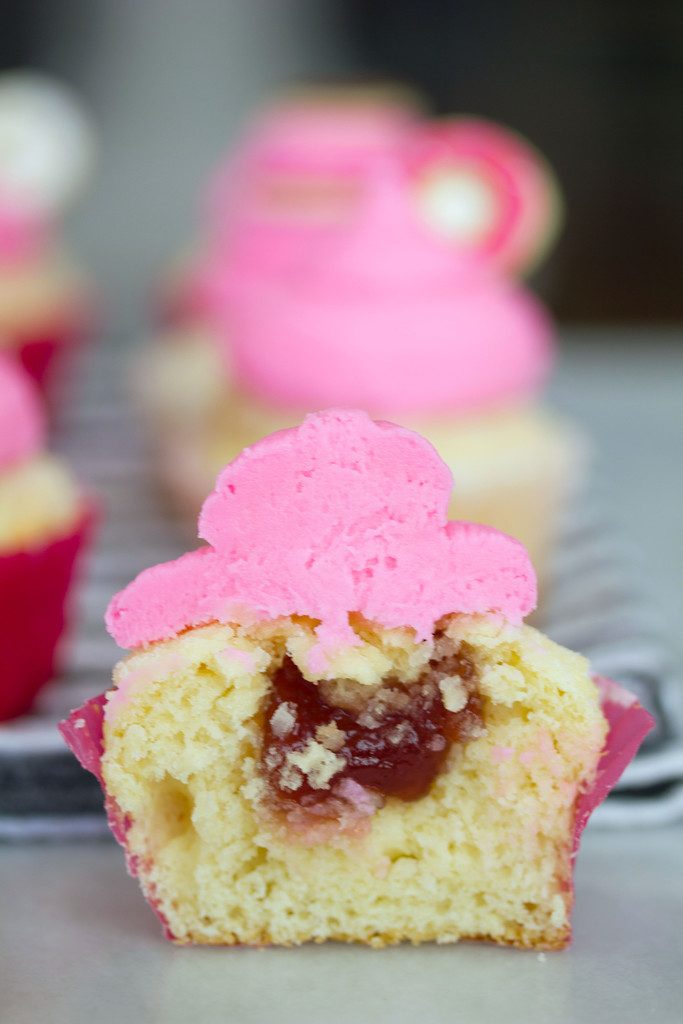 The only real downside to these cupcakes? People may look at you funny if they see you chomping on one of these for breakfast; whereas you can totally get away with eating an actual jelly doughnut at 8:00 a.m. But when have you ever let that stop you before??
What is your all-time favorite doughnut?
If you love these jelly doughnut cupcakes, check out my recipes for Funfetti Chocolate Chip Cookie Dough Cupcakes and Mint Chocolate Chip Ice Cream Cupcakes. I also absolutely love these Pink Lemonade Cupcakes from Bless This Mess!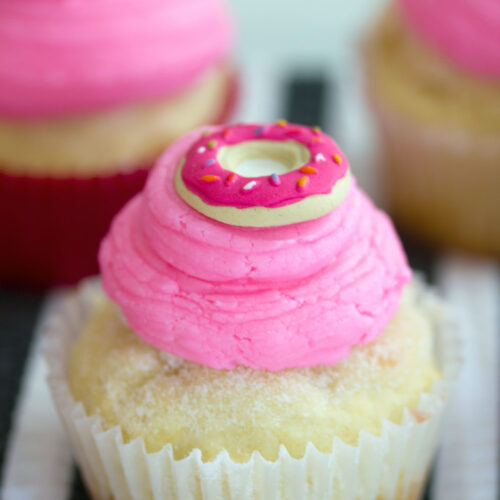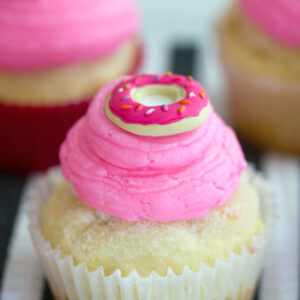 Jelly Doughnut Cupcakes
What's better than a jelly doughnut? A jelly doughnut in cupcake form! These Jelly Doughnut Cupcakes don't require frying and have the added bonus of vanilla buttercream in addition to the sugar topping.
Print
Pin
Rate
Ingredients
Cupcakes
1 ½

sticks (12 Tbsp)

unsalted butter,

room temperature

1

cup

granulated sugar

2

large eggs

1

tsp

vanilla extract

3

cups

all-purpose flour

2

tsp

baking powder

½

tsp

salt

1

cup

milk
Filling and Topping
½

cup

seedless strawberry or raspberry jelly

½

cup

granulated sugar

3

Tbsp

unsalted butter,

melted
Vanilla Buttercream Frosting
1

cup (2 sticks)

unsalted butter,

room temperature

5

cups

confectioners' sugar

2

tsp

vanilla extract

1-2

Tbsp

milk

Pink gel food coloring
Instructions
Cupcakes
Pre-heat oven to 350 degrees.

In the bowl of a stand mixer or in a large bowl with a hand mixer, cream butter and sugar together on medium-high speed until light and fluffy, about 2-4 minutes.

Add eggs in one at a time, mixing well after each addition. Mix in vanilla.

In a medium bowl, whisk together flour, baking powder, and salt.

With mixer on low speed, mix in dry ingredients to wet in 3 additions, alternating with milk. Mix in each addition until just incorporated, taking care not to over-mix.

Line cupcake tin with 12 papers and fill about ¾ of the way full with batter.

Bake at 350 degrees for 18-21 minutes, until edges are golden and tester comes out clean.

Cool cupcakes in tins for a few minutes before moving to wire racks to cool completely.
Filling and Topping
Once cooled, core the center of each cupcake (either with a knife or a cupcake corer), being sure to save core.

Spoon in 1-2 teaspoons of jelly and then place cored out cake back on cupcake to cover jelly.

Place granulated sugar in a bowl.

Brush tops of cupcakes lightly with melted butter and then dip upside down in sugar to cover the tops of cupcakes.
Vanilla Buttercream and Assembly
In the bowl of a stand mixer or in a large bowl with a hand mixer, beat butter until creamy, 2-3 minutes.

With mixer on low, slowly blend in the confectioner's sugar, cup by cup until well-combined.

Mix in vanilla and 1 Tbsp milk. If buttercream is too thick, add additional Tbsp milk.

Mix in pink gel food coloring until you reach your desired color.

Fit a pastry bag with the pastry tip of your choice (I used Wilton 1A) and fill with vanilla buttercream. Frost cupcakes. If using 1A tip, starting at the outside of the cupcake, pipe frosting around, moving toward the center and gently lifting the tip up in the middle.

Top cupcakes with Wilton Doughnut Icing Decorations if desired.
Share a Photo of Your Finished Recipe!
Mention @wearenotmartha and share a photo if you've made the recipe!