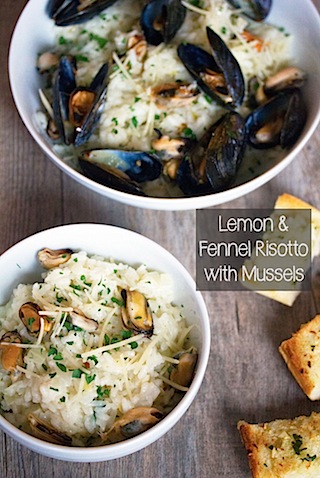 I never ever ever ever get sick. And now I am. Wah. So, I guess it's not true that I never get sick. But it does happen pretty rarely. And when it hits me, I can usually nip it in the bud really quickly (sleep! tea! vegetables and vitamins!). It hit me today and I'm crossing my fingers that I wake up tomorrow and it will be gone. Please?
I've never had the flu, strep, a sinus infection, or anything like that. Not even the chicken pox. And now that I dared type that into a blog, I'm totally going to wake up tomorrow morning with cholera or scarlet fever or the plague. Or at least the chicken pox. And i'll only have myself to blame. I don't know why I do these things.
Sickness calls for comfort food. Actually, this ridiculously horrendous weather much of our country is experiencing calls for comfort food. Actually, is there really ever a bad time for comfort food? Not really. comfort should always be welcome into our lives. And risotto is the perfect way to bring it. Plus, mussels are so ridiculously easy, it's a wonder people aren't making them more often. I'd love to know how long I could eat this for before getting sick of it. Maybe never
Lemon and Fennel Risotto with Mussels (serves 4-6):
Print this recipe!
For the risotto:
3-4 C chicken/veggie broth
2 T butter
1 C chopped fennel from one bulb
1/2 onion, chopped
2 garlic cloves, minced
1 1/2 C arborio rice
1/2 C dry white wine
Zest of 1 lemon
Juice of 1 lemon
2 T chopped parsley
1/4 C parmesan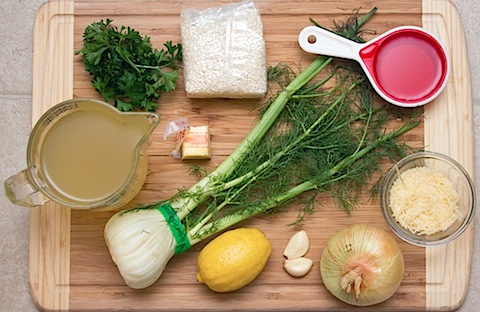 For the mussels:
3 T butter
1/2 onion, chopped
2 garlic cloves, minced
1/2 T red pepper flakes
3 1/2 lb. mussels
1 1/2 C dry white wine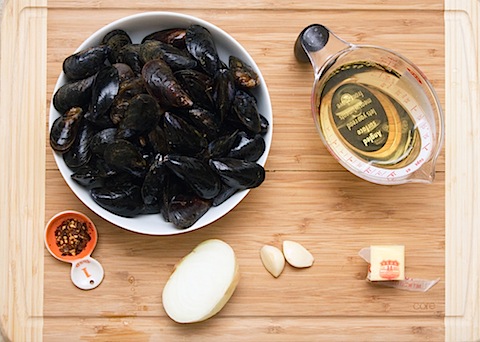 I'm happy eating a pile of mussels and a loaf of crusty bread, but I also felt like these mussels would be really fabulous in a risotto with lemon and fennel. I've said it a million times before and I'll probably say it a million more times before I leave this world, but risotto is EASY! I make it when I don't feel like thinking much because as long as you know how to stir a little bit, you'll be just fine.
I'd start with cooking the risotto. While it's cooking you can put the mussels on. For the risotto, begin by putting chicken broth in a saucepan and bringing to a boil. Then lower to a simmer.
In a separate medium saucepan, heat the butter over medium heat. Add fennel, onion, and garlic and cook about 3 minutes, until transparent.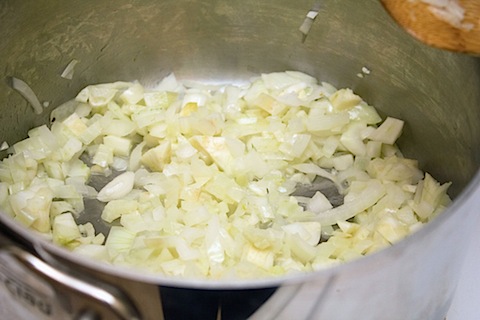 Add the rice and cook for about 2 minutes. Add the wine and stir a bit, until the rice absorbs the wine. Add the lemon zest at this point, too. Things are smelling quite nice!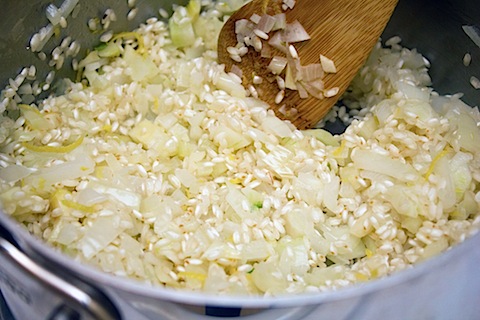 Add 1 cup of the warmed chicken broth to the rice. Stir. And let the rice absorb the stock. Once the chicken broth is absorbed, continue to add more, a cup at a time, letting it absorb before stirring and adding more. Continue with the rest of the broth, or until the rice is nice and tender, but still firm.
You don't have to stand over your stove and stir non-stop, but be sure to stir the risotto every now and then and make sure the rice doesn't get stuck to the bottom of the pot.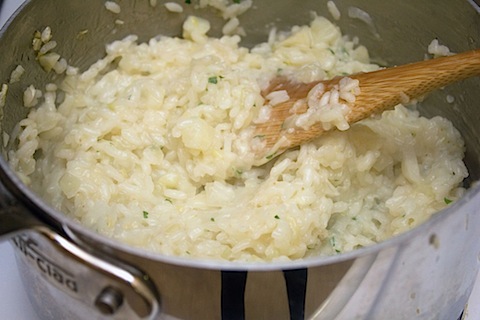 When rice is fully cooked, stir in lemon juice, chopped parsley, and parmesan cheese.
Begin the mussels while the risotto is cooking. First you need to rinse the mussels in cold water, clean off the shells, and remove the beards. I know, I know; I hate referring to mussels' beards, too. It's weird and creepy and just plain gross. Let's not talk about them again, OK? Thank youuu.
Moving on. In a large dutch oven or pot, melt the butter over medium heat. Add the onions and garlic and cook until they begin to soften, about 3-4 minutes.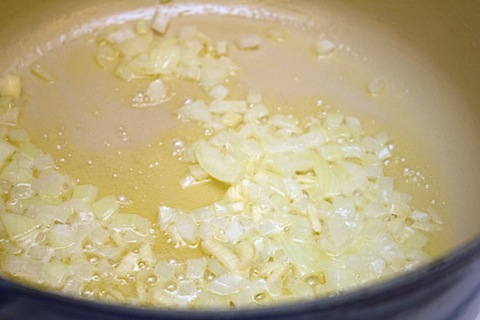 Sprinkle in red pepper flakes and stir for another minute.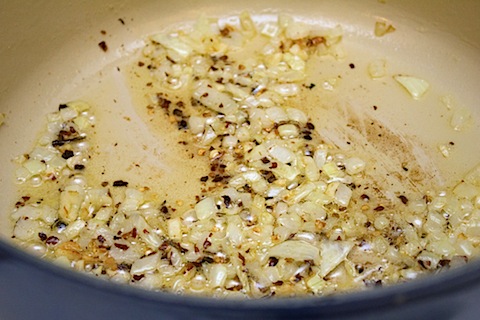 Add the mussels to the pot and then pour in the wine, too.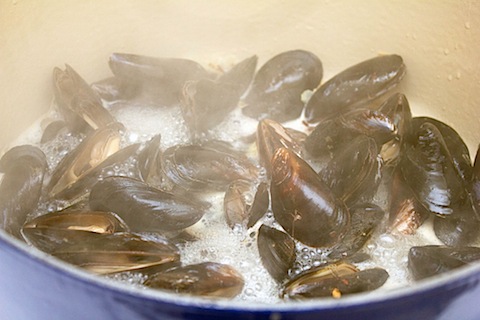 Turn heat to high and put cover on pot. Let mussels cook for 2 minutes before you remove the cover and stir. Close and cook another 3-4 minutes.
Yum! Make sure you remove all the mussels that haven't opened after cooking. Because… Just do it.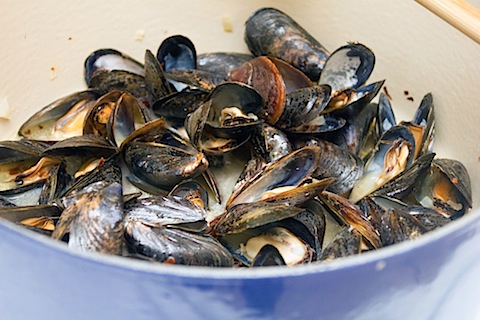 Also, I think you should make some garlic bread. Even though you're already planning to eat a bowl of rice. Garlic bread is a MUST with mussels… Garlic bread is just one of those things that makes anything in life better.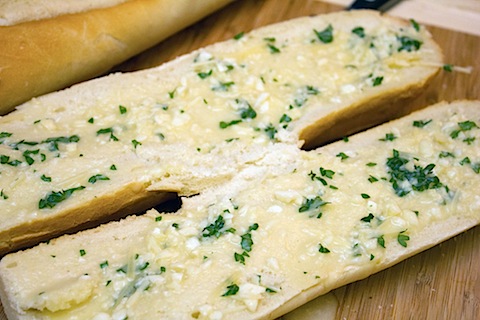 You can either serve your mussels atop the risotto or you can take them out of the shells for ease of eating.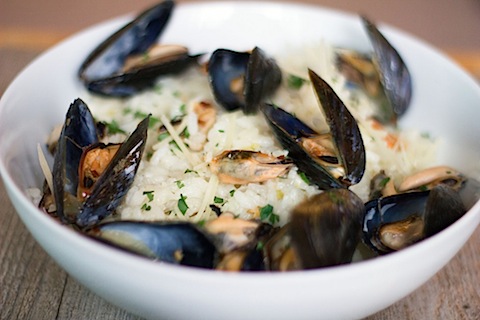 You all need in this negative degree bone-chilling weather.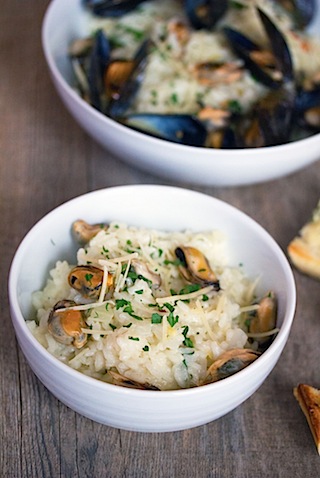 Have I mentioned it's going to be 70 degrees in Napa this weekend?? 70 degrees. And I'll be there. Eating at French Laundry and drinking lots and lots of wine. No big deal.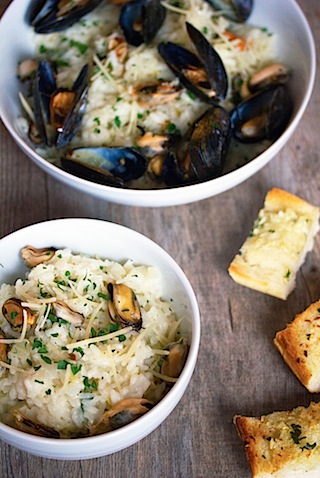 But when I return, it will probably still be ridiculously cold in Boston, though perhaps it will have risen to the 30s? Wouldn't that be nice? Balmy even.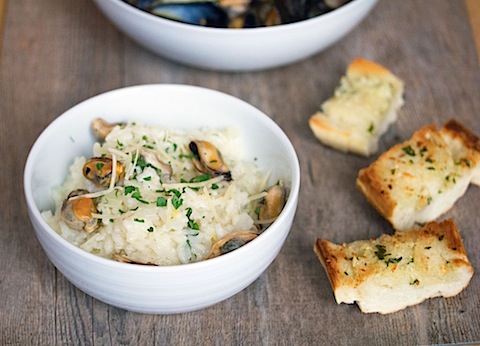 I'm a big risotto person (I've made dozens of varieties in my lifetime), but this is one of my new favorites. I love how simple it is, but with the freshness of lemon and snap of fennel. I definitely don't eat enough fennel.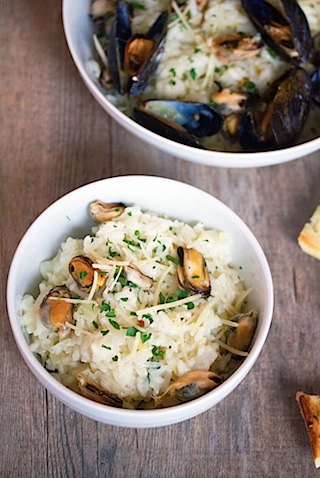 The mussels add delicious full-bodied flavor and though this dish can serve quite a few, I discovered I can also eat quite a few mussels. A talent of mine?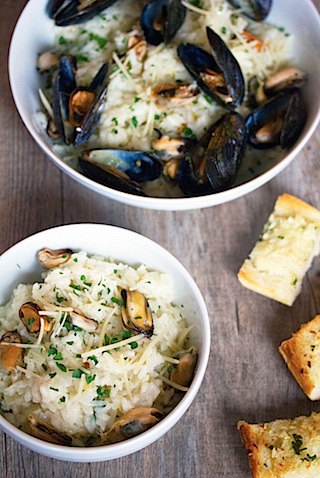 Oh, and slices of garlic bread, too. I can eat A LOT of those. Oops. Who knew?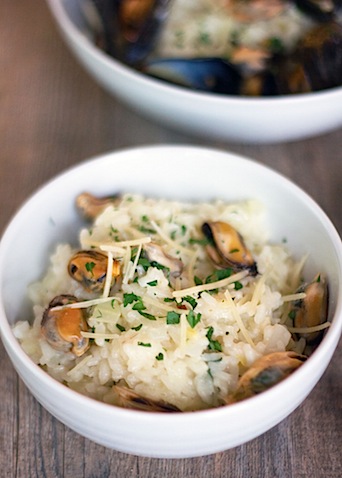 Carbs, seafood, and carbs. A successful meal if I do say so myself.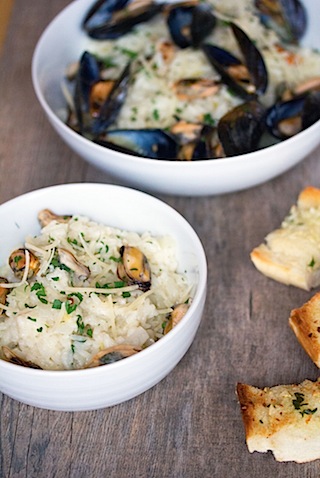 And now I'm going to pass out in bed and hope that I don't wake up with some crazy 19th-centry disease. Or this stupid cold.
What's your ideal "it's a negative number temperature outside" food? And furthermore, how cold is it by you?
California, 70 degrees, California, 70 degrees, California, 70 degrees…. Yup, I'm trying to force sweet dreams upon myself. Good night!
[Sues]