This Lighter Chicken Pot Pie is packed with all the good stuff and topped with a buttery phyllo dough crust. A little bit healthier than the original, but just as tasty!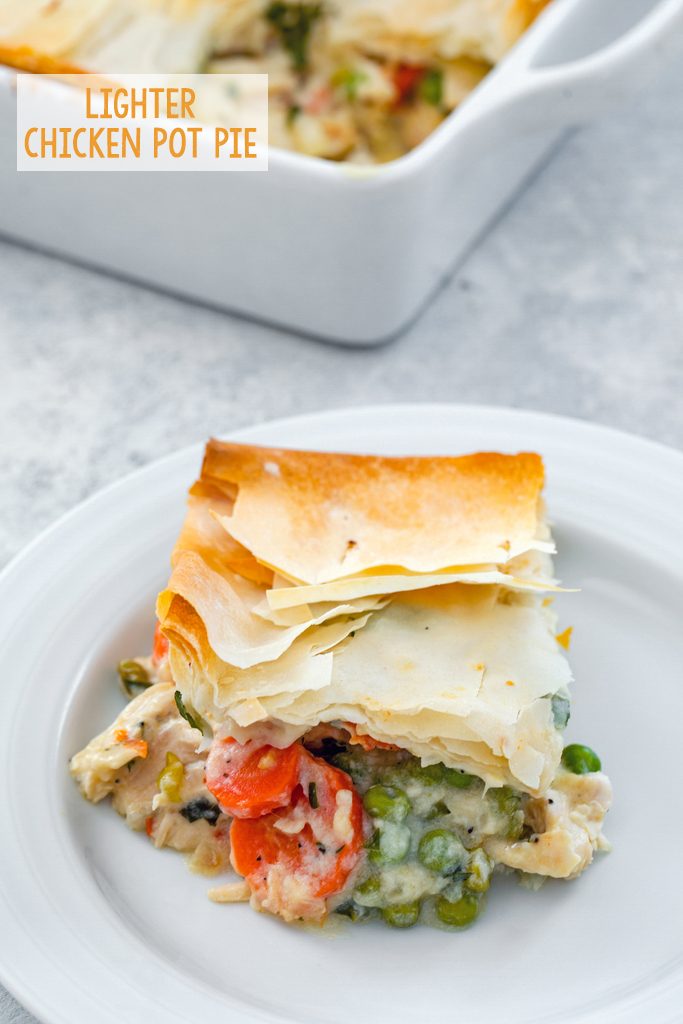 (This recipe for Lighter Chicken Pot Pie was originally published in January 2008, but was updated with new photos in 2019).
One of my favorite foods in the world is chicken potpie. When I was a kid, I used to love when my parents went out for the night and put a Mrs. Budd's chicken potpie in the oven for me and my sister (I was a classy kid, OK?). My tastes have since grown up from Mrs. Budd's, but I still crave chix potpie, especially when it's cold and miserable outside. And OK, my tastes haven't actually grown up that much because when my husband goes out of town, I still occasionally pick up a Mrs. Budd's. Old habits die hard, my friends, and sometimes you just need that childhood comfort. No shame.
But since Mrs. Budd's isn't the most healthiest CPP in the world, I wanted to make my own from scratch. And I wanted it to be as healthy as possible while still being absolutely delicious and staying true to chicken pot pie. Lucky for me, Martha has a recipe for a lighter version of chicken pot pie, that honest to God, tastes as good as any "non-healthy" version. I made a few of my own alterations to it and ended up with a fabulous recipe that I won't feel bad about making over and over.
LIGHTER CHICKEN POT PIE RECIPE
The original recipe says to use bone-in, skin-on chicken breast halves, but I usually just buy regular chicken breasts or tenderloins and cook them in a frying pan. Sometimes I even use rotisserie chicken, which makes this recipe really easy. Then I cook the carrots and onions, mix in some flour and milk and add the defrosted peas. It's pretty much just as simple as that… But don't forget the crust! I'll show you how to top the pie with a pretty easy buttery phyllo dough crust below.
I think a lot of people are a bit scared to make chicken pot pie because it seems so complicated. But this version isn't at all. It doesn't require a ton of ingredients and simply consists of cooking vegetables, making a sauce, and adding in the chicken.
This is what the filling will look like as it's thickening. omg I wanted to eat it right out of the pan.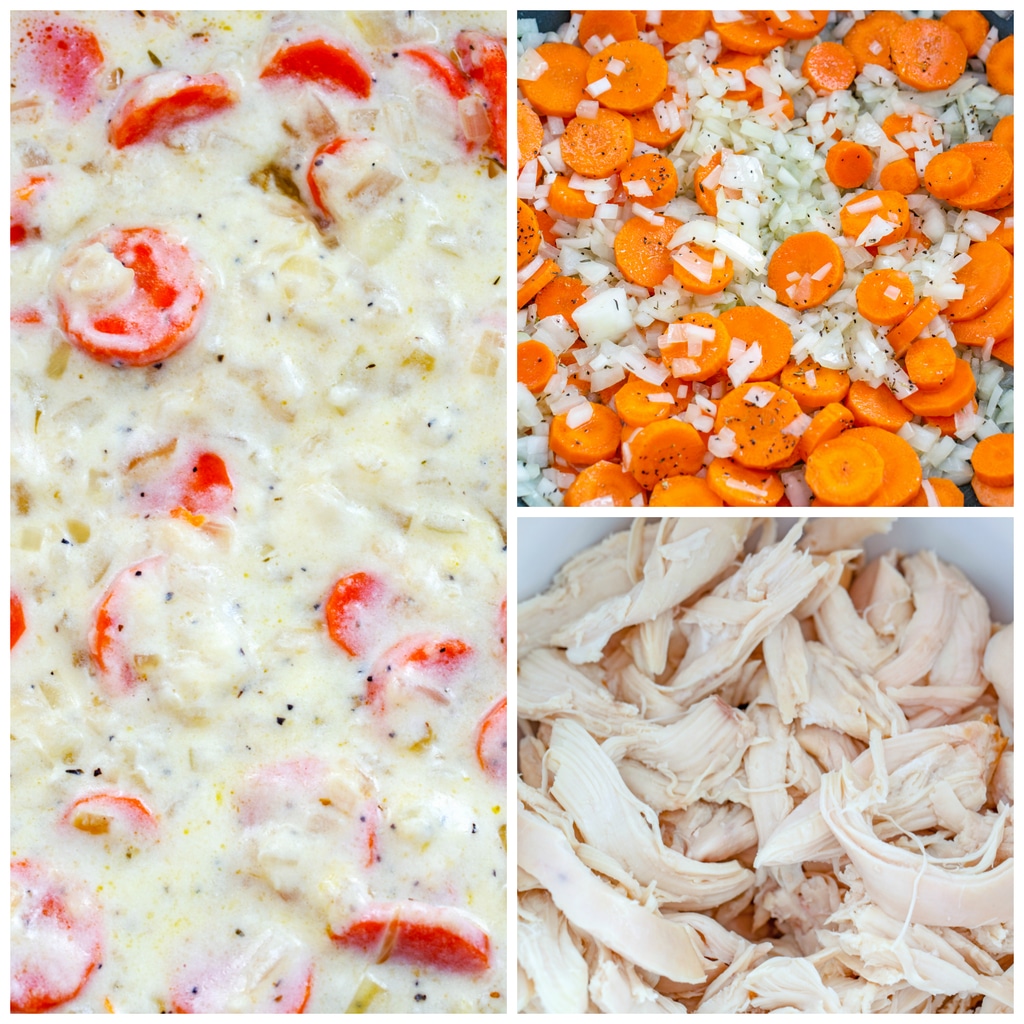 Without a doubt, the toughest part of this dish is the crust, but don't be intimidated! Instead of a pie dough crust, this lighter chicken pot pie uses phyllo dough to make it a tad bit healthier. In my opinion, phyllo dough is a bit hard to work with, but the great thing about a dish like this is that you don't have to be exact or super pretty about it. I brushed the phyllo with butter layered parsley in between the layers (another tip from Martha from different recipe) and simply did the best I could with the square dish I was using.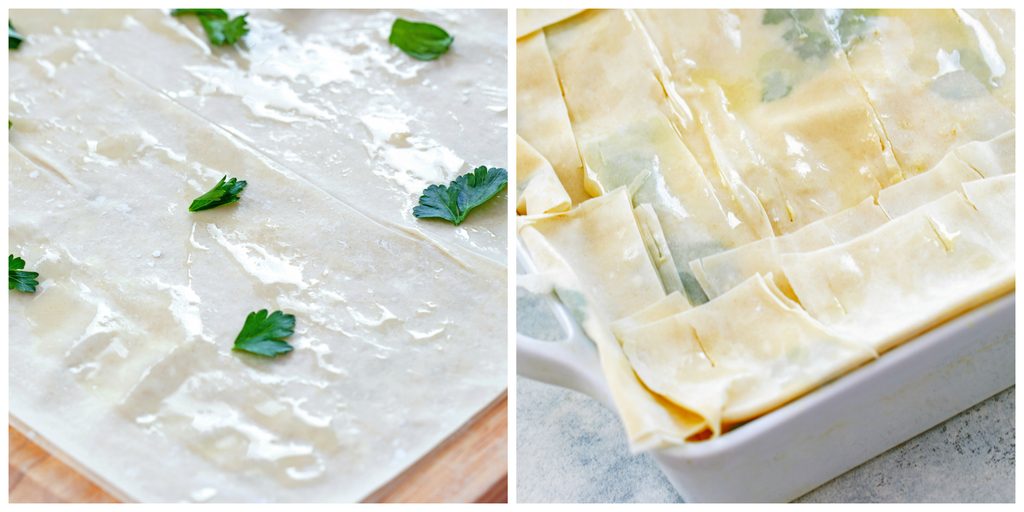 Once the filling is in the baking dish and phyllo dough is on top, bake for 20-25 minutes and then you'll be ready to dig in. Check out how much goodness is in this lighter chicken pot pie! It's packed full.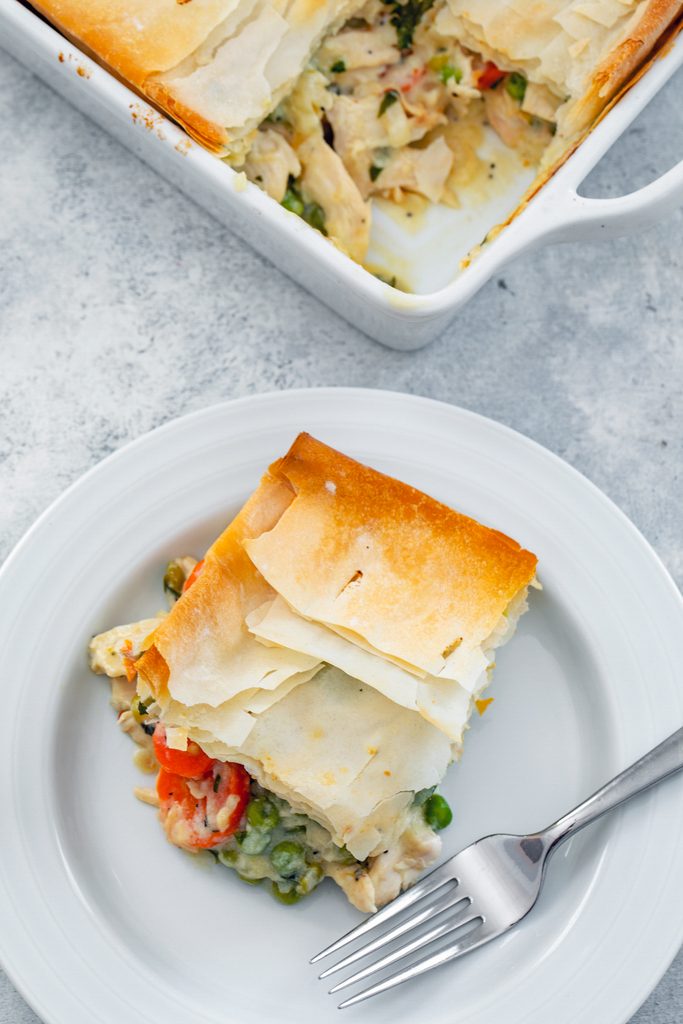 I love how golden the phyllo dough crust got. I originally thought I was going to miss the pie dough that a chicken pot pie is usually topped with, but these layers of buttery phyllo dough make for a really great substitution. And since you're probably making this lighter chicken pot pie because you want to save on calories and unhealthy fats where you can, this is the biggest place you can do so!
That and the fact that this version is made with 1% milk instead of whole or heavy cream. Because of everything delicious packed into this pie, you can't even tell the difference.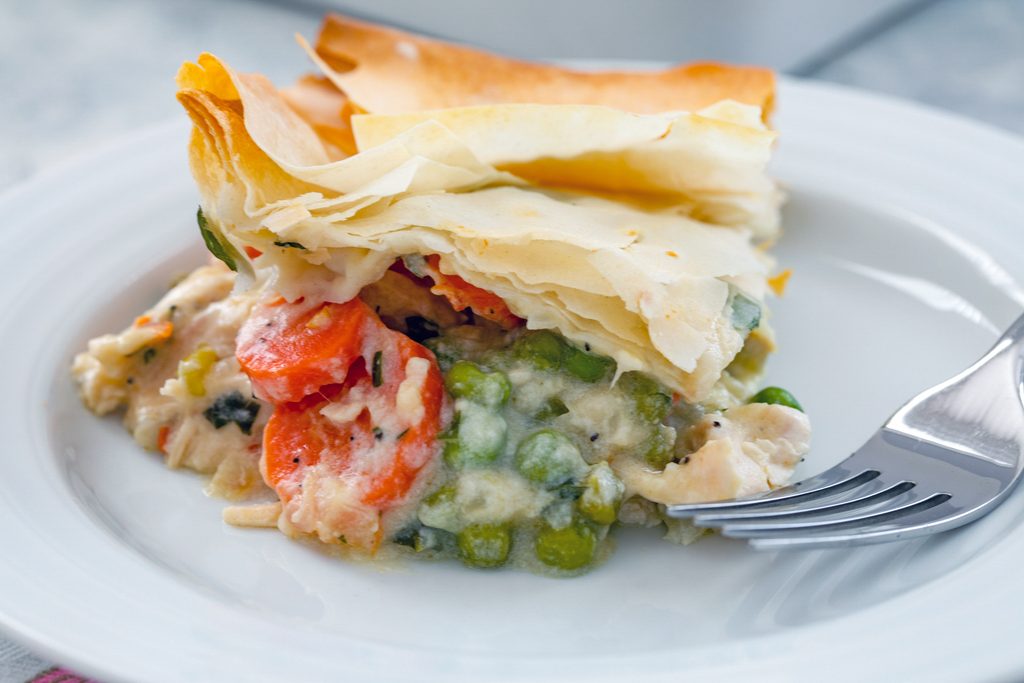 Well, I can tell that this is a lot more natural and "real" than the typical packed pot pie. That's just one of the beautiful things about home cooking! I could easily house a packaged chicken pot pie when I was a kid, but now that I'm in my 30s, I definitely experience the side effects a bit more. With this homemade lighter chicken pot pie, I can feel a whole lot healthier and still get that nostalgic feeling.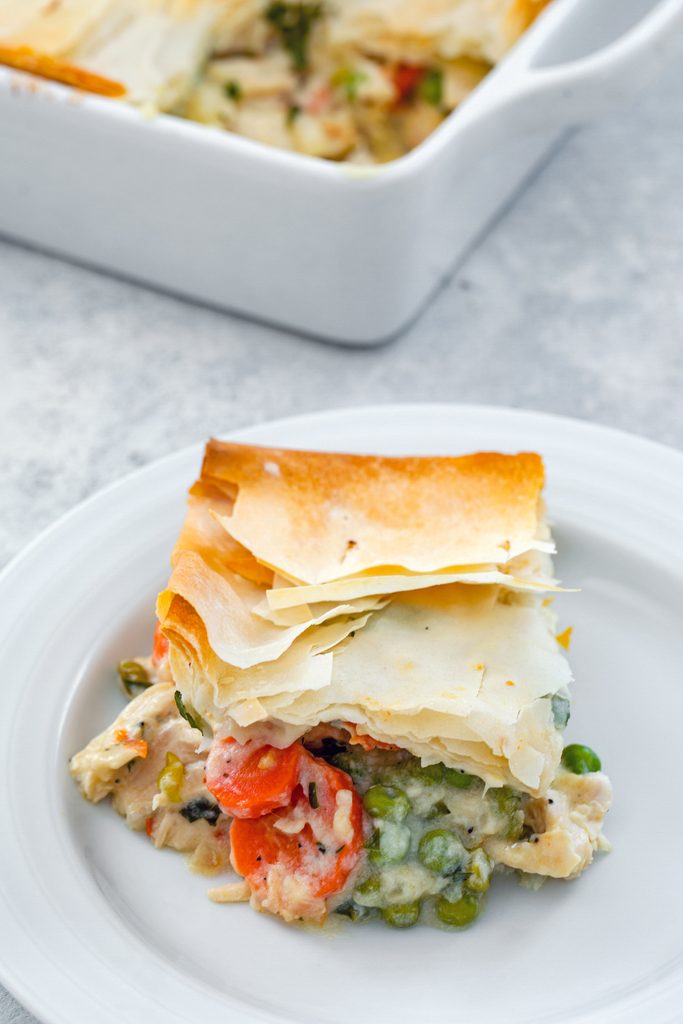 Comfort food at its absolute finest! But comfort food that's also secretly giving you a couple servings of vegetables. You can't help but love that!
Do you have a favorite comfort food that you make in a lighter version?
If you like this Lighter Chicken Pot Pie, check out my other "healthy-ish" dishes like my Baked Chicken Chimichangas and my Garlic Habanero Chicken Meatballs with Kale Polenta. I also want to try this Lighter Chicken Chow Mein from Easy Cooking with Molly!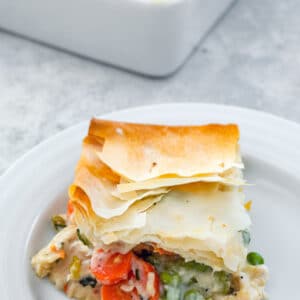 Print Recipe
Lighter Chicken Pot Pie
This Lighter Chicken Pot Pie is packed with all the good stuff and topped with a buttery phyllo dough crust. A little bit healthier than the original, but just as tasty!
Ingredients
2

Tbsp

olive oil

2

cups

sliced carrots

(sliced 1/4" thick)

1

medium onion,

finely chopped

1/4

tsp

dried thyme leaves

1/2

tsp

salt

1/2

tsp

pepper

1

clove

minced garlic

1/4

cup

all-purpose flour

2 1/2

cups

1% milk

1 1/2

cups

frozen peas,

thawed

2

Tbsp

freshly squeezed lemon juice

3

cups

shredded cooked chicken

(from 2 breasts or a rotisserie chicken)

1/4

cup

chopped parsley, plus 2 Tbsp parsley leaves for phyllo

6

phyllo dough sheets (each 12x17 inches),

thawed
Instructions
Pre-heat oven to 400 degrees.

Heat olive oil in a large saucepan over medium heat. Add carrots, onion, and thyme, salt, and pepper. Cook until carrots are tender, but still crisp, 8-10 minutes. Add garlic and cook for one more minute. Add flour, and cook while stirring for 1 minute. Slowly add milk, stirring until smooth. Continue to cook, stirring occasionally, until mixture comes to a simmer and thickens.


Remove saucepan from heat and stir in peas, lemon juice, shredded chicken, and 1/4 cup chopped parsley. Pour filling into a 9-inch deep-dish pie plate or square baking dish.

Stack phyllo on a work surface. Using a paring knife, cut out an 11-inch circle or square from the stack (depending on if your baking dish is round or square) and discard trimmings. Brush 1 sheet of phyllo with melted butter and sprinkle with remaining parsley leaves. Repeat with remaining phyllo, parsley, and butter; do not sprinkle parsley on final layer. Drape crust over top of dish; tuck in edges. Cut four slits in top of phyllo for vents.

Bake pot pie until golden and bubbling, 20 to 25 minutes. Let cool 15 minutes before serving.