This Mango Coconut Fried Rice is made with coconut brown rice and packed with colorful veggies and mango Sriracha marinated tofu.
(This recipe for Mango Coconut Fried Rice was originally published in May 2012, but was updated with new photos in 2019).
If I had this bowl of Mango Coconut Fried Rice in front of me right now, I'd tell you to load on the Sriracha. As in, pour a whole bottle on. Because I've been feeling a little bit under the weather this week. OK, A LOT BIT. Truth be told, I haven't been in the kitchen in over a week. As a matter of fact, tonight was the first time I ate anything of any sustenance since Sunday afternoon. Which basically means anything that wasn't tea, water, or broth. And even broth was questionable as the thought of it began to make me feel sick to my stomach. You know, I was thinking I might need a detox after the last couple of weekends of fun. And I certainly got one. One that was quite easy to follow. Because I had no choice. I was always under the impression you were supposed to feed a cold, but this one did not want nourishment.
Last night I sent my wonderful fiancé (who has been taking loving care of me in all my coughing glory) to 7-11 for, "Please. Something cold. Something sweet. But fruity sweet. It can't be chocolate. Or cream. No ice cream. Popsicle. Sherbet. Yes, sherbet!" A small tear may have run down my cheek as I'm quite dramatic when I'm sick. Anyway, you should know that they don't sell sherbet at my local 7-11. But they do sell Push Pops.
When was the last time you had one of those? I haven't had one since back in the days when they teamed up with The Flintstones. And despite the fact it says, "orange treats" on the side of the package, it was really the only thing I could bear to stomach. It gave me a few calories and got me through a few more hours. You might say that Push-Up Pop saved my life.
MANGO COCONUT FRIED RICE RECIPE
And if you're feeling a bit congested or under the weather, maybe this Mango Coconut Fried Rice can save your life. If it does, please let me know. I'd probably want to consider myself a hero.
Start with your rice. Now, all fried rice recipes call for "leftover rice." But if you're me, you don't ever have leftover rice in your house. At least, not enough to do anything substantial with. After all, I don't eat a ton of rice and when I do, it's usually in takeover and I don't have cups and cups left over.
I wanted to make it from scratch anyway because I wanted to make a special coconut rice. Which basically means that I brought 1 1/2 cups brown rice to a boil in 14 oz. of light coconut milk and 1 cup water. Then I lowered it to a simmer, covered the pot, and cooked until water/milk was dissolved and rice was fluffy. I made sure to put it in the fridge right when it was done. I try to eat brown rice whenever possible, but you can definitely use white rice if you prefer.
The next step is to make the tofu marinade. Peel, pit, and slice one mango and put it in a blender, along with 1/4 cup of Sriracha and 2 Tbsp lime juice. And blend it all together until smooth. Pour it over your cubed tofu in a baking dish and let sit in the fridge for a bit to marinade. I recommend marinating for at least two hours, but you can even do it the day before and let it marinate overnight.
Once tofu is done marinating, bake it on a parchment paper-lined baking sheet at 350 degrees for about 20 minutes. Then, remove from oven, flip tofu, and bake for another 20 minutes.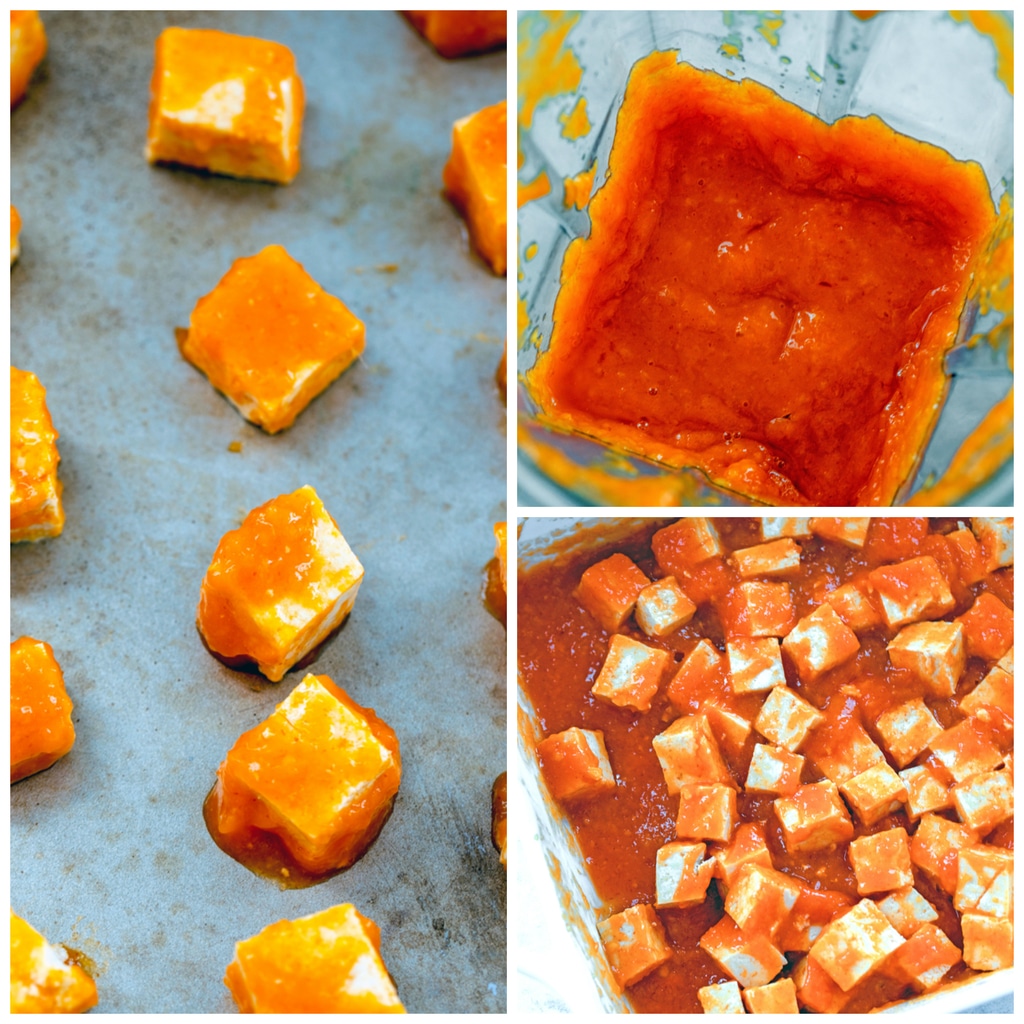 In a wok or frying pan over medium heat, add the olive oil and then toss in the garlic, peppers, and carrots. Cook for about 7 minutes, until veggies begin to soften. Add the rice, mango, tofu, and peas and toss everything together, cooking until the rice is heated through.
Now, in the center of the rice, make a well. And into the well, crack the eggs. Scramble the eggs with a spatula and mix into the rice.
I freaking love all these bright colors!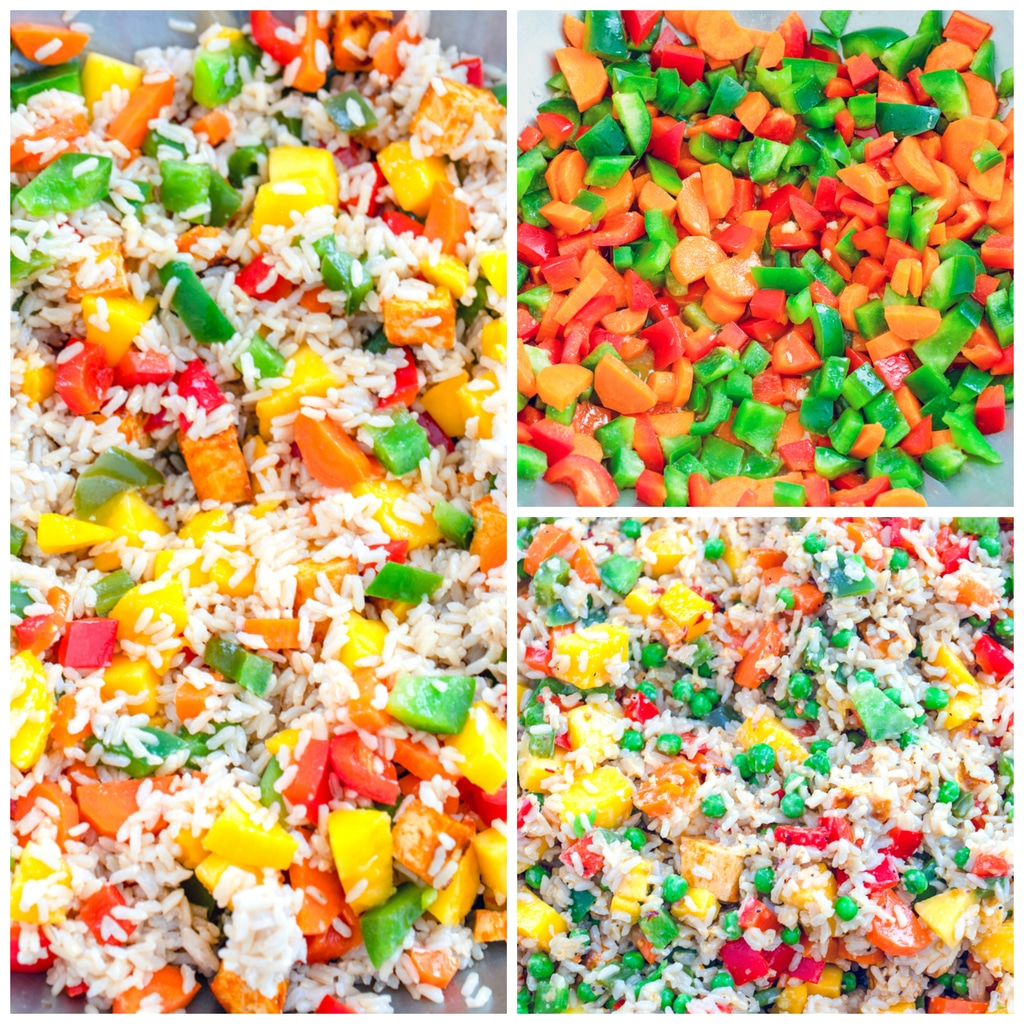 Serve the mango coconut fried rice in individual bowls and top with chopped scallions and more Sriracha if you want. Which you should. And then dig into this light but super flavorful dish!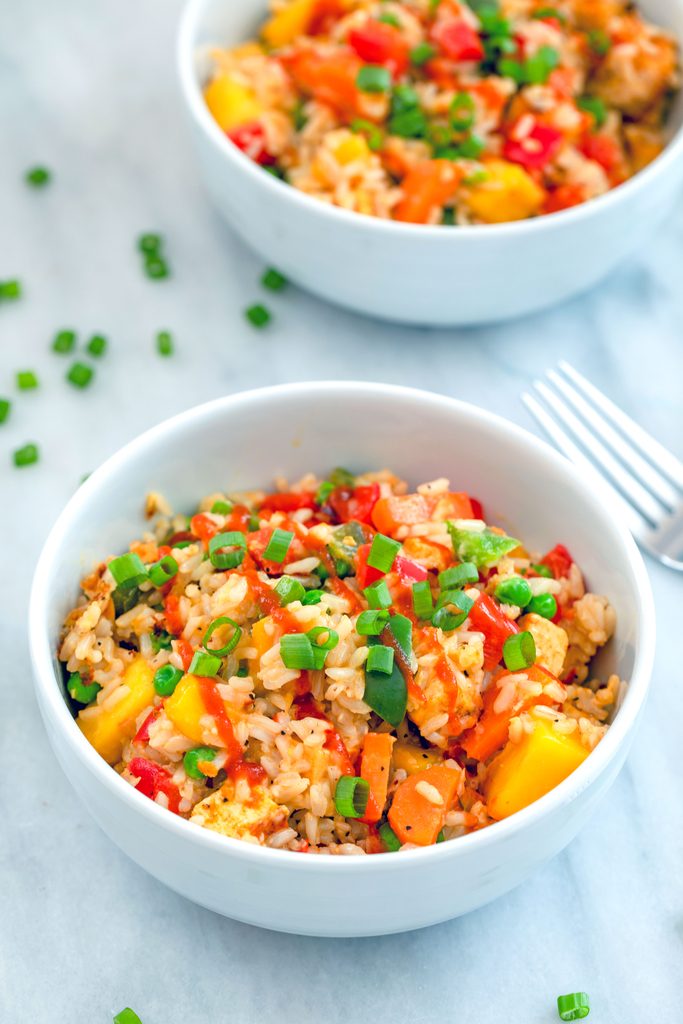 I love how summery this mango fried rice feels with a little bit of citrus and fruit, but a whole lot of spice. In fact, you probably want to stay away from this dish if you don't like spice (or just use mango instead of Sriracha… with soy sauce for seasoning!), but it sure does help when it comes to clearing out your sinuses. Pretty sure I could literally feel my sickness fading as I was eating this.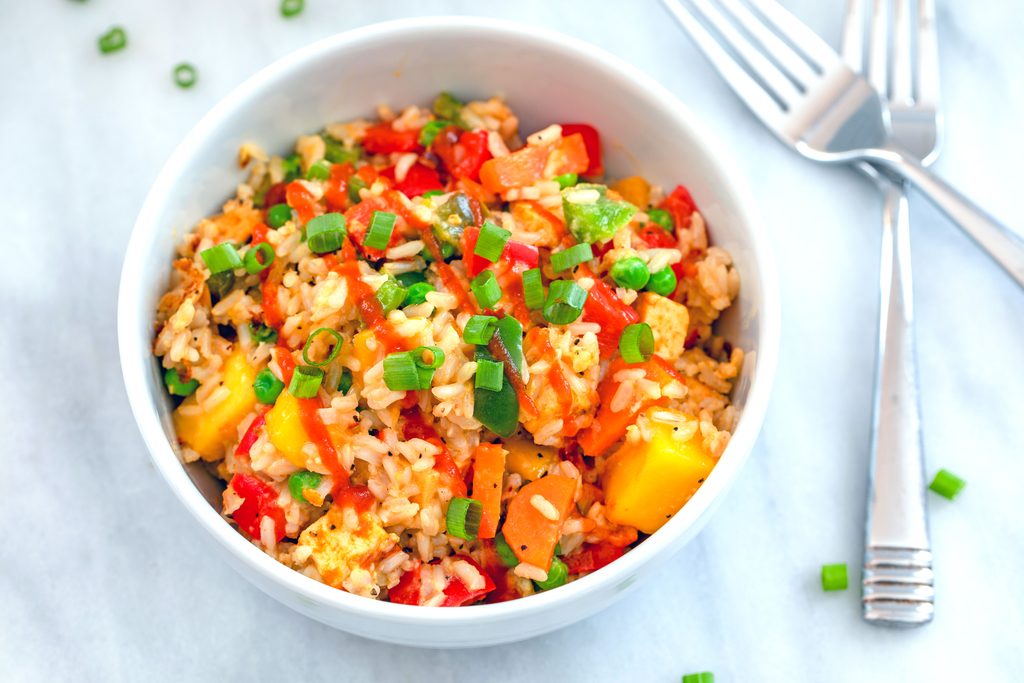 Plus, it's just plain tasty. Though I let my tofu marinate for quite a while, it wasn't overpowering my any means and I definitely would have eaten it on its own if there was no rice involved. But add in that fried rice and all those veggies? And I am extra happy.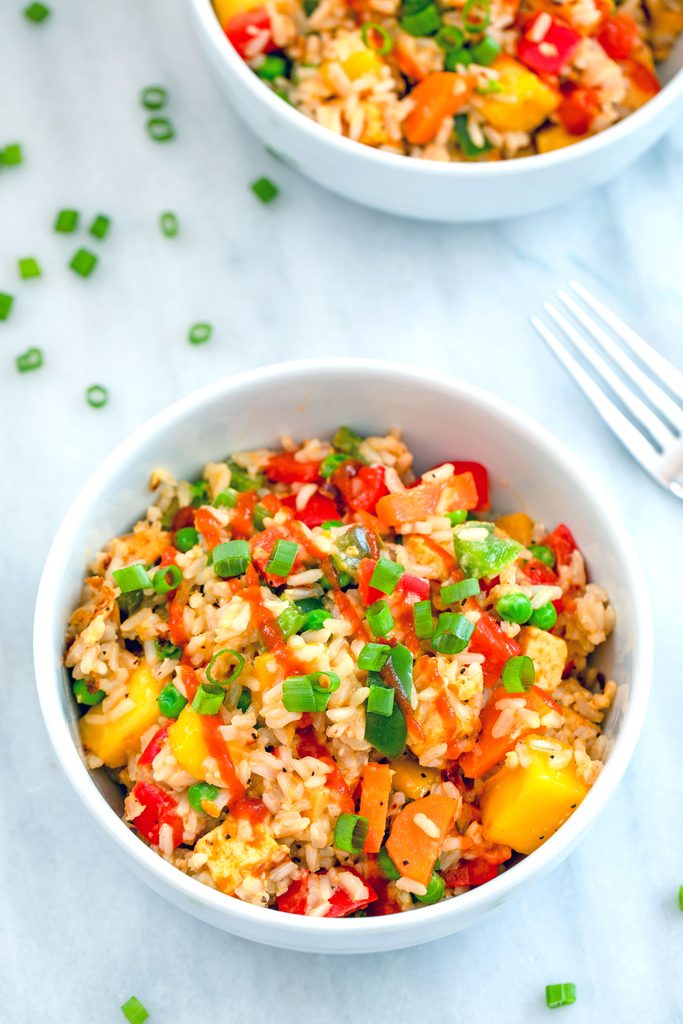 This post was a joy for me to write for several reasons. For one, I'm psyched that I'm actually craving this mango fried rice right now and would eat a big bowlful if I had it in front of me! Food! Yay! And the other reason is that Chris and I got a beautiful large All-Clad wok as one of our wedding shower gifts. Which means the next time I make this dish, I can make it in a glorious wok instead of a skillet.
Also, tomorrow is Friday; but that should speak for itself, yes? Let's hope I can work on making myself 100% completely better over the next couple days.
What's your favorite food to eat when you finally don't feel sick anymore?
If you like this mango fried rice recipe, check out my recipes for Steak and Cheese Fried Rice and Quick Vegetable Fried Brown Rice. I also love this Ground Beef Fried Rice from The Salty Marshmallow!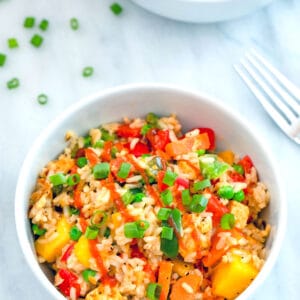 Print Recipe
Mango Coconut Fried Rice
This Mango Coconut Fried Rice is made with coconut brown rice and packed with colorful veggies and mango Sriracha marinated tofu.
Ingredients
1 1/2

cups

brown rice

(can also use white rice)

14

oz.

light coconut milk

3

mangos,

peeled, pitted, and cubed

1/4

cup

Sriracha,

plus more for topping

2

Tbsp

freshly squeezed lime juice

14

oz.

extra-firm tofu,

drained

2

Tbsp

olive oil

1

green bell pepper

1

red bell pepper

3/4

cup

chopped carrots

1/2

tsp

salt

1/4

tsp

pepper

1/2

tsp

red pepper flakes

2

cloves

garlic

1

cup

frozen peas

2

large eggs

4

scallions,

chopped
Instructions
Bring rice to a boil in coconut milk and 1 cup water. Lower heat to a simmer, cover pot, and cook until liquid is dissolved and rice is fluffy. Put rice in a bowl and place in fridge to cool.

Place 1/3 of the mango in blender, along with Sriracha and lime juice. Blend until smooth.

Chop tofu into bite-sized cubes and place in a dish. Pour marinade over the top and toss to coat. Pop in the fridge for at least 2 hours and up to overnight for even more flavor impact.

Once tofu is done marinating, place on a parchment paper-lined baking sheet bake in oven at 350 degrees for about 20 minutes. Remove from oven, flip tofu, and bake for another 20 minutes.

In a large wok or skillet over medium heat, add olive oil and then add in the red and green peppers, carrots, salt, pepper, and red pepper flakes. Cook for about 6 minutes, until veggies start to soften. Add in garlic and cook for another 2 minutes.

Add chilled rice, remaining mango, tofu, and peas and toss everything together, cooking until the rice is heated through.

In the center of the rice, make a well and crack the eggs into the well. Scramble the egg with a spatula and mix them into the rice.

Serve rice in bowls topped with additional Sriracha and chopped scallions.