Looking for a quick and easy healthy dinner that's also delicious? This Quick Vegetable Fried Brown Rice is packed with veggies and whole grains and is the perfect weeknight meal!
(This recipe for Quick Vegetable Fried Brown Rice was originally posted in August 2011, but was updated with new photos in 2018).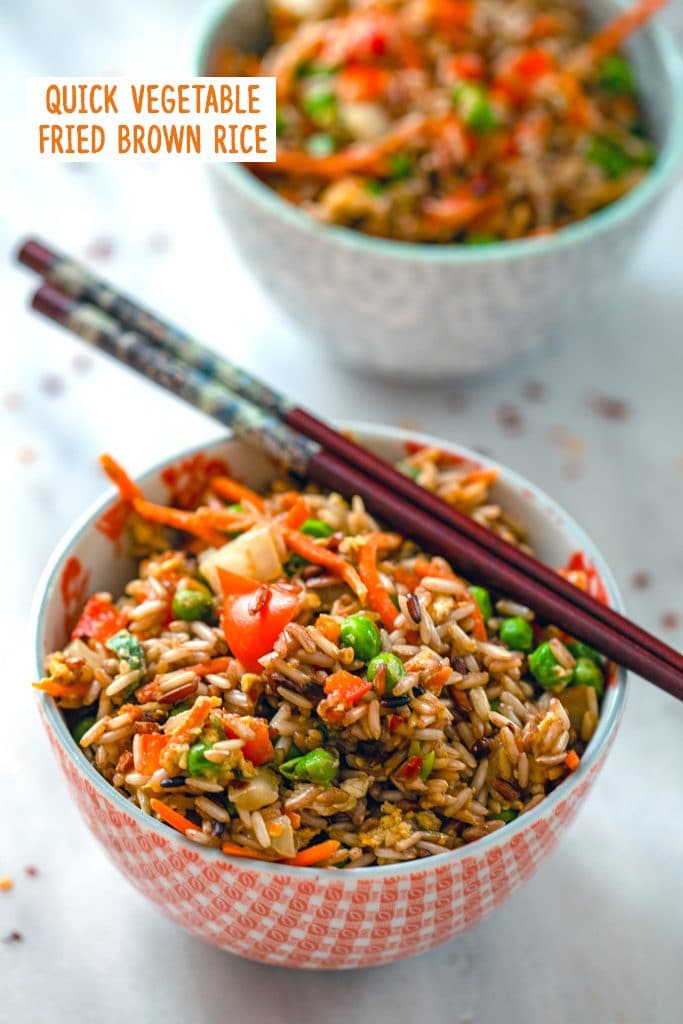 I always say my favorite part about cooking is knowing exactly what's going into each dish I make. Of course, going out to eat is fun, but no matter what you order, it's hard to be sure of exactly what's going into your food. So, the other night when I was craving vegetable fried riced, I decided to make my own instead of ordering the take-out version from my local Chinese food restaurant. Not only was my version less expensive than the takeout version (let's be honest, if I ordered Chinese takeout, I would have also needed scallion pancakes, chicken fingers, crab rangoon, and more!), but it was also much healthier. Not only because I made it at home with all fresh ingredients, but also because this is a vegetable fried brown rice. I think we all know that brown rice is a whole lot more nutritious for us than white rice, but oftentimes people complain about not liking the taste/texture as much. Well, when you pack brown rice with this many veggies and a delicious sauce, you won't even care that it's not white rice. In fact, the brown rice gives this dish a whole other level of delicious, nutty flavor.
QUICK VEGETABLE FRIED BROWN RICE
I've been loving the brown rice medley from Trader Joe's lately so it's the only rice I've been using. It's a blend of long grain brown rice, black barley, daikon radish seeds and is completely delish. But you can use any brown or whole grain rice you want for this dish. I mean, technically, you could even use white rice, though then you wouldn't be able to call this "fried brown rice." But I won't tell anyone. And, I mean, if you pack it full of veggies, it will still be nutritious! You can also, of course, use different vegetables for this fried brown rice... Really, anything goes! I went with onion, garlic, red pepper, shredded carrots, frozen peas, and scallions.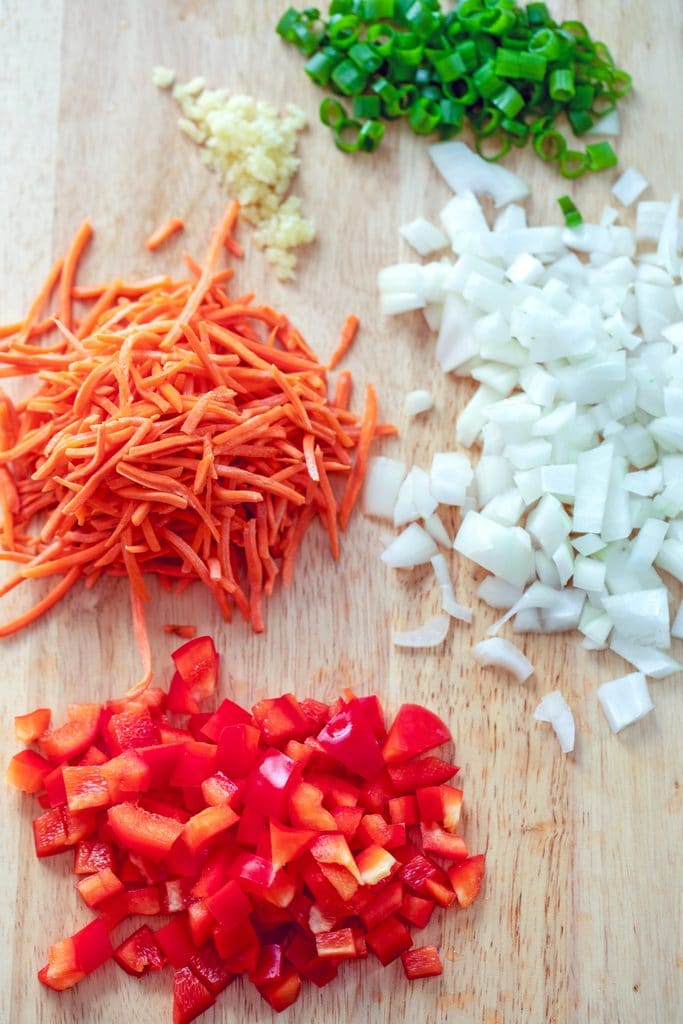 This is a great "clean out your pantry" recipe since most people always have rice on hand (if not, get yourself to Trader Joe's for their brown rice medley!) and you can use whatever veggies you have sitting in your fridge. I'm ALWAYS ready to make fried rice, so if I'm stuck on dinner ideas, you know what I'm having.
Once you sauté the veggies a bit (if you're in the market for a wok, I cannot recommend this one [affiliate link] enough!), you'll add in a couple lightly beaten eggs and then combine with the brown rice, soy sauce, and red hot pepper flakes. Look at all those bright vibrant colors!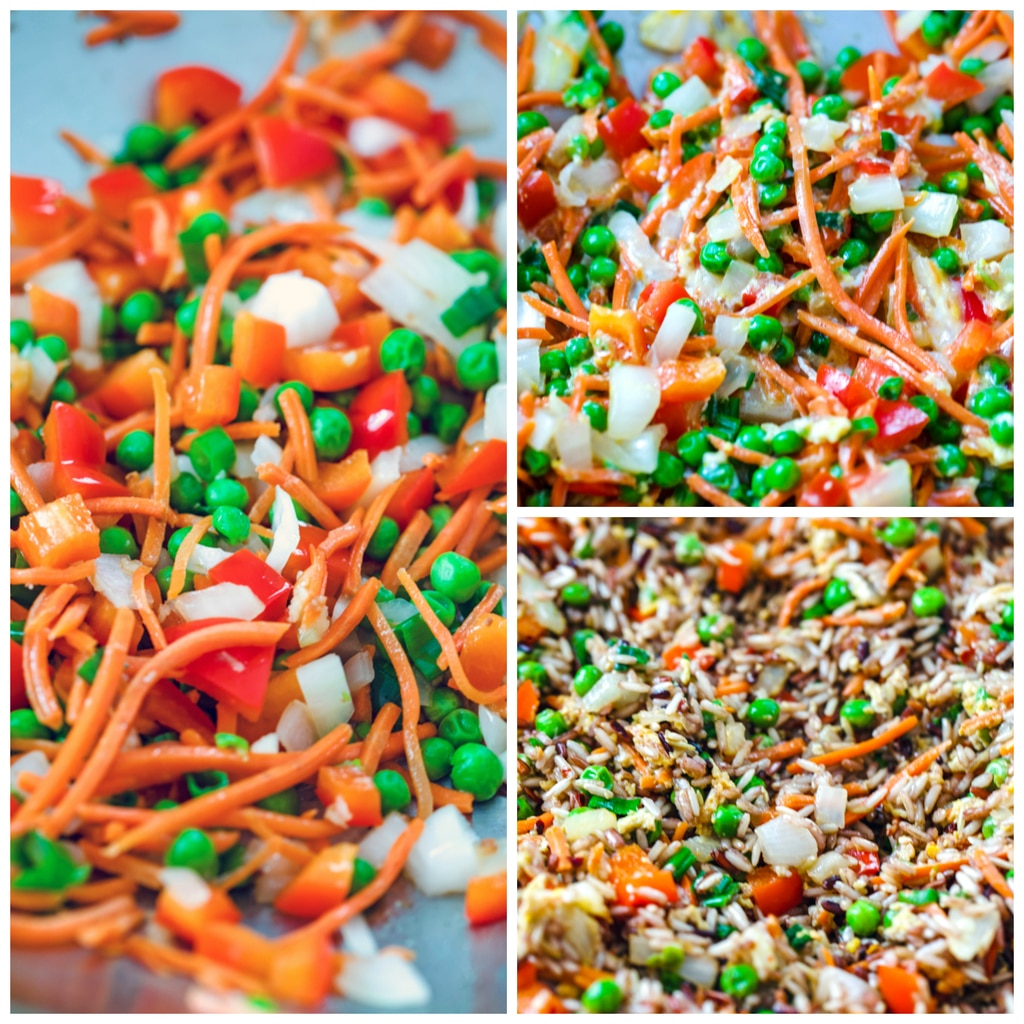 I always have such lofty aspirations about eating my home cooking with chopsticks, but if you're like me when it comes to chopsticks, eating rice is nearly impossible. I was too hungry and this was too delicious for me to be patient, so I eventually switched to a fork.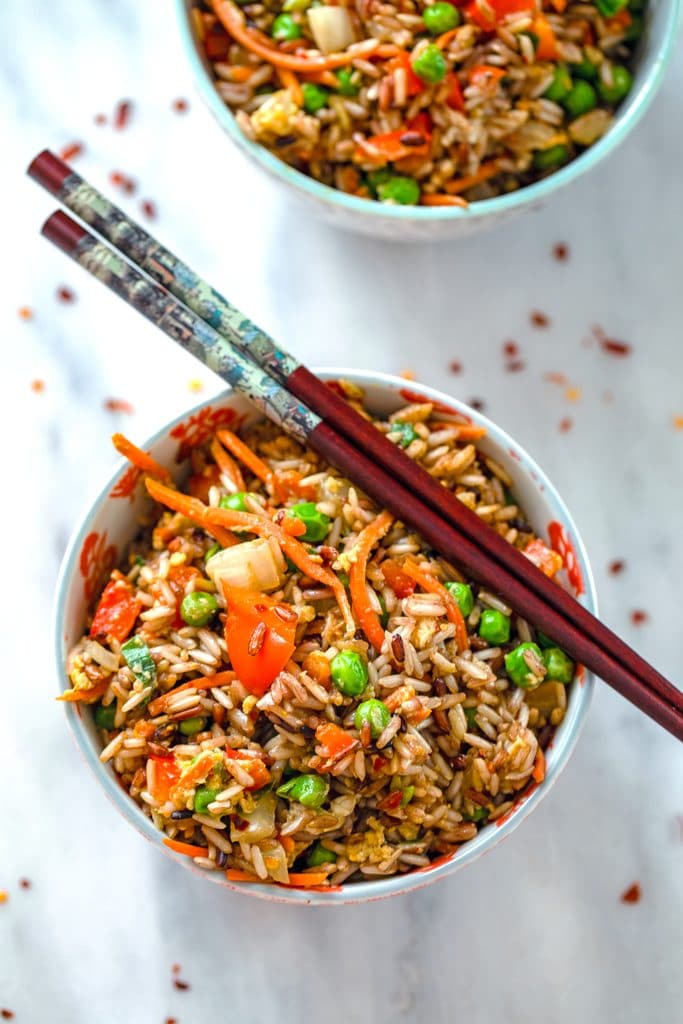 No matter how you eat it, you can rest assured that this is an incredibly quick fried brown rice recipe, so it's perfect for making on a busy weeknight. Which is exactly what I did this evening. The summer nights are starting to cool down here in Boston and it's beginning to feel like comfort food season. A big bowl of fried rice is definitely my idea of comfort food, but I feel much better knowing this is fried brown rice. And that I'm also getting in a ton of veggies while I enjoy it. Win win!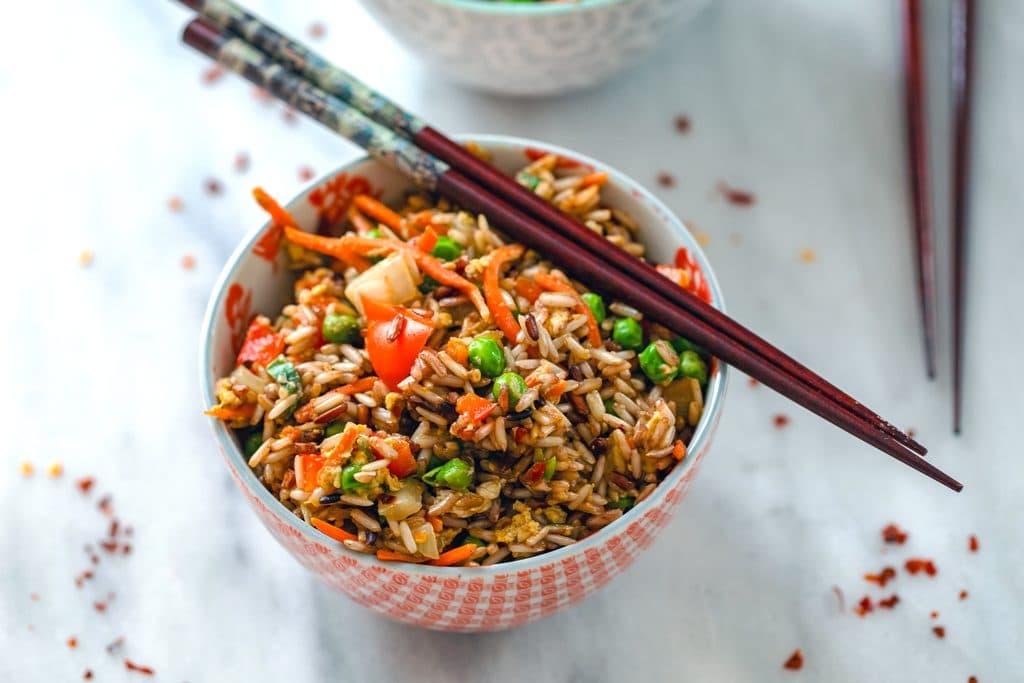 If you like a little bit of extra spice (hiiii), I recommend adding a little Sriracha to this. I'd basically add Sriracha to everything if I could... And sometimes I do. Even just some extra red hot pepper flakes will help add a little kick. Of course, you're totally welcome to add meat to this dish, too, though I'm a big proponent of enjoying Meatless Monday on occasion. However, chicken or beef would be quite delicious in this quick vegetable fried brown rice! Tofu would work, too.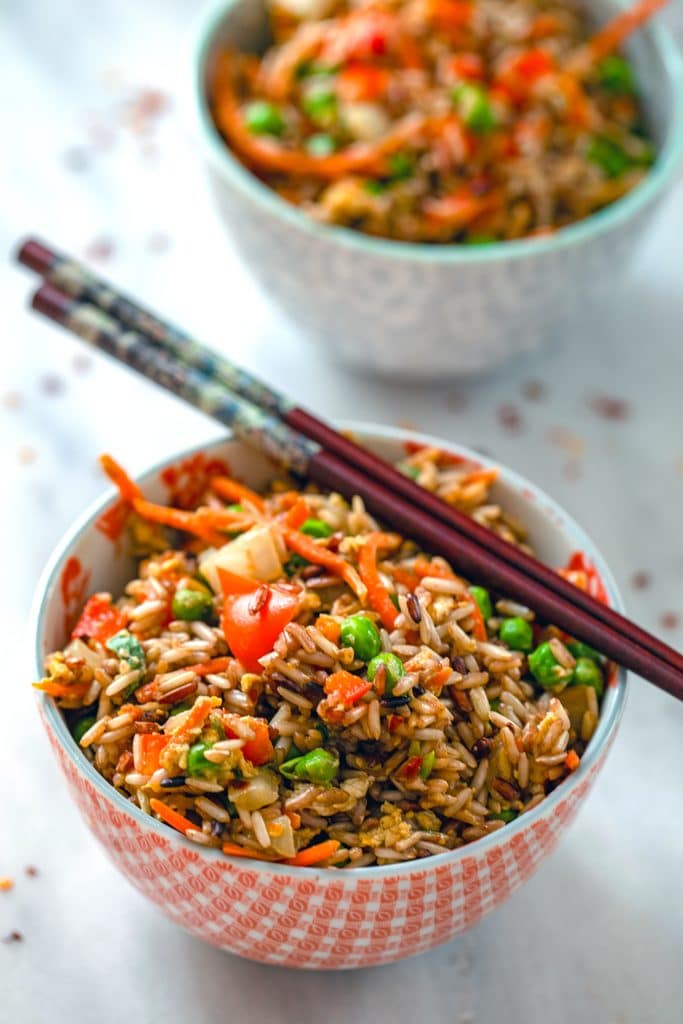 The only thing that would make this fried brown rice better would be a couple scallion pancakes. Ha! But those take a little bit more time to make homemade (though I definitely want to tackle them at some point!) and would make this meal a little bit less nutritious.
Do you ever make your favorite takeout dishes at home?
If you're looking for more rice recipes, check out my Chili Mango Shrimp Pineapple Fried Rice or my Thai Beef Basil with Coconut Rice.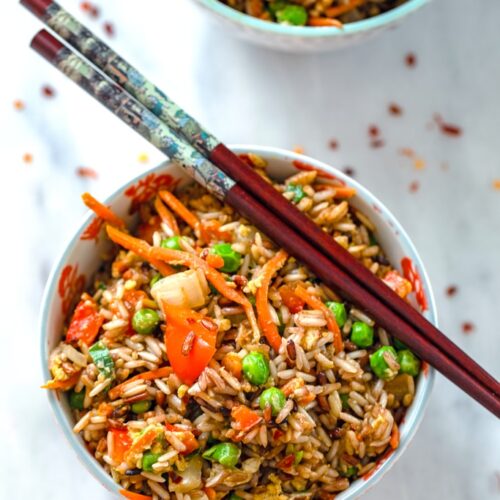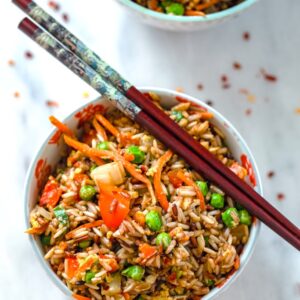 Quick Vegetable Fried Brown Rice
Looking for a quick and easy healthy dinner that's also delicious? This Quick Vegetable Fried Brown Rice is packed with veggies and whole grains and is the perfect weeknight meal!
Print
Pin
Rate
Ingredients
1

Tbsp

olive oil

½

cup

chopped onion

(from 1 small onion)

¾

cup

chopped red pepper

(from 1 pepper)

1 ½

cups

shredded carrots

2

cloves garlic, minced

¼

cup

thinly sliced scallions

½

cup

frozen peas

2

large eggs,

lightly scrambled

3

cups

cooked and cooled brown rice

3

tsp

light soy sauce

1

tsp

red pepper flakes,

plus more for sprinkling
Instructions
Heat olive oil in a large skillet or wok over medium-high heat. Add onion and red pepper and let cook for 4 minutes.

Add in carrots, garlic, scallions, and peas. Stir frequently allowing scallions to wilt a bit, about 2-3 minutes.

Push vegetables to one side of the skillet and add the eggs to the other side. Using a spatula, lightly scramble them.

Add rice, soy sauce, and red pepper flakes to skillet and stir everything together. Cook another 2 minutes to heat through.

Serve in bowls and top with more red pepper flakes if desired.
Share a Photo of Your Finished Recipe!
Mention @wearenotmartha and share a photo if you've made the recipe!