Summertime is often zucchini overload time. If you have a plethora of zucchini in your kitchen, make these Mexican Zucchini Boats stuffed with turkey, tomatoes, and more!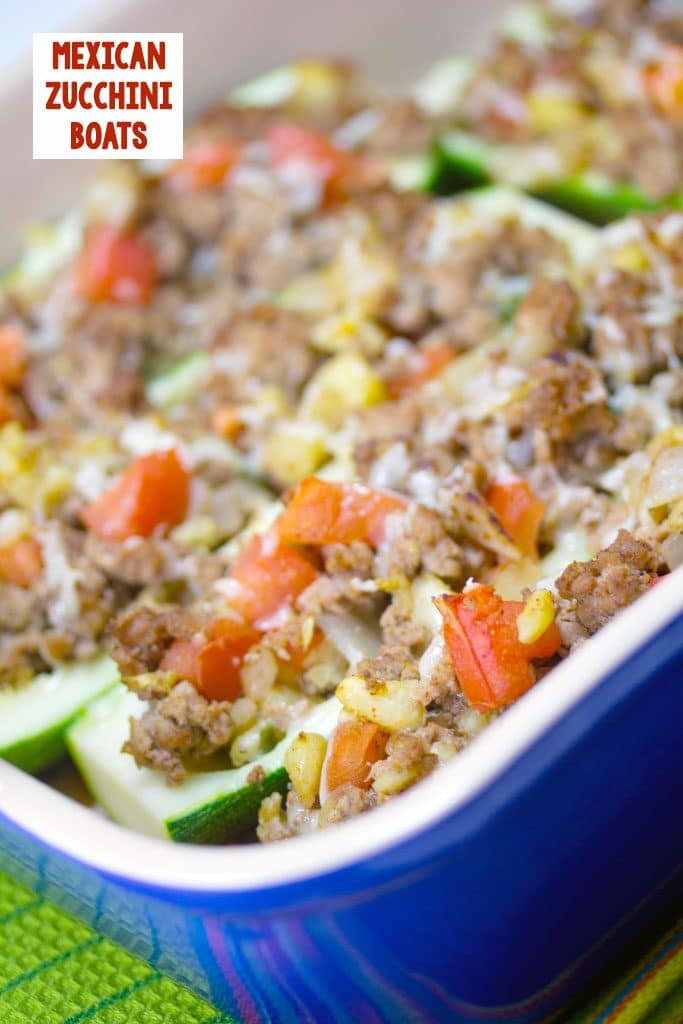 (This recipe for Mexican Zucchini Boats was originally posted in August 2012, but was updated with new photos in 2018).
Oh, zucchini. I love you, but you're seriously cramping my style. And filling up my fridge. I guess farms are experiencing a plethora of zucchini this year because it's been non-stop stocked up in my CSA box. And from listening to convos on Twitter, I'm not the only one experiencing this. What to do; what to do. I finally decided to use zucchini as a substitution in one of my favorite dishes. We frequently have taco night in our house because a) they are one of the most delicious foods in the world and b) they're so easy to make and I've whipped them up so many times that I could do it with my eyes closed. No joke; I actually want to try because I think I'd be really good at it. Besides the fact that I might get raw turkey everywhere in my kitchen and I may chop my finger off when cutting tomatoes (I just got new Wusthof knives [affiliate link)]and they are sharp!), I really believe I could do it. Challenge me, anyone?
But since zucchini was exploding out of my fridge and taco shells aren't always the healthiest option, I decided to turn zucchini into my taco shells. And it worked. Maybe it wouldn't trick the kids. But then, I don't have kids; so that shouldn't be an issue. These Mexican zucchini boats were certainly satisfying and wonderful tasting and made me realize I didn't miss the taco shell so much, after all.
MEXICAN ZUCCHINI BOATS RECIPE
This is a super easy dinner recipe that's perfect for when you get home after a busy day of work on a weeknight. Especially if you're in the same (zucchini) boat as me and have a plethora of zucchini overflowing from your fridge. I recommend medium-sized zucchinis in this recipe, but you can really use any size you happen to have... If your zucchini are smaller, you may just have some extra filling. But that's OK because you can pile it up or eat it on the side.
You'll start by slicing your zucchinis in half lengthwise and scooping out the flesh. Save the flesh and chop it up. Then sauté it with onion, garlic, jalapeño, chili powder, and cumin. Then add in the turkey and sauté until it's cooked through.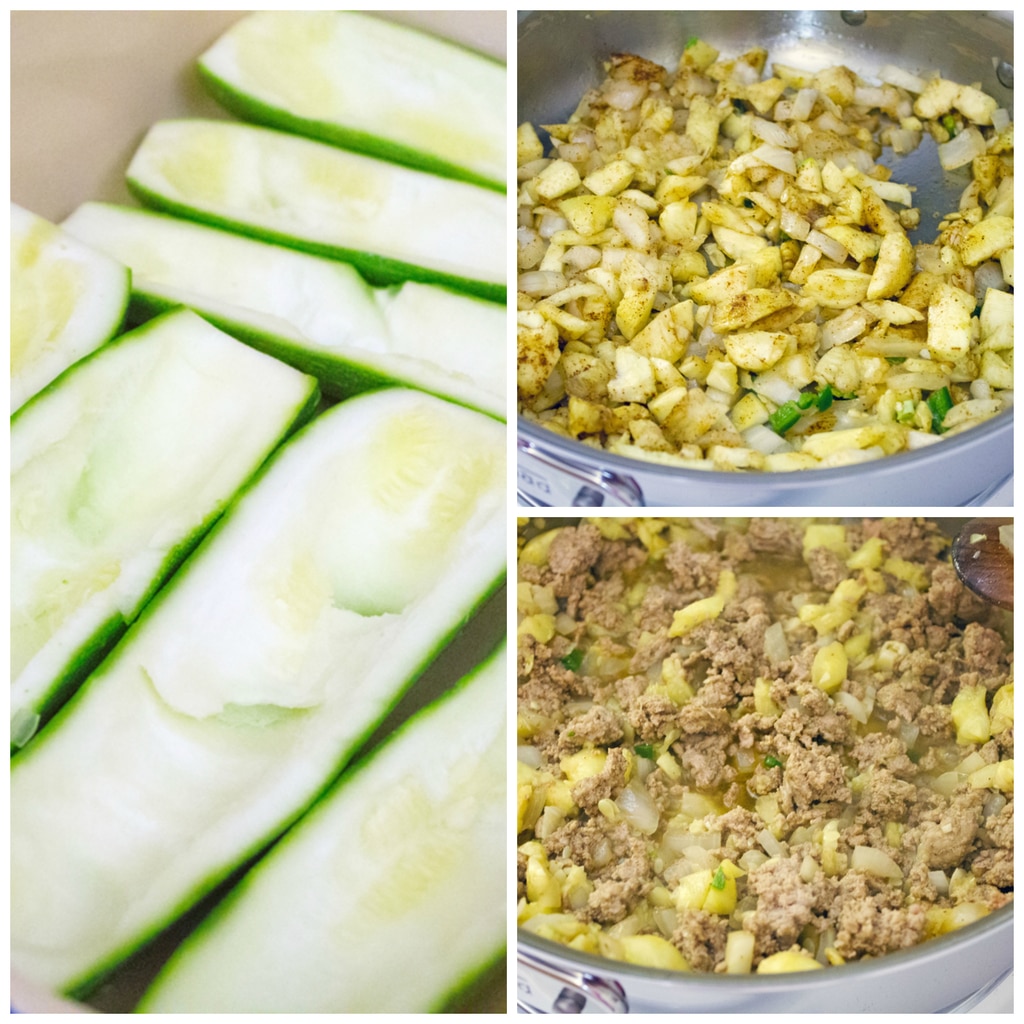 When turkey is cooked through, remove from heat and place the mixture into a bowl. Stir in chopped tomatoes. And fill zucchini boats with the mixture. Easy. It's OK if they're overflowing a little bit. Correction: It's a wonderful thing if they're overflowing a little bit.
Sprinkle with cheese (I prefer a sharp cheese, like Cabot's Extra Sharp) and bake for about 25-30 minutes at 375 degrees... Basically until zucchinis are all tender and cheese is all melty.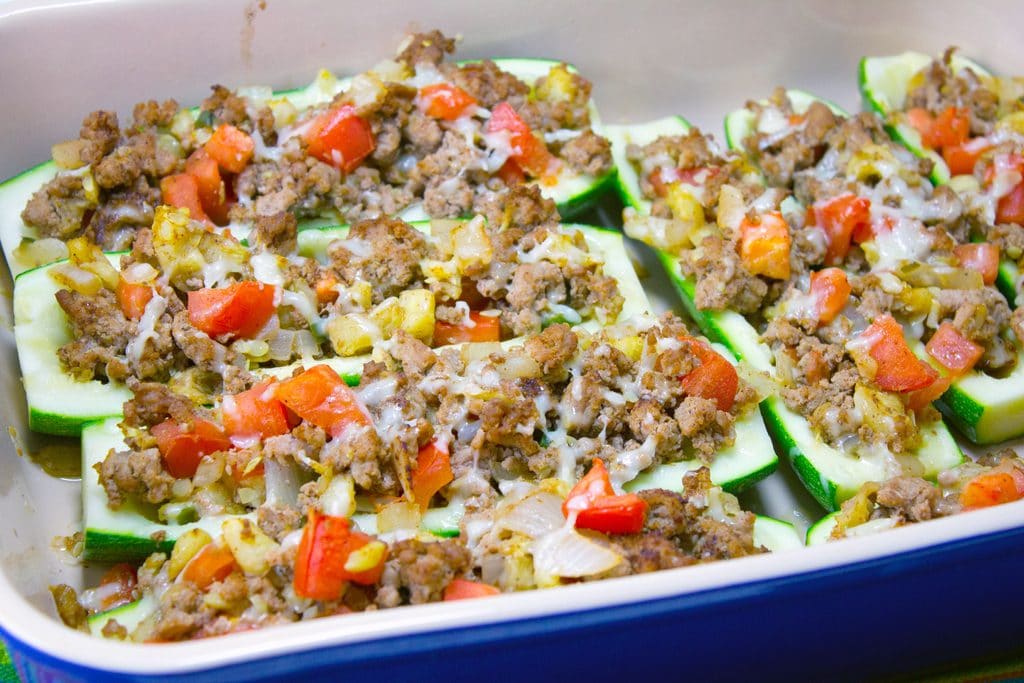 And yum! So, these Mexican zucchini boats are not taco shells (obviously). But they are a delicious and healthy alternative.
Which means you can eat more. If you want. And trust me, you will want to.
You can also top the zucchini boats with salsa and sour cream (or Greek yogurt) if you choose. Add anything to these that you would add to your favorite tacos.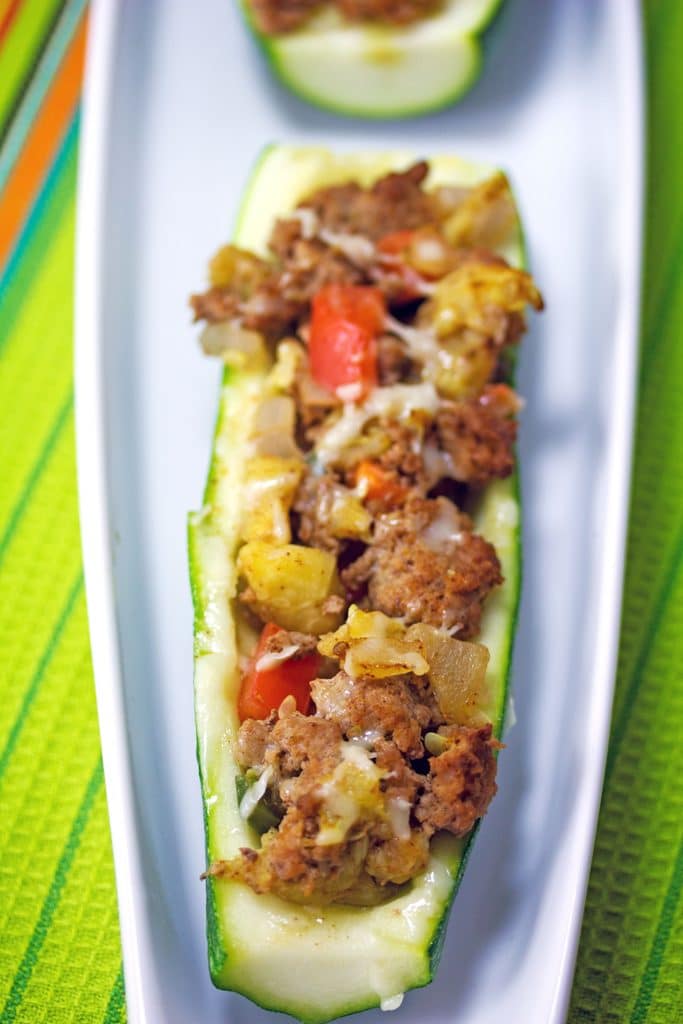 I clearly love Mexican food, but once hollowed out, the options of what you can do with zucchini are endless. aside from filling with ice cream (which I admit, I'm kind of tempted to do... ice cream boat!), you could fill with any combination of meat and veggies. Perhaps quinoa? I almost added quinoa to my mix, but since I already had quinoa for breakfast and lunch, I figured I needed a break. I'm not sure if there's such a thing as too much quinoa, but I didn't really want to test it out.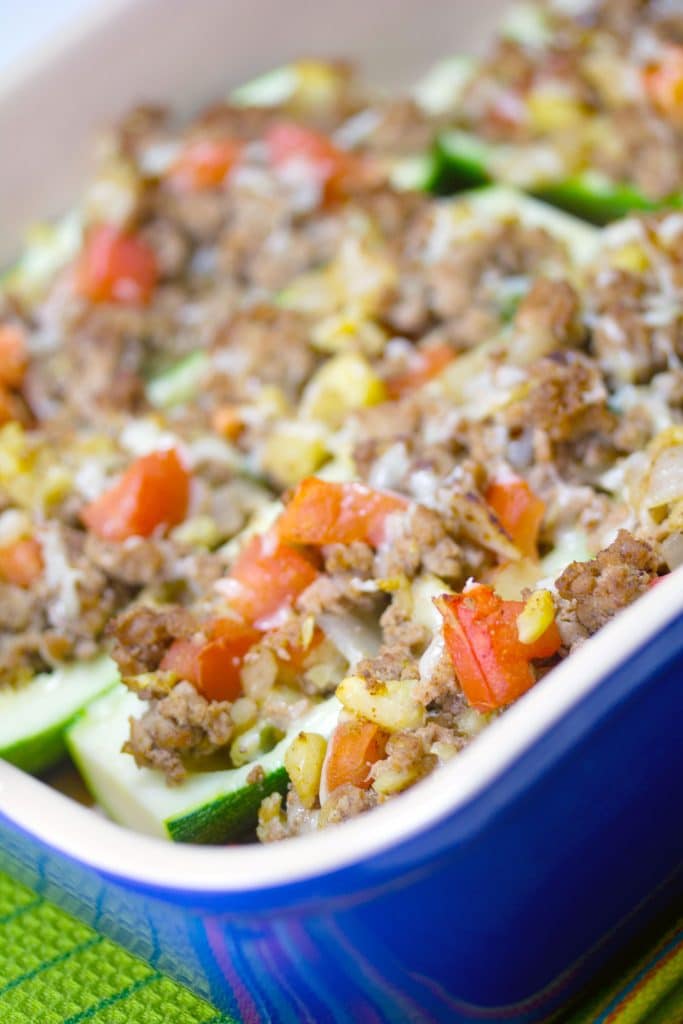 But quinoa or brown rice in these Mexican zucchini boats would really be fabulous. Then again, if you want to declare zucchini the only healthy part of this dish, you could totally make cheeseburger zucchini boats. With bacon, obvi. Nobody here judges. Or at least they better not or else I've been judged to the moon and back. Oh well?
As I was writing this post, I got this week's farm share box and guess what? No zucchini! Are we freed from zucchini imprisonment? What we do have are some marvelous smelling peaches (I can't bear to bake with them, so I'll likely just chomp on them as is) and lots and lots of corn. I never have a problem finding things to make with corn, so here I go!
And if the zucchini returns... I am SO ready. Are you??
What would you put in your zucchini boats?
If you're looking for more easy-to-make weeknight dinners, check out my recipes for Greek Skillet Lasagna and Chicken Pad Thai.
And if you're looking for more ideas for what to do with your boatful (ha! get it?) of zucchini, check out these Baked Zucchini Fries from Mindful Avocado or these Chocolate Zucchini Cupcakes from Crumb Top Baking.
📖 Recipe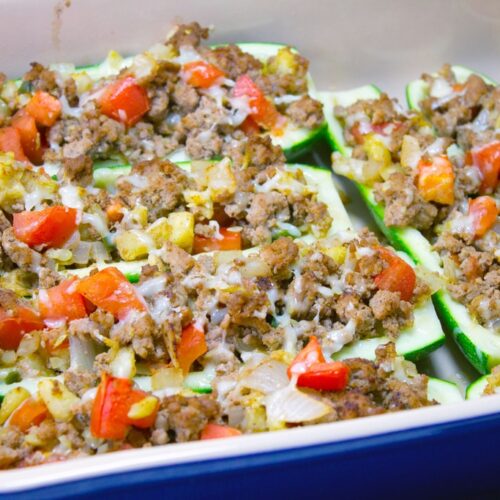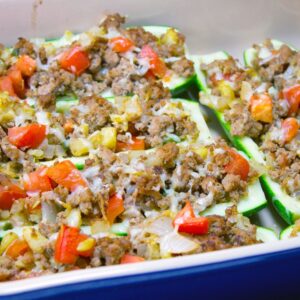 Mexican Zucchini Boats
Summertime is often zucchini overload time. If you have a plethora of zucchini in your kitchen, make these Mexican Zucchini Boats stuffed with turkey, tomatoes, and more!
Print
Pin
Rate
Ingredients
4

medium zucchini

1 ½

Tbsp

olive oil

1

cup

chopped onion

2

cloves

garlic

3

Tbsp

chopped jalapeño

1 ½

tsp

chili powder

½

tsp

cumin

1

lb.

lean ground turkey

1

tomato,

chopped

¼

cup

grated sharp cheddar cheese
Instructions
Pre-heat oven to 375 degrees.

Slice zucchini in half lengthwise and scoop out the flesh with a spoon, taking care not to break through the skin and reserving the flesh. Place zucchini in a large baking dish and chop flesh.

In a medium sauté pan, heat olive oil over medium heat. Add in onion, garlic, and zucchini flesh, jalapeño, chili powder, and cumin. Stir together and cook for 2 minutes.

Add in turkey and cook for about 7 minutes, breaking turkey up with spoon as you go.

When turkey is cooked through, remove from heat and place in bowl. Stir in tomatoes.

Fill zucchini halves with filling and sprinkle with shredded cheese.

Bake zucchini boats for about 25-30 minutes, until they're tender.
Share a Photo of Your Finished Recipe!
Mention @wearenotmartha and share a photo if you've made the recipe!